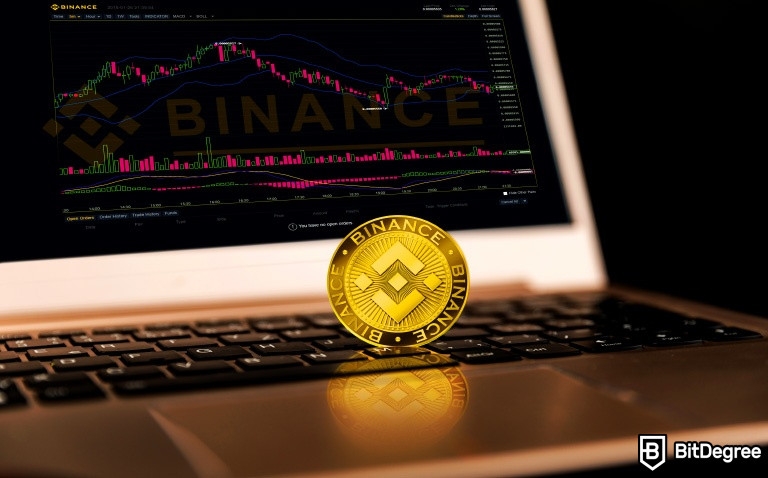 Binance is one of the most popular crypto exchange platforms on the market. As you probably already know, it offers users a wide variety of benefits, and is considered to be at the top, as far as reputability and trustworthiness are concerned. Today, in this tutorial, we'll talk about how to buy on Binance, on top of some other things.
Purchasing, selling, or trading cryptocurrency on Binance isn't actually something that you'd need to finish a university course in order to figure out. Having said that, though, Binance is, admittedly, one of the more complex-looking crypto exchange sites - if you're completely new to the topic, it can get pretty confusing, fast.
After a short introduction, though, all of your confusion should be wiped away - whether it be Binance BTC or any other crypto, once you finish this tutorial, you'll be able to both buy and sell your coins on the platform (and also trade them, if you so wish to).

Did you know?
Want to get smarter & wealthier with crypto?
Subscribe - We publish new crypto explainer videos every week!
What is the Metaverse? (Meaning + Animated Examples)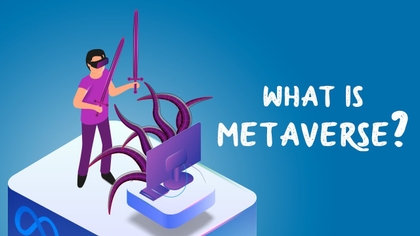 Why Use Binance?
If you're looking at how to buy on Binance, you've probably already decided that this particular cryptocurrency exchange platform is the best option for you. If, however, you're still not 100% certain, let's quickly run down through some of the most prominent features of the platform.
Latest Deal Active Right Now:
$300 + 40 DOGE BONUS
Huobi Black Friday Limited-Time Period
Huobi Black Friday & Cyber Monday 2023 period offers great bonus for new users - sign up & earn up to $300 + 40 DOGE bonus!
Expiration date : 14/12/2023
3,817 People Used
Only 31 Left
For starters, most people who are looking at how to buy coins on Binance are doing so because this platform supports a significant number of cryptocurrencies. As of writing this guide, you'll find over 150 different cryptos and altcoins available to be traded on the site.
These crypto coins include both all of the major cryptocurrencies of the world (Bitcoin, Ethereum, Litecoin, etc.), and a wide range of some of the more-niche coins, too. It's actually one of the reasons why Binance is considered to be a great crypto exchange for some experienced traders who are thinking about broadening their asset portfolios!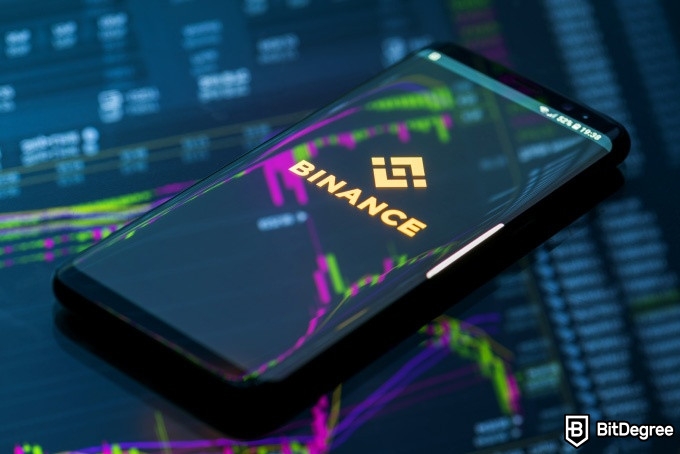 While it is true that Binance is one of the potentially-more-confusing cryptocurrency exchanges out there, this is only true because of the different features that it provides to its users. You see, on Binance, you can purchase, say, Binance BTC from the platform itself, or trade it from some other users.
Purchasing the coins from the platform, you'll encounter yet another major benefit of Binance - it can be done with a credit-debit card. That's very important! With many other crypto exchanges out there, you'll struggle to find such features - the closest you might get are bank transfers, but even those are less-conveniant than paying with a card.
Admittedly, Binance has a lot to offer to the average cryptocurrency trader. While its interface design and feature variety is often considered to be cumbersome to most newbie traders, that's what this is where this "How to Buy on Binance?" tutorial comes in!
How to Buy on Binance: Two Alternative Methods
As noted earlier, whilst looking up how to buy in Binance, you'll find out that there are two ways of going about it - purchasing crypto coins from the platform itself, or trading with another person.
Worry not - we'll cover both of these methods. Let's begin with the more-popular one, and check out how to buy on Binance by using a credit or debit card.
The Credit / Debit Card Method
Below, you'll find a step-by-step guide on how to buy Bitcoin on Binance (although, note that you can purchase any other cryptocurrency in the same manner, too).
Step 1. First of all, log in to your Binance account. If you don't have an account yet, do register on the site - the registration process is very quick and simple, but for the sake of continuity and simplicity, I'll assume that you do already have an account on the site (I mean, you're looking at how to buy on Binance, after all).
Step 2. Once you've logged into the site, navigate to the upper-right corner of your screen. There, find the "Buy Crypto" button, and place your mouse over it. Now, you'll see up to 5 different crypto buying options - bank deposits, credit-debit cards, P2P trading, cash balance, and third-party payments. Since we're focusing on (arguably) the simplest way to trade, click on the "Credit/Debit Card" option.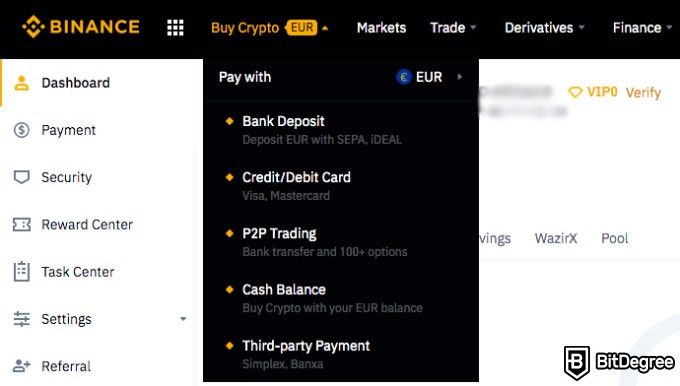 Step 3. Now, if you're trying to find out how to buy on Binance because you've heard that it's a complex process, rest assured - doing so with a credit/debit card is very straightforward. This is evident by the screen that pops up after you've chosen the above-mentioned option - you'll be redirected to a page where you should then pick the amount of money you want to spend for your Binance BTC purchase.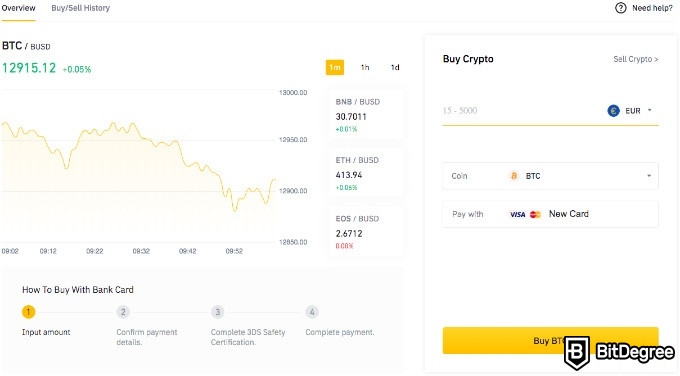 Step 4. Once you've chosen the amount of money that you want to spend, press "Buy" - at this point in the purchasing process, you'll be prompted to verify your account (if you haven't done so prior to deciding to buy Bitcoin on Binance). Press "Verify Now".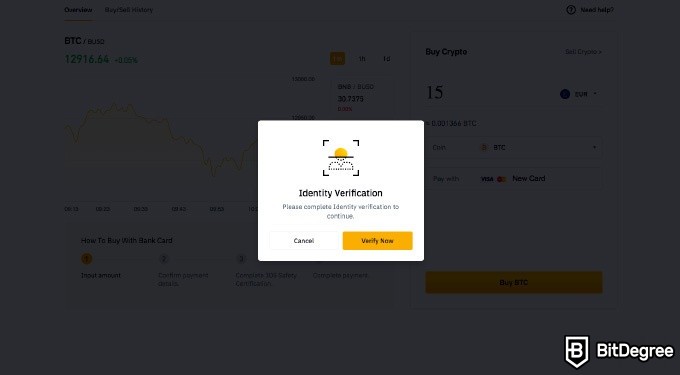 Step 5. As you're redirected to the verification page, you'll see that you have to verify your identity with Binance in order to make your first trade. This involves providing your legal first and last name, date of birth, residential address, in addition to uploading a photo of your ID and taking a picture of yourself. All of this is standard procedure.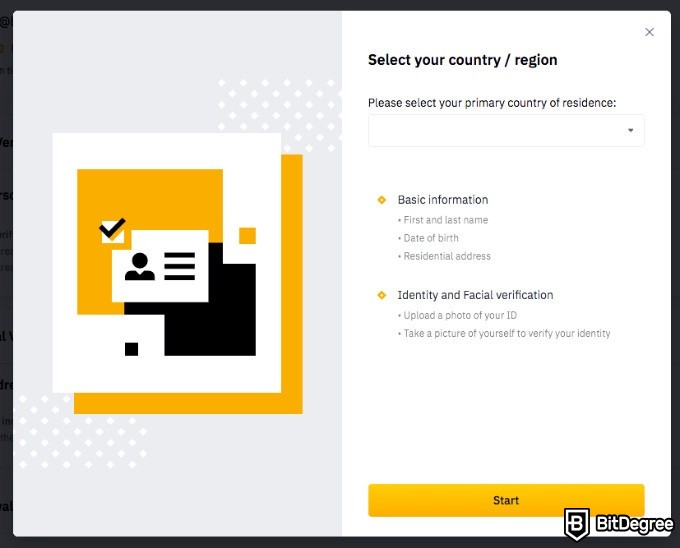 Step 6. Once you've verified your account, you will then have to confirm your payment details. One of the important things that everyone who's looking at how to buy in Binance should be aware of at this point is the fact that you can purchase BTC directly with your credit/debit card, or via Simplex.
Now, there are different benefits to choosing either of these methods. Most of them have to do with fees and transaction speed - depending on the price of BTC, buying Bitcoin on Binance via Simplex might be the smart thing to do.
No matter which method it is that you choose, you'll still end up purchasing the cryptos with your credit or debit card. Note, however, that if you choose the Simplex route, you'll have to pass the verification on that platform, as well.
Step 7. Once all of that is done, and you've both chosen the amounts of Binance BTC that you want to purchase, and verified your account, all that's left to do is to check the order summary, and complete it!
So - that's how to buy on Binance while using a credit or debit card. Simple, fast, and hassle-free. That said, there's another way of going about it, too - trading with another crypto holder.
The Trading Method
Earlier I've mentioned that there are up to 5 different ways of how to buy coins on Binance. However, only two or three are worth explaining in an in-depth manner - the credit/debit card method is super-popular, while the trading method is likely going to prove to be the most complex, if you're a beginner trader.
The rest of the methods are actually quite self-explanatory, and will follow a similar pattern to that when you'd purchase cryptos on the platform via a credit or debit card.
So, back on track - how to buy on Binance whilst trading other users?
Step 1. From the homepage of the website (or your dashboard, if you're logged in), navigate to the upper part of the window, and hover over the "Trade" button.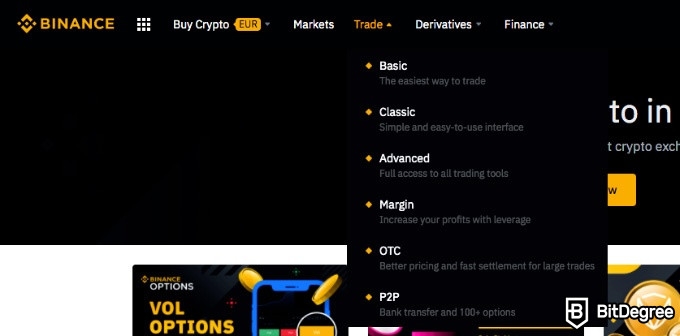 Step 2. Here, you'll see multiple different options pop up. All of these relate to a specific type of trading that you can perform. It's actually a great feature, since, if you're a beginner, you'll be able to use the basic or classic interfaces, while some of the more-experienced traders will have the chance to utilize the advanced version of the platform.
Assuming you're just starting out, go ahead and pick the "Classic" option. The "Basic" one is, well… Very basic.
Step 3. Admittedly, the screen interface that you'll be redirected to might appear a bit intimidating at first. That said, I'm here to tell you - worry not! It's all much simpler than it seems.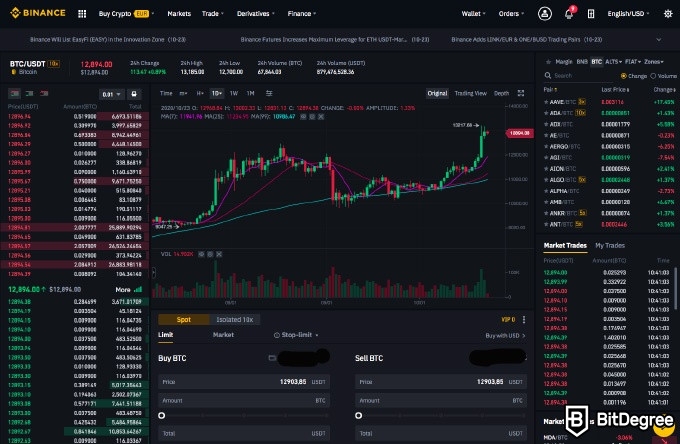 On the left, you have the constantly-changing BTC prices. At the top, you'll find 24-hour highs, lows, volumes, and some general changes. You'll also be able to see the candlestick charts, market trades, and some similar information. However, your focus should be directed to the bottom of the page.
Step 4. Here, you will see your trading screen. You can choose the "Limit", "Market", or "Stop-limit" trading options. "Limit" and "Stop-limit" may prove to be a bit complex if you're just starting to figure out how to buy on Binance - instead, point your attention to the "Market" tab.

With the "Market" option, you'll be able to purchase BTC at the exact price that it holds at that point in time. This allows you to avoid all of the hassle and complex calculations, if you so wish to.
Here, you'll also be able to set a specific amount of USDT that you want to spend on your Bitcoin. You can select to spend ¼, half, ¾, or even all of your USDT on BTC. The process is as simple as that - select the appropriate amount, and press "Buy BTC"!
Binance P2P Service
To finish off our guide on how to buy on Binance, it's worth mentioning one, final thing - the P2P services that Binance provides.
Binance allows you to trade with another user in a direct manner - you'd pay in your local currency, via an agreed-upon payment method. More often than not, this method would be a bank transfer.
Here, Binance acts as an escrow service - this way, you can be sure that the trades are going to be legitimate, and that you won't get scammed out of all of your money.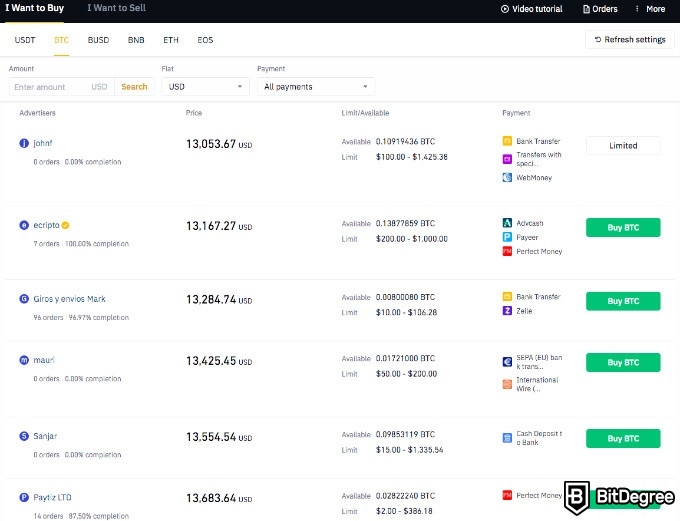 Visiting the P2P part of the platform, you'll be able to pick whether you want to buy or sell. Once that's done, you'll also be able to enter the specific amount of money that you'd want to spend on the asset of your choice.
To be frank, the P2P trading option might be one of the most suitable choices for those who want to keep things simple, and utilize some specific, niche payment method. On top of that, it may also prove to be a great alternative for those traders who are trying to get the most BTC (or some other crypto coin, such as ETH, EOS, or else) for their money.
Naturally, this requires a lot of market analysis, and you'll have to constantly be on the look-out for some price fluctuations, crypto news, major changes, and so on. Still, it can prove to be quite profitable - that's why it's an important factor to keep in mind when trying to learn how to buy on Binance.
Summary & Conclusions
At this point, you should be quite a bit more knowledgeable when it comes to questions such as "how to buy Binance BTC, ETH, etc.".
As you've probably noticed throughout this guide, Binance really isn't all that intimidating, even if you're just starting out. Now, don't get me wrong - it can be quite complex, especially if you have no prior experience with any asset trading or investing, and stumble upon the "Advanced" trading windows.
Having said that, Binance is still an amazing cryptocurrency exchange platform in the sense that it offers you the chance to deposit funds via a credit/debit card, bank transfer, and multiple other methods.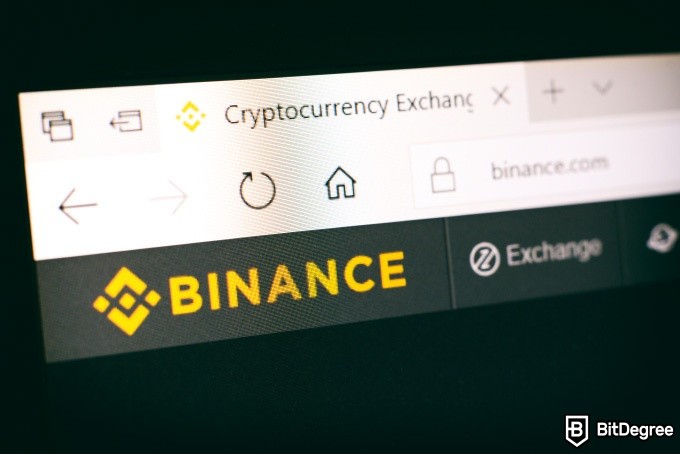 Truth be told, it's a big deal! Yet again, this is especially-so true for anyone who's just starting out with crypto. You'd probably not want to perform some manual processes that involve a lot of confusing terminology, software installations, and so on. Binance allows you to skip all of that, and do things the simple way!
Having said that, though, you should always consider keeping your cryptocurrency funds in a safe wallet - Trezor and Ledger are the two major players in this market, and will provide you with the utmost security features. While learning how to buy on Binance is great, the lessons don't stop there - make sure to always keep yourself updated with what's going on in this industry!
That said - thanks for reading! I wish you the best of luck in all of your crypto ventures to come!
About Article's Experts & Analysts