If you decide to make an investment in cryptocurrencies, you should be aware of the security breaches that continue happening due to crypto wallets that lack security. In 2019 alone, more than $4 million worth of cryptocurrencies were stolen. Not only that, the private information of thousands of people was threatened last year. Considering these aspects, getting the best EOS wallet is a must.
EOS is the 55th most popular cryptocurrency, with a market capitalization of over $664 million. The main goal of creating this cryptocurrency was to allow developers to create DApps (decentralized apps) in the easiest way.
EOS cryptocurrency powers EOSIO, which is an open-source blockchain platform that allows performing transparent and fast transactions as well as scalability. EOS has a huge fan base and can be a very good long-term investment. That said, if you want to see what the future holds, you should get yourself the most secure EOS wallet.
After performing thorough research, I've put together a list of the best EOS wallets. Here are the top 7 wallets for storing this cryptocurrency that you'll find out more about:
Before focusing on each of these wallets, let's find out what kind of options are there.
Best EOS Wallet: What Type of Wallets are There?
To choose the best EOS wallet for your wants and needs you should first be aware of different types of wallets that can be found in the market.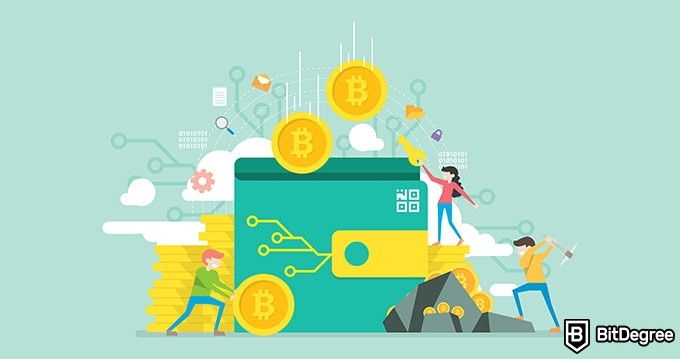 There are 4 main types:
Online Wallets
Software Wallets
Hardware Wallets
Paper Wallets
Each of them comes with different pros and cons. You'll find all the needed information below.
Online Wallets
Online wallets are also known as web wallets. One of the main advantages of such wallets is usability. Accessing them is as easy as connecting to the internet. Such providers store your private keys on their servers, meaning that it's also easy to make payments.
While usability is important, there's also a major drawback associated with online wallets - security. Since such crypto wallet providers store your private keys on their servers, online, your security will be compromised in case those servers get hacked.
All things considered, such EOS wallets are recommended only for those who store small amounts of digital currencies.
Software Wallets
Just like online wallets, software wallets tend to be super easy to use and navigate. In most cases, they're completely free, all you need is to download a mobile or desktop app. They allow you to access and your cryptocurrencies and make transactions anywhere and anytime as long as you're connected to the internet.
COINBASE
ELECTRUM

Main score based on expert evaluations & real user reviews.

Whether the crypto wallet is hardware, software, desktop or paper type.

Software
Software

For which purpose or for what kind of people is the cryptocurrency wallet best for.

Best for Safely Storing Cryptos
Best for Day to-Day Spending of Cryptocurrencies

Most popular hand-picked deals & coupons.

See All Coupons of Best Wallets
See All Coupons of Best Wallets

Final crypto wallet evaluation conclusion based on research, expert opinions & user feedback.

One of the leading cryptocurrency wallets in the current industry.
One of the most trustworthy and oldest Bitcoin wallets around.
Visit site
Read review
See TOP10 Brands
Read review
Table: The main features of the Coinbase Wallet and Electrum
However, such wallets are also known as "hot" wallets because you need to connect to the internet to use them. They are more prone to hacking and other vulnerabilities compared to "cold" wallets.
Hardware Wallets
Hardware wallets, also known as cold wallets, are considered to be the most secure EOS wallets. When using such wallets, your private keys are stored offline, meaning that even if your private information is threatened, hackers still won't be able to access your private keys.
Some hardware wallets tend to be pricey, however, you should think of it as paying for your own security. They're also not as easy to use as online or software ones, but all of them come with instructions and there's always customer service that you can contact.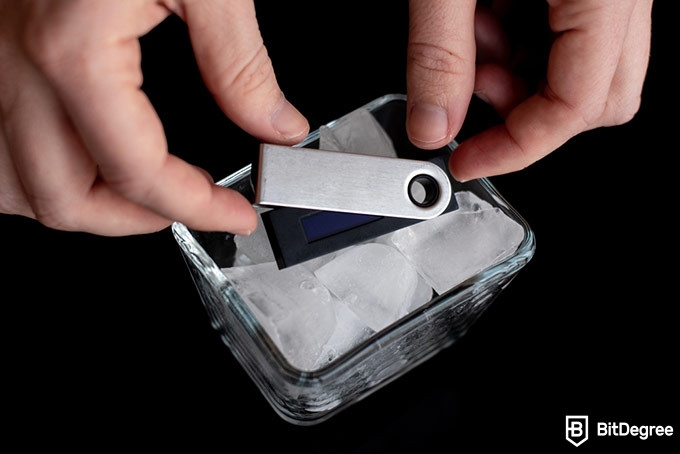 There is no doubt that hardware wallets are the most recommended when it comes to storing cryptocurrencies. It's better to pay $50 or $100 one time than to lose all of your assets in case your privacy is compromised. That said, on the list of the best EOS wallets, you will find 4 hardware wallets to choose from.
Paper Wallets
The final and the least popular ones are paper wallets. Using paper wallets is so much different from the previous methods of storing your cryptocurrencies. If you choose such a wallet type, you will need to write your private and public keys on a piece of paper. You will need your public keys every time when making a transaction.
Of course, this is a non-technical method for storing EOS, but it's also one of the most secure ones. Of course, it lacks convenience, and you're in trouble in case you lose that piece of paper.
Such a wallet type is suitable for those who consider EOS as a long-term investment. It won't be suitable for daily traders, though.
Now that you're aware of different types of wallets for storing EOS, it's time to find out more about the best EOS wallets.

Did you know?
Top 7 EOS Wallets
When choosing the best EOS wallet, there are several aspects that you should take into account:
Security. This is the most crucial aspect. You should always find out how easy it would be to steal cryptocurrencies from a wallet.
Mobility. Is it possible to lose a wallet? If so, how difficult would the process of recovering your assets would be? Also, you should be able to access your wallet easily when needed.
Usability. The best EOS wallet should be easy to use and have a clear interface. Even when it comes to hardware wallets, there are options that are easy to navigate.
Supported coins. It's always better when a wallet supports a high number of cryptocurrencies. That allows you to have more possibilities when making investments. Of course, since you're looking for the best EOS wallet, the most crucial thing to pay attention to is whether or the wallet supports EOS coin.
Every wallet has its own perks and quirks, while some are easy to use, others provide better security and more advanced features. While I will introduce the most recommended cryptocurrency wallets below, you have to think about the factors that play a major role to you and make your decision based on that.