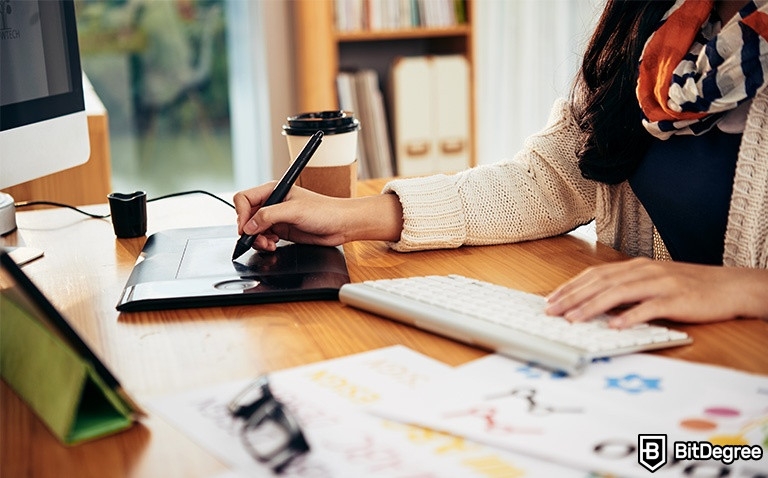 Have you ever met an inspiring artistic person, one who leaves beautiful sketches on little scattered pieces of paper? Have you ever wondered what it takes to learn how to draw with the skill and ease of a professional artist?
Well, today's your lucky day! Together, we're going to look into the possibilities and strategies to give you a headstart in your journey of learning how to draw.
Let's take a realistic approach – Rome wasn't built in a day, and it's virtually impossible to become a maestro overnight. We'll see what the best starting points are for a budding artist like yourself. There are several paths you can follow, and we'll discuss their advantages and disadvantages.
You'll have a few pointers towards some of the best beginner-friendly online drawing classes available on Udemy. We'll look at everything you might need – from the basics of sketching to colorful landscape works. And, of course, we'll answer one particular big question – why is knowing how to draw useful?
So, let's start your introduction to the world of art.
Where Can You Learn How to Draw?
So, you've set the goal for yourself – you're going to learn to draw. That's step one, covered. The only thing that's left for you to figure out is where to start. Do you just grab a pencil and paper and start scribbling? Where do you find a good teacher to help you lay down the foundation blocks?
Latest Udacity Coupon Found:
SAVE 75%
Udacity Black Friday Offer
The best time to save on Udacity courses is now - follow this coupon to access 75% Udacity Black Friday discount on all courses & enjoy top-quality learning for less!
Expiration date : 04/12/2022
3,176 People Used
Only 97 Left
Well, you have a few options at these crossroads. And while neither one of them is a bad choice, some of them may be better than others.
Option A is seeking out tutorials on platforms like Pinterest. This website is infamous for countless tutorials, arts and crafts guides, and all other artistic content that can inspire you. You'll come across plenty of step-by-step guides to learn how to draw.
However, there's one big downside to these platforms – the content is often reposted, sometimes even without crediting the original author of the tutorial. So, if you have any questions about their how-to-draw guides, you might not be able to get any actual help. Besides, the quality of the reposts can be grainy or blurry, so it's not the best bet out there.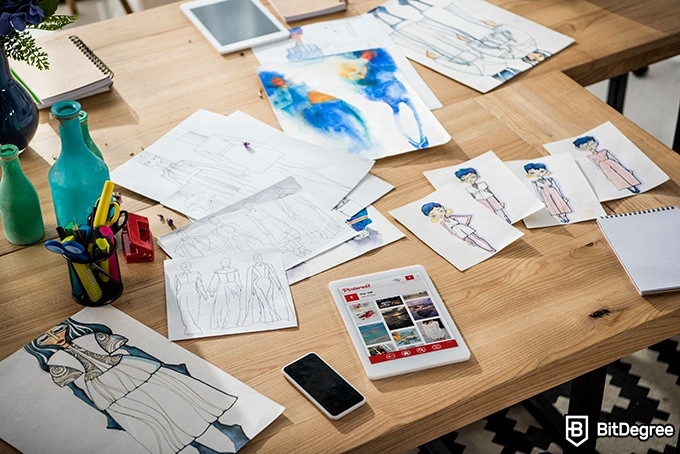 Then, there's the option of watching YouTube tutorials. The pros of this method are kind of self-explanatory. The platform is free-to-use, and new content is being uploaded every single second. When it comes to choice, YouTube offers you more than enough learn-to-draw content.
Here's where it gets messy, though. With so much free content, it's hard to determine what's considered to be good quality and what isn't. And with YouTube's announcement that video dislikes are going to be hidden, it'll be harder than ever to determine if the video is worth your time.
Speaking of feedback — it's very hard to get proper feedback for you as a learner. Sure, you followed the steps, but you can't just share your work in a comment under the video. It's not always easy to determine the skill level and those Super Easy tutorials aren't always child's play.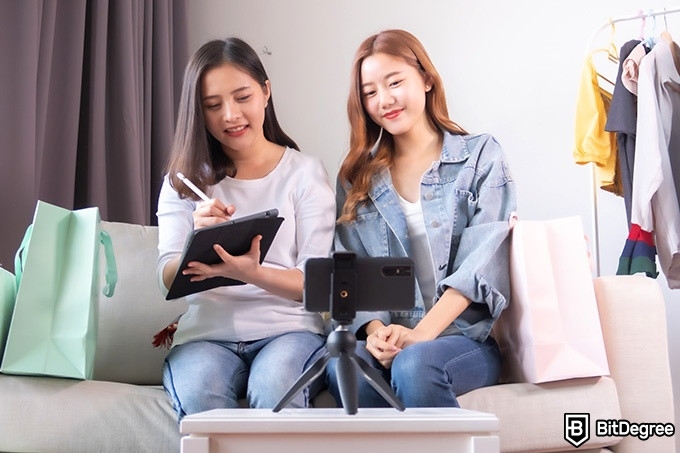 Another route you can take is enrolling in in-person classes. There are many great aspects to this path – especially social ones. Whether you're learning in a group or 1-on-1, you'll have a steady stream of feedback and someone by your side to guide you. There are also opportunities to get a degree in arts in some of the most prestigious schools in the world.
Unfortunately, it's not the most budget-friendly option to learn to draw. Private schools are pricey and, in some cases, can be selective about who can enroll. And since at the time of writing this we are still in the middle of the COVID-19 pandemic, chances are you'll end up paying a hefty sum for a Zoom class.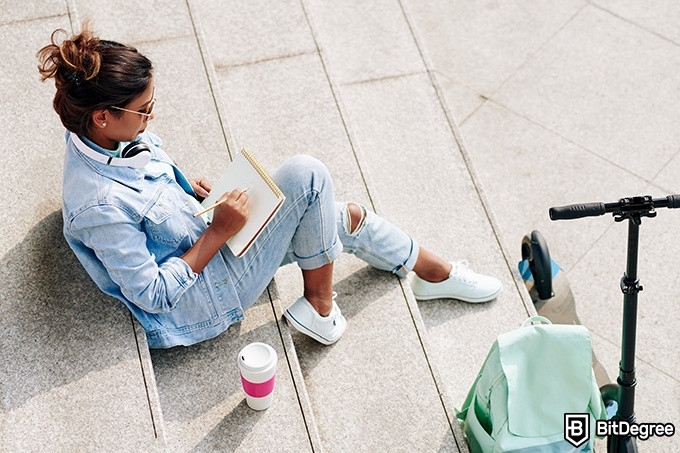 So, this leaves us with one last path — one that's both social and safe under the pandemic circumstances, allows you to steadily grow as an artist and one where you'll have the opportunity to receive feedback and advice. Not to mention that your wallet certainly won't be complaining about it.
Let's talk about online drawing classes.
Why Should You Choose Online Drawing Classes?
When it comes to places you can start learning how to draw, opting to take online drawing classes is a great choice. You might be thinking – well, isn't it the same thing as just watching YouTube tutorials or signing up for an in-person evening class?
Nope! While there are some overlapping similarities, enrolling in a How to Draw course online – or a few – has its perks.
For starters, in most cases – unless you opt to get a full university degree online – online drawing classes are fully self-paced. This means that you can work as fast or slow as you want, without the pressure of deadlines.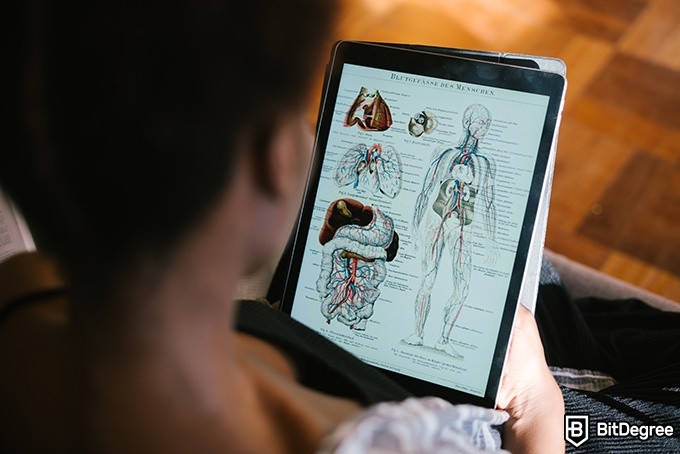 It's also easy to determine if the course is right for you – and if it's any good at all. Online learning platforms like Udemy are very transparent when it comes to ratings – you can see what the average rating for a course is. You'll also find a list with prerequisites and the recommended learner level, so you won't end up accidentally taking an expert course.
Consider how many in-person classes are available in your area. The variety is probably no match to the ample choice you have if you choose to learn how to draw online. Unlike with YouTube videos, though, the instructors of online drawing classes often provide additional materials, like resource lists, book recommendations, or even printables to work with.
You also have the opportunity to message the course instructor if something isn't clear or if you need further guidance. While it may vary from course to course, the instructors are usually happy to help if any questions arise.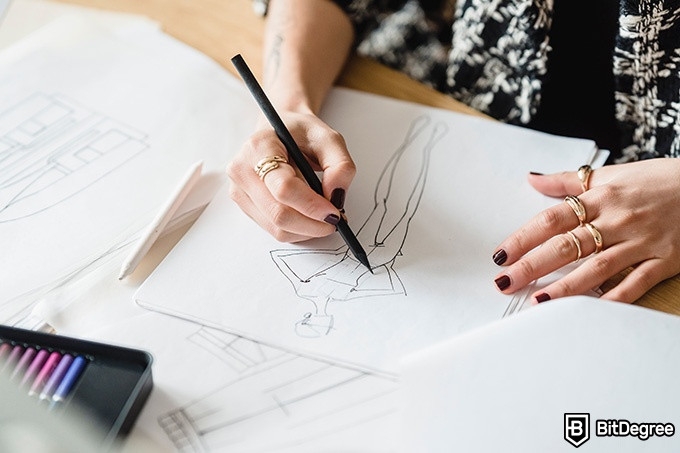 All in all, the advantages of online drawing classes are:
Convenience – learn whenever and wherever you want
Variety – courses are available for all learner levels working with different art tools
Price – it's cheaper than private classes, and you can snag some special offers
Resources – easy access to extra learning tools like ebooks, printables, and references
Transparency – it's not all self-bragging; user reviews are here to help you
So, let's take a look at what online drawing classes you can find on Udemy if you're just getting started in the artistic world.

Platform: Udemy
Duration: 11 hours
Price: €89.99
Certificate: YES
Level: Beginner
Discount: Available
Where to apply? HERE
When you look at the works of professional artists, they sometimes might seem effortless. However, learning how to draw isn't exactly a walk in the park – at least at the very beginning. There are different techniques, tools, and styles, and it can take time to figure out what you prefer working with.
So, why not try out a little bit of everything at the start and see what suits you best? And there's no need to wander around trying to collect as many resources as possible – The Ultimate Drawing Course - Beginner to Advanced on Udemy is exactly what you need to get started.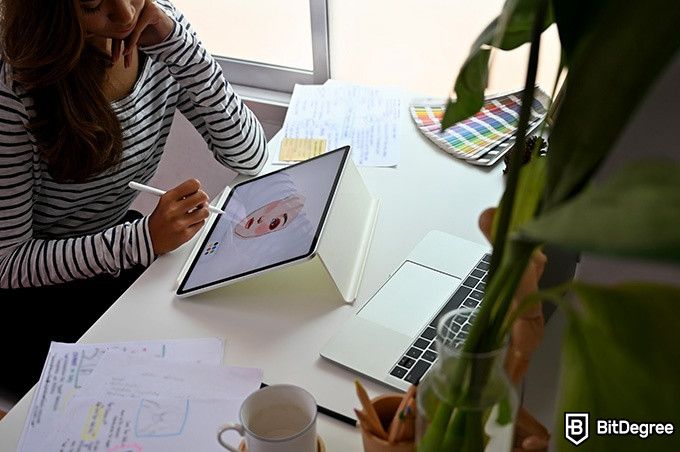 With over 400,000 learners, this is one of the biggest online drawing courses on Udemy – and for good reason. It really is the ultimate course, with more than 50 projects for you to complete as you learn to draw. It covers everything from the essential beginner steps to more advanced art techniques.
In 11 hours, you'll learn how to draw the features of a human face, what rules apply to perspective drawings, the technical side of choosing the right color tones, and even some tips and tricks for animation character design. All you really need to get started is paper, a few pencils, an eraser, and motivation to learn!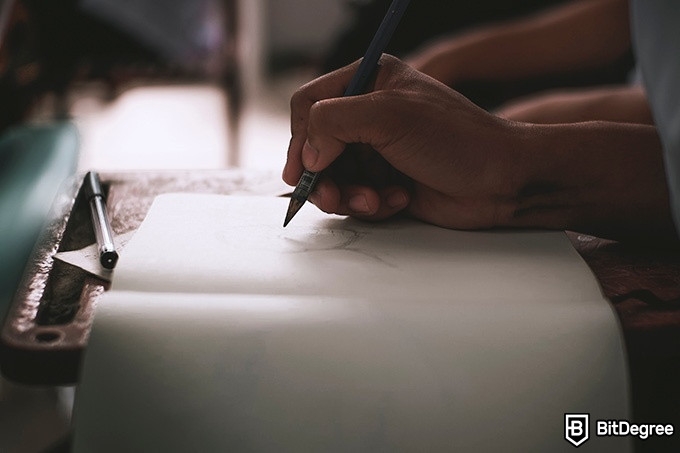 Let's take a look at some of the classes this course has to offer (and there's really quite the range):
Drawing an eye - step by step
Cross contour lines and how to use them
The basics of geometric 3D form
Still life value drawings
Two-point perspective
Drawing a wood texture
Finding the center of gravity for figure drawings
While all this might seem confusing now, don't worry! The goal of this course is to make sure these drawing concepts are not just clear, but also easy to master. This course offers downloadable resources to help you out with the drawing process. This will help you follow along with the instructions and work on your own artwork.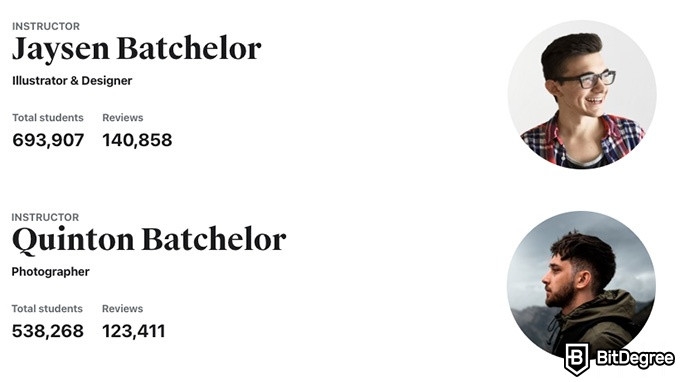 Your instructors for this course are Jaysen and Quinton Batchelor. Jaysen is an illustrator and designer, while Quinton is an outdoors photographer. They are sharing their experience in the art world with the learners. They also have set up a Facebook group for the learners to share their works and advance their drawing skills together.
You can enroll in this ultimate how-to-draw course online for €89.99. However, with the great discounts and special deals that Udemy has to offer, you can purchase the course for up to 89% off!
So, here's your stepping stone. Enroll in The Ultimate Drawing Course - Beginner to Advanced on Udemy, and get your artistic journey going!

Platform: Udemy
Duration: 3 hours
Price: €34.99
Certificate: YES
Level: Beginner
Discount: Available
Where to apply? HERE
When it comes to various forms of art – drawing, painting, even architecture and design – there's an important step for you to take before you get properly started on your work. You need to have an idea of what you want to draw – and you need to put it down on paper as a sketch.
Sketching might seem complicated at first. Some artists, especially if they prefer working with more abstract techniques, might skip this step altogether. However, if you're just getting started, it's best to take it step-by-step. Sketching can help you learn to use the work tools correctly and improve your overall drawing skills.
And if you're looking for guidance on how to draw a sketch correctly, the Drawing Fundamentals 1: Basic Skills & Sketching Accurately course on Udemy is here to guide your hands. It's a beginner-friendly course providing the foundations for every budding artist.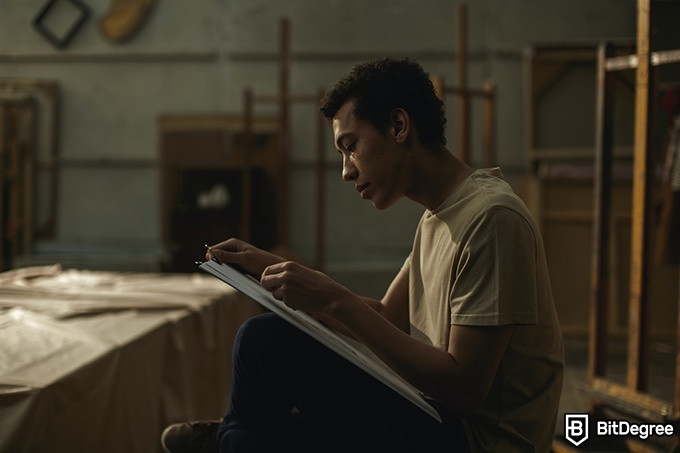 It's a step-by-step guide for the entire setup – from preparing your workspace to doing sketching exercises. You use the muscles of your hand to draw, so just like in sports, you need a proper warm-up before you dive into a drawing session. In this course, you'll learn what these exercises are and why they're important.
You'll also have access to a range of printable resources that will help you learn how to draw clean lines and curves effortlessly. But before you can draw the lines properly, you need to learn to hold a pencil. This might surprise you — many new artists don't know how to control a pen properly!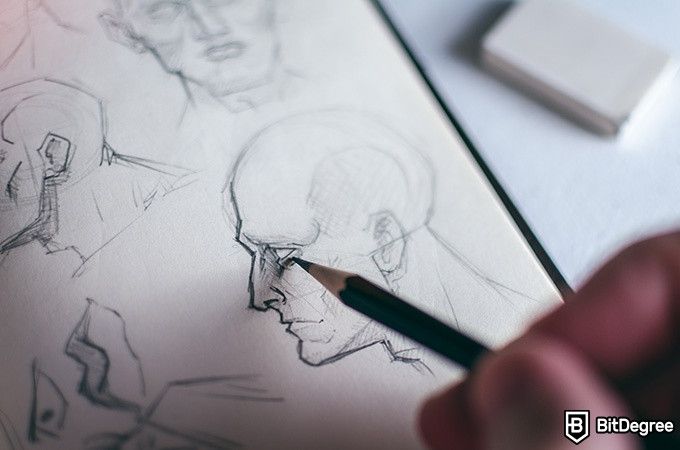 In just three hours, you'll learn:
Which tools you need to set up your workspace properly
How to sharpen, hold, and control your pencil
Warm-up exercises with lines
Observing and measuring angles, distances, and proportions
The grid method
Sketching facial features
By the end of this course, you won't just know how to prepare a sketch, but also how to draw using sharp lines, as well as small hacks for proportions. This course is predominantly for traditional art; however, you can use some of the tips for digital drawing as well.

Your instructor for this course is Ethan Nguyen. He's a self-taught art teacher who used books and online courses to strengthen his own drawing skills. So, he knows first-hand what it means to be learning drawing from online resources and what a learner like you needs.
The full 3-hour course is available on Udemy for just €34.99. This will give you access to the course content, as well as the downloadable resources and a certificate upon completion. And here's the fun part – with Udemy's special offers and discounts, you can purchase this course at a fraction of the price!
When you learn to draw, you need to also learn how to set up your work environment with the long-term comfort of your spine in mind. Ready to sketch? Then grab a pen, and enroll in the Drawing Fundamentals 1: Basic Skills & Sketching Accurately course on Udemy today!

Platform: Udemy
Duration: 10 hours
Price: €89.99
Certificate: YES
Level: Beginner
Discount: Available
Where to apply? HERE
Knowing how to draw backgrounds is pretty convenient, especially if you want to give your works a touch of realism. A background makes your works more dynamic and prevents them from looking like they're simply floating around in the aether.
To make your background elements — and even some of the foreground details, like buildings and objects — look proportional, you'll use a technique called perspective. It's a method of creating three-dimensional objects on a two-dimensional surface, like paper or canvas.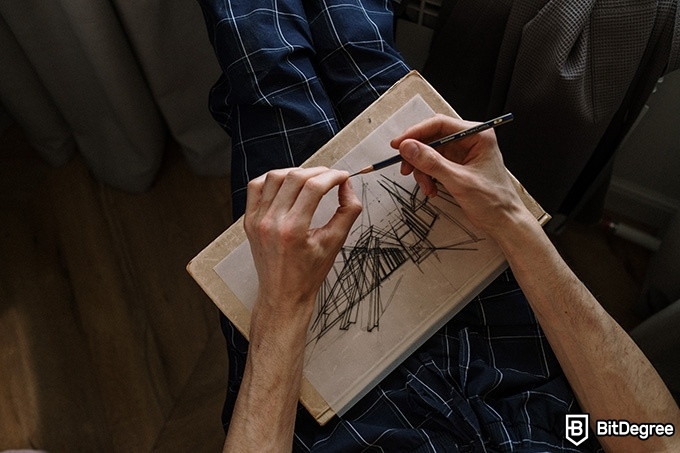 If you'd like to find out how to draw a realistic, proportionate space that will serve as the background — or even as the main focus — of your work and create the illusion of three dimensions, check out the Environment Art School: Complete Perspective Drawing Course on Udemy.
This course is great for learning how to use perspective for different art styles. Whether you want to create environments for games and films, draw natural landscapes, or invent new worlds for comics and manga, this course has you covered. You'll learn the fundamentals of perspective and optical illusion.
You'll finish this course having learned:
How to draw landscape and interior scenes
How to create 3D drawings
How to create backgrounds and environmental drawings
How to use perspective strategies traditionally and digitally
Your guide in the world of perspective art is Scott Harris. He's the Art Director of DAS: School of Art and Design. Harris has experience working with a wide range of art tools – both traditional and digital. His courses are clear, comprehensive, and efficient, so you'll certainly be in good hands.

This course is great for anyone interested in drawing dynamic environments. As Harris himself says, "Tools are tools" — whether you're learning how to draw using pen and paper or you have a digital display to work on, these online drawing classes are applicable to all toolkits.
However, if you're using digital tools, you'll get some additional tips and tricks that can help you with the pacing of your creative process. You'll be shown perspective grid drawing shortcuts that you can use in Photoshop or other software you use for your online drawing classes and in your spare time.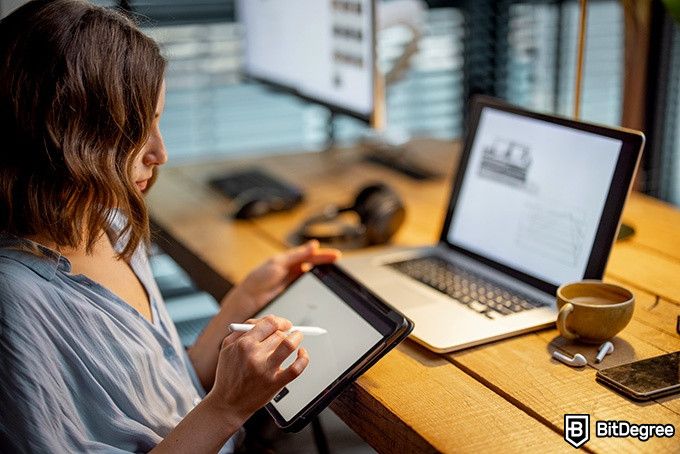 Clocking in at 10 hours, Environment Art School: Complete Perspective Drawing Course costs €89.99 for the full access to the course and additional resources. And even if this price range seems a bit much, there's no need to click off! Udemy offers you a bunch of great deals and discounts which you can find here.
So, take a look at things from an artistic perspective – once you enroll in the Environment Art School: Complete Perspective Drawing Course on Udemy, people will be astonished to learn you're still a beginner! So, add something new to your bag of creative skills today!

Platform: Udemy
Duration: 30.5 hours
Price: €89.99
Certificate: YES
Level: Beginner
Discount: Available
Where to apply? HERE
Portraiture is a pretty neat skill to have as an artist. Whether you draw using live models, reference images, or imagine people completely inside your head, being able to recreate the resemblance of a person on paper never fails to impress.
There's a lot that goes into nurturing this skill, though. You take individual aspects of a face and merge them into a single, cohesive unit. The shadowing and the proportions have to be very exact. It's easy to make it look like it's just separate eyes, lips, and ears glued together on a piece of paper — unless, of course, you're going for those Picasso vibes.
So, if you want to be good at drawing portraits, you must first learn how to draw every part of the face, even the whole body. And there's no better place to start than the Masterclass of Realistic Drawing and Shading Human Features on Udemy.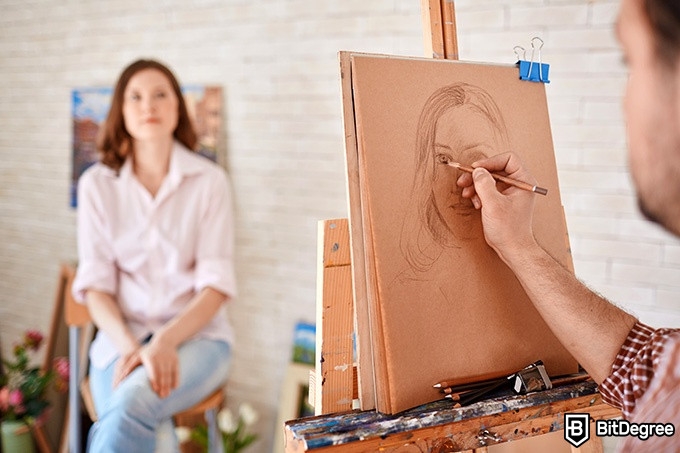 Throughout the course, you'll complete over 60 online drawing classes. The classes are grouped into 15 chapters, covering the basics of drawing different parts of the body. Moving top-down, you'll start by learning how to draw the eyes and move through the rest of the face and hair. Then, you'll cover the essentials of drawing arms and legs, bringing it all together.
This course isn't just about the practical part of drawing a portrait. As you progress through these online drawing classes, you'll also learn:
How to correctly warm up your hand before drawing
The application of pencil, charcoals, crayons, drawing brushes, and blending stumps
How to blend using your hands
What hachure and hatching are and how to use them
How to create texture and dimension in your portrait
Using creative ideas and creating mixed media works
You'll be guided through the art of portraiture by Ava Moradi. She's a professional artist and Art and Design instructor who has held exhibitions all over the world. She hopes to share her love and passion for the arts with her students and uses her expertise as an art teacher to make her courses fun, engaging, and informative.

Looking at the sheer amount of available content, this course is the very definition of a masterclass. At astonishing 30.5 hours, this is the longest drawing course on the list. And that's just the video content — you'll also have access to additional reading and downloadable materials, so you'll certainly get your money's worth.
You can enroll in the Masterclass of Realistic Drawing and Shading Human Features on Udemy for €89.99. All things considered, this is a great price for all the knowledge and skills you'll gain. But you can also check out Udemy's special deals and get up to 89% off by clicking here.
Drawing the contours of your future self rests solely in your hands. Enroll in the Masterclass of Realistic Drawing and Shading Human Features on Udemy today, and master the art of portraiture!

Pros
Simplistic design (no unnecessary information)
High-quality courses (even the free ones)
Variety of features
Main Features
Nanodegree programs
Suitable for enterprises
Paid certificates of completion

Pros
Huge variety of courses
Easy to navigate
No technical issues
Main Features
Huge variety of courses
30-day refund policy
Free certificates of completion

Pros
Easy to use
Offers quality content
Very transparent with their pricing
Main Features
Free certificates of completion
Focused on data science skills
Flexible learning timetable

Platform: Udemy
Duration: 10 hours
Price: €19.99
Certificate: YES
Level: Beginner
Discount: Available
Where to apply? HERE
Most of what you'll find on this list requires two simple tools — a sheet of paper and a single pencil. Of course, it's best to keep things simple when you're just starting out. But when everything you do is in black, white, and grey, it can get a little dull and gloomy. So, how about bringing some color into your life – and art?
Pastels are a great tool to learn to draw by mixing colors. There are several different types of pastels. Soft pastels, for example, are very fragile and look very similar to chalk. Oil pastels resemble crayons and are harder to blend. Pastel pencils look essentially like your regular colored pencils. They're the least messy and the easiest to use of all pastels.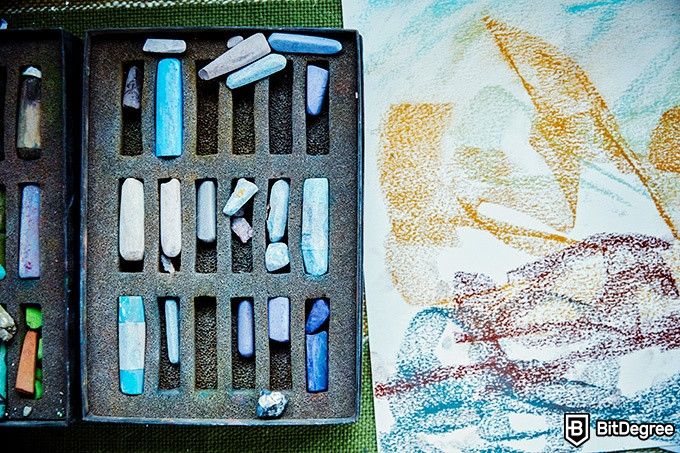 In fact, there have been plenty of great artists throughout history who used pastels in their works, like Degas and Manet (not to be confused with Monet, who worked with oil paints). And it's easier than you might think to learn to use pastels – especially when you have the How To Draw Landscapes Vol 1 - English Country Scenes course on Udemy to guide you.
This 10-hour course will help you learn how to draw beautiful English scenery using pastel pencils. You can learn along and draw the landscapes completely freehand or use one of the outline drawings provided to make things simpler at the start.
The bite-sized lessons will help you learn to draw individual parts of landscapes – you'll walk through the process of drawing skies, clouds, foliage, as well as mixing colors to create layers and texture. You will work with both natural sceneries and structures like mills and wells.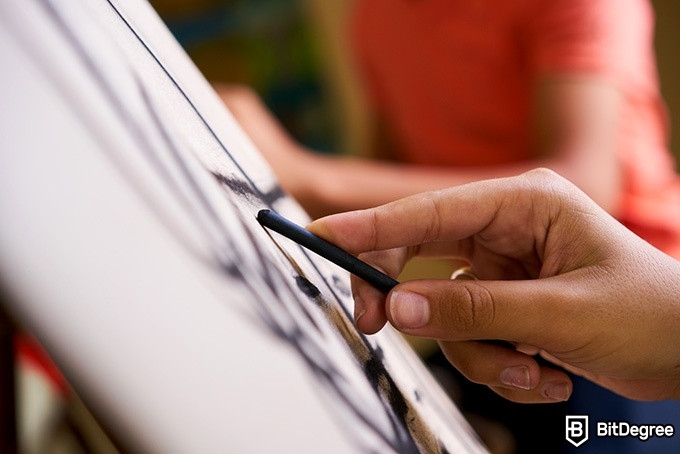 Throughout the How To Draw Landscapes guide, you will acquire the skills to:
Use pastel pencils efficiently
Portray different seasons and times of day
Draw natural and man-built landscapes and scenery details
Create your own original nature scenes
The course has been created by Colin Bradley. He's been a professional artist since 1982, and he specializes in working with pastel pencils. He has developed his own techniques and strategies for his pastel works, and he's sharing his expertise with thousands of students online.
And you won't be alone in this journey either. You'll have the opportunity to join the Facebook community of learners and share your works with them. With the guidance of both the course instructor and the entire online class, you'll watch yourself become the master of the pastel.

You can enroll in this ten-hour course for just €19.99. However, with Udemy's special deals, you'll be able to pay as low as €11.99! You'll be granted access not only to the instructor's videos, but also various downloadable resources, including printables. How can you possibly resist?
So, brighten up your life with pastel colors. Enroll in the How To Draw Landscapes Vol 1 - English Country Scenes course on Udemy today, and share the landscapes of your dreams with the rest of the world!
What are the Benefits of Knowing How to Draw?
So, you have some pointers for where to start learning how to draw. But one important question remains — why is drawing a useful skill to cultivate?
For starters, it's a great icebreaker at a party. If you tell people that you're an artist, you're sure to keep the conversation going (and possibly even get some commissions). You might also come across other artists this way, and form your own little community of like-minded creatives.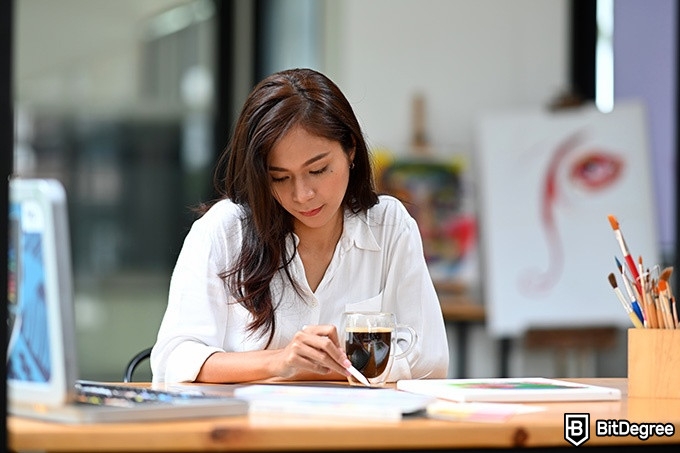 But it's not just fun for the bragging rights. It's also a useful hobby to have, especially for your mental health. Art therapy has been shown to be useful for anxiety management[1]. You might remember the adult coloring book boom in the late 2010s. Well, drawing and coloring mandalas also appear to have positive effects on mental health[2].
People often say that art has saved their lives – and it's very possible that they mean it very literally. It boosts your creativity, keeps your brain engaged, and can help distract you from negative thoughts. At the very least, it can be used as an outlet when you're feeling under the weather.
And you can't forget about the boost to your portfolio either. Both traditional and digital drawing skills can be a great asset for your career. Perhaps you want to design book covers or create your own fashion line. Maybe you'll find yourself drawn to graphic design or even dive into the NFT world. The possibilities are endless.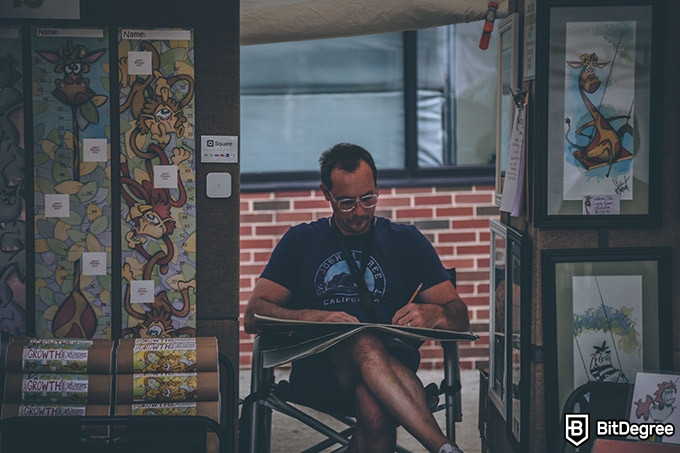 At the end of the day, you can draw your own conclusions about whether an artsy hobby is something you want to do. But one thing is clear — learning how to draw has tons of benefits, both for your career and your personal life.
Conclusions
Learning how to draw isn't an impossible task, no matter how old you are. It just takes motivation, dedication, and commitment to learning a little bit every day. With so many tools available, and the ability to switch between traditional and digital art, you can turn yourself into a versatile master of the pencil – and the stylus.
And what better way is there to learn than by signing up for online drawing classes on Udemy? You'll be able to study at your own pace, receive feedback from your instructors and the learner community, and watch yourself bloom as an artist with each passing day.
Whether you want to learn how to properly set up your work area, explore the synergy between geometry and arts, or surprise your loved ones with a beautiful portrait, the art world is your oyster. So, sharpen your pencils and get your canvas ready. Enroll in a how-to-draw course online, available on Udemy, and let your creativity blossom.
Scientific References
1. Annemarie Abbing, Anne Ponstein, Susan van Hooren et al. 'The effectiveness of art therapy for anxiety in adults: A systematic review of randomised and non-randomised controlled trials'
2. Renée van der Vennet and Susan Serice 'Can Coloring Mandalas Reduce Anxiety? A Replication Study'
Leave your honest feedback
Leave your genuine opinion & help thousands of people to choose the best online learning platform. All feedback, either positive or negative, are accepted as long as they're honest. We do not publish biased feedback or spam. So if you want to share your experience, opinion or give advice - the scene is yours!