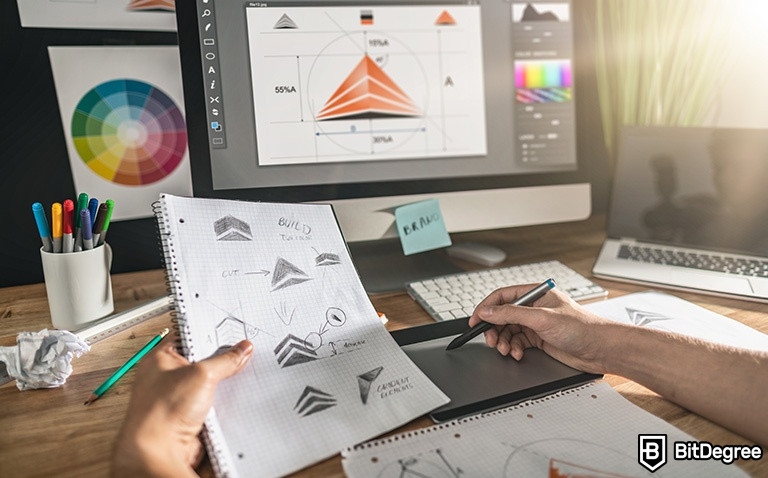 Graphic design surrounds us everywhere we go - posters on the street, advertisements online, and YouTube video thumbnails are just a few of the myriad of available examples. And with so many industries relying on graphic designers, why not consider taking one or two online graphic design courses to kickstart a successful career?
With the popularity of graphic design continuing to grow, most online learning platforms offer courses detailing everything you need to know on the subject. For that exact reason finding the perfect graphic design courses online might be a bigger challenge than it seems.
To help you get a better understanding of what the market has to offer we have curated a list of the best and highest-reviewed online graphic design courses you can take right now:
But before we start discussing what makes each of these online graphic design courses noteworthy let's take a moment to talk about the perks of studying to become a graphic designer online.
Why Should You Take Online Graphic Design Courses?
As mentioned previously, graphic design can be a wonderful career choice. The demand for graphic design specialists has been steadily increasing over the past decades and it doesn't show any signs of stopping.
Latest DataCamp Coupon Found:
EXCLUSIVE 50% OFF
On DataCamp Subscriptions
Follow the Datacamp promo code link & get an exclusive 50% OFF Datacamp subscriptions. Act now while the offer is still available!
Expiration date : 06/06/2023
2,765 People Used
Only 35 Left
In fact, according to The Bureau of Labor Statistics (BLS), the computer and technology fields are expected to have the most significant rise in demand for graphic designers compared to other industries, estimated to rise by 24-26% by 2024.[1]
In addition, graphic design is used in many more fields. Some examples include corporate identity branding, clothing design, film titles and graphics, album covers, and many more.
Needless to say, having graphic design experience can open you to a multitude of opportunities.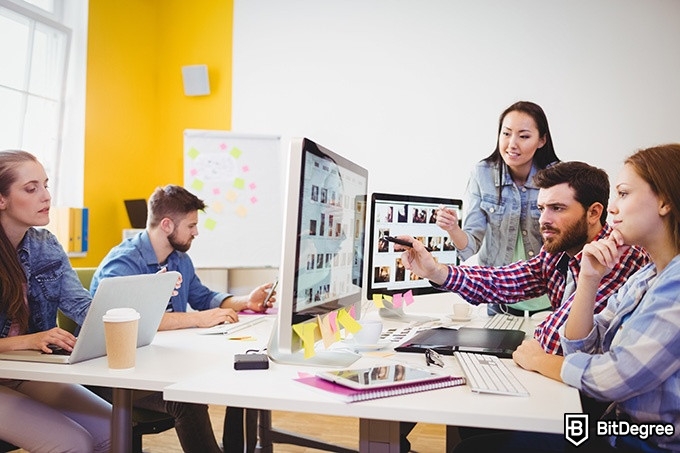 But why should you study graphic design online?
Well, for many reasons, actually!
Even though nothing can beat the experience of going to in-class courses, meeting up with groupmates, and engaging in live discussions, online learning is quickly becoming the new norm.
Largely influenced by the COVID-19 pandemic, MOOC platforms are more popular than ever. By the end of 2020, a record number of over 180 million students were learning online. And the trend isn't going away any time soon, as the industry is expected to reach $336.98 billion by 2026.[2]
The growth of online learning popularity is also due to the increasing quality of content that's being uploaded every day. With more professionals uploading their individual courses and an increasing number of universities partnering with MOOC platforms, high-quality education is guaranteed!
And now, with that being said, it's time to take a look at the top online graphic design courses we have selected for you.

At this point, you already have a pretty good understanding of just how many possible uses of graphic design there are. And naturally, it might feel daunting and confusing to those just trying to figure out which path is the best for you.
One thing that might help you make up your mind and decide if graphic design is the career path you want to take is an introduction to the field itself. And it just so happens that Udemy offers exactly that.
Graphic Design - An Overview of the Field is an online graphic design course created to give students a better understanding of what professionals can do. Detailing what skills are most needed in every field and the work specifics, this is the perfect handbook to start your journey into graphic design.
What sets this course apart from others on our list is the information provided in the syllabus. The program does not cover the HOW of graphic design, but rather the WHY. The aim is to build an understanding of why certain designs are chosen over others and what makes a design good.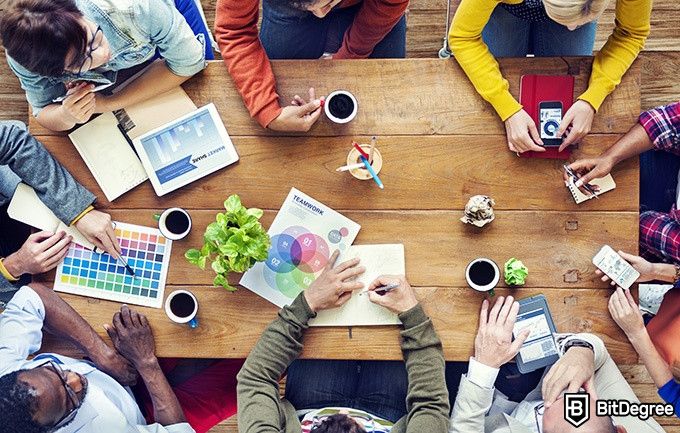 Developing an eye for good design is one of the most important skills of a graphic designer and this course teaches you exactly that.
The syllabus is made up of 12 lectures that take you through 9 of the most popular graphic design industries - logos, packaging, posters, book covers, motion graphics, websites, annual reports, environmental graphics, and editorial design.
Each topic is covered in a separate video, so you have an opportunity to focus on your exact field of interest.
Another perk of the curse is its duration. Even though it might seem like you would need several hours to get to know everything covered in the syllabus, the program can be completed in just 55 minutes. Even the busiest student can expand their horizons with this course!
Of course, price is an important deciding factor while choosing graphic design courses online. And we are happy to say that you will be getting full access to this certified program for only $24.23, making it one of the most economical courses on our list.
We are sure that finding a better quality course for such a great price would be quite difficult.
Those enrolled in this online graphic design course will learn:
How good graphic design relies on the concept;
What goes into graphic design and using it in different fields;
How each field differs from one another.
This is a perfect choice for anyone interested in taking graphic design online courses.
Start the course NOW
Platform: Udemy
Duration: 3 hours 49 minutes
Price: $115.13
Certificate: YES
Level: Beginner
Apply HERE
In our technological age, we rarely go a single day without social media. YouTube, Facebook, Instagram, Pinterest - it can be hard to imagine our lives without these sites. And just as much as we use social media to connect with people, companies and businesses do the same.
Social media marketing is another field heavily relying on graphic designers to create successful online marketing campaigns and reach target audiences. Whether you're part of a company or are trying to get yourself noticed online, online graphic design courses can take your game to the next level.
Social Media Graphic Design for Beginners is a Udemy graphic design online course created specifically for those eager to make a splash online. With tips and tricks along with useful advice, the program will help you develop essential graphic design skills.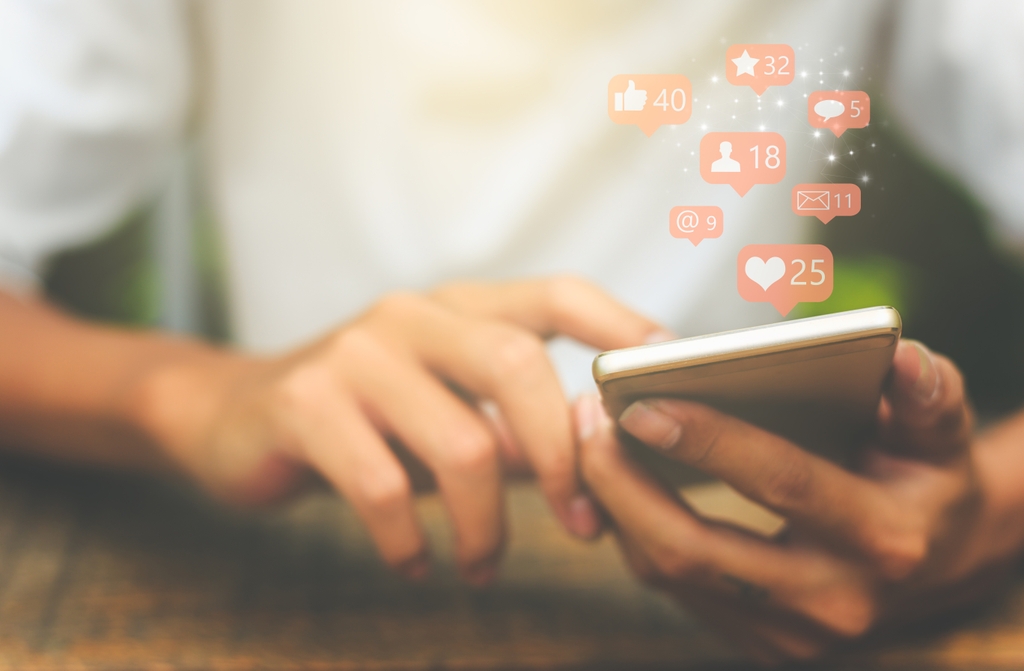 What sets this online graphic design course apart is the fact that students are not required to know how to use Photoshop, Illustrator, or any other editing software. Useful even to those just starting out with graphic design, the course utilizes online editing platforms, such as Canva, to practice creating eye-catching designs that will help your social media posts stand out.
The 28 lectures are divided into 4 main blocks of topics. In addition to covering the specifics of graphic design on platforms such as Instagram, Pinterest, Facebook, and YouTube, the learning material goes in-depth into color psychology, licenses, and design do's and don'ts to help students develop their strategies.
The program is jam-packed with useful information, and to make sure no time is wasted, the entire course can be completed in 3 hours and 49 minutes. Quick, straight to the point, and simple to follow, learning graphic design online has never been easier.
When it comes to pricing, this online graphic design course is one of the more expensive options out there. Priced at $115.13, the course might not seem like it's worth it. However, with the amount of useful advice and information included in the syllabus, it can be a great investment in your future career.
With so much useful content this really is one of the best online graphic design courses out there.
Those enrolled in the program will learn:
What graphic design terminology and creative basics come into play;
What is important to keep in mind while working with different social media platforms;
How to build your business online with the help of graphic design.
With technology and social media advancing every day, this online graphic design course can open a whole new world for your business.
Start the course NOW
Platform: Udemy
Duration: 6 hours 20 minutes
Price: $115.13
Certificate: YES
Level: Beginner
Apply HERE
Do you like playing video games? Have you ever stopped to think who is behind the stunning imagery that you see on screen? That's right - graphic designers! From backgrounds to cover art, graphic design is the backbone of video game design.
Learn Professional 2D Game Graphic Design in Photoshop, a Udemy graphic design course, walks you through the ins and outs of creating 2D game graphics that can be used to develop your own game, or maybe even start a professional freelance career.
The program takes you through every step of the creative process, from using color theory to make unique palettes to useful tips on how to make your work run smoother. Focusing on working with Photoshop, the syllabus includes a run-through of the basics of using the program, as well as ways to create custom brushes to help the process be as easy as possible.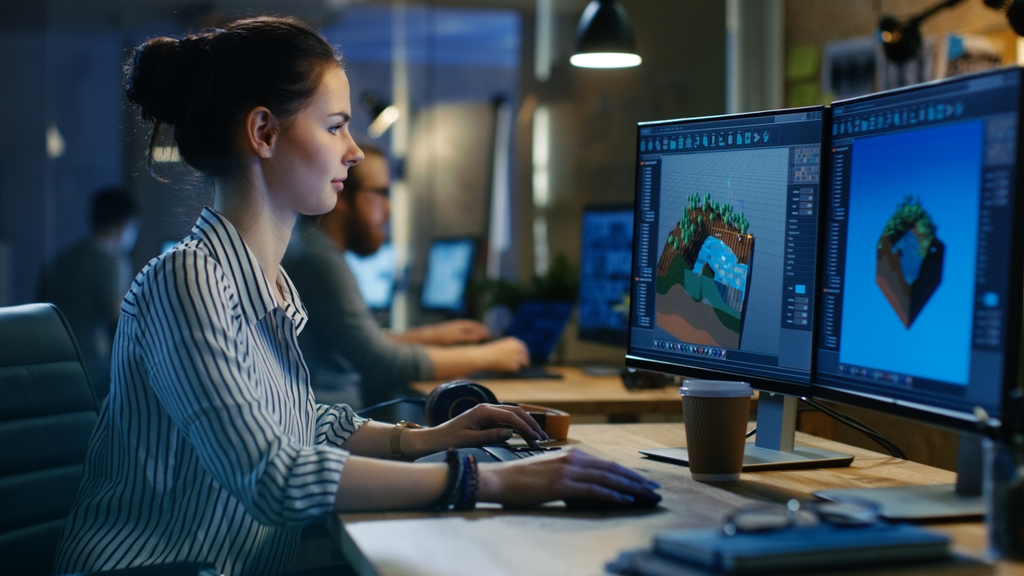 As one of the more extensive online graphic design courses mentioned in this article, the program leaves nothing behind. The 7 sections not only go over every phase of creating game graphics but offers advice on how to find a job in the graphic design field that would put your new skills to good use. And with a total of 80 lectures, no detail is forgotten.
Not many graphic design courses online cover this much information in their programs.
Compared to other Udemy online graphic design courses mentioned in our article, this is the most extensive one. With 6 hours and 20 minutes of content this program might seem like quite a commitment, however, you can take the self-paced program whenever you want, making it as convenient as it can get!
If you are worried about the price tag, we can guarantee that you will be getting your money's worth and more. The price of $115.13 might seem steep for some, however, considering all the material and information you will be getting from the program, the course is more than worth it.
Students taking the course will learn:
What goes into creating 2D game backgrounds with Photoshop;
How color theory can help elevate your designs;
Best strategies to land your dream job.
If you have ever thought about designing video games, then there's no better online graphic design course than this one!
Start the course NOW
Platform: Skillshare
Duration: 18 hours 8 minutes
Price: Free
Certificate: NO
Level: Beginner
Apply HERE
Alright. You are certain that graphic design is your destiny and you can't wait to start your journey. The only thing left to do is make sure that you're prepared for anything the industry might throw at you. If only there was an all-in-one online graphic design course that would have everything you might need in one place…
Lucky for you, we have just the class! Because there are so many different programs and systems you could use it's impossible to learn everything about all of them. However, we have found an online graphic design course that can be considered the ultimate graphic designer's handbook.
Graphic Design Masterclass: Learn GREAT Design is exactly what it sounds like. The program leaves no stone unturned and teaches you everything there is to know about the three most popular graphic design programs, including the basic concepts that every graphic designer uses to create amazing art.
Covering Adobe Photoshop, Adobe Illustrator, and InDesign, the class individually introduces you to the specifics of each system, from the tools available to the possible results and everything in between.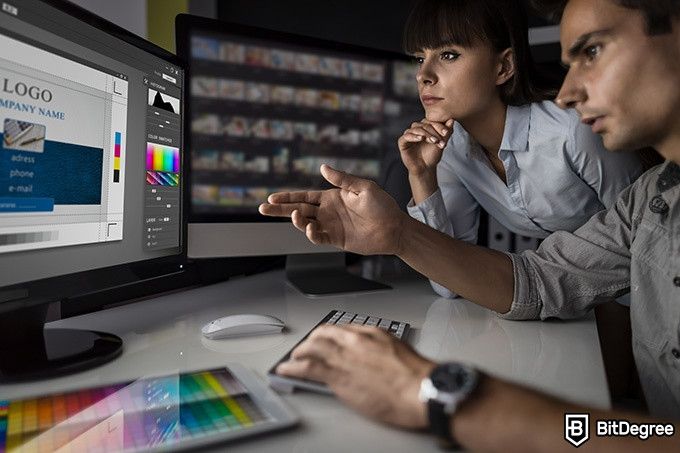 In addition to that, students will learn to practically apply graphic design theories, create different types of designs, and much more. Included in the syllabus are many different tips on how to design logos, typography, illustrations, and everything in between.
Now, you can trust us when we say that they weren't kidding when they called this course a Masterclass.
Of course, it is important to note that you shouldn't expect to go from zero to hero in a few hours. This Skillshare graphic design course is the most in-depth program on our list. With 138 lessons and new ones being uploaded regularly, the course contains 18 hours and 8 minutes of learning material.
Admittedly, this can seem like a steep mountain to climb, but the beginner-friendly class is created to make learning graphic design fun and simple. With bite-sized lessons, you won't even notice the time flying by!
If you're worried that the Masterclass comes with a price tag to match, you can rest assured. Like any other Skillshare graphic design course, you can take this program free of charge during the first two weeks of your premium membership.
And if you ever want to revisit any class, you can have unlimited access for only $10 per month once the free trial is over.
Those eager to know more about the ins and outs of graphic design will learn:
How basic graphic design theory can be used while working with Photoshop, Illustrator, and InDesign;
What techniques are used to create logos, thumbnails, posters, and much more;
What skills are most important in different graphic design niches and which one is the best for you.
Whether you're a beginner or already have some knowledge behind your belt, there is no better place to start learning than with this online graphic design course.
Start the course NOW
Platform: Skillshare
Duration: 8 hours 24 minutes
Price: Free
Certificate: No
Level: Intermediate
Apply HERE
Among the many fields where graphic design is used, branding can be considered the most interesting one of all. Logos and visual brand designs are a subtle mix of artistic creativity and clever design.
However, just knowing how to use Adobe Illustrator is not enough to create a successful brand design. It not only takes great communication skills, but enough experience and creativity to capture the exact essence of a brand with no more than lines, letters, and colors.
That being said, this is exactly what this Skillshare online graphic design course is all about. The Branding Masterclass for Graphic Designers: The Entire Process is a program created specifically to teach you the subtleties of the inner workings of branding through graphic design.
Now, it should be noted that this course is not intended for beginners. Because the syllabus does not cover the basics of graphic design, it is important to have some experience to make sure that the course can be taken without any trouble.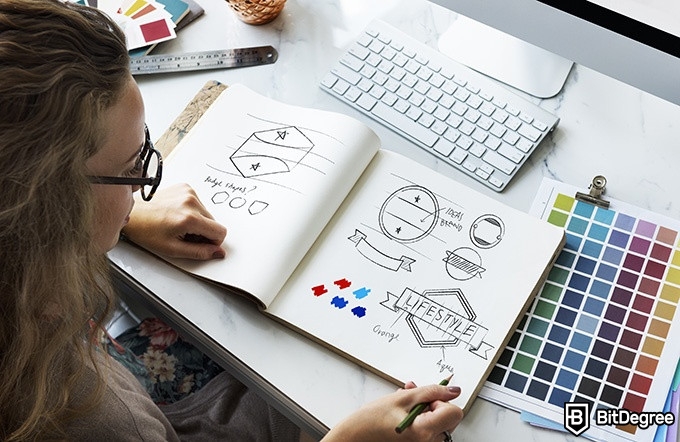 Because branding is much more than finding which colors go well with which font, this course was made to prepare graphic designers for every step of the process. From consulting with clients to settling on a concept and eventually adding all the finishing touches, no detail is forgotten.
One of the best things about this online graphic design class is how detailed the syllabus is. The 55 lessons are not limited to the branding process. Students will be taught how to create a multi-faceted brand, as well as have a unique opportunity to study other graphic designers' portfolios to see how their new skills are used by professionals.
This truly is much more than just a graphic design course.
As you can probably guess, this course is not one on the shorter side. In fact, it's the second-longest class on our list, with 8 hours and 24 minutes of learning material. But that just shows that you will have every detail explained to you, making it definitely worth your while.
What makes Skillshare's pricing system exceptionally wonderful is that the content and how in-depth or basic it is does not affect the prices of the courses. As with the other Skillshare course mentioned in this article, you would need to have a premium membership to be able to take this online class.
However, the first two weeks of the subscription allow you to try out any courses for free, and if you would like to continue learning on Skillshare you won't be charged more than $10 per month once the free trial is over.
It really can't get better than that.
The students that decide to kick start their career in graphic branding with this Skillshare design course will learn:
How to translate the client's vision into an actual design;
What you need to keep in mind to make the branding simple, yet memorable;
How to work with the tools available to you to create sophisticated visuals.
So, what are you waiting for? Take this graphic design online course and learn how to create an eye-catching brand design with just a few clicks of your mouse.
Start the course NOW.
Platform: Coursera
Duration: Estimated 6 months
Price: $49
Certificate: YES
Level: Beginner
Apply HERE
Sometimes taking one or two graphic design courses to sharpen your skills is more than enough. That being said, completing online graphic design courses with certificates can give you the often needed advantage to shine while applying for a higher job position. However, not many MOOC platforms offer extensive certified specializations.
Luckily, we have done the search for you.
Provided by Coursera, Graphic Design Specialization is a set of online graphic design courses that will teach you everything you might need to become one of the best graphic designers out there.
To make sure you have all the necessary material to start your career, this specialization includes graphic design courses on the fundamentals, introduction to typography, image-making, history of graphic design, and branding. This is the best online graphic design course to take to get the core skill set of a graphic designer.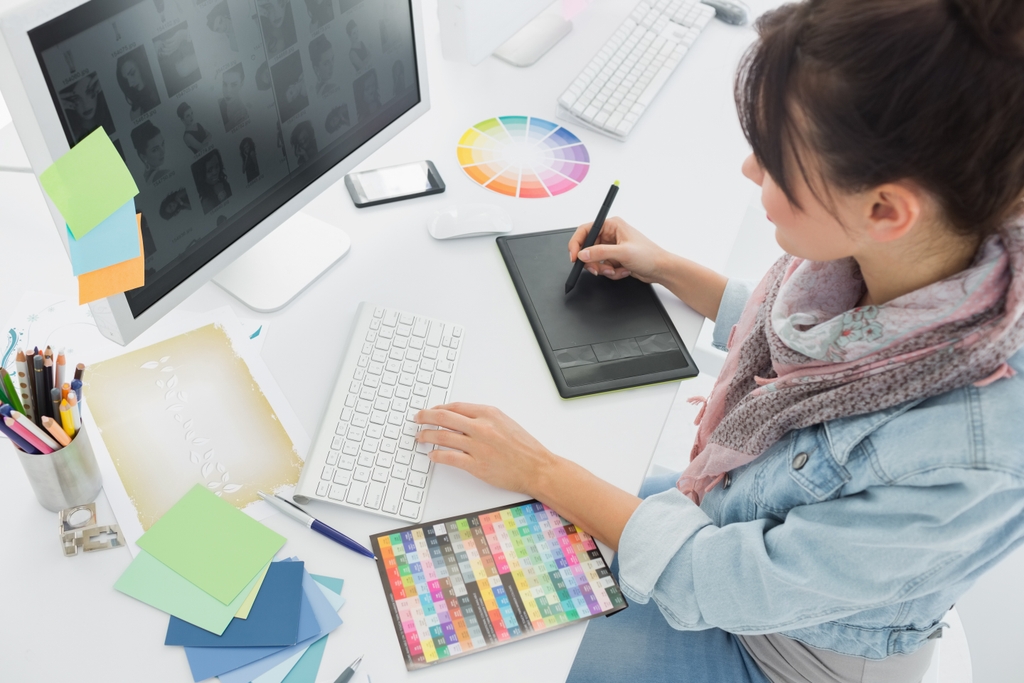 Because the specialization contains several online graphic design courses with certification, students will be able to showcase their experience in their resumes with more than one certificate after completing this extensive program.
Speaking of the program being extensive, this specialization is estimated to take around 6 months to complete in full. That being said, each course's deadlines can be scheduled to fit your individual needs, making it exceptionally convenient.
When it comes to pricing, Coursera's system is one of the most consistent. You can enroll in the specialization for $49 per month, with full-time access to every class included. With all the online graphic design courses with certificates included, this is one deal that you shouldn't pass up.
Students enrolled in this specialization program will learn:
How graphic design work is created and what goes into building unique concepts;
The ins and outs of typography;
How to create eye-catching images;
How to build a successful brand using graphic design.
With everything in one place, you will be getting the ultimate online graphic design experience by taking this specialization.
Start the course NOW
Platform: Coursera
Duration: Estimated 4 months
Price: $49
Certificate: YES
Level: Beginner
Apply HERE
Most industries that rely on graphic design aim for two main things - to attract users and encourage them to purchase the product or service advertised. These goals are commonly known as UI (user interface) and UX (user experience) design, focusing on the way customers interact with designs and the experiences they have in turn.
Because these spheres have their own specifics that graphic designers need to be well acquainted with, regular fundamental graphic design courses might not be enough, as UI and UX design often include interactive elements.
If you are interested in this field, then you came to the right place, as we have found the ultimate masterclass to UI and UX design.
UI / UX Design Specialization, hosted by Coursera, is a collection of online graphic design courses with certificates focusing on creating the best user interface designs out there.
Each of the 4 courses included covers the main elements of UI and UX design - visual elements of user interface design, UX design fundamentals, and everything web design. The program is a balanced in-depth course that mixes graphic design and web development to bring you the highest quality education.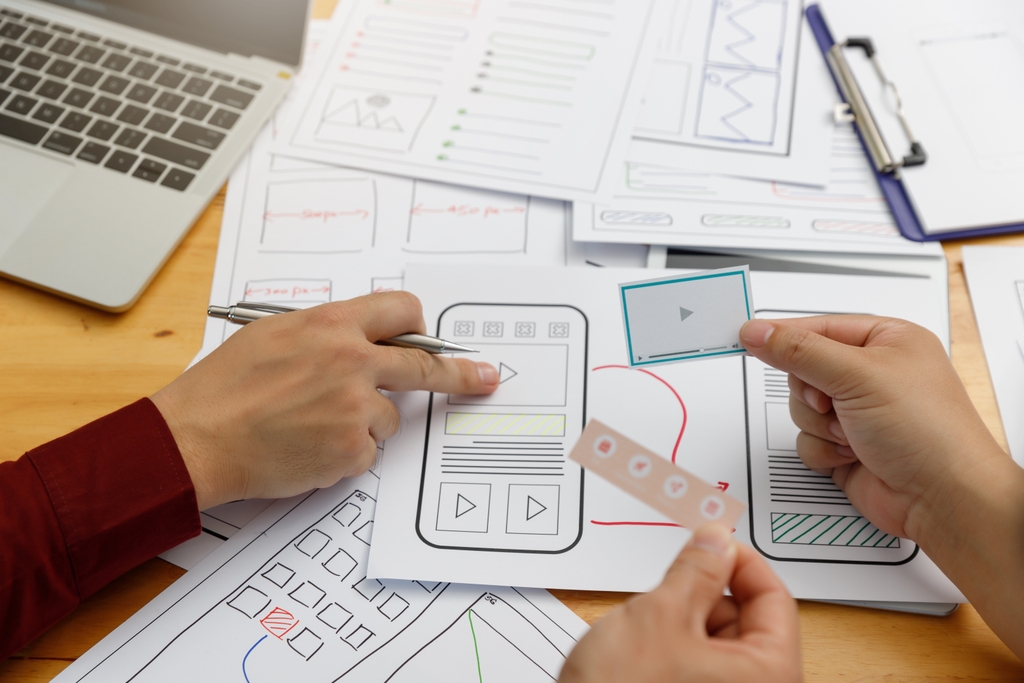 As standard for Coursera specialization, each graphic design course included is certified individually, which will open a multitude of career opportunities for you.
This is the second most extensive online graphic design course option on our list, estimated to take around 4 months to complete. That being said, every course offers an opportunity to individually schedule your deadlines, which makes the program suitable for anyone willing to learn.
Because Coursera prices are consistent all throughout the platform, this specialization is priced the exact same way as the other one mentioned in our list. Unlimited access to the learning material and accredited certificates of completion are all included for $49 per month, making this one of the best options out there.
Those enrolled in this specialization will learn:
What makes a great user interface design;
What role graphic design plays in creating the ultimate user experience;
The A to Z of web design and how graphic design can be used in the process.
So what are you waiting for? Learn more about UI and UX design with this online graphic design program.
Start the course NOW
Conclusions
Graphic design is used in a myriad of industries and its popularity is expected to grow with continuously developing new technologies. This makes it one of the best career options for many people.
For that exact reason, there are hundreds of MOOC platforms offering high-quality online graphic design courses covering every aspect of the field, making it quite difficult to find the best option for you.
In this article we presented the seven best online courses graphic design courses available, which you can look over one more time here:
Each program featured is guaranteed to help you develop new skills that can be used in many future endeavors. Whether you are looking to prepare for your dream job or are just interested in learning something new, we are sure that you will find something that meets your needs.
Even if graphic design might not be your destined career path, a unique resume design is guaranteed to help you stand out while looking for a job in any field.
We hope that this article was helpful and wish you the best of luck with your future graphic design adventures!
Scientific References
1. The Bureau of Labor Statistics, 2021-2024 projections. https://www.bls.gov/ooh/arts-and-design/graphic-designers.htm
2. 50 Online Education Statistics: 2020/2021 Data on Higher Learning & Corporate Training
Leave your honest feedback
Leave your genuine opinion & help thousands of people to choose the best online learning platform. All feedback, either positive or negative, are accepted as long as they're honest. We do not publish biased feedback or spam. So if you want to share your experience, opinion or give advice - the scene is yours!