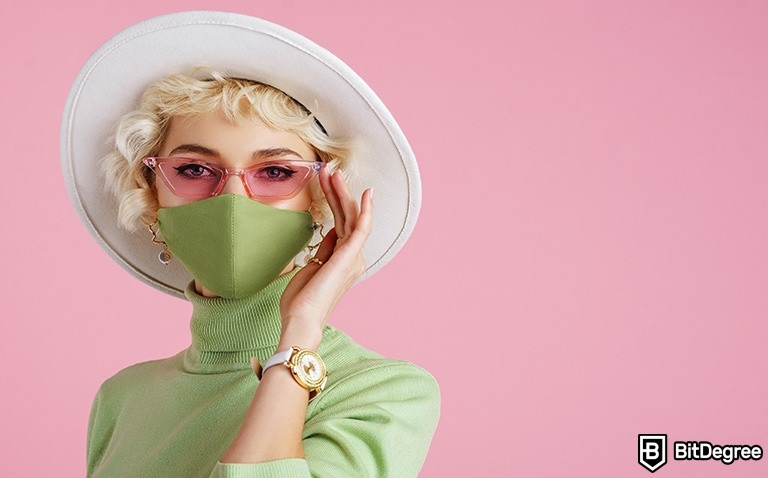 The fashion industry has grown tremendously over the last century, going from floor-length gowns and elegant suits to countless trends taking the entire world by storm. But fashion is more than just clothes and accessories - it's also a form of self-expression, a career, and of course, an art form. And what better way to delve into this dynamic world than by taking one or two online fashion design courses.
With the interest in fashion growing every year, more and more top MOOC platforms are offering fashion design courses, covering everything from fashion history and theory to clothing construction techniques. For those interested in learning more, we have curated a list of the 7 highest-rated online fashion design courses currently available:
Selected based on students' reviews, these fashion design courses are guaranteed to have the best-quality content, with something for everyone.
That being said, before delving into what makes these classes great, let's take a moment to discuss the fashion industry and the perks of taking online fashion design courses.
Why Should You Take Online Fashion Design Courses?
Even though some might not pay much attention to their clothes and style, the importance of fashion in our modern society is undeniable. In fact, fashion as a concept isn't as new as it might seem.
Latest DataCamp Coupon Found:
EXCLUSIVE 25% OFF
On DataCamp Subscriptions
Follow the Datacamp promo code link & get an exclusive 25% OFF Datacamp subscriptions. Act now while the offer is still available!
Expiration date : 13/06/2023
2,765 People Used
Only 35 Left
In ancient civilizations, such as Ancient Egypt and Greece, people saw clothing as another way to worship their gods and goddesses, with specific colors and accessories having significant symbolic meaning.
As the centuries went by, clothing remained an important symbolic part of various cultures. In Medieval Europe (5th to late 15th centuries) not only followed strict fashion rules and laws but placed religious value and symbolism on their clothing as well. For example, blue was heavily associated with the Virgin Marry[1], making it a popular color choice for wedding gowns.
In addition, for many centuries fashion and clothing were a way to set the aristocracy apart from those of lower social classes, making some trends illegal to be worn by commoners. Most notably, Tyrian purple was a shade reserved exclusively for the emperor and nobility of ancient Rome[2]. Because of this, to this day purple is associated with royalty and high-class status.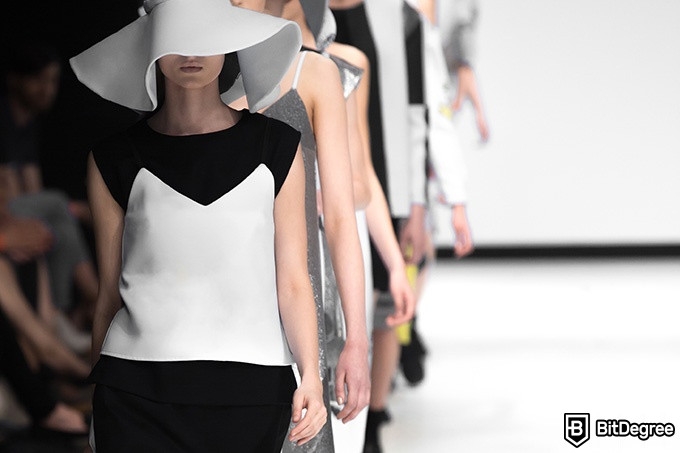 Only in the 1960s did fashion become a form of self-expression, as the focus drifted from looking elegant and sophisticated to having fun with your clothes[3]. Since then, fashion and new trends have been playing a starring role in our modern society.
Unsurprisingly, with so much emphasis being placed on clothing and fashion, fashion designers have remained to be some of the most highly renowned people in society. From royal seamstresses to high-fashion names, the fashion industry is still booming.
It is estimated that fashion designers earn around $73,790 annually, making it an exceptionally attractive career option. In addition, with the rise of small one-person fashion brands' popularity, it's a great time to consider launching your own company!
In general, fashion design is a unique and dynamic field, and a great way to get to know the inner workings of it and maybe even start your own debut collection is by taking one of these online fashion design courses.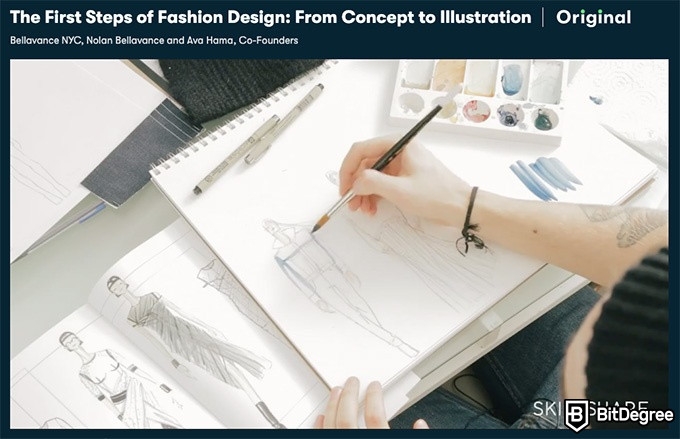 Platform: Skillshare
Duration: 58 minutes
Price: Free
Certificate: No
Level: Beginner
Apply HERE
Earl Nightingale, an American author, once said "everything begins with an idea". Fashion design is no exception. Every design starts with a concept, with a statement to be portrayed through wearable art. And of course, the first step of bringing your ideas to life is translating them into an illustration.
Fashion illustrations stand out from other drawings due to the distinct model proportions and dynamic brushstrokes. Admittedly, this style doesn't come naturally to everyone. That being said, worry not as this Skillshare online fashion design course will teach you exactly how to illustrate your designs.
The First Steps of Fashion Design: From Concept to Illustration is a fashion design class focusing on how to portray your exact design ideas into eye-catching illustrations. Covering everything from model proportions to visualizing textures of different fabrics, this program has it all.
This online fashion design course aims to provide students with the core skills they might need to start sketching their future collections, while still leaving room for creativity and individuality to shine through the art style.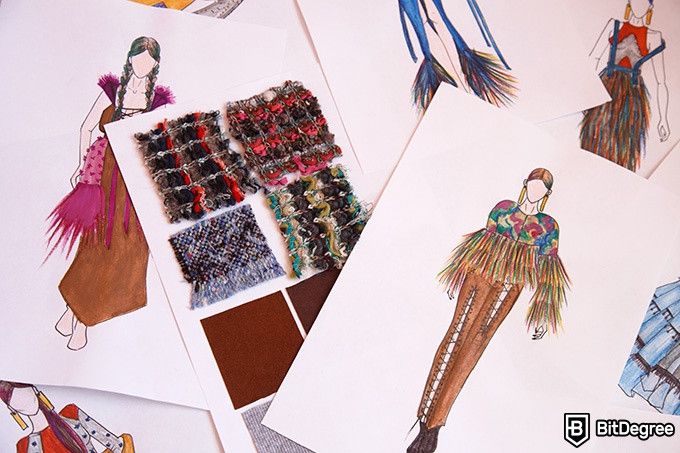 To assure the learning process is as smooth and simple as possible, this online fashion design course is divided into 10 video lectures, taking on one topic at a time. Every class builds on the information covered in the previous video, making drawing fashion illustrations easier than ever before.
Because the syllabus focuses on the basics and the most important parts of every step, this course is one of the shortest on our list. With no more than 58 minutes of content, the concise program is perfect for those eager to start designing their own clothes.
Now, if you're concerned about pricing, you have come to the right place. Aside from high-quality content, Skillshare is a favorite among online learners for its incredibly affordable prices.
If you are interested in taking this or any other Skillshare online fashion design courses, you can enroll for free during the first two weeks of your premium membership. And if you feel like sticking around, you can take as many courses as you want for no more than $10 per month.
It rarely gets better than this.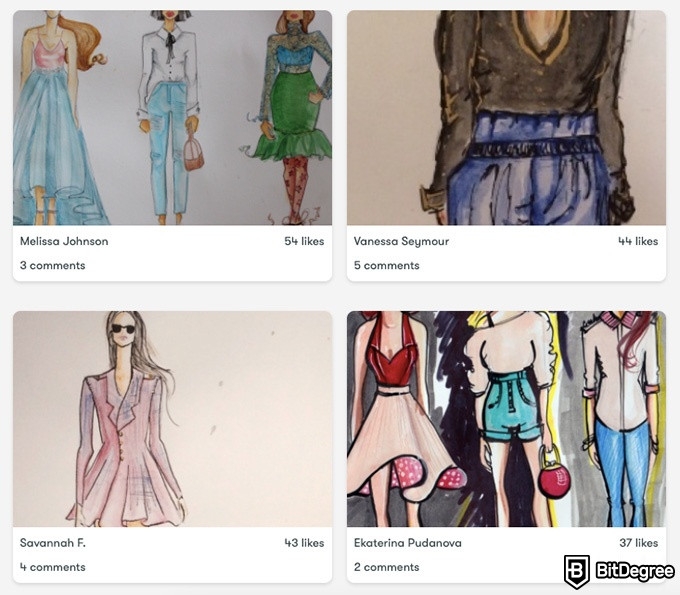 Those enrolled in this fashion design course will learn:
What makes up the basic fashion body and how to quickly sketch essential poses;
How to depict hands, feet, and hair with just a few lines;
How to convey the weight and texture of fabrics using washes and movement lines.
Whether you are an aspiring fashion designer or would just like to learn a new drawing style, this online fashion design course has everything you might need.
Start the course NOW.

Platform: Udemy
Duration: 2 hours 24 minutes
Price: $35.81
Certificate: YES
Level: Beginner
Apply HERE
There is something about fashion illustrations that captivate the viewer. Just a few seemingly rushed lines can convey poses, hairstyles, and sometimes even facial expressions. That being said, it might be difficult trying to learn the distinct style on your own.
Those who want to know exactly what goes into drawing fashion illustration figures have come to the right place, as this Udemy course is one of the most in-depth programs covering this topic. Basic Fashion Illustration is an online fashion design course that leaves no stone unturned when it comes to fashion illustrations.
What sets this program apart is that it focuses on the poses and model figures of the illustrations, rather than the actual clothing. Because online fashion design courses often neglect the figure posing aspect compared to the outfits, this class is perfect to fill in any possible gaps.
In any case, if the model is posed in an unnatural way, the entire illustration might look off.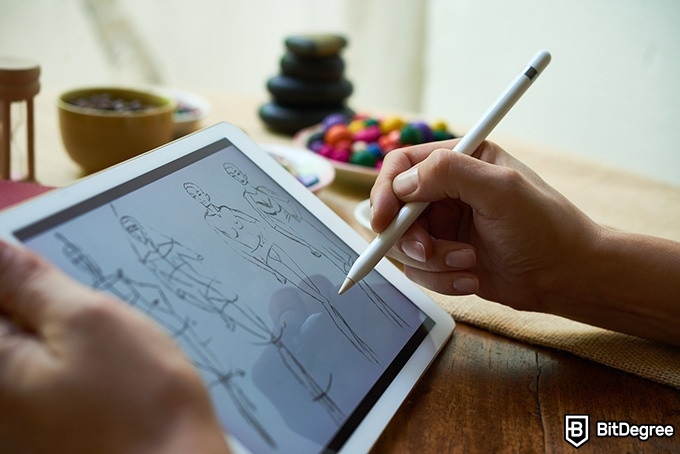 The syllabus is divided into 7 sections, covering everything you might need to know. Consisting of 21 lectures in total, this program offers useful information rarely mentioned by other online fashion design courses. For example, there are separate lectures on body proportions, which can come in handy while drawing any other figure.
Because of how detailed the learning material is, the course contains 2 hours and 24 minutes of video content. This makes the course a perfect choice for even the busiest students, and the self-paced lectures guarantee a stress-free learning experience.
When it comes to pricing, you don't have to worry about giving up an arm and a leg to draw more arms and legs. This online fashion design course comes out to be $35.81, making it an incredibly affordable option for those looking for an interesting and dynamic fashion illustration course.

Students enrolled in this course will learn:
How to understand proportions of the figures;
What differences to keep in mind while drawing male, female, and children figures;
How to drape garments on finished figures.
Become a model fashion illustrator with just one online fashion design course!
Start the course NOW.

Platform: Udemy
Duration: 1 hour 17 minutes
Price: $23.87
Certificate: YES
Level: Beginner
Apply HERE
When it comes to fashion, the first thing to come to mind for most people is clothes. But have you ever stopped to think how yards of satin can be turned into a showstopping dress? Well, it all begins with the basic shapes.
Clothing can be made using one of two methods. The first one, used for more intricate garments, is draping the material on a dress form to achieve the desired look. The second method, used much more commonly, can help create every possible piece of clothing imaginable.
And that's exactly the method this online fashion design course explains in wonderful detail.
Making sewing patterns requires a good understanding not only of the human form but how fabric can be shaped, as well. If your design requires darting, pleating, or gathering, simple squares and rectangles aren't going to create the desired effect. That's where Pattern Cutting & Making for Absolute Beginners - Fashion, a Udemy program, comes in to teach you how to make your own sewing patterns.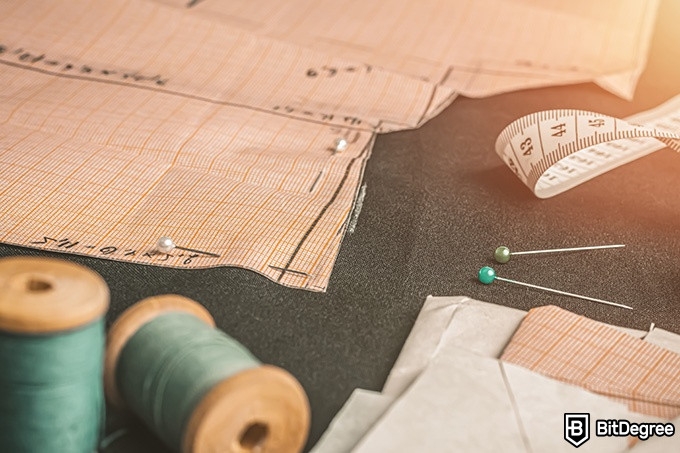 Designed to be suitable even for those just learning to make clothes, this online fashion design course covers the essential basics of clothing making - tools, core principles of pattern making, and how to construct simple garments. After honing these fundamental skills, crafting more complex designs will be much easier.
The syllabus consists of 4 sections, each one tackling a separate part of the garment construction process - theory basics, creating the pattern, and finishing touches. There are only 11 lectures in the entire program, so you are guaranteed that this is a straight-to-the-point class that will not waste any time.
Because the instructions provided are designed to be as simple and easy to understand as possible, you can complete this entire online fashion design course in just 1 hour 17 minutes, so you can have a finished garment in only one afternoon!
What makes this program especially appealing is its price. Because every Udemy instructor can set their own prices, some fashion design courses covering similar topics can be more expensive than others. That being said, you can have unlimited access to the self-paced lectures for just $23.87.
We really like courses that offer high content quality for low prices, don't you?

Those taking the course can expect to learn:
How to use your tools and take basic measurements for your future garments;
How to manipulate fabric to create various silhouettes;
How to professionally finish up a garment.
After taking this fashion design online course, you will be able to sew an entire new wardrobe in no time!
Start the course NOW.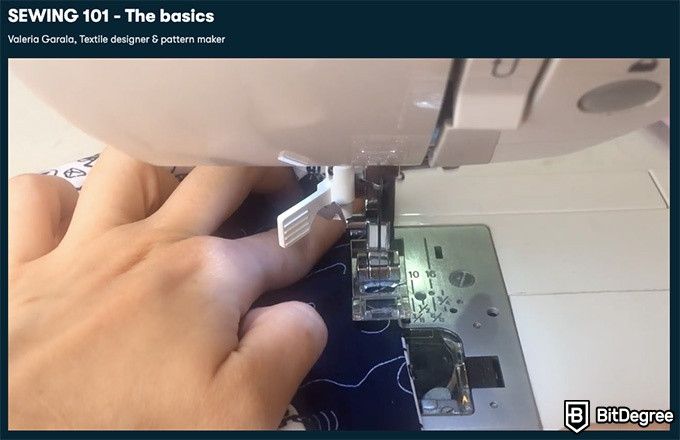 Platform: Skillshare
Duration: 1 hour 7 minutes
Price: Free
Certificate: No
Level: Beginner
Apply HERE
Ok, you have the pattern prepared, you chose gorgeous linen to make a summer shirt, you're full of enthusiasm and ready to make your first garment… But actually starting to sew still seems a little daunting. Well, what we have here is a total A to Z guide that will have you sewing with confidence in no time.
SEWING 101 - The basics is an online fashion design course hosted by Skillshare that gives students a complete rundown of sewing and everything you might need to know to learn.
The techniques taught in this program are universal and can be used not only to create clothes and accessories but mend and fix up older items as well, giving you more time to enjoy them.
What makes this fashion design online course stand out is the broadness of content. Along with sewing basics, the syllabus includes an introduction on how to understand different fabrics and many useful tips that can make constructing garments much easier.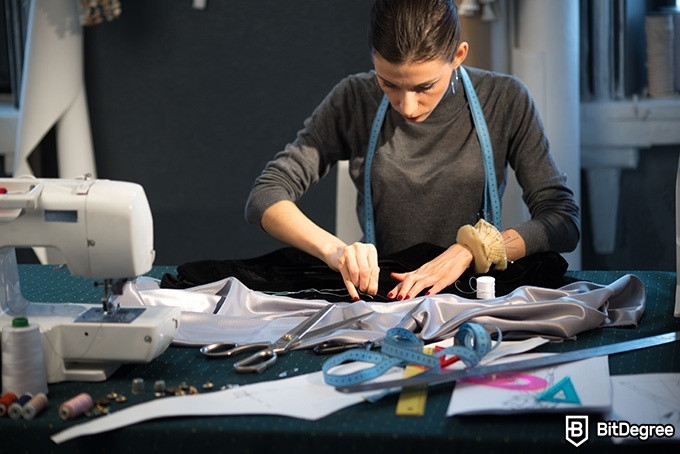 The entire syllabus consists of 14 lessons, covering every step of the process. The course, along with the learning material, includes one hands-on project that students can practice their new skills while completing. It's a well-rounded program, providing you with both theoretical and practical skills that are sure to be useful in many different situations.
If you don't like taking long online courses then this is the class for you. In fact, it is the second shortest course on our list, taking only 1 hour and 7 minutes to complete. It's perfect for beginners as well as those with some sewing experience looking to brush up on their skills.
And of course, this pocket-sized fashion design course comes with a price tag to match. As standard for Skillshare, this and all other online fashion design courses can be taken for free during the first 14 days of your premium membership. And if you decide to stick around for longer, the full Skillshare experience can be yours for only $10 per month.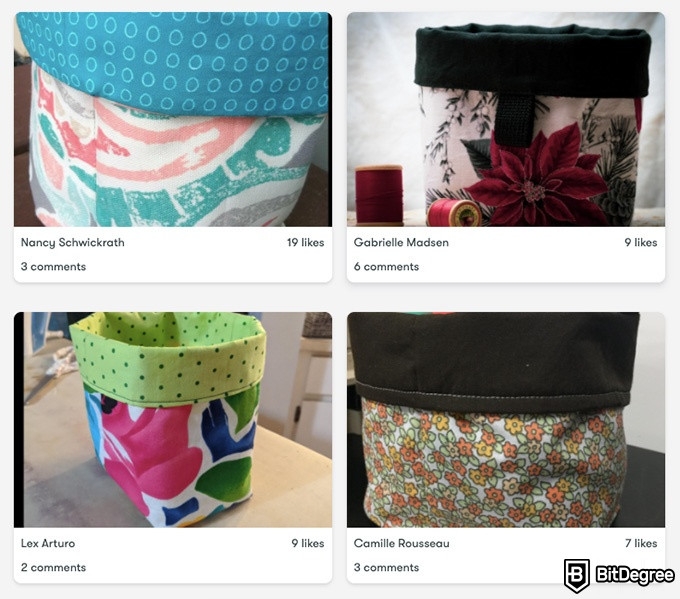 Those taking the course will learn:
How different fabrics work for different garments;
The different seams that make clothes fit properly;
What you can do to give your finished garment a professional look.
Just a little more than an hour and your sewing journey will be in full swing!
Start the course NOW.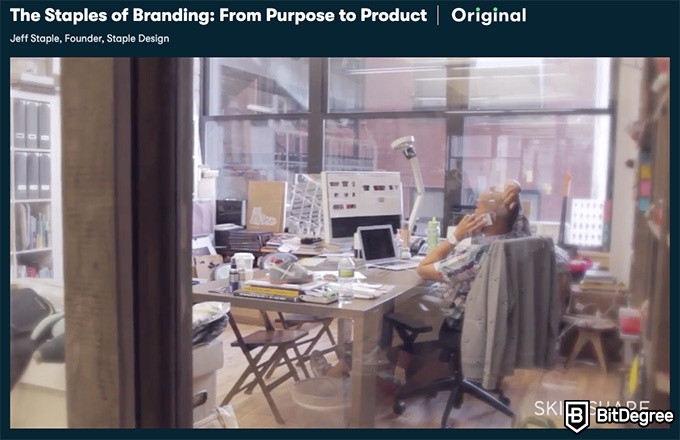 Platform: Skillshare
Duration: 58 minutes
Price: Free
Certificate: No
Level: Beginner
Apply HERE
Fashion design is much more than just creating wearable artwork to captivate the masses. In order to make a splash in the endless sea that is the fashion industry, you need to know how to present your designs as something attention-worthy. That means building your own brand.
A brand is the embodiment of your design's essence, of what sets you apart from your competitors. This encompasses everything from your mission statement to the color choices of your brand's logo. And to help you along the way Skillshare has the perfect course to add to your current fashion design classes - The Staples of Branding: From Purpose to Product.
In order to equip students with the necessary skills to launch a successful fashion design brand, this fashion design online course tackles three main blocks of the branding process - refining the brand name and slogan, everything that goes into creating a logo and crafting a debut collection.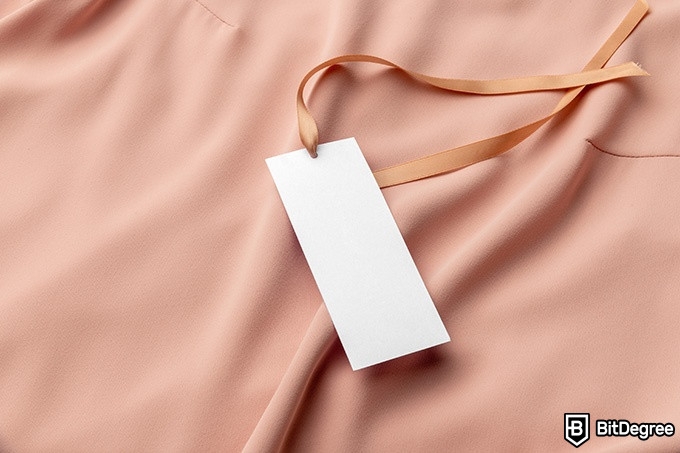 What stood out to us in the students' reviews on this course are the praises on the program's structure. Because the material is theory-based, the entire syllabus contains only 4 lectures - a short intro and one video for each of the previously mentioned blocks. The exceptionally simple structure is exactly what makes this online fashion design course so appealing.
Another factor adding to the popularity of the course is how concise it is. The entire program can be completed in just 58 minutes, which makes it one of the shortest fashion design classes on our list. This makes the program especially appealing to those who are taking it alongside other courses, as it won't take away too much attention.
Just like all other Skillshare fashion design online courses mentioned in our article, the pricing is something that makes this class worth anyone's while. Students can take the program for free during the first 14 days of their premium membership and continue learning more skills for just $10 every month.
There really is no reason not to try Skillshare online fashion design courses out.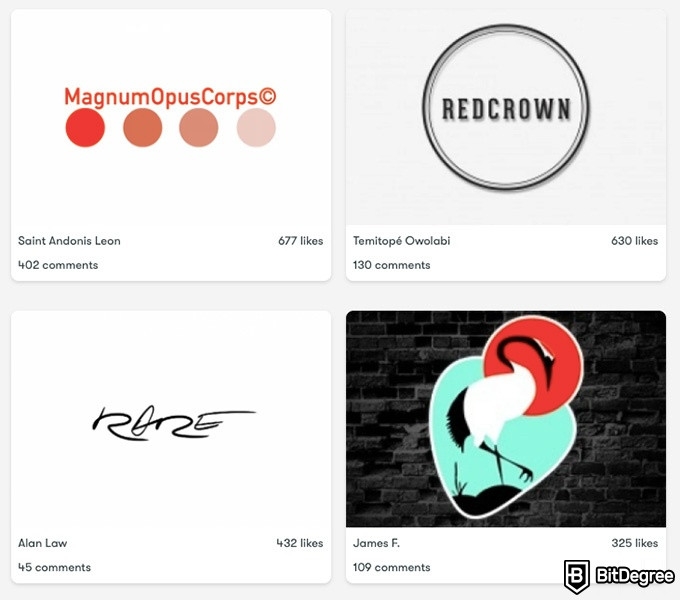 Those who decide to take the course will learn:
How to develop your brand's unique story;
What goes into creating an iconic brand logo;
How to make your debut collection the perfect representation of your brand.
This unique online course can be useful to people in many creative industries, not just fashion design.
Start the course NOW.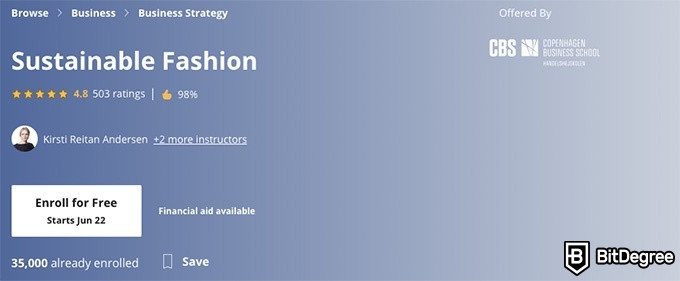 We are living in a world of growing humanity and a shrinking world. Many fashion brands are taking the initiative to take care of our world, as increasing garment manufacturing and consumption contribute to 10% of all carbon emissions and 85% of textiles end up in landfills every year[4].
To combat these polluters, an increasing number of people, companies, and industries are shifting their focus toward sustainable fashion. Because there's more to fashion sustainability than recycled fabrics, Coursera offers an in-depth online fashion design course to encourage aspiring designers to take the eco-friendly path.
Sustainable Fashion is a business model-oriented fashion design course that focuses on every step a brand can take to make their garments as sustainable as possible. Created in collaboration with Copenhagen Business School, this course is at the same quality level as other university fashion design classes.
This online course covers theoretical sustainable fashion business models and analyses existing examples of companies implementing these tactics, making this one of the most in-depth programs on our list.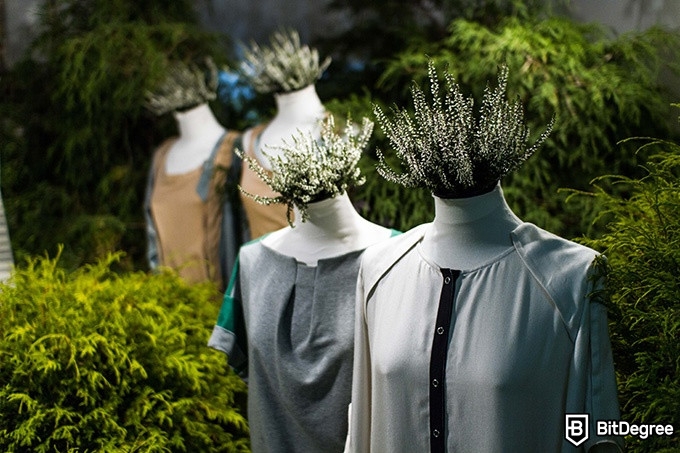 To make the learning process simple and enjoyable even for beginners, the syllabus is divided into 7 sections, each suggested to be taken over the course of one week. That being said, you have full control over your deadlines, so you can take as much time as you might need to really get the hang of the information provided.
At first glance, it could seem that there is more content than you might want to get yourself into. 7 sections, one taken every week… well, good news, as there are only 5 hours of learning material in this online fashion design course, which means you will have more than enough time to take the class and enjoy it too.
When it comes to pricing, Coursera programs are priced individually. Because the platform offers university-level courses, it is important to expect the course prices to reflect that. But before you take out that loan, we have great news! This fashion design course only costs $49 to take, with an accredited certificate included in the whole package.
Now that's a deal!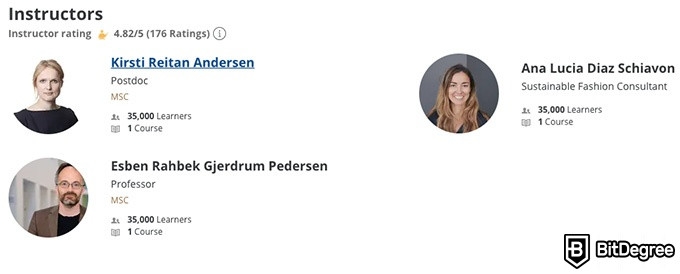 During this course, students will learn:
The fundamental concepts that sustainable fashion is based on;
What challenges your new sustainable fashion brand might face;
How to study existing cases and build your own brand based on their stories.
If we want to enjoy our planet as long as possible, you can help too by taking this fashion design class.
Start the course NOW.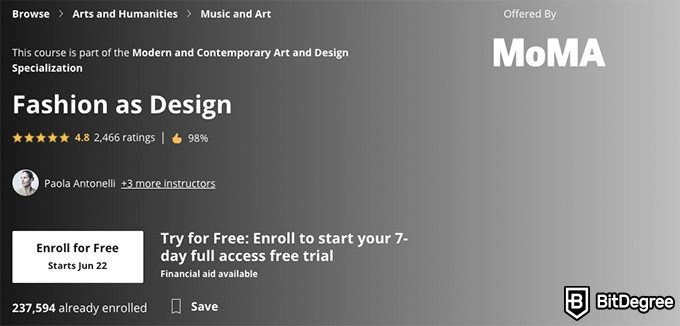 Platform: Coursera
Duration: Approx. 20 hours
Price: $39
Certificate: YES
Level: Beginner
Apply HERE
In this article, we discuss several different online fashion design courses. From developing your brand to the finishing touches of your garments and everything in between, we have covered every step of the creative fashion design process.
However, we have yet to look at fashion design as a subject. Its history, development, and different sides have created the vast industry we know today, and yet so few know where it all began. To introduce you to the backstory of the subject, we present one of the most unique online fashion design courses.
Fashion as Design, a Coursera fashion design class, is part of the Modern and Contemporary Art and Design Specialization, hosted by the MoMA. Introducing students to fashion design from a different perspective, this program stands out from other online fashion design courses.
The class covers 6 core topics that make up fashion design - heroes, silhouettes, coutures, lifecycle, modesty, and, of course, expression. The syllabus is designed to show what fashion design truly is and to be used as a source of inspiration for any fashion designer.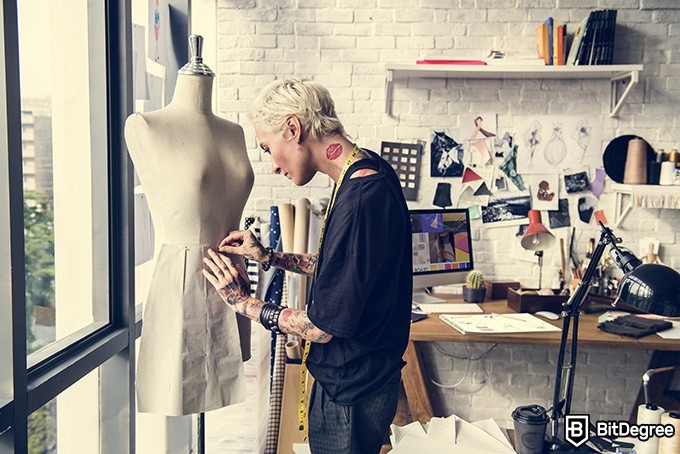 Consisting of 7 sections of in-depth material, this is the most extensive fashion design course on our list. With 20 hours of content, nothing is forgotten. Admittedly, such a long course can seem intimidating.
That being said, it is important to note that, as standard for many Coursera online fashion design courses, the deadlines can be scheduled individually to suit every student's needs, making it convenient for even the busiest of bees.
Even though this class has the most learning material out of all the fashion design programs mentioned in this article, it, surprisingly, isn't the most expensive one. Students can have unlimited access to the course content and receive an accredited certificate upon completion for just $39!

Students taking this class will learn:
How to appreciate and contextualize fashion design;
Trace the history, development, and impact of garments over time;
How to investigate garments through multiple lenses including politics, identity, and economics.
Even if you aren't striving for a career in the field, this course is a must-take for everyone interested in fashion design.
Start the course NOW.
Conclusions
Fashion undeniably plays one of the biggest roles in modern society. Bearing cultural, historical, and political significance, the final result is just as important as the entire fashion design creative process.
Fashion design can not only be an interesting hobby but an incredibly successful career in one of the most dynamic industries.
In this article, we introduced you to the most popular and highest-rated online fashion design courses provided by some of the top MOOC platforms. If you would like to look through them one more time, you can do that here:
These fashion design online courses are favorited by thousands of students thanks to their high-quality content, easy-to-follow structure, and incredible prices. With such a broad selection of topics covered in every class, we are sure that anyone can find a fashion design course to take.
We hope that you found our article on the best online fashion design courses interesting and useful, and can't wait to see your designs walking down the top runways of the world!
Scientific References
1. Segmation: 'COLOR SYMBOLISM IN MEDIEVAL CHRISTIAN ART'
2. Ancient Origins: 'Only the Roman Elite Could Wear Tyrian Purple to Keep the Peasants in Their Place'
3. Bellatory: 'Fashions of the 1960s: Mods, Hippies, and the Youth Culture''
4. World Economic Forum: 'These facts show how unsustainable the fashion industry is'
Leave your honest feedback
Leave your genuine opinion & help thousands of people to choose the best online learning platform. All feedback, either positive or negative, are accepted as long as they're honest. We do not publish biased feedback or spam. So if you want to share your experience, opinion or give advice - the scene is yours!