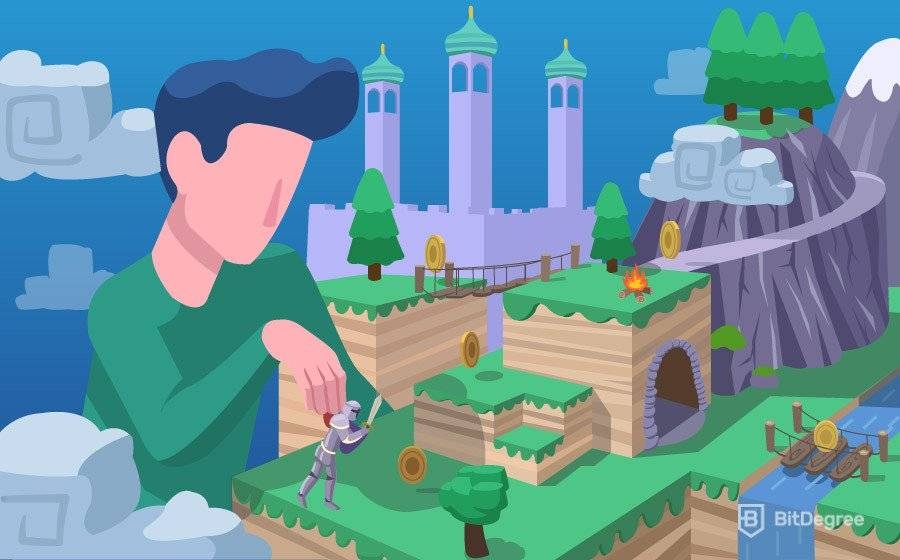 Game development requires a talented team of specialists, and game designers are a vital part of that process. Such experts have a massive responsibility when it comes to the way a game looks and feels. It is life-changing when gamers realize that they can learn how to become a game designer. However, it might be discouraging to find out the long list of technical and artistic skills that such jobs require. In this tutorial, I am going to help you figure out the resources and qualifications you need to get a job as a game designer. Additionally, I will review some of the software applications that these specialists use.
So, level one in this learning game is for you to make a plan, consisting of clear-cut steps you need to take. Luckily, I am going to help you with that, so you do not get stuck on the first mission.
The key feature you must have
While the majority of game designer skills refer to the technical mastery of programs, there is one requirement that might not be mentioned in the job description. Specialists indicate that you cannot be a game designer if you do not like games.
Latest DataCamp Coupon Found:
EXCLUSIVE 50% OFF
On DataCamp Subscriptions
Follow the Datacamp promo code link & get an exclusive 50% OFF Datacamp subscriptions. Act now while the offer is still available!
Expiration date : 06/06/2023
2,765 People Used
Only 35 Left
Gamers make the perfect game designers as they have hands-on experience with what elements of games work, and which are questionable. To be a game designer, you must have a great deal of knowledge about the current gaming industry. As most of the games follow identical or similar patterns, you should be able to repeat them.
Responsibilities of a game designer
If you are serious about pursuing this position, you should know more about a video game designer career. The first stop: responsibilities, duties, and mundane tasks of game designers.
Game designers are usually the ones working hard in the pre-production stage. They are the ones that come up with storylines, characters, gameplay experience, art, and animation.
These specialists are also the ones that think of new ideas for games.
They find ways to merge different genres for more enjoyable user experience.
Game designers come up with maps, levels, and scenarios.
They indicate how each element of the game should look, starting from the user interface and ending with the color of the characters' skins.
Some also write code with various programming languages.
Game designers make sketches of their ideas either with digital tools or on paper.
Depending on the company, game designers might also be the ones testing the product during the early stages of development.
While working hours might be flexible, be sure to sit in the hot seat when deadlines approach.
Non-technical tasks
Game designer skills also are related to the development and production outside of the actual game:
Implement market research on your targeted audience. Find out what they are missing in the current games, and how your new game idea will satisfy them.
In companies, you will need to collaborate with a big team of specialists. You need to know how to present your ideas and concepts to programmers, artists, and developers.
Game designers also need to prepare quality assurance specialists to test their games.
While technical abilities are essential for starting a video game designer career, there is one trait that might be even more important. Creativity is the key to good games, and your head should be buzzing with ideas if you wish to become a successful game designer.
Long story short, after getting everything on the list for how to become a game designer, you will start working on projects either individually or in companies. Game designers are responsible for setting:
The difficulty of the game.
How it progresses.
The available main and side missions.
Characters' appearances and actions.
How the world of the game looks.
What it takes to win the game.
Types of game designers
When determining how to become a video game designer, you should recognize that there are several types of game designers.
Gameplay designers work on the mechanics and controls of games.
UX designers build UI screens and HUDs.
Level designers are needed for adventure games, shooters, and platformers. They are responsible for creating levels.
Scripting designers write code that will automate various components of the game.
System designers are responsible for creating complex systems such as progression or metagame features.
Mobile designers develop retention and monetization designs.
Qualifications for game designers
With so many responsibilities, game designers naturally need to prove their abilities. One way of doing this is to present a bachelor's degree in video game design or related programs. However, four years of intense studies might not be available for all, especially those working in one field and wanting to make a career change. Here are some other options that you might consider if you're going to learn how to become a game designer:
New York Film Academy (NYFA) offers a 1-year game design program. The program invites the creative, the passionate, and the motivated for a fully immersive experience of learning game design. NYFA offers this course in New York and Los Angeles, and is an excellent opportunity for those who reside in those areas. The people running the program indicate that within a year, students will learn about how to deconstruct any game experience, prototype, test, present, and collaborate. Furthermore, the program is project-based as students present two functional games throughout their studies.
CG Spectrum provides an excellent option for distance learning. You will learn from highly professional and know-how mentors who have hands-on experience in producing games. The learning process is simple: you enroll in one of the courses, attend weekly live classes online, start building your portfolio, and graduate with higher chances of becoming a game designer.
The University of Advancing Technology offers an online learning option as well. They claim that all online game design students will learn how to create and test games using UAT's full range of technology and gaming resources. With the advancing gaming industry, this program is great for becoming familiar with the growing trends and the overall industry standards.
While all of these options are excellent, they might not be applicable due to location, price, or overall scheduling matter. Is there a cheaper and more available option when looking for how to become a game designer? As a matter of fact, there is: online courses.
How to become a game designer? Try online courses!
When it comes to the technical know-how for game designers, there is a list of abilities that you should have.
The quality of the game design depends on the way designers can use the tools to represent the mechanics and the intended atmosphere of the game.
After documenting the principles of the game, designers start working on the prototypes of it.
Once prototyping is done, the idea can finally be fully pitched to the rest of your team. You can start building the game and delivering high-quality entertainment.
Prototyping and general understanding of game design
So, now you will enter stage 1 of how to become a game designer. Here is a list of online courses that will help you understand the fundamentals of prototyping, UI/UX development, and improving gameplay. After these courses, the process of how to become a game designer should not be as mysterious.
This course is all about prototyping various games with the Construct 2 program. This program has an array of great features such as an editor, allowing you to resize, drag, and rotate objects quickly. You can also apply various visual effects and control their intensity. Furthermore, this course is perfect for people only starting to learn how to become a game designer. It focuses on the basic mechanics and current trends of the industry. As a result, you will be more prepared to make your own games.
Understanding the UX fundamentals is essential for any game designer. You need to know how specific elements can improve the user experience. If you do not consider your target audience, your game will flop if the mechanics and gameplay will be inconvenient. Therefore, even if you have a killer idea, its implementation is just as critical.
It also worthwhile to learn the basics of Unity, one of the most popular game engines today. You will need Unity for creating various game elements and adding some stunning gameplay components to make your game more enjoyable.
Modeling
Another vital part of game design is animating and modeling. The latter term refers to the process of creating three-dimensional models. When considering the options for how to become a game designer, you need to know that modeling is one of the main tasks that these specialists have. Here are some courses for you to get that game designer's education for the best price possible:
Software applications for game designers
I have already mentioned a bunch of programs that designers use: Blender, Unity, and Construct 2. However, there are actually more tools available. When deciding on the best route for how to become a game designer, you also need to consider which applications you will be more inclined to use. In this short review, I will try to introduce some of the most popular options.
GameMaker Studio
GameMaker Studio tool is highly reputable for its simplicity. For the most part, game designers use it for the development of 2D games. It has drag-and-drop functions that allow efficiency that any specialist will appreciate. Furthermore, the tool allows more tech-savvy people to generate their own game scripts thanks to the built-in scripting language GML.
Maya
Maya actually consists of three applications that might be used for game design. First of all, we have the main Maya tool for 3D modeling, animation, effects, rendering, and compositing. Up next, we have 3ds Max, which is very similar but does not support compositing. Lastly, we have Maya LT, which is 3D animation and modeling software for indie game makers.
Photoshop
Photoshop is perfectly suitable for game designers. You can do anything you want there: design characters, objects, locations, buildings, etc. Of course, Photoshop is best for 2D game designing, meaning that you should find another tool for 3D games.

Pros
Easy to use with a learn-by-doing approach
Offers quality content
Gamified in-browser coding experience
Main Features
Free certificates of completion
Focused on data science skills
Flexible learning timetable

Pros
Simplistic design (no unnecessary information)
High-quality courses (even the free ones)
Variety of features
Main Features
Nanodegree programs
Suitable for enterprises
Paid certificates of completion

Pros
Huge variety of courses
Easy to navigate
No technical issues
Main Features
Huge variety of courses
30-day refund policy
Free certificates of completion
A notebook?
Surprise surprise: one of the options is not digital. Some game designers prefer to let their ideas fly on real paper instead of the computer screen. You can definitely see the benefits of a good old notebook: you can sketch level plans, write lists of assets, come up with gameplay mechanics, etc.
Some companies might require you to produce digital examples for your team. If it is allowed, you could scan your notebook. In other cases, you will need to use specific software. Nevertheless, never underestimate the simplest choice!
Final thoughts
Learning how to become a video game designer will take time, no doubt about that. However, you should feel motivated to study hard. According to CareerExplorer, the average yearly salary of game designers is $90,270. This sum translates to approximately 7-8 thousand dollars a month (which is a great option). Therefore, if you are passionate about games, know the industry pretty well, and have many ideas for games, the career of a game designer might be for you!
Leave your honest feedback
Leave your genuine opinion & help thousands of people to choose the best online learning platform. All feedback, either positive or negative, are accepted as long as they're honest. We do not publish biased feedback or spam. So if you want to share your experience, opinion or give advice - the scene is yours!