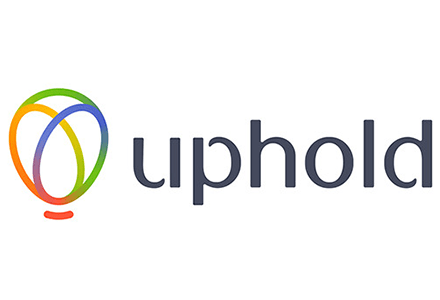 The topic of crypto has, evidently, never been more popular than nowadays. It's no wonder, though - crypto has been confidently breaching through the headlines of all major news providers all around the world! If you're looking to get started with crypto, too, user Uphold reviews might pique your interest.
Uphold is a rather interesting platform, as far as cryptocurrency exchanges are concerned. This is because it has a few different features available to be used - the aforementioned exchange functionality, a crypto wallet, and even a stock and equity exchange!
We'll discuss all of it in the Uphold review ahead, and also look into questions such as "is Uphold legit?". Let's get to it, shall we?
Pros
Advanced features
Multiple tradable asset classes
Decent fees
Large variety of cryptos
Multiple additional features (wallet, card, etc.)
Cons
No live customer support
May have a steep learning curve
Uphold Reviews: PROS
As per usual, we'll start off our Uphold review by covering the main benefits that you can expect to receive by using the exchange platform in question. If you're interested in Uphold fees, wallet functionality, and more, you'll be glad to know that all of these things fall under the "PRO" umbrella!
A Multi-Functional Platform
Probably one of the biggest benefits associated with the Uphold crypto platform is the fact that it's multi-functional.
What does that mean, exactly?
Well, some time ago, many traditional cryptocurrency exchanges would only offer their users the chance to trade (exchange) crypto assets, and that's it. If the exchange was custodial, it would also be able to act as a wallet, but that's the extent of it.
With time, though, and with the increase in popularity of crypto, in general, exchanges started offering their users additional features - advanced trading options, superior storage, and so on.

Well, quite a few user Uphold reviews will tell you that the platform in question does, in fact, offer a rather significant array of different features and functionalities to its customers.
For starters, the Uphold exchange is our main focus of this review - that's evident. However, to add to that, it's also important to mention that there's an Uphold wallet available for you to check out, too!
Rather, I should say - wallets. This is because there are dedicated wallets for different cryptocurrencies available on the platform, and they can all be accessed from a single Uphold app.
Following that, user Uphold reviews will also tell you that you can trade many more assets on the platform in question - not just cryptocurrencies. These assets include things such as equities (only for US-based traders), stocks, forex, and more.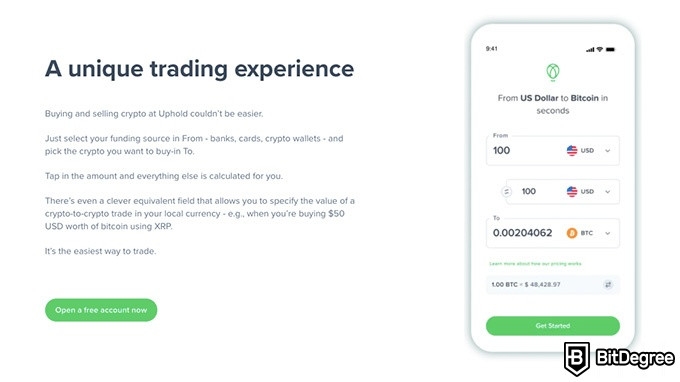 While many people who are interested in cryptocurrencies aren't necessarily going to be too excited about trading other types of assets, this is still a wonderful feature to have, nonetheless. This is especially true granted that stock, forex, and other exchange functionality doesn't interfere with the actual crypto exchange part itself.
To top it all off, there's also an Uphold card available to be used, too. However, this is something that likely deserves a discussion on its own.
A Debit Card with Intricate Functionality
Some specific cryptocurrency-related platforms (exchanges, APY-driven projects, etc.) offer their users the chance to acquire a crypto-based debit card. Some of the more-popular examples would include cards from Crypto.com, or BlockFi.
Well, the Uphold card is a thing, too. And, to be frank with you, it's actually a pretty awesome product offered by the company in question.
Customer Uphold reviews will tell you that the brand in question issues MasterCard debit cards. These cards are available to US citizens only, though.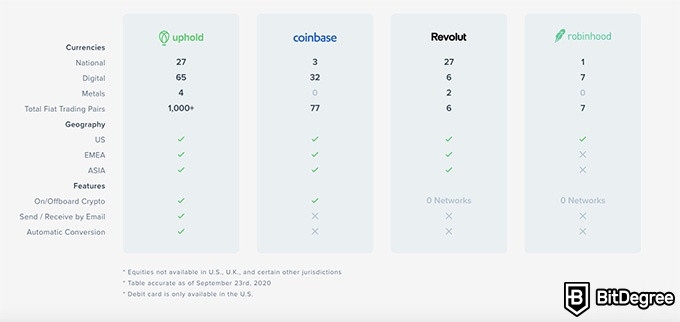 With an Uphold card, you'll be able to shop from a huge variety of different merchants online, as well as use frankly any and all ATMs to withdraw money (ATMs that support MasterCards, that is).
The best part is that you'll have the ability to pay in both different currencies, as well as different assets, too! Crypto-wise, there are even 1% cashbacks, as well as 2% rewards available to be earned, as well - as Uphold themselves state, you'll be able to earn Bitcoin while spending Bitcoin!
The one major con that somewhat overshadows the Uphold card is mentioned above - the fact that you won't be able to acquire or use the card if you're not located in the US. However, if you DO reside within the country in question, this obviously doesn't apply to you.
Strong Security Features
As you might imagine, security is at the top of the features that you should be looking into when searching for a reliable exchange platform, no matter if you're reading through Uphold reviews, or any others.
Is Uphold safe and legit, fundamentally? Yes, it is - the platform is very meticulous about the security features that it applies across the board, and lacks any experience with major hacks or security breaches.
User fund-wise, as stated earlier, you may choose to store your cryptocurrency assets in Uphold wallets. While they will always be accessible, at the same time, Uphold claims that around 90% of its users' funds are kept offline, in cold storage devices.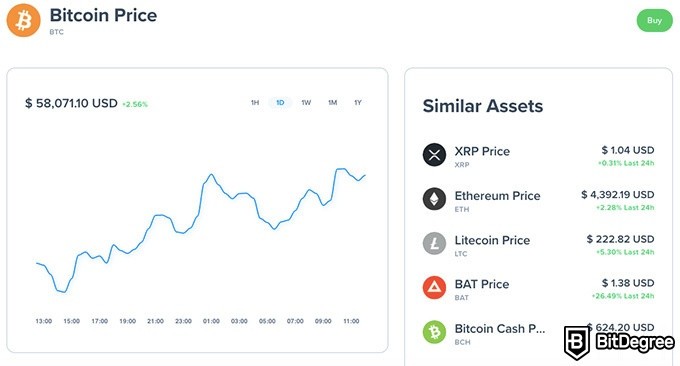 While it's a feature that has become the standard in the industry, it's also one of the safest ways to go about it, as well. This, however, is not where Uphold's attention to security ends.
The company participates in (at least) annual security audits, all performed by an independent third party. There are penetration tests, new feature integrations, currently-existing feature improvements, and so on.
To add to that, if you're still not sure - is Uphold safe? -, you should also keep in mind that Uphold encrypts all of the processes that you may be involved in on the platform (trading, emails, software, etc.), and follows strict KYC and AML rules and regulations.
KYC stands for "Know Your Customer", while AML abbreviates as "Anti-Money Laundering". These are the two big sets of financial regulations that many reliable and attention-worthy cryptocurrency exchanges apply to their users, nowadays.

While it may seem inconvenient, and some may even view it as a breach of privacy, KYC is definitely mandatory in order to keep the ecosystem safe, and drive all of the potential scammers away.
All in all, if you were worried about the security side of things, you can rest assured - Uphold is a reliable and safety-oriented platform. Note, though, that the same applies when you're reading through Uphold app reviews, too!
A Large Selection of Crypto Assets
When picking out a cryptocurrency exchange for yourself, naturally, one of the first things that you'll probably want to look into is the variety of crypto assets available on the platform.
It makes sense, too - if you're a beginner who wants to start trading BTC and ETH (and that's it), you'll be able to look into other assets in the future, if you so wish to, on the same platform.
If you're an experienced trader, on the other hand, you'll probably be happy to know that there's a big variety of assets for you to pick from, and trade on Uphold.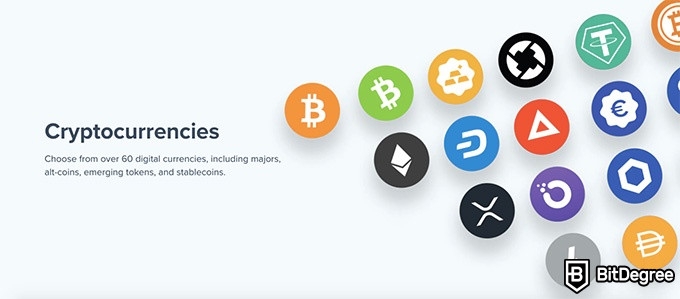 User Uphold reviews will tell you that the Uphold crypto exchange supports around 60 different cryptos. That's a rather significant number! As you might expect, you can find all of the main crypto coins on the platform (BTC, ETH, XRP), and a lot more of the less-known assets, too.
Naturally, since it's a centralized exchange which doesn't utilize AMM functionality, Uphold won't really allow you to trade completely new tokens or coins, or some of the more-niche assets. However, this is something that all centralized exchanges share, to a certain extent.
All things considered, if you're looking for an exchange platform that would support a large number of cryptocurrencies for you to trade and exchange, the Uphold exchange is surely one of the better options, in that regard. This, however, isn't only due to the aforementioned reason, but also because of the trading intricacies of the platform.

Specifically, some customer Uphold reviews will tell you that the exchange allows you to trade different assets between one another, without any difficulties.
Sounds like any other exchange out there? Well, if so, allow me to be more specific - with the Uphold crypto exchange, you'll be able to trade one asset class between another - cryptos to gold, equities, stocks, and so on.
If you're interested in traditional investment tools, and are still looking to trade cryptos, this is an ideal scenario! Once again, it's thanks to Uphold's unique position of being able to offer its customers a wide selection of tradable assets.
Decent (Albeit Confusing) Fees
Uphold fees are a rather controversial topic - or at least this is what some user ​​Uphold reviews found online would make you believe. Whether or not this sentiment is true depends on the specific types of cryptocurrencies that you'll want to trade. Allow me to elaborate on that.
If you're wondering is Uphold legit, you'll surely find yourself on their fee page, at some point in time. If, say, you're looking to trade cryptocurrencies such as Bitcoin or Ether (Ethereum), things will be quite clear, straight from the get-go - Uphold fees for these cryptos are around 0,8-1,2% in the EU and US. For the rest of the world, they'll range around the 1,8% mark.
If, however, you want to trade other cryptocurrencies, the spread of the Uphold fees can go up to 1,4-1,95%.
Using the Uphold wallet, you won't need to pay for opening & funding the account, and also for sending & receiving assets to / from another Uphold user.

So… Where's the confusion, then?
Well, as you can see for yourself, the spread of the fees varies. It also depends on multiple factors - the cryptos themselves, your location, and so on.
That aside, Uphold fees are actually rather decent, especially if you're looking to trade some of the better-known cryptocurrencies! Yes, the fees are far from being "low", however, there are exchange platforms out there that offer far worse fee models to their clients.
That said, it's worth mentioning that, while you do have to pay some higher fees than with other, traditional crypto exchanges, the huge variety of features available with the Uphold exchange do act as a sort of a trade-off!
App Functionality - Available
Reading through the different opinions that users have about Uphold, you will undoubtedly come across some Uphold app reviews, too.
The app in question is a fully-functional platform, in of itself. Meaning, you don't need to have an actual desktop or laptop computer in order to access Uphold - you can do everything from registration and KYC, all the way to trading and storage right here, in the app.
The app itself is intuitive and simple to navigate through. It offers all of the core functionality that you might require from Uphold - this is true in regards to the wallet, exchange, and other services of the brand.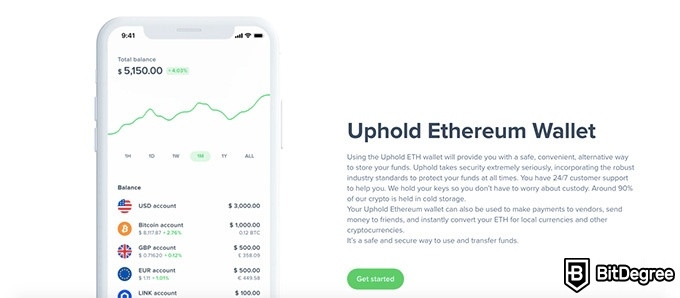 Naturally, as you might expect, more and more people are using their mobile devices to access their crypto funds, and transact with them, too. Mobile is a very convenient medium to do so - you are able to check on your assets on the go, and don't need to bring your computer everywhere with you.
Evidently, you might think that this is only true with wallets. However, if you aspire to be an active day trader, then catching the best possible prices for your select assets is important! These prices can change momentarily, though - this is why being able to trade at any point in time becomes crucial.
All in all, the point remains the same - if you're looking for an awesome and reliable crypto app, Uphold has got you covered!
Latest Binance Coupon Found:
CLAIM $600 BONUS
Exclusive $600 Binance Offer
Don't miss this limited-time deal that's only available for our readers. Follow the Binance referral code link & receive up to $600 in rewards and bonuses!
Expiration date: 01/04/2023
7,847 People Used
Only 49 Left
Uphold Review: CONS
With all of the main benefits of the Uphold crypto platform analyzed and discussed, let's not take a look at some of the bigger complaints that users have when it comes to the platform, and whether or not it's worth questioning - is Uphold legit?
May Not be Suitable for Beginners
Admittedly, nowadays, the vast majority of the top cryptocurrency exchange platforms aim to make their services as approachable and beginner-friendly as possible. It's a very logical thing to do, too - as discussed in the introductory part of this Uphold review, there's a huge influx of new people entering the cryptocurrency market.
"New people" usually means that there's going to be a lot of confusion floating around. If your exchange is able to present itself as being approachable and super-simple to start using, chances are that it's going to attract a lot of attention, and as a result, traction.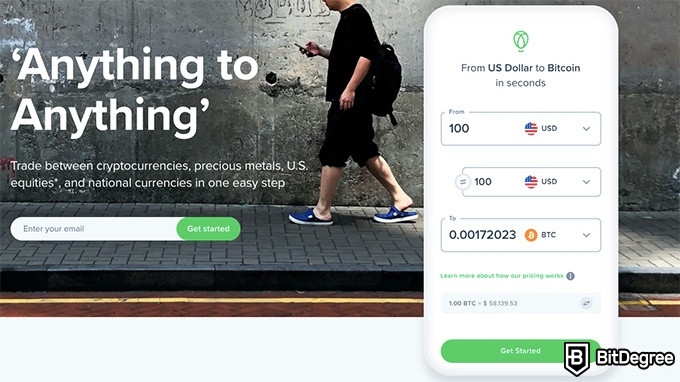 Well, with the Uphold wallet and exchange, this isn't actually the case. Multiple customer Uphold reviews report the platform being a bit tricky to figure out, especially if you have zero prior experience with crypto trading (or cryptocurrencies in general, for that matter).
This is partially due to all of the additional features and trading tools mentioned earlier in the review. With so many different assets and asset classes, and being able to trade them between one another, it can get quite overwhelming, fast!
Limited Customer Support Communication Options
Customer support is an essential part of any cryptocurrency exchange out there - that's pretty obvious. If you come across any technical issues, or are stuck with your transaction, customer support is the very first place you'll want to turn to.
That's all fine and dandy. However, you might come across situations where you need help then and there - in other words, a problem that needs to be resolved ASAP.
In situations like these, you'd probably want to be able to contact support immediately. This, unfortunately, isn't going to be an option with Uphold.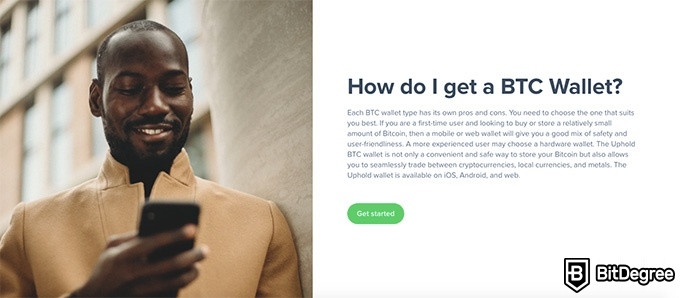 No matter if you're reading through user Uphold app reviews, or those that talk about the desktop version of the exchange, one thing remains the same with both versions of the platform - there's no live customer support available to be accessed or reached.
Specifically, you can only contact the support agents via a form, and they'll get back to you through email. There's no feature to call the support via phone, or even get in contact with the company via live chat.
That's actually surprising! Most top-tier exchanges nowadays allow their customers to establish some sort of live communication with an agent - this allows you to rest assured that you'll get your issue resolved, in a quick and efficient manner!

Did you know?
Uphold VS Coinbase: Two Exchanges, Different Traders
As you read through the different user Uphold reviews online, you'll likely find the name "Coinbase" mentioned quite a few times. This is because Uphold VS Coinbase is a rather fierce discussion - these two exchanges tend to get compared rather often.
However, the good thing here is that both of them are very different from one another, and are aimed at somewhat different types of crypto traders. Let me explain.
As we've already established, Uphold is a multi-functional exchange. The platform offers its users a wide array of different benefits and tools - wallets, different asset class trading, a debit card, and so on. We've discussed all of these things already.
My point here is that Uphold is aimed at traders who would like to explore other asset classes, and not stay fixated on crypto. On top of that, since the platform isn't all that simple to get into (by comparison, that is), it's preferred by some experienced day traders, and people who'd like to diversify their portfolios.
Table: Some general information about the Coinbase cryptocurrency exchange
Coinbase, on the other hand, is completely different in that regard. In the "Uphold VS Coinbase" argument, Coinbase is often hailed as one of the simplest and most beginner-friendly exchanges in the industry.
This is actually a point that the company itself emphasizes, as well. If you're a complete beginner, Coinbase allows you to have an awesome experience getting to learn about crypto as you trade - there are even rewards for doing so, too!
Both exchanges are secure and reliable, though. On top of that, they support a similar number of cryptocurrencies, and allow you to store your coins and tokens on their hot wallets.
In short, it's worth emphasizing that both Coinbase and Uphold are awesome crypto exchanges, yet each of them have their own target audiences. At the same time, you can be sure to try out both platforms, too - perhaps that's actually the way to go, in the first place?
How to Use the Uphold Cryptocurrency Exchange?
Now, with all of that being said and done, to finish off our Uphold review, let's check out the actual platform itself, and how you can get started with using it.
First things first - how should one go about registering on the Uphold exchange?
Step 1: Go to the Uphold official website. You may also visit the iOS store, or the Android store in order to find the Uphold app, and download it. The process is frankly the same on either desktop, or the Uphold app.
Step 2: At the top of the page, on the right side, you'll see a "Sign up" button. Press it.
Step 3: Here, you will need to enter your initial details. These include your email, country of residence, and citizenship. You will also need to create a password, too.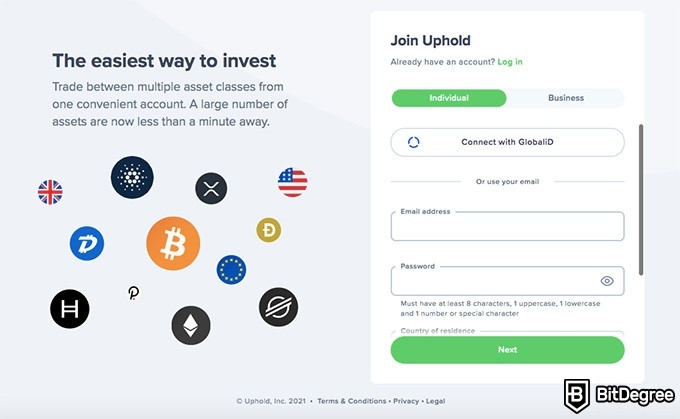 Step 4: Next up, phone verification - simply enter your phone number, and you'll receive a text message with the code that you need to enter on screen.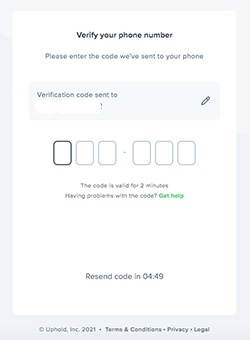 Step 5: Then, you will also need to confirm your email address. Either navigate to it on your computer, or open the email app.
Step 6: After you pass a few more confirmation windows, you're all set to start trading!
Well, kind of. Before you make any "big moves", you'll need to do two things - pass the relevant KYC processes, and fund your account.
The registration process is actually quite quick, and very self-explanatory. You shouldn't come across any hurdles, whatsoever, and will frankly be able to finish it in but a few minutes.
Now, in order to pass the KYC verification checks, you'll have to provide Uphold with some private information about yourself. Specifically, you'll need to identify yourself, and provide proof of ID.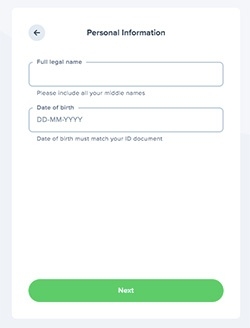 If you're a crypto elitist, then this isn't ideal. However, if that *is* the case, you probably already have a decentralized exchange picked, and are ready to start trading there.
If, however, you have no issue with Uphold identifying you, then the KYC and AML checks shouldn't prove to be a hassle, at all. They are very standard, and help keep the platform safe and sound.
Once you do all of that, you can then fund your account via a credit or debit card, or a bank transfer, and start trading the cryptos (or other assets!) that you'd please!

Pros
A very well-known crypto exchange platform
More than 500 different cryptos available
Two-factor authentication
Main Features
Over than 100 different cryptocurrencies available
Strong security
Small withdrawal fees

Pros
Very low trading fees
Exceptional functionality
Mobile trading app
Main Features
Very competitive trading fees
An intuitive mobile app
Up to 100x leverage available
Advanced trading feature

Pros
Fiat currencies - accepted
Simple to use
Accepts only the most trustworthy cryptocurrencies
Main Features
A leading cryptocurrency exchange platform
Best for beginner investors
Accepts fiat currencies
Highly-regulated and secure
Conclusions
Now, then - what's the general verdict on the Uphold exchange?
Well, I think it's rather self-evident - if you don't fear a small challenge of getting around the advanced features of the platform, then Uphold is definitely worth checking out!
You should note, though, that the exchange is going to be best for a certain type of crypto enthusiast. This is actually something that's evident from reading other customer Uphold reviews, too, and also all of the discussions and comparisons revolving around Uphold and Coinbase.
| | |
| --- | --- |
| Uphold PROS | Coinbase PROS |
| Advanced features | Fiat currencies - accepted |
| Multiple tradable asset classes | Simple to use |
| Decent fees | Accepts only the most trustworthy cryptocurrencies |
| Large variety of cryptos | Very secure |
| Multiple additional features (wallet, card, etc.) | |
| Uphold CONS | Coinbase CONS |
| No live customer support | Not available in all countries |
| May have a steep learning curve | Some of the less-known coins aren't supported |
Table: The pros and cons of the Coinbase cryptocurrency exchange
If you're an advanced trader, or are planning to become one, Uphold will provide you with all of the features that you might need, in your journey to come. This is true both in regards to functionality, as well as portfolio diversification, too.
Well, the latter point is actually even cooler than it sounds. Uphold allows users to trade multiple different asset classes - crypto, equities, stocks, and so on.
The downsides here are that EU residents won't be able to trade the aforementioned equities, and that Uphold might not be the best choice for someone who's just starting out. Not because the exchange would be lackluster - instead, it's due to the fact that it can get overwhelming!
All in all, if you're looking for a reliable crypto platform, and are excited to try out multiple features, the Uphold exchange and the Uphold wallet shouldn't leave you disappointed! Don't hesitate to check the platform out, and best of luck!
The content published on this website is not aimed to give any kind of financial, investment, trading, or any other form of advice. BitDegree.org does not endorse or suggest you to buy, sell or hold any kind of cryptocurrency. Before making financial investment decisions, do consult your financial advisor.
Leave your honest Uphold review
Leave your genuine opinion & help thousands of people to choose the best crypto exchange. All reviews, either positive or negative, are accepted as long as they're honest. We do not publish biased reviews or spam. So if you want to share your experience, opinion or give advice - the scene is yours!