Are you interested in finding the best app for crypto trading so you can manage your cryptocurrencies on the go?
While some exchanges only offer browser options, those may not be optimized for mobile devices. Also, other platforms may have apps that only provide basic features. However, popular exchanges like Binance, Bybit, Coinbase, and KuCoin, offer full-fledged mobile applications with advanced tools for analysis and trading.
Those mobile trading apps have emerged as a popular choice for traders. This is mainly due to their convenience and accessibility. In this article, I'll go over the mobile experience of the most popular crypto exchange apps as well as differences between them to help you find the best app for crypto trading.
My ranking of the best trading apps for crypto trading includes:
Without further ado, let's get to it!
Evaluation Criteria to Consider When Choosing the Best App for Crypto Trading
When searching for the best app for crypto trading to use on your mobile device, there are several characteristics and features to consider.
Overall, I elected some key points that make or break the mobile experience. The best crypto buying app must be built envisioning a user-friendly interface, a considerable variety of features, decent device compatibility, and overall design. Now, let me elaborate the specifics of each of those key points.
First and foremost, the app should provide a user-friendly mobile experience. This means that the app should be easy to navigate, with an intuitive user interface that simplifies the traders' journey. Because, let's face it, no matter if you're a beginner or an advanced user, you surely don't want to make your life more complicated with a hard-to-navigate app.
Of course, while ease of use is important, the app's feature variety should not be overlooked. The app should offer a range of features that cater to different needs and preferences. Whether you are a beginner or an experienced crypto app user, the app should have something for you.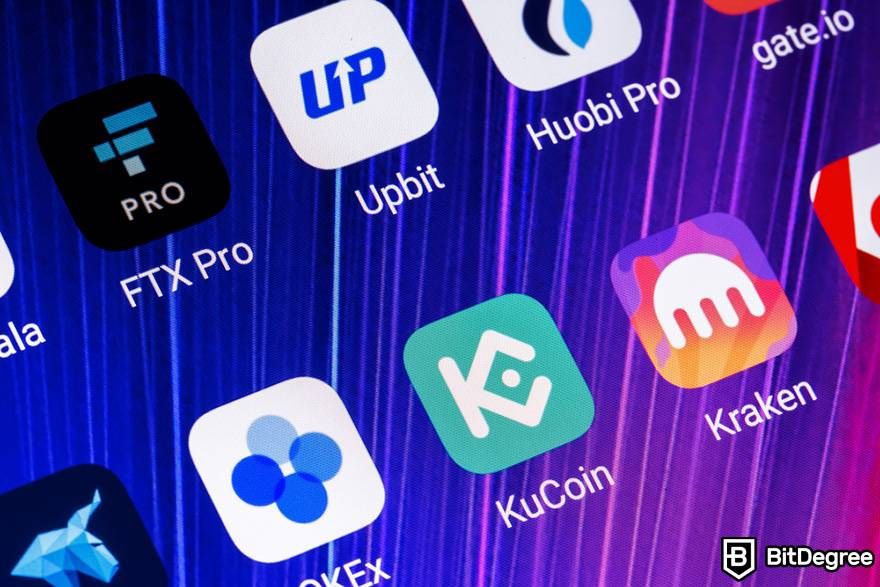 Device compatibility is also an important consideration. The best crypto apps should be compatible with a range of devices, whether you are using an iPhone or an Android device. This ensures that users can access the app from their preferred device without any issues.
Finally, the design! Aesthetically pleasing applications not only enhance the user experience but also create a sense of trust and reliability. A well-designed app shows that the developers put effort into creating a polished product. Besides, a simplified design can also add up to the user-friendliness of the app.
Alright, now that you've got an idea of what to look for in a crypto app, we can move further to a handpicked list of the best trading apps for crypto. I chose them with those specific criteria in mind!