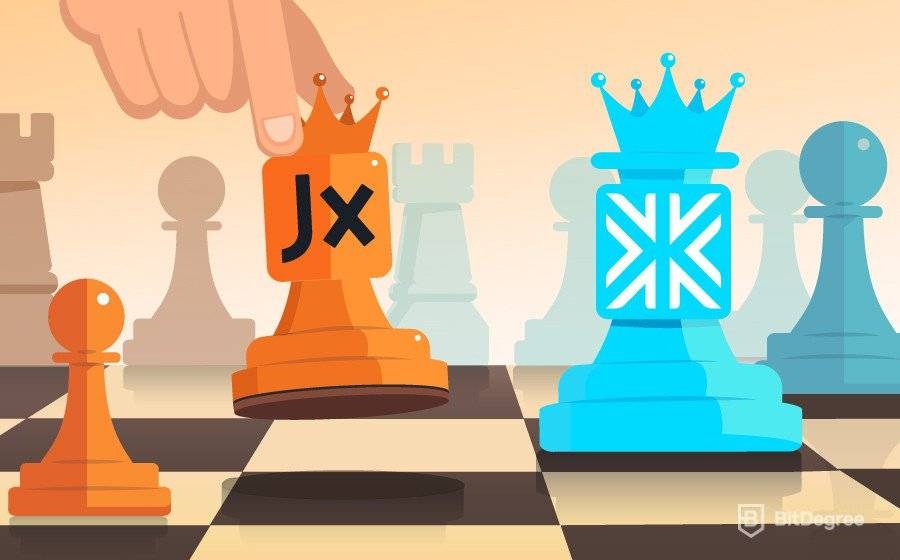 Welcome to my Jaxx VS Exodus review. In this guide, I'm going to tell you everything you need to know about these two crypto storage options.
We'll talk about their designs, their features, and their user-friendliness. I'll also tell you which wallet is safer, and which is the cheapest. When you finish reading, you'll be able to decide who the winner of "Jaxx VS Exodus" is for yourself.
Cryptocurrencies are different from fiat currencies in many ways. They aren't the official currencies of nations, and they aren't available as paper notes or metal coins, either.
Cryptocurrencies put their users in control. There are no bank accounts, no credit checks, and no central reserve. There is only the blockchain; a complete and unchanging record of every transaction that's ever been made.
EXODUS
JAXX

Main score based on expert evaluations & real user reviews.

Whether the crypto wallet is hardware, software, desktop or paper type.

Software
Software

For which purpose or for what kind of people is the cryptocurrency wallet best for.

Best for Small Purchases and Day to Day Spending
Best for Sending and Receiving a Range of Different Cryptocurrencies

Most popular hand-picked deals & coupons.

See All Coupons of Best Wallets
See All Coupons of Best Wallets

Final crypto wallet evaluation conclusion based on research, expert opinions & user feedback.

A very beginner-friendly cryptocurrency wallet.
A very popular, multiple cryptocurrency-supporting hot wallet.
See TOP10 Brands
Read review
See TOP10 Brands
Read review
Table: The main features of the Jaxx and Exodus wallets
Want to know more about blockchains? Check out my "Blockchain Explained" guide!
In a cash system without banks, users need a safe and reliable way to store information about the currency they hold. This is where cryptocurrency wallets come in. Two of the better-known wallets in the cryptocurrency market are Jaxx and Exodus.
There are better options out there, though. Industry giants such as Ledger Nano X and Trezor Model T will offer their users state-of-the-art security features, in addition to huge a supported asset variety and general user-friendliness.
Before I start talking about Jaxx VS Exodus, I want to have a quick look at what a crypto wallet is and what it does…

Did you know?
Want to get smarter & wealthier with crypto?
Subscribe - We publish new crypto explainer videos every week!
Where to Trade Crypto: 3 Best Approaches Explained (Animated)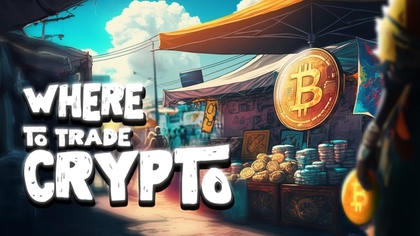 What is a Crypto Wallet?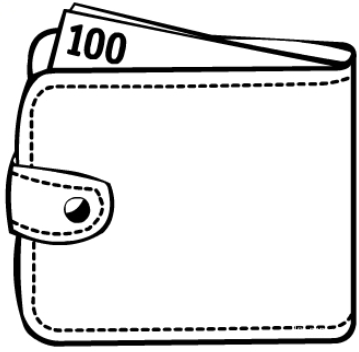 Latest Deal Active Right Now:
REDEEM $600 PRIZE
Binance Cyber Monday
Attention new Binance users: this Cyber Monday, you can score up to $600 in rewards by completing special tasks. Activate this amazing Binance Cyber Monday deal using the code – 49316610!
Expiration date : 05/12/2023
6,127 People Used
Only 16 Left
People talk about storing cryptocurrency in crypto wallets. This isn't true. Cryptocurrency wallets don't store cryptocurrency. They store information about cryptocurrency. The cryptocurrency itself only exists on the blockchain.
Crypto wallets store two very important kinds of information. Users need both kinds to send and receive cryptocurrency. They are:
Public addresses - digital locations where cryptocurrencies can be sent and received. They're a bit like crypto email addresses. They can be shared openly with other users of the network. If you want to send cryptocurrency to a friend, they will need to give you a public address where you can send it.
Private keys - the personal codes that users need to access public addresses. They're like the passwords for the crypto email address. You can also think of them as a digital signature. To send and receive cryptocurrency, users need to sign transactions with their private keys to prove that the public address involved belongs to them. Private keys should never be shared with anyone.
If users lose their private keys, they can lose their cryptocurrency forever. This is why it's so important to choose the right crypto wallet. There are two main kinds of crypto wallets to choose from - software and hardware.
Software VS Hardware Wallets
Software wallets can be downloaded onto desktops or mobile devices. They can also be online wallets installed in your browser or hosted by a crypto exchange. Hardware wallets can be USB-style stick drives or even pieces of paper with codes written on them!
Wallets that are connected to the internet are called hot storage, and those that aren't are called cold storage. So, paper wallets are cold storage, and browser wallets are hot storage.
Now I want to look at Jaxx VS Exodus. Which wallet is better? I'll begin by telling you a bit about each, starting with Jaxx.
What is Jaxx?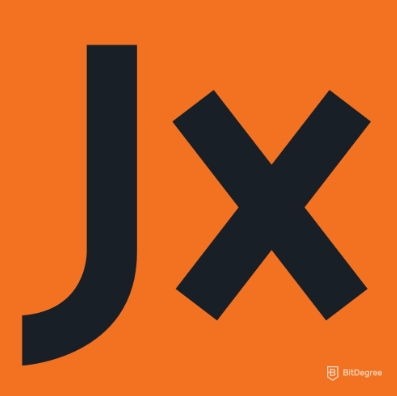 Jaxx is a software wallet created in 2014 by Anthony Diiorio at a Canadian blockchain developer company called Decentral. Diiorio is also a co-founder of Ethereum, one of the world's biggest blockchain projects.
The wallet can be downloaded from the Jaxx homepage as a desktop application and works with Windows, Linux, and Apple Mac systems. It can also be downloaded from Google Play and iTunes for use on Android and iOS mobile devices, respectively. Jaxx is available as an online wallet as well and works with Chrome. Their Firefox add-on was discontinued.
By March 2018, Jaxx had been downloaded 1.2 million times. It has a user score of 3 out of 5 from 164 reviews on the comparison site, CryptoCompare.
What about the competition?
What is Exodus?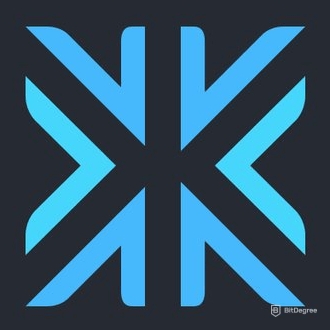 Exodus was launched on July 29, 2016. Its creators are JP Richardson and Daniel Castagnoli. The Exodus homepage describes them as "two guys with a passion for blockchain assets".
The Exodus wallet is a desktop wallet designed to be used with Windows, Linux, and Apple Mac systems. Each version can be downloaded directly from the Exodus homepage. It doesn't currently have mobile or online applications.
Although it's a much newer wallet than Jaxx, it's already achieved a user score of 4.2 out of 5 from 396 reviews on CryptoCompare.
Now you know what kind of wallets Jaxx and Exodus are, we can look at Jaxx VS Exodus in more detail. So, which is better? I'll start by comparing the cryptocurrency services of each wallet and what they charge. Which wallet supports the most coins between Jaxx VS Exodus? And which wallet is the cheapest option? Read on to find out!
Cryptocurrency Storage and Fees
Let's see how Jaxx VS Exodus compare on coin storage and fees.
Jaxx Wallet Fees and Coin Services
Jaxx offers storage for over 66 cryptocurrencies, including Bitcoin (BTC), Litecoin (LTC), Ethereum (ETH), Augur (REP), Qtum (QTUM) and Dogecoin (DOGE). Currently, Jaxx does not offer fiat currency storage. However, there's an option to display the balance of your wallet in the fiat currency of your choice (GBP, USD, EUR, etc.). You can find a full list of supported currencies on the Jaxx website.
Jaxx is free to download, but does charge fees for each transaction. However, Jaxx wallet fees don't go to Jaxx, they go to the network on which the transaction is taking place. For example, if you are sending Ethereum, Jaxx will charge a fee of around 0.000441 ETH, and this amount will be used to make the transaction happen on the Ethereum blockchain. However, the transaction fee isn't static, and might change depending on the network load.
Jaxx users can make transactions at three different speeds - slow, medium, and fast. The slower the transaction speed, the lower the Jaxx wallet fees will be. This is a great feature for users who want to save money, and don't mind waiting a little longer for their transactions to be completed.
How do the currency services and fees offered by Exodus differ?
Exodus Wallet Fees and Coin Services
Exodus offers storage for 89 cryptocurrencies, including Bitcoin (BTC), Bitcoin Cash (BCH), Dash (DASH), Ethereum (ETH), Zcash (ZEC), 0x (ZRX), Aragon (ANT), Augur (REP) and OmiseGo (OMG). The wallet only shows user balances in US dollars, and doesn't offer fiat currency storage.
Exodus is free to download, but only offers one transaction speed. This means that users have less control over the fees they pay. YouTube vlogger RvMajor, found that Exodus wallet fees were about 5-10% higher than Jaxx wallet fees for like-for-like transactions.
So, Exodus offers storage for more cryptocurrencies, but Jaxx offers a better choice of balance display and transaction speed. Jaxx is a slightly cheaper service, and Exodus wallet fees are less flexible. That said, do keep in mind that wallets such as the Ledger Nano X support many more crypto assets, if that's a major criterion for you!
Next, let's look at some of the other features Jaxx and Exodus offer.
Built-In Features
Both wallets offer ShapeShift as a built-in feature. ShapeShift is a crypto exchange that is built into multiple wallets, so users can exchange coins without needing to visit an exchange like Kraken or Binance. Exodus was the first wallet to offer Shapeshift exchange services, and others - including Jaxx - have followed.
It can be argued that Jaxx offers a wider selection of built-in features. As well as offering services on desktop, mobile, and the web, it also has a native camera function that allows users to scan QR codes from paper wallets with their mobile devices.
Most crypto experts recommend storing private keys on a selection of software and hardware wallets. The fact that Jaxx is compatible with both makes it appealing to a lot of users.
EXODUS
JAXX

The main advantages of a certain cryptocurrency wallet.

Easy to use
Has customer support
Multiple cryptocurrency choices
A software-based wallet
Built-in exchange features

Supports 90+ different cryptocurrencies
Easy to use
Built-in exchange
Cross-platform pairing
Free to use

The main disadvantages of a certain cryptocurrency wallet.

Prone to security issues
The fees can reportedly be quite high

Score that represents the ratio of the quality & advantages you get for a certain price.

See TOP10 Brands
Read review
See TOP10 Brands
Read review
Table: The pros and cons of the Jaxx and Exodus wallets
However, some users have suggested that the wallet's advanced features make it slow and laggy. This is a problem that Exodus doesn't have. Its simple desktop service isn't slowed down by any additional extras.
For more advanced users, Jaxx might have a better choice of features, but Exodus is more reliable in the way it delivers the services it offers. Both offer ShapeShift, which puts them ahead of wallets that don't, so we'll call this round of Jaxx VS Exodus a tie.
Next, I want to find out how well each wallet is designed. This should tell us which wallet is the easiest to use between Jaxx VS Exodus.
Design and User-Friendliness
One of the biggest complaints newbies have about crypto wallets is that they are too complicated and difficult to use. Two areas where crypto products need to improve are design and user-friendliness. Here's how Exodus VS Jaxx compare:
Jaxx Design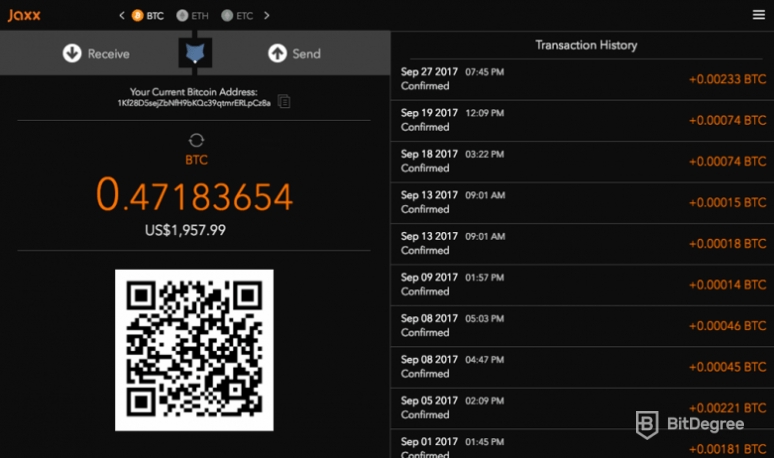 Jaxx has a clean and simple design. All its main features are labeled and have a "useful tip" attached to guide users on how they work. Private keys are easily accessible, and transaction information is displayed very clearly to prevent confusion.
Simple Send and Receive screens make those first transactions as painless for beginners as possible! One small criticism some users have of the wallet is that technical information, like public addresses, is shown in a font size that can be difficult to read.
Jaxx has a professional design and newbie-friendly layout - what about Exodus?

Did you know?
Want to get smarter & wealthier with crypto?
Subscribe - We publish new crypto explainer videos every week!
What is a Crypto Mining Rig? Is it Worth it? (EASILY Explained)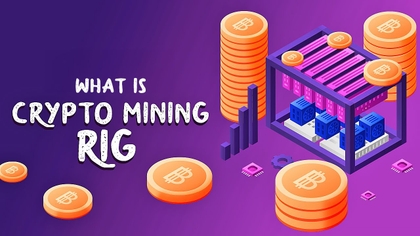 Exodus Design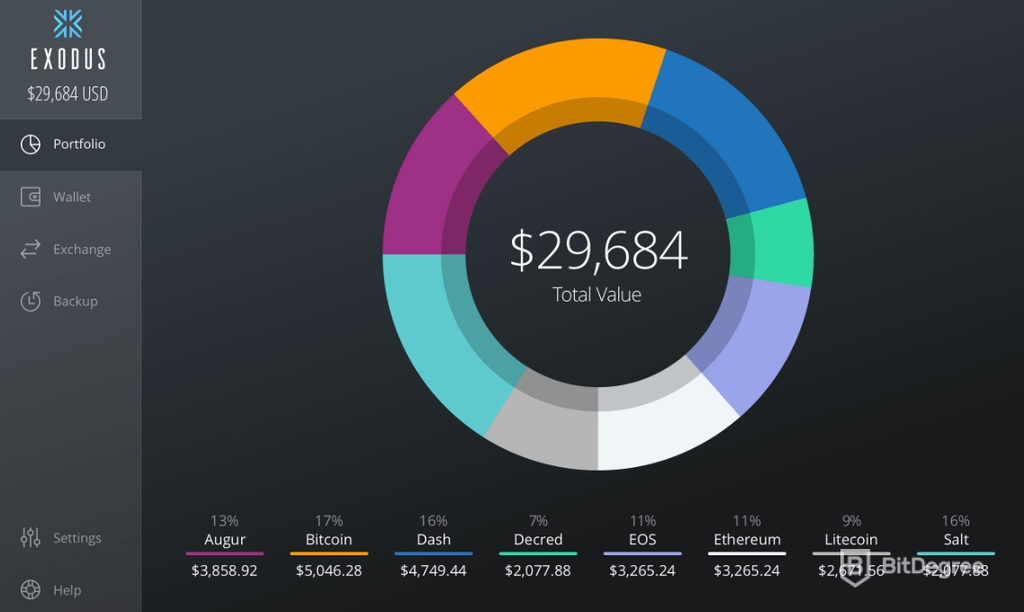 Exodus is not only one of the best-designed wallets on the market, but it's also probably one of the best-designed products in cryptocurrency. Users will find the wallet beautifully laid out with a simplicity you won't find in most other wallets. The wallet has three main sections; Wallet, Exchange and Portfolio, and transactions are divided into Sent, Received and Exchange.
Exodus is a stress-free wallet for beginners to start using crypto. The wallet's homepage proudly states that it was, "Crafted with love by JP and Daniel", and it shows!
There's only one winner in this round of Jaxx VS Exodus. Exodus should be used as a blueprint for how other crypto platforms are designed in the future. Bravo, Exodus!
The next topic I want to talk about is security. How secure is Jaxx, and is the Exodus wallet safe?
Security
When comparing Exodus VS Jaxx on their safety, you'll find that both wallets share features, but also differ in some important ways. Let's see which wallet has better security.
Is Jaxx Wallet Safe?
The Jaxx wallet stores private keys directly onto the user's device. This means that no one has access to the private keys but the user. The wallet is also hierarchical deterministic (HD), which means it generates a new address every time you send / receive funds to / from your current wallet address as a way of keeping your balance private.
The total amount of coins / tokens in the address(es) that the transaction is sending from gets sent. The amount specified goes to the specified address, and the remaining balance goes to the new address that is attached to the other addresses and, of course, the mnemonic 12-word seed.
Imagine you have 4 bills. 1 twenty dollar bill, 1 ten, and 2 fives. Now the each bill represents an address. Now you want to buy a nice sweater for $37 including tax. So you give the cashier the all your money and they give you back 3 dollars which you put into a new wallet.This is the way HD works. You would then have 4 inputs and 2 outputs. 4 bills for each input and 2 outputs being one is the $3 dollars back to you and the $37 to the store.
By using the mnemonic 12-word backup phrase, it is possible to regain access to your funds even if you lose the device that your wallet is on. That is why it's extremely important to write down your 12-word backup phrase outside of the device and keep it safe. Make sure that nobody has access to your 12-word backup phrase apart from yourself!
This being said, Jaxx has had several bugs in the past, which have been used by hackers to steal funds. In early 2017, $400,000 worth of coins were stolen from Jaxx wallets. However, it's not known whether the wallet or user error were to blame. Bugs are sometimes detected in the Jaxx software, but they are usually fixed quickly by the Jaxx team.
The early 2017 hack has been addressed by the Chief Technology Officer of Jaxx, Nilang Vyason. Here's a link to his Reddit post.
One feature Jaxx doesn't have is two-factor authentication. This is a system where a user needs two kinds of passwords to access their account. The first is usually a standard password, and the second is a code sent to the user's mobile phone or authentication app when they sign in. The lack of this basic security feature will concern some users.

Pros
A very well-known crypto exchange platform
More than 500 different cryptos available
Two-factor authentication
Main Features
Over than 100 different cryptocurrencies available
Strong security
Small withdrawal fees

Pros
Secure and reliable
Low fees
A good amount of fiat currencies accepted
Main Features
Reputable exchange
Multiple fiat currencies are accepted
Relatively low trading fees

Pros
Anonymous trading
Secure
Supports a variety of cryptocurrencies
Main Features
Easy to use
Low fees
Good security
Is Exodus Wallet Safe?
Exodus also fails to offer its users two-factor authentication. The reasons for this are unclear, but it's a feature that most users will expect to see in the future. Exodus relies heavily on the user's email address for its main safety feature, which is a one-click account recovery. A link is sent to the user's email address when account access is lost.
This means that users need to be confident that the device they're using is free from bugs and viruses. Losing access to an email account could mean losing access to the Exodus wallet. However, Exodus does offer hierarchical deterministic account recovery, as well.
HD tech may not be able to protect user accounts completely, though. In March 2018, the team at CryptoCoreMedia was able to gain access to an Exodus user's 12-word backup phrase by using a simple piece of computer code.
This round is a tie again. No wallet is 100% hack-proof, but the development teams at Jaxx and Exodus both work hard to improve user safety. They do this with regular updates to features and services. They also offer support to users directly. But who offers the best customer support out of Jaxx VS Exodus?
Note: If you're serious about keeping your crypto safe, there's no better option than a hardware wallet. Ledger and Trezor are two leaders in this space.
Customer Support
Fortunately, Jaxx and Exodus both have good relationships with their users. Neither wallet is fully open-source, but both make a big effort to show their customers how their companies operate.
Both wallets publish blogs on their websites, with Jaxx providing especially detailed descriptions of problems it's having, and solutions it's using to solve them. Jaxx and Exodus post regular updates and warnings about scams and risks to their followers on Twitter.
Complaints and queries can be made by email, and both teams have good reputations for responding quickly. Exodus' JP Richardson and Daniel Castagnoli also talk to their users directly on Slack.
Jaxx and Exodus are helping to change the way people think about cryptocurrencies. Along with other professional crypto platforms - like Binance and Kraken - Jaxx and Exodus are providing services that customers can trust. So, Jaxx VS Exodus? Not this time! Everyone's a winner in this round!
That's almost it for my Exodus VS Jaxx review. Before you make your final decision about which wallet you think is best, let's take a look back at the most important features of both. What better way to do that than with a Jaxx VS Exodus comparison chart?
Comparison Chart
| | | |
| --- | --- | --- |
| | Jaxx | Exodus |
| Desktop | Yes | Yes |
| Mobile | Yes | No |
| Web | Yes | No |
| Multi-currency | Yes (60+) | Yes (80+) |
| Fees | Low | Medium |
| Beginner Friendly | Yes | Yes |
| Hierarchical Deterministic | Yes | Yes |
| Two-Factor Authentication | No | No |
| Overall Security | Good | Good |
| Customer Support | Excellent | Excellent |
Conclusion
In this Exodus VS Jaxx review, I've answered some important questions like, is Exodus wallet safe? And how are Jaxx wallet fees decided? The one question I haven't answered though is, which wallet is better?
Well, the real winner in the contest between Jaxx VS Exodus is the crypto community. The people who have been supporting cryptocurrencies since the beginning are finally being rewarded with top-quality services. Jaxx and Exodus are both highly-professional apps that treat their customers with respect.
EXODUS
JAXX

Overall level of security & safety of your assests offered by a certain crypto wallet.

Whether the crypto wallet requires two-factor authentication as an extra layer of security when completing an action.

Whether the crypto wallet requires multiple keys to authorize a transaction as an extra layer of security.

Whether the crypto wallet requires a Pin code as an extra layer of security when completing an action.

The general anonimity level of your data.

What kind of methods of recovering your cryptocurrency assets in case you lose your wallet or forget your primary password does the wallet offer.

12-word Seed Phrase
12-word Seed Phrase

Who owns your private keys.

You
You

The level of control you have on the crypto wallet.

See TOP10 Brands
Read review
See TOP10 Brands
Read review
Table: The security features of the Jaxx and Exodus wallets
Jaxx and Exodus are both newbies friendly, but are also advanced enough for crypto nerds to enjoy! If developers keep producing products like these, then the future of crypto could be very exciting for all of us. The best thing is, you don't have to choose between Jaxx and Exodus - you can use them both!
Alternative options, however, will include hardware wallets (Ledger, Trezor), as well as exchange-based wallets (such as that of Binance).
So, what do you think? Is there anything I forgot to mention? Have your say, and let me know what you think!
About Article's Experts & Analysts