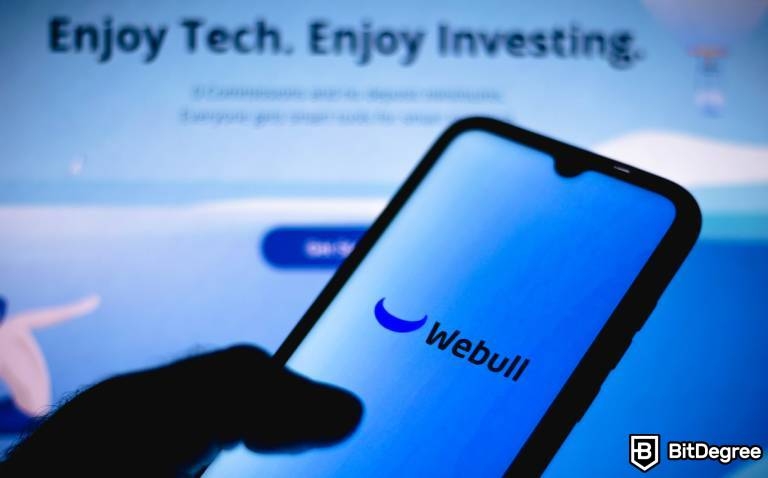 Webull is one of the better-known brokerage platforms in the world. Among the different financial asset types that it offers to its clients to trade, you will find crypto, as well. Lately, there's been an increase in the number of people wondering - how to get crypto buying power on Webull?
If you're one of such people, you've come to the right place - in this article, we're going to talk all about it!
Buying power - also often referred to as Instant Buying Power (IBF), or Provisional Cash - is a concept that's not exclusive to Webull, though. Multiple other financial institutions utilize buying power (in their own way) in order to provide their customers with the utmost convenience and top-tier trading experiences.
So, whether you're wondering - "how do I get crypto buying power on Webull?", or even what is buying power, in the first place, let's not waste any time and jump right into the article!
As a side note, if buying power does seem like a needless hassle to you, you can check out crypto-dedicated exchanges that lack this concept, altogether - notable examples include Binance, Kraken, and KuCoin.

Did you know?
Want to get smarter & wealthier with crypto?
Subscribe - We publish new crypto explainer videos every week!
Is Cryptocurrency a Good Investment? (5 PROS & CONS!)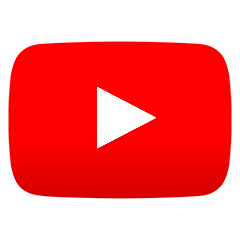 Why Choose Webull?
Buying power is a really interesting topic, sure, but you might wonder - what is Webull, and why would anyone choose this platform, specifically, when it comes to trading crypto?
Latest Binance Coupon Found:
CLAIM $600 BONUS
Exclusive $600 Binance Offer
Don't miss this limited-time deal that's only available for our readers. Follow the Binance referral code link & receive up to $600 in rewards and bonuses!!
Expiration date: 11/02/2023
7,847 People Used
Only 49 Left
Well, since this isn't a dedicated Webull review, I won't really go deep into the details surrounding the broker in question. That being said, the short answer is pretty simple - Webull is a major name in the industry, offers top-notch security features for its customers, and also employs commission-free trading for stocks, ETFs, options, and crypto assets.
That last point is actually one of the biggest factors to consider - the Webull crypto trading fees are non-existent, which means that you can increase your potential profits by trading on the platform by a huge margin!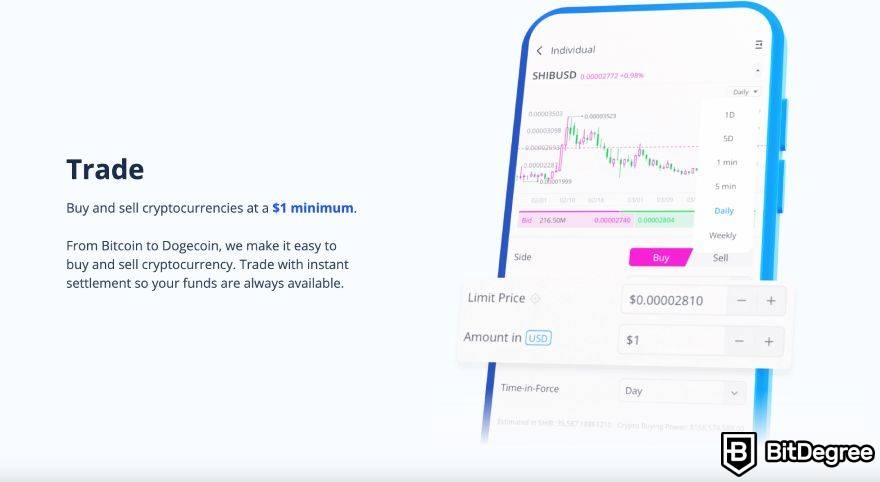 Note, though, that there is a markup charged with your trades - it's built into the prices of the crypto assets that you purchase. Even so, this markup is bound to be much smaller than the trading fees employed with many other platforms out there.
Figuring out what is Webull, you'll also be happy to learn that the platform is quite simple to get into, and start using. So, if you've never used a brokerage before (or have never traded crypto, in general), Webull might be a decent first pick!
Buying Power, Explained
Before we go into the deep end of how to get crypto buying power on Webull, it would also be a good idea to establish just what buying power is, to begin with. While I already gave you a short introduction to the concept at the start of this tutorial, it's worth exploring further, since it's literally at the core of this tutorial.
So, whether you're looking to start trading crypto on Webull, or use some other financial service, you're bound to come across the term "buying power" every once in a while. While some experts talk about it from a very complex point of view, the idea behind this concept is actually rather simple.
Buying power (Instant Buying Power) is the amount of credit given to your brokerage account from the time when you commence a money transfer to said account, until the transfer is complete. The concept itself exists solely to provide convenience to the trader, and as a sign of good faith from the brokerage or exchange platform.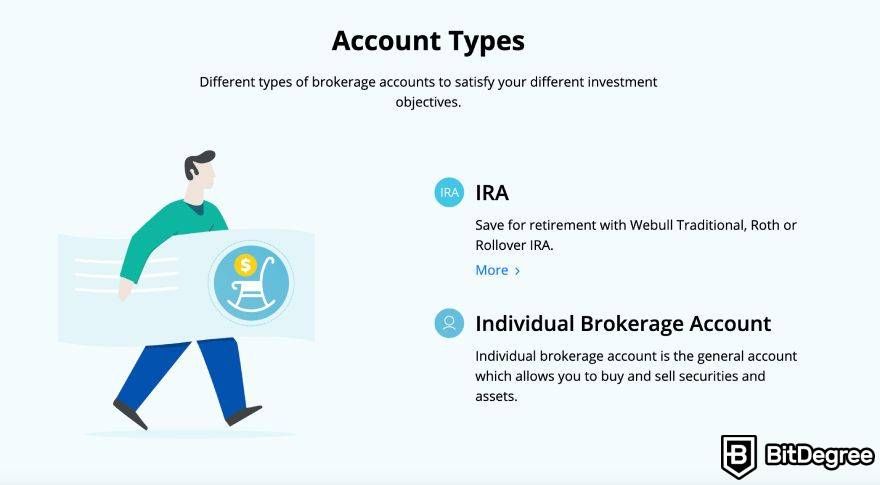 Naturally, if you're looking at how to get crypto buying power on Webull, you might have known this much already. Still, though, let's take a look at an example, to illustrate my point even further.
Say, you're curious about buying crypto on Webull. You register on the platform, pass all of the required confirmation and identity verification checks, and are ready to start trading. The last thing that you need to do is transfer some funds to your account, from an external source (bank account, credit or debit card, etc.).
This is where the concept of ACH comes in. "ACH" stands for "Automated Clearing House", and is essentially a type of payment transfer made between a banking institution, and some sort of financial service provider (creditors, exchanges, brokerages, and so on).
The catch is that ACH payments take 4 days to complete, at least on Webull. So, if you pass all of the registration processes today, and make a deposit, you would only be able to start trading crypto after four days, when the money reaches your account.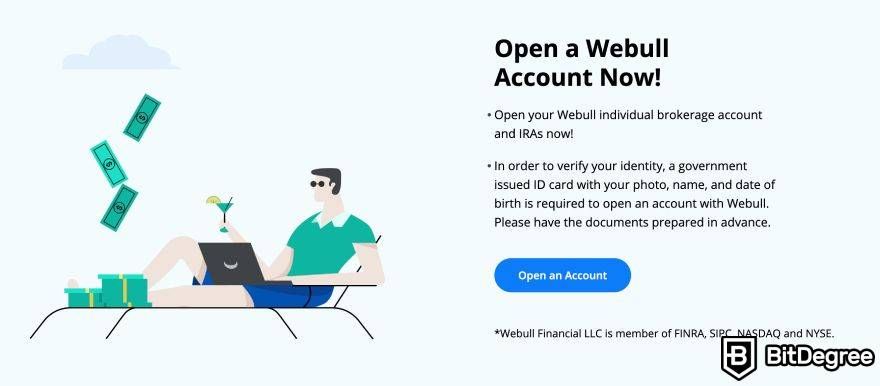 Naturally, since you're looking into how to get crypto buying power on Webull, you're probably aware that 4 days is a very, very long period of time, within the crypto space. With the industry in question being as volatile as it is, still, things can change in a matter of hours - I probably don't need to tell you what could happen in four whole days!
Buying power is the tool that is offered as a solution to this conundrum. It works like this: say, you deposit $1000 into your Webull account. While your transfer is being processed, Webull will give you $1000 worth of credit, to purchase stocks and cryptocurrencies.
This way, you are able to start trading instantly, and don't need to worry about missed opportunities or daily market swings. Of course, there are restrictions and limitations, but we'll talk about those later on in the tutorial.
How to Get Crypto Buying Power on Webull?
Now, then, with all of the details surrounding Webull crypto buying power discussed and out of the way, we can move on to the actual question at hand - specifically, how to get crypto buying power on Webull?
While there are a lot of ways of how we can approach this question, the simplest one of them would be to take a look at the actual process of acquiring buying power on said platform. Since this isn't a "how to use Webull" tutorial, I won't walk you through all of the small steps of using the platform - instead, we'll look at things from a bit of a broader perspective, and focus on the question at hand.
Step 1: The very first step of trading crypto on Webull, buying crypto on Webull, or doing anything else on the brokerage in question is registration. You'll want to navigate to Webull's official website, and click the "Sign Up" button at the top-right corner of the page.
The entire registration process is basically quite self-explanatory, and shouldn't take you longer than 20 minutes to complete. Whether it be picking out an account type, or entering all of the required information on the platform, you shouldn't struggle with any step, since Webull does a good job at guiding you through it all.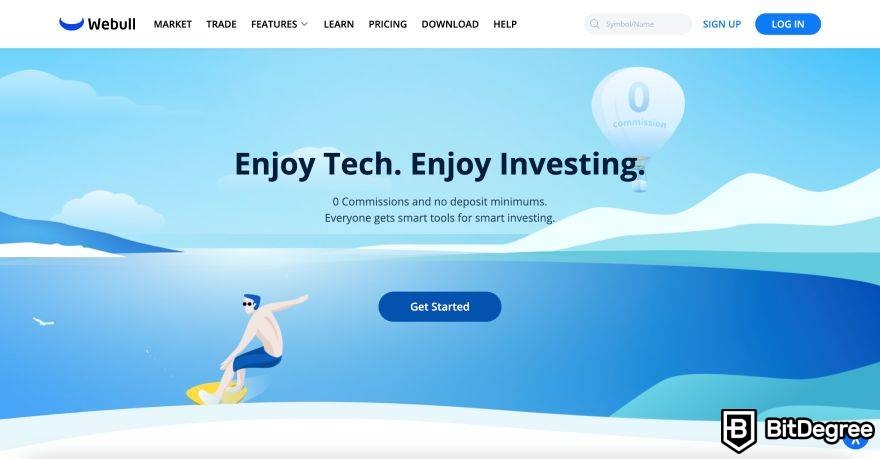 That said, in order to figure out how to get crypto buying power on Webull, you'll also need to comply with the required KYC verification checks present on this brokerage. In other words, you'll be asked to 'dox yourself' - provide Webull with personal information about your identity and financial status, submit valid identity documents, and so on.
All of this, however, is standard procedure, and you'd need to complete it either way, whether while trying to figure out trading crypto on Webull, or using a world-renowned exchange, such as Binance.
Step 2: Once you have your account sorted, that's actually the hard part done! While it may take Webull around a day to verify all of the information that you provide them, as you create your account, if all seems right, you'll be able to start using the platform, and all of its services - Webull crypto buying power is one of them.
The answer to the question of how to get crypto buying power on Webull is actually very simple. All that you need to do now is deposit some funds into your account, via a direct transfer.

As you make the deposit, your account will be credited with a specific amount of equivalent buying power, and you'll be able to start buying shares and cryptocurrencies instantly!
As you might imagine, however, there are some extra points and limitations that you'd need to keep in mind, as far as Webull crypto buying power is concerned.
First of all, not all account types can receive buying power. If you plan to trade cryptos "the old-fashioned way", or participate in ETF trading, you have nothing to worry about. That being said, if you're looking to trade options, the situation is a bit different - Provisional Cash isn't available with this type of brokerage account.
Next, there are limits on how much buying power you can actually receive, as well. It caps out at $1000 worth of credit. So, if you were to transfer $100, $400, or $1000 to your Webull account, you'd receive those sums of Instant Buying Power, respectively.
However, if you want to transfer more - say, $1200 - to your account, you would only receive $1000 worth of credit, with the rest of the money arriving after the transaction is settled (4 working days, usually).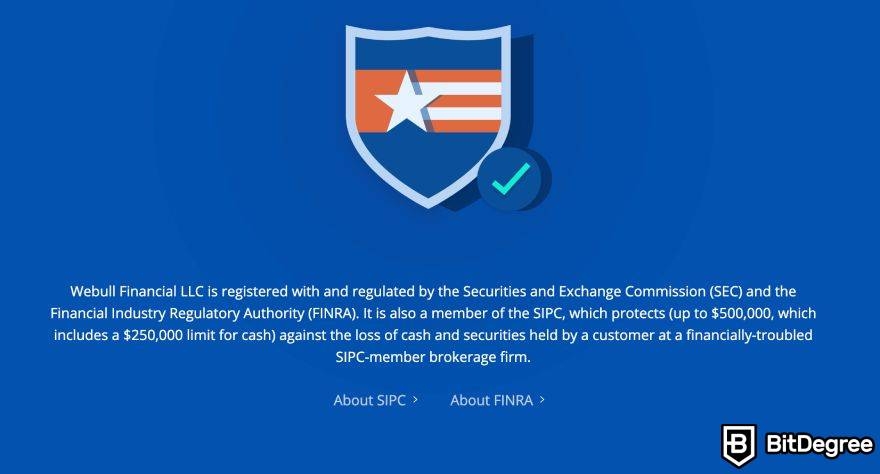 All of these things work to address questions such as "insufficient crypto buying power Webull?", and "why is my Webull crypto buying power 0?". The fact of the matter is that you might have opened the wrong type of an account (options), or perhaps Webull has decided to deny IBP to your account, in general.
That's something that might happen, mind you! Everywhere you look on the company's official website, wherever buying power is mentioned, there are disclaimers that note how Webull could decide to deny buying power to any account that they'd choose, at any given point in time.
Why would they do that? Well, for example, if Webull were to have suspicions about your transaction (whether it's legitimate or not, if it will go through, etc.), they could decide to err on the side of caution, and limit your buying power. That's just one example!
One more point that's worth keeping in mind, for anyone who's looking at how to get crypto buying power on Webull, is the timetable of when the Provisional Credits will be delivered. It looks a little something like this:
| | |
| --- | --- |
| Deposit Time | When Will I Get My Instant Buying Power? |
| 12:00 AM - 8:00 AM ET | Same day, at approx. 7:00 AM ET |
| 8:00 AM - 4:00 PM ET | Instantly |
| 4:00 PM - 11:59 PM ET | Next day, at approx. 7:00 AM ET |
So, as you can see, the point in time when you will receive your Instant Buying Power will depend heavily on when it is that you perform your initial transfer. During the day (Eastern Time), your buying power will be credited instantly. Otherwise, you might still need to wait a bit, until the next day.
You've Got Buying Power… Now What?
Once you figure out how to get crypto buying power on Webull, and have successfully received your Provisional Credit, the next step is to use it.
As mentioned earlier in the article, not only are the Webull crypto trading fees non-existent, but the company also provides Instant Buying Power in a sort of a gist of good faith, so that you'd be able to start trading, immediately.
The platform offers nearly 60 different cryptocurrencies to be traded, via USD pairs. These do, naturally, include all of the major coins (such as Bitcoin, Ethereum, and Cardano), all the way to some smaller projects, such as MANA and Karura.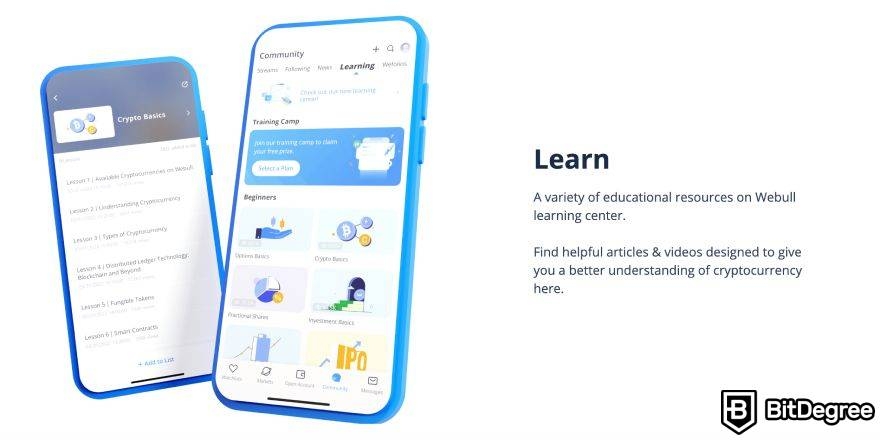 The trading pairs are supported by two different exchanges - CCC (Cross-Chain Capital), and Bitfinex.
What some users might find confusing is the fact that you need to "apply for a crypto account", on the brokerage in question. Whether you're looking at buying crypto on Webull, or trading some of your favorite assets, I can assure you - it's nothing to be intimidated about.
In fact, you'll be able to access the crypto part of your account with the same information as you would your original account. On top of that, those looking into trading crypto on Webull will be very happy to know that there are no additional charges for opening and maintaining a crypto account.
However, Webull also points out that only individual brokerage accounts are able to do so - if you're using the brokerage as your IRA platform, crypto will be off-limits.
If you do choose Webull as your go-to crypto trading platform, you'll be able to access market, limit, and stop limit orders. You can start trading with as low as $1, too!
Alternatives to Trading Crypto on Webull
Hopefully, you're no longer asking - how do I get crypto buying power on Webull? Up to this point in the tutorial, we've covered all of the main points that you need to keep in mind when looking into Instant Buying Power, or Provisional Credit on the platform in question.
For some people, buying power is a very exciting concept, and a core part of their Webull (and other, similar brokerage) -based trading experience. However, there's a pretty good chance that, after reading this "How to Get Crypto Buying Power on Webull?" article, you've decided that there must be some alternative ways of acquiring crypto.
Well, I'm here to tell you - there are!
Table: Some general information about Binance and Kraken
While brokerages such as Webull are very popular among the general masses, many crypto-native people choose to trust platforms that are cryptocurrency-exclusive, or at least, that cater primarily to crypto traders.
With that said, let's take a look at some of the biggest and most popular alternatives to Webull - who knows, perhaps insufficient crypto buying power on Webull isn't really an issue that you'd need to address, in the first place?
Binance - An Industry-Leading Exchange
Binance is, admittedly, the most obvious example of an alternative to not only Webull, but also many other traditional brokerage-type of platforms that also offer crypto trading services to their customers.
If you've spent any time in the crypto market, there's a pretty good chance that Binance is a familiar name to you. It's one of the largest crypto exchange platforms out there (often being named *the* largest, by trading volume), and has become almost synonymous with the concept of trading and investing in crypto.
All of that is nice and all, but let's get to the point - why would you want to pick Binance over Webull?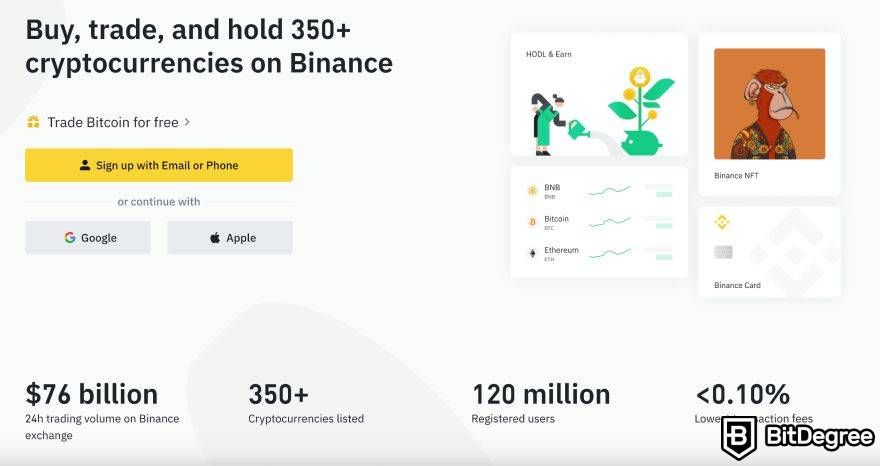 Well, for starters, the main question of this tutorial is a big reason. Since you came here wondering how to get crypto buying power on Webull, you probably already associate the concept of Provisional Credit with crypto in your head, automatically.
Well, there's no need for buying power with Binance - this is something that doesn't even exist on the platform! Instead, you are able to purchase crypto with fiat money (credit & debit cards, wire transfers, etc.) instantly, right after you complete your registration and KYC verification processes.
Binance also offers its users some of the best security features in the industry, too. There are dedicated teams within the company that are responsible for vetting all users who join the exchange, and Binance is very adamant about keeping up with the latest digital security trends, too.
BINANCE

A very well-known crypto exchange platform
More than 500 different cryptos available
Two-factor authentication
P2P trading option
Emphasis on security and KYC
Supports fiat-crypto acquisitions

Might be a bit difficult for beginners

Visit site
Read review
Table: The pros and cons of Binance
Lastly, a major factor that's worth mentioning is the variety of additional features and services that you can expect to find with Binance. The exchange also acts as a sort of crypto hub - you'll find P2P trading, crypto staking services, an NFT marketplace, a dedicated debit card (with built-in cashback), and many, many additional features. All that you need to access all of them is a single account!
All in all, if your Webull crypto buying power is 0, and you'd rather switch to a crypto-dedicated platform instead of trying to increase it, Binance is surely one of the first options that you should consider, and look into.

Did you know?
Kraken - An Advanced Crypto Trading Platform
Kraken is another major name in the crypto industry. The exchange is based in the US, but operates globally - in other words, it serves clients from many different countries, so if you're not from the States, this likely won't be an issue.
What makes Kraken special? Well, same as Binance, and unlike Webull, Kraken is a crypto-dedicated exchange platform. Meaning, the whole exchange is concentrated around cryptocurrency buying, selling, and trading - if you're only interested in crypto, as well, this is some good news.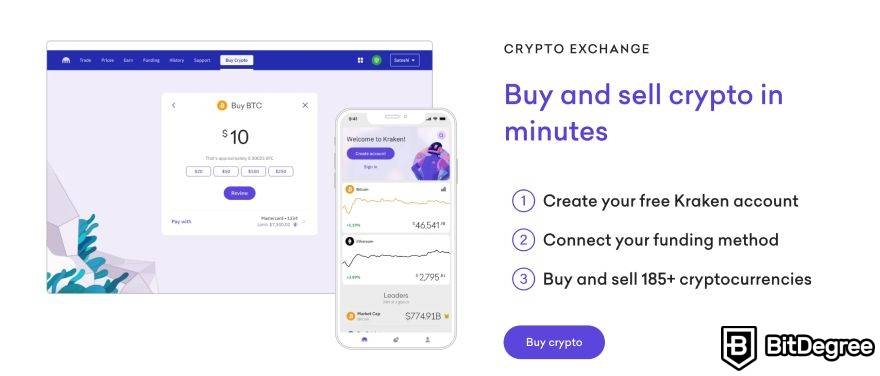 Kraken is also "up there" when it comes to all major aspects that would be important to crypto investors - it offers competitive fees, top-tier security features, a big variety of coins & tokens, and a lot of user-friendliness.
That last part is important to emphasize, too - while Kraken is often considered to be one of the more advanced trading platforms (catering to veteran crypto traders), it's still very approachable to industry newbies, as well!
While buying crypto on Webull would entail zero commission fees, the same cannot be said with Kraken - there are trading fees present on this exchange. That being said, while the fees themselves are relatively low, users also report the platform offering some top-notch customer support services, as well as a huge variety of learning material, to complement your trading ventures.
KRAKEN

Secure and reliable
Low fees
A good amount of fiat currencies accepted

Not the most helpful customer service

Visit site
Read review
Table: The pros and cons of Kraken
Lastly, while this is kind of evident, the good news for anyone who's looking at how to get crypto buying power on Webull is that Kraken doesn't employ Provisional Credit - you'll be able to start buying and trading cryptocurrencies instantly!
All in all, Kraken is definitely one of the best cryptocurrency exchanges on the market, and a platform that's certainly worth looking into, if you're interested in acquiring and trading crypto!

Pros
Can be managed from mobile device
Very secure
Supports more than 1500 cryptocurrencies

Pros
Top-tier security
DeFi app support
Store over 5500 assets, install up to 100 apps simultaneously
KuCoin - Anonymous Trading for Smaller Investors
If you're tired of wondering, "how do I get crypto buying power on Webull?", and would like to "do a 180" and trade crypto anonymously, without revealing your identity to the underlying exchange platform, KuCoin is reportedly one of the better platforms to do so.
Same as other exchanges mentioned in this article, KuCoin focuses on providing its users with the top features and functionalities, as far as all-things crypto are concerned. The one area where this platform differs from its competitors, however, is KYC - specifically, if you plan to trade small amounts of cryptocurrency, you won't need to pass the "Know Your Customer" verification checks, and will be able to remain anonymous.

This is a very interesting aspect, especially coming from a major crypto exchange! Notably, KuCoin has faced some backlash for this feature - it's not available in some US states and countries around the world. Worth keeping in mind!
That aside, you can expect KuCoin to offer some low trading fees (by comparison), great user experience, a huge list of supported assets, and additional features (i.e. passive crypto earning).
Table: The pros and cons of the KuCoin crypto exchange
To top that off, there's no longer the need to worry about crypto buying power on Webull, or even providing some third-party platform with your personal information - unless you plan to trade large amounts of crypto, you'll be able to enjoy anonymous and KYC-free crypto trading, without the need for any buying power tools.
Conclusions
So, then - that wraps up my tutorial on how to get crypto buying power on Webull. We've covered what buying power is, to begin with, how you can get it on the platform in question, and also looked into some alternative exchanges that you could explore, as well!
If you do decide to stick with Webull for all of your crypto wants and needs, keep in mind that the Instant Buying Power number should grow with time. In other words, the more you use Webull, the bigger your buying power limits will become, theoretically speaking. This is due to the fact that you'll earn trust with the platform - the more trustworthy you come off as, the bigger can your limits get!
That being said, once again - while Webull does have a lot to offer to its clients, and is definitely a platform that some will find ideal for their crypto trading ventures, there are some alternatives that you could check out, too. These include some of the most notable names in the crypto industry - Binance, Kraken, KuCoin, and more.
If you'd like to check out more options, make sure to take a look at my list of the best crypto exchange platforms out there. Thanks for reading, and best of luck with your crypto trading experiences to come!
Leave your honest feedback
Leave your genuine opinion & help thousands of people to choose the best crypto exchange. All feedback, either positive or negative, are accepted as long as they're honest. We do not publish biased feedback or spam. So if you want to share your experience, opinion or give advice - the scene is yours!