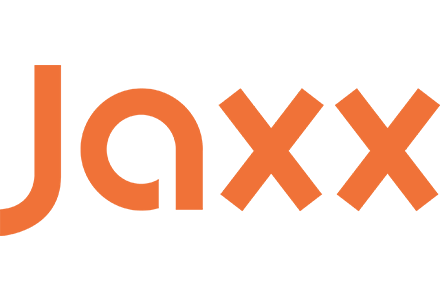 So, you've bought some cryptocurrencies, and have now come to read up on some Jaxx wallet reviews on whether or not this wallet is the best place to store them? Well, today, you're going to find out! In this complete Jaxx wallet review, I am going to tell you everything you need to know about the wallet in question.
To begin with, I will give you an overview of what the wallet actually is and how long it has been around. After that, we'll get to the full review of the Jaxx wallet fees and features, followed by an overview of its security. Finally, I will guide you through how to set it up and how to use it, with some really useful screenshots!
If you find yourself looking at alternative options, though, you should either focus on wallets such as Binance and Kraken (hot, exchange-based wallets), or hardware devices, such as the Ledger Nano X and the Trezor Model T.
Pros
Supports 90+ different cryptocurrencies
Easy to use
Built-in exchange
Cross-platform pairing
Free to use
Jaxx Wallet Review: What is the Jaxx Wallet?
Every single user Jaxx wallet review out there is probably going to tell you that Jaxx is a digital wallet that allows you to send and receive a range of different cryptocurrencies, as well as providing users with a safe place to store them. The wallet was created in 2014 by Anthony Diiorio, who is one of the co-founders of Ethereum!
INTERESTING FACT
According to a recent Forbes rich list publication, Anthony Diiorio is the 8th richest person in the world of cryptocurrency, with an estimated wealth of between $700 million to $1 billion!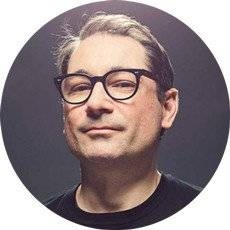 The Jaxx wallet is a "multi-currency wallet", and allows you to store lots of different cryptocurrencies all in the same place. In fact, at the time of writing in July 2023, the Jaxx wallet can store more than 90 different coins (some of which I have listed below), with more and more being added all the time.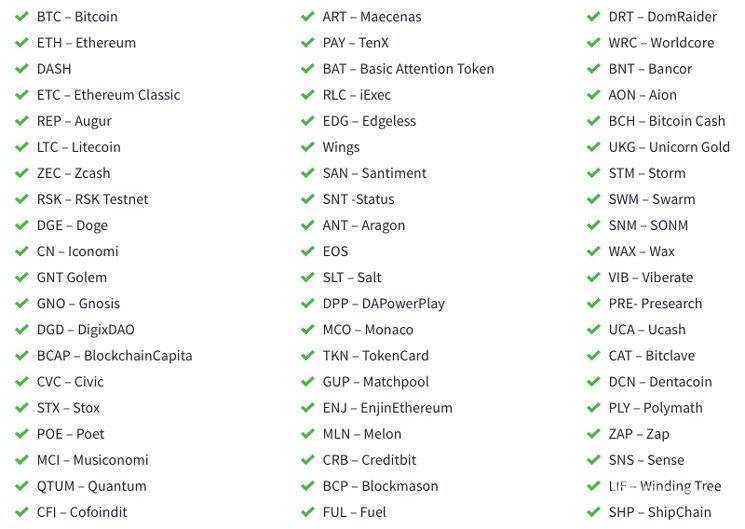 Reading through user Jaxx wallet reviews, you'll also notice that the wallet is available to download on most device types. This includes Windows, Mac, and Linux for desktop devices and Android and iOS for mobile devices. Furthermore, the Jaxx wallet is also available to use as a Google Chrome extension, meaning that it is easy to access wherever you are.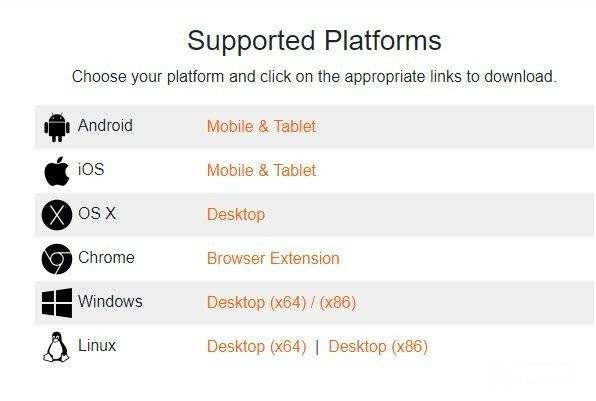 In March 2018, the Jaxx developers announced that their wallet had been downloaded more than 1.2 million times, making it one of the most popular wallets in the market!
So, now that you have a good overview of what the Jaxx wallet is, the next part of this Jaxx wallet review is going to take a closer look at its main features and benefits.
Latest Ledger Nano X Coupon Found:
SAVE 10%
Ledger Cyber Monday
Ledger Cyber Monday sale is bringing you the best deals - follow the coupon link & get 10% off Ledger Nano X when buying the Family Pack X!
Expiration date : 03/12/2023
7,469 People Used
Only 21 Left
Features and Benefits
Below, you'll find some of the most notable and usually-referenced benefits of Jaxx.
Multi-Currency Wallet
One of the best features of using the Jaxx wallet is that it stores lots of different cryptocurrencies. As you can see in the list above, this includes popular coins such as Bitcoin (BTC), Litecoin (LTC), Bitcoin Cash (BCH) and Ethereum (ETH). However, it also includes lots of less-popular coins like Unicorn Gold (UKG), Storm (STO) and Gnosis (GNO)!
BINANCE
JAXX

Amount of cyprotcurrencies that are supported in a certain cryptocurrency wallet.

200+
See Full List
90
See Full List

Amount of tokens that are supported in a certain cryptocurrency wallet.

1500+
See Full List
1000+
See Full List

Whether or not the crypto wallet supports the Ethereum token.

Whether or not the cryptocurrency wallet is compatible with other wallets & which.

Trust Wallet
N/A

Whether or not the crypto wallet supports the original BTC addresses that start with "1".

Whether or not the crypto wallet supports newer BTC addresses that came to be due to a soft fork. These addresses start with "3".

Whether or not the crypto wallet supports these specific types of BTC SegWit addresses. These wallet addresses start with "bc1".

Visit site
Read review
See TOP10 Brands
Read review
Table: The cryptocurrencies supported by the Binance Wallet and Jaxx
This makes it perfect for people who have lots of different cryptocurrencies because otherwise, they would need to store each coin in an individual wallet. Imagine how frustrating it would be if you held BTC, ETH, and LTC, but had to download a different wallet for each of them?
Latest Coinbase Coupon Found:
CLAIM YOUR $200 BONUS
Coinbase Cyber Monday
Cyber Monday Madness at Coinbase! Get your first crypto and earn up to $200 in rewards. Hurry up before this Coinbase Cyber Monday deal ends.
Expiration date : 01/12/2023
3,784 People Used
Only 16 Left
Cross-Platform Pairing
I mentioned earlier all of the different devices you can download the Jaxx wallet on to. Well, Jaxx also has an amazing feature called cross-platform pairing - it links all of the wallets together!
For example, if you download the Jaxx wallet on to your Android mobile and your desktop, all of your funds are accessible on both devices. This is a great benefit, as if a wallet is not cross-platform pairing, you would only be able to use a single device for your wallet.
Internal Cryptocurrency Exchange
Another fantastic advantage of using the Jaxx wallet is that it has a ShapeShift API built in. ShapeShift is a third-party exchange service that allows you to exchange one cryptocurrency for another, all within the Jaxx wallet!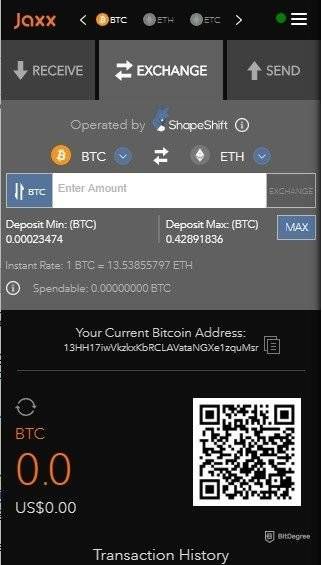 This means that, if you held Bitcoin, but decided that you wanted to swap some for Ethereum, you could do it within the Jaxx wallet! However, without this exchange service, you would need to send your funds to another cryptocurrency exchange, make a trade, and then withdraw them back to your Jaxx wallet.
User-Friendliness
With more than one million user downloads, the Jaxx wallet has one of the most user-friendly interfaces available. This is great, as it makes it perfect for both beginners and more experienced cryptocurrency users.
Truly, though, you don't even need Jaxx wallet reviews to tell you this - as you can see from the screenshot below, the platform has really simple colors, clear text and it's really easy to view your transaction history.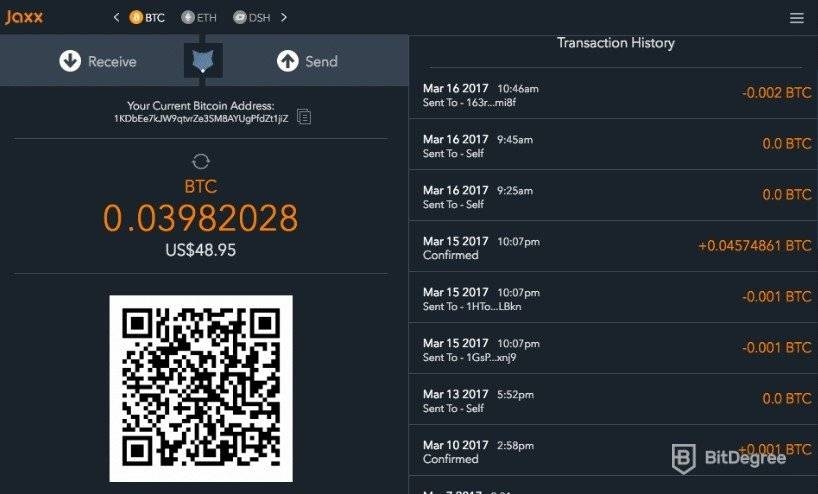 QR Scanning
If you are a fan of convenience, then you will love the QR scanning feature that is available within the Jaxx wallet. Let me explain: firstly, if you want to withdraw some Bitcoin from a cryptocurrency exchange to your Jaxx wallet, instead of having to enter your long Bitcoin wallet address, you can simply scan the code with your mobile phone!
The Jaxx wallet QR scanning feature is also really useful if you want to send someone coins on the go. For example, if you were in a real-world store that accepted cryptocurrency, you could simply scan the shop owner's device and the Jaxx wallet would make the transfer!
Fees
No matter which device you want to install the wallet on to, the Jaxx wallet is completely free! That's a bargain!
Of course, Jaxx isn't in business to lose money, so they make a profit when users exchange cryptocurrencies through the ShapeShift API. When it comes to sending cryptocurrencies to another wallet though, you will only pay the blockchain network fee, which varies depending on the coin and how busy the network is. Jaxx makes no money from this.
So, now that you know all of the advantages, the next section in this Jaxx wallet review is going to look at its security features!

Did you know?
Is Jaxx Wallet Safe? Security Overview
When choosing a cryptocurrency wallet, it is really important to consider how secure it is. It's always good when a wallet has nice features, such as user-friendliness and multi-currency support. However, if the security is weak, then you may need to look elsewhere.
So, let's find out - is the Jaxx wallet safe?
Personal Control
Firstly, when you download the wallet, you will not be asked for any personal information. This is great for those of you who love privacy, and it also means that you, and only you, will have access to your private keys. Never forget, if you lose your private keys, your funds will be gone forever.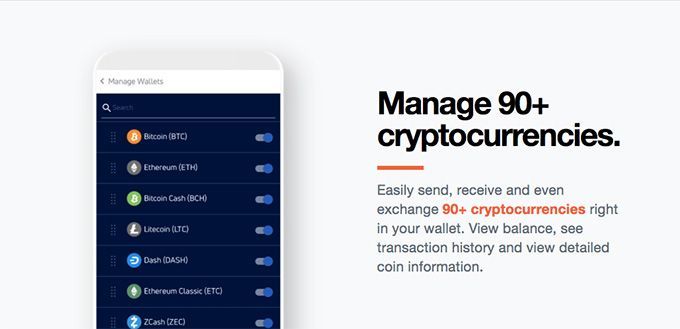 The Jaxx team never has access to your private keys, as they are held locally on your device. Although this adds an extra level of security, it means that, if you were hacked, they would not be able to recover your funds.
Backup Seed
To further protect your wallet, it is advisable to make a regular backup. This is where you are provided with a seed phrase (like a password), which you can write down for safekeeping. This is great in the case of your device(s) being damaged, as you can use it to restore your wallet keys.
Sign-In Security
Unfortunately, there is no two-factor authentication (2FA) or multi-signature support within the Jaxx wallet. Judging by the feedback offered by user Jaxx wallet reviews, this is one of the wallet's main weaknesses, too.
The 2FA feature available in other wallets means that you need to enter a code that is sent to your personal mobile phone before you can perform a transaction (such as sending funds or even logging in).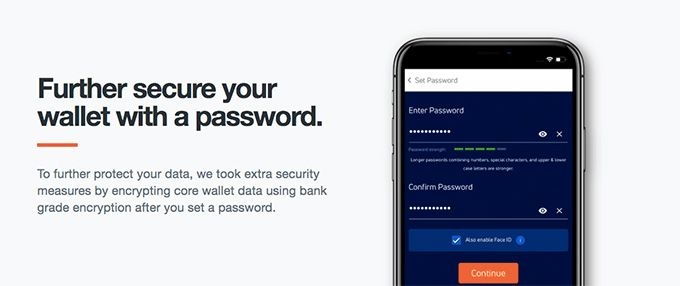 Multi-signature support is when you need to confirm your log-in on more than one device. It is a shame that neither of these features is available.
Has Jaxx Been Hacked Previously?
The Jaxx blockchain wallet experienced a major hack in late 2017, where more than $400,000 worth of Ethereum (ETH) was stolen from a user's wallet. The hack was made possible when a user downloaded the Jaxx wallet on to a "jailbroken" iPhone. This is when a mobile phone is unlocked so that it can be accessed on any network.
However, it also means that there is no guarantee that downloaded apps are secure. As a result, a hacker was able to obtain the user's backup phrase, which then allowed him to transfer the coins to his own personal wallet.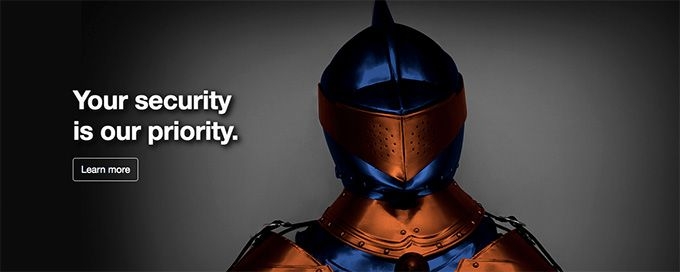 Although this wasn't entirely the fault of Jaxx, the problem was that they were actually aware of the vulnerability, but they didn't do anything to fix it. Jaxx developers claimed that they didn't want to make any major changes to the platform, as it would have made the wallet more difficult to use.
Overall, this is the only vulnerability that the Jaxx wallet has experienced since it was launched in 2014. So, as long as you keep your private keys safe, don't attempt to download the app on a jailbroken phone, and perform a regular backup, then your funds should be safe.
Now that you know is Jaxx wallet safe, the next part of this Jaxx wallet review is going to show you how to set it up!
How to Set up The Jaxx Wallet?
If you have read this Jaxx blockchain wallet review so far, you will know that Jaxx can be installed on most device types. I will now show you how to set it up using the desktop wallet, however, the installation process is similar across all device types.
1. First, you will need to visit the official Jaxx website and download the correct file for your device type.

2. Before your download begins, Jaxx will provide you with a "checksum". This allows you to verify that the file you are downloading is genuine by matching it with the checksum provided when you install it.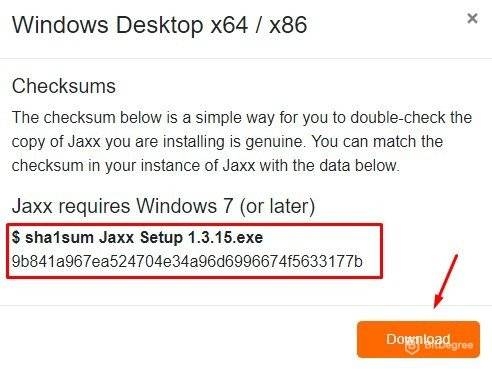 3. The download file is approximately 65mb, so depending on your internet speed you may need to wait a few minutes. Once the download has finished, click on the .EXE file.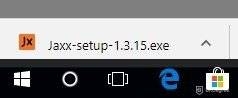 4. Jaxx will now extract the necessary files to your device.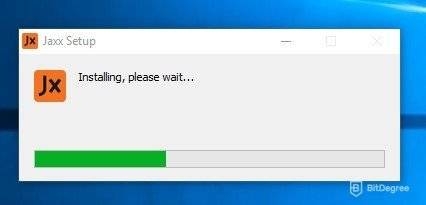 5. Once the Jaxx blockchain wallet is installed, you will see the following platform. By default, your screen will show you details about your Bitcoin wallet. This includes your personal wallet address, balance, US dollar equivalent, and your QR code.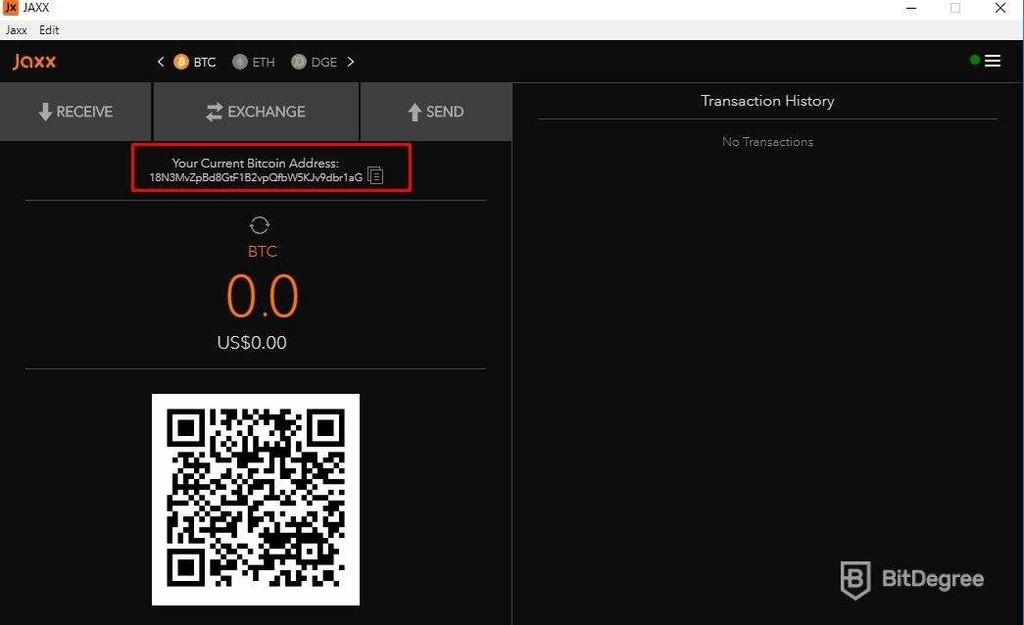 6. The Jaxx wallet allows you to store more than 90 different coins. So, let's find out how to check a different cryptocurrency - I'm going to look for Civic (CVC).
7. Click on the menu icon at the top right of your wallet.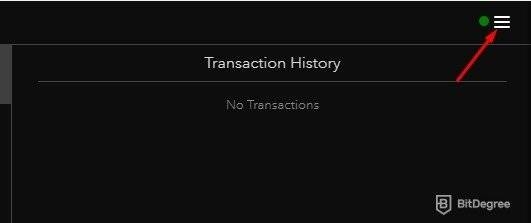 8. Scroll down and look for the cryptocurrency you want to check. As you can see, Civic (CVC) is not ticked, so I need to tick the box.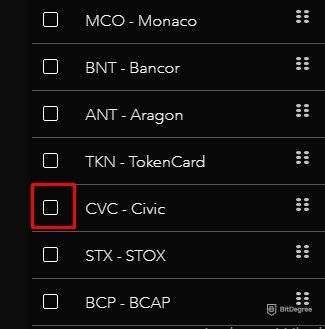 9. Next, at the top of the wallet, click on the small arrow (pointing right).

10. Keep clicking the arrow until you see the cryptocurrency you want. Once you do, click on it.

11. As you can see from the screenshot below, you can now see all of the required information for your chosen coin.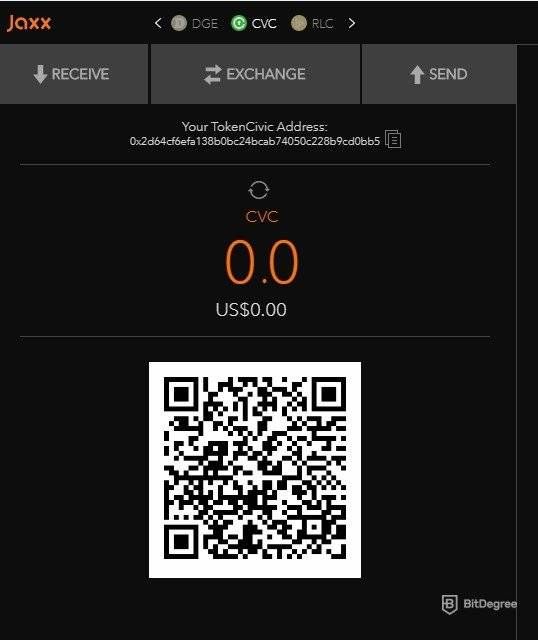 Congratulations, you now know how to set up the Jaxx wallet! Continuing our Jaxx wallet review, I am going to show you how to send and receive coins!
How To Use The Jaxx Wallet?
First up, the sending process.
Sending Funds
1. First, you need to find the cryptocurrency that you want to send. Don't forget, you might need to make sure that the box is ticked in the settings menu (step 8 above).
2. In my example, I am going to send Ethereum. Click on the Send button at the top of the screen.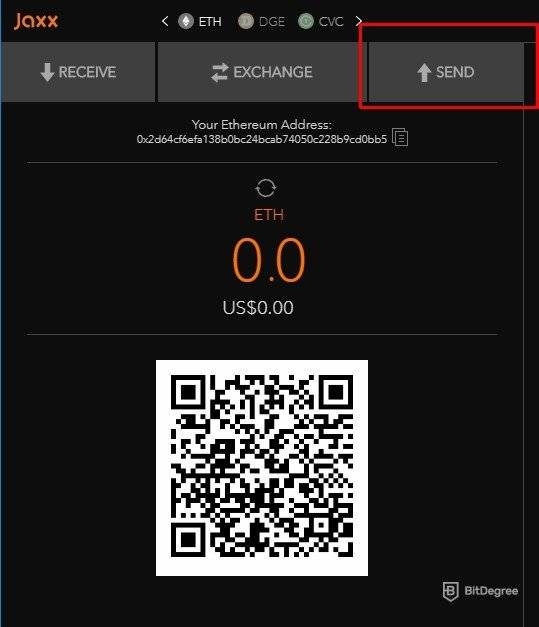 3. A box will then appear, which is where you need to enter the wallet address that you want to send the coins.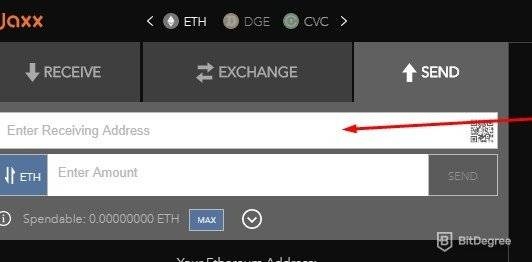 4. Here, you have two options. Either copy and paste your desired address here, or, if you are using a mobile phone device, then you can click on the barcode image and take a photo of the receiver's barcode which will automatically enter the full wallet address.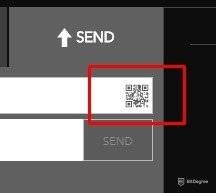 5. Finally, enter the number of coins you want to send and click Send. As you can see in the screenshot below, when you enter the amount cryptocurrency you want to send, the U.S. equivalent will update.

Receiving Funds
If you are looking to receive funds into your Jaxx wallet, there is a really cool feature that allows you to generate a QR code with the exact amount - I'll show you how below.
However, if you are not looking to use a QR code, then simply hit receive, copy your receive (public) address and then send it to the person sending you coins.
1. At the top of the screen, click on Receive. As I used Ethereum (ETH) in my previous example, I will use it again. Don't forget to change it to the cryptocurrency you want to receive before doing this.

2. Next, enter the number of coins you want to receive. As you will see in the screenshot below, the US dollar equivalent updates. If the amounts look right, click on the green Generate button.

3. The Jaxx wallet will now show you a unique barcode. If somebody scans it, their wallet will know that it needs to send 2ETH to your Jaxx wallet! This is really useful if you need to send funds from a third-party exchange to your Jaxx blockchain wallet!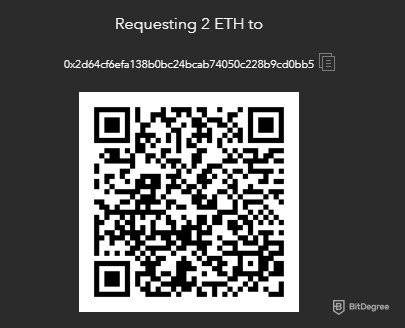 Pros
Can be managed from mobile device
Very secure
Supports more than 5500 cryptocurrencies

Pros
Top-tier security
DeFi app support
Store over 5500 assets, install up to 100 apps simultaneously

Pros
Multiple cryptocurrency support
Very secure
SegWit and Bech32 address support
Conclusion
So, I hope that you have enjoyed this Jaxx wallet review! If you have read it from start to finish, you should now have a good understanding of what the Jaxx wallet is, and how it works.
This includes an overview of all its main features, such as the Jaxx wallet fees, user-interface, supported currencies, and the ShapeShift API protocol! I have also discussed the security of the wallet.
Although the wallet is one of the safest, it is disappointing that it doesn't have 2FA or a multi-signature option upon signing in. The fact that the team did not fix the security vulnerability in late 2017 is also concerning.
Table: The connectivity features of the Trezor Model T and Jaxx
I also gave you step-by-step instructions on how to set up the Jaxx wallet, as well as how to send and receive funds.
Personally, I really like the Jaxx wallet for its convenience. I have a Jaxx wallet on both my mobile and desktop devices, so I can send and receive funds at all times! That said, I'd only use hot wallets for storing small amounts of crypto - hardware devices (Ledger, Trezor, etc.) are much more secure and reliable, in this regard.
Anyway, that's it for now. If you feel like there is a better software wallet out there, please let me know in the comments below!
The content published on this website is not aimed to give any kind of financial, investment, trading, or any other form of advice. BitDegree.org does not endorse or suggest you to buy, sell or hold any kind of cryptocurrency. Before making financial investment decisions, do consult your financial advisor.
About Article's Experts & Analysts