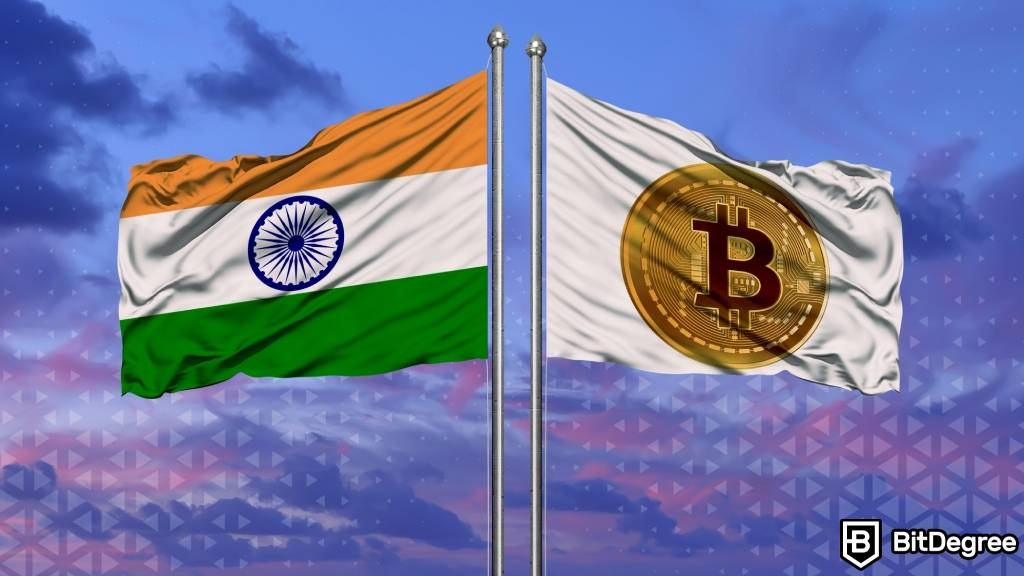 Are you ready to learn how to buy Bitcoin in India?
In recent years, buying cryptocurrency has become a popular way to earn digital assets and invest. Generally, people think that once you crack the how-to, it's an easy gig, but they forget that dealing with digital finances often falls under many regulations, which halts the whole process. And some countries have it worse than others.
Today, I'm focusing on India, specifically addressing how to buy Bitcoin in India. Bitcoin is still the most popular and the largest cryptocurrency by market cap, so it makes sense that traders worldwide aim to acquire it. However, the situation that India is in regarding cryptocurrency is complex, to say the least.
I'll expand on the difficulties that resident crypto users tend to face promptly, but I can spoil one thing - at the moment, it's very possible to buy Bitcoin in India. You can even pick one of the more prominent crypto exchanges like Binance or Bybit! But all in good time. First, let's discuss some of the problems while buying Bitcoins in India.

Did you know?
Want to get smarter & wealthier with crypto?
Subscribe - We publish new crypto explainer videos every week!
What Are Oracles in Crypto? (Beginner Friendly Animation)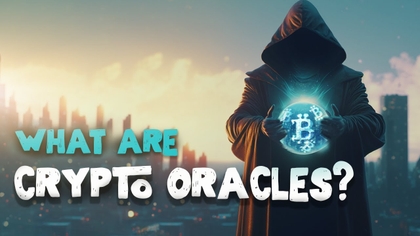 Regulatory Landscape of Crypto in India
As I just said, it's a bit complicated to buy Bitcoin in India. And any other cryptocurrency, at that. India's government has raised concerns about cryptocurrencies ever since their inception, and many questions remain unanswered. There are constant debates regarding anonymity, security, and transparency of the whole process. So, let's go over some of the most pressing questions and laws you should be aware of before buying Bitcoins in India.
Latest Deal Active Right Now:
REDEEM $600 PRIZE
Binance Cyber Monday
Attention new Binance users: this Cyber Monday, you can score up to $600 in rewards by completing special tasks. Activate this amazing Binance Cyber Monday deal using the code – 49316610!
Expiration date : 05/12/2023
6,127 People Used
Only 16 Left
Is it Legal to Buy Bitcoin in India?
The question of legality obviously comes to mind. Well, according to the statement by the Governor of the Reserve Bank of India (RBI) and comments made by the Head of Finances, buying Bitcoin or any kind of crypto should be illegal. Or, more like, they wish it so.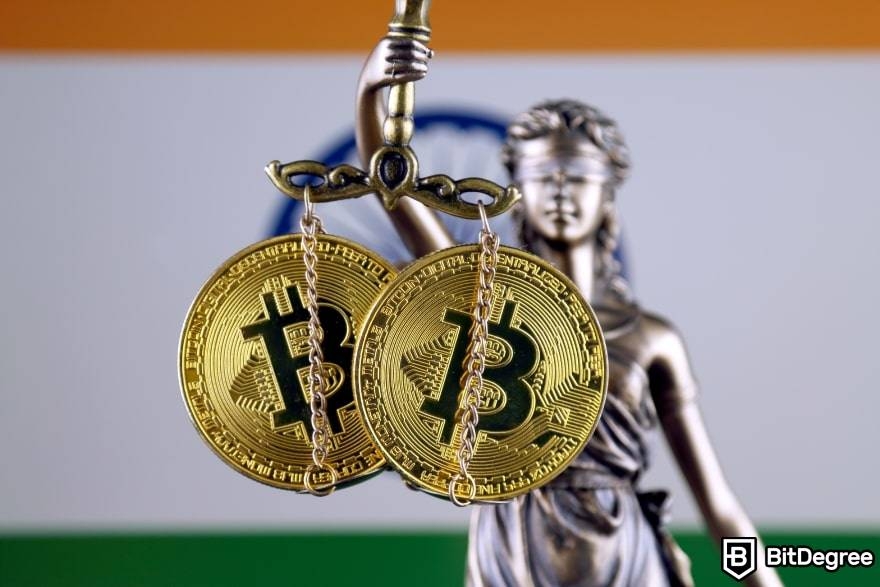 As of right now, there is no clear law illegalizing buying cryptocurrency in India. However, you should keep tabs on that since this is a question the government tends to address quite often, so you never know what new regulations they will validate and how soon.
Cryptocurrency is not a legal tender in most countries; only several are excluded, and just to clarify, India is not one of them. You can use crypto for virtual transfers and investments, but you're not allowed to settle debts or exchange it for goods and services. For now, let's just be happy it's not banned!
Prevention of Money Laundering Act
On March 7th, 2023, India's government issued a Prevention of Money Laundering Act (PMLA) on all kinds of virtual digital assets, their trading, safekeeping, and any other kinds of related services.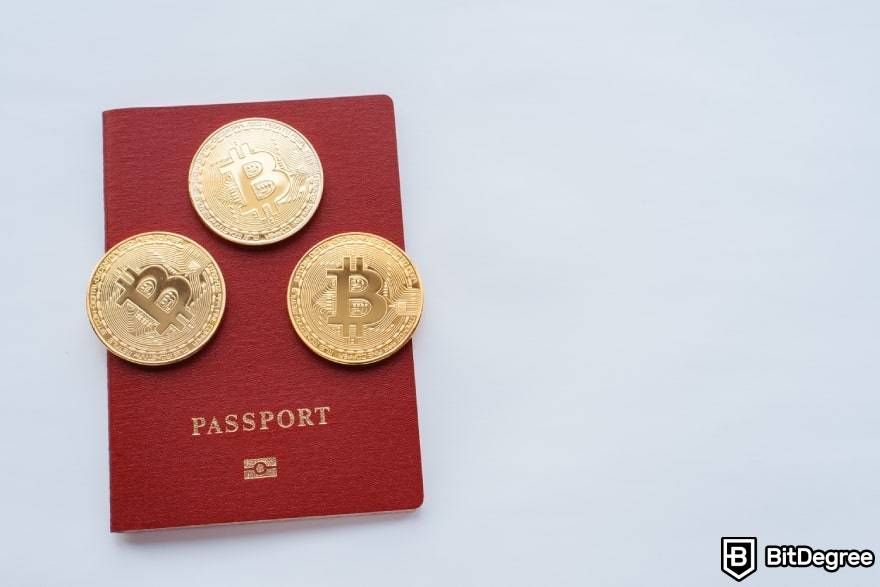 Basically, it means that all crypto traders and intermediaries will have to undergo Know Your Customer (KYC) processing. That includes identifying the user, verifying their identity and checking personal information for the risk of money laundering and other crimes.
KYC processing also includes ongoing monitoring - periodic security checks to ensure the customer's trustworthiness. This is usually done by banks and other payment system operators. Still, as India's authority is distrustful of cryptocurrency, they try to minimize the risks by including traders and intermediaries in the process.
PMLA also enforces users to immediately contact India's officialdom if there is a threat of any suspicious activity so that it's easier to keep a close eye on it. Any sort of dubious actions will now be investigated by the Enforcement Directorate, something that's entirely new for crypto users in India.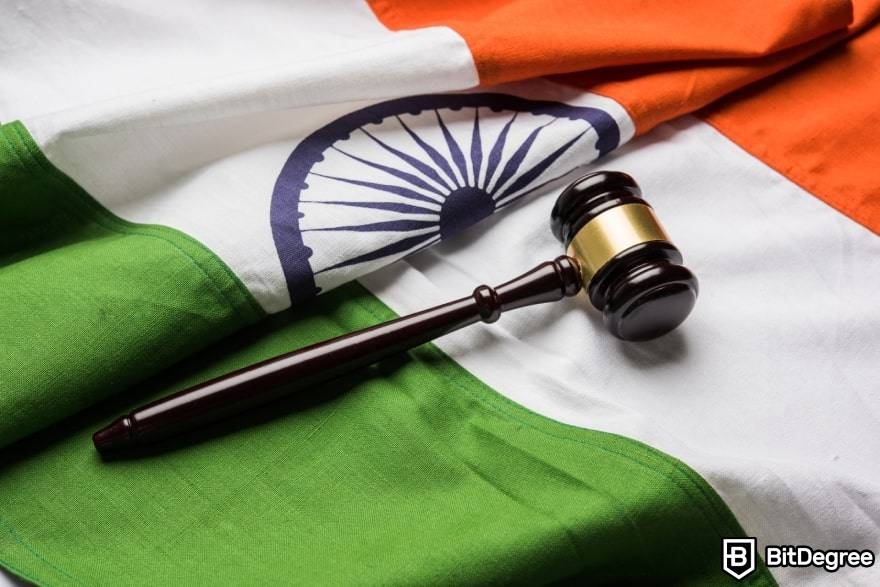 You see, before administering PMLA, cryptocurrency trading was done at investors' risk without any guidelines or government interference regarding any possible disputes.
Overall, the Reserve Bank of India cautions people against virtual assets. They are apprehensive about the whole thing, if not a tad paranoid. The Governor of RBI went as far as to say that if they allow crypto in India, the government will lose all control over monitoring financial transactions.
How To Buy Bitcoin in India: Binance, Bybit, and Kraken
However, like I said, as of right now, it's entirely possible to buy Bitcoin in India. You just have to know which exchanges to use! And, funnily enough, some of the top ones in the industry fully support buying Bitcoins in India.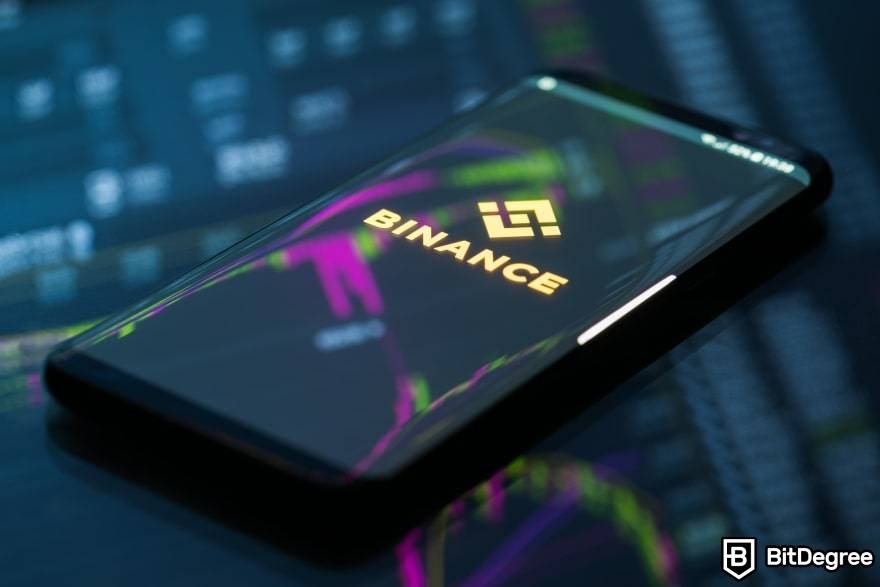 Binance is one of the biggest names among cryptocurrency exchanges, so you've probably heard of it, but if you want to go into details, I suggest reading this complete Binance review! For now, I'll just talk about the main aspects.
It is one of the most comfortable, cheapest, and secure cryptocurrency exchanges you could use. It supports more than 350 different cryptos, focuses heavily on KYC and two-factor authentication, and allows P2P trading!
I'd also like to note that Binance accepts multiple fiat currencies, including USD, GBP, and EUR. And not only that! Since you're looking for how to buy Bitcoin in India, you'll be happy to hear that you can use Indian rupees (INR).
BINANCE

Main score based on expert evaluations & real user reviews.

For which purpose or what kind of people is the crypto exchange most useful.

Buying, trading, and holding a wide variety of cryptocurrencies

The countries in which the cryptocurrency exchange is available for operation.

Turkey, Russia, Argentina, Vietnam, Ukraine, + 40 more,

Most popular hand-picked deals & coupons.

All Binance Coupons

Final crypto exchange evaluation conclusion based on research, expert opinions & user feedback.

One of the leading crypto exchange platforms in the industry.
Visit site
Read review
Table: Features of the Binance cryptocurrency exchange
The Bybit exchange platform is just a tad less known but is still a giant in the industry. The platform offers excellent customer support, is exceptionally functional and smooth, and has very low trading fees. Customer support is active 24/7 and in 13 languages, which resonates with the people in the Indian crypto market.
Once again, I strongly recommend reading a dedicated review on Bybit if you, naturally, have further questions.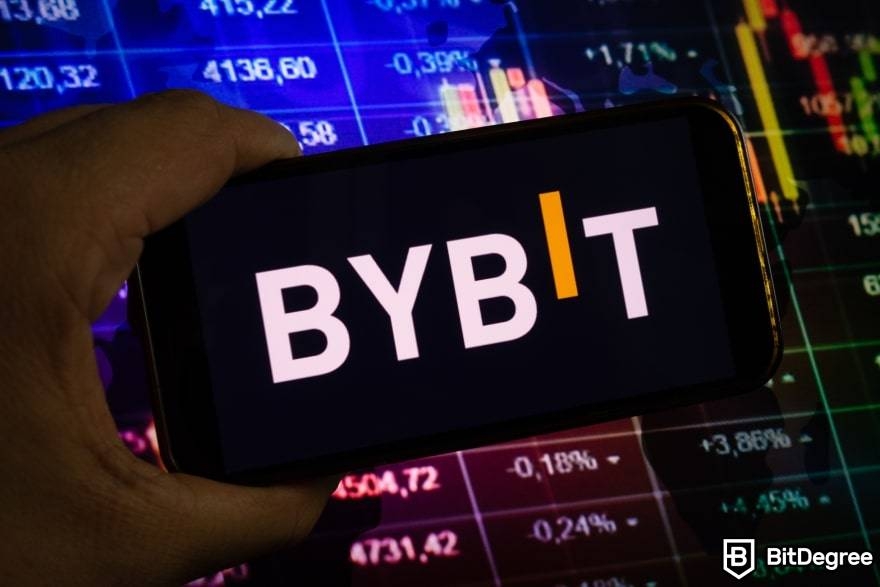 The third and final cryptocurrency exchange that will help you to buy Bitcoin in India is Kraken. As one of the most reliable and safe cryptocurrency exchanges, Kraken is often viewed as a good choice for Indian residents to buy and store crypto.
The platform focuses heavily on safeguarding your funds, NFTs, and private information - pretty much everything to ensure you feel safe within the ecosystem.
By the way, you can find out about Kraken's origins here. I highly recommend it; it's a fascinating story!
KRAKEN

Main score based on expert evaluations & real user reviews.

For which purpose or what kind of people is the crypto exchange most useful.

Best for Beginners

The countries in which the cryptocurrency exchange is available for operation.

United States, Germany, United Kingdom, France, Canada, + 190 more,

Most popular hand-picked deals & coupons.

All Kraken Coupons

Final crypto exchange evaluation conclusion based on research, expert opinions & user feedback.

One of the best crypto exchanges.
Visit site
Read review
Table: General information on the Kraken cryptocurrency exchange
Now that you have a better overview of these platforms that will definitely assist you in buying Bitcoins in India, let's talk it out more thoroughly.
Binance
If you're a crypto user already or even an enthusiast, it's highly likely that you won't have any problems getting started. However, I aim to fully prepare you for buying crypto in India, which means taking you through every single step of the process.
Since the first on my recommendation list was Binance, this is what we'll start with!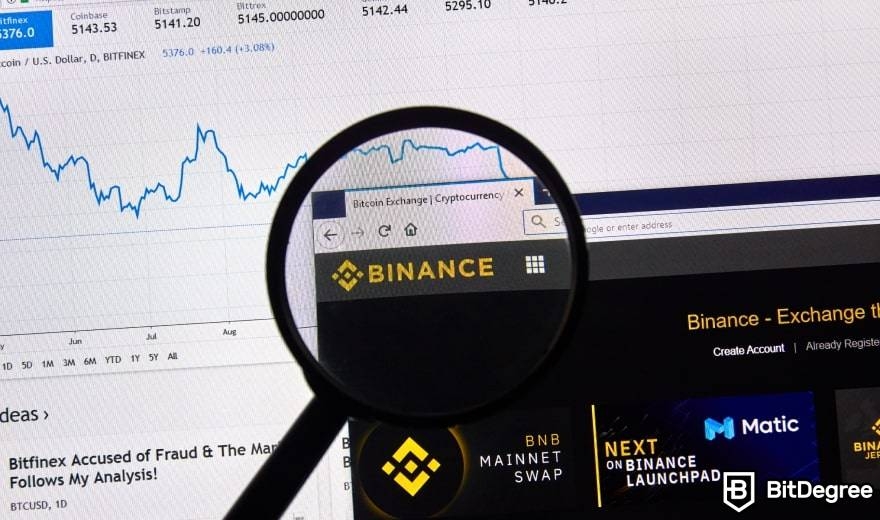 Binance is quite strict with the whole identity verification process, as you'll see in Step 4, so until you undergo at least some basic check-up, there's not much else you can do. But it's not only Binance that is so insistent on making sure you're a legit user.
Sure, you'd have to go through the same process if you were living anywhere else, but if you remember the crypto regulations I mentioned at the beginning of the article, the Indian government is adamant about ensuring safety and security as much as possible. Pair it with the clean-cut way Binance does KYC, and you get yourself the number one favorite platform to buy crypto in India.
Step 1: Firstly, you'll need to register. Go to the main Binance page right here, and click REGISTER in yellow.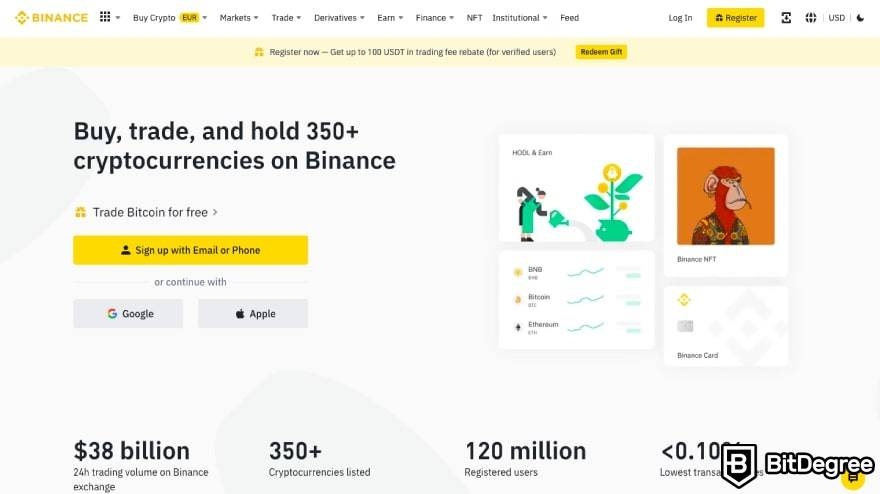 Step 2: For your convenience, Binance allows you to choose between registering with an e-mail or phone, also with either Google or Apple accounts. You're free to do as you wish, but just for the tutorial's sake, let's go with the first option.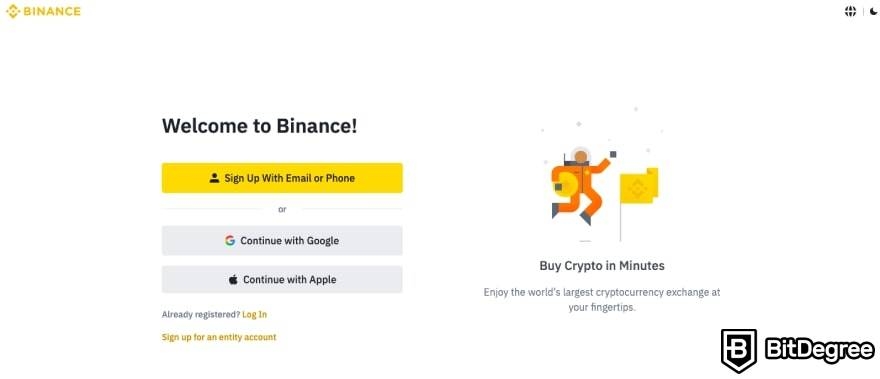 Step 3: Your third step is quite an easy one, not differing much from any other registering you might do on any kind of platform on the web. You just need to fill out your information and verify your e-mail. After that - welcome to Binance's main dashboard!
Onto more difficult stuff now.
Step 4: After you verify your account, it should look something like this. But, allow me to elaborate.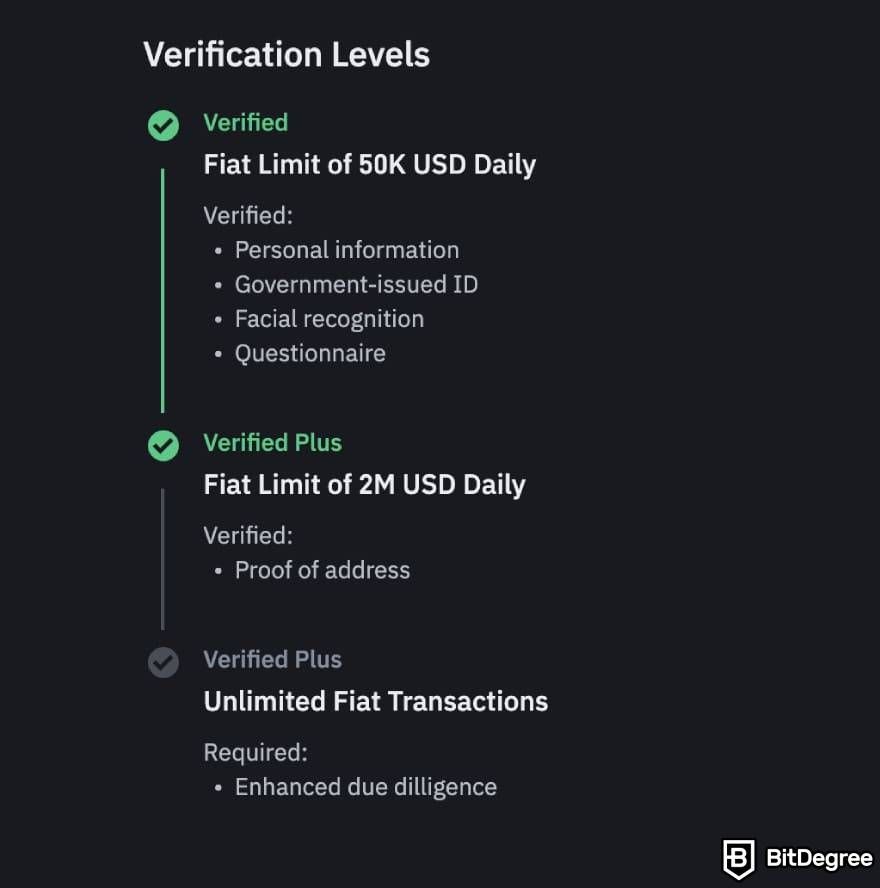 Remember the KYC process we talked about? Well, before we go any further with the tutorial on "How to Buy Bitcoin in India?" you should know some details.
You'll have to enter quite a lot of your personal data, including your full name, birth date, and address. There's also a requirement to upload a picture of your ID card. You can simply use your Driver's Licence for that, but there are three types of documents specific to Indian residents that are also valid for buying crypto in India on Binance.
AADHAAR card, and the 12-digit identity number on it, works just fine. You can also enter your PAN number, an alphanumeric identifier issued by the Indian Income Tax Department, or the Voter ID number, given to every Indian resident at the age of 18.
Now, all we have to do is wait for confirmation!
Step 5: Deposit funds into your Binance wallet. Of course, you need a wallet to store your assets and funds, and while I would generally suggest names like Ledger or Trezor, you don't have to worry about that. For now, just use the built-in Binance wallet.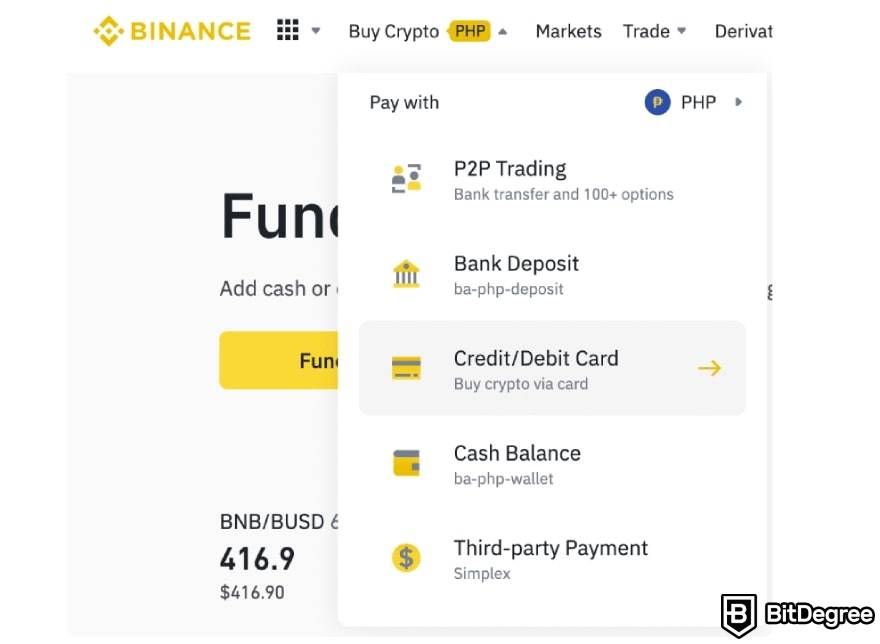 You can either deposit the crypto you already have or fiat currency, for example, Indian rupees; just make sure you have something in there to buy Bitcoin with!
Step 6: The hard part is over. Now that you have something to pay for your Bitcoins with, choose P2P trading to buy from any of the listed sellers.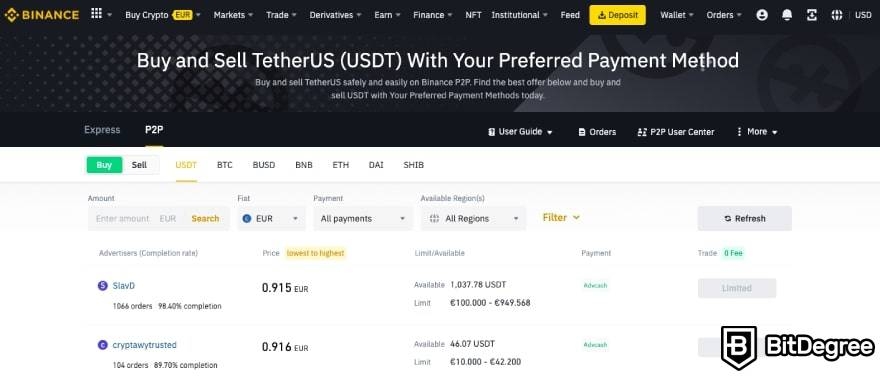 Once the transaction is complete and you see changes in your wallet - congratulations! You just learned how to buy Bitcoin in India and did it successfully.
Now, let's see what other exchanges can offer.

Did you know?
Want to get smarter & wealthier with crypto?
Subscribe - We publish new crypto explainer videos every week!
What Does Staking Mean in Crypto? (Easily Explained!)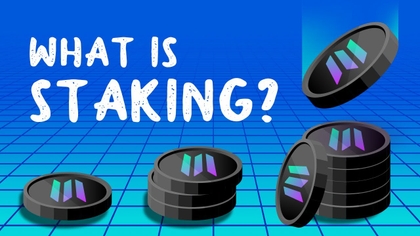 Bybit
It's been a few years now since Bybit became a vital part of crypto adoption in South Asia. While Binance takes the lead according to the number of users and compatibility with India's crypto regulations, Bybit is hot on its heels.
The steps you have to take to learn how to buy crypto in India are basically the same as with Binance, but it's in a different order. Let's do a quick recap and add some changes!
Step 1: Go to Bybit's official website or download the Bybit app available via Google Play, Apple Store, or through a simple QR code.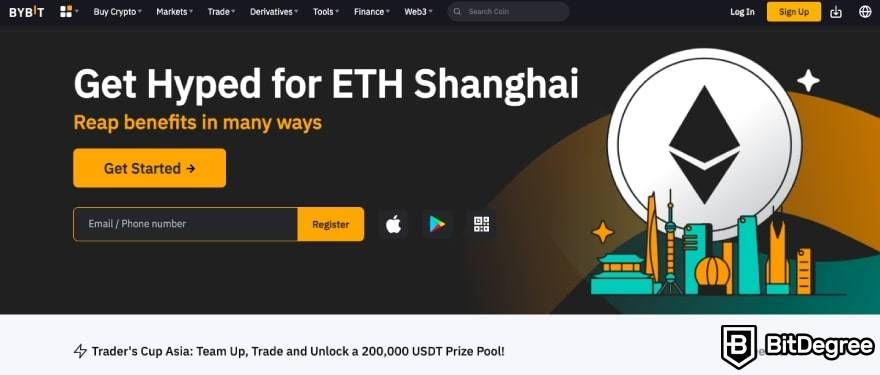 Step 2: Now, you can register with an e-mail, phone number, or Google and Apple accounts. I, for one, will choose e-mail once again.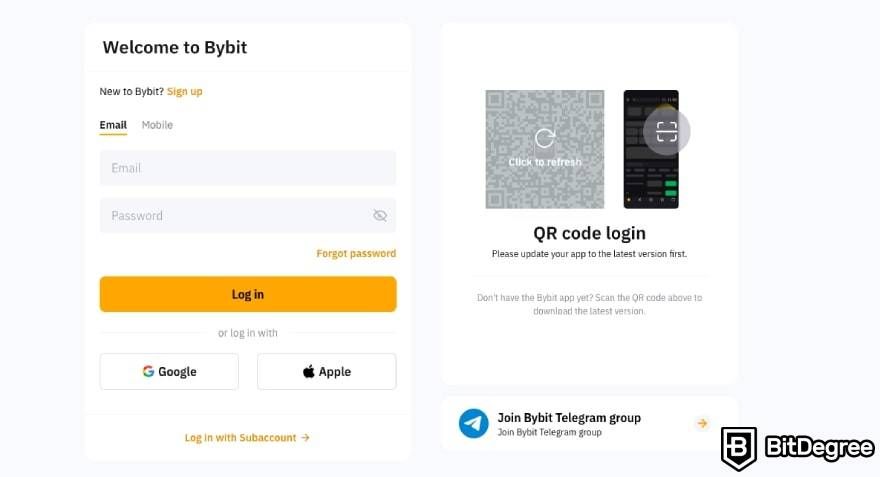 Step 3: You'll find a Buy Crypto button on the menu, so press that!

Step 4: Just like Binance, Bybit allows you to buy Bitcoins with rupees. Decide how much INR you're willing to spend and see how much Bitcoin you can get from it. Once you're happy with both the amount you'll spend and the amount you'll get, proceed further!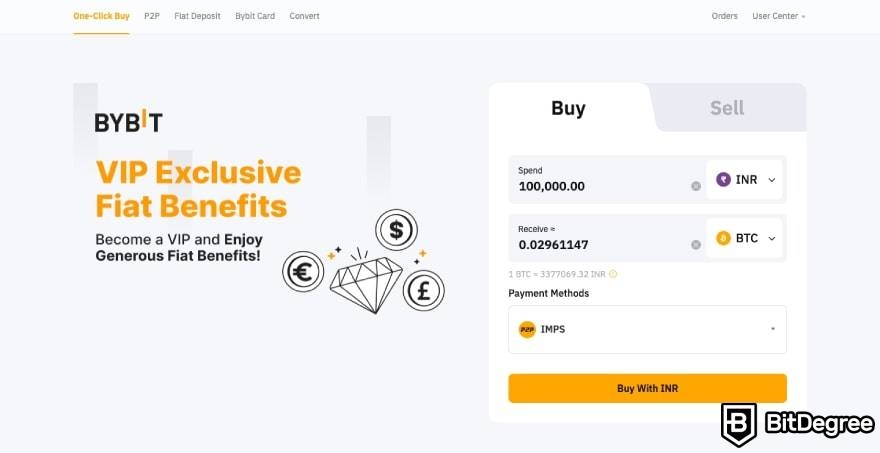 Step 5: It's time to choose a payment method. There are several of those, and for Indian residents, IMPS is, oftentimes, a favorite. Standing for Immediate Payment Service, it's pretty much exactly like it sounds - a mode of immediate money transfer from one bank to another.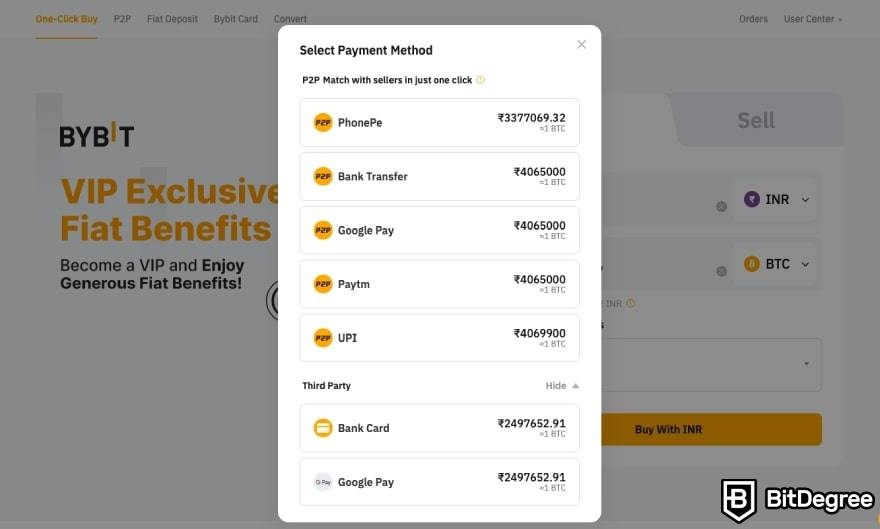 IMPS is a part of the Indian banking system, and people trust what they know; that's what I mean by IMPS being a favorite.
However, if your bank doesn't support IMPS, you can also go with a regular bank transfer, Google Pay, India's largest mobile payment platform Paytm, and a couple of others. But this is only if we're talking P2P trading!
If you forgo all of the aforementioned methods and decide to use an intermediary, your only options are a bank card or Google Pay.
Step 6: Only now do you have to verify your account and undergo all the KYC procedures. The whole point of it is the same as it was with Binance, and you cannot complete your purchase without verifying personal details about yourself. However, I have to agree with what you're probably already thinking - it is a bit unusual that KYC and verification is the last step instead of one of the first.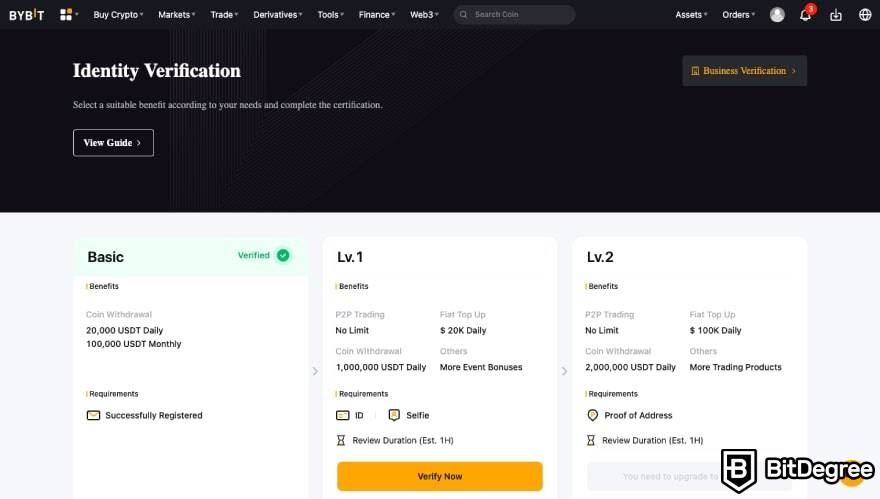 Ultimately, though - it makes no difference. The idea and the outcome are the same!
Step 7: After that, just check your personal Bybit account - your Bitcoins should be stored there.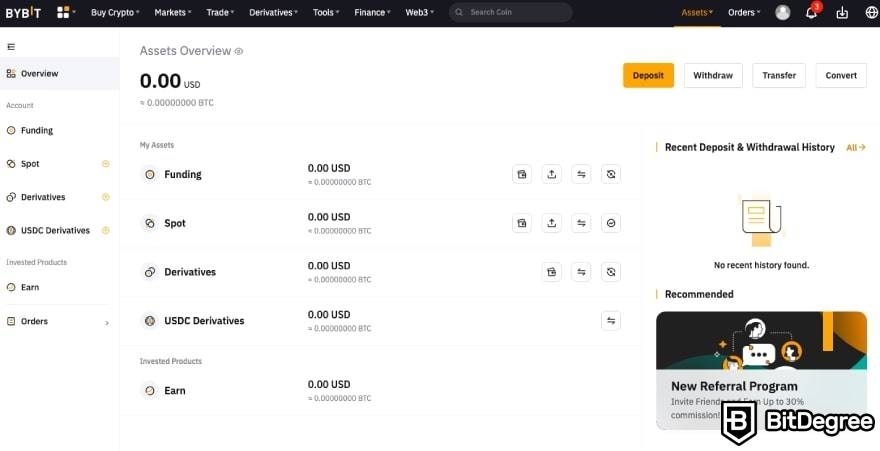 And now, do you feel you have all the answers to the ultimate question - how to buy Bitcoin in India? If not, let's take one last look; this time, it's Kraken.

Pros
A very well-known crypto exchange platform
More than 500 different cryptos available
Two-factor authentication
Main Features
Over than 100 different cryptocurrencies available
Strong security
Small withdrawal fees

Pros
Secure and reliable
Low fees
A good amount of fiat currencies accepted
Main Features
Reputable exchange
Multiple fiat currencies are accepted
Relatively low trading fees

Pros
Anonymous trading
Secure
Supports a variety of cryptocurrencies
Main Features
Easy to use
Low fees
Good security
Kraken
Known for its simplicity, security, and impeccable service, Kraken is a great choice if you want to learn how to buy Bitcoin in India. I'll once again go over the steps you'll need to take to complete your purchase, just so it's crystal clear!
Step 1: Go to Kraken's main page. You can also download an app for both IOS and Android, but just to stay true to our learning pattern and this tutorial, let's stick with the web version.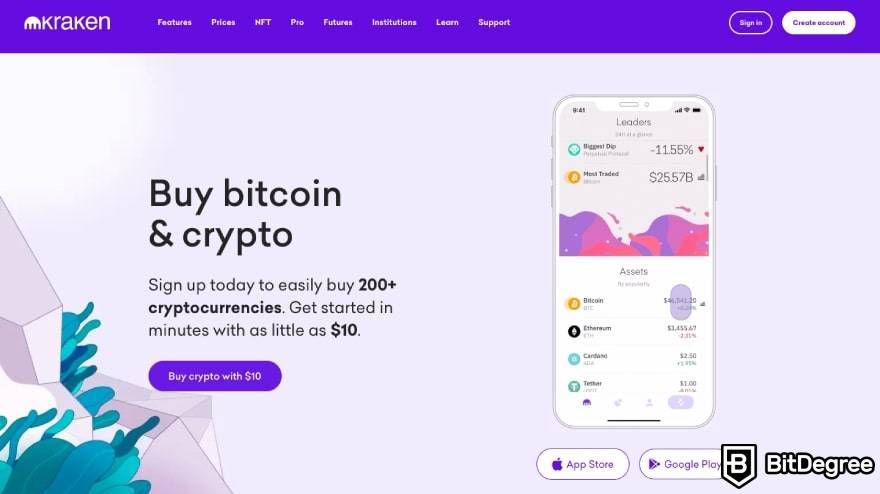 Step 2: Locate and click Create Account on the top right. Type in your e-mail, username, password, and move on once you get a verification code sent to your e-mail address.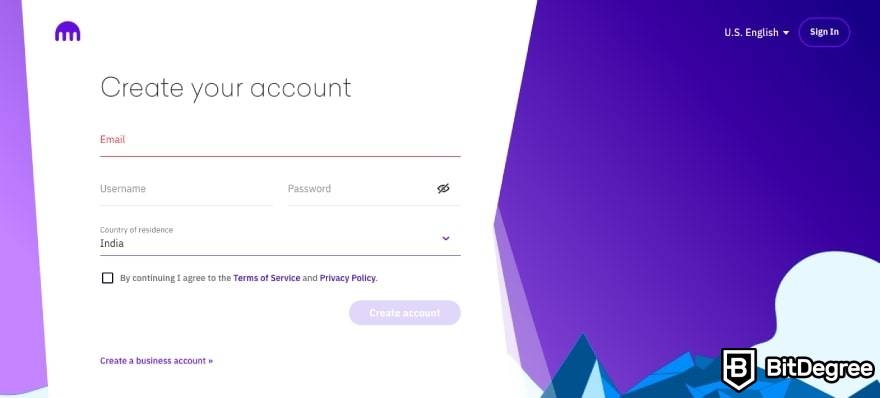 Step 3: Once you get to your Kraken account, you won't be able to do anything until you verify your identity. Prepare to hand out some personal information like your full name, address, postal code, and phone number. They will also ask for your occupation.

Step 4: Funding. Now that Kraken knows you are legit, it'll allow you to fund your account so that you can buy crypto with it. Unlike Binance and Bybit, Kraken doesn't accept INR! However, it lets you complete crypto-for-crypto transactions, so choose what works for you.

Step 5: Start purchasing! You'll find Buy Crypto in the last section of the toolbar in your account. Choose a currency you'll want to pay with, pick Bitcoin, decide on the most suitable payment method and enjoy buying Bitcoins in India.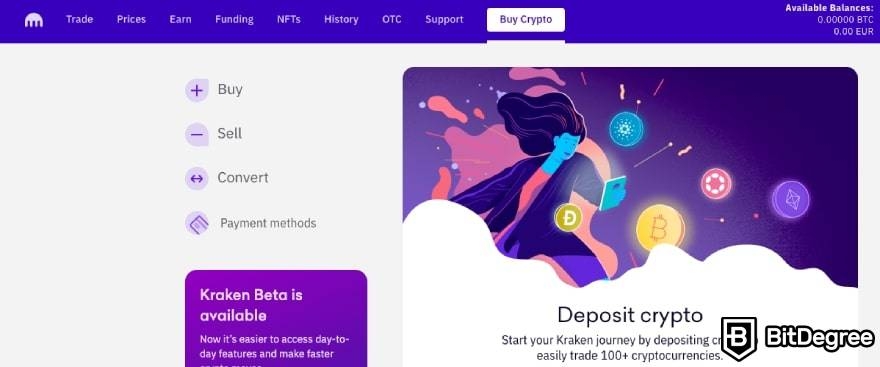 There you go - three great answers to "How to buy Bitcoin in India?" It might be a bit challenging to choose a cryptocurrency exchange since they all have their own advantages, but once you get into it, you'll surely find something suitable.
Peer-to-Peer and Face-to-Face
Now, I want to discuss something that is also a pressing issue, especially in India and especially when buying crypto. Whatever you're imagining after reading the chapter's title, you're either right or not exactly way off, at least - there's not much space left for interpretation.
However, if you thought that one of the most common ways to buy Bitcoin in India was to go outside, meet up with a friend and exchange some currencies, you're wrong. Well, technically, you can do that, but it's not a common practice.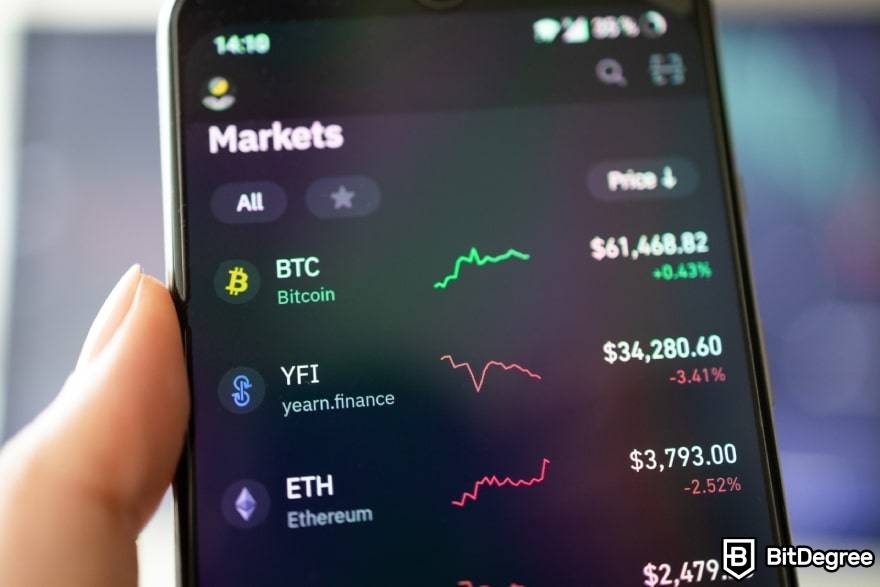 Peer-to-Peer definitely means a straightforward exchange between two people, but there's no actual contact involved. It just means that the cryptocurrency exchange offering you the P2P method connects you and allows you to communicate with the buyer/seller.
Generally, I wanted to introduce you to P2P as one of the ways to buy Bitcoin in India, but in some cases, it's not a suggestion but the only possible choice, instead. For example, if you want to use Binance as your way to buy Bitcoin in India, for now, they only allow P2P trading. And that's not a bad thing at all.
It takes minutes to complete your P2P transactions, and since they are organized by an exchange, you're likely good on safety and security. It's also nice that you can test out your salesman skills and make offers to the user you're connecting with. The transactions stand on the agreed-upon price, so you can cut out a deal for yourself.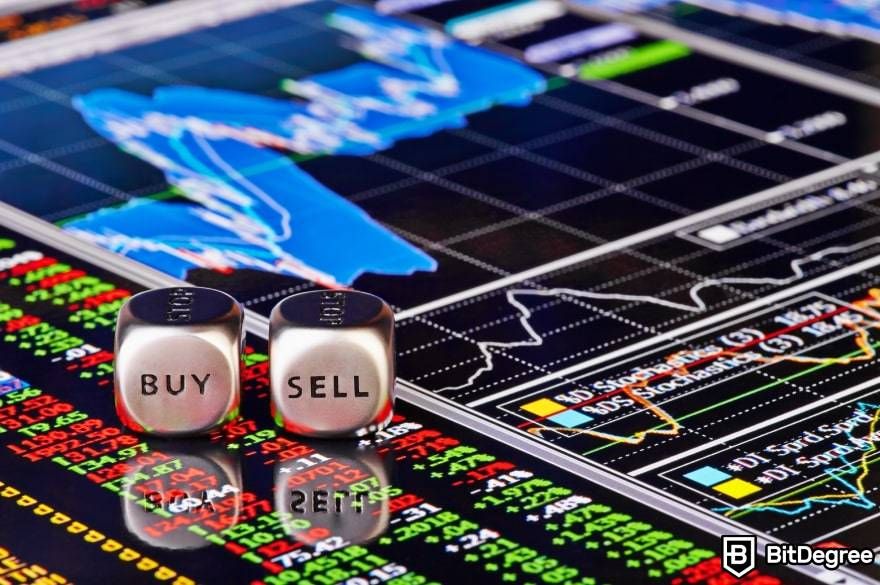 However, there's some stuff to consider as well. P2P can be a real headache sometimes, as it can't always guarantee you 100% safety. Sure, platforms that offer P2P trading usually pay a lot of attention to security and even give out a lot of warnings (like Binance).
That being said, even with all the warnings and information you get right before and during your P2P transaction, there are still risks regarding scammers or theft attempts. And even widely acclaimed, completely reliable exchanges like Binance give out their warnings, so it'd do you good to stay alert and remember that.
However, generally, people are not that careful. Pair that recklessness with the regulations regarding how to buy crypto in India, and you have the perfect storm - which brings me to my next point in my "How to buy Bitcoin in India?" tutorial.
Face-to-Face is not an actual term used to define a transaction between two users, but it works for what I'm about to tell you, so let's just leave it here! You see, I was kidding about meeting up and exchanging currencies when talking about the general idea of P2P, but in this case, I actually mean Face-to-Face tradings.
Some P2P systems offer the opportunity to meet up and exchange crypto for cash. And a surprising number of people go for it, especially residents of countries with much stricter crypto regulations. That goes for India, as well.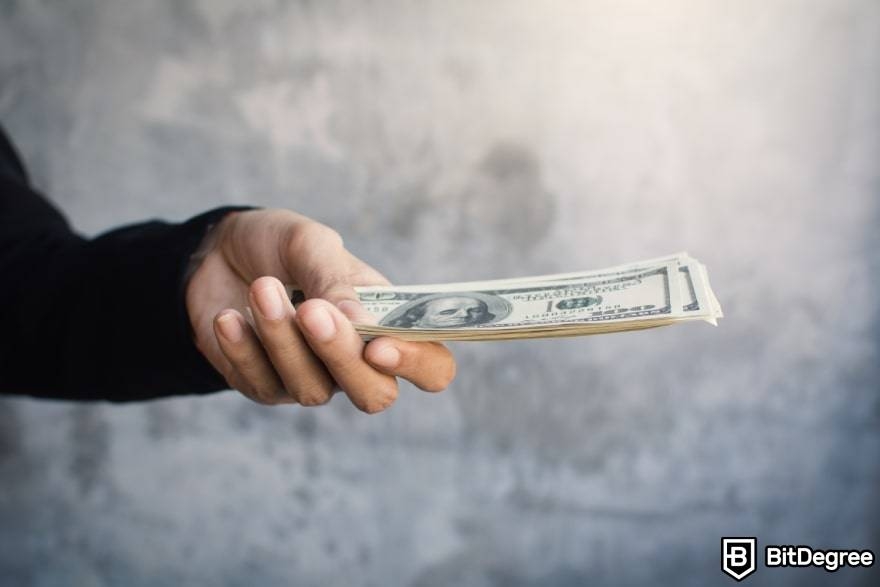 Evidently, some people think that it's dangerous to buy crypto in India. First of all - it's not. There are a lot of different restrictions in place, that's true, but it's not illegal.
Anyway, many Indian users are very into the idea of meeting up and getting crypto for cash. For some reason, they are sure that it's safer this way when it's the opposite of that, really. Meeting up with strangers is always a very dubious idea, especially when your goal is to trade money, virtual or fiat.
So, when deciding on how to buy crypto in India, stay cautious and go for the more reliable, secure choices.
CEXs and DEXs in India
If you're an avid trader or have a high interest in crypto, or have been searching for ways on how to buy Bitcoin in India for a while now, these two terms are probably nothing new to you. CEXs (or, centralized exchanges) are, as of right now, the more common cryptocurrency exchanges operated by a centralized owner. They do thorough background checks, and most have strict KYC procedures, like ID verification, but the lack of anonymity is all for your safety.
DEXs (or, decentralized exchanges) are the direct opposite of CEXs. These are the companies that offer you nearly anonymous ways to trade and buy crypto and work without an intermediary.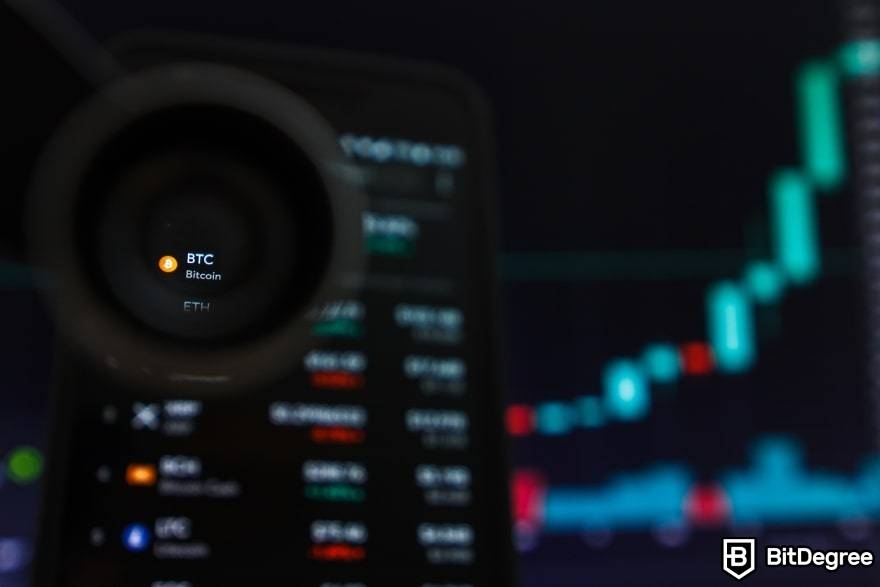 Usually, when people hear trading without an intermediary, they imagine direct transactions between users. Actually, when using decentralized exchanges, crypto users have to dip into liquidity pools - a collection of assets that enables trading.
So, obviously, both CEXs and DEXs have their own pros and cons. But why am I talking about it in the first place? Well, it's all about you making the right choice on how to buy Bitcoin in India.
You don't have to choose one or the other, though! They are not mutually exclusive, and you can definitely use both if you feel like it. However, considering crypto regulations in India, there is some stuff to think about.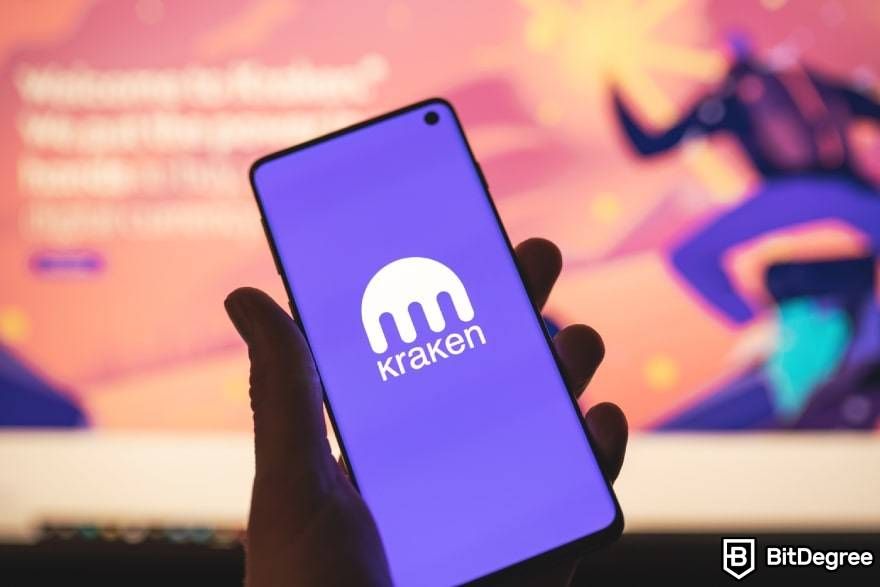 I already gave you three suggestions - Binance, Bybit, and Kraken. They are all centralized exchanges and great options for learning how to buy Bitcoin in India. These platforms go hand in hand with the KYC procedures the Indian government requires, and even partially play into the PMLA.
Now, using DEXs in India can be a bit iffy. Since the government is demanding thorough client examination, KYC, and ID verification, it literally goes against everything that DEXs stand for.
While it is not illegal to use, let's say 1Inch Network or Covo Finance in India, the regulations about DEXs specifically are very unclear at the moment, so it's both my own suggestion and the number of Indian residents using CEXs, that you forgo decentralized exchanges, at least for now. Especially if you're a beginner and just finding your footing buying Bitcoins in India.
Conclusions
So, let's review the key points in the "How to Buy Bitcoin in India?" tutorial!
Firstly, remember that as of a couple of months ago, there are strict regulations you must follow if you want to buy crypto in India. The government and the Reserve Bank of India are apprehensive about virtual currencies, and they caution people against them, but it's still legal. At least for now!
Undoubtedly the least concerning and the best way for you to buy Bitcoin in India is opting for more common centralized exchanges like Binance, Bybit, or Kraken. They follow all the regulations and verification processing, and also - are some of the biggest, most trusted names in the market.
When the situation in India regarding crypto is that tentative, it's not unexpected to look for more unconventional ways to buy Bitcoin and crypto in general, but try to stay safe and think twice before meeting people face to face. The same goes for using DEXs, too. It might be best to stick with the more reliable choices until the air about them clears out.
With that in mind, I hope you don't have much trouble buying Bitcoins in India and can safely enjoy trading. Thanks for reading, and best of luck!
About Article's Experts & Analysts