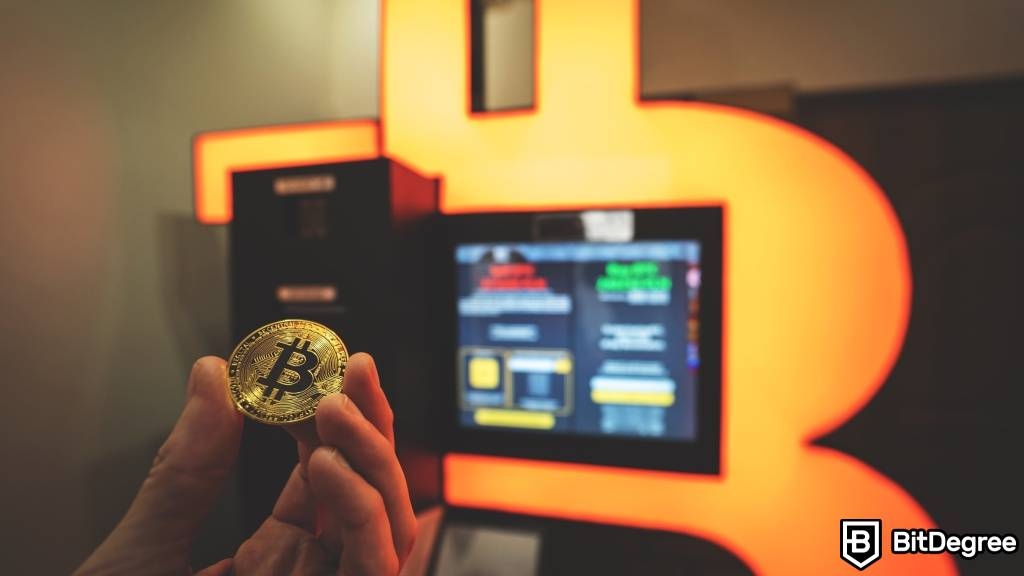 As the world is getting increasingly excited about crypto, there's no wonder that the field is expanding, both in the number and variety of cryptocurrencies and the means of acquiring them. Yes, you can always buy crypto with your usual cryptocurrency exchanges, but someone thought of a different way to get it. This is where the question of how does a Bitcoin ATM work come in.
When we want to deposit or withdraw cash, we look for ATMs, a very common, everyday tool to get our money. And now that the Bitcoin cryptocurrency is making some significant (yet, positive) changes in the world's financial system, people have taken to using Bitcoin ATMs. But what are they, and how do they work?
In this article, I'll answer the most pressing questions, starting with the what and the why! You'll find out how to use Bitcoin ATM, where to find it, and I'll also make sure to introduce you to the benefits and risks of using them. So, without further ado, let's get started with the "How Does a Bitcoin ATM Work?" tutorial!

Did you know?
Want to get smarter & wealthier with crypto?
Subscribe - We publish new crypto explainer videos every week!
What is a Crypto Mining Rig? Is it Worth it? (EASILY Explained)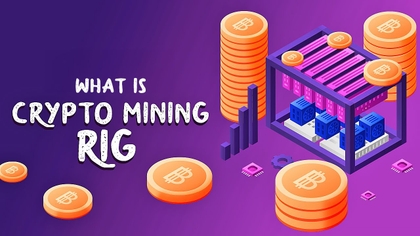 What is a Bitcoin ATM?
The name, really, is quite self-explanatory. Though, it can also be misleading. When you think of a usual ATM, the first thing that comes to mind is probably withdrawing cash. Well, you can't withdraw actual physical Bitcoin (Casascius Coin) from a Bitcoin ATM, but hey - it's all about digital money, anyway!
Latest Deal Active Right Now:
REDEEM $600 PRIZE
Binance Cyber Monday
Attention new Binance users: this Cyber Monday, you can score up to $600 in rewards by completing special tasks. Activate this amazing Binance Cyber Monday deal using the code – 49316610!
Expiration date : 05/12/2023
6,127 People Used
Only 16 Left
Bitcoin ATMs (Automated Teller Machines), or sometimes BTMs (Bitcoin Teller Machines), are kiosks where crypto users can buy and, very occasionally, sell Bitcoin cryptocurrency. Also, rarely, other supported cryptocurrencies. These machines are owned by a third party - usually, some big corporations.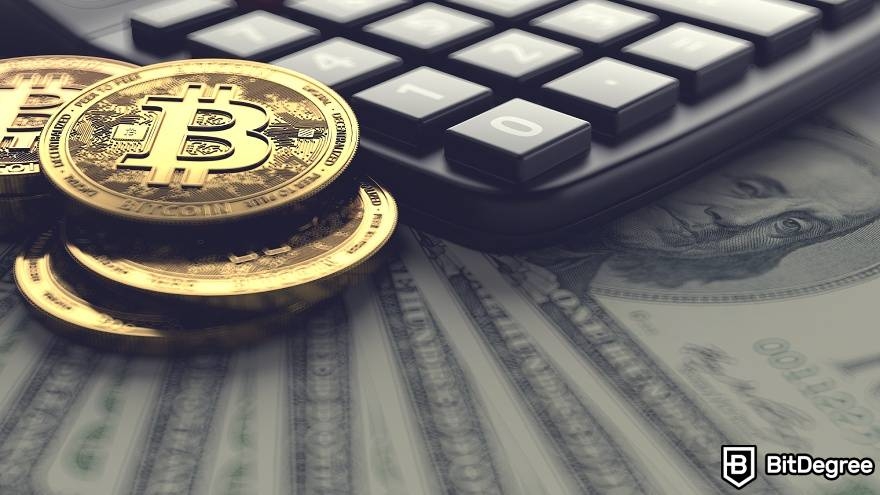 People can easily buy Bitcoin using their credit and debit cards, also cash if the BTM allows it. You're basically making a live exchange instead of doing it via platforms like Binance or Coinbase. That might get you to wonder - which is the better way? Sit tight, and soon, you'll know enough to decide.
This is the general answer to your "What is a Bitcoin ATM?" question, but let's move on with the "How Does a Bitcoin ATM Work?" tutorial, and find out more!
Types of Bitcoin ATMs
There are two types of Bitcoin ATMs, so that kind of adds to answering "What is a Bitcoin ATM?" if you were looking to get really specific. I'll shortly explain the correct terminology and what are the main differences!
Unidirectional Machines. Without getting too technical, these are one-way BTM machines that support either only buying Bitcoin and other supported cryptocurrencies or selling them.
The larger part of Bitcoin ATMs in the world is unidirectional. And an even larger part of that only sells Bitcoin but doesn't accept it as a deposit. So, let's look at the ones that do!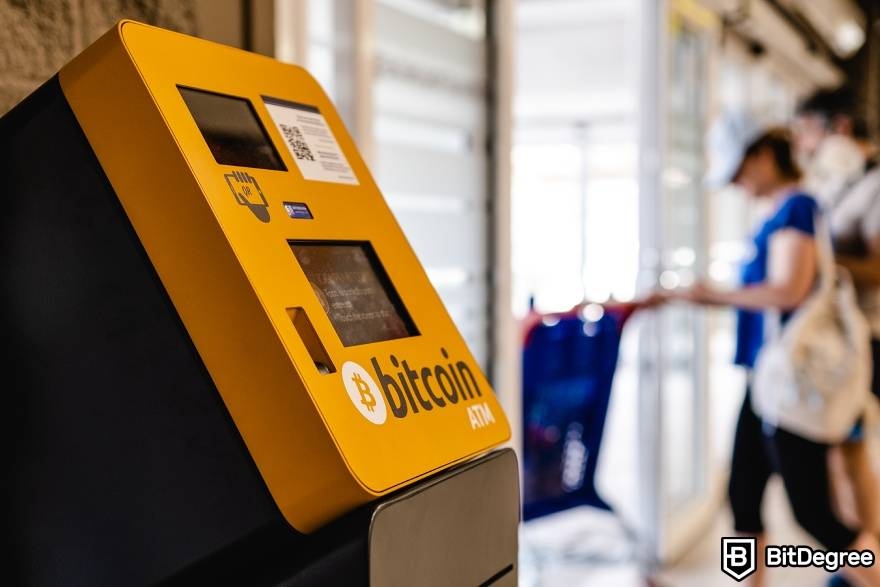 Bi-directional Machines. Crypto to cash, cash to crypto. There are fewer of those, but basically, you can both sell and buy Bitcoin and other supported cryptocurrencies, which replicates the basic workings of a cryptocurrency exchange even more.
In hindsight, there aren't many crypto users who would go out of their way to look for a bi-directional BTM only to sell the crypto that they own to get cash. But it's a huge advantage to those that would!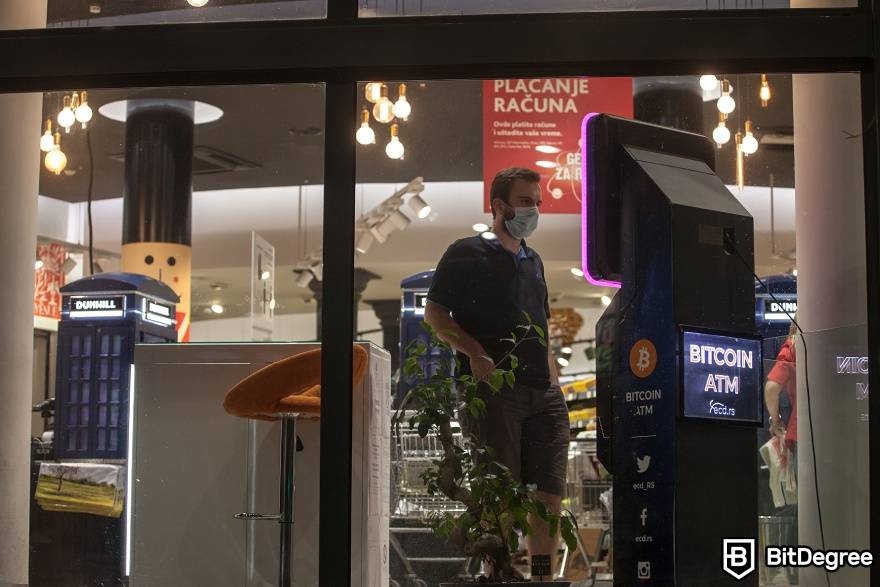 Apart from the obvious, the main thing these types should tell you is that if you'll actually decide to use them, you have to be very attentive and check out exactly which type of Bitcoin ATM you need so that there aren't any unwelcome surprises.
I should also mention that sometimes, depending on the company governing the BTM, you'll be required to have an account or be verified on said company or one of their platforms. Once again, you'll have to recheck that before starting!
Bitcoin ATM Fees
Similar to what I mentioned before, you should think of Bitcoin ATM operations as crypto exchanging. The type you'd do on platforms like Kraken, Bybit, and else. Now, what do these all have in common?
Yes, they all charge a transaction fee.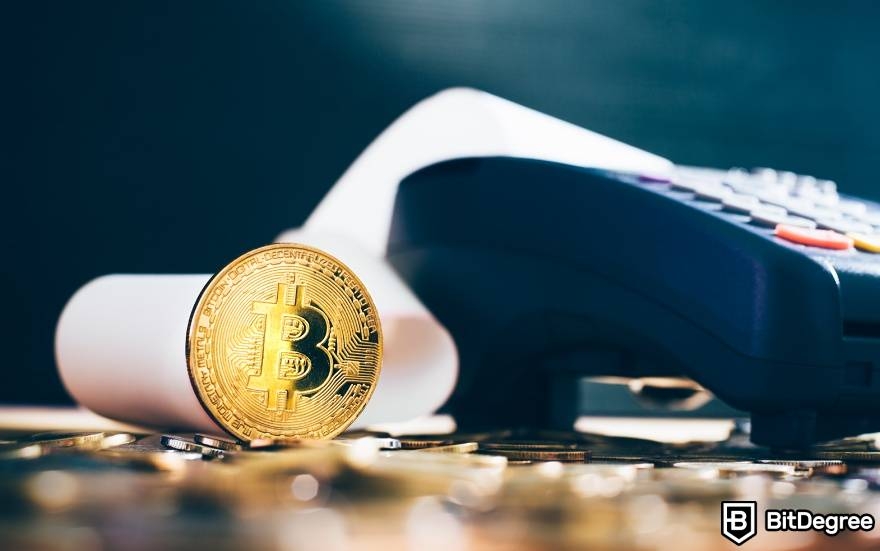 And Bitcoin ATMs are not an exception. You won't save any money if you go out of your way just to get some Bitcoin from an actual machine instead of pressing a few buttons on your app. But I'm getting ahead of myself.
Cryptocurrency exchanges have various transaction fees. There are the cheaper ones that set their prices extremely low, big names like Binance, or a bit more expensive ones but convenient in other ways, like Coinbase. So, where do Bitcoin ATMs stand in all of this?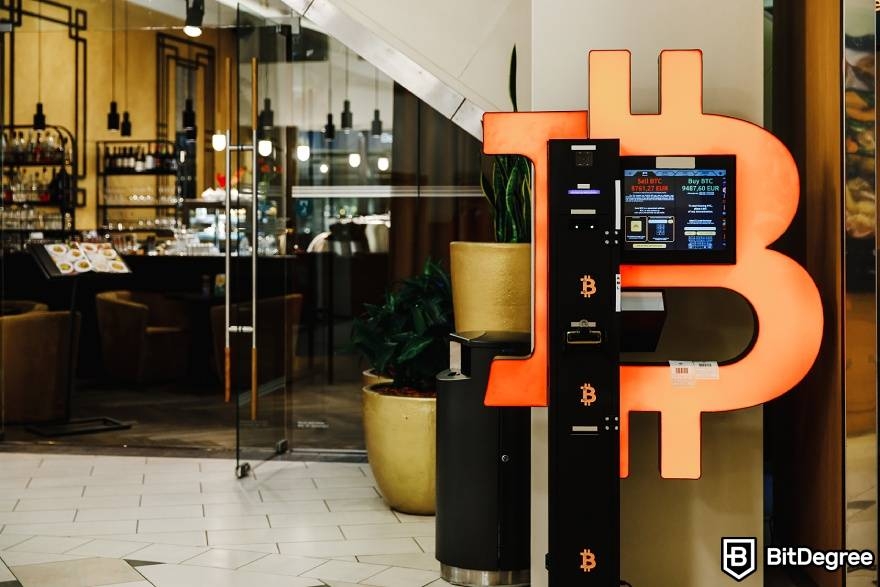 You won't be too happy to hear that an operation on BTM will charge you anywhere from 5% to 20%. If you're an avid user, you know how big of a number that is, but if you're new-ish to the whole affair, I'll give you some comparisons.
Say, you're using the Kraken cryptocurrency exchange to buy Bitcoin. The transaction fee you'll have to pay falls between 0% and 0,26%.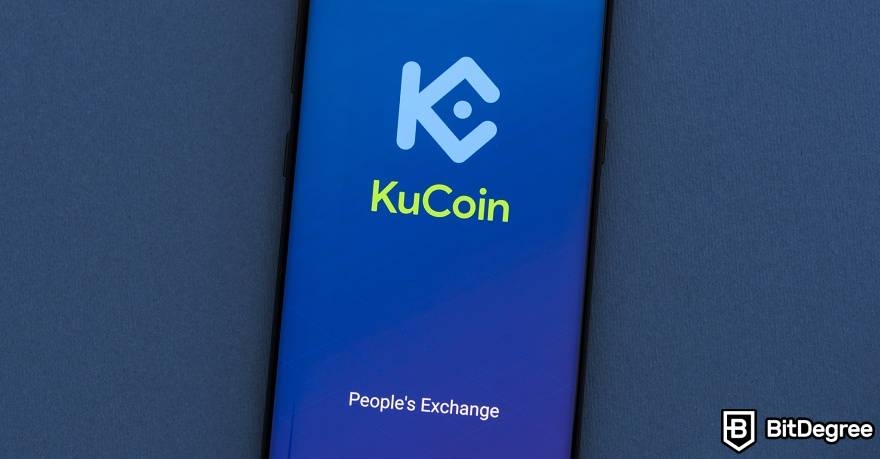 Or, let's take KuCoin. The platform also allows you to buy Bitcoin, just like a BTM does, but it'll only cost you up to 0,1%.
Before we move on, let's do a quick stop to find out how Bitcoin ATMs came to be in the first place!
Brief History of Bitcoin ATMs
Depending on how keen you are to learn about crypto, you may have already heard something exciting about the creation of crypto or, let's say, blockchain. There are some pretty fascinating stories and, especially, timelines! And the same goes for Bitcoin ATMs.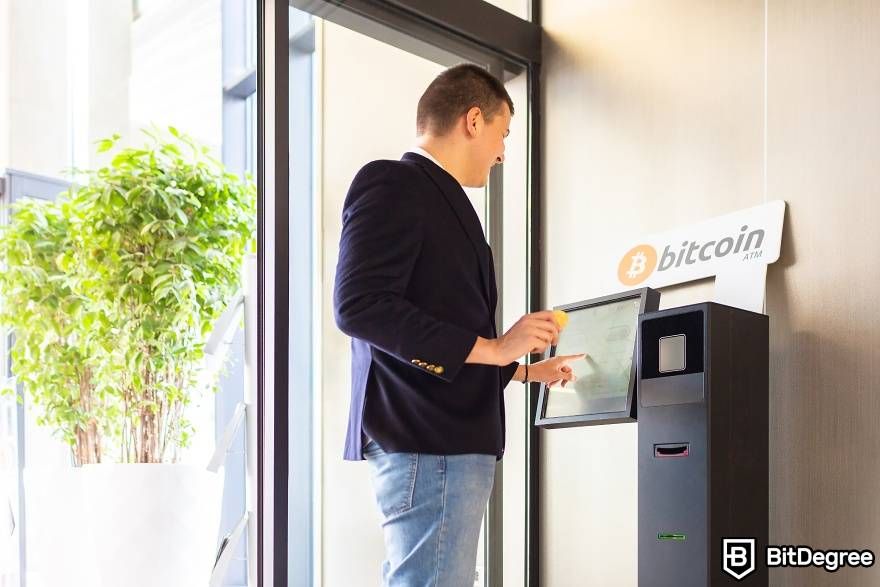 I'll keep this short, as you're probably eager to learn how to use a Bitcoin ATM yourself, but just to introduce you to the main events…
The very first Bitcoin ATM was stationed in Vancouver, Canada, in October 2013. Governed by Robocoin, the machine opened in a coffee shop and lived a long active life before being replaced.
Did you know that Bitcoin ATM was first introduced to Europe before it was even brought to the United States?
December 8, 2013, marks the beginning of Bitcoin ATMs in Europe. The very first one was installed in Bratislava, Slovakia. The US followed, one year later.
However, the latter was stationed in a cigar bar in New Mexico and was removed 30 days later, so it wasn't that much of a success. But that's okay since a few months later, Seattle received their first licensed Bitcoin ATM governed by a real giant in the business - Coinme.
At the same time, the Canadian government was trying to decide on a solid plan for crypto regulations (which, actually, remain hazy to this day) but were already installing Bitcoin ATMs all over. From December 2017 to February 2018, the number of Bitcoin ATMs in Canada increased by 20%.
By the way, if you're looking for ways to buy Bitcoin in Canada, read this dedicated tutorial explaining it step by step!
Meanwhile, as Europe was one of the first to get things going, they kept expanding and now have over a thousand Bitcoin ATMs across the European Union. Most BTMs are situated in Spain, Austria, Poland, Romania and the Czech Republic.
Of course, that's a pretty low number compared to how many there are in the United States.
Even if their first try wasn't as successful, the US got up quickly and exploded in its own fashion regarding trends and technology. As of 2021, there are 24,500 Bitcoin ATMs all over, and the numbers are growing simultaneously with crypto traffic.
And that's not all!
South Africa is also quite well-versed in crypto, so why not build a few Bitcoin ATMs, right? Most of them are in Cape Town, Durban, Johannesburg, and Pretoria.
That being said, it's been quite a difficult year for Bitcoin ATMs. While there are still numerous manufacturers expanding their business and installing BTMs, by a general scale, they've been in decline since December 2022.
Don't worry, though. You'll still get your shot at them!
And now that you know a bit more about its development and growth, I suggest we move on to Bitcoin ATM locations!
Where to Find Bitcoin ATMs?
Even if the number of existing Bitcoin ATMs is quite high, when you scatter them all over the map, there are actually way fewer than it sounds. Especially when you want to try one out. Of course, that depends on where you're from, but it'll likely take a while to find one near you.
There are a few ways to look for Bitcoin ATM locations. Unless you're running an educational streak and are suddenly very interested in specific cities that have Bitcoin ATMs but nothing to do with you, you're probably searching for one nearest you.
Obviously, the easiest way to find a BTM where you live is to type up "Bitcoin ATM locations near me" on Google and wait for the GPS to do its job. However, if there's none in your city or country, it might be too hard to determine the closest location, so you'll have to look for it more specifically.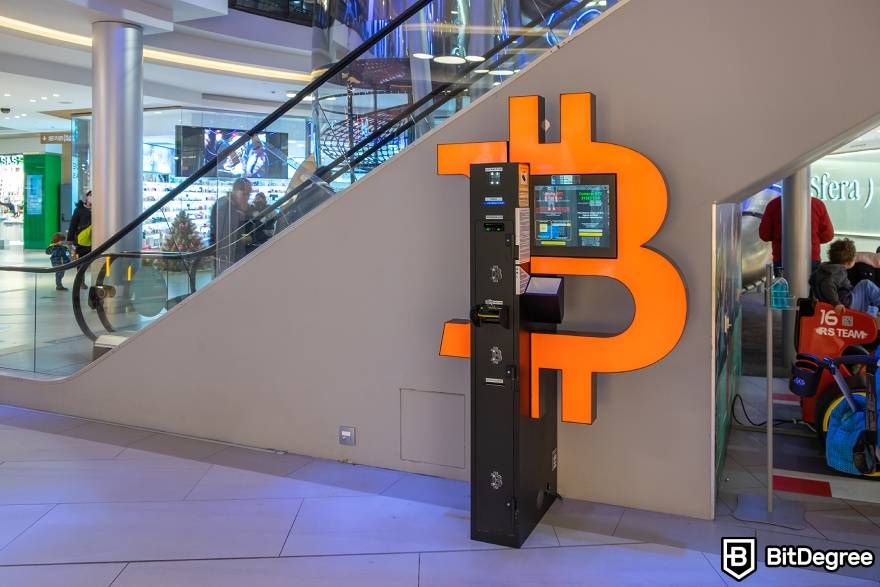 There are plenty of lists showing specific Bitcoin ATM locations by country and city. So, you just have to pick yours or the one closest to you and look for an address. And still, there are even easier ways!
The easiest way is Bitcoin ATM radars, like coinatmradar, that ask for your address and generate the closest Bitcoin ATM location to you, offering navigation to get you there.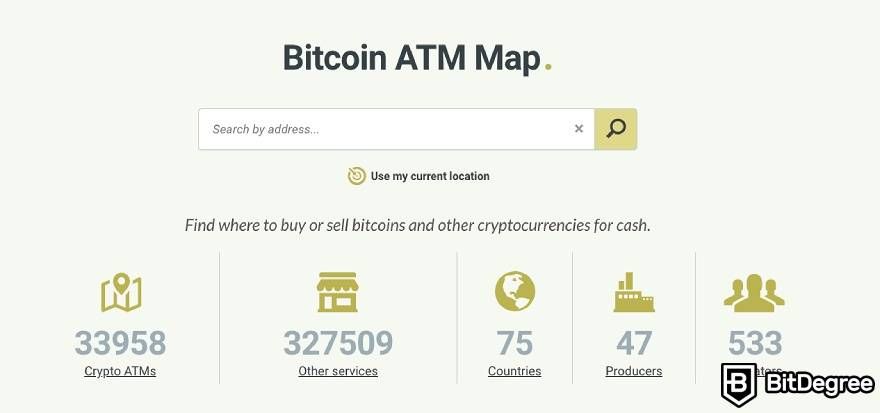 It doesn't matter which one you use, but I'd suggest against going out and looking for one, even if there are relatively many in your location. For now, streets are not packed with Bitcoin ATMs, not to mention some are small, without any eye-catching design to inform you that this is not your general ATM.
Overall, it's obviously not the most convenient way of buying Bitcoin, as you can just download an app without getting up and visiting places you've never been. But hey, it's a new experience for sure, and you might enjoy it!
How to Use Bitcoin ATM and What Do You Need?
By now, the questions must be twirling in your head. How do I use Bitcoin ATM first time around? How to withdraw money from Bitcoin ATM? And how does a Bitcoin ATM work, even?
Don't worry, I'll give instructions for all of it!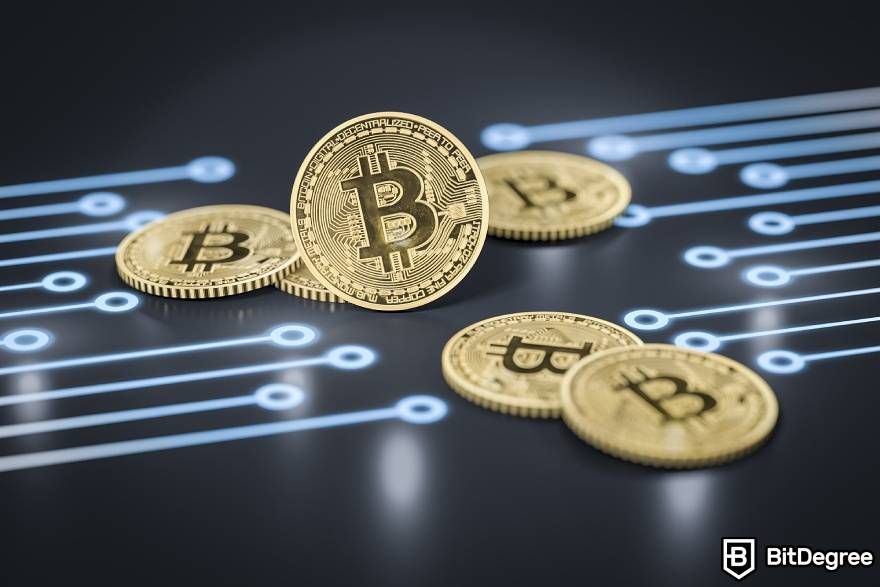 First of all, of course, the whole operation is based on blockchain technology. The BTM will have to be connected to the internet to power through the exchange and complete the transaction using a public key on the blockchain.
Unlike the usual ATMs that give you actual material to hold, BTMs take the money you paid, take the Bitcoin and send that straight to your cryptocurrency wallet. They will reach your wallet via a QR code or a wallet address that you'll have to provide.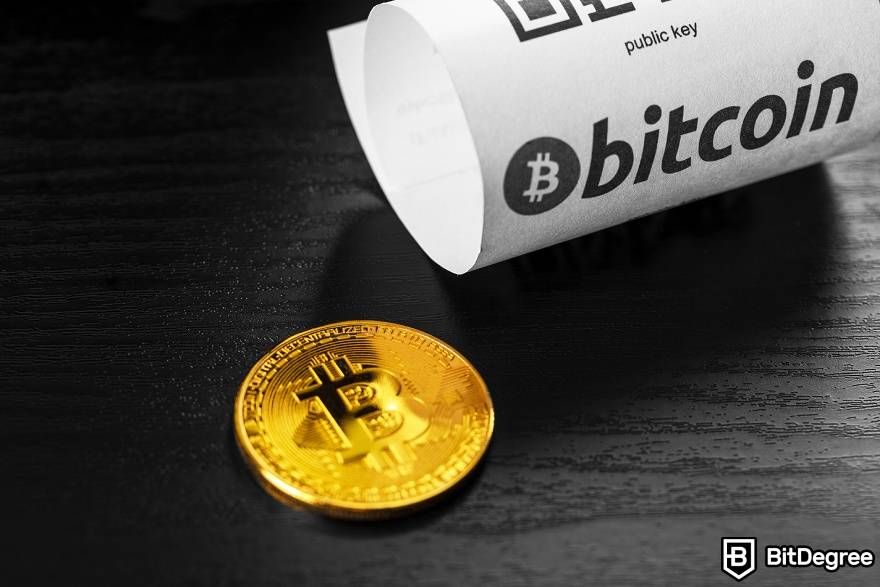 Generally, you won't be required to verify your identity in any major way, though some BTMs will need your phone number for verification or an ID card, but only if you make major withdrawals. Again, it all depends on the specific BTM.

Did you know?
Want to get smarter & wealthier with crypto?
Subscribe - We publish new crypto explainer videos every week!
How do Cryptocurrency Exchanges Work? (Easily Explained!)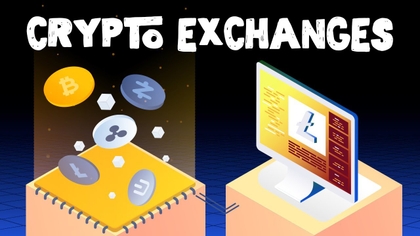 Cryptocurrency Wallet
My tutorial on "How does a Bitcoin ATM work?" does you no good if you don't have a crypto wallet! They are the only way to get and store your Bitcoin, and also, what are you going to do with all that Bitcoin from a BTM? If you want to spend/exchange it, you'll need a wallet. So, let me give you a couple of short suggestions on the best ones in the market.
Ledger
An absolute leader in the market, Ledger provides you with secure, convenient hardware wallets to store your digital currency and other assets. There are a couple of options when choosing Ledger.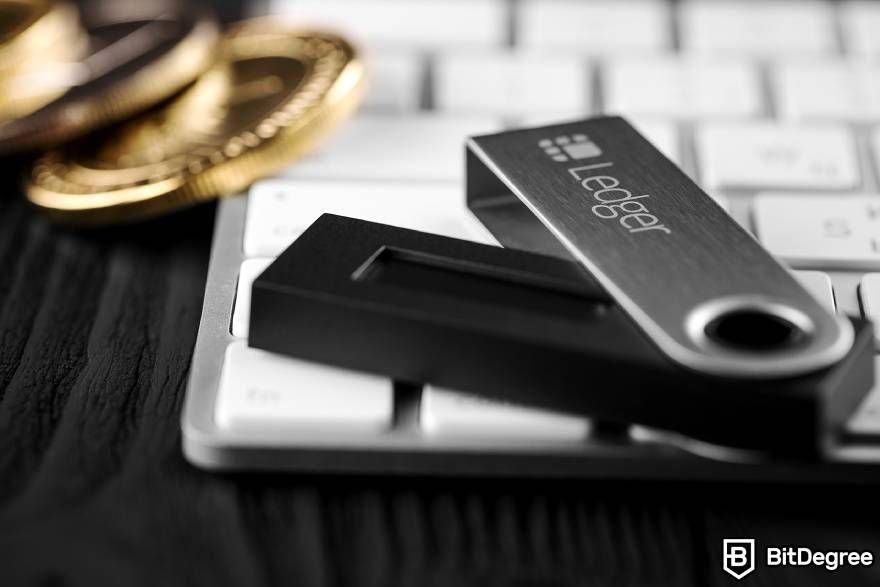 Ledger Nano X: Ledger Nano X is a super secure, cold wallet, not connected to the internet, thus very hard to hack into. You get your own specific key to access it and can even access it via your smartphone if needed. It also supports the main cryptocurrencies and works just fine if you want to make a withdrawal at a Bitcoin ATM.
Ledger Nano S Plus: A sisterly version to the one above, Ledger Nano S Plus has an impeccable reputation and is considered one of the best crypto wallets. It can store over 5000 assets, supports apps, NFTs, and has a much larger screen. Security-wise, all Ledgers are top-tier.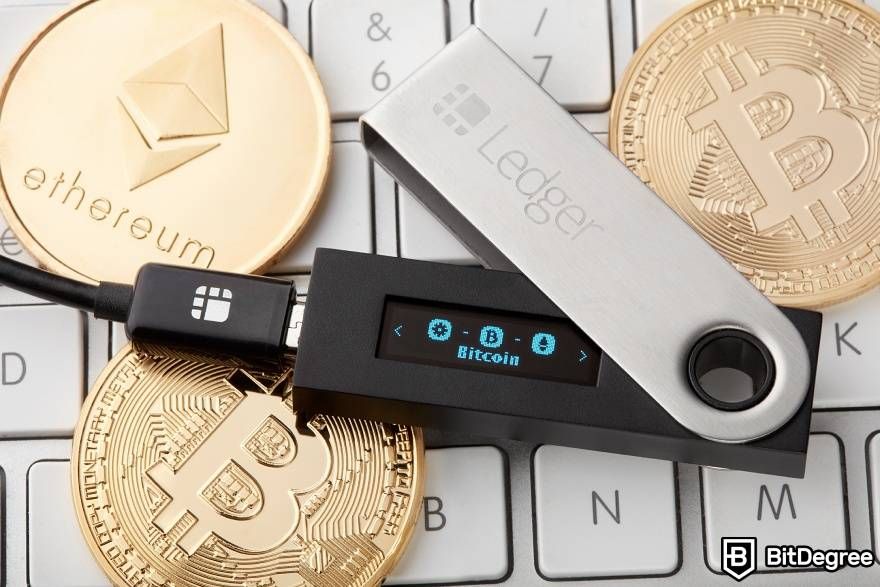 If you're looking for ways to use Bitcoin ATMs, you probably have at least a basic understanding of crypto and crypto-related devices, like wallets. So, using one won't be a problem. However, even if you're relatively new to the scene, Ledger is not that complicated!
Trezor
Sharing the top with Ledger, Trezor is also a clear winner among crypto wallets suitable for Bitcoin. With top-notch security and constant updates making the hardware wallets even more functional, Trezor is a great one to use to store your Bitcoin or other assets.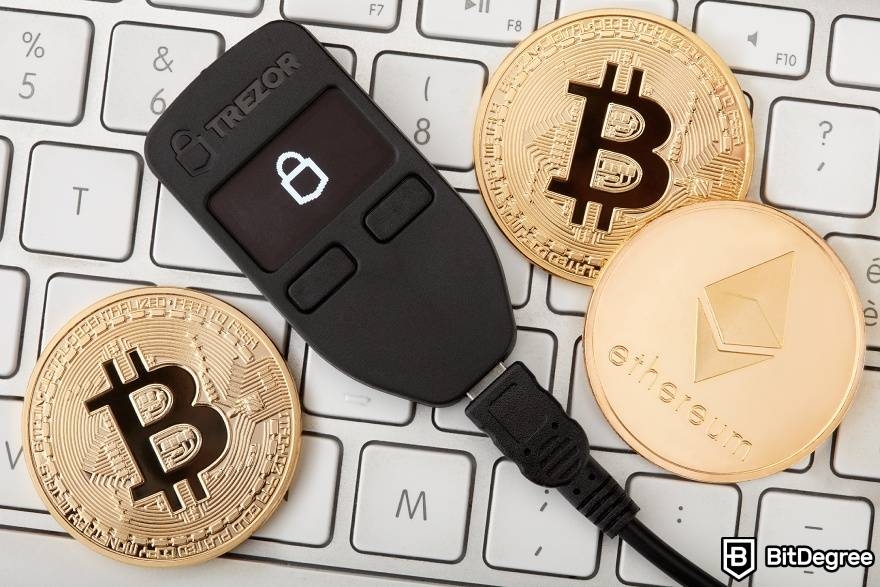 Trezor Model One: Just like with Ledger, Trezor Model One keeps your private security key offline, so no one can access or alter it. According to users, the wallet is perfectly suitable for both security experts and crypto newcomers, which is great news as it means an easy interface. It has a very simple design and two-button installation for comfortable use.
Trezor Model T: A new and advanced version of Trezor, Trezor Model T allows you to easily store and protect your Bitcoin, tokens, and any other digital assets you'd like to keep safe. With a wide touchscreen and plain settings, Trezor Model T is a complicated and secure wallet, presented in the easiest way possible.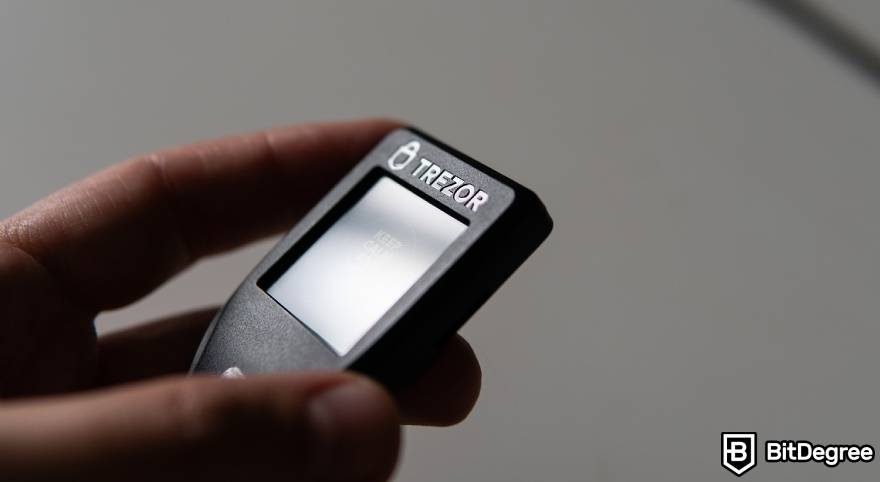 There are numerous other wallets, and, depending on how advanced of a user you are and how much you plan on doing with it, it might take you a while to pick one. However, for the sake of the "How does a Bitcoin ATM work?" tutorial, I'll assume you only need it for keeping your Bitcoins. Which works just fine with both Ledger and Trezor.
And now that you have your wallet and all the key information to answer the question "How does a Bitcoin ATM work?", I'll guide you through the process step by step.
How Do I Use Bitcoin ATM First Time Around?
Real examples and guidance are important in a process like this, and they don't normally come with instructions like online platforms (Binance, Kraken, etc.), so let's get into it!
A disclaimer first! Due to the higher frequency of this kind of ATMs, I'll explain the process of how to withdraw money from Bitcoin ATM and not how to deposit. The process is very similar either way, so I hope this helps!
Step 1. Insert your phone number. As I said before, there's no completely solid and specific answer to how does a Bitcoin ATM work, as they differ depending on the manufacturer, but most of the time, you'll be required to give your phone number.
Step 2. Verify your identity. I don't mean taking a picture or presenting an ID card, at least not until you start making weighty withdrawals. You'll simply have to enter the verification code sent to your phone.
Step 3. Scan your wallet. Let's say you're using Ledger Nano X for your withdrawal. On the toolbar, you'll have to find receive, allowing you to access your wallet address or a QR code. Type it in or scan the code, and now the BTM knows to send your Bitcoin to your personal Ledger Nano X wallet.
Step 4. Insert your fiat currency. Pretty simple from this point on. Use a card or even cash to deposit, and wait for the screen to show how much Bitcoin you can buy with it. For example, if you put in $500, you'll see 500 USD = 0.000034 BTC. If that changes anything, you can continue putting money in or take some back.
GENERAL REMINDER! Always check the current Bitcoin price before buying it!
Step 5. Confirm and complete. Once you're happy with how much you're giving and receiving, click CONFIRM, completing the transaction.
Keep in mind that Bitcoin ATMs are not as fast as cryptocurrency exchanges. It could take up to an hour for Bitcoin to reach your crypto wallet.
That's it for the step-by-step on how to withdraw money from Bitcoin ATM. If you're still wondering how do I use Bitcoin ATM first time selling, and not buying, you shouldn't worry. The process is the same, apart from having to scan your wallet before verifying your identity.
Now that you're all caught up on how to use Bitcoin ATM and know a lot more than when we started, I'll continue with the "How does a Bitcoin ATM work?" tutorial and introduce you to both ups and downs of it all!
Bitcoin ATMs: Pros and Cons
As with everything else, there are things to know before you start using Bitcoin ATMs. Obviously, knowing how to use Bitcoin ATMs is useful and can prove to be an enjoyable way to buy Bitcoin, but there are also solid inconveniences that will possibly make you rethink. However, let's start with the positives!
Bitcoin ATMs: Pros
Sure, it's quite exciting to use an ATM to get digital money, and some people do it for the experience only! However, there's more to be happy about.
Somewhat Private: Unlike most cryptocurrencies, at least the bigger ones that have to follow clear KYC (Know Your Customer) regulations, Bitcoin ATMs only require your phone number for verification.
That being said, if you want to withdraw a bigger amount, they will ask for your ID or a picture. But if you're just buying casually, the whole transaction stays kind of anonymous, which is attractive to many users.
More Access (partially): Let me explain! Sure, it's not very convenient to go out and look for Bitcoin ATMs, especially knowing that many countries have only one in the whole area and some don't have any. However, that's not exactly what I meant.
Some cryptocurrency exchanges, the most popular way of buying crypto, do not necessarily allow access to one area or the other, so not everyone can use it. Or maybe a certain country has trouble approaching these platforms because of crypto regulations. If that's the case, Bitcoin ATM might actually come in handy and help you buy Bitcoin.
Ability to Sell Bitcoin: While there aren't many bi-directional BTMs, they still exist, which can be a real comfort, especially if there's one near you!
Selling Bitcoin at Bitcoin ATMs comes up as one of the main ways to cash out your Bitcoin. While most crypto users prefer to keep their assets online and digitized, some want to turn them into something bodily they can touch and spend. Maybe you're short on cash for some big item you want to buy, and they don't accept Bitcoin as payment?
To be honest, there are always reasons for it, so Bitcoin ATMs existing is a game changer for certain people.

Pros
A very well-known crypto exchange platform
More than 500 different cryptos available
Two-factor authentication
Main Features
Over than 100 different cryptocurrencies available
Strong security
Small withdrawal fees

Pros
Secure and reliable
Low fees
A good amount of fiat currencies accepted
Main Features
Reputable exchange
Multiple fiat currencies are accepted
Relatively low trading fees

Pros
Anonymous trading
Secure
Supports a variety of cryptocurrencies
Main Features
Easy to use
Low fees
Good security
Bitcoin ATMs: Cons
Moving on with our lesson on "How does a Bitcoin ATM work?" I'll introduce to possible risks and negatives of the whole thing. You've probably noticed some of them as the article went on, but let's review it all point by point.
High Transaction Fees: Probably the biggest thing and the most obvious problem is the amount of money you have to pay for the transaction.
Yes, Bitcoin ATMs charge from 5% to 20% per transaction, and yes, it can be 5%, but are you prepared for the 20% fee if so happens? And, comparing it all, even those 5% looks extremely high. Especially knowing that some of the most widely acclaimed cryptocurrency exchanges, like Binance or KuCoin, charge up to 1%.
Target for Scammers: Generally, you might think that breaching someone's security online is much easier than attacking the money in real life. However, Bitcoin ATMs fall under the same danger.
Depending on how you look at it, lack of verification and KYC procedures can look attractive, but it also means you have no protection. Bitcoin is a decentralized entity as it is, which means there is no governing system for it. Pair it with a lack of security, and you have yourself a hack waiting to happen!
Of course, it doesn't happen every day, and online platforms for buying Bitcoin can technically also be attacked. Still, just in 2021, the FBI put out a PSA about increased numbers of crypto scammers tricking people into using Bitcoin ATMs under false pretenses, luring out their funds and endangering their security.
Lack of Cryptocurrency Options: BTMs sometimes, on rare occasions, work with other cryptocurrencies and allow you to buy, let's say, Ethereum. However, most of the time, Bitcoin ATMs sell only Bitcoin.
Wasteful: One could argue that the general public is too glued to their phones, and at least Bitcoin ATM makes for an advantageous stroll. However, going out to find the ATM to buy Bitcoin instead of doing it glued to your phone and paying a steep amount for it is technically a waste of your own resources.
Not only do you lose much more money than buying Bitcoin online, but you also lose time.
Alternative Ways to Buy Bitcoin
Now that you know how does a Bitcoin ATM work, there's a chance that you might have decided that it's not for you. If that's the case, let me introduce you to alternative ways to buy Bitcoin. Mainly, cryptocurrency exchanges!
Binance
One of the biggest names in the industry, Binance is one of the most convenient and comfortable ways to buy cryptocurrencies.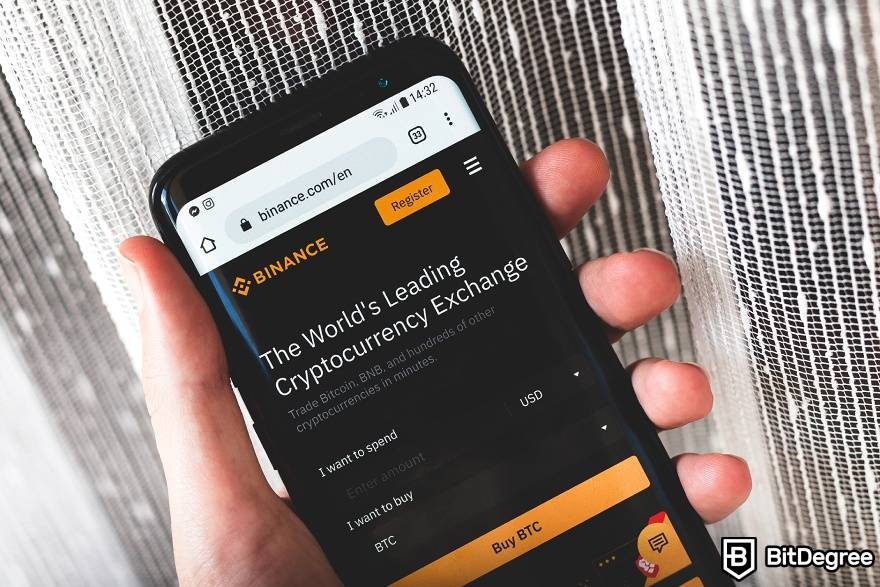 With more than 350 cryptos available, the platform allows you to buy Bitcoin, Ethereum, USD Tether, and many others for a very low transaction fee. But that's not the only advantage!
Binance is also very secure and strict with KYC and two-factor authentication, so you'll feel protected throughout the whole process. I suggest registering right away, and if you want more info, read this complete Binance review!
Coinbase
Another trusted and highly reliable exchange, Coinbase, is worth your attention if you decide that Bitcoin ATMs are, sadly, not for you.
For an in-depth review, read this article, but I'll give you a few pointers anyway. Maybe this is the right cryptocurrency exchange for you.
A big thing Coinbase has going for them is a very user-friendly interface that makes your time spent on the exchange very effortless and suitable, even if you're new to crypto. They also accept the most trusted cryptos to trade, highly increasing their trustworthiness alongside other security features and KYC.
COINBASE

Main score based on expert evaluations & real user reviews.

For which purpose or what kind of people is the crypto exchange most useful.

Buying, selling, and managing cryptocurrencies

The countries in which the cryptocurrency exchange is available for operation.

United States, United Kingdom, Germany, Canada, France, + 100 more,

Most popular hand-picked deals & coupons.

All Coinbase Coupons

Final crypto exchange evaluation conclusion based on research, expert opinions & user feedback.

A reliable, well-known and respected cryptocurrency exchange platform.
Visit site
Read review
Table: General features of the Coinbase cryptocurrency exchange
For other convenient and reliable cryptocurrency exchanges, check out this full Best Cryptocurrency Exchanges list by BitDegree.
Conclusions
Let's review our "How does a Bitcoin ATM work?" manual to keep it all locked in, shall we?
First of all, you should go over the main concept and revisit the questions of what is a Bitcoin ATM, how much it charges and what its types are, and, finally, how does a Bitcoin ATM work? Once you can easily find answers to all of these, know that there are unidirectional and bi-directional ones, and know that their fees can go up to 20% starting at 5%, you'll have learned something alright!
Note that you'll need a crypto wallet to receive your Bitcoin, and if it's not Ledger or Trezor as I recommended, just check out the most reliable ones and choose what's best for you. Afterward, you can go over the step-by-step instructions, explaining how to use Bitcoin ATM. Or, more specifically, acknowledging your concerns like how do I use Bitcoin ATM first time ever?
If, after reading the Pros and Cons, you decide to forgo BTMs, I suggest checking out the best cryptocurrency exchanges I suggested as alternatives for buying Bitcoin. Thanks for reading!
About Article's Experts & Analysts