Bitcoin is no longer a cryptocurrency reserved for tech geeks. It has become a household name with a massive current market capitalization of $137.48 billion. It's insane, I know. Its price grew by around 1900% in 2017!
Are you thinking of buying Bitcoin but are not sure which is the best Bitcoin exchange to buy it from? Don't worry — I've got you covered!
In this guide, I am going to compare various Bitcoin trading platforms to help you determine which is the best Bitcoin exchange for you to use. I will compare the exchanges on various key factors, including user-friendliness, security, features and more.
So, without further delay, let's get started!
Exchanging on Gemini
The first exchange on the list in my Best Bitcoin Exchange guide is Gemini.
Gemini was founded by the Winklevoss twins in 2015. Yes, they are the same twins who sued Mark Zuckerberg for stealing their idea of the social networking site.
Based in the USA, Gemini offers services to a total of 48 U.S. states, Washington D.C., Puerto Rico, Canada, Hong Kong, Singapore, South Korea, and the U.K.
Let's see how Gemini performs on various aspects which are considered important for any exchange.
Features
One of the most interesting features of Gemini is the "Auction" feature, which you can see in the image below. Gemini conducts auctions every day, which involves trading large volumes of crypto assets (particularly Bitcoin and Ethereum) in a short time.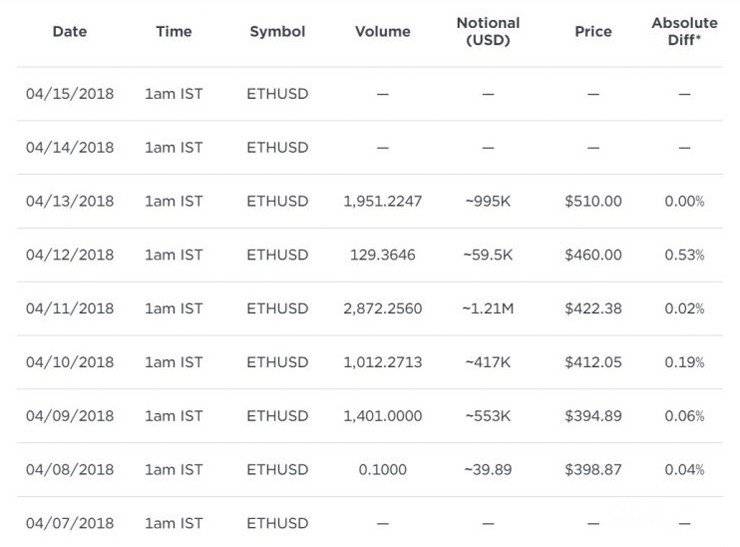 While auctions provide an opportunity to buy Bitcoin at a lower price, it also involves high risk.
On Gemini, you can buy Bitcoin with USD. Gemini supports US-Dollar wire transfers from banks located within the USA as well as from overseas.
Gemini charges a fee of 0.25% on each trade. They also charge a fee depending on whether you are a seller (taker) or a buyer (maker). You can look at the fee schedule in the screenshot below.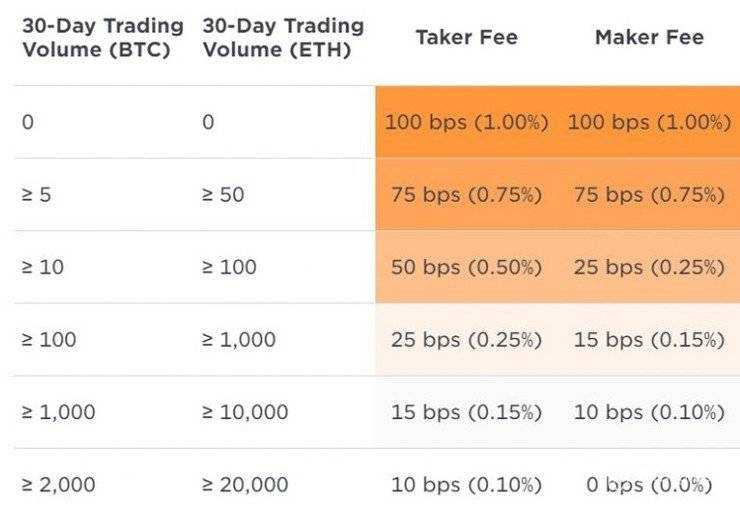 Ease of Use
As you can see in the screenshot below, Gemini has a very simple and beginner-friendly interface. It provides live updates on prices, orders, and balances. Overall, it is a well-designed and feature-rich platform that is suitable for both beginners and advanced users. So, is this enough to make it the best Bitcoin exchange?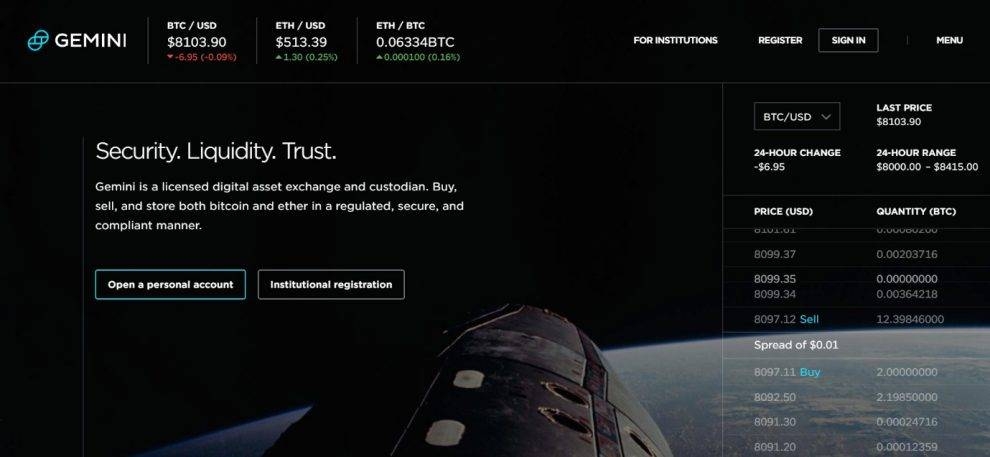 Latest Binance Coupon Found:
Security
There are no known security breaches faced by Gemini so far. Like any other secure exchange, it offers 2FA (2-factor authentication) to provide an additional layer of account security.
Another positive note on Gemini's security is that it is one of the few licensed digital asset exchanges and custodians. So, even from a regulatory perspective, it can be considered secure.
(However, you should never store an amount of crypto that you can't afford to lose on an exchange. Instead, you should consider using a hardware wallet, which you can read about in my Trezor vs Ledger guide.)
Coin availability
This is an area in which Gemini loses to its competitors. It only supports Bitcoin and Ethereum. So, anyone who is interested in a broader range of cryptocurrencies may deem Gemini unsuitable for them.
Volume
Gemini currently has a daily trading volume of around $46 million, making it the 29th largest Bitcoin exchange by volume.
So, that was the Gemini Bitcoin exchange for you! It can be considered secure, user-friendly, cheap and feature rich. However, it only accepts USD as a currency and has only two cryptocurrencies: Bitcoin and Ethereum.
Is it the best Bitcoin exchange, though? Well, it's good, but let's take a look at the rest of the list first.
Coinmama - Top-Tier Functionality
Coinmama is one of the older and better-known crypto exchange platforms in the current industry. The exchange is mostly known for its top-tier security features, as well as the fact that it's available in 188 different countries around the world, and in most US states.
Features
Supports many of the main cryptocurrencies, such as Bitcoin, Ethereum, Litecoin, Ripple, and Dogecoin.
Coinmama supports a wide selection of different fiat currencies, as well as a variety of fiat payment methods, too (SEPA, SWIFT, credit and debit cards).
Coinmama's fees range from 0,99% up to 3,9%, depending on a selection of different criteria that you might come across (the general situation that the market is in, your loyalty level, etc.).
Ease of Use
One of the key focuses of Coinmama is to allow its users to access (buy, sell, trade, swap) Bitcoin in as simple of a manner as possible. Thus, the exchange has streamlined all of these aforementioned processes, so that they'd be approachable even to complete industry newcomers.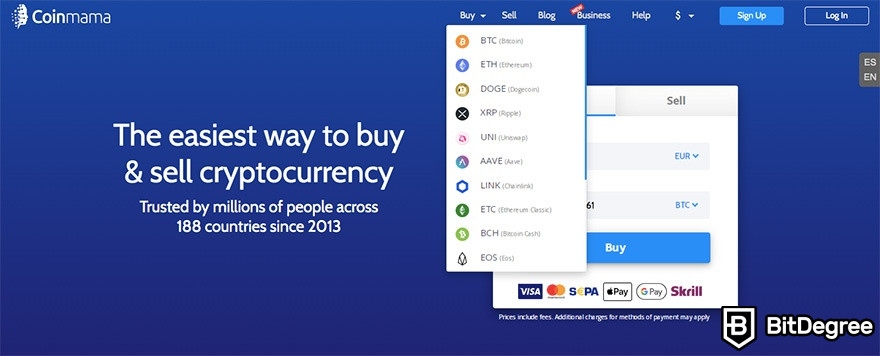 In order to purchase some crypto on Coinmama, all you need to do is create an account, and then navigate to the "Buy" or "Sell" tabs located at the top of the homepage. The rest is self-explanatory!
Security
While Coinmama has had a hiccup in the past, the company takes user data and asset security very seriously.
Coinmama applies all of the industry-standard security features to its operations. So, you can expect things such as two-factor authentication to be present, with everything that you do on the exchange.
Furthermore, there are multiple different features focused on keeping your assets safe and sound, within Coinmama itself. Granted that it's one of the older exchanges in the industry, this does also speak for the platform's reliability.
Coin Availability
Coinmama supports Bitcoin, Bitcoin Cash, Ethereum, Ethereum Classic, Dogecoin, Ripple, Litecoin, Tezos, and Cardano.
Volume
At this point in time, Coinmama has around 4 million users, from all around the world. The exchange has reported a sale volume of $130 million, back in 2021.
Meeting Bitstamp
Bitstamp is one of the oldest exchanges as it was founded in 2011 by Damijan Merlak and Nejc Kodrič. It has grown to become one of the most popular exchanges, especially in Europe.
In total, the exchange is currently available in over 60 countries. Bitstamp has offices in Luxembourg, London, and New York.
Let's see what makes this exchange so popular.
Features
They do not sell any Bitcoin of their own. They are providing a service, as they say on their website, "You are always buying bitcoins from another individual, who is selling them."
Bitstamp is one of the few exchanges which accepts debit and credit cards, in addition to bank transfer. They also support payments through the Single Euro Payments Area (SEPA).
Trading fees charged by Bitstamp are lower than most other exchanges. The maximum fee charged is 0.25% for the trading volume of less than $20,000. The fee goes down to 0.1% for trading volumes greater than $20 million.
Bitstamp has a mobile app for both Android and iOS users.
Ease of Use
Bitstamp is suitable for both beginner and advanced users. They have a simple interface in which you can create an account, add funds and then start trading by clicking on buy/sell, as shown in the snapshot below.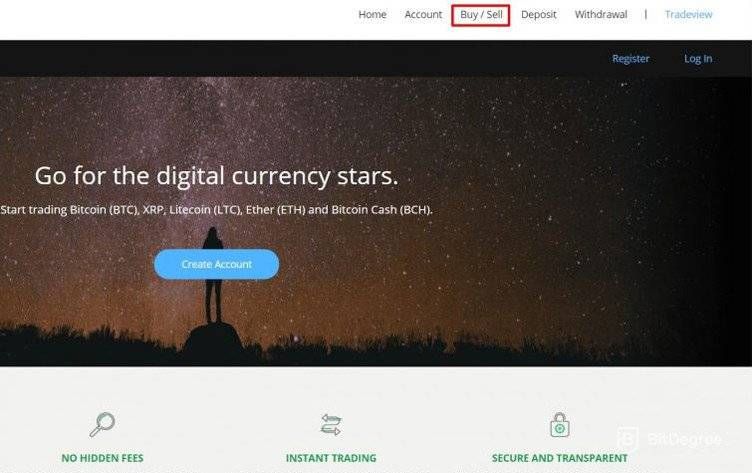 Detailed graphs and trading parameters are also available for advanced users.
Latest Binance Coupon Found:
Security
In January 2015, an attacker hacked Bitstamp and stole around 19,000 Bitcoin. That amount of Bitcoin would have been worth $152 million today! So, when it comes to being the best Bitcoin exchange, security breaches don't look good.
The interesting part is that Bitstamp has still managed to maintain its popularity even after such a huge attack. It's worth noting that they haven't faced any other breaches since the 2015 hack, though.
It follows all the necessary practices to ensure the security of users accounts. In addition, it is also compliant with the CSSF (Commission de Surveillance du Secteur Financier) in Luxembourg, which ensures extra security for its users' funds.
Bitstamp goes another step further by ensuring its users' US Dollar Accounts with FDIC (Federal Deposit Insurance Corporation).
While no Bitcoin exchange can be considered 100% secure, Bitstamp has done a great job of enforcing and maintaining a high standard of security since the 2015 attack.
Coin availability
Bitstamp has been slow in adding the new and popular altcoins. It only offers Bitcoin (BTC), Bitcoin Cash (BCH), Ethereum (ETH), Litecoin (LTC), and Ripple (XRP). It offers 15 trading pairs, as you can see in the screenshot below.

Volume
Bitstamp is the 11th largest Bitcoin exchange with a daily trading volume of around $117.28 million.
It has been around for a long time and built a sturdy reputation for itself. It is known as one of the best places to buy Bitcoin with fiat currency.
Let's move on to another very popular exchange: Poloniex.
Poloniex
Poloniex is one of the top crypto-to-crypto trading platforms. It was launched in January 2014 by Tristan D'Agosta and is based in Wilmington, Delaware.
Very recently, in February 2018, digital payments company Circle acquired Poloniex. Fortune magazine said the deal was worth $400 million, citing a person familiar with the matter. Now, let's see if Poloniex has what it takes to be called the best Bitcoin exchange.
Features
Poloniex does not support any fiat currency like EUR, USD, JPY, etc. Instead, they must buy Bitcoin or some other cryptocurrency at an exchange like Bitstamp which accepts fiat currency. You must then transfer your Bitcoin over to Poloniex to begin trading.
Unlike many other exchanges, Poloniex supports margin trading for most of the top cryptocurrencies.

Poloniex, which works on Maker-Taker model, explains it on its website as "Every trade occurs between two parties: the maker, whose order exists on the order book prior to the trade, and the taker, who places the order that matches (or "takes") the maker's order".
So, they charge higher fees for Takers and lower fees for Makers. It goes up to 0.25% on the higher side and can be as low as 0.05% for high volumes.
It offers services to almost every country in the world.
Ease of Use
Poloniex has a very user-friendly and efficient interface. It is easy to navigate even for beginners.
It's not only simple but also provides a lot of useful information, data analysis tools, and in-depth charts. So, it would be fair to say that it is quite useful for advanced users too.
Latest Binance Coupon Found:
Security
In March 2014, Poloniex suffered a security breach and lost 12.3% of all Bitcoin it held. As mentioned before, security is very important if you want to be called the best Bitcoin exchange. Once the attack was stopped, CEO D'Agosta promised to reimburse Bitcoin to all the affected customers. Poloniex paid off the debts and upgrade their security.
Some minor breaches had been reported in 2017 too but not much has been established. Like other exchanges, Poloniex also offers 2-factor authentication and browser recognition tools.
While no major breaches have taken place since the overall sentiment about the security of Poloniex still isn't that great. It is advisable to store your coins in a wallet after trading on Poloniex, or any other centralized exchange.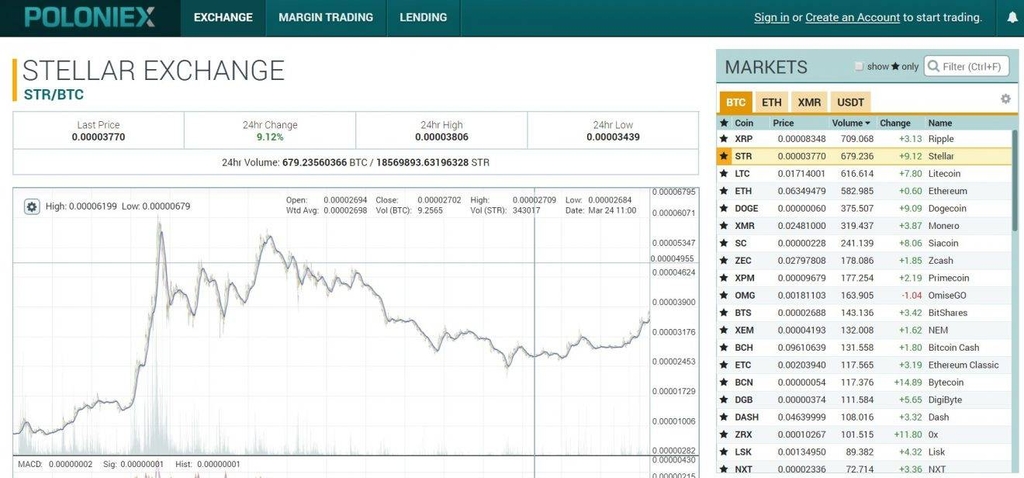 Coin availability
This is one of the major strengths of Poloniex. It supports over 80 coins, which is higher than most of the other exchanges out there. You can check out all of the available trading pairs here.
Volume
Poloniex currently has a daily trading volume of about $ 68.47 million, making it the 19th largest cryptocurrency trading platform.
Now then, the next best place to buy Bitcoins that I am going to review: Shapeshift.
Shapeshift
Shapeshift is a Swiss cryptocurrency exchange founded by Erik Tristan Voorhees in 2013. Like Poloniex, it is also a crypto-to-crypto exchange.
Shapeshift recently acquired a popular hardware wallet — Keepkey. Shapeshift has grown to become a very popular exchange. So, let's find out why and if it could be the best Bitcoin exchange.
Features
It does not accept fiat currencies like USD, EUR, CAD, etc. So, if you are a first time Bitcoin buyer then you must buy Bitcoin at another exchange and then transfer them to Shapeshift.
It is one of the few exchanges that doesn't require you to create an account or go through a verification process.
One of the advantages of Shapeshift is that transactions on it happen almost instantly. For example, you can turn your Bitcoin into Litecoin in seconds.
Shapeshift does not charge any transaction fees. They charge only a miner fee, which varies depending upon the cryptocurrency you are buying. For example, miner fees for Bitcoin are about 0.0006 BTC.
Shapeshift has a mobile app for both Android and iOS users.
Shapeshift is open to users from anywhere in the world.
Ease of Use
The interface is user-friendly, simple and suitable for beginners. First-time users would find it easy to swap their cryptocurrencies on Shapeshift because of an intuitive layout, as shown in the picture below.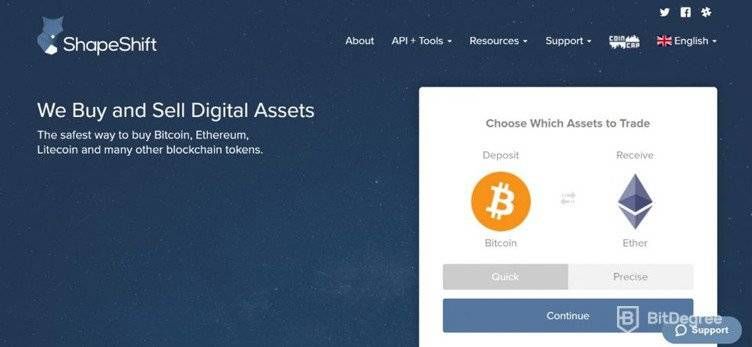 Latest Binance Coupon Found:
Security
Shapeshift faced a major security breach in 2016. Funds, totaling to around $200K, were stolen from it. The website was immediately taken down and many security improvements have been made since then.
There haven't been any such incidences since that security breach, but users prefer not to store their funds on Shapeshift.
Coin Availability
Shapeshift is known for supporting a wide variety of coins. Not only does it support the top cryptocurrencies, but it also offers new coins and is also a hub for Initial coin offerings (ICOs). Below is an image of some of the coins supported by Shapeshift, but you can see more here.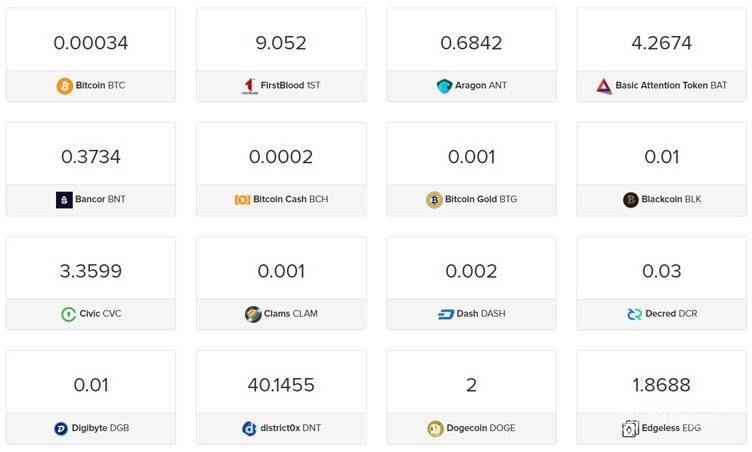 Volume
According to shapeshift.com, Bitcoin's volume over a 24 hour period is reported to be around 650.462 BTC, which amounts to around $5.15 million.
Shapeshift is unique in many ways and can be considered one of the best bitcoin exchanges for the USA and various other countries.
Next up for a review is CEX.io.
CEX.IO
CEX.IO was launched in 2013 in London to serve two purposes:
To be used as a Bitcoin exchange and
To be used as a cloud mining service.
However, it shut down its cloud mining operations in January 2015 to focus more on its Bitcoin exchange service.
Let's see how it performs in our review, shall we?
Features
CEX.IO lets you buy Bitcoin using these four fiat currencies: EUR, GBP, USD, and RUB.
It supports payments such as credit cards, bank transfer and even SEPA transfer for EU users.
It is one of the few exchanges which provides the facility of margin trading BTC/USD, BTC/EUR, ETH/BTC, and ETH/USD.

CEX.IO uses a unique Fill-or-Kill (FOK) method for transactions which makes it possible to execute orders instantly.
A downside of CEX.IO is that it charges higher fees than most other exchanges. There are three types of fees involved: deposit/withdrawal fees, transaction fees, and margin trading fees. You can learn about all the three types of fees here.
It has a mobile app for both iOS and Android users.
Ease of Use
It has one of the best user interfaces among all the Bitcoin exchanges which is important for being named the best Bitcoin exchange. This makes it simple to use and one of the best Bitcoin trading platform for beginners. So, even as a newbie, you can very comfortably purchase Bitcoin from CEX.IO.
Moreover, it offers excellent functionalities and tools for more advanced users. Advanced users can explore additional services, trading pairs and so on.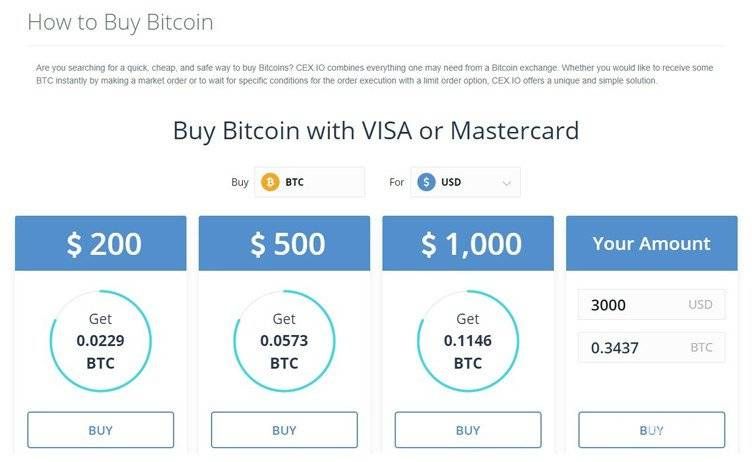 Latest Binance Coupon Found:
Security
So far (since 2013), there are no known security breaches for CEX.IO. In a market where most of the top exchanges have faced security issues, this is an excellent track record.
It is not very clear, but CEX.IO claims to store users' funds in offline cold storage. It also provides regular security features such as 2-factor authentication (2FA).
Overall, CEX.IO seems to be one of the best Bitcoin trading platforms as far as security is concerned.
Coin Availability
One of the weaknesses of CEX.IO is that it supports only 9 cryptocurrencies, as shown in the picture below.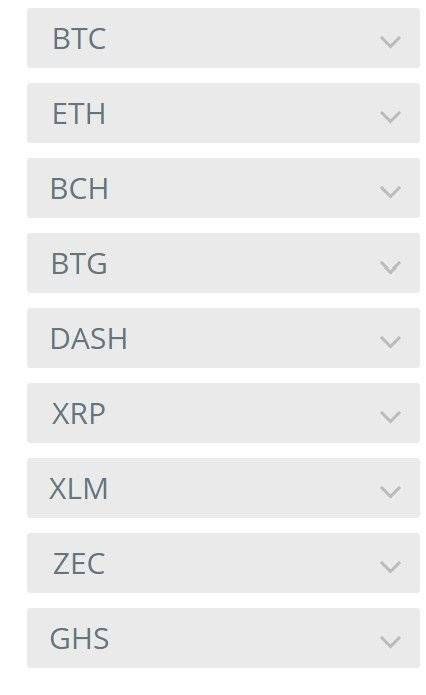 Volume
CEX.IO has a daily trading volume of about $7.12 million.
From CEX.IO, I will now move on to reviewing one of the best places to buy Bitcoins — Kraken.
Kraken
Founded in 2011 by Jesse Powell, it is also one of the oldest and most popular Bitcoin exchanges. Kraken's headquarters are based in San Francisco, California, USA.
Kraken is considered one of the largest Bitcoin exchanges in terms of the Bitcoin to Euro trading volumes. In 2014, Kraken became the first exchange to get listed on the Bloomberg terminal. Let's see if Kraken is the best Bitcoin exchange.
I will now walk you through the different aspects of Kraken.
Features
The exchange is operational for users from Europe, Canada, Japan, and the entire of North America (except New York).
Kraken accepts deposits in fiat currencies which include: USD, EUR, GBP, CAD and JPY
The platform supports margin trading for users looking for larger exposure with limited funds.
Kraken does not support credit cards. However, it supports bank transfer and SEPA (for EU customers).
Kraken is quite competitive as far as fees are concerned. Transaction fees can range from 0.0% to 0.26%, depending upon your trading pair and trading volume. You can check the details here.
Ease of Use
Kraken is a great choice for advanced users and is known to be used by high trade volume professional investors.
As far as beginners are concerned, they will also be able to use it after reading through Kraken's documentation. Kraken can be rated as average on beginner-friendliness.
For advanced users, Kraken provides excellent trading tools, in-depth charts, and analysis — as shown in the snapshot below.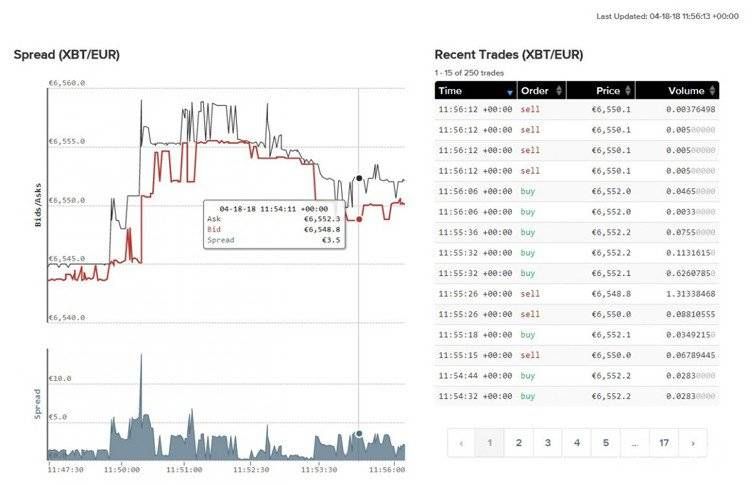 Latest Binance Coupon Found:
Security
Kraken, which is a centralized exchange, claims to use cold storage techniques to avoid any hacks. It offers a variety of features like 2FA and master key for the security of users.
Kraken is the first exchange to pass a cryptographically verifiable proof-of-reserves audit.
Kraken is undoubtedly one of the safest and best place to buy Bitcoin in the USA and other regions that it serves.
Coin Availability
Kraken does not offer many altcoins but supports around 15 of the top cryptocurrencies, including Bitcoin, Ether, Monero, Dash, Litecoin, Ripple, etc. You can see the complete list here.
Volume
Kraken has a daily trading volume of around $166.36 million.
With this Kraken review complete, we will now review the last exchange for today — Coinbase.
Coinbase
The last but perhaps the most famous exchange on the list of my Best Bitcoin Exchange guide is Coinbase.
Coinbase is one of the largest and best Bitcoin broker exchanges, especially for all you beginners. Founded in 2012 by Brian Armstrong and Fred Ehrsam, its current headquarters are based in San Francisco. It is often considered the best bitcoin exchange USA has delivered to date.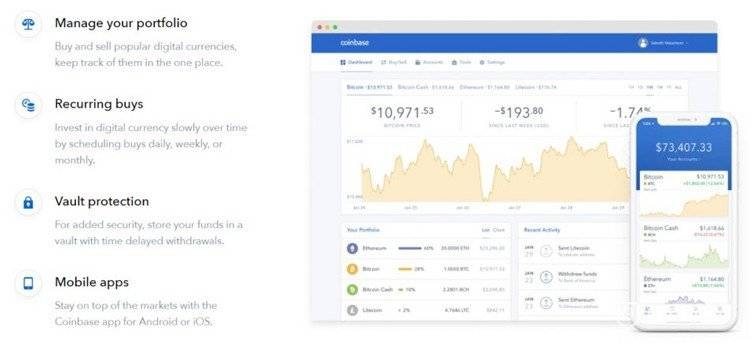 It is supposed to be the largest exchange as far as Bitcoin trading volume is concerned.
So, let's see how this popular exchange performs when we review all of its features.
Features
It serves 32 countries and is very popular in the USA, Europe, Canada, and Singapore.
Coinbase accepts payment methods like credit cards, bank transfer, etc. depending on your location. See the chart below.
A downside of Coinbase is that it charges quite high transaction fees, sometimes as high as 4.5%.
Coinbase accepts only three fiat currencies: USD, GBP and EUR.
Coinbase is one of the very few exchanges to provide customer support over the telephone.
In addition to the exchange, Coinbase also provides a cryptocurrency wallet (not the safest way to store cryptocurrencies) to its user.
Ease of Use
Coinbase is probably the most user-friendly exchange and is great for beginners! For this reason, it has become the first choice for newbies who are buying Bitcoin for the first time. Coinbase also has a very useful iOS and Android app.
It provides very simple charts that can be used by beginners as well as advanced users.
Latest Binance Coupon Found:
Security
Coinbase is considered one of the safest cryptocurrency exchanges around today. Coinbase states that customer's funds are stored in custodial bank accounts.
As far as cryptocurrency funds are concerned, Coinbase says that 98% of it is stored in highly secure online wallets. The remaining 2% of funds that are stored online are also insured.
Coinbase is truly the best online Bitcoin broker platform in terms of security.
Coin availability
Coinbase is very limited in terms of coin availability. It only supports Bitcoin, Bitcoin Cash, Ethereum and Litecoin.
Volume
Coinbase has a daily trading volume of about $21 million.
With Coinbase being the last exchange to review, I have now reviewed all of the best Bitcoin Exchanges that exist today.
Here is The Best Binance Offer I Found:
Final words
So, you should now have a good idea of what the best Bitcoin trading platforms are, what features they have and how secure they are.
I have provided you with images of some of the most popular and interesting Bitcoin exchanges which include: Gemini, Bitsquare, Bitstamp, Poloniex, Shapeshift, CEX.IO, Kraken, Coinbase.
Now that you have read this, I hope that you are in a position to make an informed decision about which exchange is most suitable for you. Finding the best Bitcoin exchange is not a matter of simply asking Google (or anything/anyone) 'what is the best Bitcoin exchange'. There isn't a right or wrong answer. Instead, it's all about deciding what you as an individual are looking for. That way, you can determine which is the best Bitcoin exchange for you.
So, are you going to buy Bitcoin? If so, which exchange are you going to use?
Let us know in the comments below, we would love to hear from you!