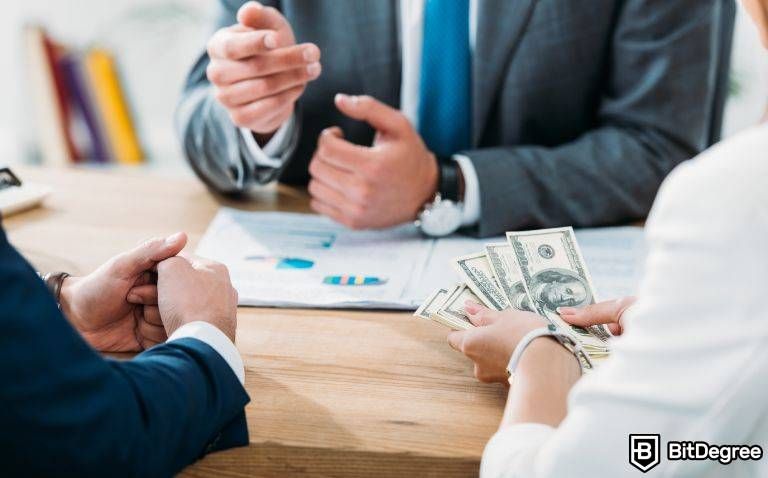 Crypto trading signals are, without a doubt, one of the most curious and controversial topics in the industry. It's actually so polarizing, that you'll struggle to find in-between opinions on it - crypto enthusiasts either think that it's complete nonsense, or that it's something that will eventually make them financially independent. No matter what your opinion on the topic might be, in this article, we'll be discussing the best crypto trading signals… With a bit of an added twist.
If you were to google the term "free crypto trading signals", you'd evidently be bombarded with a wide variety of different offers and service promotions. All of them would likely have the same thing in common - the fact that they'd be centered around some sort of exclusive membership in a Telegram group chat, Discord, or other, similar platform.
In this tutorial, however, we'll be focusing on a different type of best crypto trading signals. While I will tell you about the earlier-mentioned signals, too, our focus will lie on something that's a bit less polarizing and divisive.
Let's get to it, shall we?

Did you know?
Want to get smarter & wealthier with crypto?
Subscribe - We publish new crypto explainer videos every week!
How to Track Cryptocurrencies? (3 BEST Tracking Platforms Revealed)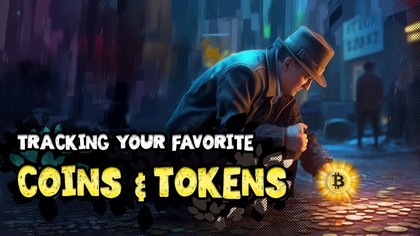 Crypto Trading Signals: Are They Worth It?
So, before we move any further, let's get the definitions out of the way - what are crypto trading signals?
Latest Deal Active Right Now:
REDEEM $600 PRIZE
Binance Cyber Monday
Attention new Binance users: this Cyber Monday, you can score up to $600 in rewards by completing special tasks. Activate this amazing Binance Cyber Monday deal using the code – 49316610!
Expiration date : 05/12/2023
6,127 People Used
Only 16 Left
As you might have gathered already, this term can mean a few different things. For now, let's stick to the "traditional" definition, that being that crypto trading signals are market signals acquired by professional crypto traders.
In this context, the term "signal" could mean any type of a price movement - so, for example, if the price of BTC will go up, and a professional trader notices (finds out about) this, it can be said that he now has this signal.
It's a bit of a weird concept to wrap your head around, especially when you want to understand the best crypto trading signals from a service provider perspective, but bare with me.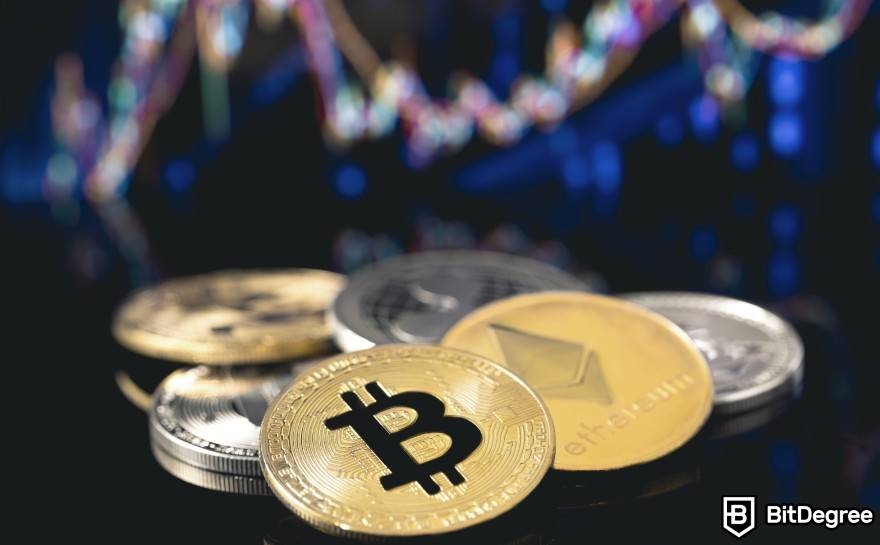 If you were to go on an online forum, and ask "what are crypto trading signals?", the most common answer that you'd get would have to do with a purchasable service. The way of how this usually works is this - you order a monthly subscription on a platform of your choice, and receive an invitation to a private chat room. As you join, you now become one of the VIPs, and throughout the day, you'll receive crypto trading signals from the owners.
Naturally, this model varies from service to service, but the general idea remains the same. Now, this is also exactly the type of crypto trading signals that we will *NOT* be talking about today, in this article. Allow me to explain.
As time goes on, and the crypto market expands, there are countless numbers of different services popping up, all around - some of the best crypto trading signals aren't an exception. That being said, differentiating the good from the less-than-ideal can be extremely difficult, in this regard.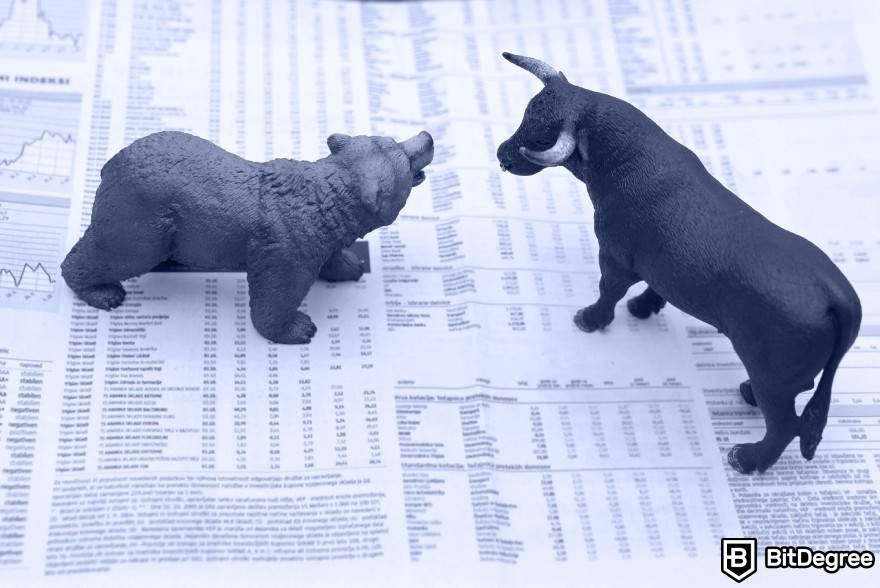 There are large numbers of horror stories about people losing all of their investment portfolios to shady crypto trading signals, offered and sold by a collective of people who promised "amazing returns" and "guaranteed profits". Due to the volatility and age of this industry, weeding out the bad apples can be a challenging task.
While there surely are legitimate crypto trading signals out there, they will still involve you paying a dedicated sum of money upfront, and then trusting some (often) unknown third party and their offered trade signals. Instead, the concept that I'd like to tell you about today, while sharing the same name, is very different.
The Best Crypto Trading Signals
The alternative meaning associated with the term "best crypto trading signals" has to do with something called "social signals". You could view these as very general thought patterns of the crypto community, in a way - in other words, how people act and react when it comes to specific crypto projects, as well as the entirety of the market, as a whole.
Social signals are, admittedly, very different from the "traditional" (sometimes) free crypto trading signals. Instead of (often) paying someone for them to tell you what and when to buy or sell, you're now analyzing the market yourself, and making educated guesses on what each metric could mean.
This is, evidently, a bit of a more effort-requiring concept. That being said, it's usually far more rewarding, as well - not only will you be able to trust your own judgement, but you'll also learn a lot about both the project that you're looking into, as well as the general market trends, too!

Now, earlier on in the chapter, I mentioned the term "metrics", as far as social crypto trading signals are concerned. What are these metrics, exactly?
Well, these are the gateways of the social circles where enthusiasts of specific projects tend to gather, as well as share information and sentiments related to the project. Oftentimes, these are dedicated pages of some specific social media platforms.
The BitDegree Social Signals Tracker tracks 6 different platforms. These are, as follows:
Twitter
Reddit
Telegram
Website Traffic
GitHub Organization
GitHub Public Repository
As you can see, the first four platforms are oriented around the actual community aspect of the project, while the latter two are a bit more development-specific. All crypto coins and tokens present on the BitDegree tracker have their own dedicated Social Signals sections - so, no matter which project it is that you're interested in studying, you'll likely have access to this information.
Having said that, though, even the best crypto trading signals can be quite useless if you don't know how to interpret them, or what to look out for, in the first place. Thus, let's take a look at each of the above-mentioned platforms, and discuss how the social signals that they provide can be useful to your crypto journey!
Twitter - General Sentiment Analysis
Twitter is, without a doubt, the most divisive social media platform on the planet. This was very true even before Elon Musk acquired it, but after the acquisition, it became even more evident.
With that being the case, however, it's important to understand that, no matter what your own opinion about Twitter is, there's one thing that cannot be denied - it's the fact that, as far as social best crypto trading signals go, it's an amazing tool to be utilized.
Since Twitter houses such a huge mass of people, and everything is segmented in accordance with hashtag-powered topics and notable individual or company accounts, it's relatively simple to find what you're looking for. This includes information about specific crypto projects, too!

You can find the official account(s) of the aforementioned project that you might be interested in, as well as general conversations, discussions and tweets regarding the project or its native token. This, in turn, can help you get a better feeling of what the community is like, as well as the sentiments that are currently present within it.
Best crypto trading signals-wise, the tracker tool will showcase the follower, followed account, and tweet number growth of the specific account associated with the asset. Since you can view this in the form of a historical chart, you will also be able to see any growth (or, in certain cases, deterioration) spikes, and keep track of the patterns, as well.
All things considered, when it comes to social crypto trading signals, free data and tracking, Twitter is likely one of the best platforms to look into, for project research purposes.
Reddit - In-Depth Debates & Project Feedback
Next up, you have Reddit - another behemoth in the online social media and forum industry. This particular platform, however, is quite different from Twitter, in both how it works, as well as the people that frequent it.
In a very general sense, Reddit is a forum where you would be able to find long-winded discussions about the project that you're looking into. The tracker tool keeps track of the official subreddit of the project - so, if you're looking for information about Bitcoin, the BitDegree crypto trading signal tracker will showcase information from the official BTC subreddit.
Following that, you'll be able to keep track of the subscriber count of said subreddit, as well as the number of moderators present on it, at any given point in time. While you won't really receive live crypto trading signals this way, they are still updated periodically (the graph will update every week), and thus, should portray a pretty accurate picture.

So, what does a surge of subreddit subscribers mean, when it comes to the best crypto trading signals? Well, in most cases, if there's a noticeable increase in people who have become interested in a specific project's subreddit, it means that the asset (coin or token) has managed to accumulate some sort of hype.
A great example of this would be the r/Wallstreetbets subreddit. When the entire GME and AMC situation was at its peak, the subreddit in question saw some unprecedented growth! Numbers aside, though, you may also find some insightful debates on the subreddit itself - the community behind the project talking about some of its features, its tokenomics, future plans, and anything in between.
So, to sum it up, if you're looking for the best crypto trading signals, Reddit should definitely be "up there", as far as analysis is concerned. On top of that, you can also always visit the official subreddit of the project, via the Crypto Tracker Tool, and read a bit more about the project there!
Telegram - Latest Announcements and Community Discussions
When it comes to cryptocurrencies and the projects surrounding them, Telegram is likely one of the most popular methods of communication between the project developers (or, the team behind the token), and the enthusiasts & investors of the project. This has been true for quite a long time now!
As far as live crypto trading signals are concerned, Telegram is actually one of the best platforms to track and follow. It acts like a sort of a hub for people to talk to each other live, without needing to wait for a designated response (sort of like Discord, in a way).
Thus, if you start "lurking" in the official channel of some sort of a coin or token, and reading through the conversations that are happening there, chances are that you will soon start noticing the general vibe of the community. If it changes, this will be evident, as well - perhaps there's some sort of a feature launch about to happen, and everyone's getting excited about it? Or the next roadmap entry is about to be ticked off?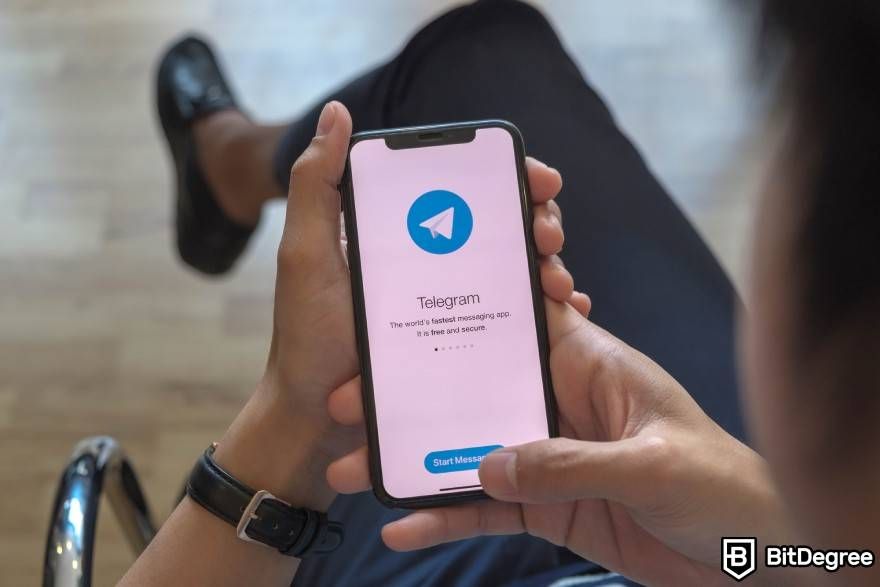 Whatever the case might be, all of these things affect the price of the underlying asset. Whether it's Bitcoin, Ethereum, Dogecoin, Cardano, or any relatively-unknown token, the patterns work the same, with projects of all sizes.
On top of that, if you use the Crypto Tracker tool to track all of the information that we've discussed up to this point in the article, you'll be able to cross-reference the numbers, as well. So, you could, say, compare the growth of your project's Telegram with that of Twitter or Reddit, and check to see if it's an isolated platform-thing, or a general boost in popularity, spanning all channels!

Did you know?
Want to get smarter & wealthier with crypto?
Subscribe - We publish new crypto explainer videos every week!
What is Olympus DAO? (OHM Crypto Animated Explainer)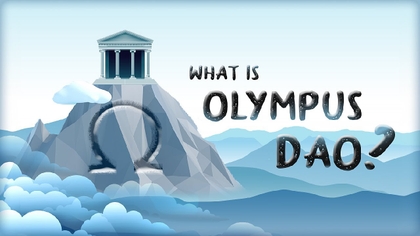 Website Traffic - General Community Interest in the Project
The absolute majority of crypto projects out there have a website of their own. Granted that it's literally the place where all of the official information regarding the project can be found, naturally, it's one of the most important and best crypto trading signals out there.
What do social signals have to do with websites, however?
Well, not to get into too much detail, but there are dedicated tools that allow you to check the general popularity of the website - things such as website (domain) rating, organic monthly traffic, Ahrefs rank (how well the website is optimized), and so on.

All of this data is available on the BitDegree Crypto Tracker, as well. Same as the previous platforms that we've already discussed in this "Best Crypto Trading Signals" guide, you can view both the current numbers associated with the platform, as well as the historic graphs of how these numbers changed throughout time.
Admittedly, the popularity of the website in itself isn't really something that can be a standalone decision-making factor. Thus, when you're analyzing the metrics of how the website is performing, you should always view them in a broader perspective - one that accounts for the number of Twitter followers, Reddit posts, Telegram group member size, and so on.

Pros
A very well-known crypto exchange platform
More than 500 different cryptos available
Two-factor authentication
Main Features
Over than 100 different cryptocurrencies available
Strong security
Small withdrawal fees

Pros
Secure and reliable
Low fees
A good amount of fiat currencies accepted
Main Features
Reputable exchange
Multiple fiat currencies are accepted
Relatively low trading fees

Pros
Anonymous trading
Secure
Supports a variety of cryptocurrencies
Main Features
Easy to use
Low fees
Good security
GitHub - Developer-Oriented Metrics
Last but definitely not least, you have GitHub - specifically, the main GitHub of the project, as well as its public repositories. Both of these areas are quite different, and thus, they also track different metrics on the BDG Social Signals Tracker, too.
Why are public repositories, stars, forks, and other, similar information important, though? Well, while it can be used as a sort of a general waypoint on how the development of a specific project is shaping up, it can also help developers and code-savvy individuals take a closer look at the actual core of the crypto project. This is significant!

Whether you're having some doubts about certain parts of the project, or want to look into the code yourself, GitHub allows you to do so, if the project is open-source. This, in turn, means that you can verify or dispute certain claims made by the team behind the token - combine that with other social signals, and you have yourself a pretty clear picture!
Speaking of which, even if you have no knowledge when it comes to crypto project development (or coding, in general), you can still use the aforementioned tracker tool to view and keep track of the GitHub-related best crypto trading signals. This would involve tracking the points I've mentioned earlier - stars, repositories, forks, and so on.
Summarizing Crypto Trading Signals
So, then - now you have a pretty good idea of what are the best crypto trading signals, as well as the most common things that people associate with this term. As you can probably tell by now, the term itself can be interpreted in some very different ways!
On one hand, you have a service that you can purchase, where you'll get sent certain "signals" of what to buy and sell, and when to do so. On the other hand, there are social signals, and the effort of both keeping track of them, as well as figuring out all of the aforementioned things yourself.
As I've mentioned earlier, though, I'd recommend going the latter route. There's more than one reason why that's the case, too.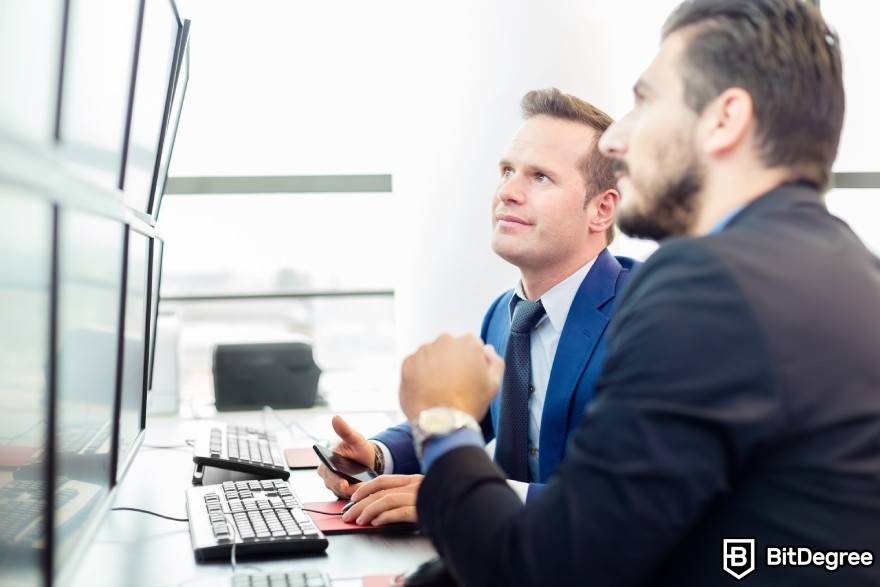 If you choose to do your own research, and include social signals in it, this process will be completely free. Many of the "traditional" free crypto trading signals don't really work, and are simply trying to get your information - an email address, payment info, and so on.
Utilizing social signals is also a generally-safer approach to trading crypto. It doesn't require you to spend an initial amount of money on live crypto trading signals (subscribe via a monthly payment model), and allows you to take your time, and analyze the market at your own pace.
On one hand, this requires a lot of effort and knowledge about how the crypto industry works. On top of that, you also need to spend a lot of time looking at the charts and cross-referencing the numbers (user growth, post frequency, etc.) - this is all quite demanding!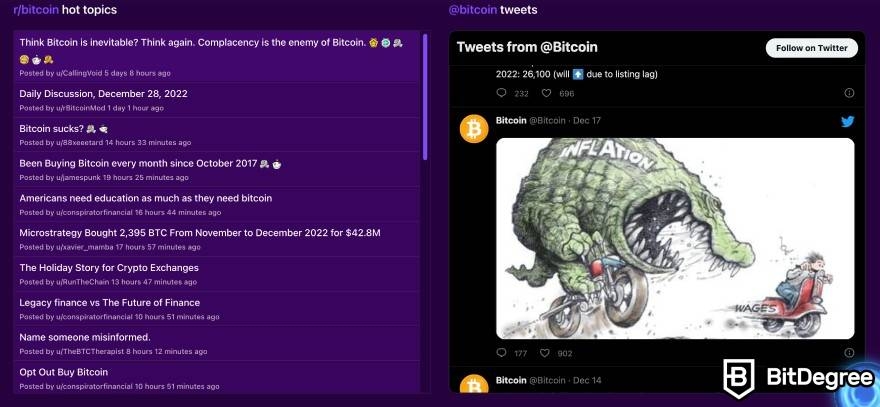 That being said, on the other hand, all of that comes with some added benefits, too. For example, as you study the market, and get involved with everything that comes with tracking said social signals, your knowledge of the project that you're looking into (as well as the rest of the industry) get upgraded, exponentially!
Furthermore, you don't need to rely on other people's "best crypto trading signals" - whether it's a win or a loss, you'll be in charge, and will be able to manage your situation accordingly!
It's worth mentioning that social crypto signals are likely going to be most useful to anyone who's interested in the market long-term, or at least who's planning to swing-trade their asset of choice. If you're a short-term trader, scalper, or arbitrage enthusiast, social signals still remain extremely useful - however, you'll need to pay much more attention to the numbers, on a more constant basis.
The Next Steps
So, with your newfound knowledge of the best crypto trading signals, you're ready to start analyzing the markets, and finding some of the most interesting and promising crypto projects. That said, where do you start, and how would this whole process look?
It's quite simple, really. The very first thing that you should do is get yourself a reliable cryptocurrency wallet - if you plan to trade crypto, you'll need a place to store it, and if security is a priority to you (hint: it absolutely should be!), your best bet is to check out hardware wallet products. In this industry, the Ledger Nano X and the Trezor Model T are the leading products.
LEDGER NANO X
TREZOR MODEL T

Main score based on expert evaluations & real user reviews.

Whether the crypto wallet is hardware, software, desktop or paper type.

Hardware
Hardware

For which purpose or for what kind of people is the cryptocurrency wallet best for.

Best for Safely Storing, Sending, and Receiving Different Cryptocurrencies
Best for Easily Control Funds, Manage Balance and Initiate Transfers

Most popular hand-picked deals & coupons.

All Ledger Nano X Coupons
See All Coupons of Best Wallets

Final crypto wallet evaluation conclusion based on research, expert opinions & user feedback.

One of the best hardware cryptocurrency wallets ever made.
One of the most-secure cryptocurrency hardware wallets on the market.
Visit site
Read review
See TOP10 Brands
Read review
Table: Some general information about the Ledger Nano X and Trezor Model T hardware crypto wallets
Next, you should also find an exchange platform that you could trust, and use for all of your crypto buying, selling, and trading needs. Naturally, your preferred exchange of choice will depend heavily on the coin or token that you want to trade - not all exchanges support all assets!
If you want to use the best exchange platforms, however, you should look into Binance, Kraken, and KuCoin. While there are other names on the list of the best-rated exchanges, these platforms come out on top due to the security features they utilize, as well as all of the additional functionalities they offer to their customers.
BINANCE
KRAKEN

The main advantages of a certain crypto exchange.

A very well-known crypto exchange platform
More than 500 different cryptos available
Two-factor authentication
P2P trading option
Emphasis on security and KYC
Supports fiat-crypto acquisitions

Secure and reliable
Low fees
A good amount of fiat currencies accepted

The main disadvantages of a certain crypto exchange.

Might be a bit difficult for beginners

Not the most helpful customer service

Score based on the quality & advantages you get for a certain price.

Score based on genuine user reviews & opinions about the crypto exchange.

Visit site
Read review
Visit site
Read review
Table: The pros and cons of the Binance and Kraken cryptocurrency exchange platforms
Lastly, once you have all of that settled, you should not forget to keep in touch with the market trends, and focus on finding the projects that suit your wants and needs best.
The BitDegree Crypto Hub is, evidently, a great place to do all of that - not only does it house the social signal tracker, but you will also find information about most of the publicly-known coins and tokens, the projects behind them, their price charts, and a load of additional data!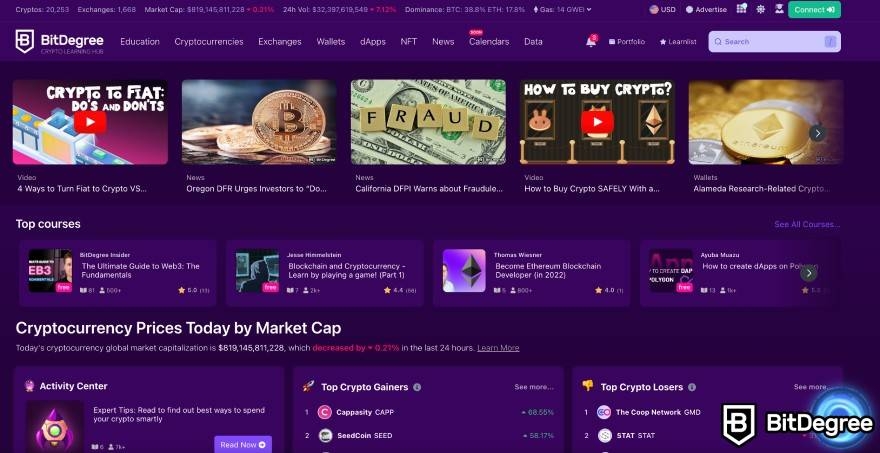 The News section of the BitDegree Crypto Hub will also allow you to keep up with all of the latest and most notable events happening within the industry, while the special Handbook can be used to study crypto, in a very general sense, and from a complete beginner's perspective.
All in all, if you're looking for the best crypto trading signals in order to get into crypto this way, do make sure to check out all of the platforms and products I've mentioned earlier!
Conclusions
At the beginning of this article on the best crypto trading signals, I've mentioned the fact that this topic is quite a controversial one, and that crypto enthusiasts tend to be very opinionated when it comes to trading signals, in general.
I also outlined why that's the case, too - shady players, a lack of transparency, high signal subscription prices, and so on. All of these aspects (and a few more) make even the free crypto trading signals a polarizing topic.
On the flip side, however, as the alternative meaning of the term might dictate, you don't need to go through all of the processes of buying signals in order to get started with crypto. Instead, you could look into social signals - a concept that allows you to observe the changes in the crypto market by yourself, as well as make your own conclusions about the future of specific projects.
If this is something that you find interesting and useful, make sure to check out the BitDegree Social Signal Tracker - it's available with the majority of the assets present on the Crypto Tracker. With all of the additional information present with each project, you'll be able to both learn about the asset that you're looking into, as well as make educated predictions about its future, as well!
All of that being said, thanks so much for reading, and best of luck in your crypto journey!
About Article's Experts & Analysts