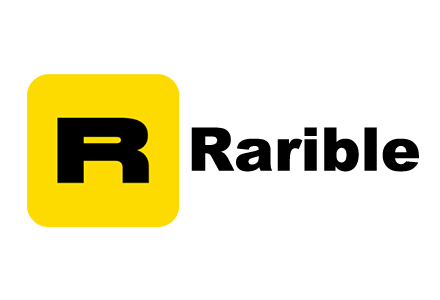 In the world of NFT marketplaces, a few names tend to stand out of the crowd more than others. Rarible is one of these names - if you're searching for places to buy or create non-fungible tokens, Rarible is likely to come up quite a few times during your search. In this Rarible review, we're going to explore why this is the case.
Admittedly, the project in question is popular among NFT enthusiasts. There's even a Rarible coin called $RARI - it serves a very distinct purpose, as well. With the marketplace being decentralized, there are a few different pros and cons that come into play, too!
We'll discuss both the pros and the cons, and the various benefits that you can receive by using the Rarible NFT marketplace. By the end of this review, you should have a pretty good idea of whether or not this is the market for you!
Pros
Huge creator royalties (up to 50%)
Large selection of different NFTs
Lazy minting feature
DAO-like functionality
$RARI native governance token
Cons
Not a regulated marketplace
Only works on the Ethereum blockchain
Rarible Review: PROS
To start things off with this Rarible review on a positive note, we'll first discuss and cover the main benefits associated with Rarible. Being as popular of an NFT marketplace as it is, there's actually a lot of unpack here!
At the very top of the list, however, you'll find the concept of a decentralized hub for trading non-fungible tokens.
A Decentralized NFT Marketplace
Decentralization is the core concept behind cryptocurrencies, and by extension, NFTs, as well.
The idea is pretty simple - if cryptocurrencies are decentralized, there's no one governing authority behind the concept, and thus, users of these currencies are both able to remain anonymous while transacting with them, and also be the deciding elements in how the industry is governed.
Naturally, as you can imagine, things are much more complicated than this, and the cryptocurrency market does show signs of clear lack of regulation. This, however, isn't something we'll be discussing in this Rarible review.
What is notable, though, is that Rarible is a decentralized NFT marketplace. Unlike many other decentralized markets, however, Rarible is actively aiming to become a fully-fledged DAO - Decentralized Autonomous Organization.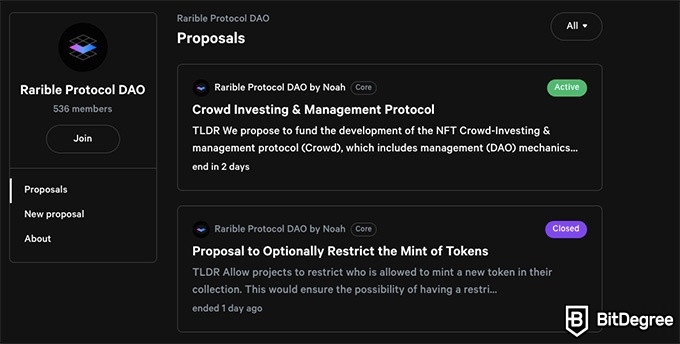 DAOs are a pretty big deal in the crypto space. It would mean that 100% of the marketplace's decisions are made by the community behind it, using Rarible tokens known as $RARI.
You can acquire RARI Rarible coins on some of the more well-known crypto exchanges - here, Kraken is the option with great liquidity!
As mentioned above, the RARI tokens would be (are, in a sense) used to make decisions on the marketplace's development processes. Users would acquire $RARI by purchasing the coins on the earlier-mentioned exchange platforms, and use the tokens as voting "tickets" - at least that's the very blunt way of looking at it.
The DAO ordeal is just one part of the equation, though. User Rarible reviews will tell you that another point where decentralization is beneficial with the platform is that you can trade NFTs anonymously.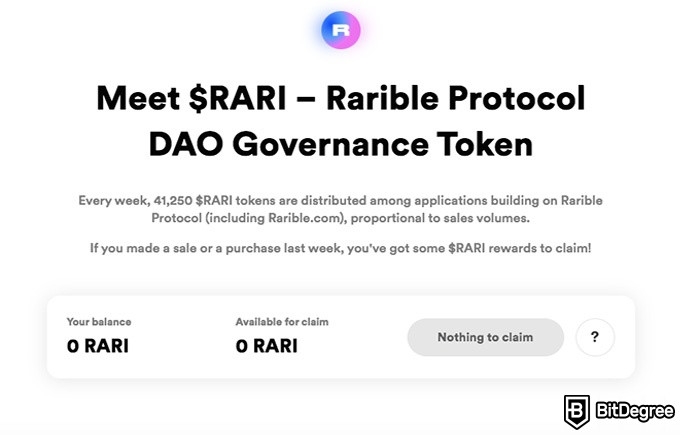 All that you'll need in order to log into Rarible is a cryptocurrency wallet. While we'll discuss this point a little more in-depth later on in the Rarible review, for now, the important point is that you won't need to enter any of your personal information on the marketplace.
The only piece of information that will tie you to your Rarible NFT collection is your public wallet address. Unless you went out and shared it with the world, no one's going to know that this specific address belongs to you.
All in all, Rarible being a decentralized NFT market does bring in some controversial points, but is still seen as a major benefit of the platform.
A Huge Selection of NFTs to Browse Through
Unlike with OpenSea and other similar NFT markets, it's not really possible to find out how many NFTs does the Rarible crypto platform house. That said, user Rarible reviews are quick to point out that the variety of non-fungible tokens available on the site is one of the biggest benefits of this marketplace.
Category-wise, Rarible has a lot to offer. The marketplace seems to be centered around artwork, but there's a huge selection of other types of NFTs available, too. The categories available to be browsed on the marketplace are:
Art
Photography
Games
Metaverses
Music
Domains
DeFi
Memes
Punks
NSFW
While the list is quite different from that of, say, OpenSea, Rarible does have its own, unique style of how it approaches NFT sorting. Visiting each of the categories displayed above, you'll find seemingly endless counts of different tokens for you to browse through, and collect.
This is actually where the unique style of the Rarible NFT market comes into play, too. There are multiple user Rarible reviews on the internet that claim the platform to be aimed at some of the younger, more pop-culture-savvy individuals out there.
After you take a look at even the front page of the site, one must concur - it does appear to be that way! Rarible appears to be focused on visual and artsy NFTs, which is great for both those who are looking to purchase some tokens, but also for those who want to sell niche-specific NFTs, as well!
Some of the Largest Royalties in the Industry
Royalties and fees are two huge components that need to be considered when choosing an NFT marketplace that you're going to use. Both factors can make a huge difference for any NFT artists out there!
Royalties refer to the payments that you, as the creator of an NFT, will receive after you make the initial sale of a specific token. Every single time the token is sold afterwards, you'll receive a set specific payment, depending on the royalty percentage that you've set during the initial creation of the NFT.
Yes - you can set your own royalties. There's usually a cap, though. One part of figuring out what is Rarible has to do with understanding that the marketplace offers some of the best royalties in the entire industry.
User Rarible reviews note that you can set your royalties to go up to 50%. That's an insane number! With most marketplace offering anywhere from 10-15%, a 50% royalty can have a huge impact, especially if your NFT is re-sold multiple times after you initially sell it.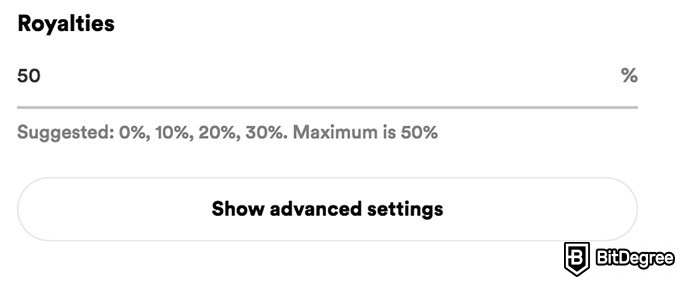 Skeptics would say - sure, but the commission fees of the marketplace can really dig into your potential profits! This, however, isn't a problem, at all - the Rarible crypto NFT platform takes a 2,5% commission fee from every sale, which is seen as the industry standard.
Following all of that, Rarible has recently introduced what's known as the "Rarible Protocol". One of the major features of this protocol is that now, all of the NFTs sold on the marketplace in question must adhere to the royalty rules established on the platform. This is major news to all NFT creators!
No matter how you look at it, the idea remains the same - if you came to read this Rarible review in order to figure out whether it's worth using the marketplace for selling your own NFTs, it's safe to say that the Rarible crypto platform is surely one of the best options, in this regard!
Lazy Minting - Finally Available!
In the world of NFT creation, there are few terms that invoke as much excitement as "lazy minting".
Lazy minting refers to the process of creating your NFT without paying any gas fees upfront. It has been a feature that's mostly associated with OpenSea, however, as of late, Rarible has entered the list of NFT marketplace that now offer this feature, as well.
How is lazy minting even possible, in the first place? Well, admittedly, there still aren't many user Rarible reviews that would have caught up to the fact that Rarible now offers this feature, in the first place. Thus, finding information about it can be difficult.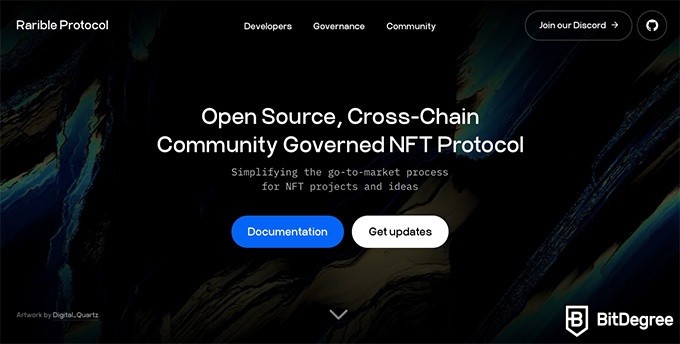 Worry not, though, since the idea behind the process is actually rather straightforward. If you create an NFT with the lazy minting feature, you don't actually *create* it - instead, the item gets listed on the marketplace, and is minted only when a sale is made.
An example that I like to use has to do with the Amazon Kindle Direct Publishing platform, for paperback book authors. You can publish your book on the platform, and only pay the printing fees when a sale is made - this is because, up until confirming the payment, KDP won't actually print any books.
Lazy minting is an amazing feature, since it allows a huge number of people to have an easier way to enter the industry. On top of that, as far as Rarible coins and NFT tokens are concerned, lazy minting is also much better for the environment - smaller gas fee payments result in less electricity being used!
Rarible Review: CONS
Having discussed the main benefits of the marketplace, we do still need to cover some of the less-positive user Rarible reviews out there. While the platform in question is universally accepted as being one of the best NFT marketplaces on the internet, there are still a few things that need to be considered before you go ahead and connect your wallet to it.
Lack of Regulation
While the term itself sounds really bad, it has to be said that Rarible doesn't seem to have had any problems with this in the past. However, with regulatory policies for crypto being in the constant works, it's still something that needs to be taken into account, nonetheless.
As discussed earlier on in the Rarible review, the marketplace embraces its decentralized nature, to the point where it emphasizes the DAO point of its development rather adamantly. We've already established that this is great - in most cases.
There are other cases, though, where this might not be ideal.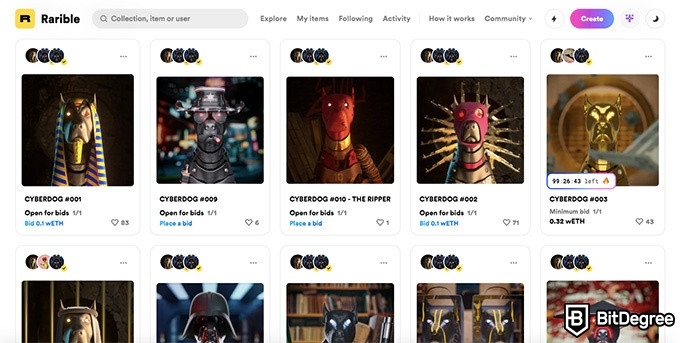 For starters, decentralization tends to bring in a lot of scammers and malicious actors. Since you don't need to attach your actual identity to the NFT trading process (unlike with trading Rarible coins - unless you were to use Uniswap), the increased anonymity can also mean an increase in scams and other crypto theft attempts.
Another huge factor to consider are the earlier-mentioned regulations. As of writing this Rarible review, the market is still quite unregulated - while it does depend on the area of the world that you're trading from, the general sentiment is the same. With time, though, you can expect strict regulations to enter the play, especially on the US side of things.
No one knows what these regulations will bring in. With decentralized exchanges and NFT marketplaces that lack KYC verification, this can prove to be an issue, and a major headache to the user!
Ethereum Exclusivity
This particular point is two-sided, really. Allow me to explain.
User Rarible reviews will tell you that the marketplace only supports Ethereum-based NFTs. Specifically, you're able to create and sell ERC-721 (single token) and ERC-1155 (token series) NFTs on Rarible - that's it.
This creates a sort of Ethereum exclusivity on the site. On one hand, it's not an issue for most people - the absolute majority of NFTs out there are all based on Ethereum. However, if you're someone who'd like to explore other options, this isn't going to be available with Rarible.
This, however, translates to another potential issue - token minting gas fees.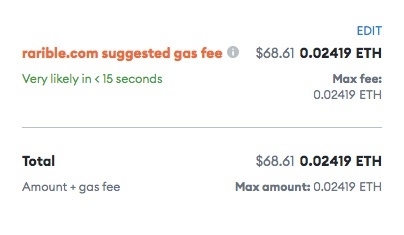 Earlier in the Rarible review, we've discussed the fact that Rarible now has a lazy minting feature. However, being completely new, chances are that it might be unavailable to the public during certain periods of time, or be limited to some sort of an extent.
This means that, in order to sell your NFTs, you'll need to go through the time-tested method of actually minting the tokens on the blockchain. Since your only option is Ethereum, the gas fees can be, well… Less than ideal.
It does depend on things such as general crypto news, and network congestion, among others. However, in most cases, you'll end up paying quite a bit for your tokens to be minted.
This dissuades people that aren't yet sure whether or not NFTs are for them - with some high "market entry costs", many individuals won't even get the chance to find out what is Rarible and how it can be useful for them. Not ideal!

Did you know?
How to Use Rarible?
With all of the core benefits and notable drawbacks of the Rarible crypto platform discussed and out of the way, there's but a single thing left to do in this Rarible review - discuss the actual usability aspects of the marketplace, both from the perspective of a potential NFT seller, and that of a buyer.
How to Register on OpenSea?
First up, the registration process. Or, rather, "the logging in process" would probably be the correct way of saying it.
You see, you don't need to register an account on Rarible. Your account is your cryptocurrency wallet - all that you need to do is connect the wallet to the platform, and you're in!
Admittedly, user Rarible reviews will tell you that the marketplace doesn't really support a huge list of wallets. At the top of the list, though, you'll find MetaMask - the *main* crypto wallet for Ethereum.
MetaMask is surely the recommended wallet to use here - however, only with the condition that you'll make it even more secure by connecting it to a hardware wallet, such as the Ledger Nano X.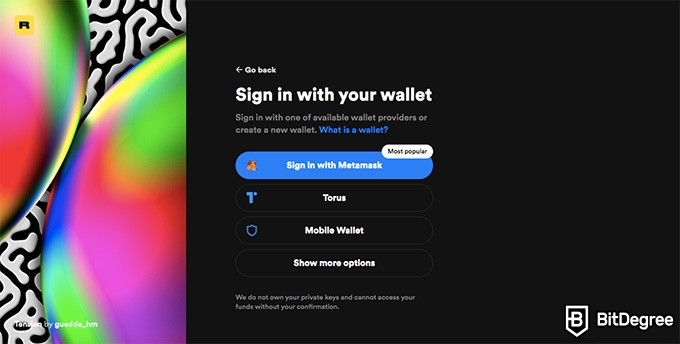 The two wallets in question go hand in hand when it comes to the world of NFTs. Ledger is one of the few hardware wallet brands that support NFTs, but in order for you to see those actual NFTs, you'll need to use MetaMask as your interface. Yet again, though - both wallets have perfect synergy, and can be connected with one another easily.
Once you connect your wallet to the Rarible NFT marketplace, you'll be sent back to the homepage, and that's it - you're in! The process is very quick, and completely frustration-free, assuming that you've already got your wallets set up and ready.
How to Create an NFT on Rarible?
Once you're all settled in, and have your wallet connected to the marketplace, it's time to create some Rarible NFTs. Many user Rarible reviews will tell you that the process is actually super-simple.
Is that really the case? Well - let's see for ourselves!
From the homepage of the Rarible marketplace, navigate to the top-right corner of the screen, and press "Create". You will be asked whether you want to create a single Rarible NFT, or a series of multiple non-fungible tokens. Since you came here to figure out what is Rarible, let's keep things simple, and go with the former option of creating a single token.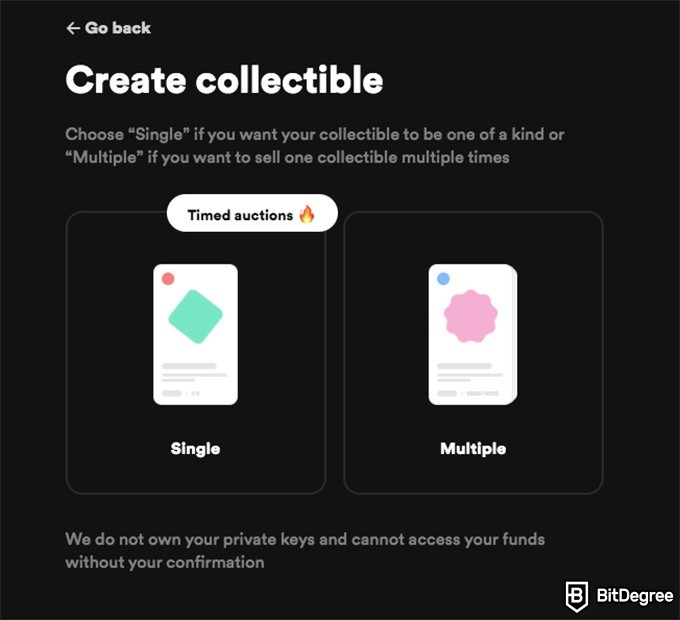 Next up, you will be redirected to the actual creation page.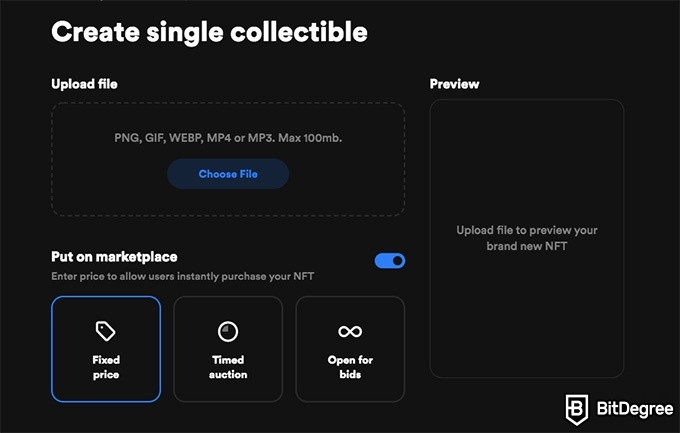 Here, you need to upload your NFT file, and choose the type of sale that you'd like for it to participate in. You can either sell the NFT for a fixed price, in a timed auction, or leave it open for different bids.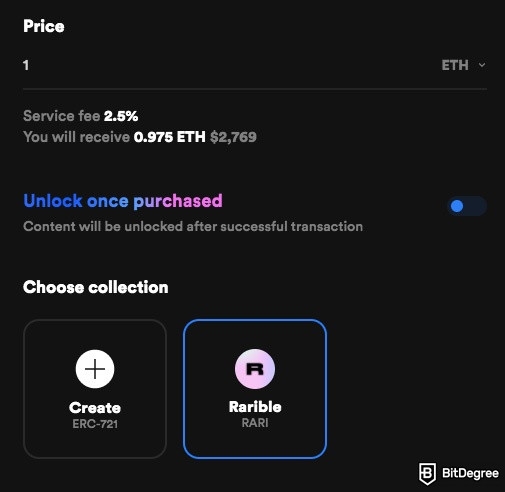 Next up, pricing. No matter what price it is that you'll set, the marketplace will take a 2,5% commission fee - keep that in mind! You can also choose the payment currency - while Ethereum is the default option, you can also pick Rarible coins or Rarible tokens, or some other Ethereum-based tokens, as well.
Finally, once you've finished doing all of that, you then need to write a description for your NFT, name it, and pick a collection. After all of that, your token is ready to be published!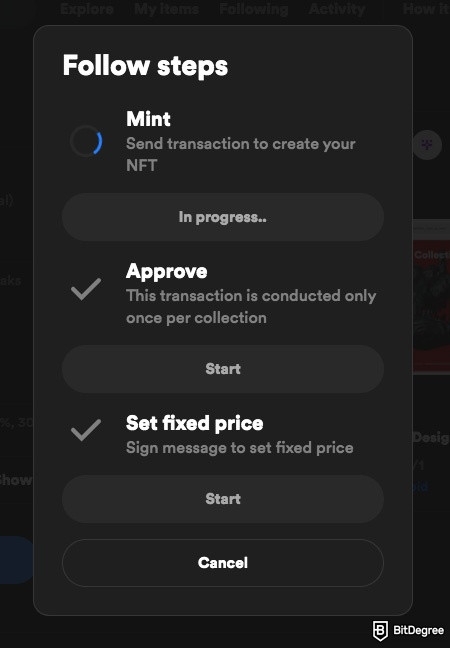 The publishing process is simple - you pay the minting fees, approve the transaction, and set a fixed price for your token to finalize everything. As of me writing this Rarible review, the lazy minting feature still isn't available to the general public - it being a completely new feature on Rarible, though, one should expect it to be implemented soon enough!
After you pass all of the minting and transaction confirmation pop-ups and processes, your NFT will go up for sale. Once a sale is made (or the auction ends - it depends on the listing type that you've chosen for your token), and the transaction is confirmed, you'll receive your funds straight into your crypto wallet.
Following that, all continuous sales of that NFT will yield your profit from the royalties that you've set, too!
How to Buy an NFT on Rarible?
Buying a Rarible NFT is a pretty quick and simple process. I'll assume that you've already connected your wallet to the marketplace - if you haven't, check the "How to Register" section above.
Once you have your wallet connected to Rarible, it's time to pick the NFT that you'd like to purchase. You can explore the different categories available on the platform, or search for a specific NFT that you've already set your sights on.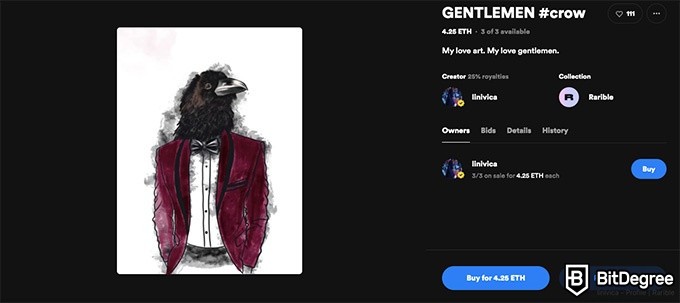 Once on the NFT page, you'll see one or two options - "Buy for X", and "Place a bid". Bidding involves entering an auction - not all NFTs are going to have this feature. Instead, many of them will be able to be purchased for a set amount of ETH.
In the checkout pop-up, you will see the final price of the non-fungible token (with the service fees). Evidently, some user Rarible reviews will tell you that many NFTs can be purchased with fiat money, as well!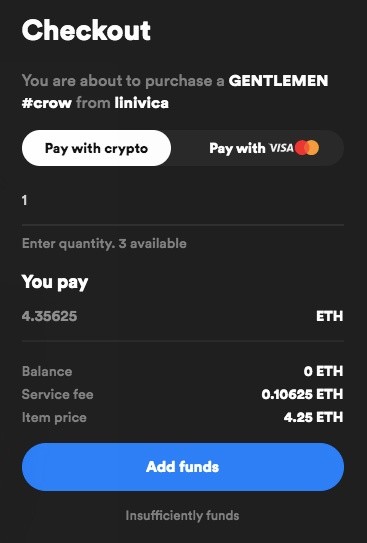 If you don't have enough funds for the selected NFT, though, you're going to need to add ETH to your wallet. In order to do so, you'll first need to purchase Ether coins on an exchange.
Probably two of the best exchanges for you to use in this situation are Coinbase and Binance. Both of them are industry leaders, both in regards to usability, and general reputation, too.
Specifically, you'll need to register on an exchange, pass the required KYC verification checks, and fund your account with fiat money. Then, once you purchase a set amount of Ether, you'll need to transfer it to your wallet of choice (the one you'll be using on Rarible).
While the process might seem a bit convoluted, it's actually rather quick - KYC checks will probably take the longest. At the same time, it's actually a wonderful opportunity to learn about the general processes of crypto trading and coin transferring, too!
Table: Some general information about the Coinbase and Binance cryptocurrency exchange platforms
Once you've funded your wallet, you'll be able to continue the purchasing process. Note that you can actually buy a non-fungible token with the Rarible tokens ($RARI) - to do that, though, you'll need to buy the tokens on Kraken. At the end of the day, though, it's still a better idea to use Ethereum in order to buy your select token.
Upon confirming the purchase within your connected wallet, you'll receive a congratulatory pop-up telling you that you're now the owner of a non-fungible token - nice! In order to view the token that you've just bought, you'll need to navigate to the earlier-discussed profile page.
All in all, no matter if you already possess some ETH coins and know what it is that you want to purchase, or you're still uncertain and are yet to register on a cryptocurrency exchange, the whole NFT buying experience on the Rarible crypto NFT marketplace should be pretty straightforward!
Latest Binance Coupon Found:
CLAIM $600 BONUS
Exclusive $600 Binance Offer
Don't miss this limited-time deal that's only available for our readers. Follow the Binance referral code link & receive up to $600 in rewards and bonuses!
Expiration date: 04/06/2023
7,847 People Used
Only 49 Left
Conclusions
Now that we've reached the very end of our Rarible review, the single question that remains is this - is Rarible worth using?
Yes, it definitely is - multiple user Rarible reviews on the internet will tell you the same!
What is Rarible, exactly? Well, it's one of the best-known and most-respected NFT marketplaces within the industry! The platform is just as established as its main ERC-based competitor, OpenSea.
Rarible hosts a wide variety of different NFTs, and operates primarily on the Ethereum blockchain. All you need to do in order to get started with the marketplace is connect your wallet - whether creating a token or buying an existing one on the site, the first steps are the same!
While creating your own NFTs on Rarible is simple enough, the platform also offers individuals the chance to own Rarible coins known as $RARI. These act as governance tokens, and are used to make decisions on the platform's continuous development. Rarible aims to become a fully-fledged DAO.
Table: General information about the Ledger Nano X and MetaMask cryptocurrency wallets
Lastly, the marketplace has also recently introduced the Rarible Protocol. This update brings in a lot of beneficial features, with the most-notable one being lazy minting - the option to create an NFT without paying gas fees upfront.
If you're interested in Rarible, make sure to check the platform out! Note, though, that you'll need Ethereum in order to transact on it - you can purchase Ether coins on Coinbase or Binance, and then send it straight to your Ledger wallet (or any other).
With all of that being said, thanks for reading this Rarible review! Best of luck with all of your NFT adventures to come, and until next time!
The content published on this website is not aimed to give any kind of financial, investment, trading, or any other form of advice. BitDegree.org does not endorse or suggest you to buy, sell or hold any kind of cryptocurrency. Before making financial investment decisions, do consult your financial advisor.
Leave your honest Rarible review
Leave your genuine opinion & help thousands of people to choose the best crypto exchange. All reviews, either positive or negative, are accepted as long as they're honest. We do not publish biased reviews or spam. So if you want to share your experience, opinion or give advice - the scene is yours!