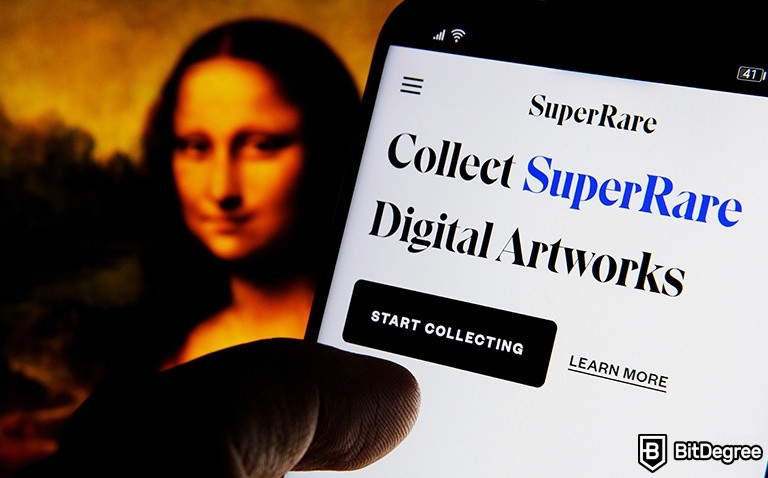 Are you looking to get into the NFT market? There are two ways to go about it - NFT creation, or choosing to purchase some of your favorite tokens for yourself. In order to do the latter, though, you'll need to learn how to buy NFT tokens, in the first place!
While the process might seem rather self-explanatory, things can get complicated pretty quickly. This is especially true if you're completely new to the space, both when it comes to NFTs, and also cryptocurrencies, in general.
In this article, we're going to keep things slow. In other words, I'll assume that you know absolutely nothing about the world of crypto or blockchain technology, as a whole, but the rise of NFTs in popular culture has caught your eye, and now, you want to be a part of it.
So, without further ado, let's get to it, shall we?

Did you know?
Want to get smarter & wealthier with crypto?
Subscribe - We publish new crypto explainer videos every week!
How to Track Cryptocurrencies? (3 BEST Tracking Platforms Revealed)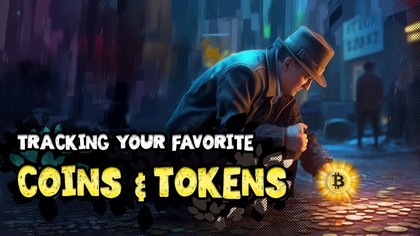 How to Buy NFTs: The Basics
Now, if we were to assume that you're completely new to the topic of NFTs, and cryptocurrencies, in general, there are a few points that we need to get cleared before we get into the actual tutorial itself.
Latest Deal Active Right Now:
REDEEM $600 PRIZE
Binance Cyber Monday
Attention new Binance users: this Cyber Monday, you can score up to $600 in rewards by completing special tasks. Activate this amazing Binance Cyber Monday deal using the code – 49316610!
Expiration date : 05/12/2023
6,127 People Used
Only 16 Left
In this article, you'll find me mentioning a variety of different terms - cryptocurrencies, NFTs, crypto wallets, NFT marketplaces, and so on. I'll explain each one along the way, but it's a good idea to have some sort of a benchmark to start learning how to buy NFTs from, right?
So, what do NFTs and cryptocurrencies have in common - are they the same thing? No, not quite. A cryptocurrency is a digital currency - unlike fiat money such as USD or EUR, however, cryptocurrencies exist on their blockchains (in the digital realm, so to speak), and cannot be "touched", in a physical sense.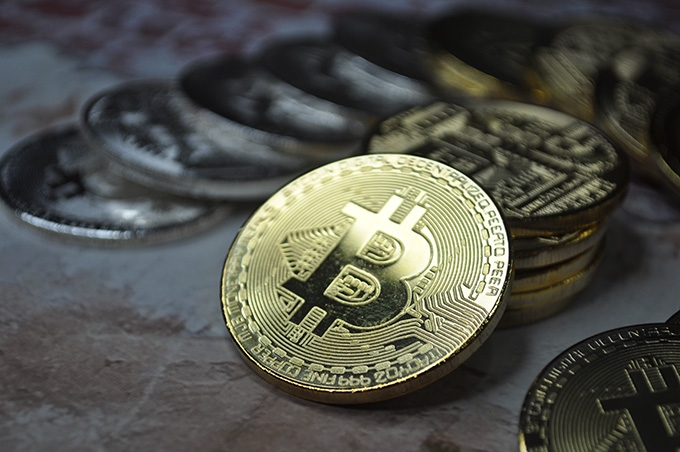 An NFT, on the other hand, is a "non-fungible token". What this term means is that there is no replacement for the token in question - no other just like it. With USD, $1 will always be equal to $1, and you can exchange two banknotes at the shop - it wouldn't make a difference.
The same applies to most cryptocurrencies, too. If you send your friend 1 BTC, and they send you 1 BTC back, is there an actual difference? No, not at all - you still have 1 BTC. Before you go out and buy NFTs, though, you should understand that these specific tokens are one of a kind - an NFT cannot be "replaced" with some sort of an equivalent, since there is none.
This is what creates scarcity, and, in a way, fuels the hype behind the market. It's also part of the reason why people are suddenly looking at how to buy NFT crypto, as well.
How to Find the Right NFT to Buy?
Now that you have some of the fundamentals cleared and out of the way, the next question seems pretty simple - before you buy NFTs, how should you know which ones you should actually be looking at?
Admittedly, there are two groups of people in this regard - those who have already chosen their NFTs, and others who are not yet sure what it is that they want to buy, but know that they want to participate in the market, either way.
If you belong to the former group of individuals, the answer to the question is probably quite apparent. However, no matter what your stance in this regard is, one thing's for sure - it depends!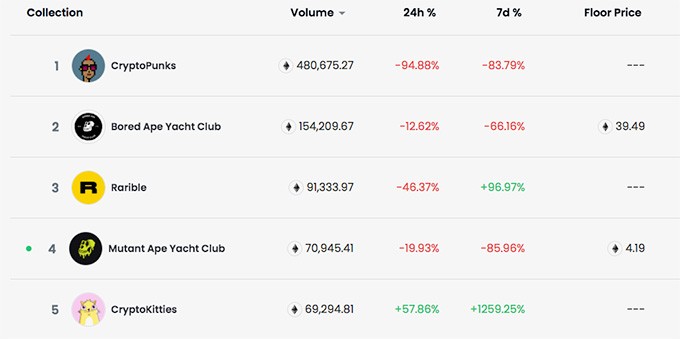 Do you plan to build some sort of an NFT collection? Are you only looking at the top NFT tokens? Perhaps you want to buy NFTs with the hope that they will rise in price in the future? Or maybe you're actually looking at utility-driven tokens, such as concert tickets or music albums with unlockable content?
Depending on your answers to all of those questions, the best NFT for you is going to vary, too. Sure, you could always take a look at the top NFT tokens, and pick one that seems best for you, but if you already know what it is that you want, that's even better!
How to Buy NFTs: A 7-Step Process
As mentioned at the beginning of this article, learning how to buy NFTs can be a bit more tricky than it would appear at first glance. That said, with the right tools at your disposal, this is something that isn't going to be an issue.
We'll speak about those tools in due time, I assure you. However, let's take things from the very top, and start at step one - purchasing yourself some cryptocurrencies so that you could actually buy NFTs for yourself!
It's true that these days, you can also buy NFTs with fiat money, such as USD or EUR. However, this requires using a third-party payment processor (such as MoonPay with OpenSea, for example), and isn't available on all NFT marketplaces - if you want to remain anonymous, you'll still need to resort to Ether.
Step 1: Buying Ether
Yes, Ether - that is exactly the cryptocurrency that you'll need in order to buy NFT crypto tokens.
The absolute majority of NFT marketplaces out there only accept payments in Ether. As mentioned, there are some that do also accept fiat currencies, and more-standard payment methods (i.e. PayPal), however, this is still a rare occurrence.
Why is this the case? Well, most of the NFTs that are out there, on the market, are actually ETH-based, as well. Specifically, they are ERC-721 and ERC-1155 tokens - ones that are both unique, and have no other equivalent on the blockchain.
Following that logic, the majority of NFT marketplaces are also based on the Ethereum blockchain, as well. The combination of these two circumstances results in you only being able to purchase most NFTs with Ether.
Now, if you'd like to buy some Ether coins, this can be done with fiat money, and via your preferred methods of choice - more often than not, these would include credit or debit cards, wire transfers, and so on. Your best bets are either Coinbase or Binance.

Both of these platforms are cryptocurrency exchanges. At the same time, they are both industry-leading exchanges, as well - if you value security and user experience, and don't want to get into the technical parts of trading crypto too much, both platforms should be ideal for you (with the Binance being the more-complex alternative).
All that you need to do is visit the exchange platform of your choice, register, pass the KYC verification checks, add a payment method, and that's it - you're one step closer to being able to buy NFTs!
No matter which exchange it is that you pick, all of the best ones are going to have very simple crypto purchasing routines. In other words, buying some Ether should be quite straightforward and fast - once you do so, it'll be located in your in-exchange wallet. The next logical step is to take it out of that exchange, and place your newly-acquired Ether coins into a separate, secure wallet.
Step 2: Transfering Ether to a Reliable Wallet
Cryptocurrency wallets work in the exact same manner as your physical wallet would - they are used to store cryptocurrencies that you may acquire. However, one thing that crypto wallets have over physical ones is security - the top-rated wallets of the industry are going to possess some truly advanced security measures and features.
So, how do you go about picking the right wallet for yourself? After all, do you really want to give it much thought, seeing as all that you've set out to do is buy NFTs?
Yes, you do. For starters, you might be using that cryptocurrency wallet for years to come - if not, where are you going to keep your NFTs?!
Following that, a secure and reliable wallet will help you retain peace of mind, in regards to the non-fungible tokens that you buy. You won't need to worry that someone will be able to hack into your wallet in a matter of minutes, and steal your artwork or collectible cards!
That said, if you plan to buy NFTs - especially the top NFT tokens -, it's highly-advisable that you'd invest in a hardware wallet. Here, the Ledger Nano X stands tall above its competitors.

Ledger is probably the most well-known hardware crypto wallet company in the world. Their most advanced wallet - the Nano X - is all that you might need in a reliable, high-end product. While its user interface does not support NFTs (more on that later in the article), once you actually purchase the token, you'll be able to store it safely in the wallet.
Naturally, you can explore other crypto wallet alternatives, as well. These include the so-called hot wallets, which are usually free-to-use (unlike hardware ones, like the Ledger Nano X), but come with their own quirks and issues.
Look at it this way - if you think to buy NFTs that are valuable, and plan to "remain in the game" for a long time to come, then investing in a hardware wallet is a must. If you're just exploring, though, and aren't yet sure how to buy NFT tokens, in the first place, then a software wallet might 'cut it', to start off.
Evidently, you'll still need to use a specific hot wallet in order to be able to observe your NFTs on the blockchain, though. We'll discuss how this works in the chapters to come.

Did you know?
Want to get smarter & wealthier with crypto?
Subscribe - We publish new crypto explainer videos every week!
What is Crypto Arbitrage? (Risks & Tips Explained With Animation)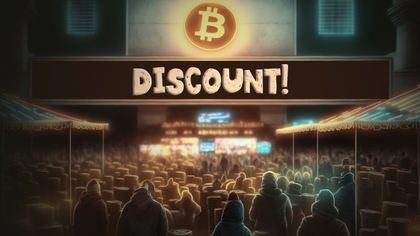 Step 3. Transfer Your Ether
This step is quite self-explanatory. In order to buy NFTs on a specific marketplace, you're going to need to transfer the Ether that you purchased from your exchange account to your new wallet.
This process is exactly the same as you'd do it among any other circumstances, such as sending crypto coins to a friend's wallet, or paying for some sort of a product or service. That being the case, however, it still shouldn't be approached in a nonchalant manner.
No matter if you've done it thousands of times before, or if this is your first time sending crypto, make sure to not be complacent and to actually take things slow. Check the wallet addresses three or four times, make sure that your transaction is going through all of the appropriate channels, and be patient - it's much easier to lose your coins than it might seem!
Once the transaction is done, and you can see your Ether in your actual wallet interface, it's time to move on to the next step, and visit one of the more-popular NFT marketplaces.
Step 4: Visit and Explore OpenSea (or Any Other NFT Marketplace)
So, you've got it all done and sorted on your end - now, the next logical step is to find the best place to buy NFTs from, right?
Well, yes - this is where the marketplaces come in.
While you can definitely buy your select NFTs from other individuals on the blockchain, most of the time, you're going to want to look at a trustworthy marketplace. This is because these markets act as aggregators - on them, you can find a huge variety of different tokens, whether it be artwork, collectibles, trading cards, in-game items, utility NFTs, or else.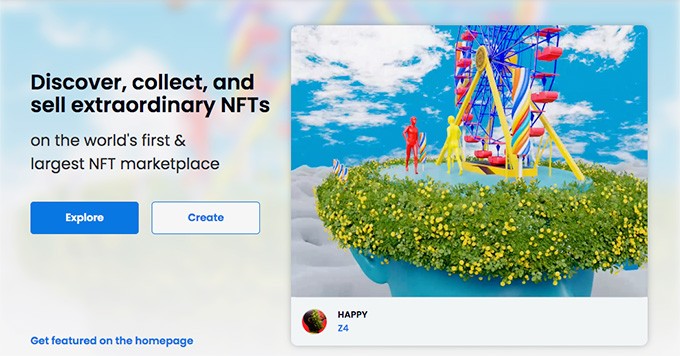 For the sake of being consistent, we're going to be using the example of OpenSea - the most well-known and respected NFT marketplace on the internet.
On OpenSea, you will be able to find a huge selection of different NFTs, ranging in type, price, and general use cases, as well. No matter if you're new to the space and want to buy NFTs for the first time, or if you're already a veteran, OpenSea should be an amazing place to start exploring the world of non-fungible tokens.
Step 5: Find the Right NFT for Yourself
Earlier on in the article, we talked about the process of finding the right non-fungible tokens for yourself. Well, if you still haven't got your eyes set on one, now's the time to do it!
Remember - there's no rush. Set a dedicated price range, choose the type of NFT that you'd like to own, and enter some other details to the OpenSea interface - details that will help you narrow down the choice pool.
Truth be told, OpenSea is a great help in this regard. Housing 80 million different NFTs, the platform offers an incredible range of options for you to explore. This is true even if you have already picked some non-fungible tokens for yourself, too - perhaps you'll find some alternatives, or additional collectibles that you'd like to own?
Once you've picked the right NFT for yourself, do make sure to check whether or not it has some unlockable content, just how limited it is, and all of the additional features surrounding it, too. If you've made up your mind, it's time to actually perform the purchase!
Step 6. Buy the NFT
Entering the landing page of the NFT of your choice, you might see a few different options. Some NFTs will have the option to be purchased on the spot, while others might require you to enter an auction beforehand - for the sake of this article, let's assume that you're going to buy NFTs that can be purchased instantly.
At the top-right corner of the OpenSea page, you're going to see a wallet icon. Press it, and a list of supported crypto wallets will pop up.
As you might notice, Ledger Nano X isn't on the list of options. This is where things can get a bit confusing, so I'll try to keep it as clear and simple as possible.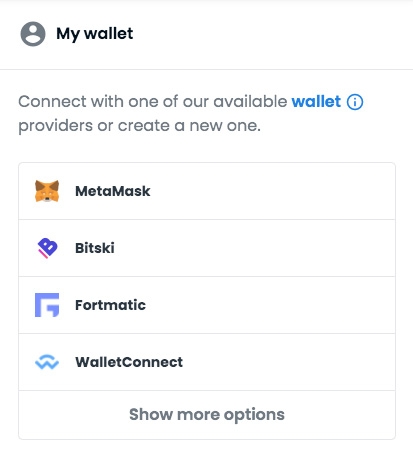 You CAN store your NFTs in the Ledger Nano X. That said, they won't show up in the Ledger Live user interface - Ledger simply does not offer that functionality. What you'd have to do instead is connect your Ledger wallet to another, separate hot wallet - MetaMask.
MetaMask is the most popular NFT wallet on the market. Connecting your Ledger to it, you will be able to observe your NFTs within its user interface, while still having the security side of the Ledger Nano X active. This is also the reason why, after buying NFTs, you'd still want to have the Ledger wallet, in the first place - advanced security.
To put things simply, what you need to possess when purchasing NFTs are two different wallets - MetaMask, and the Ledger Nano X. The latter can be avoided, sure, but it's the most reliable and secure option on the market, and is thus highly recommended, nonetheless.
So - once you have your wallets sorted, you can then connect your MetaMask to the OpenSea marketplace. This process is simple and quick, and a built-in wizard will guide you through it, step-by-step. You also need to connect your wallet to OpenSea, if you want to purchase an NFT this way.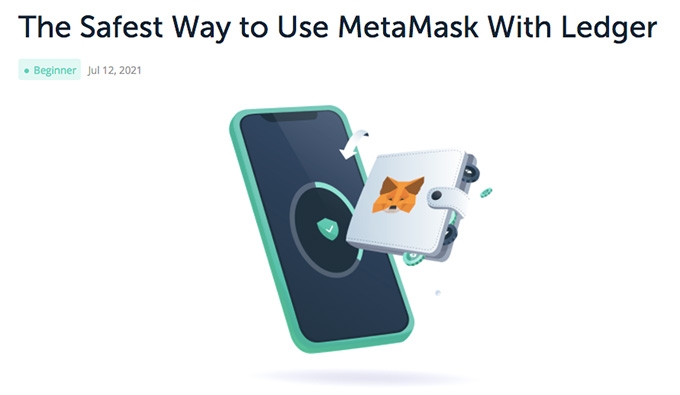 Note that you won't be able to see Ledger being connected to your MetaMask on the OpenSea website. In order to make sure that this is the case, instead, you should go to your MetaMask wallet's dashboard, and there, this information should be displayed.
Ledger does also have a tutorial on their website on how to connect the two wallets in question. You can check it out here.
Once you have your wallet connected, you can then just go to the token page that you like, and buy the NFT - it's as simple as that! Once again, OpenSea makes the process seamless and quick.

Pros
A very well-known crypto exchange platform
More than 500 different cryptos available
Two-factor authentication
Main Features
Over than 100 different cryptocurrencies available
Strong security
Small withdrawal fees

Pros
Secure and reliable
Low fees
A good amount of fiat currencies accepted
Main Features
Reputable exchange
Multiple fiat currencies are accepted
Relatively low trading fees

Pros
Anonymous trading
Secure
Supports a variety of cryptocurrencies
Main Features
Easy to use
Low fees
Good security
Step 7: Enjoy Your New NFT!
After all of the fees are paid, and the transaction goes through on the blockchain, that's it - you are now a proud owner of a non-fungible token! It will appear in your MetaMask wallet, and from there on out, you'll be able to trade it with others, or simply enjoy the fact that you now know how to buy NFTs, in general.
No matter if you've chosen to buy the top NFT tokens, or some of the less-known ones, keep in mind the fact that dealing with NFTs can be really addicting - once you buy one, it becomes difficult to not start looking at other options!
This is even more so true due to the fact of just how many wonderful pieces of artwork are there, on the market. And I use the term loosely - whether it be cards, collectibles, or 3D art, you'll find amazing work in all categories.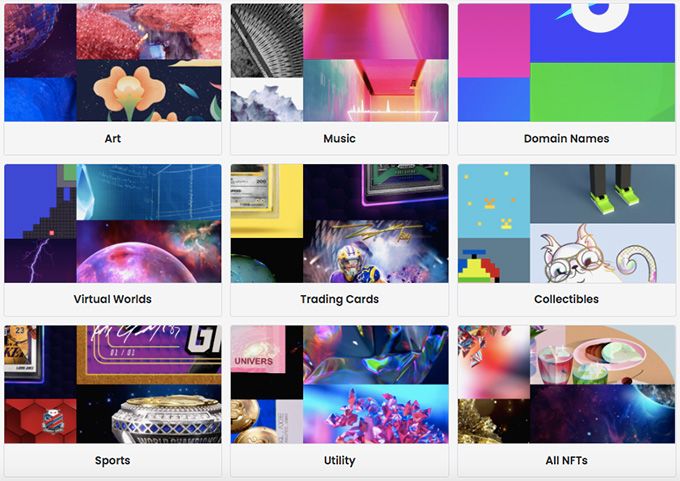 Now that you know how to buy NFT tokens, and own one (or more!) yourself, you can do anything you'd like with it. You can build a collection of your own, keep the token for investment purposes, or trade it with friends, as well.
Note that some NFTs are actually part of different games, as well - they come in the form of in-game items. These tokens serve an actual utility purpose, since you can use them not only for show-related purposes.
Obviously, utility NFTs don't just end at the in-game item line. While not yet being very popular, they can usually be used for a wide variety of purposes, depending on the actual NFT of your choice.
A Quick Recap
Up to this point in the article, we've discussed a wide variety of different points that revolve around you preparing to buy NFTs. As mentioned in the introductory part of the text, I made a conscious effort to take things from afar, and not get into the technicalities straight from the get-go.
With a huge amount of information to process, though, some things might get lost in between the lines. In order to avoid a situation like this, let's have a quick recap of the main points that we've discussed in this article.
Starting out, your main goals are to find a secure wallet to keep your coins in, and a reliable cryptocurrency exchange. For the latter, I'd recommend either Coinbase or Binance, and as for the former, the Ledger Nano X hardware wallet is the undisputed leader. This is also when you purchase your Ether and transfer it to your wallet.
Evidently, you can use other exchanges and wallets, sure, but the ones mentioned above are going to be your best options.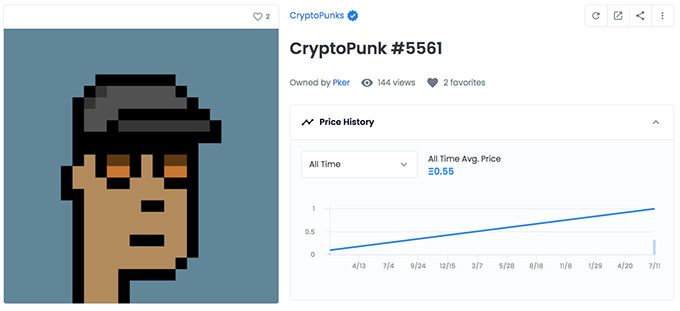 Once you've got the exchange and wallet questions sorted, you should then head over to an NFT marketplace of your choice, and start exploring the different types of tokens available to be purchased. Here, OpenSea is likely going to be your best friend - it's currently the most popular NFT marketplace on the internet!
Once you've found the perfect NFT for yourself, all that's left to do is to connect your wallet, make the purchase, and wait for the transaction to fall through - that's it! After some time, once everything's confirmed and settled on the blockchain, you'll become a legitimate owner of a non-fungible token.
Truth be told, the purchasing process itself isn't all that difficult. It's obviously different if you're completely new to the space - then, there are a few points that might be a bit confusing, sure. However, after a couple of purchases, you should be able to do it without any sort of guide on how to buy NFT tokens.
One thing to keep in mind, though, is that you should always pay close attention to your transactions, and make sure that you're using all of the "best practices". Meaning, you should double-check your addresses, make sure that you're sending coins to the right wallet, and not visit some shady websites that might result in you having a keylogger on your computer.
Conclusions
If you've been following the NFT market for some time now, you might have noticed that it's definitely a tricky one to comprehend, and especially predict, as well. When the initial hype had subsided in half a year or so, many people thought that it was the end, and that NFTs wouldn't come back nearly as strong as they were.
Well… As history would show, the hype returned with renewed stamina - the NFT boom is even more noticeable now than it was before!
LEDGER NANO X
METAMASK

Main score based on expert evaluations & real user reviews.

Whether the crypto wallet is hardware, software, desktop or paper type.

Hardware
Software

For which purpose or for what kind of people is the cryptocurrency wallet best for.

Best for Safely Storing, Sending, and Receiving Different Cryptocurrencies
Best for storing Small Amounts of Cryptocurrency

Most popular hand-picked deals & coupons.

All Ledger Nano X Coupons
See All Coupons of Best Wallets

Final crypto wallet evaluation conclusion based on research, expert opinions & user feedback.

One of the best hardware cryptocurrency wallets ever made.
An attention-worthy hot wallet for Ethereum, but there are better options around.
Visit site
Read review
See TOP10 Brands
Read review
Table: Some general information on Ledger and MetaMask
Naturally, with increased popularity, more and more people are looking at how to buy NFTs. It being as trendy and revolutionary as it is, this really shouldn't come as a surprise, either! As you might have gathered from my guide, it's not as difficult of a process as it may appear when you're just starting out - after one or two times, you should have it all down and figured out!
The main points that need to be kept in mind have to do with cryptocurrency wallets, and NFT marketplaces that are worth checking out. The combination of Ledger Nano X and MetaMask will provide you with optimal security and user experience, while OpenSea will open up a sea of NFTs for you to explore (that's one pun I'm not going to apologize for).
All in all, thanks for reading, and until next time!
About Article's Experts & Analysts