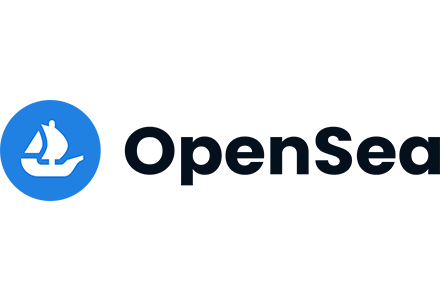 If you're a crypto enthusiast, chances are that you've heard about NFTs. It's a whole entire phenomenon in the crypto space - one that has attracted widespread attention from both veteran traders, and also the general masses, as well! Today, in this OpenSea review, we're going to talk about the oldest and most established NFT marketplace in the world.
OpenSea is a name that has become almost synonymous with non-fungible token trading. Being a true veteran and pioneer in the space, the marketplace has managed to amass millions of different NFTs on its platform, and allows users from all over the world to trade and exchange these NFTs, at their leisure.
Is the hype justified, though, and should you really go out and buy digital OpenSea coin NFTs? Or are there better NFT marketplaces out there for you to check out?
Well - read on, and find out!
Pros
Very beginner-friendly
Good royalties, small commission fees
The most-established NFT market
Huge variety of NFTs available
Lazy minting
Cons
Only supports Ethereum, Polygon, and Klatyn blockchains
No fiat payments
OpenSea Review: PROS
No matter if you were to look at OpenSea NFTs, or any other high-end non-fungible token marketplace out there, you'd notice rather quickly that there are a lot of different points from which these markets can be approached.
For consistency's sake, we'll take a look at the benefits of using OpenSea, first. It would be impossible to discuss any other benefits before acknowledging the stature that OpenSea has managed to establish within the NFT market, though.
A Firmly-Established NFT Marketplace
In the world of crypto, reputation is unquestionably important. It's something that's difficult to establish, and almost impossible to regain after it's lost. This is because, with decentralization and anonymity being present in the space, it's not easy to establish a reputable name for yourself, or your brand.
Reading through different user OpenSea reviews left online, and learning how to sell on OpenSea, you'll quickly notice that the reputation of the marketplace in question precedes it. It's the first tell-tale sign that should let you know - OpenSea is a noteworthy name in the industry.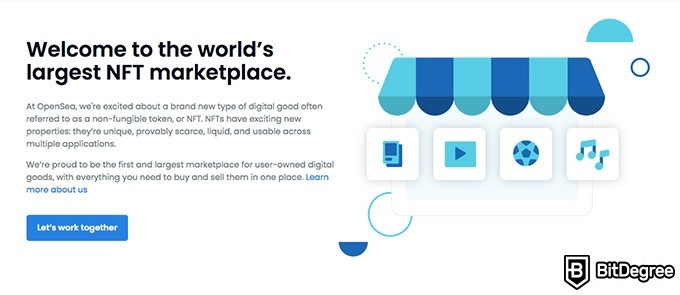 Being the very first NFT marketplace to come into existence does come with its own perks, naturally. OpenSea has been able to start building up its name and reputation from day one, and has now established itself as the undeniable leader of all Ethereum-based NFT token trading.
While this isn't necessarily a concrete perk in of itself, it's still a very notable point to keep in mind when searching for the best NFT marketplace for yourself. You can't really go wrong with OpenSea - if you find the features of the platform satisfactory, it should surely prove to be a reliable marketplace!
The Largest Choice of NFTs on the Market
NFT count is surely among the major benefits of OpenSea. As of writing this OpenSea review, there are over 20 million different non-fungible tokens available to be browsed through, bid on, and bought on the marketplace in question.
That's an insane number - and it's constantly growing, too!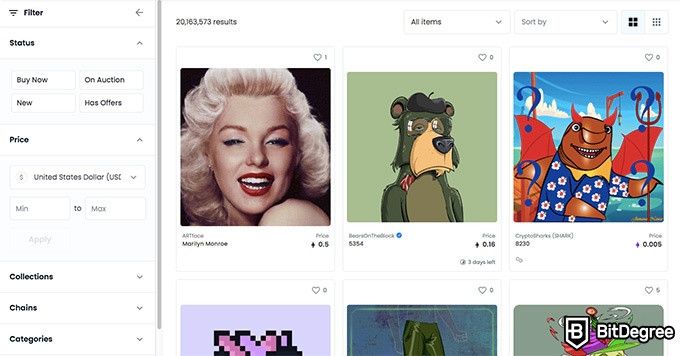 Such a huge variety of choice is extremely notable for any and all NFT traders and collectors out there. It means that, no matter what type of NFTs you might be looking for, you'll likely find them on OpenSea.
Part of the process of learning what is OpenSea includes figuring out how to use the categories available on the site. Since it isn't exactly feasible to browse through 20 million different tokens, visiting the OpenSea marketplace, you'll find a selection of categories to help you navigate through the pages, and narrow down your search criteria.
These categories include the following:
Art
Collectibles
Domain names
Music
Sports
Trading cards
Virtual worlds
Utility
Each category is packed with different tokens that you can view, analyze, and acquire. Apart from the more-common sections such as art, collectibles, and trading cards, OpenSea also houses utility NFTs, domain names, and even sports-specific tokens, too!
There are naturally additional tools to help you sort through all of the OpenSea NFTs, too. You can set the status of the token search (i.e. new arrivals, fixed-price tokens, auctions), pricing (in different currencies), set specific collections, blockchains, and more.
If you know what it is that you want, specifically (such as some OpenSea coin-based NFTs), finding a token on OpenSea is pretty simple and quick. That said, though, OpenSea is also great for any casual users who just want to browse through an endless list of tokens, and *maybe* buy something for themselves.
Good Royalties, Small Fees
No matter if you're reading this OpenSea review with the intent of creating NFTs, or perhaps just selling them, fees and royalties are going to be among the most important aspects to consider.
This is true with all NFT marketplaces, since they do all have varying numbers regarding the aforementioned topics. Some are more-generous, while others will offer better functionality or additional features in place of higher royalties.
What's the benchmark, though - in other words, what's considered to be a good number, as far as royalties are concerned?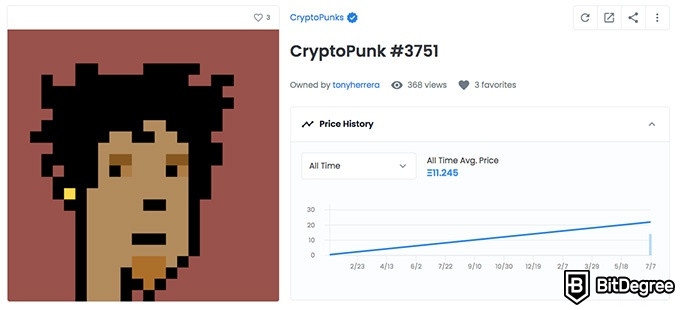 Well, NFT markets could offer their creators anywhere from 1%, up to 30% in following-sale royalties. Royalties that go beyond 20% are pretty rare, though - only a few select NFT marketplaces can offer such numbers to their users.
Royalty-wise, the OpenSea NFT platform can provide its users with up to 10%, in follow-ups from the initial sale. This is pretty good!
What it means is that you'll receive a 10% royalty every time someone else sells your NFT, as long as you're the original creator. This does not apply to individuals who are simply re-selling non-fungible tokens - if you didn't create the NFT, you won't receive the royalty.
Fees are another major point to consider, too. Since OpenSea is an Ethereum-based marketplace, OpenSea fees are always going to include gas fees, too (unless you decide to go the "lazy minting" route, but more on that later). If you've spent any time researching or trading Ethereum, you're probably aware of just how high these fees can be.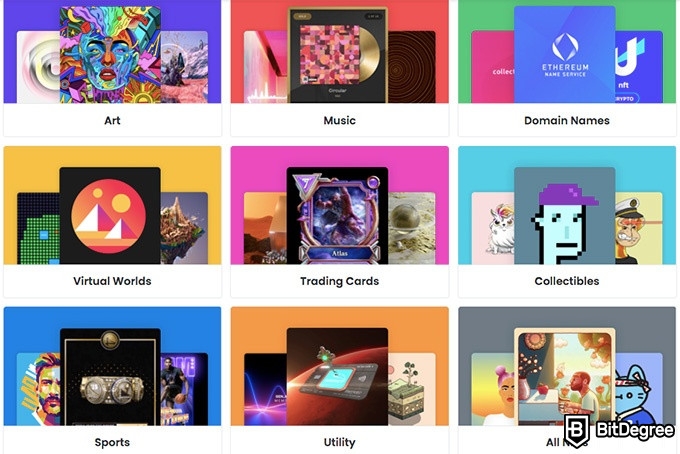 At the same time, though, as with any other NFT marketplace out there, there are some OpenSea fees that are built-in within the platform itself, too. Specifically, OpenSea will take a 2,5% commission for each sale that you make on their market.
That's not too bad! In fact, when you think about it, it's pretty good - you have the chance to both create an NFT, and also sell it on one of the largest non-fungible token marketplace in the world, and you only pay 2,5% commission fees.
All things considered, OpenSea is quite generous both when it comes to creator royalties, and also the commission fees that the platform takes from each sale that you'd make. Thus, if you're looking at how to sell on OpenSea, do know that it's definitely a great platform to do so!
Lazy Minting - Avoid Upfront Gas Fees
As mentioned in the previous chapter, OpenSea is built and functions on the Ethereum blockchain. This means that all of the NFTs that you mint are going to be ERC-721 (single NFT) or ERC-1155 (NFT series) token standard-based. This, in turn, entails ETH gas fees during the minting process, too.
Ethereum is notorious for its gas fees. Being a super-popular network, it tends to suffer from congestion issues, which then leads to high gas transaction fees - NFT minting is no exception.

If you want to learn how to sell on OpenSea, or simply trade OpenSea NFTs, in general, gas fees are going to be something that you deal with on the daily. It's important to time the market, so as to minimize the potential fees as much as possible.
Well, at least this would be the case with most other NFT marketplaces. With OpenSea, though, you can just employ what's known as "lazy minting", and create your NFTs with no upfront costs.
Lazy minting is a special and unique feature on OpenSea. It doesn't actually mint the NFT, but instead lists it on the marketplace. The minting process happens when someone purchases the actual NFT.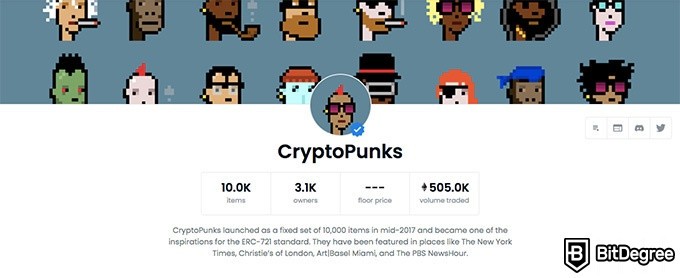 You can actually think about the process as publishing a paperback on Amazon Kindle. With Kindle's unique self-publishing feature, you are able to publish your book without paying any of the publishing fees - instead, they are deducted from each sale that you make. The concept is very similar to that of OpenSea's lazy minting!
In general, the feature in question is amazing for all NFT creators, but is especially notable to those individuals who are just now entering the NFT sphere, and are still new to the whole process. Lazy minting allows you to play around with the concept of creating your own NFT, and doesn't demand potentially harsh fees in order to do so.
A Secure NFT Marketplace
Security is one of the biggest and most important topics in the crypto industry. By now, it's truly a no-brainer - whether it be cryptocurrency storage, exchanges, or NFTs, security should always be the very main feature that you look into.
To this day, there are notable breaches in the security systems of different exchanges, dApps, and other crypto-related platforms. The fact that the industry still lacks solid regulation means that malicious actors are able to get away with large-scale scams, rug pulls, and honeypots. While the latter two aren't an issue with established projects such as OpenSea, the former one should be paid careful attention to.

Multiple user OpenSea reviews will tell you that the NFT marketplace in question is very secure, and cares about the safety of its users' crypto assets. One example of this is that you can't pay for NFTs with fiat money - only with select crypto coins.
While this does pose some convenience issues, as far as security is concerned, it's actually really good. It means that OpenSea does not store your payment information on its servers, and thus, if a major break-in would occur, no information would be stolen.
Furthermore, all of the NFT creation, storing, selling, and buying processes happen through a secure connection with your crypto wallet. This, yet again, isn't a very beginner-friendly approach, sure - however, it plays a part in allowing you to both remain anonymous, and also eliminate potential foul play from the transactions happening on the platform.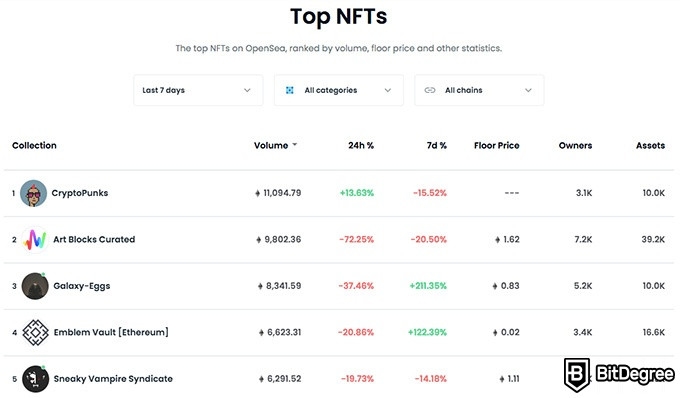 How is that so, you may wonder? Well, as many different user OpenSea reviews will tell you, all transactions on OpenSea happen with the help of smart contracts, on the blockchain - there's no middleman involved, and once a contract is executed, there's also no way to alter it, either.
All in all, if security is what you're worried about, you can rest assured - OpenSea employs the top security measures, and your NFTs should be completely safe and sound within the marketplace.
OpenSea Reviews: CONS
Having discussed some of the main benefits and features of the NFT marketplace in question, it's also important to check out some of the more-negative user OpenSea reviews. So, now, let's take a look at the main complaints that users have regarding that platform, and once we're done, you'll be able to say that you have a full understanding of what is OpenSea!
Requires a Cryptocurrency Wallet in Order to Create and Trade NFTs
Ironically, one of the main complaints that users have in regards to OpenSea is actually one of the platform's main perks, too.
User OpenSea reviews will tell you that, in order to do anything NFT-related on the platform, you're going to need a separate cryptocurrency wallet. Well, two, actually - you could make do with one, but if you value the aforementioned aspect of security, you're going to need two separate wallets.
In order to access OpenSea, first, you'll require a hot (software) wallet - your best bet here is MetaMask. This is both because it's one of the most popular Ethereum wallets out there, and also due to the fact that it's super-simple to integrate with the Ledger hardware wallets.

Ledger is the other name that you'll need to look into, while thinking about OpenSea NFTs. As far as NFT support goes, the Ledger Nano X is the most-secure and reliable option.
In short, while you learn what is OpenSea, do keep in mind that you'll need two wallets - i.e. MetaMask and the Ledger Nano X - in order to create and trade NFTs on the marketplace in question.
So, where's the issue here, you might wonder? Well, it stems from the fact that an industry newcomer might not have the know-how required to manage all of these things at once!
Table: Some general information about the Ledger Nano X hardware cryptocurrency wallet
Imagine that you're completely new to the topic of crypto, and are only interested in the concept of NFTs. If that were the case, you probably wouldn't want to worry about managing two different wallets, and also looking after your OpenSea account, too!
As we've already established, the fact that you need a reliable crypto wallet in order to access OpenSea is great, security-wise. However, judging by some user OpenSea reviews, it can be a slight hassle, as well!
No Support for BEP-Based NFTs
As of writing this OpenSea review, the marketplace currently supports three different blockchains - Ethereum, Polygon, and Klatyn. Naturally, Ethereum-based NFTs are the most popular option, but there are plenty of NFTs for the other two blockchains, as well.
The issue here is that OpenSea does not offer support for BEP-based non-fungible tokens. In other words, if you own (or create) NFTs on the Binance Smart Chain, you will not be able to host them on OpenSea.
For some, this isn't an issue, altogether. However, admittedly, BEP-721 and BEP-1155 tokens are becoming more and more popular as time goes on! This is currently mostly thanks to the Binance NFT marketplace - a new NFT-related venture launched by the Binance cryptocurrency exchange.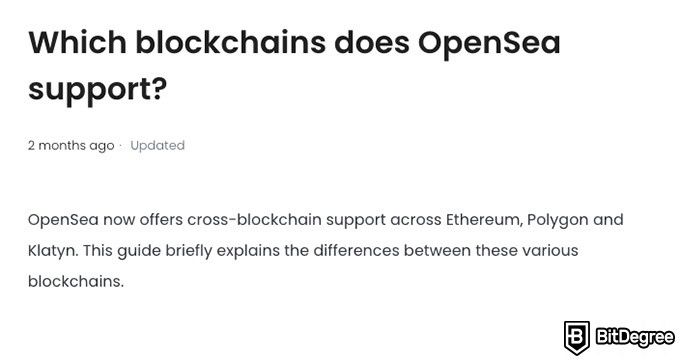 BEP-based NFTs are great in that they have super-low minting costs. Transactions that happen on the Binance Smart Chain are very cheap, fee-wise, which does tend to attract a lot of NFT enthusiasts and industry newcomers, alike!
So, in short, if you want to work with BEP-friendly non-fungible tokens, your only solid option for now is the Binance NFT marketplace. In this regard, OpenSea NFTs are limited to Ethereum, Polygon, and Klatyn.

Did you know?
How to Use the OpenSea NFT Marketplace?
Now that you know the ins and outs of the OpenSea market, you should have a pretty solid understanding of what to expect, and should also have formed some sort of an opinion regarding the platform, as well.
If you think that OpenSea is the right NFT marketplace for you, all that's left to do now is figure out how to use it - namely, how to log in, create, sell, and buy an NFT.
Do note that this isn't going to be a thorough guide, and we'll only glance through the main points of the above-mentioned processes. This is because we already have guides on how to create, buy, and sell NFTs on OpenSea - if you want to read through some in-depth tutorials regarding the matter, do make sure to check the respective articles!
How to Log Into OpenSea?
First things first - before you can go out and buy some OpenSea coin collections, you'll first need to log into your account.
Note the terminology that I use - log into, not register. This is because you don't need to pass any registration processes on OpenSea - it being a decentralized NFT marketplace, all you need in order to log in is your MetaMask (or some other) cryptocurrency wallet.
If you have the wallet in question set up as a Chrome extension, it will display a notification upon you trying to log into OpenSea. The process is pretty simple, and you'll find yourself on your profile page in a matter of seconds.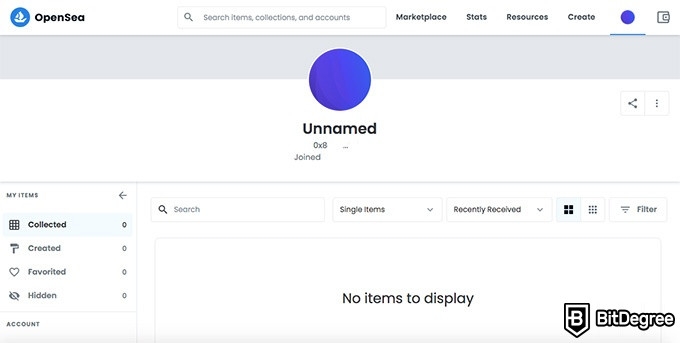 While not many user OpenSea reviews mention it, this is the very same page where you'll find all of your NFTs, and will be able to manage them, too. This involved both the tokens that you've created, and also those that you've acquired through direct sales or auctions on the marketplace, as well.
You do also get the chance to name your OpenSea account, as well. As mentioned earlier, though, your whole account is centered on your MetaMask wallet address.
How to Create an NFT on OpenSea?
So - once you've logged into your account, and have glanced around the platform, it's time to create your very first NFT. Once again, if you'd like to check a detailed guide on how to do that, you can find more information here.
Navigate to the top-right corner of your screen, and press "Create". If you're logged in, you will immediately be redirected to the NFT creation page. This is where all of the magic happens - it's also the area that is often praised among other OpenSea reviews, for just how simple and intuitive it is to use and navigate through.
Note, though, that if you haven't created a blank collection before starting the NFT creation process, you'll instead be directed to the collection creation page. Whatever the case might be, the process is still pretty straightforward, and you'll eventually end up on the NFT creation page, either way.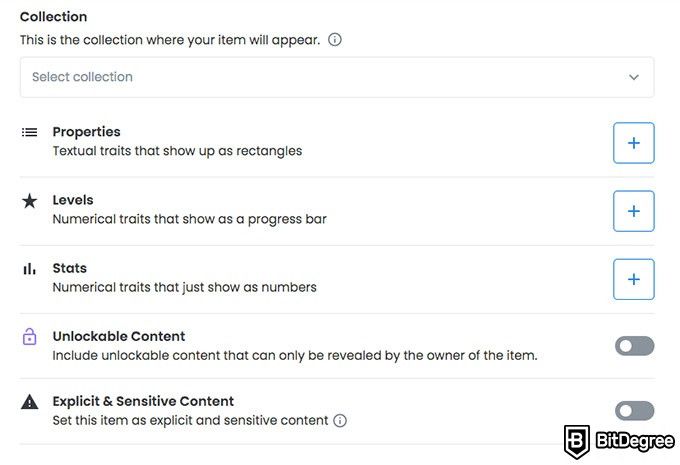 On the page, you'll find a variety of functions and settings that you need to adjust. Upload your file (a picture, a drawing, a GIF, a video, a music track - the list can go on and on), give it a name, and write a description.
Next up, you'll also be able to set the collection that the NFT will belong to, and the properties that the token will have. These properties are great for those OpenSea NFTs that are part of a larger collection - say, trading cards, or special characters for a game.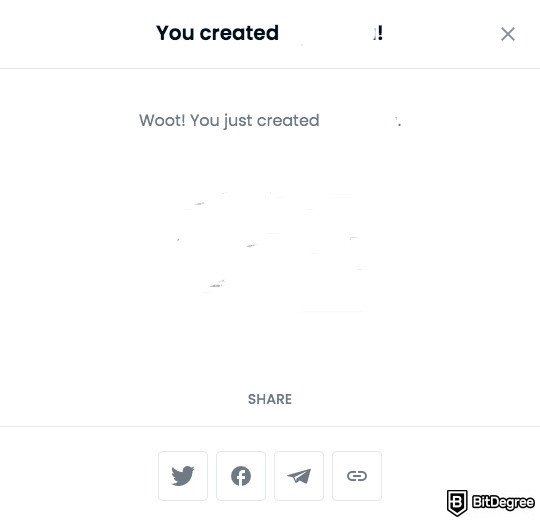 After choosing your preferred blockchain for the NFT (in most cases, this is going to be Ethereum), all that's left to do is publish your new token! That's it!
How to Sell / Buy an NFT on OpenSea?
This wouldn't really be a proper OpenSea review if we didn't talk about the process of how to sell on OpenSea, no would it?
After you go ahead and newly-created NFT, you will then need to press the big blue "Sell" button at the top-right corner of the page. You'll be redirected to a separate page where all of the financial dealings will have to be sorted out.
Here, you are able to choose the type of sale that you'd like the NFT to participate in - a fixed-price sale, an auction, or selling the token as part of a larger bundle. Fixed-price sales are straightforward - you just price the token, and that's it.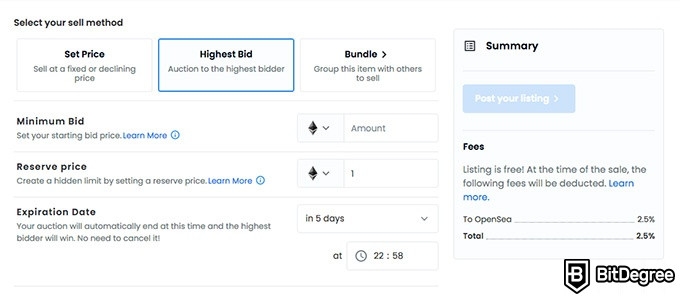 With auctions, though, you'll need to set a minimum bid, a reserve time, and a date for when the auction will end. Once everything is set up, all that's left to do is approve the minting process within your wallet, and wait for a potential buyer!
As you can see from my own experience, Ethereum's gas prices can surely bite. This is why you should definitely look into the lazy minting feature - the concept that we've discussed earlier on in this OpenSea review.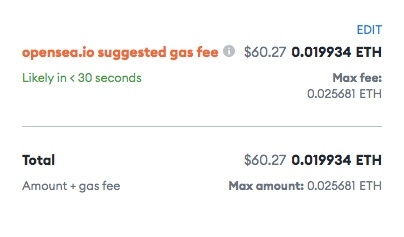 Buying an NFT is a similar process, in that you choose the token that you'd like to purchase, connect your wallet, check the fees, and simply buy it, if you have enough Ether coins in your wallet (or one of the other cryptocurrencies that are supported on OpenSea).
The above is true with fixed-price tokens, but auctions aren't at all complicated, either. The amount of crypto that you bid on an NFT will be frozen until the auction ends, or until someone else outbids you. If you win, you'll receive the NFT - if not, you'll get your Ether back!
Latest Binance Coupon Found:
CLAIM $600 BONUS
Exclusive $600 Binance Offer
Don't miss this limited-time deal that's only available for our readers. Follow the Binance referral code link & receive up to $600 in rewards and bonuses!
Expiration date: 04/06/2023
7,847 People Used
Only 49 Left
Conclusions
If there's one clear point that you should draw from this OpenSea review, it's that the platform truly is an industry leader, as far as NFT marketplaces are concerned. This is both in regards to it being the very first real NFT market, as well as the fact that it offers some of the most user-friendly methods of creating, buying, and selling your own NFTs.
OpenSea is secure, since all processes are decentralized and based on smart contracts. It's very beginner-friendly, so even if you don't possess any prior experience with cryptocurrencies, you shouldn't have a difficult time "learning the ropes".
Having said that, though, you will need to acquire and learn how to use at least one (ideally, two) cryptocurrency wallet. In addition to MetaMask, you should definitely look into investing in a Ledger Nano X, especially if you're serious about your crypto ventures.
Table: Some general information about the Ledger Nano X and MetaMask wallets
You will also need to have some Ether coins in your wallet, so as to pay for the NFTs and for the gas fees attached to the creation process. In order to acquire Ether, visit one of the more-reliable exchanges, and make your way on from there.
OpenSea fees are low (2,5%), and the market does also have great royalties - they can go up to 10%. All in all, it's definitely one of the best NFT marketplaces, and you can't really do wrong by taking the time and checking it out!
I hope that you now know what is OpenSea, and are ready to go out and get yourself some of those OpenSea coin collectibles, or any other tokens that you might like. Good luck, and until next time!
The content published on this website is not aimed to give any kind of financial, investment, trading, or any other form of advice. BitDegree.org does not endorse or suggest you to buy, sell or hold any kind of cryptocurrency. Before making financial investment decisions, do consult your financial advisor.
Leave your honest OpenSea review
Leave your genuine opinion & help thousands of people to choose the best crypto exchange. All reviews, either positive or negative, are accepted as long as they're honest. We do not publish biased reviews or spam. So if you want to share your experience, opinion or give advice - the scene is yours!