NFTs are a hot topic these days - that's pretty clear. Something that might not be clear, however, has to do with storing them - namely, what are the best NFT wallets for you to use?
One look at the market will show you that there aren't really all that many wallets to choose from. While that may seem rather weird (seeing as the general crypto wallet market is pretty big), there is a reason why that's the case, too - I'll reveal it in the chapters to come.
Evidently, this is going to be a pretty interesting wallet list. While we'll cover some amazing wallet options, there will also be a few honorable mentions, as well - more on that later, though.
Our list will look like so:
Best NFT Wallet: Evaluation Criteria
So - how does one go about searching for the best NFT wallet?
Well, for starters, you need to establish a few core criteria. Same as any other crypto-related topic out there, NFT wallets are going to have specific points that need to be paid attention to.
Let's check them out, shall we? Once it becomes clear what it is that you need to look for when searching for a specific wallet for yourself, the process itself will become much smoother and simpler, too.
First things first - security. While most people are surely going to look at things such as multiple blockchain support or the convenience of the UI first, this shouldn't be the case. There is nothing more important than security, no matter if you're talking about storing NFTs, crypto coins, tokens, or anything else.

Whilst analyzing security, do make sure to check where your private keys are stored, whether or not the wallet has had any data leaks, all of the controversies that surround the product, and so on. No single piece of software or hardware is free from some bad press or less-than-fortunate incidents - that's for sure. However, this is where your analytical and critical thinking skills come in.
Following the security aspect, you should also pay close attention to all of the NFT-related features, too. The best NFT wallets are likely going to be heavy on functions and widgets that are exclusive to non-fungible tokens - visual representations, transactions synchronizations, quick marketplace access, and so on.
Well, the former point does depend on the wallet type, as well. Hardware wallets will likely be a lot different from software ones - this, however, is a discussion that we'll approach in due time.
Lastly, convenience is a major point of interest, as well. You'd probably want to be able to access your best NFT wallet on the go, and be presented with some advanced and smooth user interface design choices, right? Well, this is both an aspect that's "nice to have", and also one that can really influence your outlook on NFT and crypto wallets, in general!
A Lack of NFT Wallet Options
As I've mentioned in the introductory part of the article, there really aren't all that many options to pick from, when you're looking for the best NFT wallets out there. Why is this the case?
For the most part, this has to do with the fact that many high-end cryptocurrency wallets do not support Ethereum-based NFTs - namely, ERC-721 and ERC-1155 tokens. If you want the most obvious example, just take a look at Trezor.
Trezor is often considered to be one of the best cryptocurrency wallets on the market. It's a hardware device that allows you to store your private keys within, and ensures top-grade protection and security features.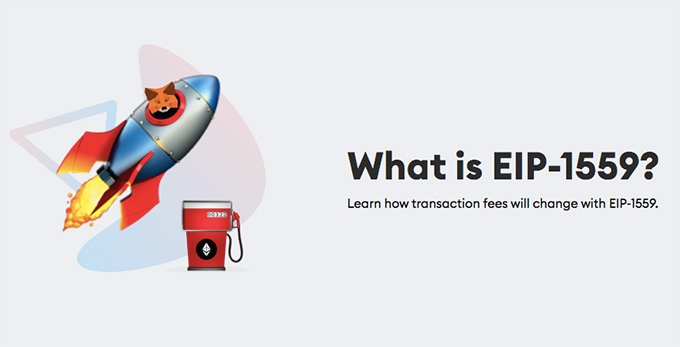 It does not support NFTs, though. Meaning, if you're not keen on holding or trading crypto coins, and are only interested in the NFT market, Trezor won't work for you.
The same is true with many "hot" wallets, as well. Many of the popular software- and extension-based wallets don't support this specific type of Ethereum tokens, and are thus, frankly, useless in that regard.
A Note on MetaMask
No matter where you'd look online while searching for the best NFT wallets, chances are that MetaMask is going to keep on popping up at the very top of the lists. It's often viewed as the best software wallet for storing your NFTs.
How much merit do these claims hold, though? Well, quite a bit, actually - with one condition.
MetaMask truly is an amazing piece of software - it supports all Ethereum-based non-fungible tokens, and allows you to view them from within the wallet interface itself. In order for it to truly be considered the best NFT wallet, though, you will need to integrate it with one of the Ledger devices.
Ledger wallets do come up on this list, so I'm not going to talk much about them here. However, it's worth emphasizing that where MetaMask falls short, Ledger comes in to save the day. Both of these wallets have perfect synergy - they're far more superior than, say, an NFT Steam wallet, or another no-name project.

In of itself, MetaMask is super-simple to both install and use. It can be accessed from your browser, or downloaded as a piece of software. The simplicity is notable due to the fact that, even if you're not a crypto enthusiast, and have never before heard about Ethereum, MetaMask will still allow you to take things slow, and learn the ropes at your own pace.
MetaMask also allows you to access a DeFi and NFT browser on your mobile device. You will be able to stay up to date with the market trends, without actually needing to have your laptop with you, or having to use a default internet browser. All of the required functionality is built into the wallet in question!
The best part here is that MetaMask is supported by the absolute majority of different NFT marketplaces. More than that, it's actually the main wallet that these marketplaces are going to recommend you'd use!
That one area where MetaMask lacks, though, is security. This isn't all that surprising, though, seeing as it's a "hot wallet" - software- and browser-based wallets will never surpass hardware products, security-wise. With MetaMask, though, this issue is even more prominent.
A single search for MetaMask on your app store will likely reveal an extensive list of different fake apps. Truth be told, out of all of the different software wallets on the market, MetaMask is surely among the most plagiarized ones. All of these scammy imitations are filled with keyloggers and other malware that's just waiting to steal your crypto.
Table: Some general information about MetaMask
Being Ethereum-based tokens, NFTs are no exception in this regard, either.
The undeniable popularity of MetaMask makes it a prime target for hackers and crypto scammers - that's for sure. This is why you need to be completely sure that you've downloaded the correct version of the wallet, if you plan to use it.
At the same time, since we're talking about the best NFT wallets here, MetaMask should still always be used in conjunction with one of the Ledger hardware wallet devices.
With that being analyzed and discussed, we can now turn to the actual list of the best NFT wallets on the market!
Ranks #1 out of 6 Crypto Wallets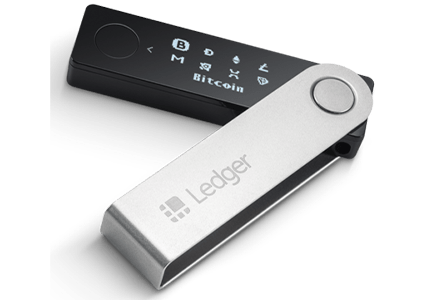 Things we liked:
+ Can be managed from mobile device
+ Very secure
+ Supports more than 1500 cryptocurrencies
+ Comfortable design
Things we didn't like:
SAVE 10%
Ledger Holiday Sale
Get top-tier security for you & your loved ones with this Ledger Holiday Deal. Save 10% while you're at it!
Expiration date: 03/02/2023
3947 People Used
Only 53 Left
Ledger is a true household name in the crypto wallet industry. The company is well-known for providing its customers with reliable hardware wallets that put an emphasis on the security side of your assets. So well known, in fact, that Ledger comes up in our list of the best NFT wallets not once, but twice.
Here, though, we're going to take a look at the company's pride and joy - the Ledger Nano X hardware cryptocurrency wallet.
The Nano X is a very well-rounded crypto wallet. It offers users unparalleled security features, together with some innovative design aspects for the wallet itself. It resembles a USB drive stick, and will thus remain inconspicuous even if you were to take it out in public.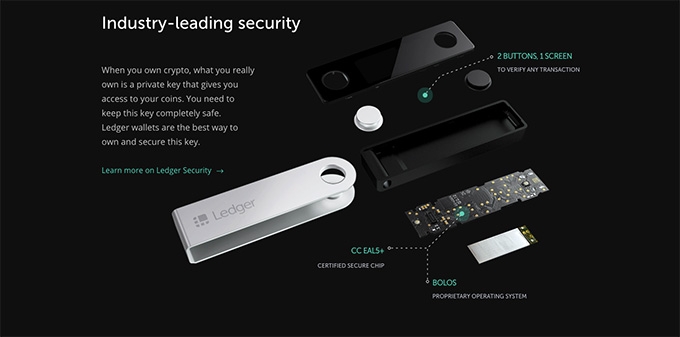 Following that, the Nano X features two-button functionality, and supports Bluetooth connections. That's massive! It means that you won't need to carry a cable around with you, in order to sync your wallet with the Ledger Live app on your phone or computer.
Speaking of which… While Ledger Live is an astonishing interface to be observed and admired, it doesn't support NFTs. Meaning, you won't be able to observe your non-fungible tokens within the UI - this is actually where MetaMask comes in, too.
Table: The connectivity features of the Ledger Nano X
With Ledger's emphasis on security, and MetaMask's reach in the NFT industry, you have the perfect combination. This is why it's almost always advisable to use these two wallets in conjunction with one another. Doing so, your private keys will remain stored within the Nano X, while you will be able to enjoy a smooth trading and transaction experience on MetaMask. Good stuff!
Now, admittedly, the wallet does cost money - it's not a free product, unlike many of the software or browser NFT wallets out there. However, with the Nano X, you do actually receive a tangible, physical product, and pay for the huge increase in security, too.
What is the Price of the Ledger Nano X NFT Wallet?
The Ledger Nano X will cost you around $140, depending on the time that you buy the wallet, and any active promotions that might be happening. This is, naturally, a notable price tag!
However, once again - if you do truly want to find the best NFT wallet, and are serious about your NFT ventures, you won't find a more-secure and reliable option than the Nano X. Combined with MetaMask, Ledger allows users to explore the world of NFTs with peace of mind.
Ranks #2 out of 6 Crypto Wallets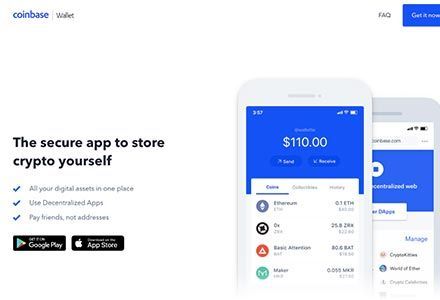 Things we liked:
+ Easy to use
+ Free to register and keep crypto coins in
+ Decent fees
+ Supports most of the main cryptocurrencies
+ Top-notch security
Things we didn't like:
- Small number of supported cryptocurrencies
- A "hosted" wallet - constant connection to the internet is maintained
$5 BTC BONUS
For New Verified Coinbase Users
Receive your $5 bonus in BTC when you sign up for a new Coinbase account & complete all photo verification steps. Follow this Coinbase referral link to activate the deal!
Expiration date: 03/02/2023
4989 People Used
Only 11 Left
Coinbase is a very well-known name within the crypto industry. Primarily, people associate this name with the cryptocurrency exchange platform - however, there's also a wallet of the same name, too.
A major benefit of the Coinbase wallet is just the fact that it's part of a larger crypto exchange ecosystem. While dealing with NFTs, you might want to spread your area of expertise, and acquire some alternative coins or tokens. Coinbase makes this very easy to achieve.
Another huge factor is reliability. Whenever you're searching for the best NFT wallets, chances are that you'd always want to end up with a reliable and trustworthy product, instead of a shady and questionable one. Well, with Coinbase being as trustworthy and recognizable as it is, this isn't going to be an issue, whatsoever.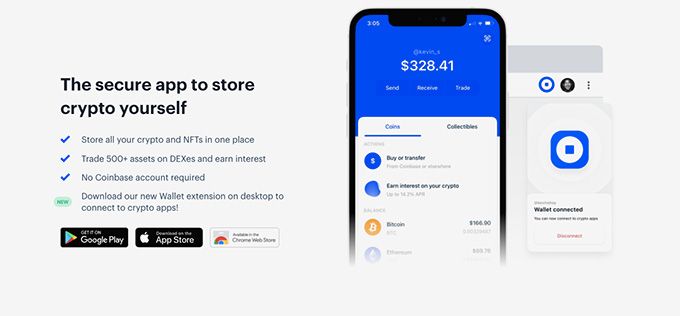 It's actually a much more important factor than you might initially imagine, too. While you might have heard about the NFT Steam wallet for gaming assets, or some shady third-party software that no one seems to have used, it probably doesn't inspire much confidence within you, either.
User reviews found online will also tell you that the Coinbase wallet is very simple to use, too. This is fantastic for anyone who's just starting out with NFTs, and has no prior knowledge of crypto-related subjects.
Admittedly, in this regard, the Coinbase wallet follows its exchange counterpart. By positioning their marketing as being the newbie entryway into the world of crypto, the company behind the products has a reputation to uphold. It would seem that they are able to do it rather effectively.
It's also worth mentioning that the wallet in question isn't only one of the best NFT wallets, but is also often regarded as being a top-tier cryptocurrency wallet, in general. Meaning, it allows users to store a wide variety of different coins, not just Ethereum and its tokens.
Table: Information about the company behind the Coinbase Wallet
The only issue that might arise with the Coinbase wallet is that which is very familiar to most other hot wallets on the market - security. In order for the wallet to function, it needs to maintain a constant connection to the internet. This, in turn, results in a lot of potential break-in attempts and other security risks.
Yet again, it's not an issue that's exclusive to the Coinbase wallet. Rather, all software and browser wallets share it. Some are better at dealing with it than others, though - judging by user reports, the wallet in question does possess some great security measures. That said, they are still short of those that you'd receive with a cold wallet - one that does not need that same internet connection maintained.
Ranks #3 out of 6 Crypto Wallets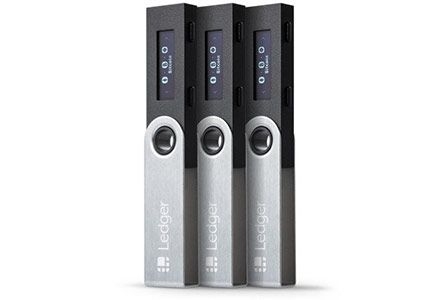 Things we liked:
+ Super secure
+ Protection against physical damage
+ Supports more than 1500 coins and tokens
Things we didn't like:
SAVE 10%
Ledger Holiday Sale
Get top-tier security for you & your loved ones with this Ledger Holiday Deal. Save 10% while you're at it!
Expiration date: 03/02/2023
3947 People Used
Only 53 Left
Update 2023: The Nano S has been discontinued and replaced by the Nano S Plus.
The Ledger Nano S is one of two Ledger products discussed in this list of the best NFT wallets. While the other wallet - the Nano X - is considered to be an industry leader, the Nano S model is a compromise between price and quality.
What does that mean, exactly? Well, the Nano S wallet was the flagship product from Ledger - the wallet that made them known in the industry! It was one of the first products of its kind, and set a high standard for hardware wallets to come.

The Ledger Nano S is a small, flash drive-like device. It's much smaller than its later counterpart, and is thus a bit more inconspicuous, too. Same as the Nano X, though, the Nano S wallet has a flippable design, and a screen showcasing all of the different information concerning your transactions.
Security-wise, both Ledger wallets are similar. You can expect top-tier performance from the Nano S - a 24-word recovery phrase, regular updates to both the device, and the Ledger Live user interface, PIN security, and more.
With it being a hardware wallet, naturally, you can expect your wallet's private keys to be stored on the actual hardware device. Apart from paper wallets, this is the most secure method of storage. As long as you have the physical wallet itself, and don't connect it to a faulty device, your crypto assets should be safe and sound.
LEDGER

Super secure
Protection against physical damage
Supports more than 1500 coins and tokens

Visit site
Read review
Table: The pros and cons of the Ledger Nano S
Evidently, though, the Ledger Nano S isn't an NFT Steam wallet - it won't display the actual NFTs. Same as with the Nano X, in order to see your tokens, you will need to connect your Nano S to MetaMask, or a similar Ethereum wallet.
Following all of that, the Ledger Nano S supports over 1800 different crypto coins and tokens. What this means is that, in addition to owning NFTs, you will also be able to own and store different crypto coins, too - if you decide to get into cryptocurrencies, you won't need to buy or use a separate wallet!
What is the Price of the Ledger Nano S NFT Wallet?
If you like what Ledger has to offer, and have decided to purchase the Ledger Nano S hardware wallet, it will cost you around $70. It's a considerably more-affordable option than the Nano X, however, it's also an older model, too.
Having said that, if you're searching for the best NFT wallet, Ledger is that one brand that you can't go wrong with. No matter if you decide to purchase the Nano S or the Nano X model, you can be sure that you'll receive only the top-tier security and functionality features! As long as you combine the hardware wallet security with MetaMask's UI, you should be golden!

Did you know?
Ranks #4 out of 6 Crypto Wallets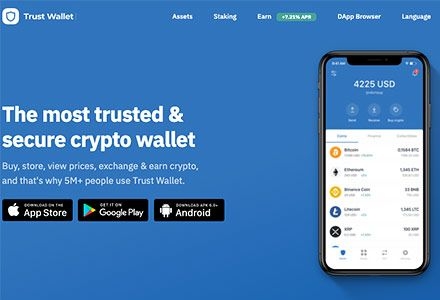 Things we liked:
+ Good security measurements
+ Multi-crypto wallet
+ Suitable for beginners
+ Good reputation
Things we didn't like:
- No 2-factor authentication
Wondering does Trust Wallet work with NFTs? Well, the answer is yes - it definitely does.
Trust Wallet was acquired by Binance, and is now being managed and developed by the company. For the uninitiated, Binance is one of the top cryptocurrency exchanges in the world - it's up there with the likes of KuCoin and Kraken.
One of the best features of the Trust Wallet is that it's a very beginner-friendly platform. Unlike some of the more-complicated wallets out there, Trust Wallet is going to be suitable for all beginner NFT collectors. Even if you have no prior knowledge regarding crypto, you needn't worry - with a sleek UI and lack of confusing jargon, the wallet in question should make things approachable and easy.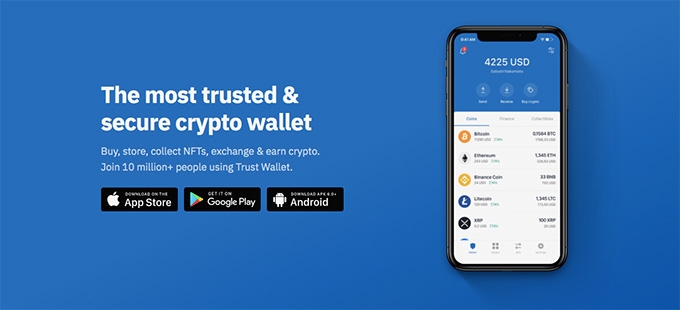 To add to that, the owned-by-Binance fact isn't anything to dismiss lightly, either. With Binance being as prominent within the industry as it is, there's a certain sense of trustworthiness (no pun intended) surrounding the company and its services - this extends to Trust Wallet, too.
Reliability is a highly-valued concept within the crypto world. While decentralization stands as the core pillar of the industry, it can also attract a lot of scammers and other malicious agents, too - if you know the company behind your trading and crypto asset storing activities, it can provide strong peace of mind.
The Trust Wallet is trusted by millions of users all around the world. It's generally considered to be a safe NFT and crypto coin storing tool - that's great!
The wallet in question does also possess a built-in browser for various DeFi ventures that you might be interested in. You can access OpenSea and other different NFT-related platforms from within, not needing to use a separate device.
Table: The supported cryptocurrencies of the Trust Wallet
Furthermore, the Trust Wallet supports a variety of different tokens. While being one of the best NFT wallets is great enough, you will also be able to store different coins and other assets, and keep them in the same place. While this isn't always the recommended way of going about it, it's still great to know that it's an option available!
Note, however, that the Trust Wallet is only available on mobile devices. You won't be able to use it on your browser, or as a piece of software on your PC or laptop.
Ranks #5 out of 6 Crypto Wallets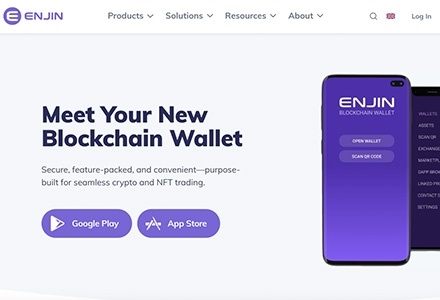 Things we liked:
+ Very simple to use
+ Full NFT support
+ Has an established reputation within the industry
+ Free to use
Things we didn't like:
- Is mostly exclusive to Bitcoin, Ethereum, and ETH-based tokens
- Only a mobile app available
Having discussed some of the best NFT wallets available, and you've having learned everything from the differences between the two Ledger wallets, all the way to does the Trust Wallet work with NFTs, there are some honorable picks worth mentioning.
Enjin is an NFT wallet that's often thought to be one of the best options for gamers. It's an Ethereum-exclusive wallet, so if you're looking for the best NFT wallet for alternative blockchains, it might not actually work for you.
That being said, users of Enjin tend to praise its UI. It's intuitive, and designed with NFTs in mind. There's a separate dashboard that allows you to trade non-fungible tokens from within the wallet itself, adding to the convenience factor.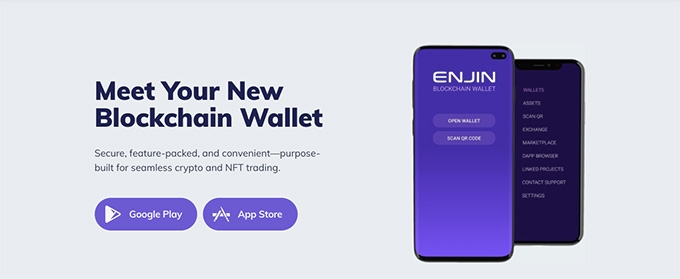 Naturally, you can store different ERC-20 tokens on Enjin, as well. It's a secure wallet, at least as far as app-based wallets are concerned.
That being said, this is probably one of the biggest deterring factors of Enjin, as well - it's exclusive to mobile devices. You won't be able to download and use the wallet on your laptop or PC. While there are many NFT wallets like this out there, on the market, not having the option is still a noteworthy quirk!
Ranks #6 out of 6 Crypto Wallets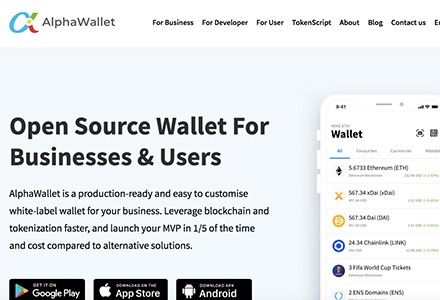 Things we liked:
+ Free to use
+ An open-source wallet
+ Customizable
+ Beginner-friendly
Things we didn't like:
- Only a mobile app available
- Lacks some features
Alpha Wallet is in the same boat as Enjin - it's a mobile-exclusive NFT wallet, and it only works with dApps that are native to the Ethereum blockchain. This does automatically limit the number of people who might find this wallet to be useful, in their specific situations.
That being said, though, if this isn't an issue for you, then Alpha Wallet does definitely deserve to be mentioned among the best NFT wallets! It comes equipped with a variety of notable features, all of which are going to be quite handy and useful to any NFT enthusiast out there.
A unique feature of the wallet in question is the fact that it's open-source. What this means is that anyone can view the source code of the platform, and make sure that there are no potential issues involved, and that it's completely safe.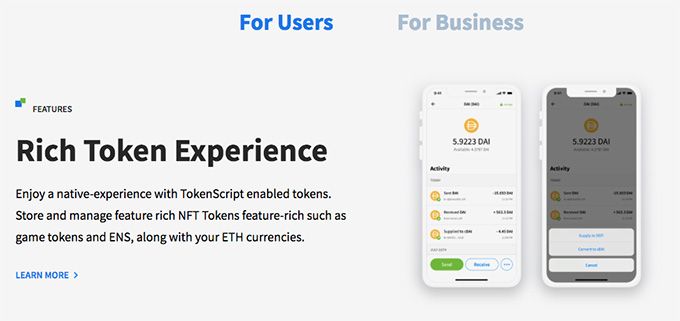 To add to that, if you're a developer yourself, you can even join in on the creation and adjustments of the code of the Alpha Wallet. That's rare! It's especially useful in regards to feature integrations - if you see that the project lacks some specific features, you can work on them, and they might be added!
The Alpha Wallet is also very user-friendly, and allows beginners to not get lost in the plethora of different industry-specific jargon and difficult functionality. While it may not be as popular or widely-used as the rest of the best NFT wallet options on this list, it still deserves being mentioned, nonetheless!
Conclusions
NFTs are an awesome and exciting concept, but in order for you to be able to enjoy them with peace of mind, you NEED to possess a reliable, high-end wallet where you could both store them in, and also protect Ether that you'd use to buy the NFTs, too.
Concluding our list of the best NFT wallets, I'd just like to point out that, all things considered, the combination of MetaMask and one of the Ledger devices is bound to provide you with the best possible experience, in regards to security and UI design.
Table: The best combination for NFT storage - the Ledger Nano X, and MetaMask
Sure, in order to possess a Ledger wallet, you'll need to pay some money for it. However, you really can't put a price tag on the industry-leading security features that Ledger provides - look at it as an investment, and one that will keep your NFTs safe and sound!
All of that being said, thank you for reading my list of the best NFT wallets! Good luck, and until next time!
The content published on this website is not aimed to give any kind of financial, investment, trading, or any other form of advice. BitDegree.org does not endorse or suggest you to buy, sell or hold any kind of cryptocurrency. Before making financial investment decisions, do consult your financial advisor.
Leave your honest Best NFT Wallet review
Leave your genuine opinion & help thousands of people to choose the best crypto wallet. All reviews, either positive or negative, are accepted as long as they're honest. We do not publish biased reviews or spam. So if you want to share your experience, opinion or give advice - the scene is yours!
TOP3 Most Popular Coupon Codes