The world of cryptocurrencies is truly an interesting one. Ever since the inception of Bitcoin, there have been various peculiar projects popping up, here and there. One of the most unique of these projects is Dogecoin - if you're a DOGE enthusiast, you'll be glad to know that, in this list, we'll be looking for the best Dogecoin wallet of the year!
Being as unique as it is, you would expect Dogecoin to have some… Well, less-than-ordinary storing options. However, the truth is actually quite the contrary - DOGE is a widely beloved cryptocurrency, and thus, some of the best crypto wallets on the market offer support for the coin!
Our list today will look like this:
Best Dogecoin Wallets: What is Dogecoin?
Before we get into the ins and outs of the best Dogecoin wallets, it's a good idea to have a quick refresher of just what DOGE actually is, and what about the project attracts people to it.
Now, truth be told, Dogecoin is unique - I do not use that word lightly. While most other cryptocurrency projects have some specific, high-end goals that they aim to accomplish (or some specified problems that they aim to solve), DOGE is different. Very different, in fact.
Dogecoin was created as a joke cryptocurrency. Hence its name, hence the reputation behind it. There are no noble causes that the community behind DOGE would be interested in - for a lack of a better term, it's a "troll cryptocurrency".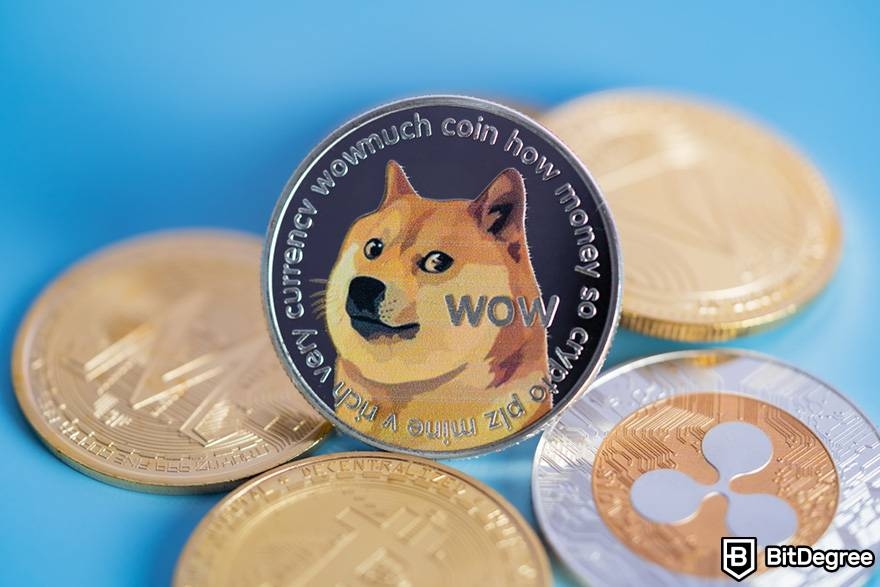 That being the case, though, why do so many people look for Dogecoin wallets, and for ways of how to buy DOGE?
You see, while the cryptocurrency is a joke (literally), there's a pretty interesting dichotomy here. The Dogecoin community is one of the most active and, well… Communicative crypto groups that you'll come across!
On top of that, them being active isn't just a gimmick, either. DOGE enthusiasts participate in fundraiser events, community projects, and various charitable acts. While I risk overusing the phrase, it cannot be overstated - it's a very unique phenomenon in the crypto world!
Besides, Dogecoin popularity is strongly tied to Elon Musk, who is the CEO of SpaceX, Tesla, and Twitter. For starters, his tweet was the reason why Dogecoin price and popularity surged so quickly in 2021.
However, it didn't stop here. On April 3rd, 2023, Elon Musk changed the blue bird logo of Twitter to the Shiba Inu meme associated with Dogecoin. This change was a callback to Twitter user's suggestion that Musk should buy Twitter and alter the logo to resemble DOGE (which he did). Even though he changed the logo back a few days later, this again made the Dogecoin price rise.
Note, however, that since Doge is such a peculiar crypto project, it does come with some cautionary tales. The coin is beloved by pump-and-dumpers - people who love to manipulate the market, artificially inflate the price of a specific cryptocurrency, and then dump all of their coins, thus crashing their price exponentially.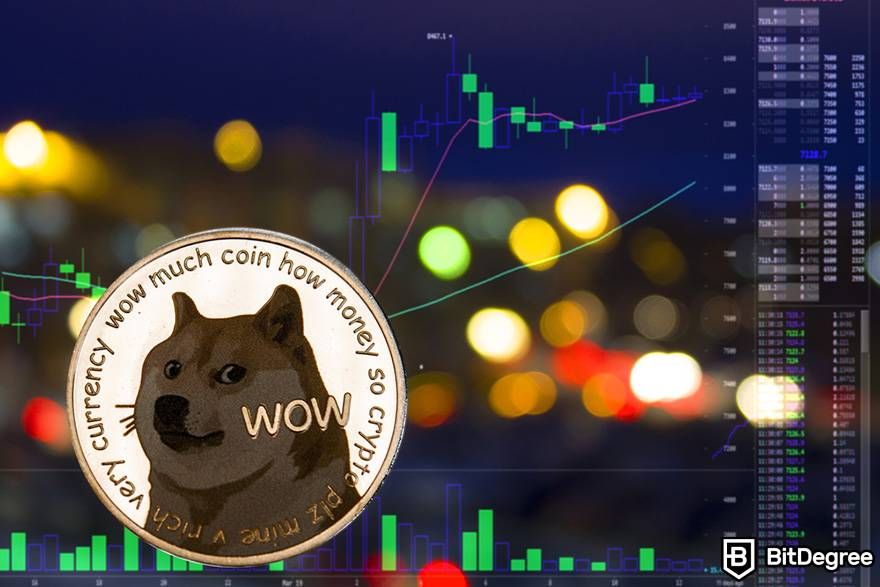 Make sure to not fall prey to such foul players! Your best bet is to set a specific goal of why you'd want to invest in Dogecoin, and then utilize the services of the best Dogecoin wallets out there. Don't let any third parties influence your opinions - do your research, and be diligent!
Additionally, if you're wondering how to buy Dogecoin, you best bet is going to a cryptocurrency exchange that supports it and simply purchasing it. For example, you could go to Binance, where you can even buy Dogecoin using fiat!
Though, do keep in mind that you can also mine Dogecoin, similarly to how you can mine Bitcoin. However, while Bitcoin uses the SHA-256 mining algorthm, Dogecoin relies on the Scrypt mining algorithm.
So, then - we've established what Dogecoin is, and what the cryptocurrency behind it is mainly used for. Naturally, however, anyone looking to buy or mine some DOGE is going to need a reliable wallet to keep the coins in! That's exactly what we're here to discuss - let's begin by taking a look at the different types of Dogecoin wallets that are out there.

Did you know?
Types of Dogecoin Wallets
Same as many other cryptocurrencies on the market, Dogecoin can be stored in a wide selection of different wallets - we've established that already. However, as you can probably guess, not all wallets are created equal - some are going to be better than others, whether it be from the standpoint of security, or simply personal user preference.
In general, you should know that there are two big types of wallets available to be accessed and utilized - hot and cold ones. Let's explore what these terms mean, specifically, so that when we get to listing the actual best Dogecoin wallets, you'd be aware of what it is that we're talking about.
Hot Wallets - Conveniant and Accessible
A "hot wallet" is a type of cryptocurrency wallet that maintains a constant connection to the internet. The definition itself is pretty broad, and so is the category - a hot wallet could be a mobile app, a browser extension, downloadable software, or anything in between.
The vast majority of crypto enthusiasts that you're bound to communicate with will likely tell you that they're using a hot wallet for their crypto - including DOGE - storing needs. That's because of the wide range of these wallets available - as you'll see in just a minute, cold storage has a much less varied selection of options.
Now, then - what makes hot wallets so popular?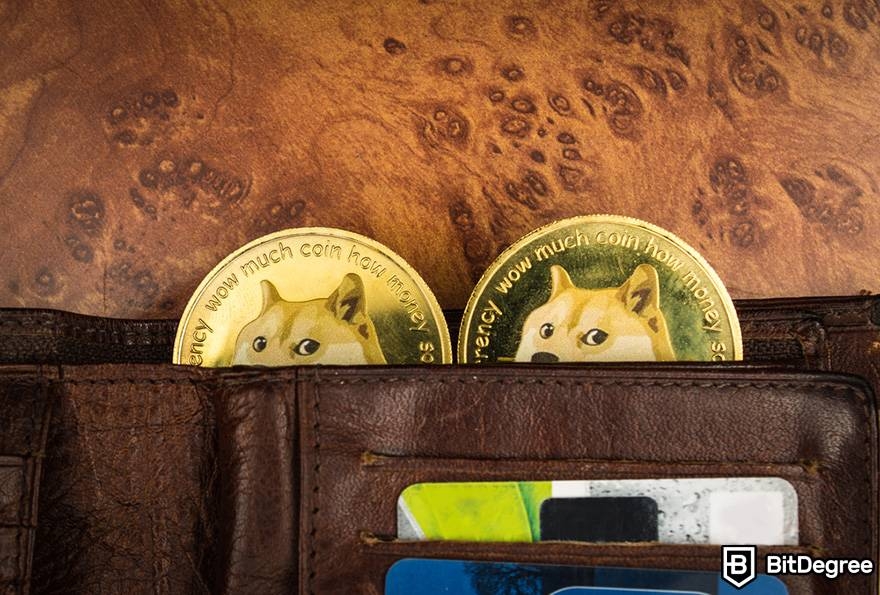 Well, no matter if you're looking for the best wallet for Dogecoin or any other cryptocurrency, probably the first thing that you'll notice is the accessibility and convenience factors of these wallets. Quite frankly, hot wallets are readily available for everyone and anyone!
What I mean by that is that hot wallets are usually completely free to use, and can be set up in a matter of minutes. Whether it's an exchange-based wallet or a software one, they are usually accompanied by clear and concise instructions, and are super-simple to start using.
Convenience-wise, if you choose a hot wallet as your options for the best Dogecoin wallet of the year, you can be sure that you'll be able to access your funds, check your balances, and make 'send' and 'receive' orders in just a push of a button! This is especially true with mobile Dogecoin wallets - since we have our phones with us everywhere we go, you'll always have your DOGE with you!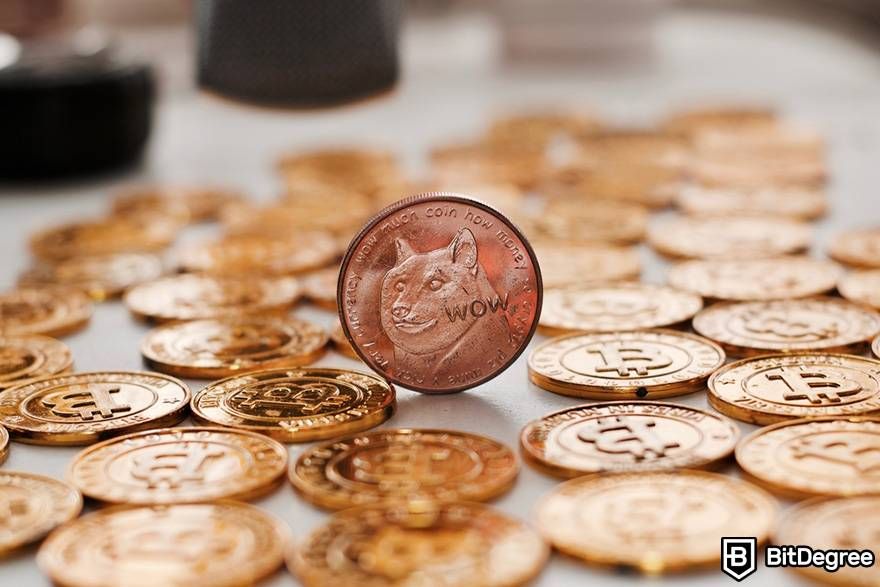 Hot wallets do come with a trade-off, though. In short, they will never be as secure as cold cryptocurrency storage - that's simply the way it is. It all boils down to the entire "connected to the internet" thing - with a constant web connection, hackers have a lot of opportunities to breach the security of a hot wallet, and steal your funds in the process.
Naturally, this isn't an all-that-common occurrence nowadays, but it does still happen. That said, though, this is exactly where cold wallets come in.
Cold Wallets - Security and Reliability
Cold wallets are those crypto storage options that do not have a constant connection to the internet - after the hot wallet definition, you probably saw this one coming.
It's true, though - the only time when you would connect your cold wallet to the web is when you want to transfer your funds, or purchase some more crypto.
LEDGER NANO X
TREZOR MODEL T

Overall level of security & safety of your assests offered by a certain crypto wallet.

Whether the crypto wallet requires two-factor authentication as an extra layer of security when completing an action.

Whether the crypto wallet requires multiple keys to authorize a transaction as an extra layer of security.

Whether the crypto wallet requires a Pin code as an extra layer of security when completing an action.

The general anonimity level of your data.

What kind of methods of recovering your cryptocurrency assets in case you lose your wallet or forget your primary password does the wallet offer.

24-word Recovery Phrase or Nano S Plus
12-24 letter and number code

Who owns your private keys.

You
You

The level of control you have on the crypto wallet.

Visit site
Read review
See TOP10 Brands
Read review
Table: The security features of the Ledger Nano X and the Trezor Model T
Now, when looking for the best Dogecoin wallet, you can definitely expect cold wallets to pop up quite frequently. That is actually the case with most other cryptocurrencies, too - no matter what the coin might be, if a cold wallet supports it, it's going to be recommended.
You see, cold wallets offer users unprecedented security features. Whether it's a hardware device, a paper wallet, or anything else, cold wallets are bound to provide you with the "best bang for your buck".
Speaking of which…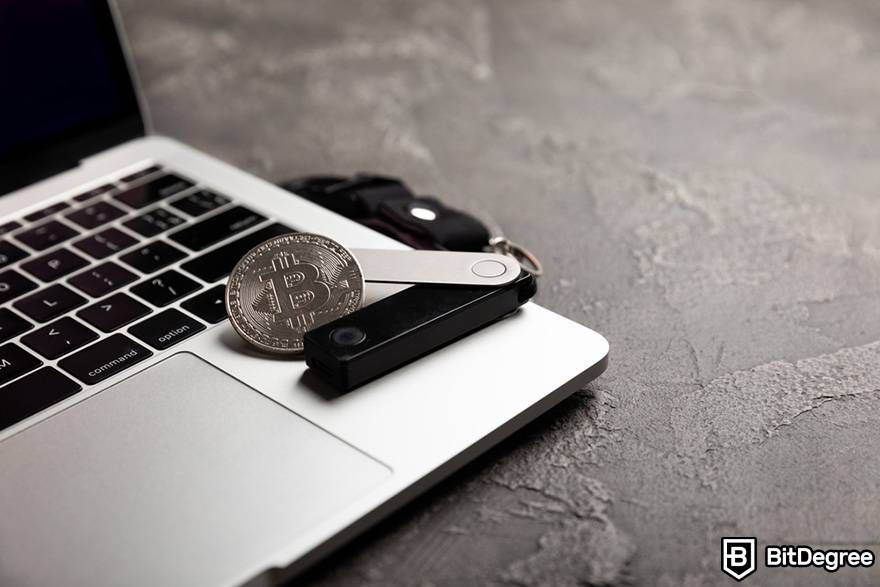 One of the main things that dissuade people from utilizing cold wallets is the price that these devices come with. It isn't something that you'd need to worry about as far as paper wallets go, but at the same time, these are the most-niche cold storage options, so they aren't too relevant to this discussion.
Apart from the price tag, the only other reason why some people might prefer an online Dogecoin wallet over a cold one is due to the steep learning curve that comes with some hardware devices. If DOGE is the first cryptocurrency that you own, it can be difficult to figure out some of the intricacies of certain hardware wallets. Definitely not all of them, mind you!
With that being said, at this point, you should now know a bit more about hot and cold wallets, and the main differences between them. Without further ado, let's move on to discussing the best Dogecoin wallets on the market, and seeing how they compare with one another!