The world of cryptocurrencies is truly an interesting one. Ever since the inception of Bitcoin, there have been various peculiar projects popping up, here and there. One of the most unique of these projects is Dogecoin - if you're a DOGE enthusiast, you'll be glad to know that, in this list, we'll be looking for the best Dogecoin wallet of the year!
Being as unique as it is, you would expect Dogecoin to have some… Well, less-than-ordinary storing options. However, the truth is actually quite the contrary - DOGE is a widely beloved cryptocurrency, and thus, some of the best crypto wallets on the market offer support for the coin!
Our list today will look like this:
Best Dogecoin Wallets: What is Dogecoin?
Before we get into the ins and outs of the best Dogecoin wallets, it's a good idea to have a quick refresher of just what DOGE actually is, and what about the project attracts people to it.
Now, truth be told, Dogecoin is unique - I do not use that word lightly. While most other cryptocurrency projects have some specific, high-end goals that they aim to accomplish (or some specified problems that they aim to solve), DOGE is different. Very different, in fact.
Dogecoin was created as a joke cryptocurrency. Hence its name, hence the reputation behind it. There are no noble causes that the community behind DOGE would be interested in - for a lack of a better term, it's a "troll cryptocurrency".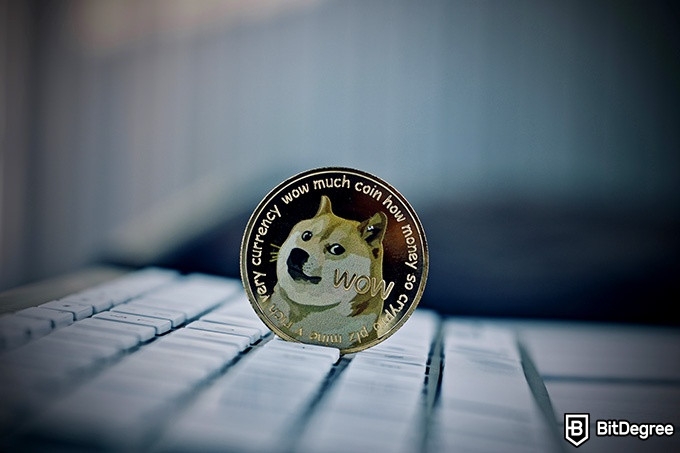 That being the case, though, why do so many people look for Dogecoin wallets, and for ways of how to buy DOGE?
You see, while the cryptocurrency is a joke (literally), there's a pretty interesting dichotomy here. The Dogecoin community is one of the most active and, well… Communicative crypto groups that you'll come across!
On top of that, them being active isn't just a gimmick, either. DOGE enthusiasts participate in fundraiser events, community projects, and various charitable acts. While I risk overusing the phrase, it cannot be overstated - it's a very unique phenomenon in the crypto world!
Note, however, that since Doge is such a peculiar crypto project, it does come with some cautionary tales. The coin is beloved by pump-and-dumpers - people who love to manipulate the market, artificially inflate the price of a specific cryptocurrency, and then dump all of their coins, thus crashing their price exponentially.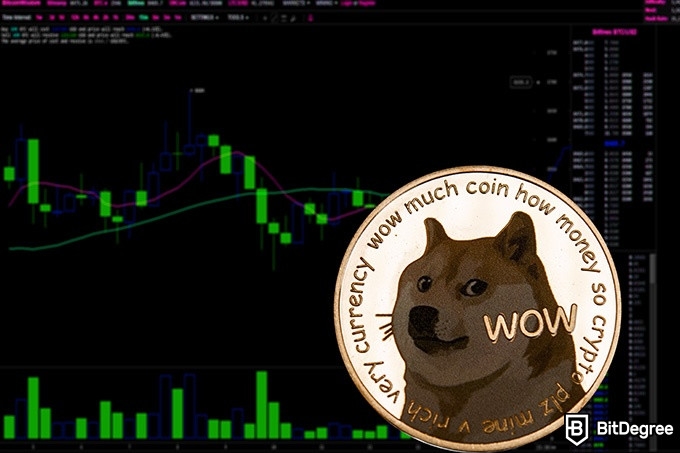 Make sure to not fall prey to such foul players! Your best bet is to set a specific goal of why you'd want to invest in Dogecoin, and then utilize the services of the best Dogecoin wallets out there. Don't let any third parties influence your opinions - do your research, and be diligent!
So, then - we've established what Dogecoin is, and what the cryptocurrency behind it is mainly used for. Naturally, however, anyone looking to buy some DOGE is going to need a reliable wallet to keep the coins in! That's exactly what we're here to discuss - let's begin by taking a look at the different types of Dogecoin wallets that are out there.
Types of Dogecoin Wallets
Same as many other cryptocurrencies on the market, Dogecoin can be stored in a wide selection of different wallets - we've established that already. However, as you can probably guess, not all wallets are created equal - some are going to be better than others, whether it be from the standpoint of security, or simply personal user preference.
In general, you should know that there are two big types of wallets available to be accessed and utilized - hot and cold ones. Let's explore what these terms mean, specifically, so that when we get to listing the actual best Dogecoin wallets, you'd be aware of what it is that we're talking about.
Hot Wallets - Conveniant and Accessible
A "hot wallet" is a type of cryptocurrency wallet that maintains a constant connection to the internet. The definition itself is pretty broad, and so is the category - a hot wallet could be a mobile app, a browser extension, downloadable software, or anything in between.
The vast majority of crypto enthusiasts that you're bound to communicate with will likely tell you that they're using a hot wallet for their crypto - including DOGE - storing needs. That's because of the wide range of these wallets available - as you'll see in just a minute, cold storage has a much less varied selection of options.
Now, then - what makes hot wallets so popular?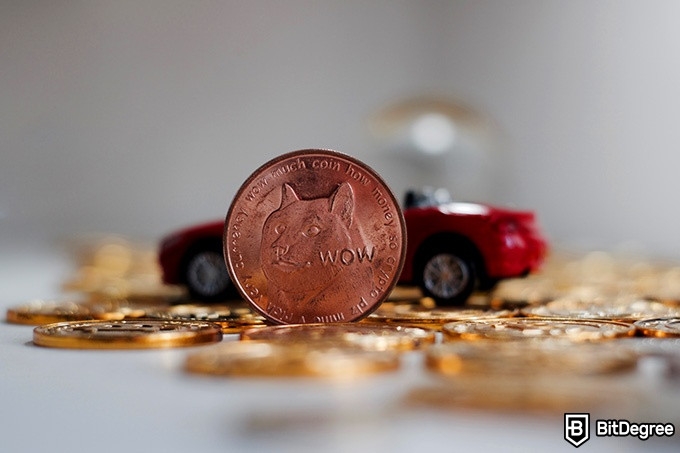 Well, no matter if you're looking for the best wallet for Dogecoin or any other cryptocurrency, probably the first thing that you'll notice is the accessibility and convenience factors of these wallets. Quite frankly, hot wallets are readily available for everyone and anyone!
What I mean by that is that hot wallets are usually completely free to use, and can be set up in a matter of minutes. Whether it's an exchange-based wallet or a software one, they are usually accompanied by clear and concise instructions, and are super-simple to start using.
Convenience-wise, if you choose a hot wallet as your options for the best Dogecoin wallet of the year, you can be sure that you'll be able to access your funds, check your balances, and make 'send' and 'receive' orders in just a push of a button! This is especially true with mobile Dogecoin wallets - since we have our phones with us everywhere we go, you'll always have your DOGE with you!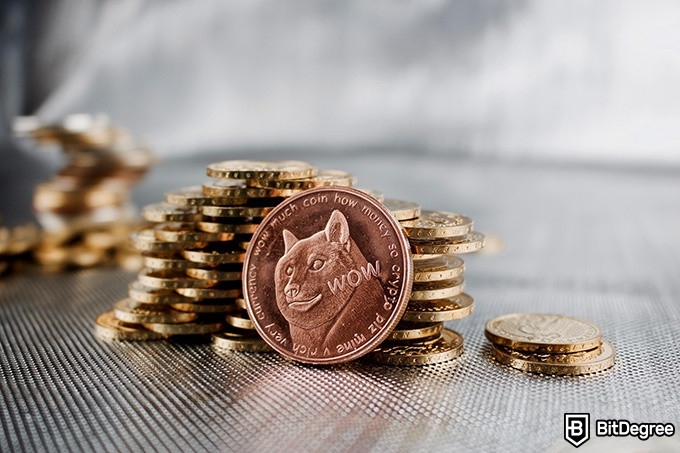 Hot wallets do come with a trade-off, though. In short, they will never be as secure as cold cryptocurrency storage - that's simply the way it is. It all boils down to the entire "connected to the internet" thing - with a constant web connection, hackers have a lot of opportunities to breach the security of a hot wallet, and steal your funds in the process.
Naturally, this isn't an all-that-common occurrence nowadays, but it does still happen. That said, though, this is exactly where cold wallets come in.
Cold Wallets - Security and Reliability
Cold wallets are those crypto storage options that do not have a constant connection to the internet - after the hot wallet definition, you probably saw this one coming.
It's true, though - the only time when you would connect your cold wallet to the web is when you want to transfer your funds, or purchase some more crypto.
Table: The security features of the Ledger Nano X and the Trezor Model T
Now, when looking for the best Dogecoin wallet, you can definitely expect cold wallets to pop up quite frequently. That is actually the case with most other cryptocurrencies, too - no matter what the coin might be, if a cold wallet supports it, it's going to be recommended.
You see, cold wallets offer users unprecedented security features. Whether it's a hardware device, a paper wallet, or anything else, cold wallets are bound to provide you with the "best bang for your buck".
Speaking of which…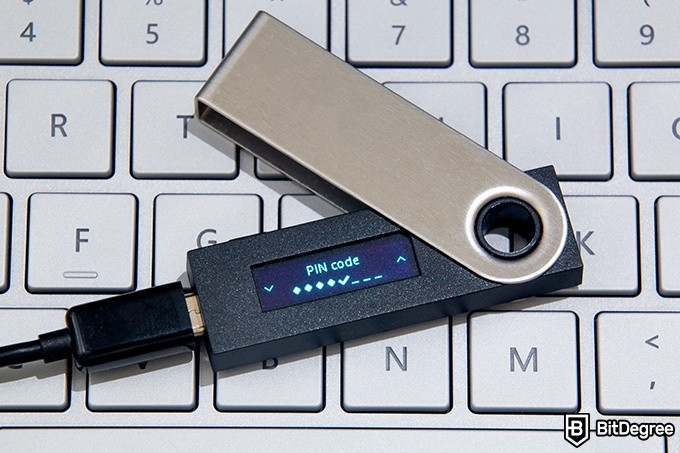 One of the main things that dissuade people from utilizing cold wallets is the price that these devices come with. It isn't something that you'd need to worry about as far as paper wallets go, but at the same time, these are the most-niche cold storage options, so they aren't too relevant to this discussion.
Apart from the price tag, the only other reason why some people might prefer an online Dogecoin wallet over a cold one is due to the steep learning curve that comes with some hardware devices. If DOGE is the first cryptocurrency that you own, it can be difficult to figure out some of the intricacies of certain hardware wallets. Definitely not all of them, mind you!
With that being said, at this point, you should now know a bit more about hot and cold wallets, and the main differences between them. Without further ado, let's move on to discussing the best Dogecoin wallets on the market, and seeing how they compare with one another!
Ranks #1 out of 7 Crypto Wallets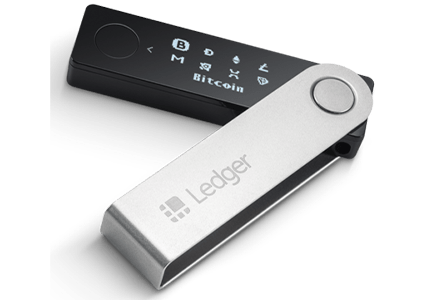 Things we liked:
+ Can be managed from mobile device
+ Very secure
+ Supports more than 1500 cryptocurrencies
+ Comfortable design
Things we didn't like:
SAVE 10%
Ledger Holiday Sale
Get top-tier security for you & your loved ones with this Ledger Holiday Deal. Save 10% while you're at it!
Expiration date: 30/01/2023
3947 People Used
Only 53 Left
The Ledger Nano X is one of the most popular cold wallets on the market. One could actually go as far as to argue that it is THE most popular cold wallet - this is true both as it concerns Dogecoin, and other cryptos, as well.
There are quite a few aspects that attribute to this, too.
For starters, if you're looking for the best Dogecoin wallet, you're probably concerned with the security of your DOGE coins, right? Well, if that's the case, then the Nano X is a perfect choice! It offers unprecedented levels of security.
As you set up your Nano X, you'll be prompted to create a PIN code that you'll have to enter every time you want to access your digital assets. This is accompanied by a 24-word recovery seed - if you forget your PIN at some point in time, you'll still be able to recover your Dogecoins with this seed!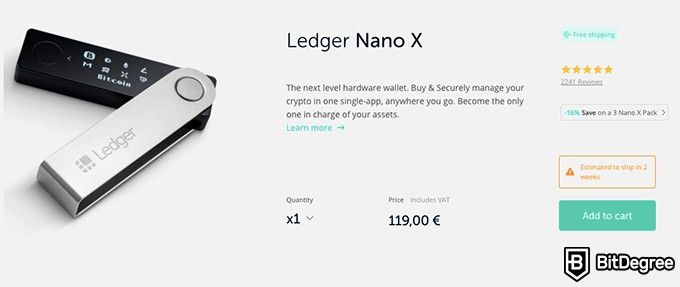 Ledger does not hold your private keys - another huge point worth considering whilst picking out the best wallet for Dogecoin. What this means is that the wallet is non-custodial - your coins truly belong to you!
Dogecoin is also supported by Ledger Live - the user interface of the Ledger Nano X. It's a very well-designed UI that helps you manage your coins and tokens, and also send, receive, and even stake some assets with ease, too.
As far as the wallet itself is concerned, it's truly well-made, and features a sturdy, durable design. While some people might deem it to be a bit too bulky for their liking, it's not really an issue if you don't plan on carrying it around with you everywhere you go.
The Ledger Nano X will cost you around $119, and come with free shipping to most areas of the world. Admittedly, that's a hefty price tag, but it certainly does represent the quality that you receive - a small price to pay for one of the best wallets for Dogecoin! Just make sure to purchase your Nano X from the company's official website.
Ranks #2 out of 7 Crypto Wallets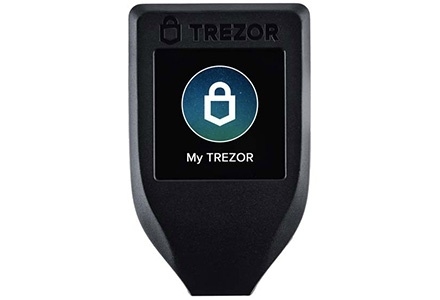 Things we liked:
+ Top-notch security
+ Touchscreen user interface
+ Easy to set up
+ Supports around 1000 crypto assets
Things we didn't like:
Trezor is one of the major cold wallet brands in the cryptocurrency world. The company's products can be constantly found on lists of the best cryptocurrency wallets - naturally, they can be considered among the best Dogecoin wallets, too!
This is especially so true with the Trezor Model T - the latest-and-greatest from Trezor.
The wallet features a few distinct aspects that any DOGE lover will surely appreciate.
For starters, the Model T is surely one of the safest cryptocurrency wallets that money can buy. It's equipped with all of the top-notch security features, and utilizes some virtually-unbreakable defenses. Back-up features, firmware update requests, PIN codes - you name it, Trezor's got it!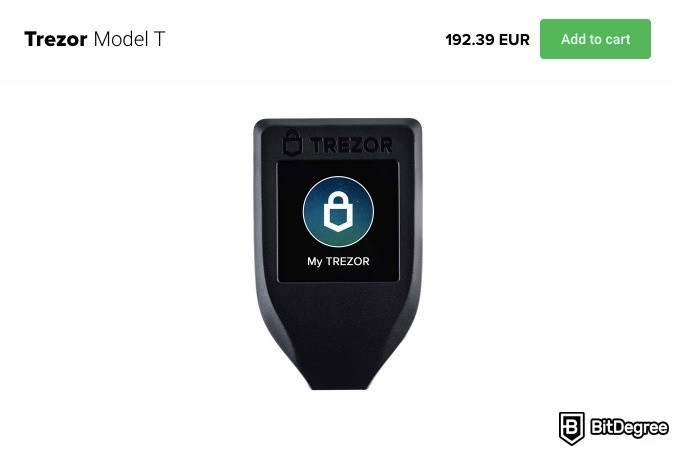 While it may not be a direct benefit for Dogecoin holders, it's worth mentioning that the Model T supports a very wide range of altcoins and crypto tokens, too. So, if you're a crypto enthusiast, in general, you might find it very conveniant, having the ability to hold most of your coins in one, single wallet.
The actual physical design of the Model T is… Well, it's a hit or miss. There is no arguing that the wallet is durable and well-made - that's obvious. It also features touchscreen functionality, which is a very rare sight to see! However, while it may be the best Dogecoin wallet, some users claim it to be too bulky for their own, personal preferences.
Pricing-wise, the Trezor Model T is actually quite expensive. It will cost you around $169, which puts it on the list of the priciest crypto wallets that money can buy, too! That said, most of the company's customers seem to agree that the price VS quality ratio does check out - that's great!
Ranks #3 out of 7 Crypto Wallets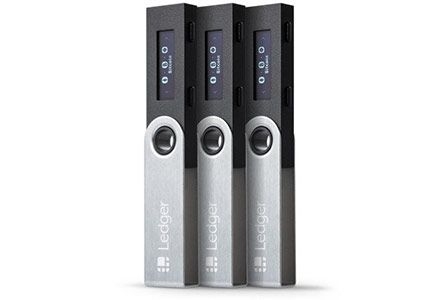 Things we liked:
+ Super secure
+ Protection against physical damage
+ Supports more than 1500 coins and tokens
Things we didn't like:
SAVE 10%
Ledger Holiday Sale
Get top-tier security for you & your loved ones with this Ledger Holiday Deal. Save 10% while you're at it!
Expiration date: 30/01/2023
3947 People Used
Only 53 Left
Quick note: Ledger Nano S has been discontinued, and replaced by an updated version called Nano S Plus.
As you may know, Ledger is a hardware cryptocurrency wallet company. While the Nano X model that it offers to the general public is the most frequent contender on the lists of the best Dogecoin wallets (this list is, admittedly, no exception), the brand does also have another wallet to offer to its customers, too - the Ledger Nano S.
The Nano S is the flagship hardware wallet from Ledger. I do often argue this point, but I genuinely believe that this particular wallet is one of the best options for people who are just starting out with crypto, and want to take things to another level. Dogecoin is no exception here.
You see, the Nano S is a perfect beginner hardware wallet. It features a small and discreet design - significantly smaller than that of the Nano X. This, in turn, means that you'll be able to carry it around without risking too much of somebody noticing and recognizing it. The fact that the hardware wallet looks like a USB stick is an added bonus!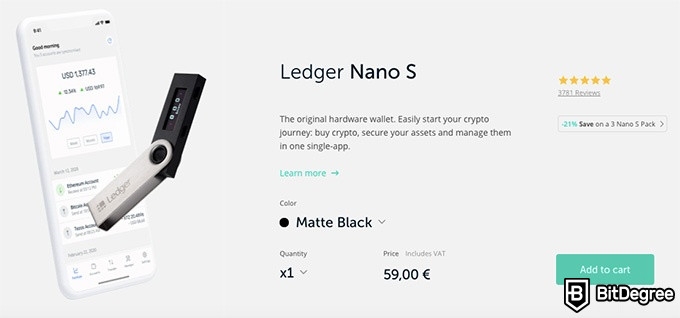 The Nano S supports Dogecoin to a full extent. You'll be able to store, send, and receive your DOGE, no questions asked. All that you need to do after purchasing and receiving your Ledger Nano S is simply set the device up, and install the Dogecoin app onto the wallet. The process is relatively quick, and pretty simple to follow through.
DOGE is also fully supported by Ledger Live - the UI of the hardware wallet in question. You'll be able to check on your Dogecoins both from a desktop or laptop computer, and also from your mobile device, no problem.
Among the best features of the Ledger Nano S is the fact that it's also a very affordable hardware wallet! Purchasing it from the company's official website (the only place you should be buying it from, mind you), it will cost you around $59 - that's an amazing price for such a high-quality product!

Did you know?
Ranks #4 out of 7 Crypto Wallets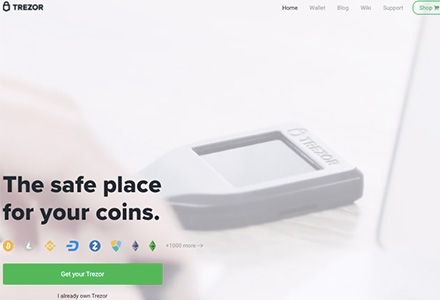 Things we liked:
+ Top-notch security
+ A very well-known crypto wallet
+ Holds a huge number of cryptocurrencies
+ Constant firmware updates
Things we didn't like:
- Pricey
- Has been subject to unauthorised access before
Trezor One is the older version of one of the leading hardware wallets in the crypto industry - the Model T. As you've likely noticed, both models have found their way on our list of the best Dogecoin wallets, too.
Now, the fact that the Trezor One is the older wallet, and there's a new-and-improved version available does not mean that it's obsolete. On the contrary - the Trezor One model still has a very specific group of crypto enthusiasts that it caters to!
For starters, in some true Trezor fashion, you can expect this option of the best wallet for Dogecoin to be very secure. It has advanced PIN code functionality which, in addition to a limited USB connection, prevents your DOGE coins from being stolen by a keylogger or some other malware that may be present on your computer.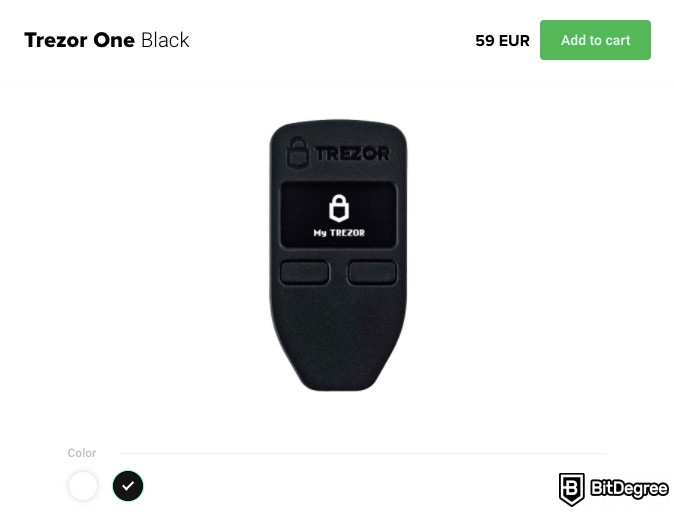 The device itself is actually quite small and thin, especially when you compare it to the newer version. That said, it's still very sturdy - all it takes is opening the box and holding the Trezor One in your own hands in order to realize this much.
The hardware wallet in question is also constantly updated by various firmware updates and features. This just goes to show that Trezor is surely hard at work when it comes to keeping your asset security up-to-date and in-line with modern technological and cryptographic trends.
Finally, the Trezor One comes with a very decent price tag, too! You can expect the wallet to cost you around $59. Compared to the Model T, this is a great price! Just make sure, as usual, to only purchase Trezor's products from the company's official website - never trust third-party retailers, since they might sell you a faulty device!
Ranks #5 out of 7 Crypto Wallets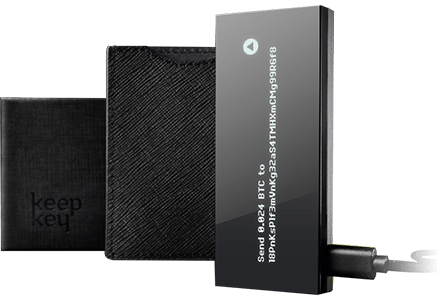 Things we liked:
+ Secure hardware wallet
+ Easy to use
+ Attractive price
Things we didn't like:
- Supports only 40 cryptocurrencies
- Can be heavy to carry around
1 Year Warranty
For Keep Key Hardware Wallet
Use this Black Friday Keep Key Coupon to get a 1 year warranty on your Keep Key wallet. Feel safe & secure about your purchase!
Expiration date: 30/01/2023
1638 People Used
Only 52 Left
KeepKey is, admittedly, a pretty common name in the hardware crypto wallet industry. While it's surely not as popular as, say, a Ledger or Trezor device, KeepKey definitely still has a pretty solid place and use case!
It is, for a fact, a cold wallet - a hardware device that you would use to store your Dogecoins in. A single glance at this list will show you that DOGE is pretty popular with cold wallets, in general - that is, however, an absolutely amazing thing!
Now, then - what's the deal with KeepKey, and why is it considered by some to be the best Dogecoin wallet?
Well, to start off, KeepKey offers its users some optimal security features. The wallet utilizes something that is known as a random PIN code generator. Frankly, it will generate a different PIN at some certain points in time, when you try to access your funds. This is an amazing preventive tool when it comes to keylogging activities and viruses that might be present on your computer.

KeepKey also allows you to set a recovery phrase - a 24-word combination that would allow you to recover your funds, were you to lose access to your device, or some other fault would occur.
The wallet itself is… Interesting-looking. It definitely features a unique design, that's for sure! However, some users express the sentiment that the device is simply too bulky. Truth be told, if you're looking for the best Dogecoin wallet, you might appreciate something that's a bit more discreet.
On the other hand, you probably aren't planning on carrying your hardware wallet around with you all the time, so this might not be an issue. Whatever the case might be, one thing's for sure - KeepKey definitely features an interesting design!
The best part, however, is that it's actually one of the most affordable hardware wallets on the market! As of writing this list of the best Dogecoin wallets, KeepKey is going to cost you around $49. That's an amazing price tag, especially for a wallet as well-made as KeepKey! Anyone looking for the best wallet for Dogecoin should surely check the product in question out.
Ranks #6 out of 7 Crypto Wallets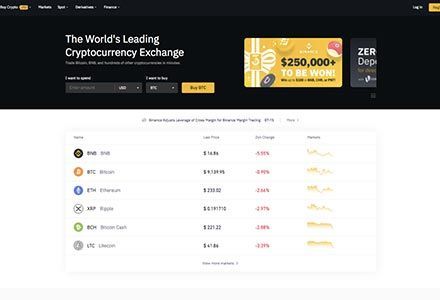 Things we liked:
+ A very well-known crypto exchange platform
+ More than 500 different cryptos available
+ Two-factor authentication
+ P2P trading option
+ Emphasis on security and KYC
+ Supports fiat-crypto acquisitions
Things we didn't like:
- Might be a bit difficult for beginners
CLAIM $600 BONUS
Exclusive $600 Binance Offer
Don't miss this limited-time deal that's only available for our readers. Follow the Binance referral code link & receive up to $600 in rewards and bonuses!!
Expiration date: 30/01/2023
7847 People Used
Only 49 Left
If you're at all familiar with the cryptocurrency world, you've probably heard about Binance. It's one of the most popular crypto exchange platforms out there!
Yup, you've read that right - a crypto exchange. However, it's an exchange that can also act as an online Dogecoin wallet. And a pretty good one, at that!
Binance is, admittedly, a hot wallet, as far as DOGE storage goes. You would keep your coins on your Binance account, which simply acts as a wallet.
Many users and DOGE hodlers are going to tell you that Dogecoin storage like this should be temporary - that you should always opt to purchase a hardware cryptocurrency wallet, and transfer your funds to it as soon as possible. Well, that is completely correct - however, storing your DOGE on Binance does have some noteworthy benefits.
These benefits are going to immediately be clear to those DOGE holders who are planning to actively trade their coins, with hopes of making a profit while doing so. If you yourself are a trader (or are striving to become one), Binance might just be the best Dogecoin wallet for you.

The exchange-wallet offers its users a huge selection of different trading pairs - those that relate to DOGE are included. You won't need to worry about not having the chance to sell or trade your Dogecoins - quite frankly, Binance offers a lot of opportunities to do so.
Furthermore, if you decide to use this particular online Dogecoin wallet, you'll be able to perform all of your trades in a matter of seconds. You see, your coins will technically be located on the exchange - if you'd want to trade them, you won't need to perform some transferring processes from one wallet to another, or simply to Binance.
Finally, it's worth acknowledging that the fact that Binance is widely considered to be one of the best cryptocurrency exchanges on the market does tell us something about the security side of the exchange, too. Frankly, it's a very safe and reliable platform - your DOGE should be secure!
If you're interested in trying Binance out for yourself, you can check it out here.
Ranks #7 out of 7 Crypto Wallets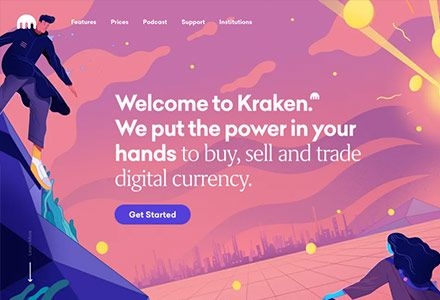 Things we liked:
+ Secure and reliable
+ Low fees
+ A good amount of fiat currencies accepted
Things we didn't like:
- Not the most helpful customer service
EARN UP TO 23%
By Staking on Kraken - Black Friday Deal
Start staking with Kraken in just a couple of clicks and automatically earn rewards twice a week. Earn up to 23% on your crypto with this Kraken Black Friday offer!
Expiration date: 30/01/2023
8766 People Used
Only 59 Left
Kraken is, primarily, a cryptocurrency exchange platform. What this means is that you can trade and exchange various cryptos on the site - DOGE is no exception.
However, Kraken can perfectly well act as an online Dogecoin wallet, in addition to being an exchange.
The way that this works is pretty simple. You have two big choices - one when you already own some Dogecoins, and another where you still don't have any DOGE, but have decided that you want to invest in it.
If you already have some Dogecoins at your disposal, depending on where they are located, you can easily transfer them to your Kraken account (assuming that you've created one, that is). Same as any other high-end cryptocurrency exchange out there, you would simply navigate to the wallet (storage) part of your account, and generate a DOGE wallet from there.
If, however, you still don't own any Dogecoins, and are looking for the best Dogecoin wallet in order to start your crypto journey on the right foot, the process is going to be even simpler. Frankly, all you need to do is register on Kraken, and then purchase some Dogecoins - they will automatically be funded into your Kraken account, and you can take it from there!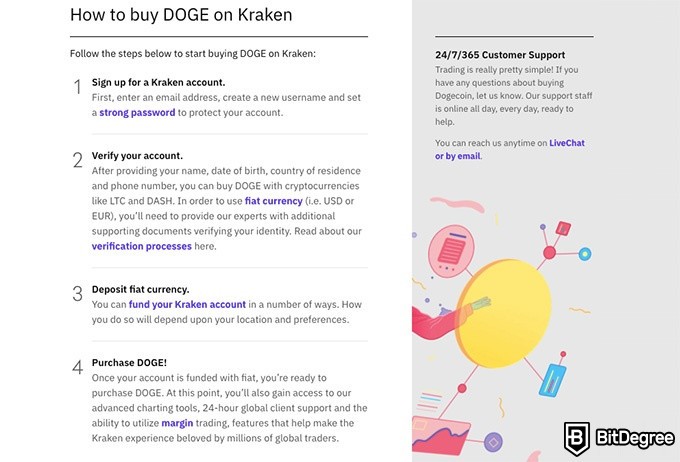 Now, we've established that Kraken is simple to use, and that you can store your Degecoins on the platform. However, we still need to discuss the question of why you would want to do it, in the first place.
You see, Kraken is all about one, single feature - security. It can easily be named one of the most secure cryptocurrency exchange sites on the market! Whether it be SSL certificates and login confirmations, or 2FA and cold storage services, you can be sure that Kraken will protect your cryptos rather adamantly.
That last part is crucial, too! Kraken stores up to 95% of its users' funds on cold storage devices - think Ledger or Trezor, but on a major, corporate level. This is absolutely fantastic, since it means that no hacker will be able to reach your Dogecoins!
If you're interested in what Kraken has to offer, and think that this particular crypto exchange platform might be the best Dogecoin wallet for you, make sure to check it out here.
Conclusions
If you've made it this far, I'd like to thank you for sticking out with me through the list of the best Dogecoin wallets of the current year!
Admittedly, as you can probably tell by yourself, the list offers little variety - cold wallets dominate it, with exchange-based DOGE storage coming in second. However, this does make sense due to a couple of reasons.
First of all, Dogecoin is rather popular - due to its popularity, many cold wallets support the coin without any issues. Granted that hardware crypto storage will always be "the way to go" as far as security is concerned, it's no wonder then that cold wallet presence is so dominant in our list above.
Table: The pros and cons of the Ledger Nano X and the Trezor Model T
Having said that, though, there's also the aspect of convenience to consider, too. Not everyone might be a long-term DOGE investor who's ready to hodl their coins for years to come. Some people might prefer to take the active trading route - in a situation like this, utilizing the services of a cold wallet might be a bit cumbersome and time-consuming.
Here, hot wallets are preferable. This is especially true with exchange-based Dogecoin wallets - they allow you to both keep your coins in a safe environment (assuming that you're utilizing the services of a top-tier crypto exchange, that is), and also trade them at any given point in time. Great!
All in all, whether it be the Ledger Nano X or Binance, I do hope that you were able to find the best Dogecoin wallet for yourself. Thank you once again for reading, and I wish you the best of luck in all of your DOGE-related adventures to come. Cheers, and until next time!
The content published on this website is not aimed to give any kind of financial, investment, trading, or any other form of advice. BitDegree.org does not endorse or suggest you to buy, sell or hold any kind of cryptocurrency. Before making financial investment decisions, do consult your financial advisor.
Leave your honest Best Dogecoin Wallet review
Leave your genuine opinion & help thousands of people to choose the best crypto wallet. All reviews, either positive or negative, are accepted as long as they're honest. We do not publish biased reviews or spam. So if you want to share your experience, opinion or give advice - the scene is yours!
TOP3 Most Popular Coupon Codes