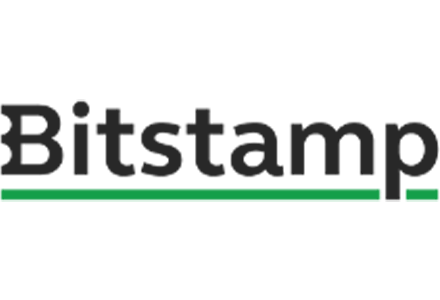 Hey there! Welcome to my Bitstamp review.
Let me guess - you're here because you've heard about cryptocurrencies, and now want to find out more about what they are and how they work? If so, you came to the right place.
To get involved with cryptocurrency, you need to buy some first. The best place to buy cryptocurrency is a crypto exchange. Crypto exchanges are platforms where users can buy and sell cryptocurrencies. There are tons of exchanges, so it's important to choose the one that works for you.
One of the more popular crypto exchanges is Bitstamp. In this Bitstamp review, I'm going to tell you everything you need to know about this exchange platform. Once you finish reading, you'll know how Bitstamp works, its fees, who it works best for and whether or not it's safe. What is more, you'll know if Bitstamp is the right exchange for you.
Some user Bitstamp reviews don't talk about the story of Bitstamp, but this one will include it. It's important to know what kind of company you're dealing with when you're trading cryptocurrencies!
So, jump in my time machine, because this Bitstamp review begins in 2011...
Pros
Helpful customer support
Fiat payments are accepted
Reliable and established
Low trading fees
Cons
Not the best option for beginners
Small number of supported cryptos
The Story of Bitstamp
In 2011, two friends, Nejc Kodric and Damijan Merlak, co-founded Bitstamp in their homeland, Slovenia. Bitstamp was one of the first platforms to compete with Mt. Gox.
In the early days of crypto trading, Mt. Gox was the biggest exchange in the business. But it also had security issues. Mt Gox was hacked in June 2011, and by 2014, it was bankrupt.
Kodric and Merlak understood the importance of safety and reliability. They knew that users wanted an exchange they could trust. Cryptocurrencies and the blockchain technology they're built on are very safe. The exchanges that trade them aren't always, though. The founders of Bitstamp wanted to put this right.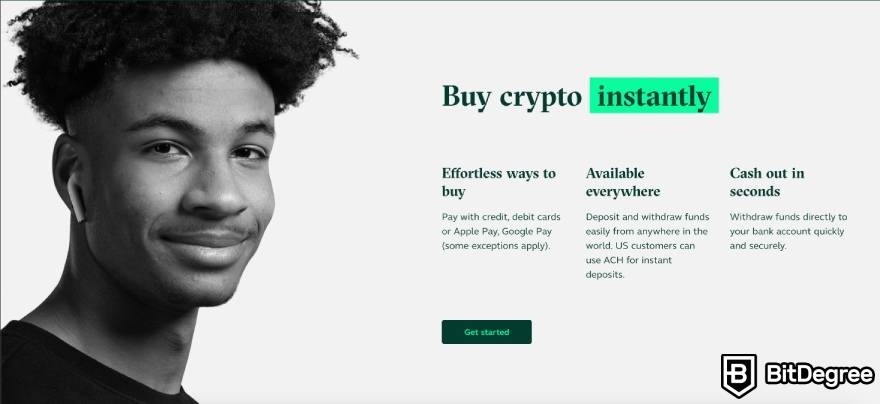 In 2013, Bitstamp moved some of its operations to London. Kodric and Merlak wanted their exchange to be in the center of European banking. However, the UK didn't have the regulations needed to guide the sale of cryptocurrency.
The pair thought that one of the big problems with crypto trading was that it wasn't regulated enough. This means that there weren't enough rules for crypto exchanges to follow. Customers trust businesses that follow the rules. So, Bitstamp looked for a country that had rules!
The former president of PayPal, David Marcus, told Bitstamp to try Luxembourg. In early 2016, Merlak and Kodric had meetings with Luxembourg's government.
By April, Bitstamp had become the world's first nationally licensed crypto exchange. This meant that Bitstamp would follow Luxembourg's financial laws. It also meant that Bitstamp was now licensed in 28 countries in the European Union. This was a huge victory for Bitstamp and for cryptocurrency.
Since then, Bitstamp has linked up with financial institutions around the world. These institutions include Swissquote, Crédit Agricole and the Chicago Mercantile Exchange. It has become one of the most well-respected and popular exchanges on the market.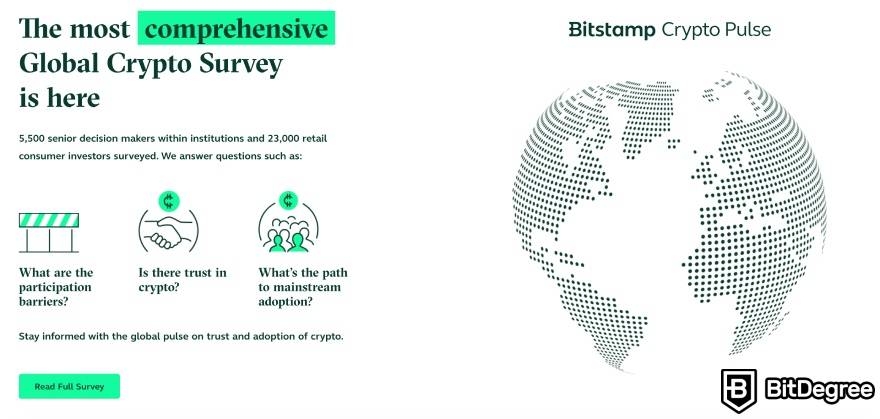 In 2023, Bitstamp was listed on the CV VC Global Report as one of the best-performing blockchain projects in the world, as far as cryptocurrency exchange platforms are concerned. This isn't anything to scoff at!
Furthermore, the exchange has also been awarded the "AA Status" by the crypto exchange benchmarking service called CryptoCompare. The "AA Status" has only been awarded to three other exchanges around the world - Coinbase, Binance, and Gemini. With such huge names on the list, it certainly showcases the magnitude of Bitstamp!
Speaking of which, Bitstamp is certainly also one of the biggest crypto exchanges. How big is Bitstamp, though? This wouldn't be a very good Bitstamp review (and it is a very good Bitstamp review!) if it didn't look at the numbers. So, let's do that!
Latest Bitstamp Coupon Found:
$50 Bonus Code
Special Bitstamp Promotion
Bitstamp code hunt is here! 9 different Bitstamp bonus codes are available online with the value of $50. Follow this coupon link to learn more.
Expiration date : 10/12/2023
1,033 People Used
Only 27 Left
How Popular Is Bitstamp?
Bitstamp is rated as the 11th-largest crypto exchange. Over 90 million US Dollars have been used to buy and sell cryptocurrencies on Bitstamp in the last 24-hours! Bitstamp makes up about 1% of all crypto exchange trading. You can trade with Bitstamp in over 60 countries, from the US to New Zealand, Brazil to South Korea and many more.
Now, what's so good about Bitstamp? Let's find out.

Did you know?
What's Good About Bitstamp?
✓ Fiat Trading: Bitstamp allows its users to buy cryptocurrencies with fiat currencies. Fiat currencies are the official currencies of countries. Examples of fiat currencies are the Chinese Yuan (CNY), the US Dollar (USD) and the Russian Ruble (RUB).
Some crypto exchanges don't allow trading with fiat currencies. This is bad for beginners who are buying cryptocurrency for the first time. With Bitstamp, you can buy cryptocurrency without having to visit another exchange first.
The fiat currencies you can trade with on Bitstamp are USD, GBP, EUR. You can also use Swiss Francs on Bitstamp, but you won't be able to trade with them. They will be converted into USD or EUR before you can trade with them.

✓ Payment Methods: Bitstamp allows users to fund their accounts using credit cards and bank transfers. Some exchanges don't support credit card payments. Bitstamp's choice of payment types makes your first crypto trade a lot more simple!
✓ Security: In January 2015, Bitstamp was hacked, and 19,000 Bitcoins (BTC) were stolen. The stolen Bitcoins were worth about 5 million USD! This made a lot of users ask, is Bitstamp safe?
Some platforms - like Mt Gox - have dealt with hacks very poorly. Not Bitstamp, though! The team at Bitstamp has always put customer safety first. In the hack of 2015, no customer funds were lost, and the platform was completely rebuilt to prevent it from happening again.
Bitstamp has worked hard to become one of the most secure exchanges on the market. Almost all of its funds are kept in cold storage. This means that they are kept offline where hackers can't get to them! Bitstamp funds are also fully insured.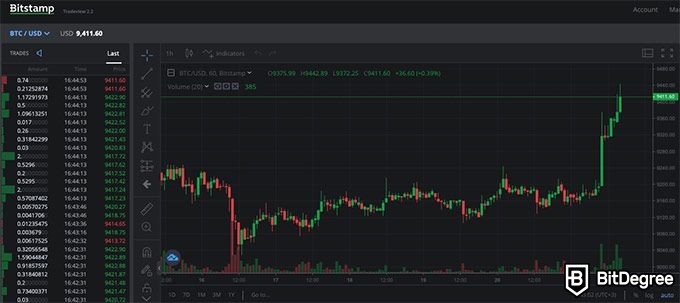 The exchange also offers its users two-factor verification and text message alerts.
Note: Two-factor verification is where a user has to give two types of information to access their account. The first is usually a password and the second is a code created by an App like Yubikey or Google Authenticator.
Finally, Bitstamp uses PGP (Pretty Good Privacy) to keep any information uploaded by its users private.
So, I believe your answer to "is Bitstamp safe?" is yes!
✓ Fees: Bitstamp fees are quite low when compared to the rest of the market. They are also easy to understand, which is great for newbies. Bitstamp fees change depending on which payment method you're using and where you live so we will look at them in more detail later.
✓ Customer Service: At Bitstamp, the customer is King (or Queen!). Bitstamp wants to keep its traders happy. It responds to user emails within three days and has a UK-based helpline for emergencies. Users will find a detailed FAQ page on Bitstamp's homepage.
✓ Reputation: Few crypto exchanges have a better reputation than Bitstamp. Bitstamp is professional and reliable. It has formed links with financial institutions around the world. Bitstamp is also fully licensed and has been audited by a Big Four accountancy company, Ernst & Young.
✓ Mobile App: Bitstamp has a mobile app that's evaluated 4.8 out of 5 on the Apple Store - that's simply terrific.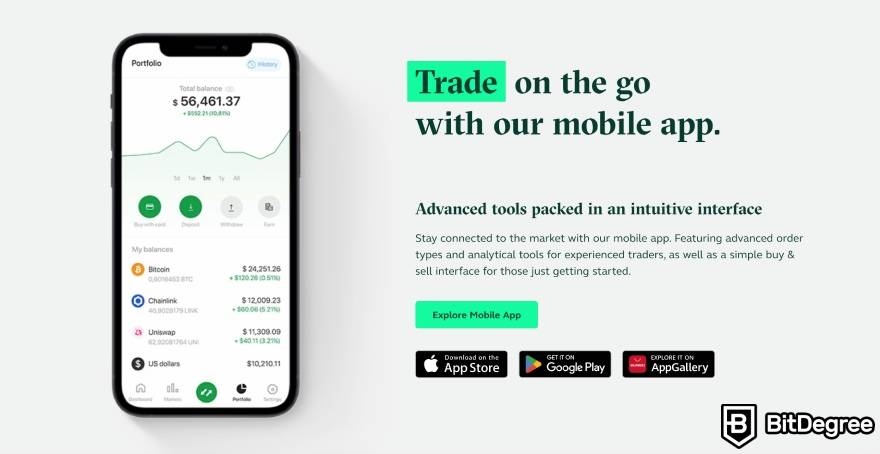 So, this Bitstamp review has talked about the platform's good bits. Shall we have a look at a couple of notable negative aspects?
What's Bad About Bitstamp?
✗ Coin Selection: Bitstamp only offers around 70 cryptocurrencies for trading. These include Bitcoin (BTC), Bitcoin Cash (BCH), Litecoin (LTC), Ethereum (ETH) and Ripple (XRP).
As a beginner, this isn't a big problem, but when you're a pro trader, you might want a better selection. Bitstamp only offers a small number of trading pairs, whereas Binance, for example, offers more than 1400!
Note: Trading pairs are currencies put into pairs and given an exchange rate. It's a bit like the Bureau de Change at the airport, where the pairs look like this; 1 USD = 106 JPY. A Bitstamp trading pair looks like this; 1 BTC = 9,359.76 USD.
✗ User Friendliness: As a professional trading exchange, Bitstamp can be quite complicated. New users can find Bitstamp difficult to use. The platform is well-designed, but can prove to be a bit too advanced for some newbies. Platforms like Coinbase are sometimes recommended instead of Bitstamp, for users with no trading experience.
Now you've heard the good and the bad, are you ready to start trading? Yes? That's awesome, because no Bitstamp reviews would be complete without a guide on how to get started.
How to Start Trading on Bitstamp?
To start trading on the exchange, go to Bitstamp's homepage, and select "Register". Registration is quick and easy. Just fill in the information shown below.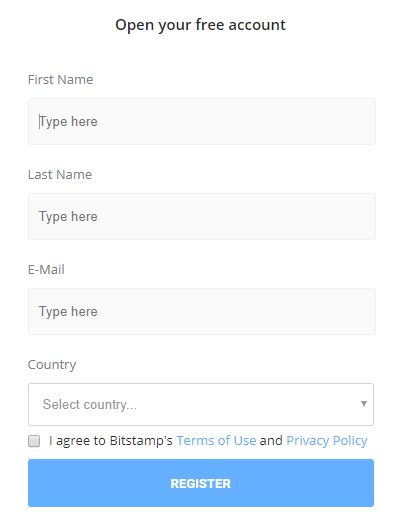 Next, you'll receive an email. The email will contain a link where you must change your password. You'll also be given the option to set up two-factor authentication. Do it!
Quick Tip: Beware crypto exchanges that don't offer two-factor authentication, unless losing money is your idea of a good time!


As you can see, Bitstamp has its own PDF guide to authentication, so there is no excuse not to use it!
Verification
There are two stages of verification, which can make the Bitstamp verification time quite long. However, you must complete both stages to use all the platform's features.
To complete the first stage, go to "Settings", then "Verify Account", and "Identity Verification". Next, choose Personal Account Verification". You'll now need to upload your driver's license or passport, as well as proof-of-address, like a gas bill.


The second stage of verification involves getting a code sent to your phone. To do this, go to "Settings", then "Verify Account", and "Phone Number Verification".
Bitstamp verification time: Usually 1-2 days. However, it can take longer, so try to be patient!


Once you have completed this stage your account will be fully verified, and you'll be ready to start trading!
Latest Bitstamp Coupon Found:
$50 Bonus Code
Special Bitstamp Promotion
Bitstamp code hunt is here! 9 different Bitstamp bonus codes are available online with the value of $50. Follow this coupon link to learn more.
Expiration date : 10/12/2023
1,033 People Used
Only 27 Left
Trading
The easiest way to make your first crypto trade is with a credit card. All you have to do is select the "Buy/Sell" icon and then choose "Credit Card Purchases". The example below shows a credit card purchase of $50 worth of Bitcoin.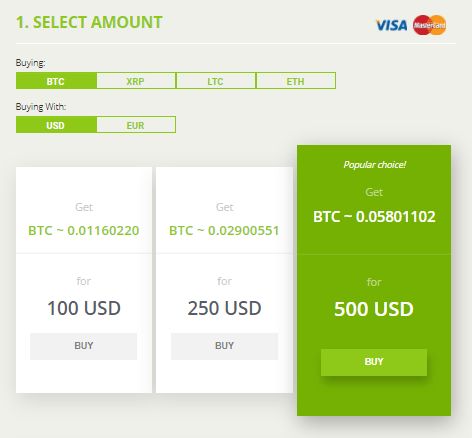 You'll be asked to enter your details in the same way you would if you were buying something with Amazon or eBay.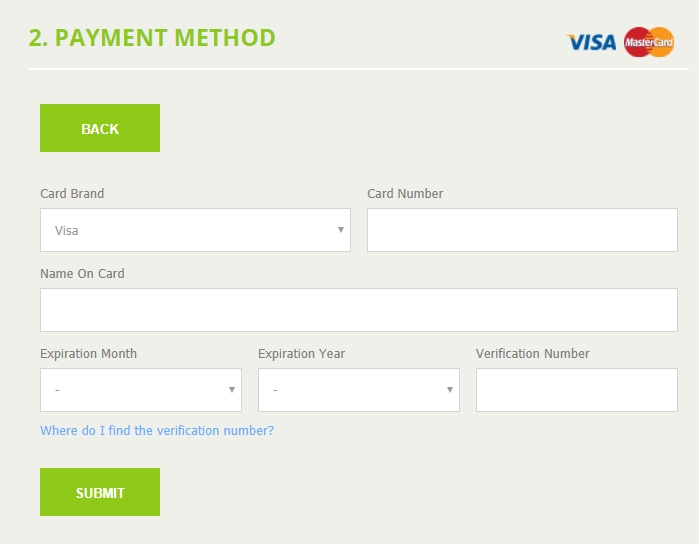 Once the payment goes through, your first cryptocurrency will be sent to your account!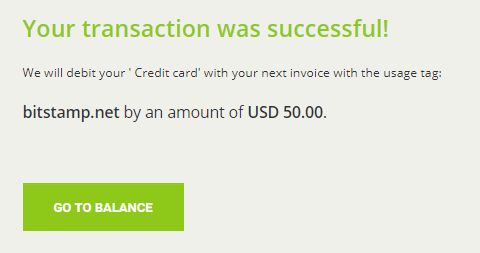 Congratulations, you're a crypto trader! Pretty cool, right?
Bitstamp Storage: Is Bitstamp a Wallet?
Now that you've bought some cryptocurrency, you'll need to be able to access it. The codes used to access cryptocurrencies are stored in wallets. Wallets can be online, where they are called hot storage, or offline, where they are called cold storage.
Note: A wallet has public and private keys. You can give your public key to anyone, and they can send you cryptocurrency. Your private keys should never be shown to anyone! Think of it as an email account. The public key is your address, and the private key is your password.
So, is Bitstamp a wallet? The answer is sort of, but not really.
Bitstamp is a crypto exchange that can be used as a wallet. Bitstamp offers both hot and cold wallet storage. You should never keep all your cryptocurrency online. A combination of hot and cold storage is best. I also recommend using a hardware wallet. This is a cold storage device similar to a USB stick. The Ledger Nano X is a popular hardware wallet.
Bitstamp Fees
Before I finish this Bitstamp review I want to talk about Bitstamp fees in more detail. Deposits, withdrawals, and trades all have their own fees:
Credit Card Purchases - A fee of 5% is charged for every credit card purchase.
Debit Card Withdrawal - A fee of at least $10 is charged for withdrawing funds using a debit card.
International Wire Transfer - A fee of 0,05% is charged for deposits made with an international wire transfer (the least you'll pay is $7.5, and the most is $300). A fee of 0,1% is charged for withdrawing funds using an international wire transfer (you will pay at least $25, and other banking charges may be made).
SEPA Fees: If you live in the European Union and are using Euros, then you will be charged SEPA (Single Euros Payment Area) fees. Deposits in the SEPA are free. Withdrawals are charged a €3 fee.
Trading Fees: All trades under $10,000 are charged a fee of 0,5%. For bigger trades, fees go down. For example, trades bigger than $20,000,000 are only charged a fee of 0.1%.
Cryptocurrency: Making deposits and withdrawals using the cryptocurrencies that Bitstamp offers are free of charge.
So far, you've learned a lot about Bitstamp. Next, this Bitstamp review will look at Bitstamp's users. Who is Bitstamp designed for?
Who Is Bitstamp Best For?
Bitstamp is a safe and reliable platform. It has millions of happy users. However, beginners may find the platform difficult to use. The professional design and features of Bitstamp are great for more experienced users, but might confuse newbies.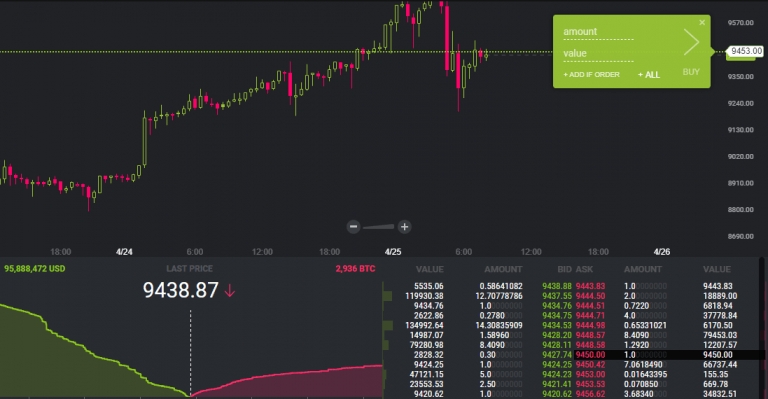 I wouldn't recommend Bitstamp to any users who find this image scary. However, if you're a beginner who likes to be challenged and is happy to learn, then Bitstamp could be a great place to start your crypto adventure.
Bitstamp offers fiat trading and credit card purchases. This makes getting started quick and easy. Bitstamp is a perfect exchange for users who can't wait to start trading.
Here is The Best Binance Offer I Found:
SECURE $600 BONUS
Binance Holiday Sale
Sign up on Binance and claim up to $600 worth of rewards for completing simple tasks during this Binance Holiday Sale. Use our Binance referral code (49316610) to activate the offer while it's still valid!
Expiration date : 10/12/2023
2,935 People Used
Only 67 Left
Conclusions
Bitstamp has great security, and a team that really cares about its users. It's becoming one of the world's most trusted crypto exchanges. If you can work out the basics, then Bitstamp could be right for you.
Now it's time to answer that question for yourself. So, register, verify your account and start trading on Bitstamp!
When you've made your first trade, let me know what you think… Is Bitstamp legit? Was this Bitstamp review helpful? You tell me! I'd love to hear what you think!
If you want to see how Bitstamp compares with Coinbase, check out our dedicated comparison.
The content published on this website is not aimed to give any kind of financial, investment, trading, or any other form of advice. BitDegree.org does not endorse or suggest you to buy, sell or hold any kind of cryptocurrency. Before making financial investment decisions, do consult your financial advisor.
About Article's Experts & Analysts