Short Overview
The story of BitDegree began with the ICO in 2017. It is an online educational platform that aims to connect educators, learners, and employers in a way that's beneficial to each and every party, and focuses on teaching digital, business, and workplace skills. Programming languages, software, web design, digital marketing, productivity and time management – you get the gist!
BitDegree uses blockchain technology to record educational achievements and enable anyone in the world to issue cryptocurrency-based scholarships to the learners.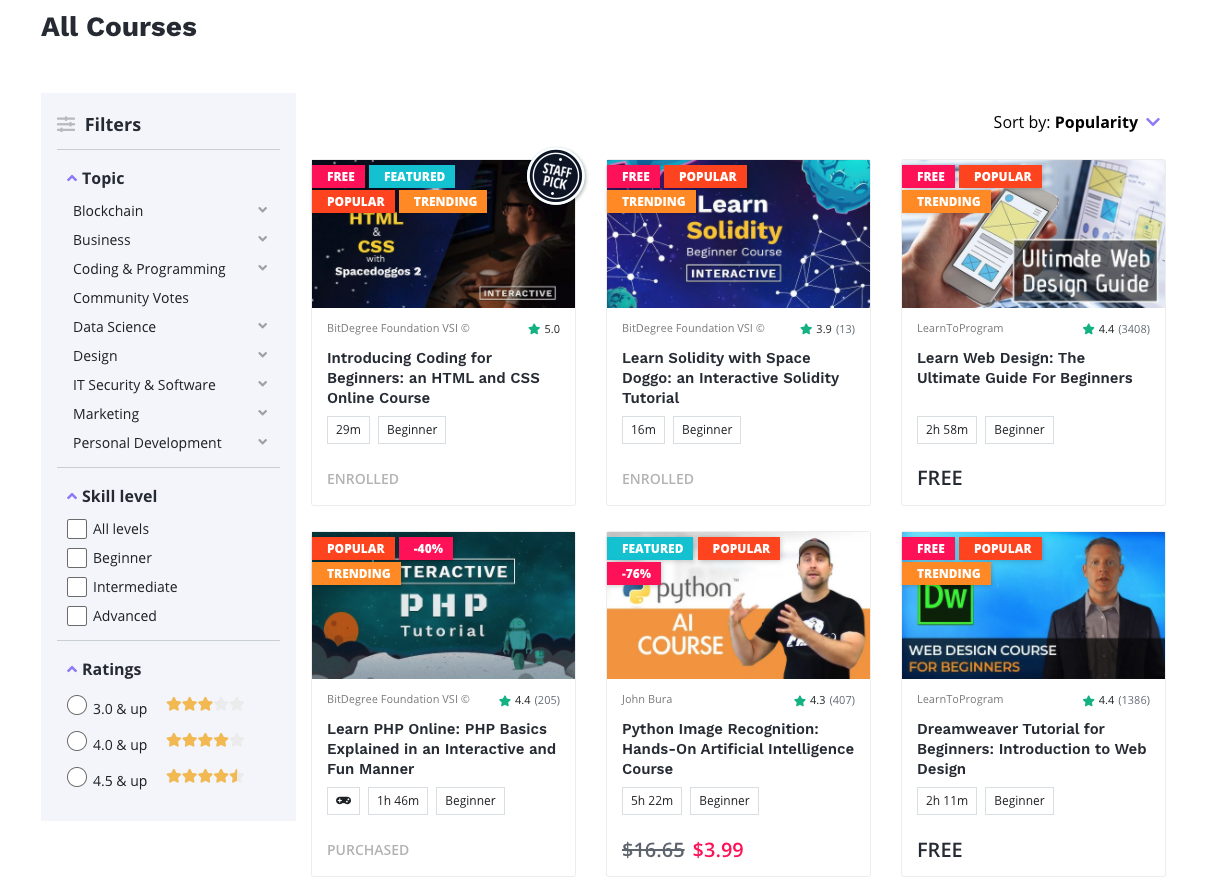 One of the primary goals of BitDegree is to teach job-applicable skills, such as programming, web development, graphic design, and online marketing, and reward the learners for the time they spend learning with tokens. Later, the company can directly connect the most promising students with talent-seeking employers.
A more detailed explanation of the BitDegree's vision is outlined in a piece of documentation known as the white paper. It's a long read, but it will do a great job at answering "what is BitDegree?"; alternatively, you can check out a video explaining it all.
What is BitDegree: The Problems BDG Solves
There are a few reasons why BitDegree was developed. Let's see some of them.
Universities Are Far Behind the Job-Market
Universities are failing to teach job-applicable skills, and the gap between what universities do teach and what is required by employers is constantly widening. That is why BitDegree is looking to close this gap by connecting learners with employers based on what's currently required in the job market.
What is BitDegree doing to solve this issue, exactly? Employers can sponsor learners directly using the platform, or they can collaborate with BitDegree to create courses tailored to the position they require. How can they do that? Well, first the companies reach out to us, then we make a course and test it together; then, we display it on our scholarship page to attract people who want to start their career in tech a little easier. This way, employers can cut down on hiring costs and simplify their talent search.
Basically, if anyone asks you "What is BitDegree?", you can simply tell them it's a simple and practical way to connect students and employers.
Tech Talent Acquisition Is Expensive
The tech industry is expanding rapidly, and there's a constant need for employees who can deal with tech-related tasks on a professional level. Jobvite research states that finding tech talent is becoming increasingly difficult, according to HR professionals: up to 65% of talent recruiters agree that talent shortage is the biggest challenge in hiring.
It's a well-known fact that the key to success for any tech company is the talent it manages to attract. Even though IT and tech industry workers earn increasingly higher salaries, it has been proved that this is no longer enough to find the best employees that are highly-skilled and loyal to the company.
What is BitDegree doing to solve this? We provide company-approved scholarships that allow companies to specify and create courses that attract potential employees who don't yet have the required knowledge. After finishing the course, the learners are gathered in a talent pool, and the company can pick motivated candidates that suit their needs and expectations best. Companies can also become partners and explore more ways of finding the true talent they need.
Poor Online Course Completion Rates
People learning online lose motivation fast. One of the ways to increase student retention rates is to use gamification during their studies. It's also possible to make learning interesting by incorporating a lot of small incentives.
By using gamification, it's possible to capture the students' attention at the start of their studies and retain it throughout the whole process. Gamification and incentives can help combat low concentration and increase the effects of learning.
What is BitDegree doing to solve this? We have partnered up with Vilnius University to research what motivates students to enroll in online courses – and actually complete them. You can read more about the ongoing research in this blog post! And we didn't stop here: we partnered up with the Octalysis group to research various gamification techniques that we can implement to keep users motivated and ready to learn more. Read here to find out more about the ongoing project.
Education Is Expensive
The price of education is constantly growing. A large portion of the population has to divide their time between studying or working – however, this still leaves people with huge amounts of debt. The high price of education combined with the lack of incentives result in people losing motivation and dropping their studies. More often than not, people need an extra push to unlock their full potential.
What is BitDegree doing to solve this? We firmly believe that everyone should have the opportunity to educate themselves, and that is why the BitDegree price model focuses on affordable and quality education for the masses. We also offer a range of free courses, some of which you can find on our Free Certifications page. If you can't find a course you want for free and you don't have the funds to buy a paid one, BitDegree also offers micro-scholarships for online students.
This is an opportunity to try your luck in getting paid to learn: you apply, fill in all of the details why a specific BitDegree course is important for your education, and then you might get a company (or a peer) interested enough to fund your micro-education (you can find a tutorial describing the whole process here).
Who are these generous sponsors? Currently, it's a few big companies that are always on the lookout for tech talent and who believe in affordable education just like us. If you work for such a company and want to create corporate scholarships for online students, be sure to check out this page for more information.
BitDegree Development after ICO
With a rapid development cycle, the team has started working on launching the platform, developing the first courses, and establishing ourselves as an educational powerhouse as soon as the ICO finished. In 3 years, the BitDegree team has managed to produce an incredible amount of content paired with a working platform and a versatile payment system.
Interactive Solidity Course by BitDegree - Space Doggos
Only 2 months after the ICO, on March 2nd, 2018, the team released our first gamified interactive course called Space Doggos. What is BitDegree Space Doggos, you ask?
Well, Space Doggos is a course that aims to introduce people to the Solidity programming language in a fun and interactive way. The course was a massive success with thousands of students enrolled within the first days of release.
You can try the Space Doggos course here!
And now, there's the second part of the Space Doggos course available – this time, the team aimed at the users who want to learn HTML and CSS. If you want to see more of our adorable Doggo, be sure to try out this course as well!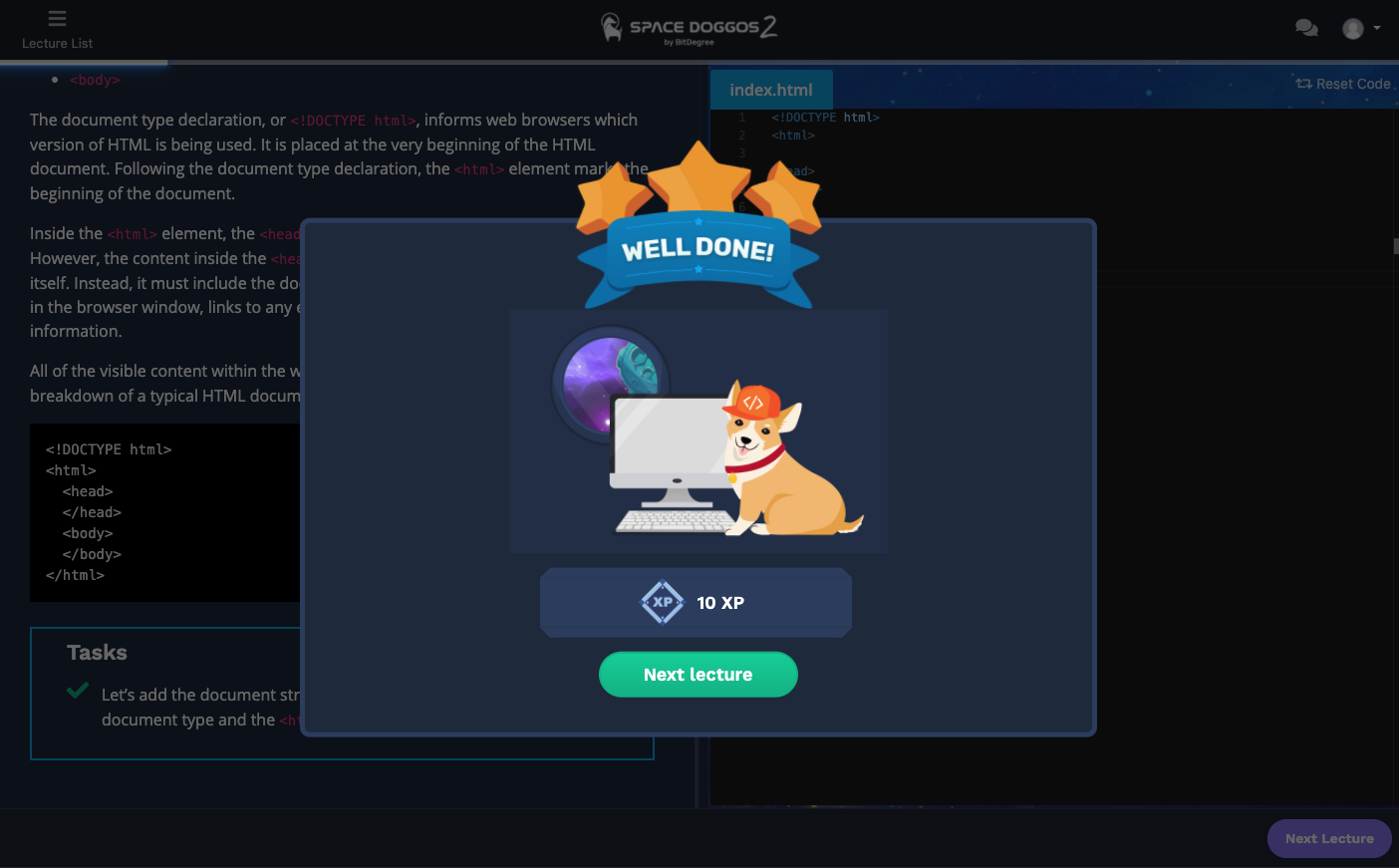 BitDegree Learn
One of the oldest BitDegree projects is BitDegree Learn. In its essence, it's a knowledge base full of tips and tricks, explanations, functioning code examples, and other information that helps you master various programming languages on your own.
We've also opened up a Code Playground in which you can see various public code examples and post yours to show them to the world!
BitDegree Tutorials
BitDegree consistently publishes informative tutorials about blockchain and various IT topics. In the first 4 months after the launch alone, 165 tutorials were published, and BitDegree secured its spot as a significant player in the cryptocurrency education space.
BitDegree aims to educate people about different cryptocurrency types, blockchain applications, the differences between various projects. In 2020, BitDegree Tutorials were recognized as the TOP 2 most significant blockchain educator, just behind BTCWires, according to Feedspot.

Currently, the tutorials are aiming more towards education: here you can read about various programming languages, the novelties of the IT world and online education, as well as find tips on how to start a career in the IT sector.
The BitDegree Course Platform
Finally, what is BitDegree without any courses? E-learning is precisely why the BitDegree learning platform went live on March 30th, 2018. Finally, students were able to create their profiles and start learning about programming, business, web design, social media management, and other digital skills.
Following the platform release, BitDegree worked on publishing online courses created by experienced online educators and the team's own teachers, designers, programmers, and writers. As of now, we have created 13 interactive courses!
But we haven't only been busy with courses. Having teamed up with Octalysis, we offer our learners the best possible experience by applying gamification principles to the platform. As you watch courses and complete daily streaks, you can see parts of BitDegree city opening up to you, get XP, badges, puzzle pieces, and tokens that you can then use for discounts, and more. Just take a look at the updated profile page!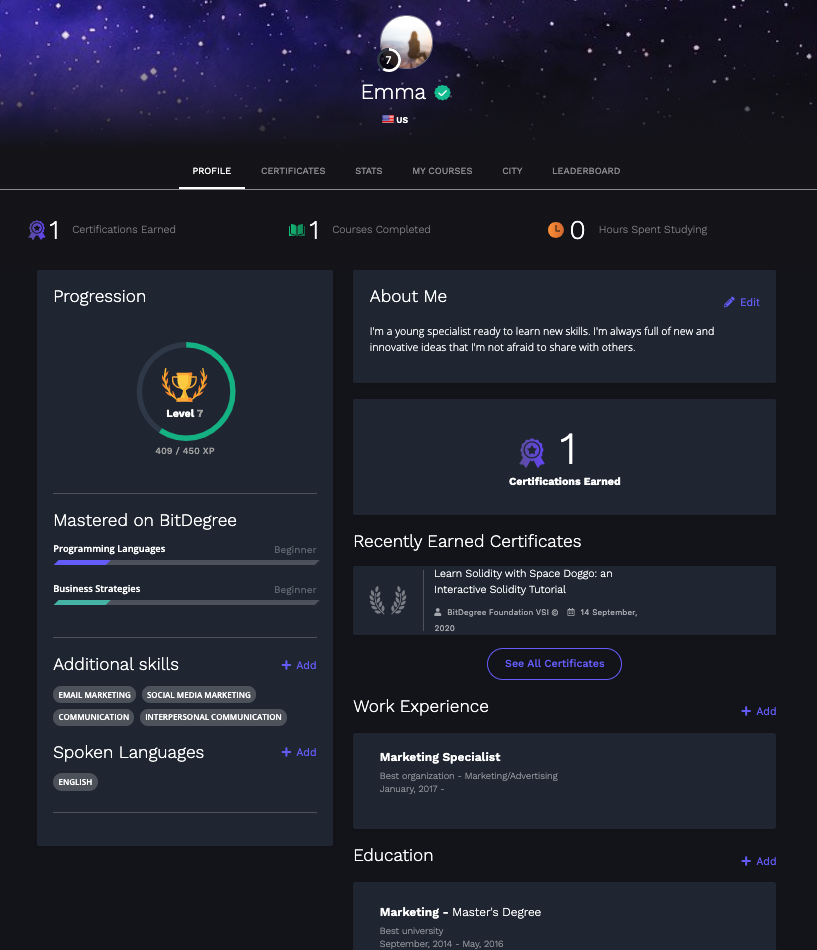 BitDegree Learning Paths
We understand that with an abundance of courses, it can sometimes be hard to choose where to start. For those who already know what career path they want to pursue, we have created learning paths. We have 8 learning paths available at the moment:
Game Development
iOS App development
Android App Development
Game Designing
Web Development
Online Business
Digital Marketing
Machine Learning

The best thing about these learning paths is that you can find all of the materials you need in one place. In just one glance, you can see how many and what kind of courses you should take to achieve your dream career. Read our blog post to find out more about them!
Scholarships for Online Students
Seeing that education is getting more expensive and the prices often get in the way of needy students' motivation to learn, BitDegree decided to do something about it. So in August 2020, the company launched a new platform where students can apply for small scholarships.
How does this work? BitDegree promotes the project and finds possible sponsors – either companies or more financially stable peers, who are willing to sponsor the students in need. You can read all about it here, and in case you're the one who wants to be sponsored, here's the application form.
BitDegree Statistics Post-ICO
In the three years of work, the BitDegree platform gained a lot of user interest. Here are the statistics for BitDegree as of September, 2020.
The platform has 850,000+ registered users
323 educators have their courses on BitDegree
More than 900 online courses have been published on the BitDegree platform
Most of the BitDegree platform pages and tutorials are translated into 9 languages: French, Spanish, Brazilian Portuguese, Russian, Chinese, Indonesian, Vietnamese, Turkish, and Lithuanian
In 2018, BitDegree gained a place among the TOP 7 European EdTech companies, based on web traffic
In 2018, BitDegree won the EdTechX Startup Super League award and got recognized as the company most likely to change the future of work
In 2019, BitDegree became the semi-finalist of the Global EdTech Startup Awards for Blockchain in Education Use.
In 2019, BitDegree was announced the Global Champion in the Learning & Education category of the United Nations World Summit Awards (WSA).
Ready for Future Challenges
BitDegree is looking to revolutionize education by making learning exciting and rewarding. Focusing on digital skills such as programming, web development, game development, as well as business and workplace skills, BitDegree is a strong contender for the educational market.
With our unique business model that offers people on the platform a chance to earn by studying and incentives for community collaboration on various problems, BitDegree seeks to empower those who didn't have time or access to high-quality and affordable education before.
At the same time, BitDegree is creating a community where you're encouraged to help out other students or share your skillset and knowledge with the community. People all around the world can share their knowledge, earn BDG tokens, and re-use them on learning other skills. So, how about you join us too?