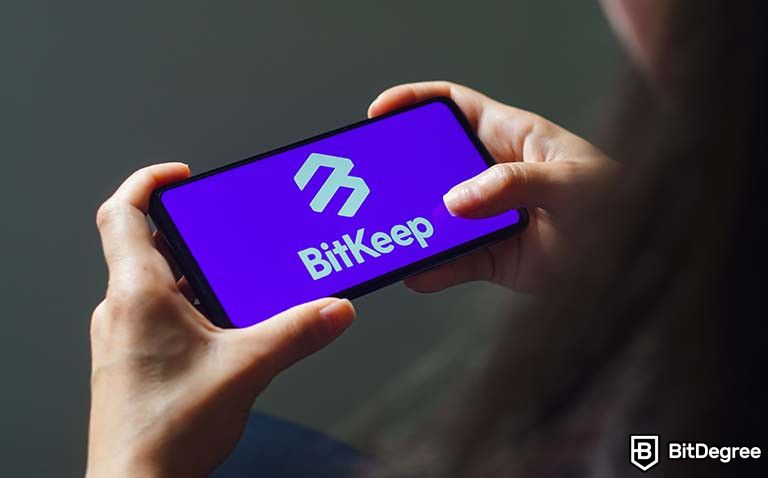 Are you looking for a top-tier cryptocurrency wallet? If so, you're in luck - these days, there are countless different wallets to pick from, all coming with their own, specific features and benefits! That being said, some options are, admittedly, superior to others - in this article, we'll take a look at what is BitKeep, what makes it one of those "superior" choices, and how you can start using it, today!
To be a bit more specific, if you'd like to understand the functionality of the BitKeep wallet, and what are all the different features available on the platform, you should first go and check out my dedicated review on the product. After you've read that article, and have a good idea of what to expect from BitKeep, you can come back here, and learn how to use it!
Assuming that you've already studied the ins and outs of the wallet in question, let's not waste any time, and get straight to discussing what is BitKeep, and how you can start using it!

Did you know?
Want to get smarter & wealthier with crypto?
Subscribe - We publish new crypto explainer videos every week!
What is Defi 2.0? (Explained with Animations)
What is BitKeep: A Brief Introduction
As I've mentioned in the introductory part of this tutorial, I do already have a dedicated BitKeep wallet review that you can check out - there, I go in-depth on what is BitKeep, and why it's popular, in the first place.
Latest Deal Active Right Now:
FREE SHIPPING
For Ledger Nano X & Ledger Packs
You can now receive free shipping when purchasing the Ledger Nano X or any of the Ledger Packs. Secure your crypto assets and don't pay for shipping!
Expiration date : 04/12/2023
1,007 People Used
Only 33 Left
That being the case, I won't go *too* in-depth on those points here. However, before we start taking a closer look at the wallet, a proper introduction is definitely necessary! If it's your first time coming across BitKeep, you'll get a good general impression of the wallet - if you've already read my dedicated review, this will be a great refresher!
So, what is BitKeep? Put simply, BitKeep is a decentralized multi-chain cryptocurrency wallet that houses a huge selection of additional features. Let's break that down, shall we?
The first part - "a decentralized multi-chain wallet" - refers to the fact that BitKeep allows users to store their cryptocurrencies in an anonymous, oversight-free manner. It also means that you'll be able to store a wide selection of assets, from multiple different blockchains, within the same wallet.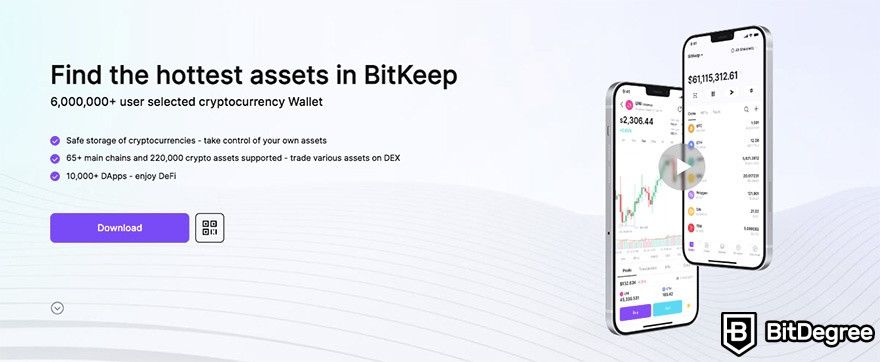 To be a bit more specific, the BitKeep wallet allows you to store over 220,000 different crypto coins and tokens, from over 65 different mainnets. Those are some truly incredible numbers!
BitKeep currently serves over 6 million users from all around the world. The wallet is very approachable, since it's a "hot" cryptocurrency storage solution - meaning, it's a crypto wallet that can be installed on multiple operating systems, and on different devices.
Now, as you might remember from the beginning of this "what is BitKeep?" tutorial, I've mentioned that the wallet offers a wide range of additional features to its users. Well, that can even be seen as an understatement, of a sort.

BitKeep aims to be a one-stop shop for all of your crypto wants and needs. Apart from cryptocurrency storage, the wallet also has a DApp Browser, an NFT marketplace, a dedicated BitKeep LaunchPad, a DEX (decentralized exchange), and other features, as well.
We'll cover all of these features in the article ahead, as well as talk about how you can start utilizing them yourself. For the time being, though, it's worth mentioning that safe and reliable cryptocurrency storage is just one side of the deal, when it comes to BitKeep - there's a whole different element of a fully-operating crypto ecosystem involved with the company, too!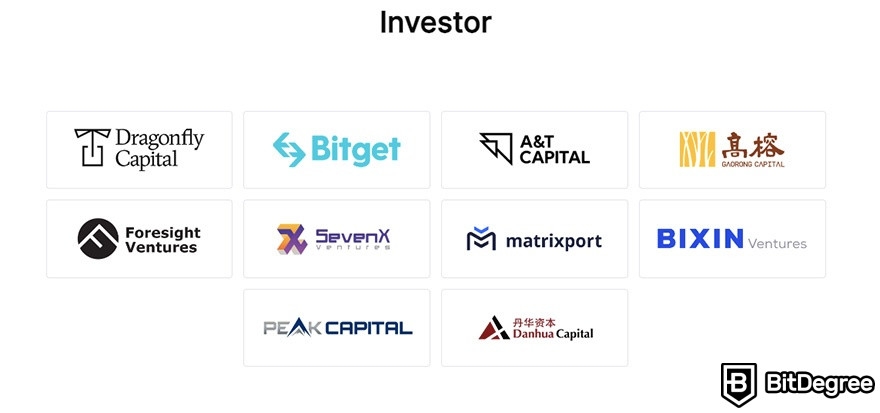 Now, it's also worth mentioning that BitKeep has some strong investors standing behind the project, as well. Notable names include Dragonfly Capital, A & T Capital, SevenX Ventures, and GaoRong Capital. This list is complemented by a huge variety of BitKeep partners, which include the likes of Polygon, Elrond, Solana, and many more.
All things considered, the consensus remains simple - for those wondering what is BitKeep, you should know that it's a high-profile crypto wallet that supports multiple different cryptocurrencies, focuses on security, and has a wide selection of various additional features and functionalities for you to utilize.
How to Use BitKeep: The Basics
So - now that you know what is BitKeep, and some general information about the product, we can move on to the actual "how-to" section of our article!
It's no secret that BitKeep isn't exactly viewed as the "easiest" cryptocurrency wallet to start using - it can be intimidating to industry newcomers, simply due to the fact of how many different features there are to explore. With that in mind, though, that's what this "what is BitKeep?" tutorial is here for, after all!
We'll take things slow, and focus on discussing the most prominent features of the wallet. Let's get to it, shall we?
How to Start Using BitKeep
Before you can start transferring your cryptocurrencies to the BitKeep wallet, or utilize some of the platform's DeFi features, you'll need to download and install it, first.
BitKeep can be used on Android and iOS devices, as well as a Chrome browser extension. While the wallet is most-popular to be used on smartphones (thus the support for both major operating systems), in this tutorial, I'll focus on the Chrome extension version of BitKeep.
Why? Well, it's often seen as the more-confusing option, as well as the fact that it's the only way to use the wallet on a computer.
Step 1: First, go to the BitKeep official website. Make sure that you're visiting the *actual* BitKeep site, and not some sort of a fake, scammer-made one - you can navigate to the legitimate website by pressing here.
Step 2: Once you're on the homepage, you'll see a "Download" button at the top-right corner of the screen. Press it.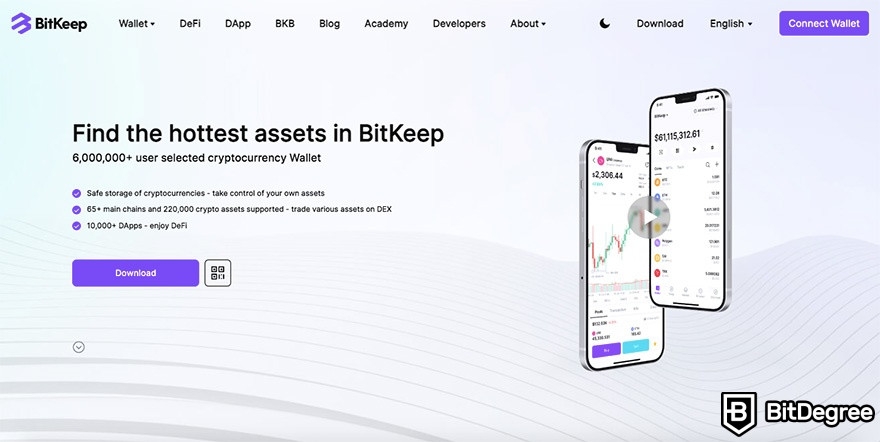 Step 3: Now, you are able to pick between an Android wallet, iOS wallet, or a Chrome extension. Pressing the latter, you will then also see a button at the bottom of the page, redirecting you to the Chrome Web Store, where you'll be able to add the BitKeep wallet to your browser (assuming that you're using Chrome, that is).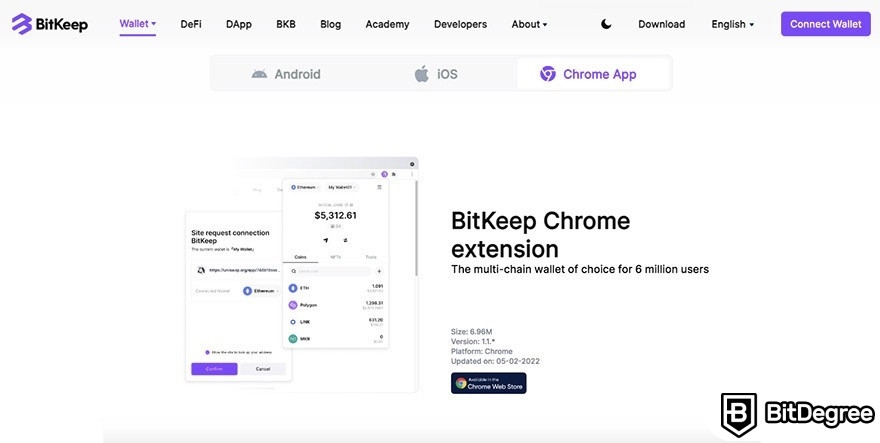 Step 4: Once you've added the wallet to your browser extensions, click on it, and you'll be prompted to either create a new wallet, or import an existing one. Pick the former option.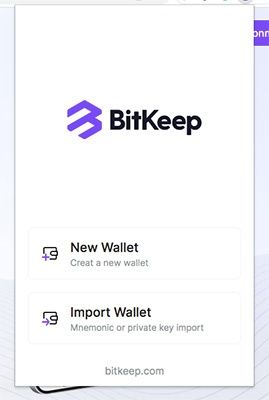 Step 5: Now, you will need to choose the mainnets (blockchain networks) that you'd like to use, within your BitKeep wallet. If you're just starting out, this may seem a bit intimidating - I assure you, it's really nothing to worry about, though! If you're not sure what to do, you can just pick the "Top" mainnets, as a safe bet - you'll then be able to transfer ETH, TRX, and other tokens to your wallet.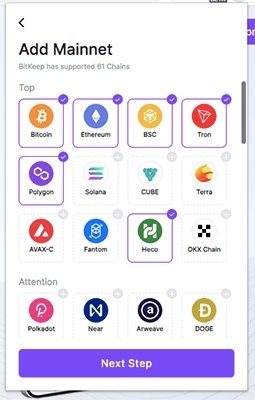 Step 6: After that, your next step is to back your wallet up, with a 12-word secret phrase. Now, make sure to write those words down somewhere, and store them safely - it's your only method of retrieving your cryptocurrencies, if you somehow lose access to your wallet!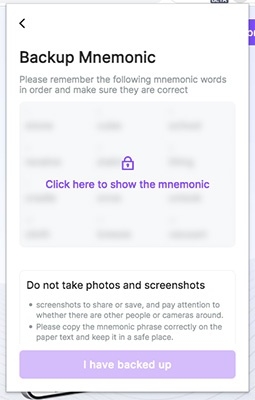 Step 7: To finish off this part of the "what is BitKeep?" tutorial, you will now need to create a password, too. Make sure that it's unique, and a bit more complex than your date of birth!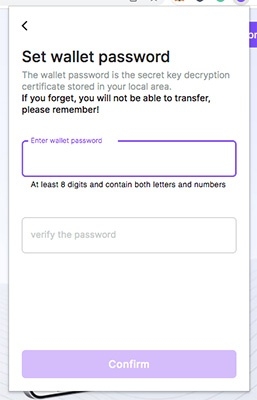 So far - so good! The wallet creation process is actually pretty standard - it's something that you can expect to encounter with most other cryptocurrency wallets, too (meaning, it will look very similar).
BitKeep, however, guides you through it very nicely, and at no point should you come across an issue, or something that you don't understand. Each step is accompanied by short explanations of what to do next, which is definitely much appreciated!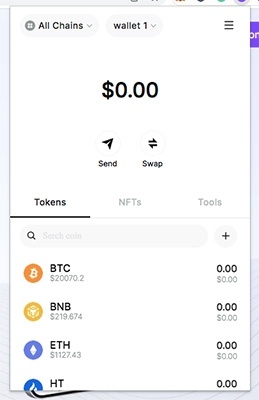 Continuing on with our "what is BitKeep?" article, let's now connect our newly-created wallet to the website, and make our first crypto transfer!
How to Transfer Crypto to / from BitKeep?
Connecting your BitKeep wallet to the official website of the project, you will be able to access all of those aforementioned features that we've talked about - the BitKeep exchange, BitKeep airdrops (if you're lucky), the NFT Market, and so on.
Strictly speaking, you don't need to connect your wallet to the site, in order to perform crypto transfers. However, since it's something that we're going to do, in any case, let's get this step out of the way, first.
Step 1: On the homepage of the BitKeep official website, press the big, purple "Connect Wallet" button, at the top-right corner of the screen.
Step 2: Once you do so, a pop-up will appear, asking you to choose a network that you'd like to connect to.
Once again, for the sake of this "what is BitKeep?" article, let's assume that you'd like to transfer ETH coins, and would thus need to connect to the Ethereum network. Simply pick Ethereum from the list that appears, and click connect - that's it!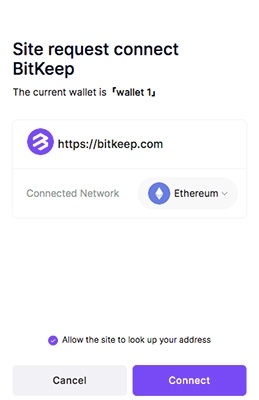 Now, in order to fund your wallet (or, simply - transfer some crypto to it, from another wallet that you might have), you'll need to navigate back to the wallet extension, and press on "ETH". After doing so, you'll see three buttons at the bottom of the wallet tab, prompting you to send, receive, and swap Ether.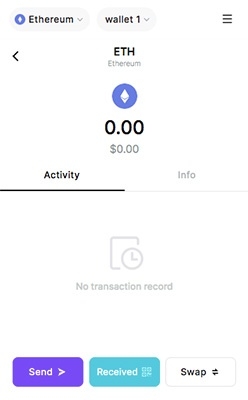 Step 1: Press the "Received" button. You will be presented with a QR code of your wallet address, as well as the actual wallet address at the bottom, which you can copy by clicking on it.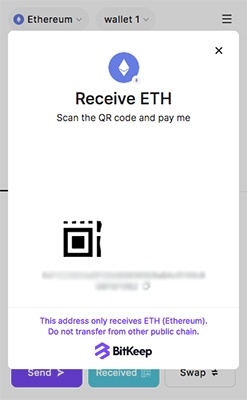 Step 2: What you need to do now is go to your other wallet (or exchange account, or wherever you might be holding your ETH coins in), and send the ETH to the BitKeep wallet.
While doing so, make sure to follow all of the best-practices - double- and triple-check if the wallet address is correct, send a test transaction first, and so on.
Step 3: Now, depending on the cryptocurrency that you're sending, you might need to wait a couple of minutes for the transaction to register and be approved. This is the case with Ethereum, as well.
In a few minutes, however, you should see your BitKeep wallet getting funded with the amount sent - that's it!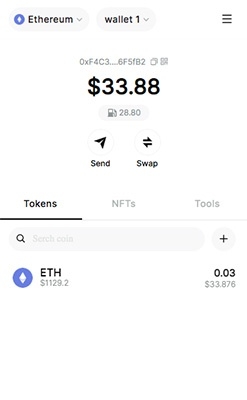 If you've ever used any cryptocurrency wallets before, you're probably well-aware of the fact that they can make the process of sending and receiving crypto a real hassle. You need to pass verifications, check, pick, and confirm the networks, make sure that the tokens that you're sending are based on that same network, and so on, and so forth.
Not the case in this "what is BitKeep?" tutorial, though! Indeed, the wallet in question allows you to send and receive crypto in a super-quick and effortless manner - granted that this is one of the fundamental features of a crypto wallet, in general, I'd say that it's great news!

Pros
Can be managed from mobile device
Very secure
Supports more than 5500 cryptocurrencies

Pros
Top-tier security
DeFi app support
Store over 5500 assets, install up to 100 apps simultaneously

Pros
Multiple cryptocurrency support
Very secure
SegWit and Bech32 address support
How to Exchange Cryptocurrencies on BitKeep Swap?
So, you have your Ether coins - what now?
Well, in many cases, this might be your ultimate goal - in other words, you are now storing your crypto in a wallet that has had zero security breaches in the 4 years that it has been operating on the market, and hodling might be the reason why you got interested in what is BitKeep, in the first place!
That's all fine and dandy. However, what if you're interested in a bit more - specifically, what if you want to swap cryptocurrencies, in a fast and simple manner?
Well, you can do that from within the BitKeep exchange - one that's built into the wallet itself!
BitKeep utilizes DEX functionality - in other words, all of your trades will pass through a decentralized exchange, which will allow you to remain anonymous. This is already some great news, to begin with!
How do you do that, though - how should you go about trading crypto on BitKeep? Let's find out!
Step 1: First of all, navigate back to your main wallet interface. There, you will see a "Swap" button, in the middle of the screen, right under the gas fees. Press this button.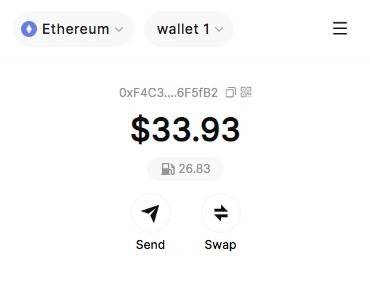 Alternatively, you could also navigate to the specific cryptocurrency that you're planning on trading, and then click the "Swap" button there - it really makes no big difference which path it is that you take, and it's up to your personal convenience.
Step 2: Now, the window that opened up is your swapping interface - this is where you'll perform the trade.
If you're following along with my example, and have ETH in your wallet, then you don't really need to do all that much with the first two rows - ETH is already chosen as the cryptocurrency that you'll be trading, and you only need to select an amount that you'd like to swap.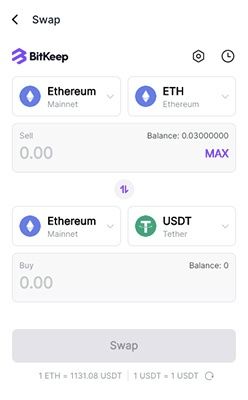 On the third row, however, you'll need to pick the token that you'd like to receive for your ETH. The list houses a lot of options, but if you know what you want, you can simply enter the token's name in the search bar. For this example, I've decided to acquire some Shiba Inu coins.
Step 3: What you need to do now is check whether all of the details of your transaction are correct - the amount that you want to spend, what you'll receive, and so on.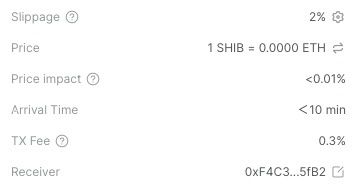 You can even tinker with some of the more-advanced features, at the bottom of the pop-up - things such as slippage percentage, and transaction deadline. However, if you're a beginner, and reading this "what is BitKeep?" article is your first crypto trading-related experience, you really don't need to worry about those things.
Step 4: Once you're sure that everything is correct, submit your transaction. Doing so, you will be prompted with a couple of additional pop-ups, asking you whether or not everything is as it should be. Lastly, in order to finish off your swap, you'll need to enter your wallet password, as well.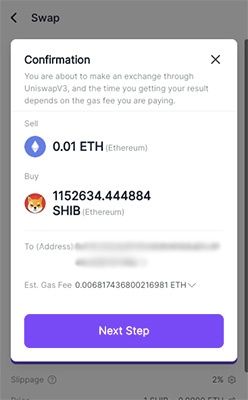 Step 5: After a couple of minutes, if the transaction via the BitKeep exchange is successful, you will see the amount of ETH that you've spent be taken out of your wallet.
But wait… Where are the Shiba Inu coins that you've just bought?
Worry not - they're safe and sound! If it's your first time looking into the BitKeep LaunchPad, DeFi functionality, or the wallet itself, and you've never swapped tokens this way, this part of the process can be really scary - but I assure you, everything is fine!
You can't see your newly-acquired Shiba Inu coins simply due to the fact that the token isn't added into your wallet. Let's do that, right now.
Step 6: Within your wallet's home screen, press the little "+" button near the currency search field.
Step 7: Here, you will need to enter the name of the token that you've bought (in my case, that's "SHIB"). When you find it, click on the token in order to add it to your wallet.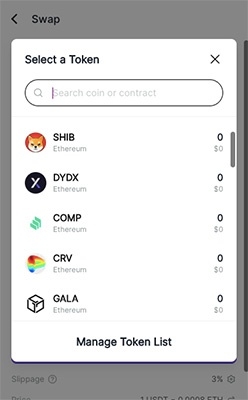 Step 8: Once you go back to the wallet home screen, you will now see your Shiba Inu coins, as well as the total balance of your wallet get updated. That's about it!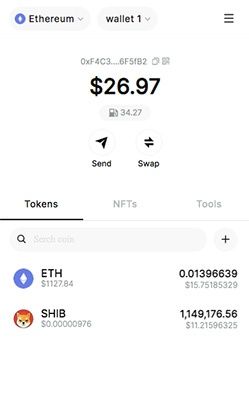 So, as you can probably tell by yourself, the crypto trading (swapping) process on the BitKeep exchange platform is quite straightforward. The only real point of confusion that you might come across is the fact that you need to add your tokens to the wallet, manually - you can do that before or after you trade them.
BitKeep DeFi, Launchpad, dApps, NFTs, and More
To finish off our tutorial on what is BitKeep, and how to use it, we need to take a look at all of the other major features available on the platform. These features include a DApp Browser, a LaunchPad, and even an NFT Market, as well!
Now, notably, all of these features are somewhat more-convenient to use on a mobile device, rather than on Chrome. That being the case, since most of these said features are secondary, I won't really get into them as deeply as with the things that we've discussed up to this point in the article, and rather, will just give you a general overview of what you can expect.
Now, when it comes to the dApp browser, it can be accessed either from the official website of BitKeep, or the wallet app on your smartphone. Here, you'll be able to find a huge variety of different decentralized applications - everything from BitKeep airdrops, DeFi, NFTs, all the way to exchanges, lending, and more.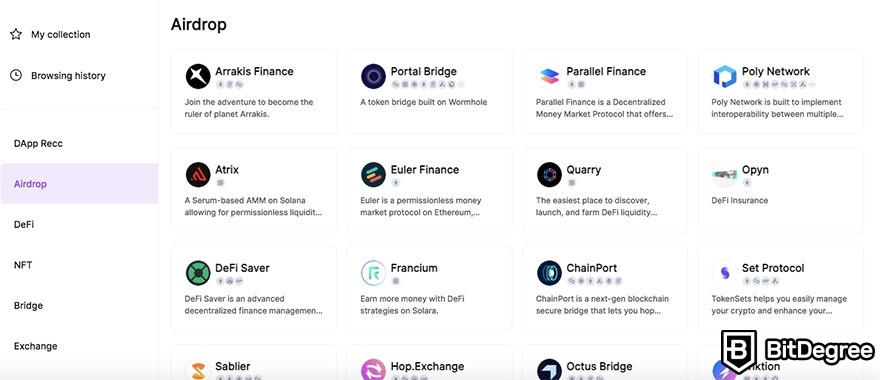 Each dApp link will redirect you to the official website (or platform) of the application, where you'll be able to explore and utilize the dApps as you please. You can even select some dApps that you'd like to favorite, or check your browsing history, in general.
The BitKeep LaunchPad is another interesting feature, albeit it will only cater to a specific audience of crypto enthusiasts. It's a feature that you can access from the "Swap" section of the BitKeep mobile app. Here, you can find fresh projects that you'd want to commit your crypto to. In doing so, you have a chance to earn rewards, and become one of the early supporters of said projects!
Lastly, NFTs - non-fungible tokens. BitKeep allows you to swap and trade different NFTs, as well as store them in your wallet, hassle-free. Truth be told, this is a point worth elaborating on, so let's explore how you can store an NFT of your own, on the BitKeep wallet.
Step 1: First, navigate to your wallet. There, you will see a section titled "NFTs". Click it, and click "+ Add Now".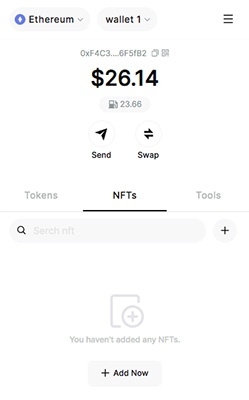 Step 2: You will now need to find and select the NFT collection that you want to add to the wallet (in other words, the collection that you have an NFT of). You can either browse all of the available collections (not recommended, due to the sheer size of the list), or search yours up by entering its name in the search bar.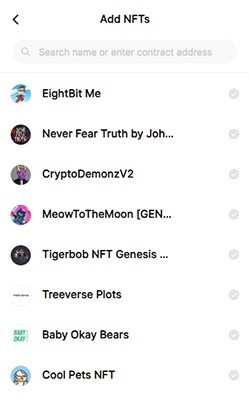 Step 3: Once you add your desired NFT collection to the wallet, it will show up under the "NFTs" tab mentioned above.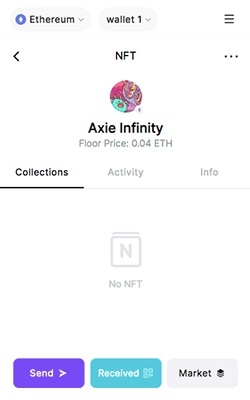 Frankly, all that you need to do now is send your NFT to the BitKeep wallet - that's basically it! Just like any other token, the NFT should show up in your wallet shortly after you send it, and from there, you'll be able to trade, swap, or simply hodl it, as much as you'd like.
While there are many cryptocurrency wallets nowadays that are focusing on providing users with NFT storage support, it's definitely refreshing to see BitKeep do this in such a simple-to-follow manner. Sending and receiving your NFT is as simple as can be - there is, however, but a single point that you need to be aware of.
That point has to do with the network that you're using. So, if you're using the wallet on the Ethereum network, make sure to only send ETH-based NFTs to it. If you own NFTs on a different blockchain network, you'll need to switch your wallet to that network, first, and only then make the aforementioned transaction.
What happens if you send an NFT from one network to another? Well, in short, it's frankly going to be lost forever (in most cases). It's actually one of the more-common mistakes that crypto (and NFT) industry newcomers make, and mistakes like these can be really costly. So, pay attention!
Conclusions
Now that we've reached the very end of our tutorial, you should both know what is BitKeep, and how you should go about using all of the essential, best-known features of the wallet in question. If you're still unsure about some of the crypto storage and swapping points regarding the wallet experience, make sure to take another look at the information provided in the article!
In a general sense, though, BitKeep is surely one of the most-interesting and well-thought-out cryptocurrency storage projects to hit the market. As I've eluded to earlier, throughout the 4 years that the company has been working on the wallet, there have been no security breaches, and no scandals - this is fantastic news!
In addition to top-tier security features, however, users can also expect the wallet to come equipped with a huge assortment of additional features - NFTs, DeFi functionality, simple network swaps, and many, many more.
All in all, if you're on the lookout for a high-end, reliable cryptocurrency storage solution, BitKeep is definitely one of the more-interesting options that you could go with!
Now, that being said, make sure to also check out my in-depth BitKeep wallet review, as well - you can find it here. The review will help you better-understand all of the features that the project comes equipped with, and what you can expect, in general.
Thanks for reading, and good luck with your crypto journey to come!
About Article's Experts & Analysts