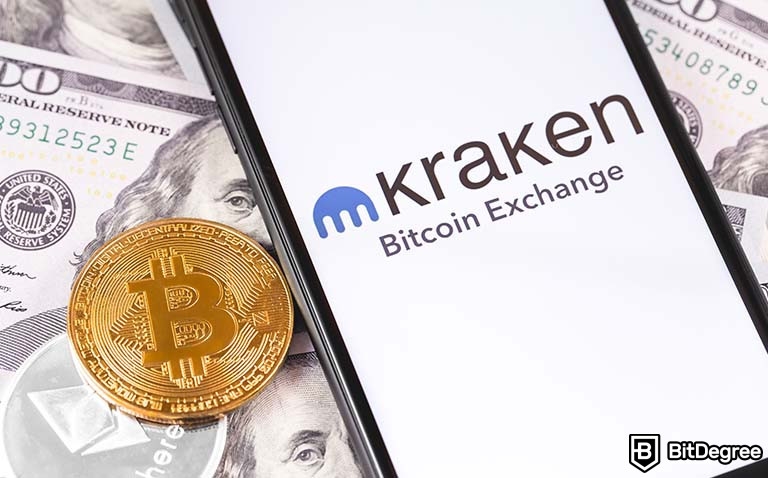 If you exclude crypto trading, staking is likely the runner-up activity that crypto enthusiasts participate in, popularity-wise. Over the last few years, thanks to Proof-of-Stake technology and crypto exchange platforms, staking has become very accessible, and often, rather profitable, as well. Kraken staking isn't an exception, in that regard.
Indeed - Kraken is one of the more-popular cryptocurrency exchange platforms out there, and one that offers its users plenty of advanced features, as well. Among those advanced features, you'll find staking, and a couple of different forms of this activity, at that!
We'll cover all of those forms, as we make our way through this Kraken staking tutorial. To start things off, though, it's probably a good idea to first explore the concept of staking itself - it's can seem quite complicated, if you've never looked into it!

Did you know?
Want to get smarter & wealthier with crypto?
Subscribe - We publish new crypto explainer videos every week!
What is a Cryptocurrency: For Beginners (Animated Explainer)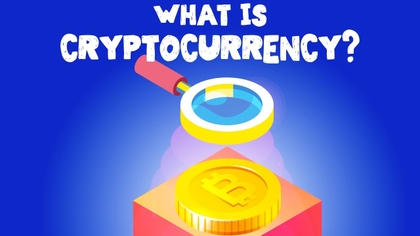 Setting the Foundation: What is Staking?
So, then - while staking has definitely become a "buzzword" in recent times, it is, admittedly, still a concept that many people are unfamiliar with. For some, staking appears to be some sort of a "magical way of how they can make money while doing nothing".
Latest Deal Active Right Now:
$300 + 40 DOGE BONUS
Huobi Black Friday Limited-Time Period
Huobi Black Friday & Cyber Monday 2023 period offers great bonus for new users - sign up & earn up to $300 + 40 DOGE bonus!
Expiration date : 10/12/2023
3,817 People Used
Only 31 Left
As you've probably gathered by now, that's not really the case.
In its most-basic form, staking is a process where you make your cryptocurrencies "work for you". Essentially, they are used to confirm transactions on the blockchains, and issue new blocks - in turn, you receive rewards, for doing that.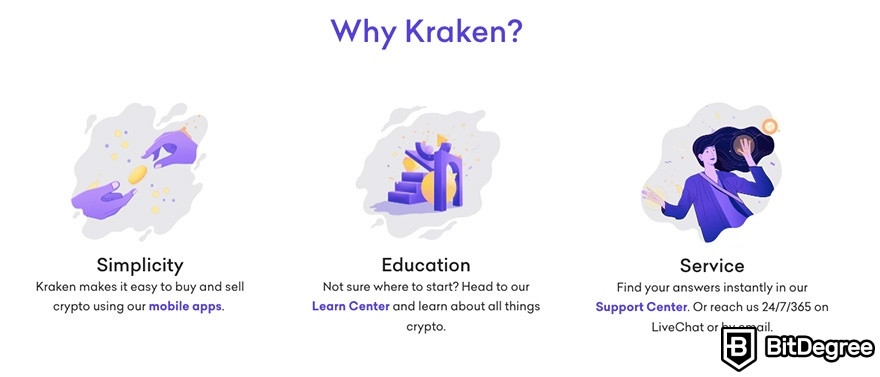 Now, as I've mentioned in the introductory part of this Kraken staking tutorial, these days, there are multiple forms of staking, and a few different ways of how you can go about it. Not to go into too much detail just yet, I can tell you that those additional forms of staking are what made this process approachable and more beginner-friendly, as well.
Staking can be performed in a few different ways. One of those ways is staking on Kraken, or multiple other cryptocurrency exchange platforms out there. This is probably the simplest way to start off, if you're a beginner in the field of crypto.
As opposed to that, there are also special staking pools that can be accessed directly, or with the help of the more-advanced cryptocurrency wallets. While these methods could yield some better rewards, in the long run (yes, Kraken staking rates are a big topic, too), for most people, these increases are going to be incremental.

All things considered, it's probably safe to say that, whether it be staking on Kraken, or any other high-end crypto exchange, these platforms have really paved the way for a huge number of people to come into the industry, and try out staking for themselves.
Before we get to the specifics, though, one more thing that I'd like to address are staking rewards - those of Kraken, as well as in general.
Depending on where it is that you look, staking interest rates are going to differ, quite wildly. Some platforms offer up to 1-2% in annual rewards, while others - hundreds, if not thousands of percent. So, what's the deal here?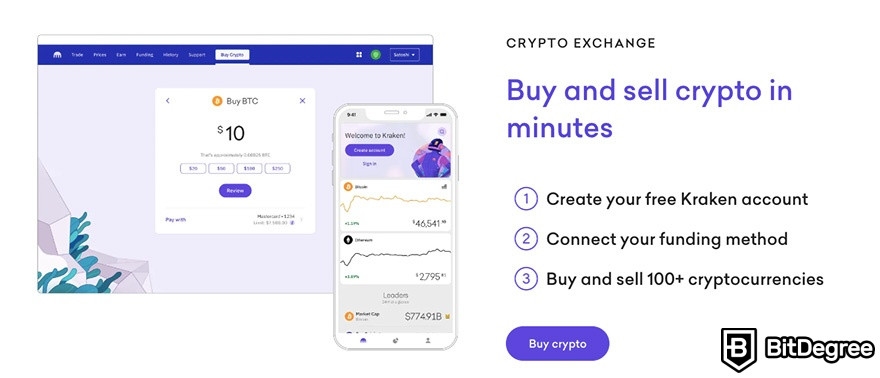 Well, the general rule of thumb that you can follow is this - the higher the number, the more risk is going to be involved.
When you start getting into triple and quadruple digits, this is when eyebrows begin to rise. It makes sense, too - with so many different security-related incidents that have occured in the past few years, people are much more careful with where they keep their crypto!
While it's something that we'll talk about later in the article, Kraken interest rates range up to 23%, annually (as of writing this tutorial). This is a very generous number, but it does sway a lot, and depends on the situation in the market, investor activity, and so on.
Just something to keep in mind, moving forward!
Kraken Staking: On-Chain VS Off-Chain Staking
While things such as supported assets and Kraken interest rates are surely the topics that most people are going to want to figure out first, before we get to all of that, it's worth looking into the aforementioned types of staking.
Specifically, at least as far as Kraken is concerned, there are two that you should be aware of - on-chain, and off-chain Kraken staking.
Admittedly, both of these types are quite different from one another, and will cater to different types of people, as well. With that in mind, let's take a look at each of them, separately.
On-chain staking refers to the process of taking your crypto assets (coins or tokens), and locking them up on a specific network, so that they could perform the earlier-discussed processes for you - transaction confirmations, reward accumulation, and so on.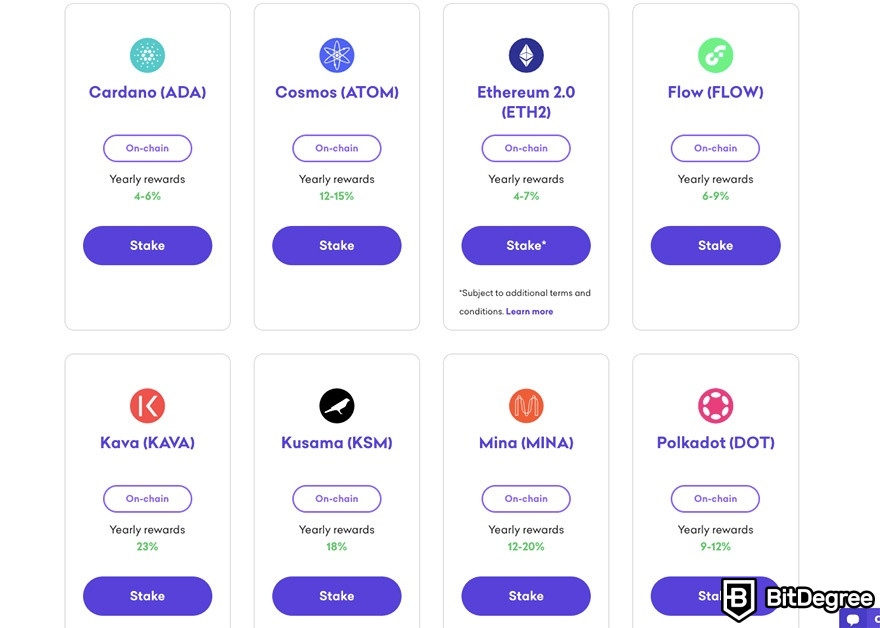 In other words, on-chain staking is the "traditional" form of staking. In its own right, it's a complex process - this is where Kraken comes into play.
With the help of the Kraken staking platform, you are able to participate in on-chain staking processes, without needing to pass some difficult barriers of entry. No custom wallet creations, no shady token trades, none of that - Kraken has made on-chain staking to be a very simple and beginner-friendly process.
An additional point to consider is that, with on-chain Kraken staking, you will only be able to stake coins and tokens that CAN traditionally be staked. So, for example, you couldn't stake Bitcoin on-chain, since the cryptocurrency utilizes the Proof-of-Work consensus mechanism, instead of the Proof-of-Stake one.
Sounds confusing? Worry not - it'll all make more sense when we talk about off-chain staking.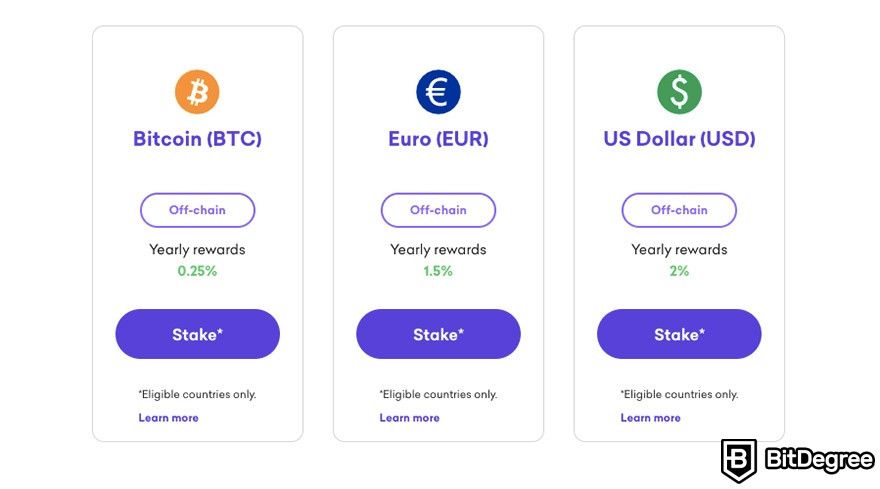 Two more benefits - and these are pretty big benefits, might I add - that are associated with on-chain staking is the fact that there are no country restrictions for participating in this form of Kraken staking, and that the interest rates are usually quite a bit higher than with off-chain staking.
Country restriction-wise, things are pretty self-explanatory. With on-chain staking, you'll be able to participate in the activity from almost any part of the world - that's great news!
As mentioned earlier in the Kraken staking tutorial, though, the thing that people are usually most-interested in are the Kraken staking rewards. With on-chain staking, these rewards could go up to 23% in annual returns. This is an absolutely huge number!
Naturally, it does depend on a variety of variables, but the general idea still remains the same. That said, how is on-chain staking different from that of off-chain?

Off-chain staking is a lot more complicated, legality- and regulation-wise. Instead of your assets being staked on the main chain, you would hand them over to Kraken, and the exchange utilizes them in various APY-earning processes.
For the end-user - you -, the details aren't going to be massively important. What *is* going to be important, though, is the fact that not everyone can participate in off-chain Kraken staking - you have to be from one of the countries that aren't on the 'restricted' list. As of writing this Kraken staking tutorial, the list of restricted countries includes:
Australia
Canada
Denmark
Finland
France
Germany
Hong Kong
Italy
Japan
Luxembourg
Netherlands
Singapore
Sweden
United Arab Emirates
United Kingdom
Unites States
To add to all of that, the Kraken interest rates for off-chain staking are usually quite a bit lower than on-chain ones, as well. One of the larger benefits of off-chain staking, however, is the fact that you can stake some unlikely assets, such as Bitcoin, USD, and EUR.
Given all of that, and everything that we've discussed up to this point in the Kraken staking tutorial, you probably already have a pretty good idea of which of the two types of staking are going to be best for you. With that out of the way, let's move on to the specifics of how to stake your crypto on Kraken.
How to Stake Cryptocurrencies on Kraken?
So - how do you start staking on Kraken? Well, the very first step is to register on the platform, and pass all of the relevant processes associated with trading and staking on this particular exchange.
How to Register on Kraken?
The registration process is quick and simple - let's run through it.
Step 1: Go to the Kraken official website - you can find it here.
Step 2: At the top-right corner of the page, click "Create Account".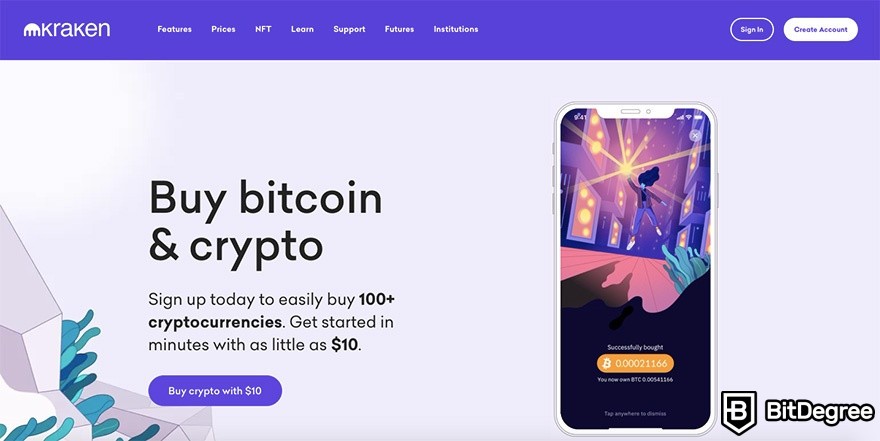 Step 3: Here, you will need to enter your email, create a username & password, and choose your country of residence. Remember - if you're looking for off-chain Kraken staking, certain countries mentioned above are prohibited from participating in this activity!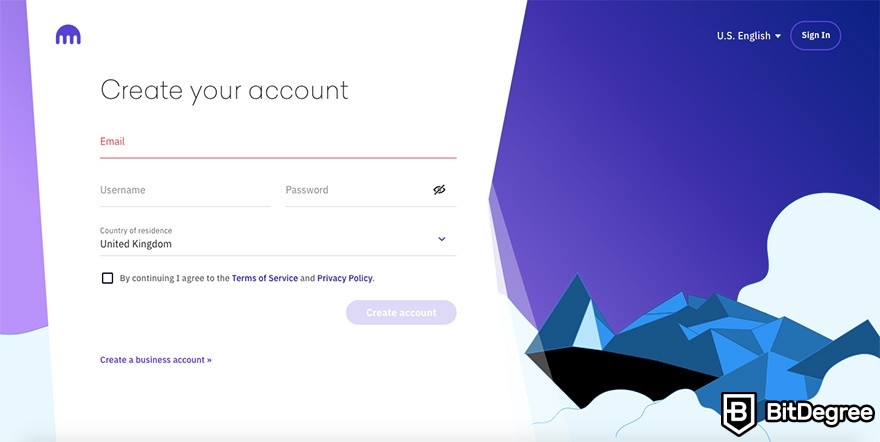 Step 4: Next, you will be asked to confirm your email. You can do so by clicking the link in your inbox.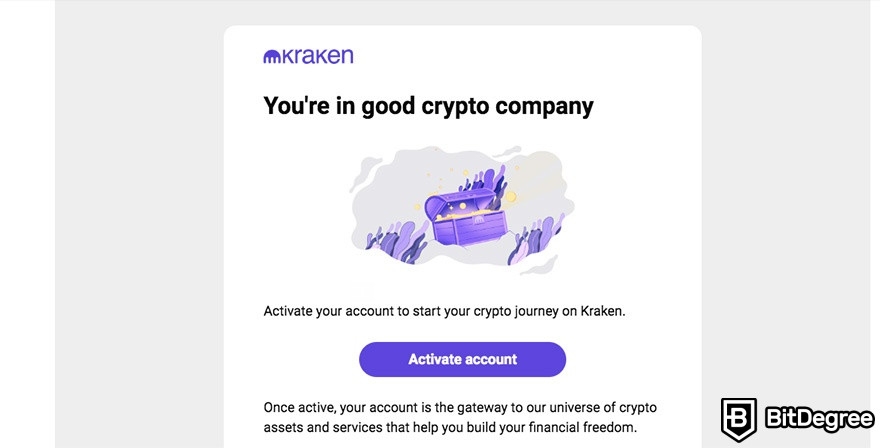 You will now be redirected to your dashboard, on the Kraken exchange. That's it - you're now officially registered on the Kraken exchange!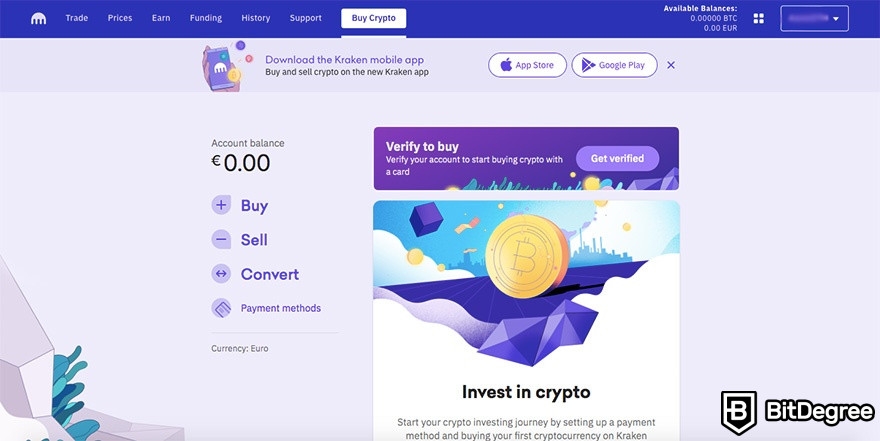 Same as with many other cryptocurrency exchanges these days, registering and creating an account with Kraken is very simple and beginner-friendly. That's definitely much appreciated, especially if you're looking to reap some of those Kraken staking rewards, but have never traded crypto before.
Before we can go any further, though, there's still one more important step that you need to complete - verify your identity.
Kraken has a few different levels of KYC verification checks, each asking you for more information about yourself, but also providing more benefits as you comply. At least the "Starter" KYC level is going to be needed in order to start staking in Kraken!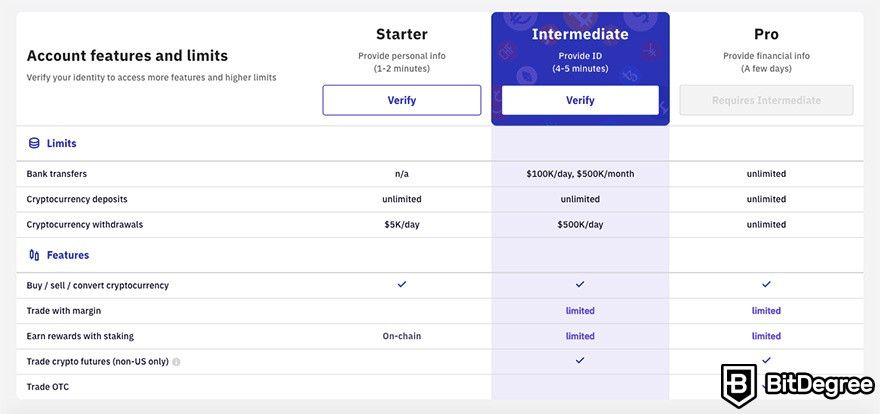 In order to complete the "Starter" KYC checks, you simply need to provide Kraken with some rather general information about yourself - your full name, address, date of birth, and phone number. Once you do that (which, to be fair, takes like a minute to complete), your account should get verified in a couple of minutes!
Note, though, that if you're someone who's looking at the highest Kraken staking rates, you're all good - with the entry-level KYC verification, you'll be able to stake your cryptos on-chain, with Kraken. However, if you're instead interested in off-chan staking, you'll need to pass advanced-level KYC checks, and provide the exchange with proof of your ID.
How to Deposit Crypto to Your Kraken Account?
With your account all verified and ready to go, there's one more thing that you'll need to do, before you can start staking on Kraken - add funds into your exchange account or, in other words, perform a Kraken deposit.
There are generally two big ways of how you can go about this - either by funding your Kraken account with fiat money and buying crypto this way, or transferring crypto funds from another wallet.
The former method is only available to be done with advanced KYC verification checks. Since that method is also very self-explanatory, too, let's instead focus on the crypto transfer option.
Step 1: From your current page, navigate to the top of the page, where you'll see a "Funding" button. Click it.
Step 2: In this new window, click "Deposit". You'll need to pick the cryptocurrency that you'd like to transfer to your Kraken account. For the sake of this Kraken staking tutorial, I'll be going with Cardano (ADA).

Step 3: While this new window might seem a bit intimidating, if you're an industry newcomer, I assure you - it's all very simple. You can either check the Kraken tutorial on how to deposit ADA coins, or simply select the address-generating feature.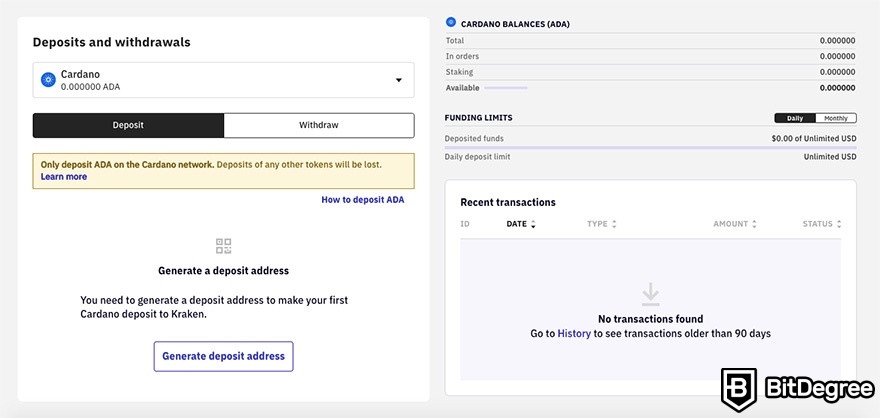 A string of letters and numbers will pop up, accompanied by a QR code. You can now either paste this address into your other wallet, when you select to withdraw Cardano, or simply scan the QR code. Make sure that everything's correct, and that your wallet addresses match!
Step 4: Your Kraken deposit should take around 10-15 minutes. Once it's done, your ADA coins will appear in your Kraken Cardano wallet, and you'll be able to start staking!
This is all, admittedly, a lot of preparation before you can actually begin Kraken staking. However, if you're even a bit crypto-savvy, you'll be able to complete all of these steps in a matter of minutes!
Once you do so, and notice that your ADA coins have arrived into your account, it's finally time to move on and start looking into the Kraken staking rates!

Pros
A very well-known crypto exchange platform
More than 500 different cryptos available
Two-factor authentication
Main Features
Over than 100 different cryptocurrencies available
Strong security
Small withdrawal fees

Pros
Secure and reliable
Low fees
A good amount of fiat currencies accepted
Main Features
Reputable exchange
Multiple fiat currencies are accepted
Relatively low trading fees

Pros
Anonymous trading
Secure
Supports a variety of cryptocurrencies
Main Features
Easy to use
Low fees
Good security
How to Start Staking With Kraken?
For consistency's sake, I'll assume that you'll be starting from your Kraken dashboard.
Step 1: At the top-left corner of the screen, navigate to the "Earn" section, and click on it.
Step 2: You'll be presented with a short explanation of how everything works, and a large list of different cryptocurrencies that you can start staking. Note that, on this Kraken staking page, all of your balances will appear as zero - that's normal, since they only reflect the actual amount that you have staked, as well as your rewards, instead of the amount of crypto that you actually hold.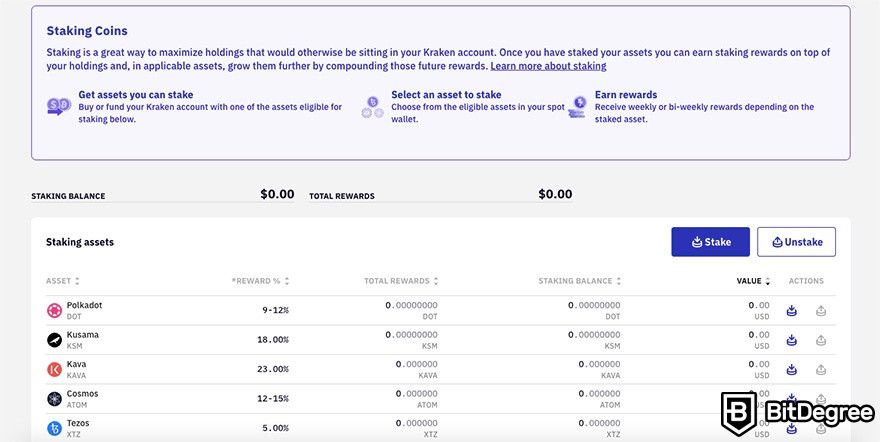 Step 3: Since we've made a Kraken deposit of ADA coins, this is the cryptocurrency that we need to find on that list. Once located, you will notice a blue staking button on the right side of the screen - click it.

Step 4: The popup that comes up on your screen is where you finalize your staking decision. You can set up the amount of ADA that you want to stake, check the minimum Kraken staking amount, learn about the royalty payment interval, as well as the Kraken interest rates available with this specific cryptocurrency, too.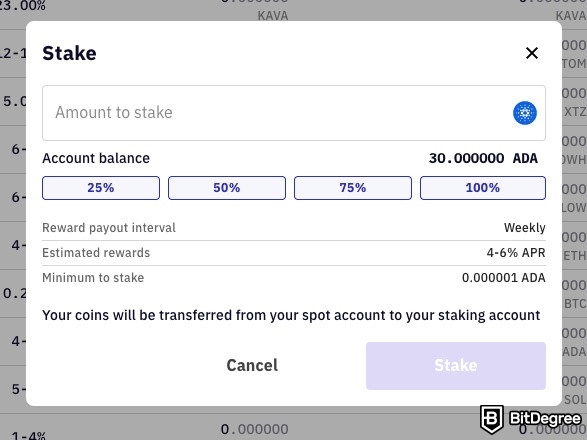 Step 5: If everything is to your liking, all that's left to do is confirm your stake, and that's it - you're now staking on Kraken! It may take around 10 minutes for the staked funds to appear in your staking wallet, but you are now earning a semi-specific interest rate on your crypto!
This entire process from us registering on the Kraken exchange, up to this point in time, having just staked our first crypto on the platform, was definitely noteworthy, for a couple of reasons.
For starters, even if this was your very first encounter with staking, or even crypto, in general, Kraken has definitely managed to optimize their platform to be very welcoming, and newbie-friendly. With staking often being seen as a rather complex process, not all service providers are able to achieve the same!
Furthermore, Kraken has quite a few resources for you to learn about what it is that you're doing, each step of the way. As you perform all of the actions discussed up to this point in the Kraken staking tutorial, you'll be accompanied by informational popups, emails, and other beneficial material. It's definitely noteworthy, simply for how helpful all of that truly is!

As mentioned earlier, you can expect to receive your Kraken staking rewards every set amount of time. Usually, it's a two-week period, but this can differ from crypto to crypto. Your rewards will be delegated to your staking wallet, automatically - no need for any manual intervention.
This is, however, another huge point to keep in mind, when considering Kraken staking, as well as the Kraken interest rates. The rewards that you will receive from staking on said exchange are going to be compounding.
What does that mean? Well, as you receive your Kraken staking rewards, they will automatically be added to your staking pool - thus, your base stake will keep on increasing, and you will continually earn more crypto. This is a great benefit, and one that shouldn't be overlooked!
KRAKEN

Main score based on expert evaluations & real user reviews.

For which purpose or what kind of people is the crypto exchange most useful.

Best for Beginners

The countries in which the cryptocurrency exchange is available for operation.

United States, Germany, United Kingdom, France, Canada, + 190 more,

Most popular hand-picked deals & coupons.

All Kraken Coupons

Final crypto exchange evaluation conclusion based on research, expert opinions & user feedback.

One of the best crypto exchanges.
Visit site
Read review
Table: General information about the Kraken cryptocurrency exchange
Moving on, it's also worth mentioning the off-chain staking functionality, as well. As you might recall, in order to stake assets off-chain, you will need to reside in a country that supports this form of staking. Furthermore, the rewards will usually be quite a bit lower, too - on the flip side, though, you would be able to stake some otherwise "unstakable" assets, such as BTC.
Off-chain staking works in the same manner as that of on-chain, process-wise. You would still need to register, pass KYC checks, and fund your account, and then simply pick an asset that you'd like to stake. If you hold it - you'll be able to do so.
Is Staking Cryptocurrencies on Kraken Worth it?
Up to this point in the Kraken staking tutorial, we've essentially covered all that you need to know when it comes to the entire process. So, by this point, you should have a pretty good general idea of what to expect from the exchange platform in question.
One big question that still needs to be addressed, however, is whether or not Kraken staking is worth looking into, in the first place. Additionally, if that's not the case, perhaps there are better alternatives?
Let's address the first question, first. To put it very shortly, yes - Kraken staking is one of the best services of this kind, thanks to a couple of reasons.
KRAKEN

The total number of current users in each cryptocurrency exchange platform.

8M

Amount of cryptocurrencies that are accepted in a certain cryptocurrency exchange.

1. BTC
2. ETH
3. LTC
4. XRP
+ 110 more


What kind of fiat currencies are accepted in a certain cryptocurrency exchange.

USD/EUR + more
Visit site
Read review
Table: The stats of the Kraken crypto exchange
First of all, Kraken is a very well-established cryptocurrency exchange. This, in turn, means that the brand has managed to build up a lot of trust in the industry. Trust is a huge factor, when there are financial assets involved!
Kraken is, in general, often considered to be one of the best exchanges out there. The brand behind the platform is hard at work trying to fill the exchange with useful features, and keep up with the trends present in the industry. Kraken staking is really no exception to that rule!
To add to that, while I've pointed this out a few times already, it must be stressed here, as well - staking on Kraken is one of the easiest and most-straightforward processes of this kind, that you might have the opportunity to participate in!
I mean, the most difficult (read: time-consuming) part of the entire process was transferring your crypto assets from a third-party wallet to Kraken. That says a lot, especially when the actual end goal is on-chain or off-chain staking!
KRAKEN

Full legal business name of the cryptocurrency exchange.

Kraken

The location where the cryptocurrency exchange company is based.

US

The year when the cryptocurrency exchange was established.

2011
Visit site
Read review
Table: Some information about the company behind Kraken
This is sort of the last point that's worth mentioning here, too. The fact that you are able to pick your preferred type of staking on Kraken is a huge benefit, whether you're a beginner, or an advanced crypto trader! If you don't want to participate in all of the hassle of off-chain staking, or reside in a country that doesn't allow this form of staking, you can just go with the on-chain option.
On the flip side, if you'd like to stake some very specific assets (such as Bitcoin or USD), then off-chain staking still remains a viable option. It all boils down to having the freedom of choice!
Addressing the second question - the one regarding "better alternatives" -, I do have to say that yes - there's a healthy list of cryptocurrency exchanges out there that offer their users the ability to stake crypto. Apart from Kraken, this includes other industry-leading names, as well.
BINANCE

Main score based on expert evaluations & real user reviews.

For which purpose or what kind of people is the crypto exchange most useful.

Buying, trading, and holding a wide variety of cryptocurrencies

The countries in which the cryptocurrency exchange is available for operation.

Turkey, Russia, Argentina, Vietnam, Ukraine, + 40 more,

Most popular hand-picked deals & coupons.

All Binance Coupons

Final crypto exchange evaluation conclusion based on research, expert opinions & user feedback.

One of the leading crypto exchange platforms in the industry.
Visit site
Read review
Table: General information about the Binance cryptocurrency exchange
Take Binance, as the simplest example. This is a name that many crypto-people are likely familiar with - Binance is often named as being *the* most popular cryptocurrency exchange on the market, trading volume-wise.
It's no secret that Binance offers its clients a huge array of different services, staking included. On top of that, Binance users can enjoy the ability to use all of those aforementioned services with one, single account - so, no matter if you want to trade crypto, NFTs, or stake your assets, you won't need to create separate accounts to do so.
All in all, if you're looking for alternative to staking on Kraken, Binance should definitely be "up there", on your list. While there are other alternatives, too, Binance stands tall above most of them!
Conclusions
So - we've reached the end of this Kraken staking tutorial! By now, you should be aware of practically everything relating to staking on Kraken, whether it be on- and off-chain staking differences, account funding, KYC, or else!
To reiterate the point I've made earlier in the tutorial, Kraken is often regarded as one of the better cryptocurrency-related service providers out there - the same is very true with staking, too. The exchange makes it simple, beginner-friendly, and hassle-free, while providing some awesome interest rates and a good variety of stakeable assets, too - great news, all around!
If you do want to check out other alternatives, however, make sure to take a look at Binance. Being one of the leading exchanges in the industry, this particular platform should surely offer a huge variety of appealing benefits, to any crypto stakers out there.
With all of that being said, thanks for reading! Good luck, and until next time!
About Article's Experts & Analysts