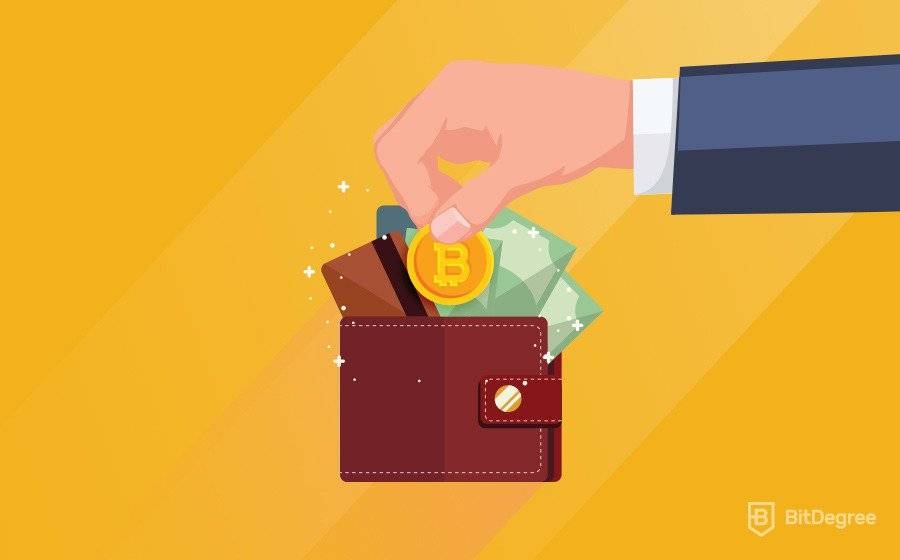 Bitcoin is everywhere. Its rise in popularity over the last few years has caused an increasing number of individuals to become interested in cryptocurrencies. However, a lot of people still don't know how to buy Bitcoin, or where to do so.
There are lots of options to choose from, though! With so many websites offering different services, it's hard to know which option will be right for you.
That's why I'm here to help!
In this guide, I will explain how to buy a Bitcoin, the best place to buy Bitcoins, and how you can start investing today! We'll talk exchanges, ATMs, and everything in between. By the end of this guide, you'll have a clear understanding of which buying option suits your needs.

Did you know?
Want to get smarter & wealthier with crypto?
Subscribe - We publish new crypto explainer videos every week!
Is Your Crypto Safe? (5 Best Crypto Security Practices Explained)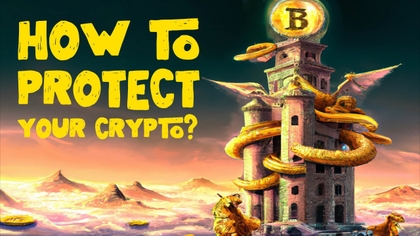 How to Buy Bitcoin: So, What is Bitcoin?
Put simply, Bitcoin is a digital currency that you can use to buy and sell things. It is very different from physical money, though, as it is completely digital. There is no government or bank that stores or creates Bitcoin.
It can be used for payments on the web and cheap international transfers, and is the first modern payment system that isn't controlled by the government.
Instead, it is stored in a secure online database, also known as the blockchain. Rather than being printed, like traditional money (USD, JPY, EUR etc.), it is created by the computers that run the database. The computers verify the Bitcoin transactions, and are rewarded with new Bitcoins! It's a process known as mining, and these computers are known as miners.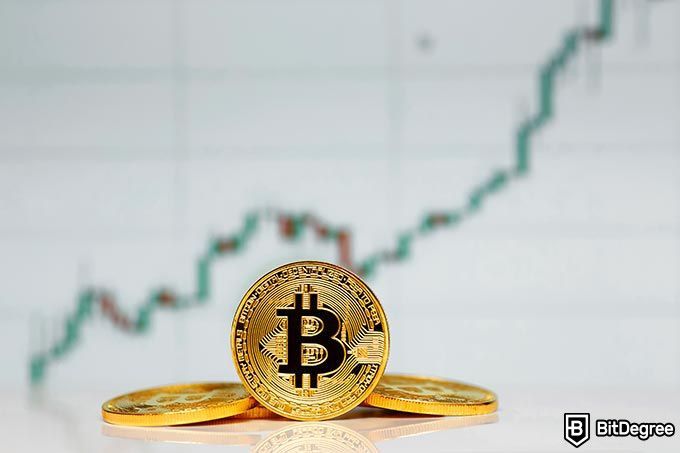 For more on this, see this guide.
Bitcoin has been a great way to earn money for investors over the last 7 years or so.
So, you want to buy Bitcoin, but you don't know where to start and keep wondering 'how to buy Bitcoin?'... Allow me to explain, then!
Let's get this straight... Can you buy partial Bitcoins?
In other words, can you buy half a Bitcoin, a quarter of a Bitcoin, or even a tenth of a Bitcoin?
The simple answer to all those questions is… YES! You don't have to spend your whole life savings to buy a full Bitcoin.
You have the option to either buy half a Bitcoin or even less than half. Each unit of a Bitcoin is called a Satoshi. Bitcoins can be split into 100,000,000 pieces.
Imagine that one Bitcoin looks like this: 1.00000000
Half of a Bitcoin looks like this: 0.50000000
A quarter of a Bitcoin looks like this: 0.25000000
One-tenth of a Bitcoin looks like this: 0.10000000
You can buy Bitcoin with however much (or little) money you'd like. In fact, Binance even allows you to buy 0,0001 of BTC! Now that you know the amounts, let's get started on actually explaining how to buy Bitcoin.
Fun fact:
Satoshi comes from the name "
Satoshi Nakamoto
", who is the unknown creator of Bitcoin.
Where Can You Buy Bitcoin With Credit Card or Debit Card?
The best way to buy Bitcoins is by using a Bitcoin exchange. These are websites that allow you to purchase Bitcoin using your bank card. The best options and the ones that I recommend are Binance, Coinbase, Kraken, and KuCoin.
All these sites are compatible using your desktop and mobile. It's easy to sign up, and they make the beginning of your Bitcoin journey much easier than other options.
When you find a crypto exchange that meets the requirements you want, go ahead and sign up!
Let's walk you through the steps for setting up a Binance account and making the first steps on how to buy Bitcoin:
Step 1. First, go to Binance and click "Register".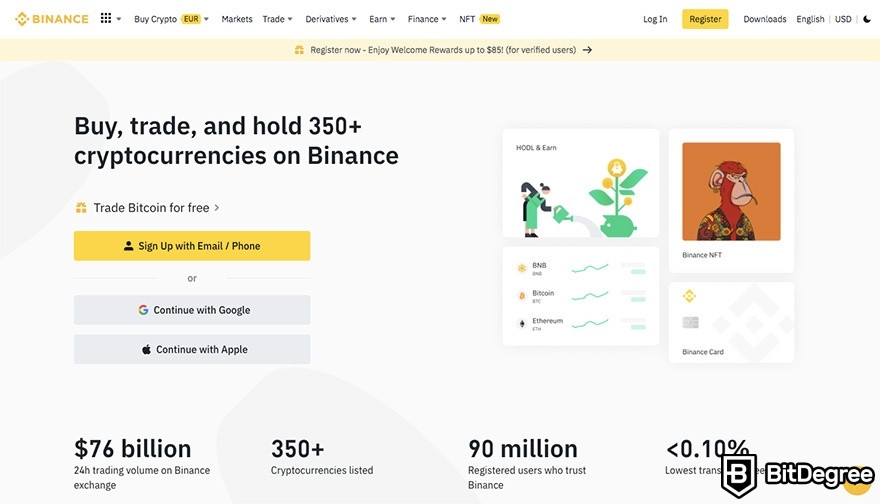 Step 2. You will then be sent to the following screen: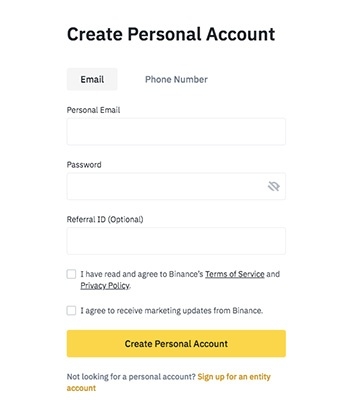 Enter your name and surname, type in your email address, and then, create a password that you will remember!
Step 3. Now, you need to log in to your email (the one you put into Binance). You should have an email from the platform — enter the account activation code on Binance.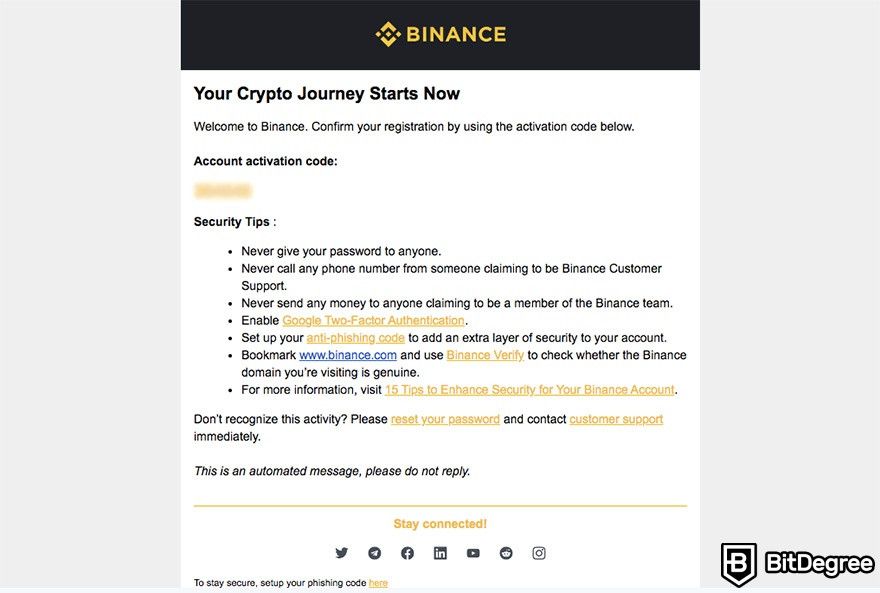 Step 4. Once you have logged in, you'll have two choices. You can either continue and explore Binance, or finalize your account creation, and unlock the ability to trade, and buy / sell crypto on the platform. Granted that there might even be rewards involved, the latter option is a far better choice!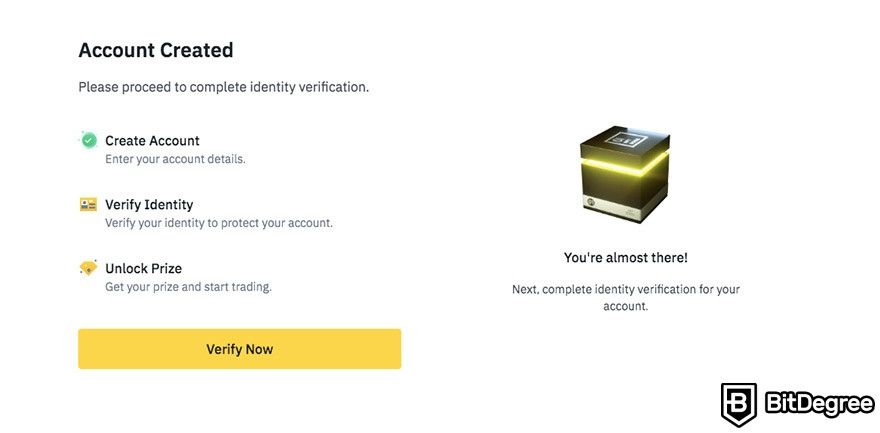 You account verification will involve you passing all of the required KYC processes. Binance is rather strict in this regard, so you *will* need to pass the KYC checks, in order to do anything on the exchange in question.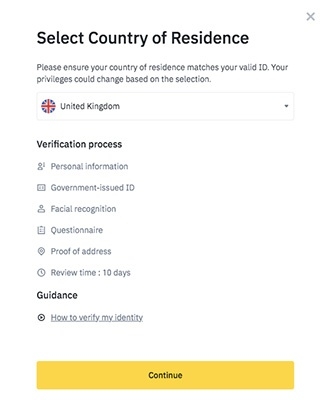 Step 5. Once you fill out all of the necessary information, and submit proof of your identity, Binance will need to check and verify that the information is correct. If it is, and you've filled out everything properly, you should be able to see this screen, on your "Identification" tab, on your profile dashboard: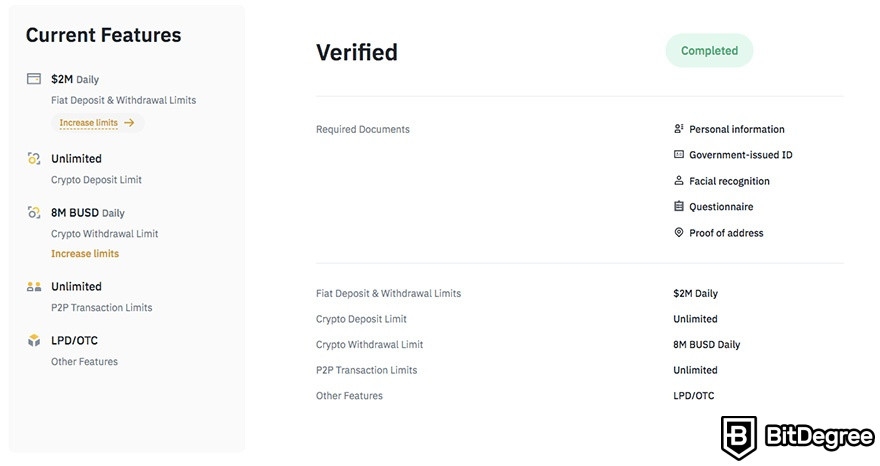 Step 6. All that you need to do now is navigate to the top-left of the Binance website, and hover over the "Buy Crypto" tab. You will immediately see all of the different payment options that you can utilize, in order to purchase BTC for the first time.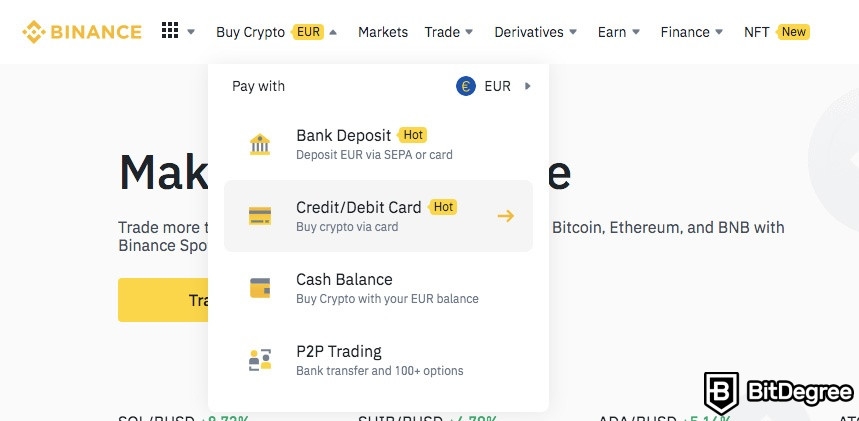 Step 7. Here, you will need to choose the currency that you want to pay in, as well as the amount of money that you want to spend (or how much BTC you want to receive).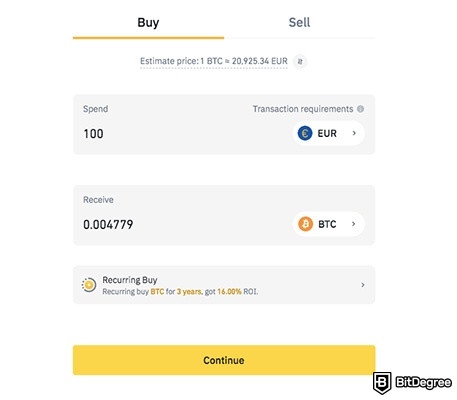 After you follow through with all of the confirmations, and add a valid credit or debit card, you will be able to finalize your purchase! That's how to buy Bitcoin with Binance!
Once you sign up on Binance, you'll have access to a user-friendly wallet that allows you to store many different cryptocurrencies. If you would like to transfer your Bitcoin to another wallet instead, the Ledger Nano X is a good starting point if you're looking for something secure and easy to use.
Other than Bitcoin, you can also buy Litecoin, Ethereum, and many other cryptocurrencies on Binance. The process doesn't really differ - so, now that you know how to buy Bitcoin, you should be able to buy any other major crypto, as well!
Ethereum is the 2nd biggest cryptocurrency by market cap (Bitcoin is the 1st), and you can learn more about how it compares to Bitcoin in our Ethereum VS Bitcoin guide.
Market cap: The total price of all coins added together. For example, Bitcoin's market cap is the value of all Bitcoins added together.
How to Buy Bitcoins With Cash Anonymously
When you first think about buying Bitcoin, you might wonder how to do it anonymously. The easiest way to buy Bitcoins anonymously is by using LocalBitcoins.
Buying Bitcoin With LocalBitcoins
There is no verification needed when you sign up to LocalBitcoins, as it is a peer-to-peer platform. This means that you purchase Bitcoin from other people online.
LocalBitcoins allows you to buy Bitcoin online in the following ways:
You can buy Bitcoin with cash by meeting up with the sellers that live near you;
Choose to buy Bitcoin from other people by sending a bank transfer;
You can deposit money into the seller's bank account by going to a bank and depositing cash into their account.
For bank transfers, some of the people who sell on LocalBitcoins might ask you to verify yourself before buying from them. Buying Bitcoin in person is the most common way to buy Bitcoin without ID on LocalBitcoins. So, now you know how to buy Bitcoin anonymously.
How to Buy BTC Using an ATM
Next, you have the Bitcoin ATM option. Another great choice if would like to buy Bitcoin without using your ID. At a Bitcoin ATM, you can buy Bitcoin with cash or with a debit/credit card.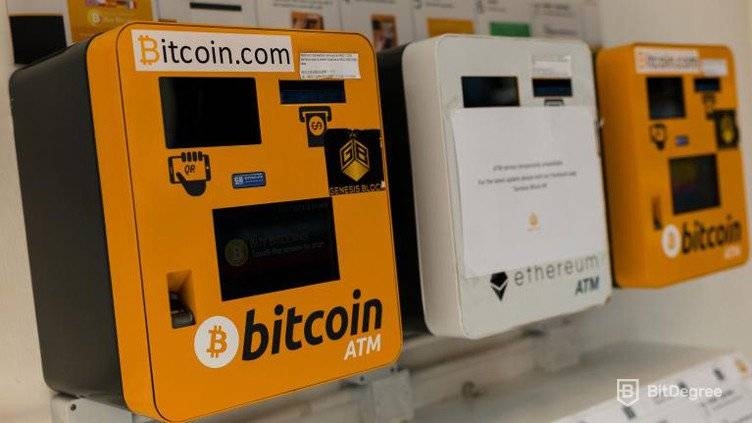 Source: qz
However, Bitcoin ATMs are hard to find, and they are limited to only the countries that allow them. There are also many different types of Bitcoin ATMs, but most of them follow the same process:
Step 1. Click the option to "Buy Bitcoins".
Step 2. Type your mobile number into the ATM.
Step 3. You will then receive a text message with a verification code.
Step 4. Type the code into the ATM.
Step 5. The ATM will ask you for your Bitcoin wallet address.
Note: If you haven't set up a Bitcoin wallet, then click the option that says, "I don't have a bitcoin wallet address". The ATM machine will then create a new Bitcoin wallet address for you, which you can print out. This printed-out paper will have the public and private keys to your Bitcoin wallet on it. Please keep this extra safe!
Step 6. Enter the Bitcoin wallet address that you would like your Bitcoins to go to.
Step 7. Put your cash into the ATM machine.
Step 8. Press "Send", and the BTC will be sent to you immediately.
And there you have it, another way how to buy Bitcoins with cash! Simple, right?
Keeping Your Bitcoins Secure
Now that you know how to purchase Bitcoin, it's important that you understand how to keep your Bitcoins safe.
Hardware Wallets
There are many ways for you to store your BTC safely once you have bought them. So, now that you know how to buy Bitcoin, time to know how to keep them safe. The most secure way and the way I recommend is to store your Bitcoin in a hardware wallet.
Hardware wallets come with a price, but they are much safer. So, if you really, really don't want to lose your Bitcoin, you should think about buying one of these:
Nano Ledger X – The Nano Ledger X allows you to store Bitcoin, Ethereum, and other cryptocurrencies! This is an easy-to-use hardware wallet with a lot more security than online wallets and software wallets. You can buy the Ledger Nano X for around $149.

Trezor Model T – The Trezor Model T is one of the most secure ways to store your Bitcoins. It stores the keys to your wallet on a small piece of hardware – like a USB! However, this USB is different — it cannot be affected by viruses!
You can buy a Trezor Model T wallet for around $300. Unlike online wallets and software wallets, the Trezor Model T and Nano Ledger X are not always connected to the internet - only when you plug them into your computer. This makes it much harder for hackers to attack your wallet!

Did you know?
Want to get smarter & wealthier with crypto?
Subscribe - We publish new crypto explainer videos every week!
What is Odysee & LBRY? Is Decentralized YouTube Possible? (ANIMATED)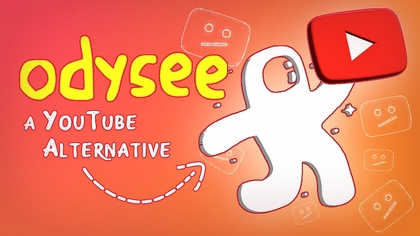 SSL Certificates
Whenever you sign up or log in to a website that you buy, sell or store cryptocurrency on, you should always check that the website has an SSL Certificate.
This is the green text and lock image that are at the left of the website address. If the SSL is in place, it will say "Secure" — this means we are probably on the real LocalBitcoins website.
An SSL certificate is a type of security that is used to keep your information secure. It makes sure that any information that is entered into the website stays private — this is very important for the safety of your information!
SSL certificates are there to protect your privacy and stop you from using a fake Bitcoin exchange site, and they will keep your Bitcoin wallet safe from hackers. If the website doesn't have an SSL, knowing how to buy Bitcoin won't be very useful, as you might lose them.
A quick tip: If you're going to use cryptocurrency websites regularly, like LocalBitcoins or Binance, you should 'bookmark' the real website with the SSL certificate! This way, you can just click the 'bookmark' when you want to use that website — you always know it's the real one without needing to check.
Two-Step Verification
When you have set up your exchange account (such as Binance), it will ask you to set up two-step verification. This keeps your account secure, and I strongly advise that you set it up.
You set it up using your mobile phone, by following the steps below:
Enter your mobile number into the exchange website.
The exchange will then send a text message to your mobile with a code.
Enter the code into the box on the website.
Now, every time that you try to log in to your account, you will be sent an SMS code. You must enter it into the website to complete your login.
BINANCE
KRAKEN

Main score based on expert evaluations & real user reviews.

For which purpose or what kind of people is the crypto exchange most useful.

Buying, trading, and holding a wide variety of cryptocurrencies
Best for Beginners

The countries in which the cryptocurrency exchange is available for operation.

Turkey, Russia, Argentina, Vietnam, Ukraine, + 40 more,
United States, Germany, United Kingdom, France, Canada, + 190 more,

Most popular hand-picked deals & coupons.

All Binance Coupons
All Kraken Coupons

Final crypto exchange evaluation conclusion based on research, expert opinions & user feedback.

One of the leading crypto exchange platforms in the industry.
One of the best crypto exchanges.
Visit site
Read review
Visit site
Read review
Table: General information about the Binance and Kraken cryptocurrency exchange platforms
This adds extra security to your account; hackers will now need your mobile device, as well as your username and password. It's a much safer way of how to buy Bitcoin!
This also works with email addresses: some exchanges use an email for two-step verification instead of an SMS / mobile phone. It works the same way, but is less secure, because it is easier for a hacker to get your email password than your mobile device.
Google Two-Step Verification
Google two-step verification is very similar to text message two-step verification. The only difference is that Google's version uses a Google app on your phone, instead of using your mobile number.
Not all sites offer Google's two-factor verification, however! If it does, then this is how you will set it up:
Step 1. Go to your account settings.
Step 2. Click "Two-Factor Authentication".
Step 3. Install the Google Authenticator app on your phone.
Step 4. Enter the code from the exchange, or scan the barcode with the Google Authenticator app.

Step 5. Then, enter the code into the exchange website.
Done!
Now, every time that you log in to your exchange account, you will need to enter the code given to you from the Google Authenticator app. This code always changes, though, so you have to open the Google Authenticator every time you log in, so that you can receive your new code.
When to Buy Bitcoin?
Knowing when to buy Bitcoin isn't easy. I recommend that you head over to our crypto tracker. Here, you will find the Bitcoin price chart, which tells you the current price of Bitcoin, as well as its price history.
Since you already know how to buy Bitcoin, let's get some insights about the 'when'. The price of Bitcoin changes all the time, and it should be your goal to buy Bitcoin at the cheapest price possible. This is to make sure that you make the best return on your investment.
For more on this, read our Bitcoin price prediction guide.

Pros
A very well-known crypto exchange platform
More than 500 different cryptos available
Two-factor authentication
Main Features
Over than 100 different cryptocurrencies available
Strong security
Small withdrawal fees

Pros
Secure and reliable
Low fees
A good amount of fiat currencies accepted
Main Features
Reputable exchange
Multiple fiat currencies are accepted
Relatively low trading fees

Pros
Anonymous trading
Secure
Supports a variety of cryptocurrencies
Main Features
Easy to use
Low fees
Good security
What is the Best Way to Buy Bitcoin? You Decide.
When buying Bitcoin with cash, you can remain anonymous by using a Bitcoin ATM, or buying privately from a person on LocalBitcoins.
However, these options can take up a lot of your time. If you want to use an ATM, then you must spend time traveling to an ATM. Or, if you buy Bitcoin using cash on LocalBitcoins, then you must either travel to meet the seller or travel to a bank to send the cash.
Note: When you send cash via a bank, you still don't need your identity. This is only available in selected countries, though.
So, those are the best ways of buying bitcoin without using your identity. If you're looking for speed, though, use Binance, Kraken or KuCoin. You will have to verify your identity, but you can pay with a debit / credit card.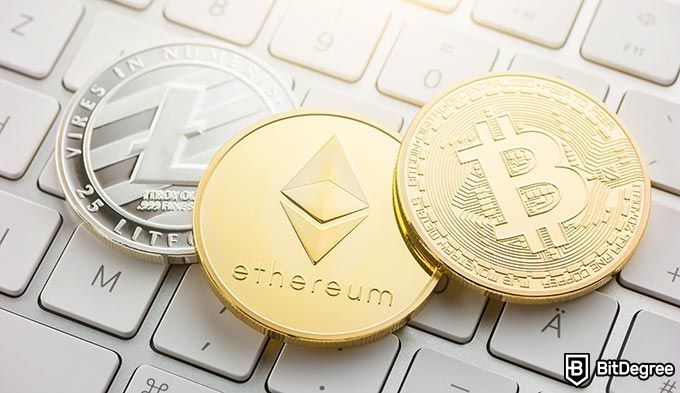 There is one thing left when it comes to answering how to buy Bitcoin question: your location. If you're based in the U.S., exchanges such as CEX.IO are probably not the choice for you. This is because it is only available in a few U.S. states! Check their website to find out which ones.
Most of Asia, Africa, and South America cannot use Coinbase either. There's good news, though - Coinmama is available in every country around the world!
Conclusion
So, for speed, choose an exchange like Binance or Kraken. If you live somewhere that can't use Binance or CEX.io, though, it'll have to be Coinmama!
Don't you want to use your identity? Choose LocalBitcoins or a Bitcoin ATM. If you want the extra security, Binance is the only option I recommend. As you know many answers to how to buy Bitcoin, which are you going to use? Let us know how it goes! If you have any questions, I will gladly answer them.
About Article's Experts & Analysts