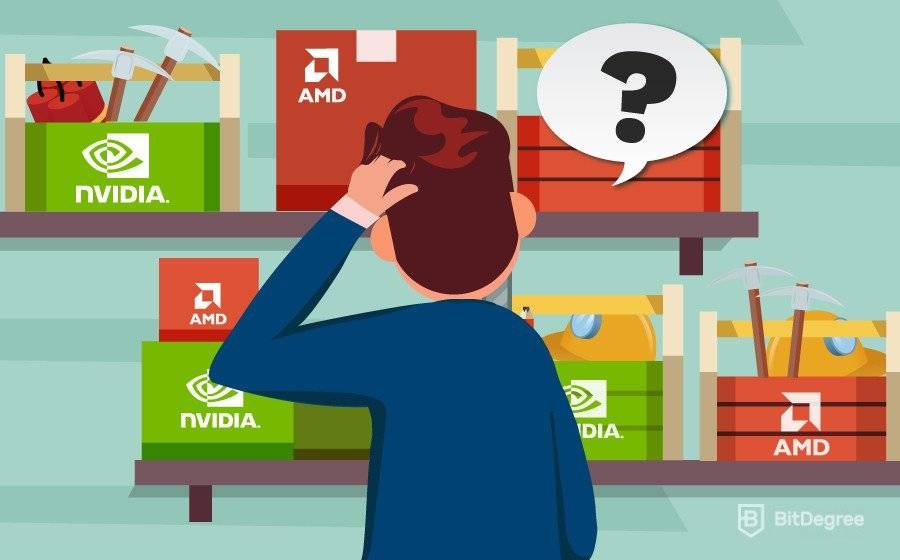 Hello and welcome to this guide on choosing the best GPU for mining. In this guide, I'll be looking at six of the top units on the market. I'll compare GPUs and ultimately give you the tools to pick the best GPU for mining.
There are lots of different GPUs on the market today. Some are built specially to render video, others are designed for gaming. This guide isn't about all that though. It's strictly about finding the best GPU for mining!
During the guide, I'll start with a brief introduction to what cryptocurrency mining actually is. This will be followed by a look at six of the top GPUs on the market today. After this, I've included a handy GPU comparison chart. This should help you to quickly see the specifications of each GPU and find out which is the best mining GPU for your personal needs.
After mining coins, you should make sure to keep them in secure crypto wallets. Some of the more recommended options include Ledger Nano X, and Trezor Model T.
Also, in case you decide to choose an easier way to get cryptocurrencies, make sure to choose reliable cryptocurrency exchanges, such as Coinbase and Binance.
Let's begin!

Did you know?
Want to get smarter & wealthier with crypto?
Subscribe - We publish new crypto explainer videos every week!
What is Decentralized Crypto Gambling? (Animated Explainer)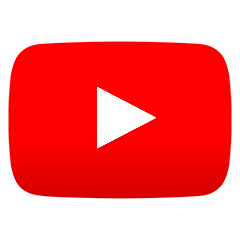 The Main Idea of Crypto Mining
Before we start to compare GPUs for mining, we should begin with a brief explanation of what we actually mean when we say cryptocurrency mining. Mining is the process of verifying transactions on a cryptocurrency network. To do this in a way that is secure enough for a crypto network to support billions of dollars of value, computers must try to guess a string of characters – also known as a hash.
Latest Binance Coupon Found:
CLAIM $600 BONUS
Exclusive $600 Binance Offer
Don't miss this limited-time deal that's only available for our readers. Follow the Binance referral code link & receive up to $600 in rewards and bonuses!
Expiration date: 27/03/2023
7,847 People Used
Only 49 Left
This "proof-of-work" as it's called is one of the most important features of a cryptocurrency. It essentially protects the network against people creating additional Bitcoin, Ether, Dash, or whatever the currency in question is.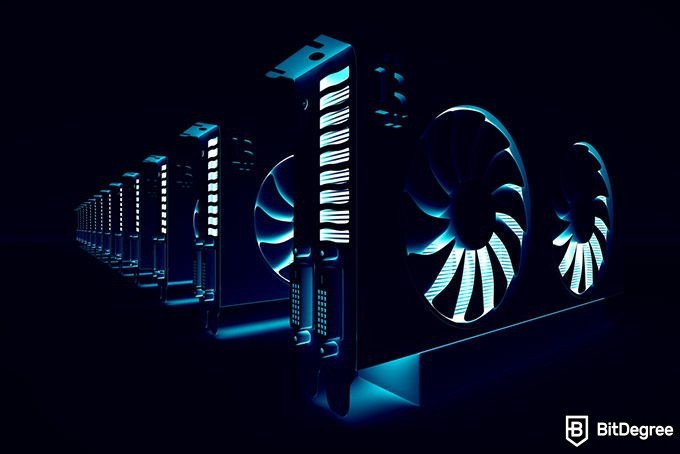 Cryptocurrency mining can be done with a variety of different types of computer systems. The most basic is a CPU. CPU stands for the central processing unit. They were good at mining cryptos a few years ago when the competition in mining wasn't as great.
However, today a GPU is preferred for mining many different cryptos. This is because a GPU can make many more guesses at the correct string of characters every second. The number of guesses a machine can make is referred to as its hash rate. Therefore, the best GPU for mining will have a high hash rate!
GPU stands for graphics processing unit and they are a must-have piece of hardware for anyone doing heavy rendering work (the kind used for video production) or for playing the most state-of-the-art video games.
Since the popularity of cryptocurrencies exploded in 2017, there was a massive shortage of GPUs. This was because so many people were buying them to mine cryptos. Shares in GPU manufacturing companies like NVIDIA and AMD skyrocketed too!
Best Graphics Card for Mining
Introductions out of the way, we can finally get down to the main focus of this guide – finding you the best GPU for mining!
I've scoured the web to bring you a short list of the absolute top pieces of hardware on the market today. It might be difficult to get your hands on some of these, however. They are still in very high demand.
Best of the Bunch – NVIDIA GeForce GTX 1070
The first on our list of best mining GPUs is the NVIDIA GeForce GTX1070. 1070 is a fabulous graphics card for video gaming. It's also an amazing choice for cryptocurrency mining.
The NVIDIA GeForce GTX1070 has a more than generous hash rate of 30mh/s. It also doesn't draw much power. At just 150W per unit, it's one of the cheaper cards to run. This means that electricity shouldn't eat too much into your mining profits.
One drawback of the GTX1070 is that it is one of the more expensive units on our list. It retails at between $600 and $1,000 depending on where you pick it up as well as the current supply and demand of them.
All that said, it's probably the best GPU for mining. So, if you manage to find it for less than $600, you should definitely get it.
Best on a Budget – AMD Radeon RX580
Next on our rundown of the best GPUs for mining is the AMD Radeon RX580. Like NVIDIA, AMD is another absolute household name in the graphics card production industry. You can rest assured that you're getting a quality piece of hardware from the company.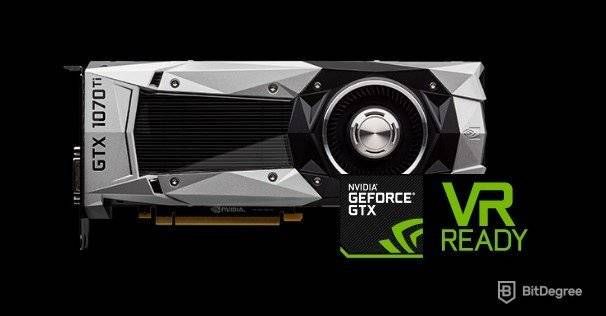 The RX580 comes in at a much more affordable price than the NVIDIA GeForce GTX 1070. It's only around $350 instead of double that for 1070. This is particularly impressive considering that a few tweaks to the chip will see it perform with a hash rate of 29mh/s. Not bad at all!
What's more, if you're running multiple mining rigs for your operation, you can make additional savings on extracting all that hot air created. This is because the RX580 runs at a remarkably low temperature too!
However, there are a few downsides to this wonderful bit of kit. Unfortunately, being a top pick for hobbyists or those on a budget, it's often totally sold out. It's also got a slightly greater power draw than 1070, although at only 185W it's by no means the most electricity-hungry unit I'll look at today.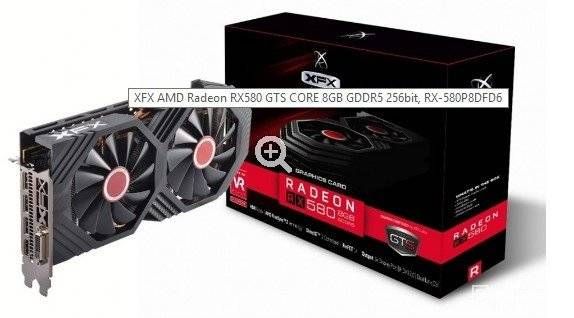 Best for those with Expensive Electricity – Nvidia GeForce GTX 1060
Next, we have the little sister of 1070, the NVIDIA GeForce GTX1060. Like the Radeon RX580, 1060 is much cheaper than our first entry in this rundown. It comes in at around $300.
Again, this makes it a good choice for those wanting an affordable unit to generate a passive income mining cryptos. It's by no means the best GPU for mining on our list, however, it's a very popular unit.
Of course, being such a solid performing unit that's priced so well, it too can often be completely sold out. If you're lucky enough to get your hands on 1060, however, you'll find this graphics card is well-suited for GPU mining. Also, it's a great gaming graphics card (just in case you get tired of literally printing money!)
I particularly recommend 1060 for those users who live somewhere that electricity is expensive. This is because it only draws 120W – making it the least power-hungry unit in our rundown.



Did you know?
Best Suited for Big Mining Operations in Cold Climates with Cheap Power – AMD Radeon RX Vega 56
If you're living somewhere where power is cheap (or better still, free), then the AMD Radeon RX Vega 56 is a beast of a unit. It actually runs faster than the NVIDIA GeForce GTX 1070 too!
Since it draws so much power, you really don't want to be running one of this somewhere where power is expensive. However, if you get discounted electricity and live somewhere cold it's a great GPU. It runs very hotly, perhaps the hottest on our list. For that reason, a cool climate will help save cash on extraction units.
Alternatively, you can approach this heat issue in a different way like some miners in Eastern Europe have done. There have been reports that one miner has used the excess energy to heat his greenhouse during winter. Another miner in Siberia has actually heated his home using heat extracted from his mining operation!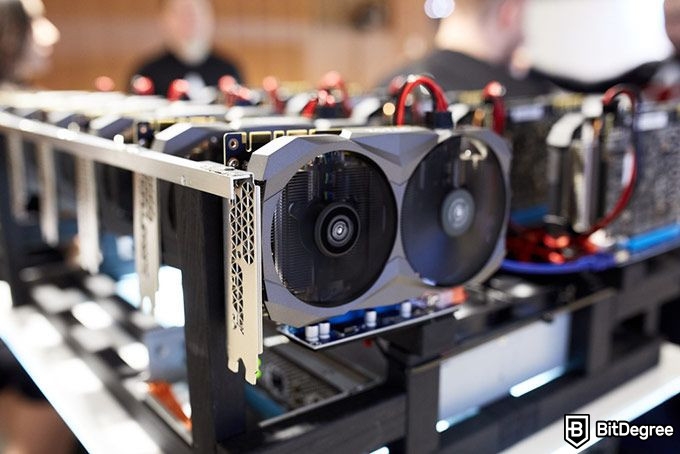 Another potential drawback of the AMD Radeon RX Vega 56 is the cost to buy it in the first place. Just one of these GPU units will set you back around $500. This makes the unit suited for those with a lot of capital to invest in a big project.
Again, the RX Vega 56 is another GPU that can prove difficult to source. To be honest, this is pretty much the case with any GPU that is good for mining cryptos with these days!
Best if Money is No Object – NVIDIA GeForce GTX 1080 Ti
One of the priciest units on our list is the beast that is the NVIDIA GeForce GTX1080 Ti. This bit of hardware will cost you around $860 per GPU. At almost three times the price of our cheaper selections, it's obvious that this one isn't for the amateur hobbyist miner.
As you'd expect from a GPU that costs so much, the GeForce GTX1080 Ti is an extremely powerful unit. It offers an almost unbelievable hash rate of 32.2mh/s with a few modifications and tweaks. This performance comes at a cost though. It's also the most power-hungry machine on our list. The GTX1080 Ti will eat up 250W of electricity. This means it draws over twice the power of the GTX 1060.
Of course, the 1080 Ti is also a fantastic gaming graphics card as well as a mining GPU. In fact, it's been called the best graphics card on the planet before.
Unsurprisingly, the unit does suffer when it comes to the amount of power it needs to draw from the wall. This will eat into your return on investment and is an important thing to think about when choosing the best graphics card for mining for you. Like Vega 56, the 1080 Ti is better suited to serious applications in places where the cost of electricity is low and there is a cool climate.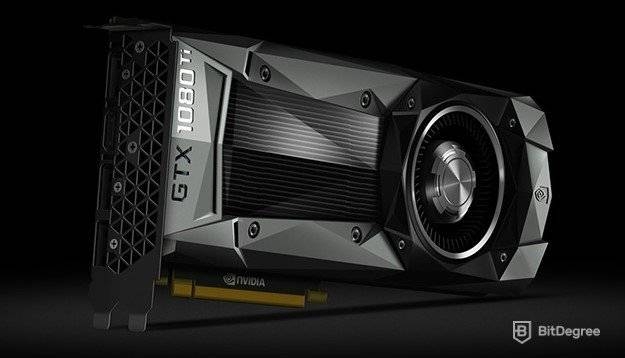 Best for Experienced Settings Tweakers – NVIDIA GeForce GTX 1070 Ti
As you could probably guess from the name, the NVIDIA GeForce GTX1070 Ti is an updated version of the original 1070 unit. NVIDIA has created a hugely powerful unit in the 1070 Ti. According to a website called LegitReviews, it offers a very competitive hash rate of 28.3mh/s.
The power consumption of the 1070 Ti is a highly competitive 180W. This is very impressive for a unit of its power and makes it ideal for use even when power isn't the cheapest.
One thing to be aware of with the NVIDIA GTX1070 Ti is that there have been reports of a bug in the driver software for the device. This makes the 1070 Ti hash lower than is advertised.
However, this can be fixed now with a few adjustments. For that reason, we can only recommend this unit to those who are prepared to tweak a few settings. That said, it's still a fantastic GPU mining unit!

Pros
Can be managed from mobile device
Very secure
Supports more than 1500 cryptocurrencies

Pros
Top-tier security
DeFi app support
Store over 5500 assets, install up to 100 apps simultaneously
Best Mining GPU: GPU Comparison Chart
Below, I've created a handy GPU comparison chart to quickly compare my picks for the best GPU for mining.
| | | | | | | |
| --- | --- | --- | --- | --- | --- | --- |
| GPU | Core Clock | Memory | Memory Clock | Power Connector | Power Draw | Outputs |
| GeForce GTX 1070 | 1,506MHz | 8GB GDDR5 | 8Gbps | 1x6-pin | 150W | 3x DisplayPort 1.4, 1x HDMI 2.0, DL-DVI |
| Radeon RX580 | 1,257MHz | 8GB GDDR5 | 8Gbps | 1x 8-pin, 1x 6-pin | 185W | 1x DisplayPort 1.4, 1x HDMI 2.0 |
| GeForce GTX 1060 | 1,506MHz | 6GB GDDR5 | 6Gbps | 1x 6-pin | 120W | 3x DisplayPort 1.4, 1x HDMI 2.0, DL-DVI |
| Radeon RX Vega 56 | 1,156MHz | 8GB HBM2 | 800MHz | 2x 8-pin | 210W | 3x DisplayPort 1.4, 1x HDMI 2.0 |
| GeForce GTX 1080 Ti | 1,480MHz | 11GB GDDR5X | 11GHz | 1x 6-pin; 8-pin | 250W | 3x DisplayPort 1.4, 1x HDMI 2.0 |
| GeForceGTX 1070 Ti | 1,6070MHz | 8GB GDDR5 | 8GHz | 1x 6-pin; 1x 8-pin | 180W | 3x DisplayPort 1.4, 1x HDMI 2.0 |
Conclusion
So, that's it. That's the guide to the best GPU for mining. I hope you found the information that I've provided you with useful, and you'll be able to use it when deciding which is the best graphics card for mining for you.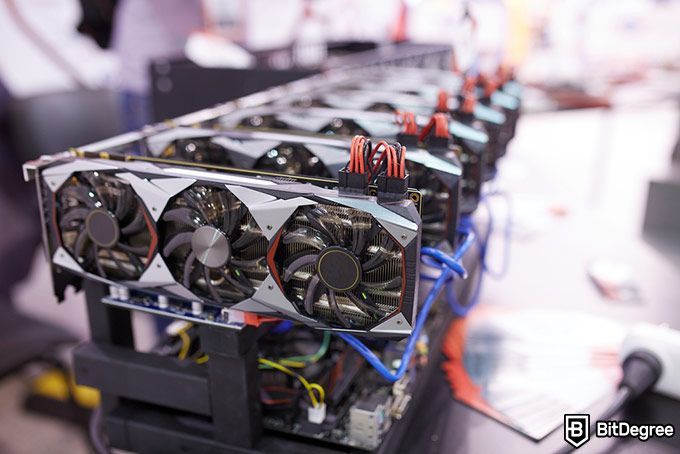 Ultimately, the best GPU for mining will depend on your exact circumstances. Do you live somewhere where electricity is expensive? Do you want to run many units next to each other, however, are concerned about the heat? Do you have big capital and want to invest in crypto mining heavily?
The answers to all of the above-provided questions and this guide should help you decide which GPU for mining is best for you personally. It's no good buying an expensive high-powered unit only to find that the cost of electricity makes it impossible to make a profit with it!
So, now you have six options to choose from, including the NVIDIA GeForce GTX 1070, the AMD Radeon RX580, the NVIDIA GeForce GTX 1060, the AMD Radeon RX Vega 56, the NVIDIA GeForce GTX 1080 Ti, and the GTX 1070 Ti.
After you'll start to make a profit, you'll need to find a secure wallet for your coins. The most recommended options include Ledger Nano X and Trezor Model T.
Consider all the aspects to make the right decision!
Leave your honest feedback
Leave your genuine opinion & help thousands of people to choose the best crypto exchange. All feedback, either positive or negative, are accepted as long as they're honest. We do not publish biased feedback or spam. So if you want to share your experience, opinion or give advice - the scene is yours!