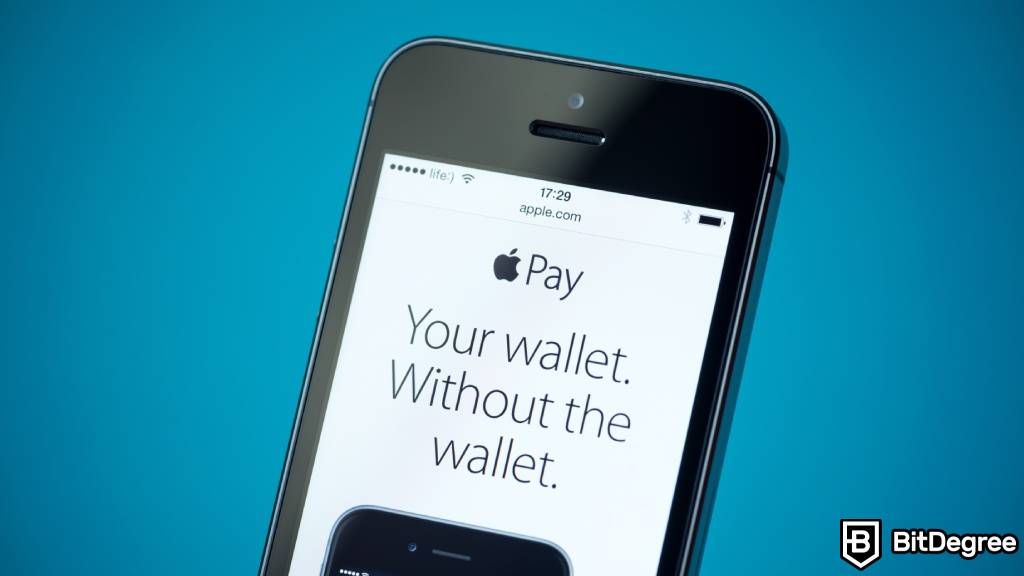 Nowadays, the crypto sphere is absolutely thriving, and we're still not at the peak! What started with data timestamping and hints of digital money boomed into hundreds of millions of users worldwide investing in cryptocurrency. Now everyone and their mother know names like Bitcoin or Ethereum, and are looking for ways to acquire it - one of the more prominent questions being "how to buy BTC with Apple Pay?".
There are many comfortable ways of acquiring crypto, especially ones that allow you to purchase BTC - the most popular and first successful cryptocurrency. Widely acclaimed cryptocurrency exchanges like Binance and Coinbase have added a variety of payment methods, including Apple Pay!
For you to get well-versed in the subject, you should be at least familiar with the key points of the whole process and see how it works step-by-step. You'll find it all in the tutorial, and I'll also make sure to introduce you to the how-to buy BTC with Apple Pay, no KYC required. So, let's get started!

Did you know?
Want to get smarter & wealthier with crypto?
Subscribe - We publish new crypto explainer videos every week!
How to Invest in Crypto: 6 Rewarding Strategies (Animated)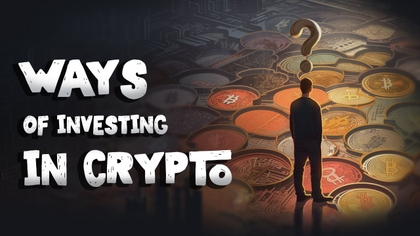 What is Apple Pay?
Apple Pay is not a new sensation by any means, but just to stay thorough with the "How to buy BTC with Apple Pay?" tutorial, I'll assume you need a small introduction for everything.
Latest Deal Active Right Now:
$300 + 40 DOGE BONUS
Huobi Black Friday Limited-Time Period
Huobi Black Friday & Cyber Monday 2023 period offers great bonus for new users - sign up & earn up to $300 + 40 DOGE bonus!
Expiration date : 14/12/2023
3,817 People Used
Only 31 Left
So, simply put, Apple Pay is a mobile payment service by Apple Inc., the same one that gave us the iPhone and MacBook! It was initiated in 2014 on an iOS operating system, so, spoiler alert - whichever you choose as the best app to buy BTC with Apple Pay, it'll have to be an iOS version.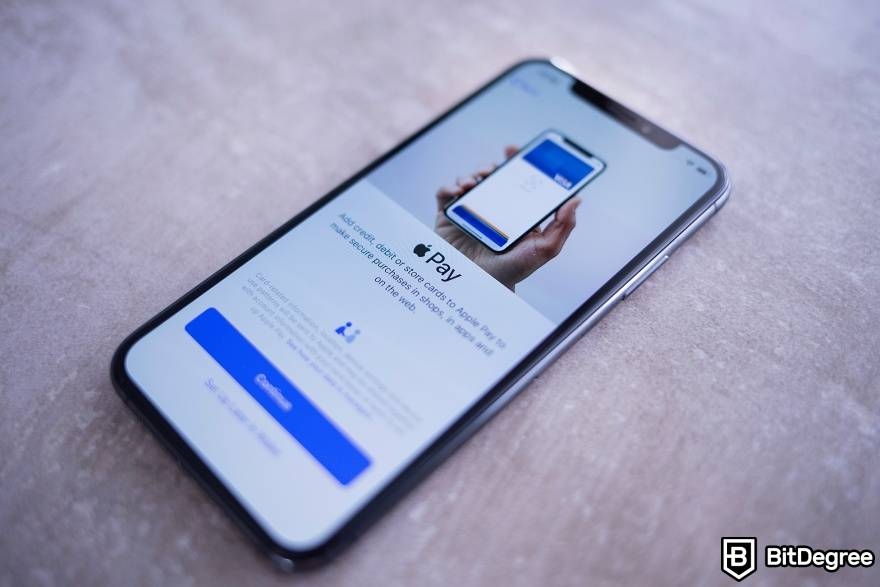 Two-factor authentication (Touch ID, Face ID, PIN, or passcode) allows you to perform secure payments, and is obviously very trustworthy. Also, Apple Pay can replace your payment card chip, meaning that you don't have to worry about having your payment card on you.
Of course, Apple Pay isn't available everywhere, but I can confidently say that it's quite widespread! Well, obviously, if you can even buy BTC with Apple Pay now. But let's see if it's really as good as it sounds.
What Are the Benefits of Buying Bitcoin with Apple Pay?
While it's impossible to determine the exact number of crypto users that already know how to buy BTC with Apple Pay, more and more exchanges either plan or have already adopted Apple Pay, so it's safe to say that probably a lot. And no surprise, buying Bitcoin with Apple Pay is quite beneficial.
No Fees for Payments
One of the most important things people don't always even consider when choosing a payment plan is what it costs to go through with the actual payment. Well, lucky for you, you can forget all about it, for real this time.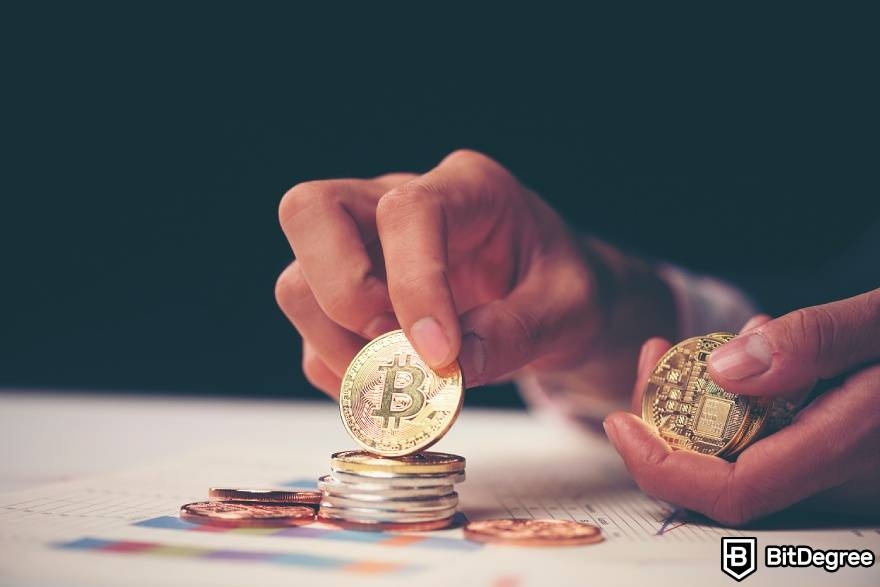 When you're buying Bitcoin with Apple Pay on a crypto exchange platform, you won't be charged any additional fee. Now, don't misunderstand - I don't mean the general transaction fee that depends on the specific cryptocurrency exchange! Those all exist.
However, let's say you add your debit card as a payment method for your BTC and pay - your bank will charge some for the action itself, additionally to the transaction fee. Well, Apple Pay doesn't have that. Which saves you both money and a headache!
Privacy and Security
At first, it might sound kind of ridiculous since you still have to add your payment card in the form of Apple Pay. However, the system works a bit differently.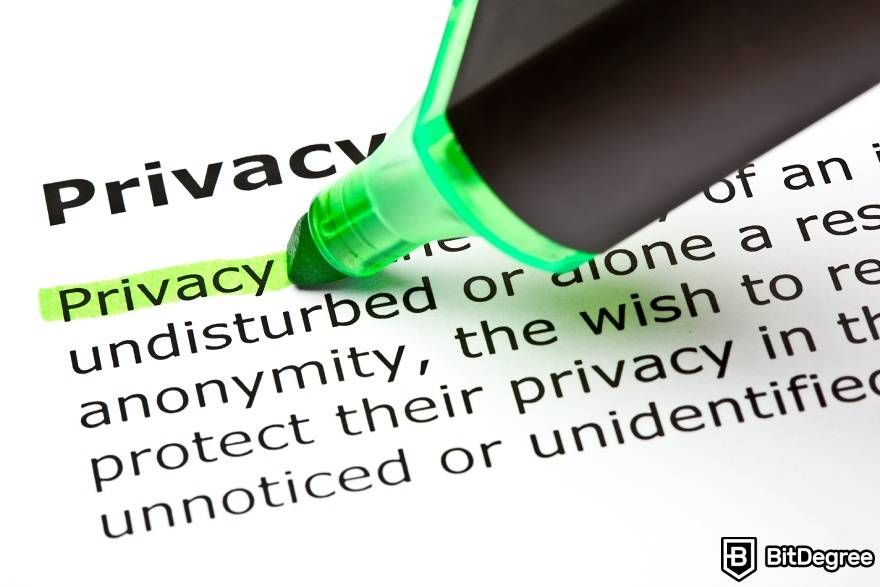 Generally, paying from your card means providing all the information - card holder's name, card number, security code, etc. Yet, Apple Pay doesn't require that. It operates on a token called Device Account Number and leaves your sensitive information all to yourself.
Not only does it preserve your identity, but also makes it much harder to breach your security and steal your funds while buying Bitcoin.
Also! Apple doesn't keep track of your purchases and general activity, allowing you even more anonymity.
Simpler Payments
Generally, learning how to buy BTC with Apple Pay will save you time and patience. The whole process is much easier as you don't have to worry about verifying your payment or entering additional information as you go.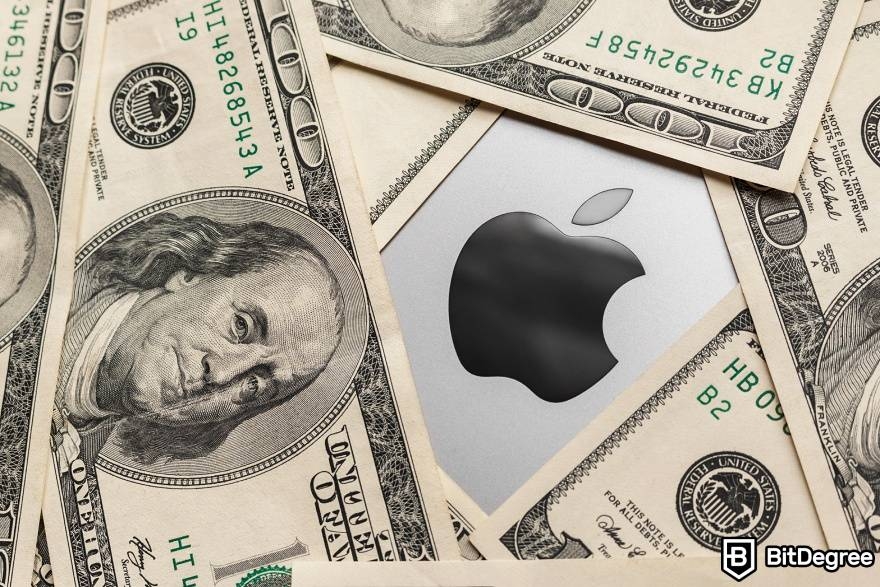 There's also no need to turn your wallet upside down looking for a card once you want to add a payment method on, let's say, exchanges like Kraken or something. I mean those that allow you to use Apple Pay. A couple of clicks, and you've found yourself the most comfortable way to buy Bitcoin!
I could keep talking about these more, but you'd be better off finding out how to buy BTC with Apple Pay in the first place.
Countries That Support Buying Bitcoin With Apple Pay
This goes without saying, but I should remind you that neither Apple Pay nor all of the cryptocurrency exchanges are available everywhere. This could be because the country itself banned cryptocurrency, implemented crypto regulations, or there isn't enough activity in the area.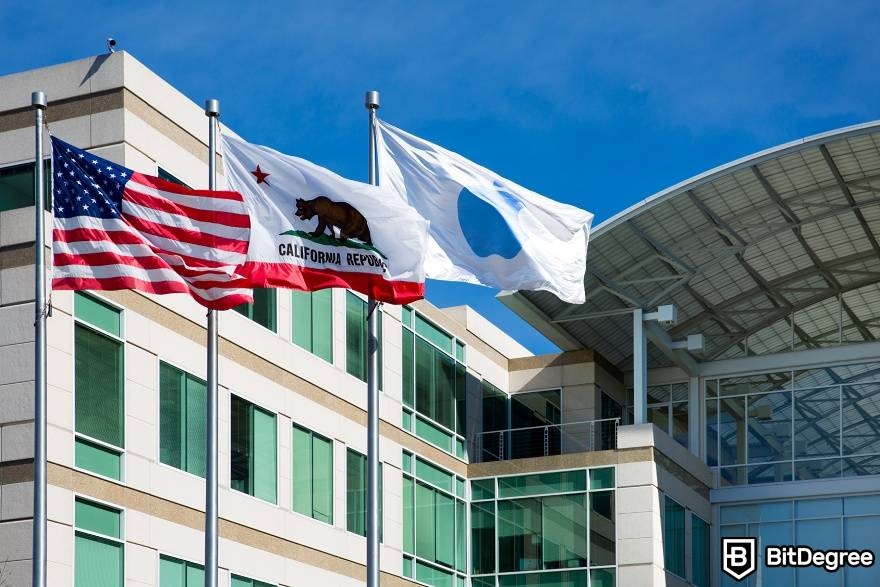 The why is not as important right now. I'll provide you the list in a minute, but just as a general reminder: firstly, check if the cryptocurrency exchange is available in your region, and if it is, check if Apple Pay is.
You're lucky if both are; and even if Apple Pay isn't supported, at least you'll still be able to buy Bitcoin through whatever exchange you see fit (exchanges like Coinbase or Kraken are available in 100+ countries!).
Countries where Apple Pay is supported:
| | |
| --- | --- |
| Africa | Currently, only supported in the Republic of South Africa |
| Europe | Everywhere, excluding Russia |
| Asia-Pacific | Hong Kong, Japan, Macao, Malaysia, New Zealand, Singapore, South Korea, Taiwan, also Australia, which has a huge crypto market, and, funnily enough, China, which has crypto banned |
| Latin America and the Caribbean | Argentina, Brazil, Colombia, Costa Rica, Guatemala, Mexico, Peru, and, of course, El Salvador, which has BTC as legal tender |
| Middle East | Bahrain, Israel, Jordan, Kuwait, Palestine, Qatar, Saudi Arabia, and UAE |
| North America | Canada and the US |
For the sake of your inner crypto trader, I hope your residential country makes the list! But hey, if you're here already, chances are you already checked that and can successfully go on with the tutorial on "How to buy BTC with Apple Pay?".
What You'll Need to Buy BTC With Apple Pay
Well, sure, Apple Pay. However, just like with any other crypto trading platform, whether it may be a cryptocurrency exchange, a P2P app (like Binance P2P), or a Bitcoin ATM, there's one thing that's essential to the whole process. The one thing that lets you safely store and receive your Bitcoin.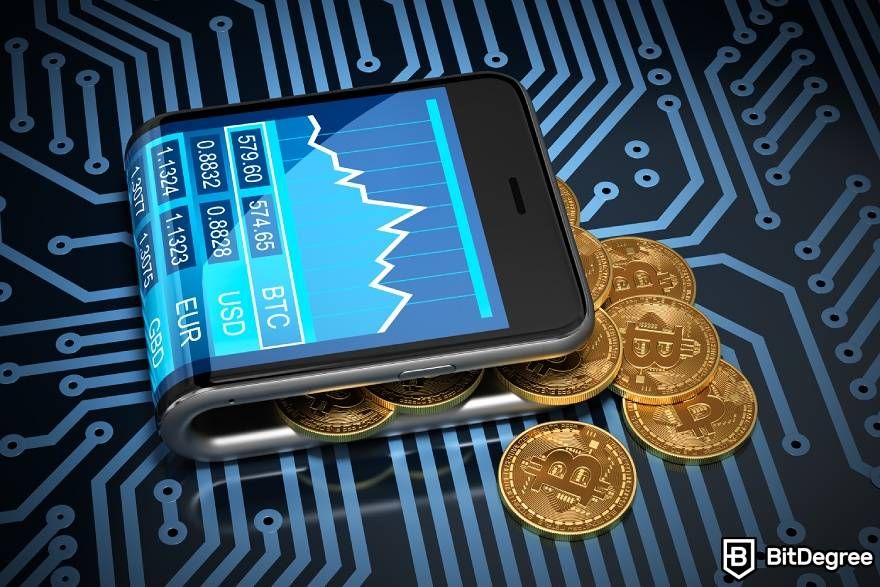 If you guessed a crypto wallet, you're absolutely correct! Not only is it the only secure place to safe-keep or hodl your Bitcoin, but you'll also need your personal crypto wallet address to even receive said Bitcoin. So, let's just go through the best ones on the market.
Ledger
The number one in the industry, and a well-deserved first place on my list, Ledger provides secure, easy-to-use hardware crypto wallets. You'll need something safe and reliable, for sure, and you can't really go wrong with Ledger wallets. Either of them!
With utmost security and over 1500 supported cryptos, Ledger Nano X is every trader's dream. Its flash-drive-like design makes it comfortable to use, and it easily connects to your computer.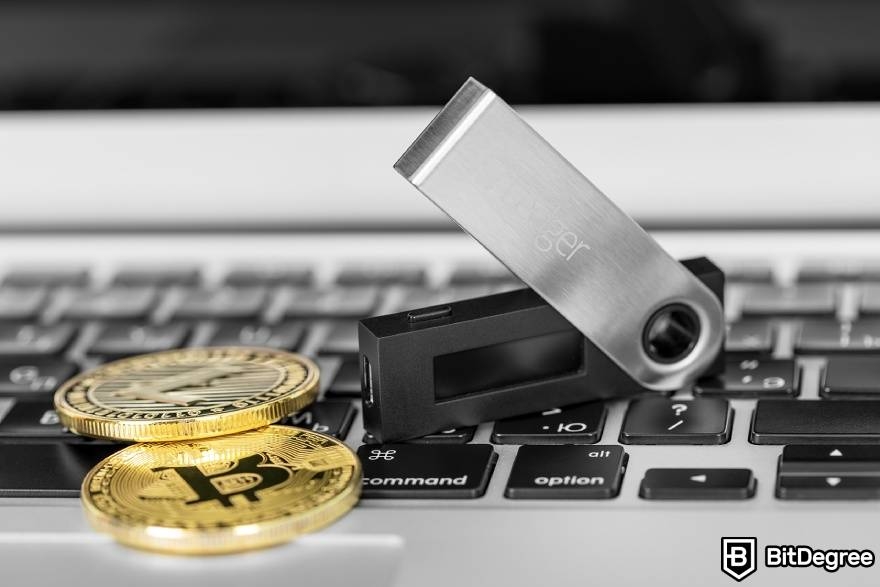 Of course, this also means that it's almost unbreachable and very difficult to hack into. Apart from all the already implemented security features of Ledger Nano X, you'll get your own security key and a personal recovery key, should you ever need it. Complete asset ownership and even a unique operating system with a security chip are guaranteed.
That being said, do keep in mind that the Ledger Nano X is considered to be a bit pricey!
Yet another highly reliable product Ledger has graced us with, Ledger Nano S Plus, is actually a new and improved version of the Nano S - Ledger's first, flagship trendsetter wallet! It supports multiple crytpos, and is just as secure as Ledger Nano X.
Actually, the main differences between the two are price and operating system compatibility. Ledger Nano X is twice the price of Ledger Nano S plus, but it has a distinct one-upper on the latter, which might be a dealbreaker for you.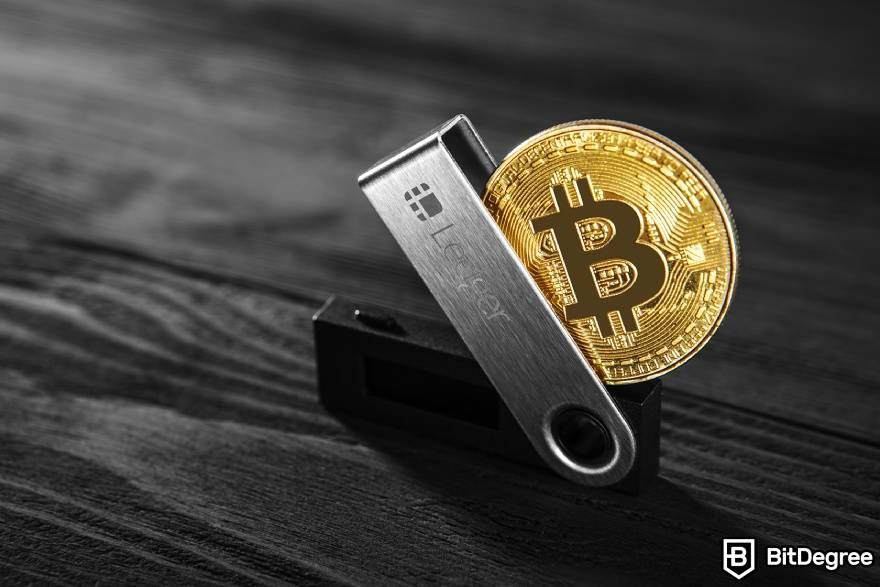 And that's only because we're talking about how to buy BTC with Apple Pay, which, of course, raises the question of iOS compatibility. You can use both on your non-iOS computer desktop, so then it wouldn't really matter, but if you like to access everything on your smartphone, Ledger Nano X is your first choice, as Ledger Nano S Plus is incompatible with iOS devices.
Trezor
Trading first places with Ledger, Trezor is also a valid choice once you're buying Bitcoin with Apple Pay. Let's do a quick overview of yet another two hardware wallets!
Apart from the big touchscreen for a comfortable interface, Trezor Model T is known for its top-notch security and storage capacity.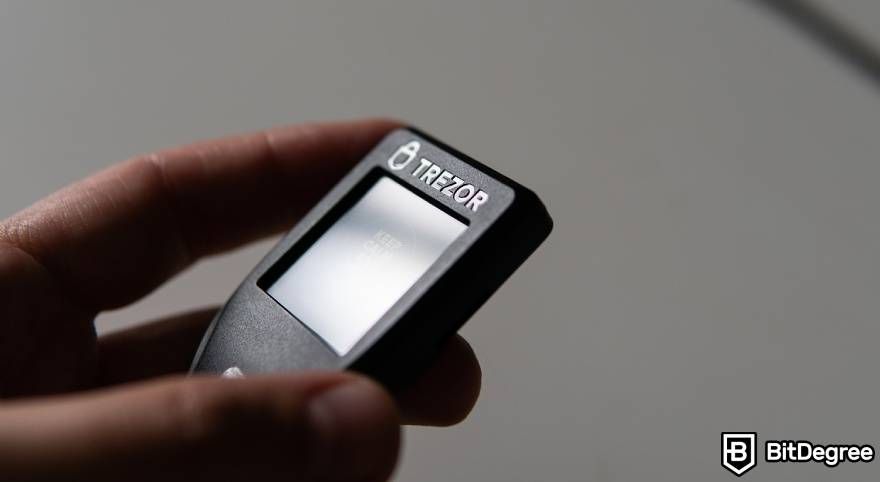 With more than 1000 supported crypto assets to hold and a very easy set-up, Trezor Model T is a solid choice, no matter if you're a crypto newcomer or an experienced user.
In terms of design, it's quite different from the Ledger wallets, so pay attention to what looks more attractive and comfortable for you. The device doesn't take up a lot of space, and it's unlikely that you'd carry it around either way, but it's a turning point for some!
Now, when you hear that Trezor Model One is a bit older wallet from Trezor, you probably instantly think that it's much more primitive and probably not updated, compared to Trezor Model T.
Well, wrong! Actually, Trezor Model One, while, yes, an older product, constantly updates its features and stays on top as one of the most secure and agreeable crypto wallets. It supports a wide variety of cryptos and has a very pleasant design - a screen and a two-button system just below.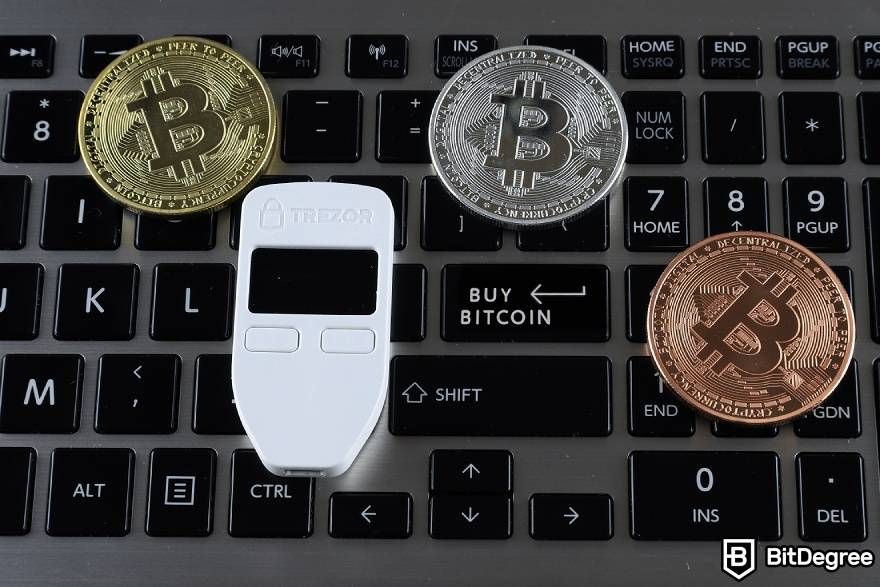 However, like Ledger Nano S Plus, Trezors are only good if you don't mind working on your computer. Android phones as well, but if you're looking to learn how to buy BTC with Apple Pay, it's unlikely that you have a separate phone for a Bitcoin wallet and an iPhone for buying them! So, keep this in mind.
How to Buy BTC With Apple Pay: Cryptocurrency Exchanges
So, by now, I've mentioned several ways you could buy Bitcoin, like cryptocurrency exchanges, P2P apps, and Bitcoin ATMs. However, today I'm only focusing on how to buy BTC with Apple Pay via exchanges, since having Apple Pay doesn't make much of a difference if you want to buy BTC at an ATM or via a P2P app (unless you have an Apple Cash card, but we're not here to learn about that!).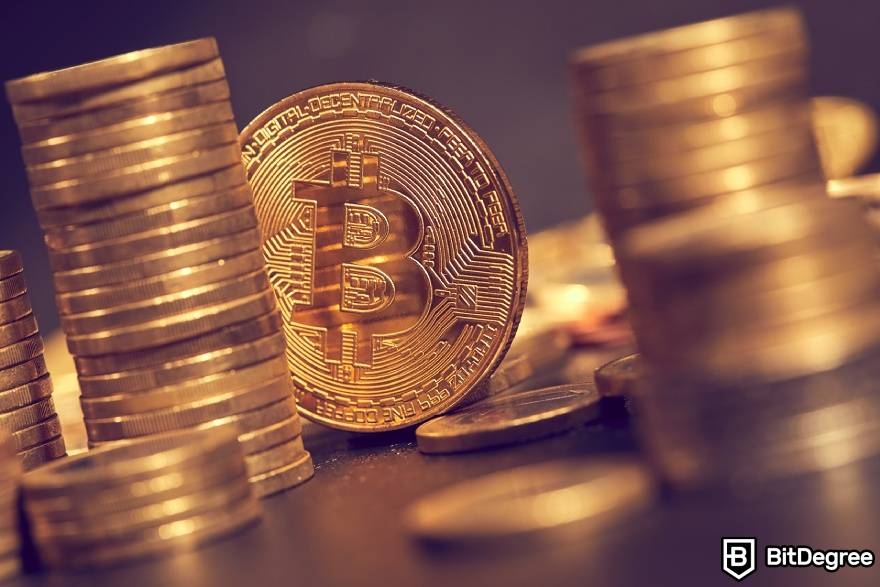 However, in regards to Apple Pay, cryptocurrency exchanges are what some users call Apple Pay BTC brokers. You probably know the term from real estate, but it helps either way. If, generally, a broker is a person you hire to sell or buy assets for you, you can kind of adopt the meaning to the whole Apple Pay BTC broker affair.
Admittedly, it's a pretty weird term to use since the only way you can actually directly buy Bitcoin for cash or with a payment card is via a Bitcoin ATM, which is still a bit of a rarity. Other than that, you can only use other platforms that facilitate the transaction. A broker to help out, if you will.
However, I suggest you don't fixate on the meaning and better find out which Apple Pay BTC brokers to use for your first time buying Bitcoin with Apple Pay. So, not only how to buy but where to buy BTC with Apple Pay?

Did you know?
Want to get smarter & wealthier with crypto?
Subscribe - We publish new crypto explainer videos every week!
What is FUD in Crypto? (Fear, Uncertainty & Doubt Explained)
Binance
More than enough cryptocurrency exchange platforms allow Apple Pay as a payment method, at least the most trustworthy and well-known ones. Speaking of those, Binance is a solid number one.
Probably the largest cryptocurrency exchange platform in terms of traffic and wide acclaim, Binance is a secure, comfortable, and trustworthy way to buy Bitcoin. Of course, it supports over 300 other cryptos as well, but today, we're learning how to buy BTC with Apple Pay, specifically.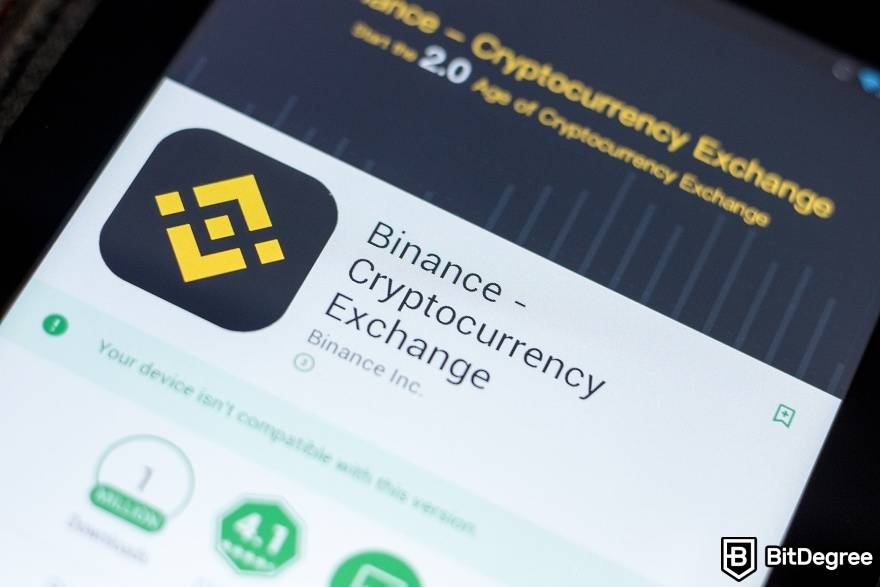 If you want a more in-depth look at Binance, I suggest our dedicated review, but just off the top, you should know that it barely charges you for the transaction, is quick, and can even offer you a secure, built-in wallet! I'd still recommend considering one of the top hardware, cold crypto wallets, but Binance offering one is definitely a plus.
If you don't have a Binance account, I suggest you read this full guide on how to create one, and use the platform. However, just to continue with the "How to Buy BTC with Apple Pay?" I'll assume you already have one and lead you through the rest.
Step 1: Log in to your Binance account. Pretty simple so far.
Step 2: Click on "Buy Crypto" and choose "Debit/Credit Card".
Step 3: Choose your fiat currency and BTC, then enter the amount you're willing to spend and see how much BTC you'll get.
Step 4: Once you're happy with the amount, continue with the purchase and choose Apple Pay as a payment method.
Step 5: Confirm the order and pay with Apple Pay on the pop-up window. You'll have to use either a Touch ID or a password.
Step 6: When you're finished, you can check the details on the "Order History" page, but other than that, just wait patiently for the Bitcoin to arrive in your wallet. Once it does, congrats! You successfully learned how to buy BTC with Apple Pay using Binance.
Binance also has a smartphone version, which is just as convenient. I won't guide you through it, as the steps will be the same, though on a smaller screen. The Binance app might just be the best app to buy BTC with Apple Pay!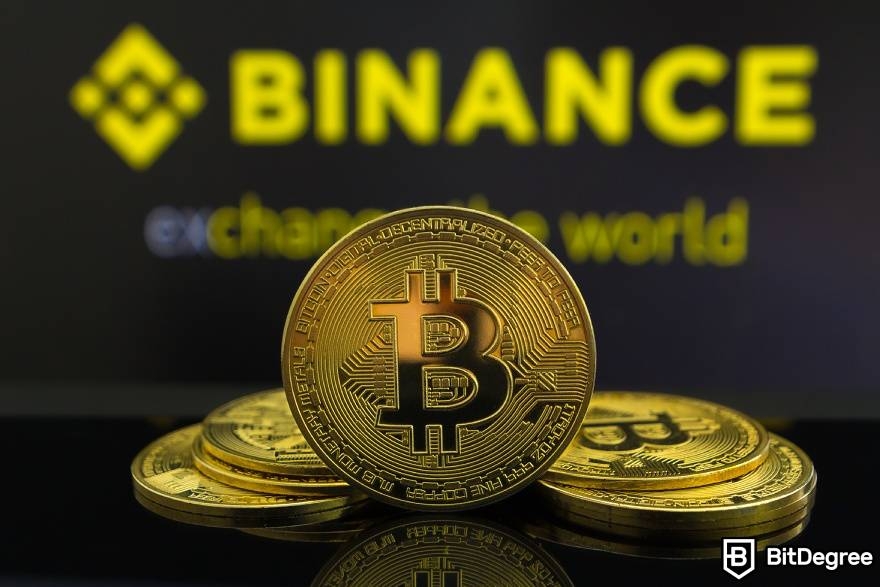 Binance announced Apple Pay as an acceptable payment method in December 2022, so the attribute is relatively new to the platform. However, it's safe to say that the addition is a success, as crypto traders like yourself can now buy Bitcoin even more effortlessly.

Pros
A very well-known crypto exchange platform
More than 500 different cryptos available
Two-factor authentication
Main Features
Over than 100 different cryptocurrencies available
Strong security
Small withdrawal fees

Pros
Secure and reliable
Low fees
A good amount of fiat currencies accepted
Main Features
Reputable exchange
Multiple fiat currencies are accepted
Relatively low trading fees

Pros
Anonymous trading
Secure
Supports a variety of cryptocurrencies
Main Features
Easy to use
Low fees
Good security
Coinbase
Another big name in the industry, Coinbase is among the most dependable, easy-to-use cryptocurrency exchanges, perfectly fitting to buy Bitcoin with Apple Pay.
Coinbase is known for its top security, uncomplicated settings, and attention to quality. The platform offers a range of services to both experienced and newish crypto enthusiasts, and even though it has a bit more expensive fees, the easy flow of your transactions and simple interface makes it all worth it. And just like Binance, it has its own wallet.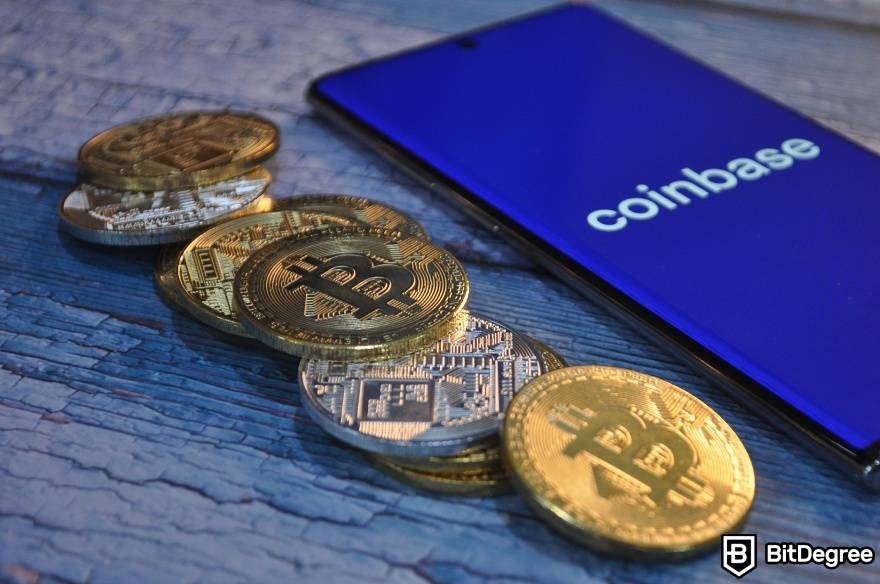 Other than that, you'll find out all you need to know in this review! Now, onto the main event - how to buy BTC with Apple Pay via Coinbase?
Step 1: Log in to your Coinbase account.
Step 2: Click on "Buy/Sell" on the upper right.
Step 3: Choose your fiat currency and BTC, then enter the amount you're willing to spend and see how much BTC you'll get.
Step 4: Once you're happy with the amount, continue with the purchase and choose Apple Pay as a payment method.
Step 5: Click on "Preview Buy" to confirm your purchase and check the information.
Step 6: If everything is correct, carry on with your purchase and click "Buy". Your Bitcoin should appear in your wallet!
If you're not a fan of working on your computer and are looking for the best app to buy BTC with Apple Pay, just like Binance, the Coinbase phone version is also available and easy-to-use.
Coinbase introduced the Apple Pay method on their platform not that much earlier than Binance. Since the number of iPhone users was, and still is, increasing, Coinbase decided to make it easier for them to trade, and in 2021, added the special feature specifically for those who have iOS devices.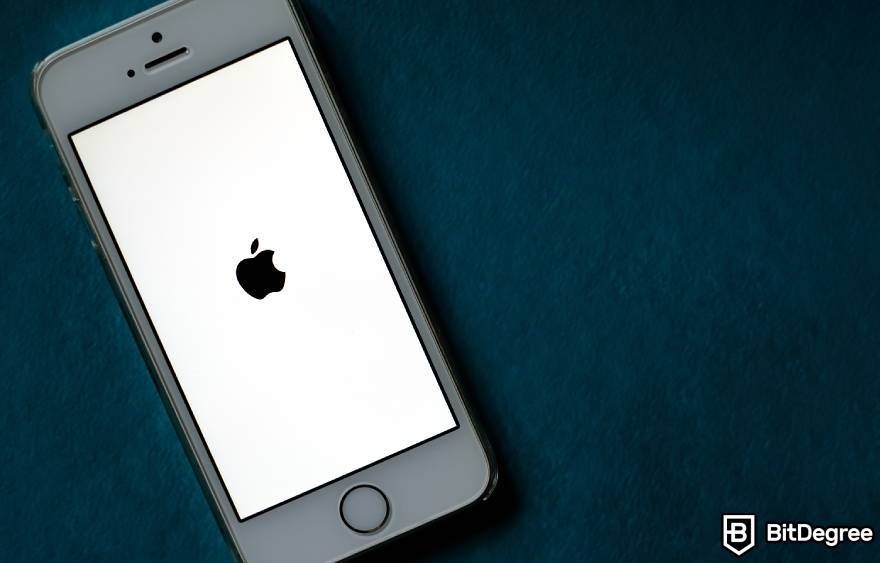 Both Binance and Coinbase are compatible with iOS devices if you want to keep everything on your phone, and are among the best places where to buy BTC with Apple Pay. However, whichever you choose for your step-by-step research, keep an eye on iOS compatibility - if you're an Apple person through and through, it'll make your life easier!
How to Buy BTC with Apple Pay - No KYC
Have you ever wondered how to buy BTC with Apple Pay anonymously?
Well, nowadays, it's getting more and more usual to seek anonymity when it comes to everyday operations, like handling your finances. And while crypto trading is all about preserving your identity and leaving you incognito, there's still some sensitive information you need to give over in order to actually carry out transactions.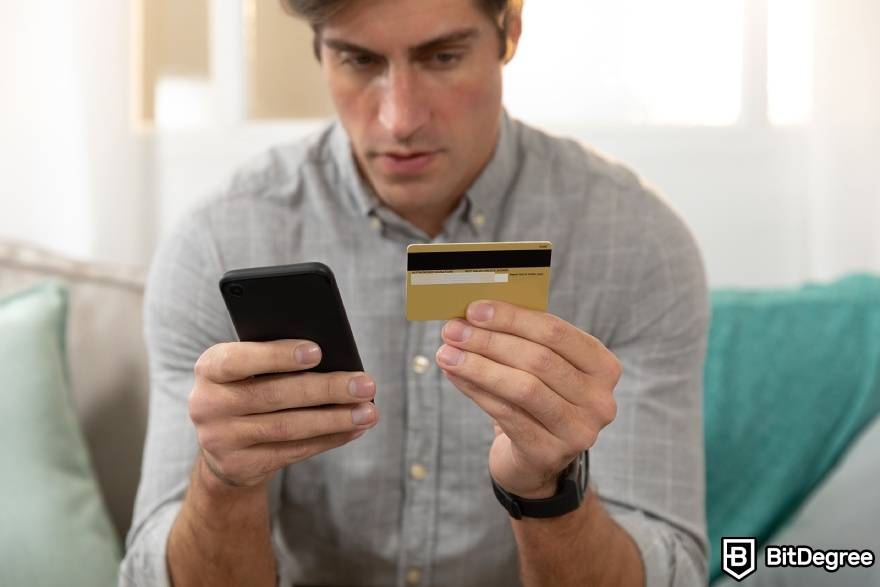 It's known as KYC processing or Know Your Customer. You'll find a whole dedicated article here, but basically, KYC is a security measure, employed by most centralized exchanges, Binance and Coinbase included.
The whole point is to verify the user and make sure they carry no risk or history of fraudulent activity, money laundering, or any other crime-related wrongdoings. The platforms might require you to give your government-issued ID document of some sort, sometimes a picture or any other personal info, in order to confirm you're legit.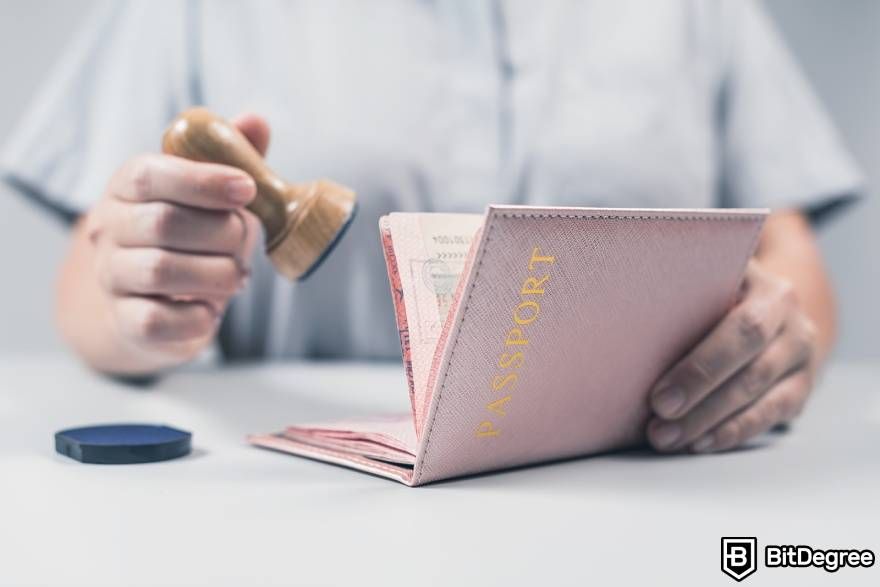 However, some cryptocurrency users are very private and prefer to stay that way, even when registering to an exchange platform. So, they turn to decentralized exchanges that don't require that much of your personal information to start trading, or at least ones with centralization and decentralization features.
So, if you're looking for ways to buy BTC with Apple Pay - no KYC required in the process, meet two awesome, easy-to-use, popular cryptocurrency exchanges that fit your needs: Bybit and KuCoin!
Known for exceptionally smooth functionality and low transaction fees, Bybit is right up your lane if you'd prefer not to be monitored or inspected.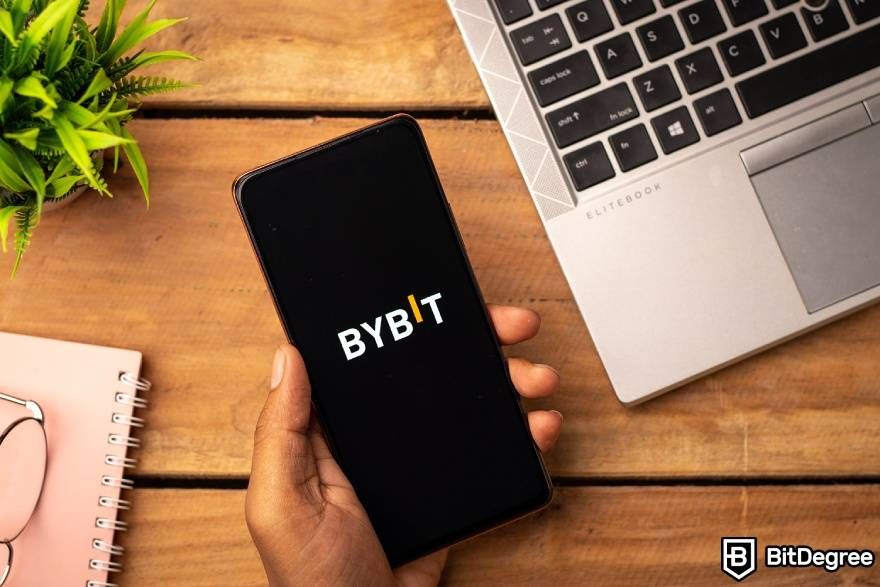 Even though Bybit is a centralized organization, it has adopted many principles of a decentralized one, such as omitting KYC procedures. While that sounds very cool, the platform has a limitation of 2 BTC for unverified accounts. So, depending on how much you want to buy, you may need to confirm your identity at some point.
Also, one more thing to consider - currently, Bybit technically cannot operate in the United States. Due to crypto regulations, albeit unclear ones, Bybit has decided to forgo any servers in the US and now blocks IP addresses that come from the US. So, you either have to use a VPN or an IP from a different country.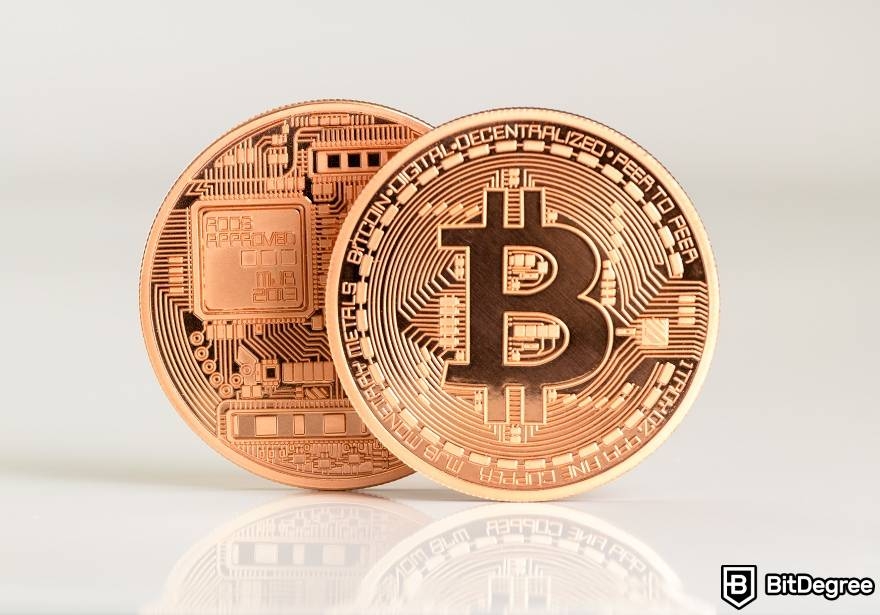 The general idea of how to buy BTC with Apple Pay using Bybit is pretty much the same as with most other exchanges. Log in, pick your fiat currency and BTC, choose a payment method (Apple Pay), then proceed with your order to confirm and pay. That's it!
Widely known as a cryptocurrency exchange hybrid, KuCoin has three main attributes that miraculously work in its favor: anonymous trading, security, and a wide variety of supported cryptos.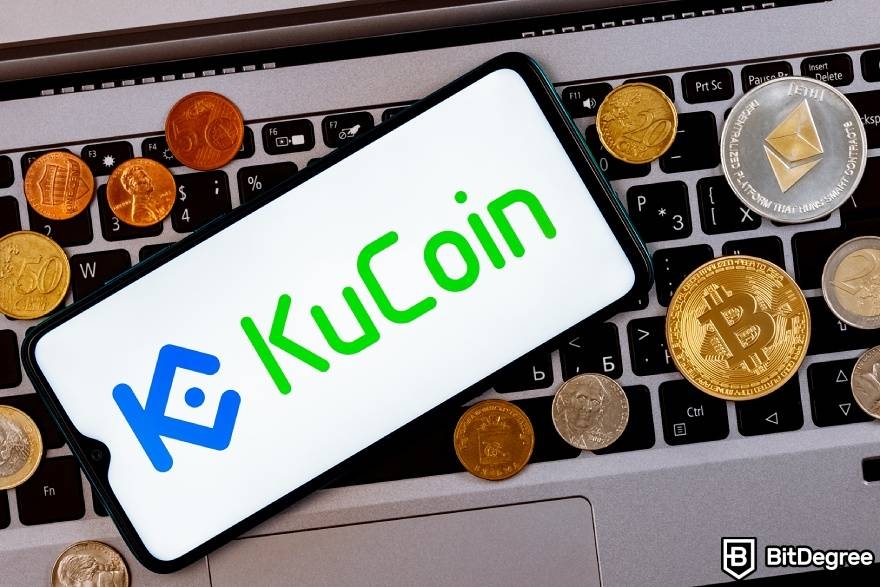 Though, let me come back to the first part of my statement. Hybrid? Well, yes. Though the term is quite new and not yet frequently used in the crypto sphere, it's definitely rising, and KuCoin was fast to name itself one. Basically, a hybrid cryptocurrency exchange is one that combines the features of both centralization and decentralization. Just like KuCoin!
You can still safely trade your assets and buy BTC just without the organization knowing who you are, really. Everything you were looking for, right?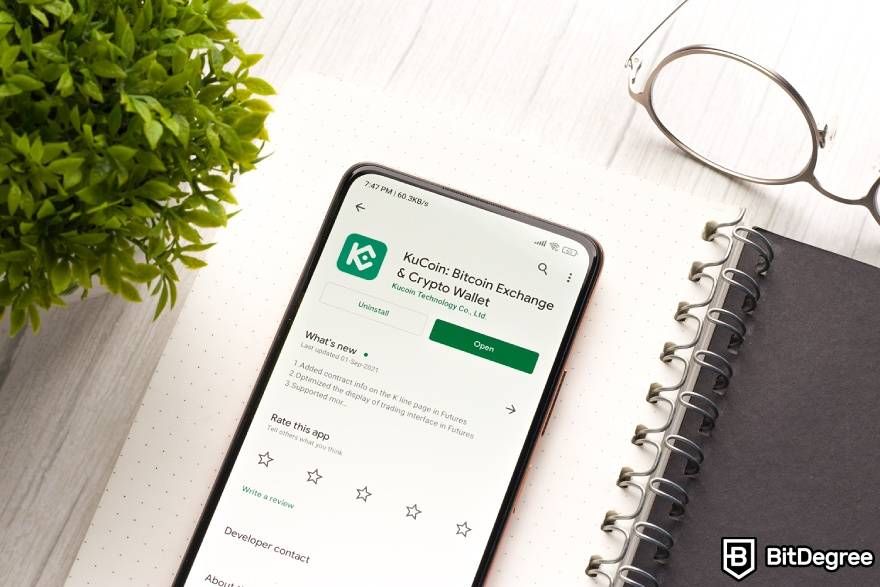 Just one more thing. Buying Bitcoin with Apple Pay on KuCoin will take you a bit longer than with many other exchanges. You see, the exchange hasn't implemented Apple Pay directly, so they use payment gateways or payment channels to carry out the trade.
Basically, these payment gateways work like a bridge or, well, a gateway between the exchange and your Apple Pay account. So, really, it only adds a couple of extra clicks, but don't be surprised when you see it.
The process of reaching Apple Pay as your payment method on KuCoin is very similar to all three cryptocurrency exchanges I mentioned above, so you won't have any trouble.
Conclusions
While it's unlikely you're unfamiliar with it, it won't hurt to reconfirm what you already know about Apple Pay. Most importantly, pay attention to why it's useful for buying BTC, like the fact that it charges no additional fees or that it offers more anonymity and security, even! Though, if you've never used it before, check and see if Apple Pay is available where you live.
If it's all good, I suggest checking another requirement. You'll need a crypto wallet to buy BTC with Apple Pay or via anything else, really, so consider Ledger, Trezor, or any of the other reliable, safe wallets. Once you've done that, skim the step-by-step guide once again. Buying Bitcoin on either Binance or Coinbase is not difficult at all, but it's better to have a cheat sheet!
You can also look at exchanges permitting you to buy BTC with Apple Pay - no KYC in sight. That's right! Platforms like Bybit or KuCoin will allow you that luxury. So, I hope you find a suitable method for you and can either start or continue trading. Thanks for the read, and good luck!
About Article's Experts & Analysts