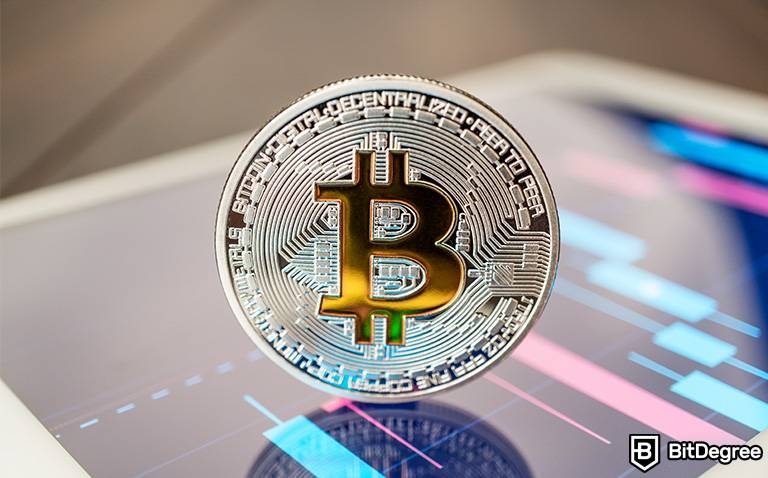 Has the question of how to trade crypto piqued your interest? Then welcome! You're in the right place. Today, we'll be covering the essentials of trading cryptocurrencies, from doing your research to making your first profit.
With crypto trading being all the rage on social media and in the news, there has never been a better opportunity to jump aboard the ship. So, if you're looking into how to learn crypto trading, we're here to help you out. As always, you can find more easy-to-digest information in the BitDegree Crypto 101 Handbook.
We'll cover the process from selecting a place to trade and creating an account to reaping your first reward. You'll also see some helpful tips and tricks that will ensure that your trading experience is secure and abides by regulations. By the end of this guide, you should know well how to trade cryptocurrency and make profit.
There are plenty of exchanges to choose from, so for the sake of simplicity, we'll be using Binance as our example. However, even if you end up going for a different platform, the same tips will apply in the spot markets (markets where one asset is traded for another at its immediate price point).
As a disclaimer, this article doesn't aim to give any financial advice but acts as an educational introduction to trading as a whole.
So, let's get started with our guide to crypto trading for beginners.

Did you know?
Want to get smarter & wealthier with crypto?
Subscribe - We publish new crypto explainer videos every week!
ICO vs IDO vs IEO: Which One's the Best? (Easily Explained)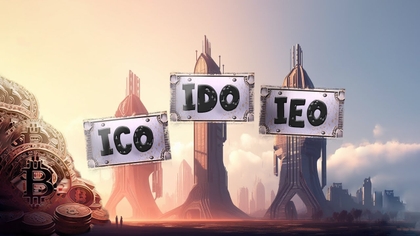 How to Trade Crypto: The First Steps
Whether you're completely new to the game or have experience with the traditional markets, you probably need some pointers when learning how to trade crypto. After all, the industry is quite complicated, and the landscape can change overnight.
Latest Deal Active Right Now:
$600 WELCOME BONUS
Binance Black Friday Deal
If you're new to Binance, great news - this Binance Black Friday period, you can earn up to $600 in rewards. Sign up, use the code 49316610, and start earning now!
Expiration date : 01/12/2023
2,817 People Used
Only 46 Left
First things first – what is crypto trading exactly? Put simply, it's the process of buying and selling crypto assets on designated exchanges. Some trading platforms support crypto-fiat trading, while others deal exclusively with cryptocurrencies – it usually depends on regulations.
If you have a background in trading already, you might notice some similarities between traditional and crypto markets. Well, there's an increasing overlap between the two, especially as stock market giants such as Nasdaq start introducing digital asset services. So, you shouldn't feel too lost around here.
Speaking of trading platforms, you'll come across two types of cryptocurrency exchanges – centralized and decentralized. We'll get into what they mean and how they differ shortly. For now, all you need to know is that these are the digital spaces where the trading takes place. Some exchanges might have walk-in services, but that's pretty rare.
Now that the question "what is crypto trading" has been answered, it's time to start the journey into trading. There are things to be done to prepare right for an efficient start. Let's take a look at the action plan.
Preparing to Enter the Market
Now, there are a few things to establish first before we take the training wheels off. Jumping off the deep end into crypto trading without taking cautionary steps first can be risky – especially where your money is concerned. So, let's do some research first.
There's one crucial yet often overlooked thing you need to assess during your preparation. Before you create a crypto exchange account, you must clear things up with the bank you're currently using first.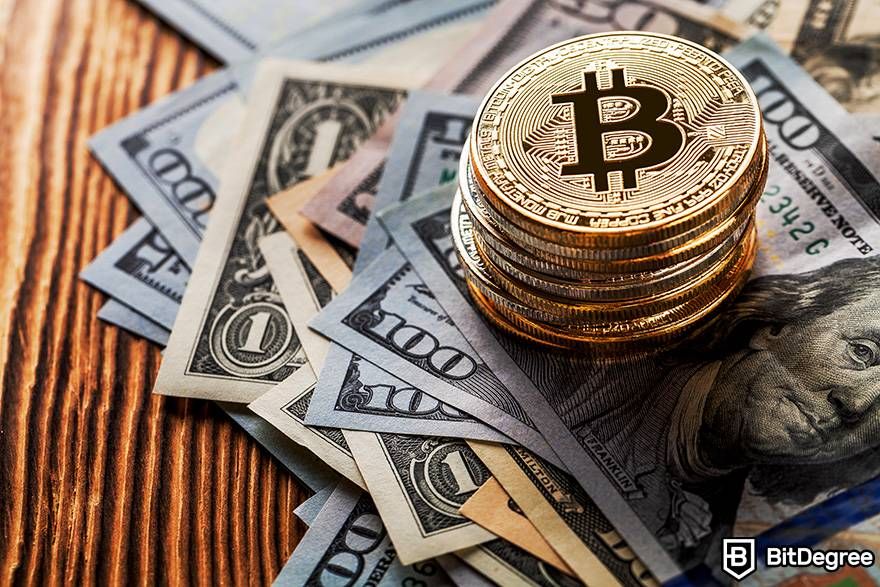 See, while crypto is becoming increasingly prominent, it's still very divisive – especially when it comes to regulations. So, you should check with your bank to see whether crypto trading would not violate any terms and conditions and get you in trouble. The chances of that happening are probably slim, but it's better to be safe than sorry.
There's also the grander scale of legality – national regulations. There is no single universal ruling regarding crypto trading around the globe. Some countries are more lenient, while others ban it altogether or put tight restrictions on both exchanges and traders. So, always make sure you're in compliance and out of trouble.
Choosing the Platform
So, now that you're all set with your bank and know the general rules and regulations, it's time to make the big decision – where are you going to trade? You might be tempted to just stab in the dark and pick the first name that comes up, but that's not exactly a wise strategy.
Take a step back and think – how did you select your initial bank? You probably did a good amount of research regarding their policies, rates, and services – not to mention reputation and customer reviews. Well, it goes the same way here.
Remember – you'll be putting real money into this. It might seem obvious, but the number one lesson of crypto trading for beginners is: handle your funds with care. You want to make sure that the service provider you choose is reputable and ensures state-of-the-art security measures.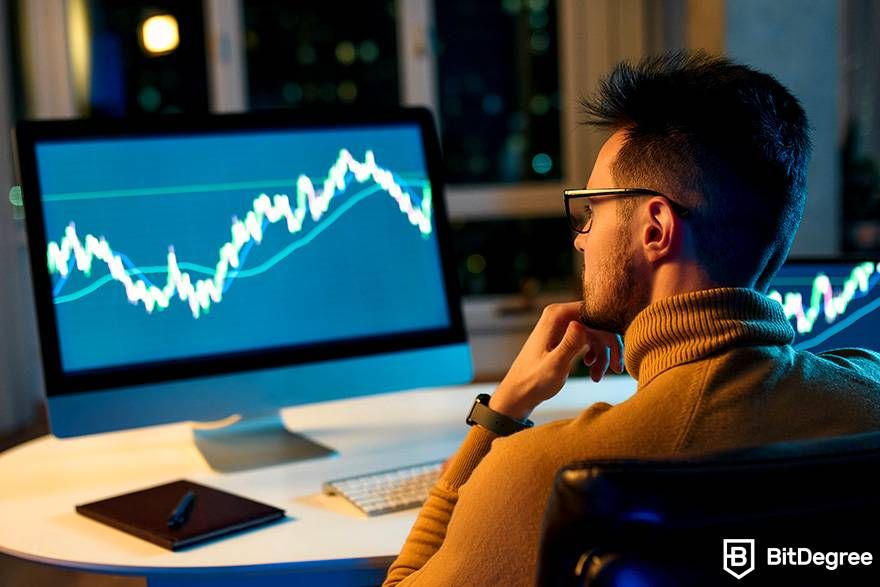 Let's see how things work when choosing your cryptocurrency trading platform. You'll recall me mentioning that there are two types of crypto exchanges:
As you're starting to learn how to trade crypto, we'll be focusing on centralized exchanges. However, understanding how both types work and what sets them apart is essential when looking for advice on how to learn crypto trading.
First, what does centralized mean? In this case, it refers to cryptocurrency exchanges that are owned by centralized companies and maintain their funds via custodians.
CEX platforms are closer to traditional fiat exchanges, as the money does not travel directly between the buyer and the seller. Instead, the exchange acts as an intermediary, and the transfers are managed by employing order books that automatically match market makers and market takers.
Due to the structure of centralized exchanges, they tend to be subjected to various regulations and restrictions. Some platforms may be restricted in certain regions as part of compliance.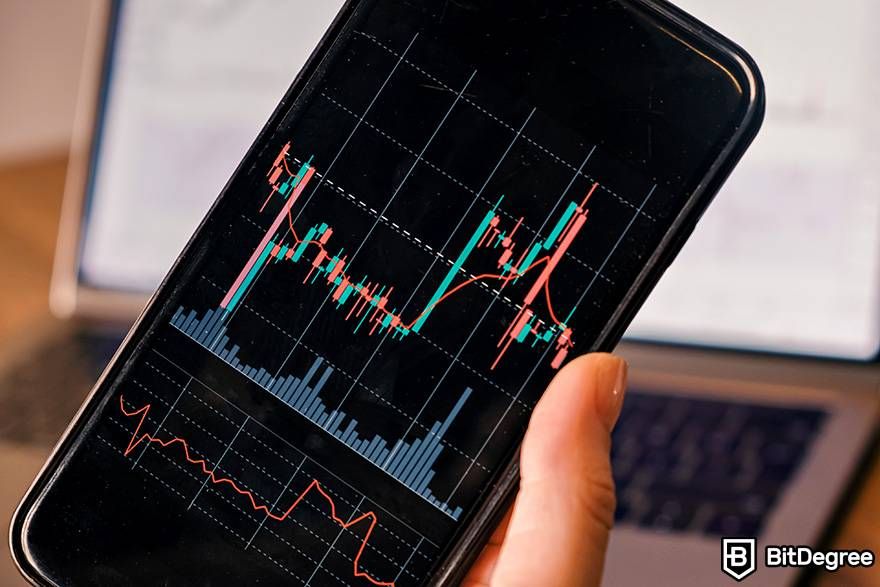 Some of the most important regulations on centralized exchanges that you need to know as you learn how to trade crypto are Know Your Customer (KYC) and Anti-Money Laundering.
Know Your Customer is something that you'll encounter on the majority of CEX platforms. It's an ID verification process that aims to reduce the risk of financial crimes. KYC requirements vary from platform to platform – some may only ask for proof of ID and address, while others implement video verification.
Anti-money laundering policies are kind of self-explanatory. By agreeing to use a platform, you essentially confirm that you are not going to engage in money laundering schemes, and if you breach terms and conditions, your account may be terminated, and you could get into serious legal trouble.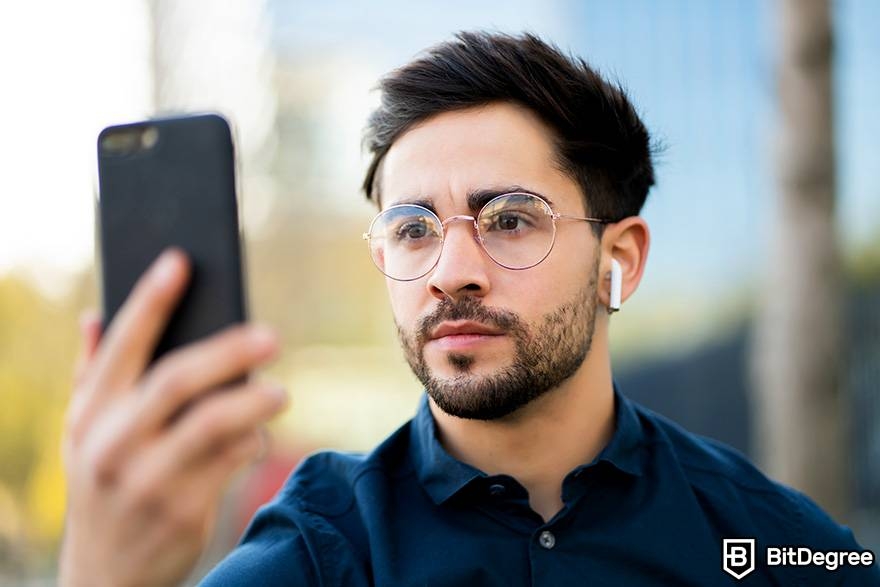 What about DEX platforms, though?
You could say that decentralized exchanges are the opposite of centralized, and you wouldn't be wrong – but there's a bit more to that. Decentralized exchanges are typically unregulated. As the name suggests, they're not run by one entity but rather by the contributions of the blockchain community.
The funding mechanic of decentralized exchanges uses liquidity pools. Here, users can put forward their funds to provide liquidity for their preferred assets. Often, the platforms rely on decentralized autonomous organizations (DAOs) for governance and changes.
Instead of using traditional order books, DEX platforms are known for the swapping mechanic that allows users to directly trade tokens. Often, instead of well-known cryptocurrencies, decentralized exchanges allow users to list various smaller tokens.
Decentralized exchanges are typically not compliant with regulations and are known for their anonymity. However, there's another side of the coin to this – due to the lack of verifications, many scammers tend to flock to DEX platforms.
To recap, here are the key features of centralized and decentralized exchanges:
| | |
| --- | --- |
| CENTRALIZED | DECENTRALIZED |
| Owned by a central entity | Owned by the blockchain community |
| Uses order books | Uses swapping |
| Funds in custody | Funds provided (pooled) by users |
| KYC compliant, require ID verification | Anonymous |
| Regulated | Unregulated |
| Stricter regional restrictions | Looser regional restrictions (or none) |
| In rare cases – walk-in offices | Exclusively digital |
Table: Differences between centralized and decentralized cryptocurrency exchanges
Digging deeper into centralized and decentralized exchanges and what sets them apart could use a whole article of its own. So, for now, let's settle on learning how to trade cryptocurrency on CEX platforms.
There are thousands of exchanges out there for traders to choose from. However, for the sake of this how-to-trade-crypto guide, we'll be looking at one of the best-known examples – Binance.
Binance is a centralized cryptocurrency exchange. Truth be told, it's a little bit more than that. Binance offers a broad range of financial tools and services for beginners and professional traders alike. From direct crypto purchases to gamified trading and the Binance Card, there's a lot to explore.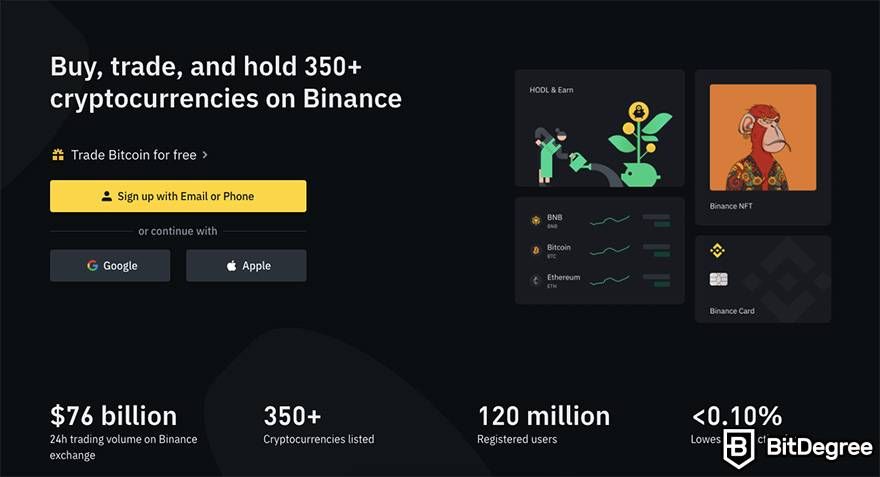 When you first open the Binance home page, the sheer range of tools and services can be overwhelming. You'll see sections like Spot, Margin, or P2P trading. The "Derivatives" section includes different options and futures. And while we'll mention how to trade crypto options and futures later, we'll start off with spot trading.
So, let's take a closer look at what is crypto trading like on the Binance exchange. For starters, you should know that there is more than one Binance platform. Due to regulations, the global exchange does not support US-based customers and instead offers them the Binance.US platform.

As we've established, if you want to start trading, you'll first need a KYC-compliant account. For Binance users, this means following the requirements of one of the three KYC tiers – Verified, Verified Plus, or custom identification upon request.
Now that you have your verified Binance account, we can get into how to trade crypto on the platform and what tools you'll be able to access.
How to Start Trading
Okay – you've got your trading account set up. We can finally get to the fun part – learning how to trade cryptocurrency for profit. After all, when you're trading, you hope to leave with more than you came.
There's just one last technical thing we need to discuss before the party starts. Let's take a quick look at crypto storage devices and figure out where your earnings would be safest.
Cryptocurrency Wallets
Don't worry – this section won't take too long to cover. However, now that you've established a trading account, you need some place to store your initial investments. Let's talk about crypto wallets.
Once you open a Binance account, you'll have access to the platform's native digital wallet. It's a good starting point for you to keep your funds as you don't need to use any third-party extensions.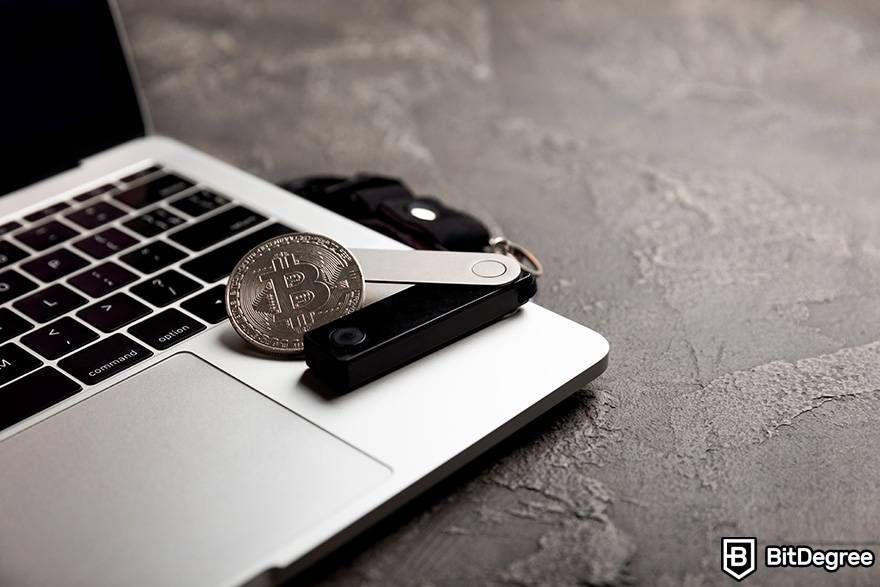 However, if your goal is to learn how to trade cryptocurrency and make profit long-term, a digital wallet (or a hot wallet, as it's commonly called) might not be enough. They often fall prey to thieves and hackers, and the chances of a system breach occurring are never zero.
So, you should look into a strong alternative. Cold wallets are hardware devices that you can use to safeguard your crypto funds. They're simply a must-have for any serious crypto investor.
As with exchanges, there are many options in the market for you to choose from. However, the most recognizable names are Ledger and Trezor. Hardware wallets offer a high level of security and ease of use, so even if you're just starting to learn about what is crypto, you won't take long to figure them out.

Did you know?
Want to get smarter & wealthier with crypto?
Subscribe - We publish new crypto explainer videos every week!
How to Get Free Crypto? (Explained with Animations)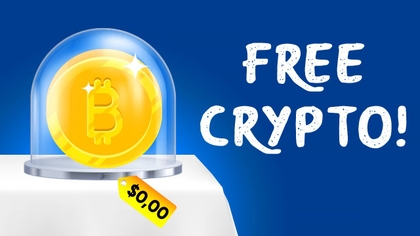 The Markets
Account – all set. Wallet – at the ready. It's finally time to take a good look at how to trade crypto. While we'll continue to use the Binance interface, you should be able to find all the essentials on your platform of choice.
As I mentioned before, cryptocurrency markets have quite a few options. However, there are two general categories – spot and derivatives. The latter can then be branched out to other types of trading, like options and futures.
When it comes to crypto trading for beginners, the safest bet is sticking to the spot markets. They are the most straightforward and tend to be less risky than derivatives markets. Let's choose BTC-USDT as our trading pair for this example.
Once you open the spot trading page, you're greeted with this interface, known as TradingView: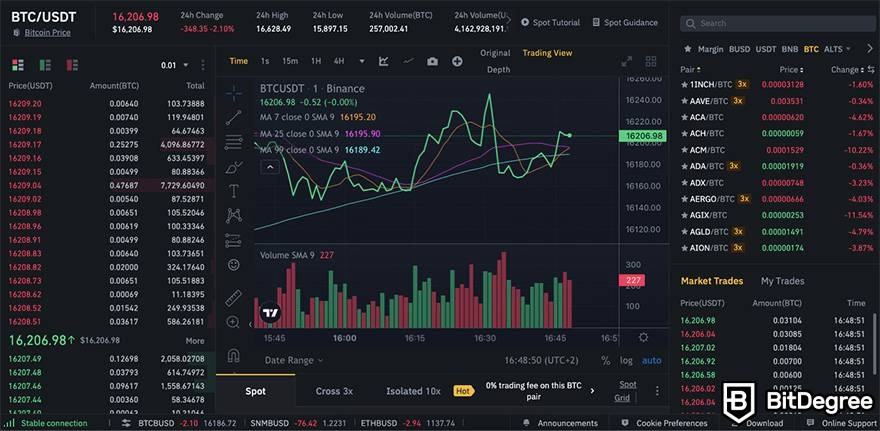 This is a lot of data to take in, so let's go through it bit by bit. First, take a look at all the rows on the left-hand side labeled "Price (USDT)", "Amount (BTC)", and "Total". That's the order book for this trading pair. The red numbers are sell orders, or asks, while the green numbers are buy orders, or bids.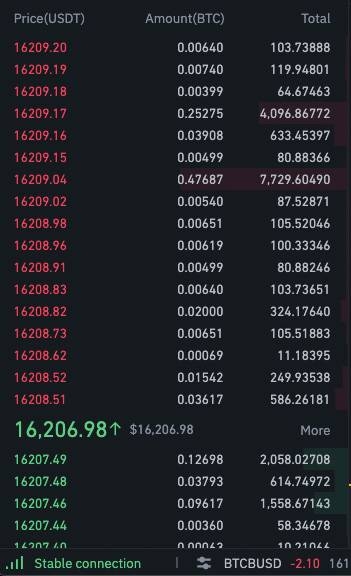 Once you look at the right-hand side, you'll see a complete list of every trading pair that's supported on the Binance spot market. Since BTC is our base currency, we're shown its trading pairs by default. So, you can choose any of them to continue learning how to trade cryptocurrency for profit.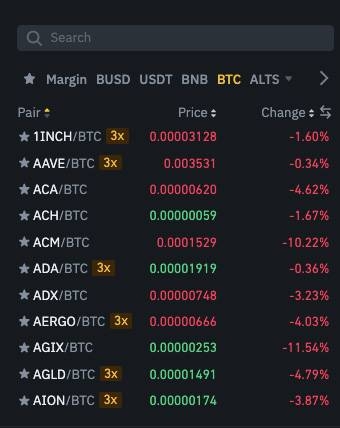 The center is the core of your trading experience – TradingView. This is where you'll see live market movements and adjust the tools to your preferences. So, let's see what your toolkit consists of.
The top row is probably quite clear – you can see the tickers of the trading pair (BTC/USDT), the current price, how much it has changed in the past 24 hours, the highest and lowest prices, as well as the volume of each asset in 24 hours.

The row directly underneath it has a bunch of indicators and trading tools to help you analyze the TradingView interface better. The "Time" section is self-explanatory – here, you can select how far back you want to observe the trading history.
The little icon right next to time selections – circled in red below – is called "Technical Indicators". There are over 100 indicators available, including Exponential Moving Average and Klinger Oscillator. You can learn more about some of the indicators in our Crypto 101 Handbook.

Next to the technical indicators, we have the price tools. Essentially, they allow you to change how the data is presented on the chart. For example, the TradingView interface above uses lines to present live market data. However, you can also choose from bars, candles, and area depictions, among others.

Underneath the TradingView, you'll find the trading section. Since we're looking into how to trade crypto in the spot markets, that should be the selection by default. This is where the magic really happens.

Don't worry if you don't find everything clear right now – we'll go through the actual trading process in a minute. However, knowing what each section of TradingView is first will help you navigate the spot market platform better once it's time to start trading.
Initiating a Trade
You've got your TradingView open, you've got the trading section at the ready – it's time to trade.
This is quite self-explanatory, but if you want to see how to trade crypto in practice, you're going to need crypto assets of your own. On Binance, it's really simple. All you need is to go to the Buy Crypto page and use your preferred payment method.
Once you're set, you can start working on the spot trading page. Feel free to go back to the guide above if you need a refresher on anything. Keep a keen eye on the market movements, play around with the indicators, and familiarize yourself with the tools at hand.
However, don't fall prey to tunnel vision. You shouldn't rely solely on the information of the last 24 hours. You can zoom out and see how the trading pair has moved over the past month to get a better idea of the broader market trends.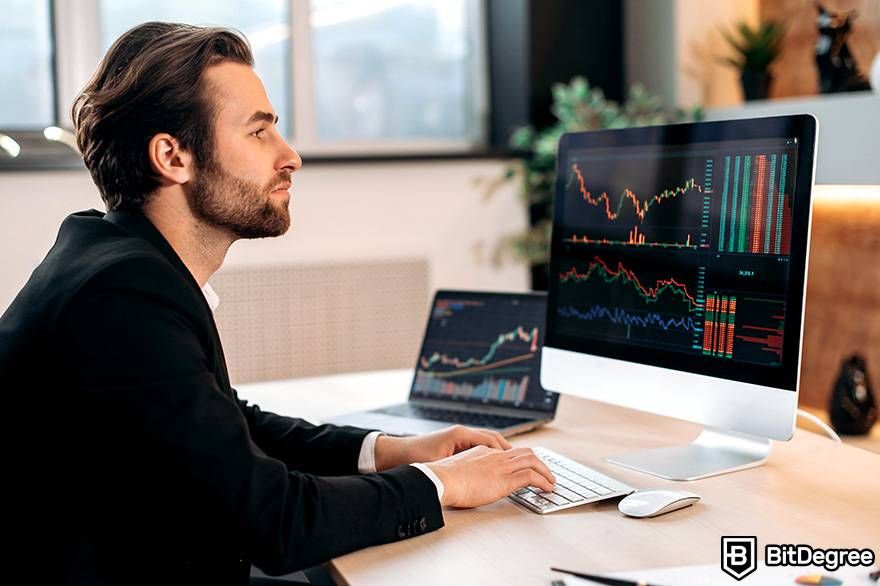 In the trading section, you'll be able to select one of the three order types:
Limit – orders that are set to be bought or sold at a specific price. These orders are not always successfully executed;
Market – orders whose price is instantly matched to the nearest buying or selling price to guarantee trade execution;
Stop-Limit – orders where the buying or selling prices are set at a certain range. These orders have a stop price and a limit price. The limit order is placed once the stop price is reached. The limit order is executed once the limit price is reached.
The order type that you select is up to your preference. Since market orders are the most straightforward, you might want to start there. However, if you're looking into how to trade cryptocurrency and make profit, you can try selling limit orders at a price that's convenient for you.
Now that you have your assets ready, you can go ahead and place your first order. You'll see your entire order history, as well as your open orders, below the trading section. You can cancel an open order at any time.
That's it! Now you know how to trade crypto on Binance. However, most centralized exchanges will offer the same order types for the spot market, so you should be able to adapt with ease.
Moving Forward
Congratulations – you've got the essentials of how the spot market works down, and now you know how to trade cryptocurrency for profit. Let's go through the basics we've covered, point by point:
Checking with your bank about crypto trading;
Checking the national crypto regulations;
Choosing your trading platform;
Making an exchange account;
Setting up your wallet;
Working with TradingView;
Trading in the spot market.
So, now you have the fundamentals of crypto trading for beginners. Of course, there are more detailed strategies and techniques that we could delve into, but we can't cover everything all at once. Besides, there's probably a lot of new information for you to digest now.
Regardless, we can take a little sneak peek at some of the other services that you can come across. And if there's any concept that you haven't gotten the hang of yet, feel free to consult the BitDegree Crypto Handbook, which contains hundreds of crypto terms, guides, and other useful and easy-to-understand information.

Pros
A very well-known crypto exchange platform
More than 500 different cryptos available
Two-factor authentication
Main Features
Over than 100 different cryptocurrencies available
Strong security
Small withdrawal fees

Pros
Secure and reliable
Low fees
A good amount of fiat currencies accepted
Main Features
Reputable exchange
Multiple fiat currencies are accepted
Relatively low trading fees

Pros
Anonymous trading
Secure
Supports a variety of cryptocurrencies
Main Features
Easy to use
Low fees
Good security
Markets
As you explored the Binance website, you must've noticed the different markets available on the menu – I even mentioned a couple of them. We won't go in-depth into how to trade crypto futures or options. However, I will give you some pointers in case you want to try this out on your own.
In the futures markets, traders agree that the assets they're trading will be sold at a predetermined date for a predetermined price. The name suggests it – while the trade is set up now, it's going to be executed in the future.
There are two types of futures contracts – quarterly and perpetual. The type refers to when the contract is executed. Since these trades are legally binding, the traders must follow through. You'll often hear terms like leverage and leveraged tokens related to futures markets, but that's a topic for a separate "how to trade crypto futures" tutorial.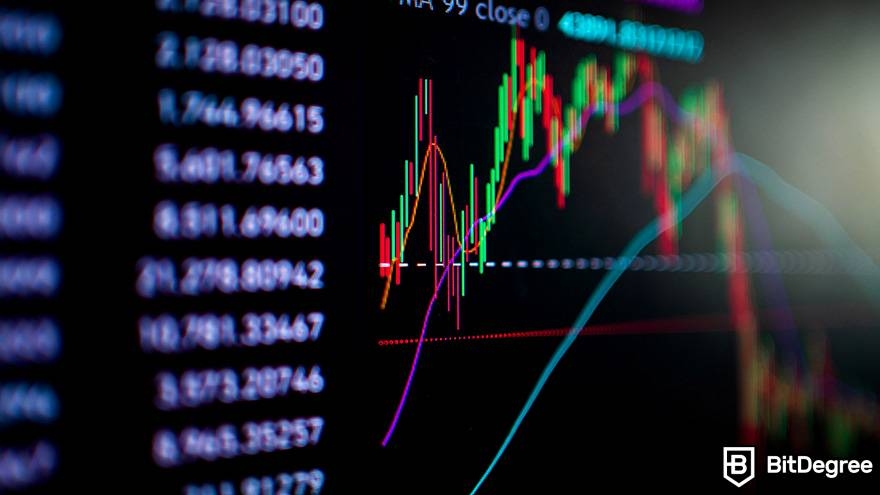 Options share some similarities with futures. Here, the trades are also set up to be executed at a certain time, for a specific price. However, options agreements are not legally binding, meaning that any party can step away at any time without the obligation to complete it.
There are two types of trading you need to know if you're looking into how to trade crypto options – call and put options. Typically, these markets are regulated by national or international guidelines due to their speculative nature.
If you're interested in derivatives trading but are wary of the risks, some exchanges can help you out with demo or simulation trading. Essentially, these are markets that use live data and allow you to set up trades that you would hypothetically place in the real market.
However, if things go sour, you don't suffer losses, as simulation trading doesn't use real crypto assets. So, if you want to learn how to trade crypto in a more advanced way, it's a good tool to try out before you enter the big playing field.
Conclusions
So, what do we know now about how to trade crypto? A whole bunch – from doing early research to executing your very first trade. While it can seem daunting at first – especially with all the new terms and tools – making your first trade is really not that difficult.
So, by now, you know the essential steps you need to take before you even really get started. Don't forget that doing things by the book is not only easier but also safer – especially where money is involved.
While we didn't have a chance to cover everything in-depth, we've looked into the key differences between centralized and decentralized exchanges, and how to choose a solid starting point for trading. Now, you know what to expect when the exchange prompts you to submit KYC documents – and why they're necessary.
Finally, now you know what TradingView looks like on Binance and how to adjust the different tools and settings when you analyze the charts. If any of the concepts still seem out of your skill range, take a look at the Crypto Terms chapter of our Handbook – with over 1,000 terms, our glossary should have you covered.
And finally, keep an eye out for future tutorials on more advanced trading methods and other essentials – we might even cover derivatives markets. And if you have any friends that are interested in how to learn crypto trading, just send them our article and share the knowledge!
Good luck and happy trading!
About Article's Experts & Analysts