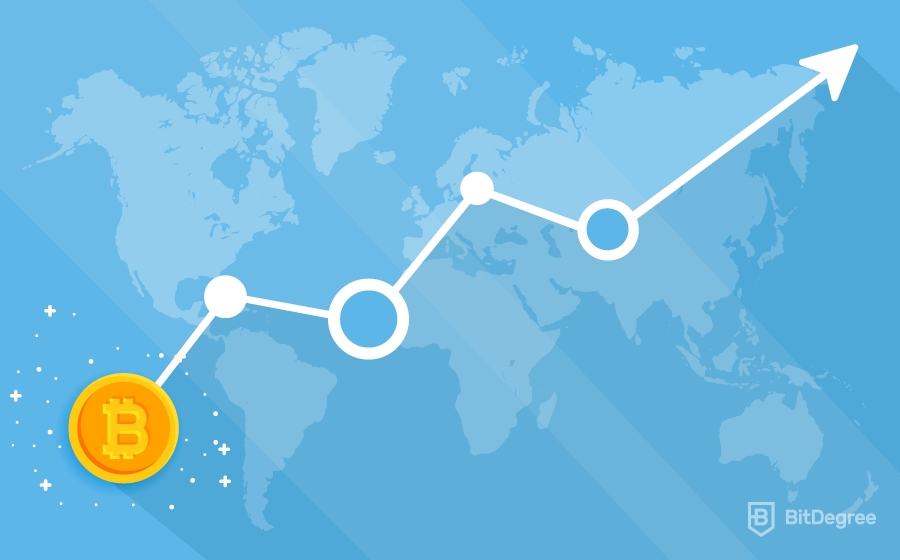 So, you've heard about Bitcoin, and you want to invest...
You're not the only one! Bitcoin has been one of the best investments you could have made in the last decade. People are still using it to make a lot of money, in many different ways.
In this guide, I will teach you about the history of Bitcoin, its future, and how to understand what goes into the BTC price prediction. We will look at predictions for different years, including the Bitcoin price prediction 2023. I will answer the questions that are on everybody's minds, like "will Bitcoin crash?" and "why is Bitcoin rising?".
Understanding how to predict and invest is the first step to building a successful portfolio. However, with all investments, there are risks involved. So, you should always speak to a financial advisor before making any major decisions - whether it be investing in Bitcoin, Ethereum, or Litecoin, or utilizing a crypto exchange platform in order to buy some cryptocurrencies, in general.

Did you know?
Want to get smarter & wealthier with crypto?
Subscribe - We publish new crypto explainer videos every week!
Crypto Mining Explained: How to Earn From Mining Bitcoin? (Animated)
Bitcoin's Roots
Before starting to predict Bitcoin projections, let's go back a little, to the very basics. I assume, as you are reading this guide, you must have heard of Bitcoin. It's the world's first digital currency, and it has been very popular over the last few years! A lot of people have made large profits by buying Bitcoin at a low price, and then selling it for a high price.
Allow me to elaborate.
Bitcoin is a currency, just like US Dollars, Japanese Yen, or British Pounds. It can be bought, sold, and exchanged for goods and services. And, just like any other currency, upcoming Bitcoin price predictions are always of a speculatory nature.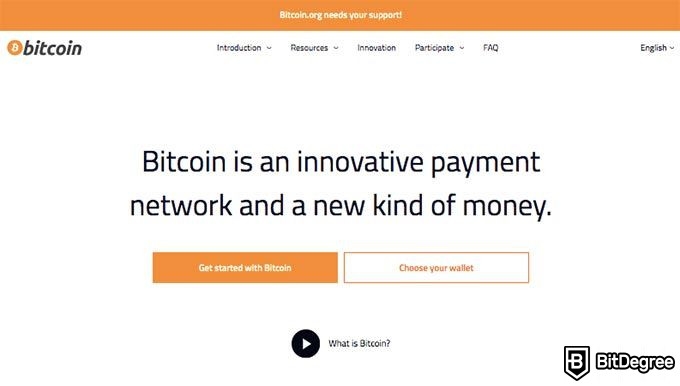 When you go to shops, you can either use paper money to buy items, or you can pay using your bank card. Whenever you use your bank card to make a payment, the money is taken from the bank account balance.
Bitcoin is very similar to that, except you are unable to receive it in its paper note form (like US Dollars). It is a digital peer-to-peer currency, meaning that there are no banks involved.
All Bitcoin transactions are electronic — you can use it to buy and sell things online, and also in a few selected retail stores. Not only that, but there are now Bitcoin ATMs that can turn your Bitcoin into your local currency.
Some Cool Facts About Bitcoin:
Bitcoin was launched in 2009, by Satoshi Nakamoto;
Nobody knows who Satoshi Nakamoto is — this is one of the biggest mysteries of the internet;
Satoshi Nakamoto wanted to create a currency that did not rely on the current banking system;
There are only 21 million Bitcoins that can be created (mined).
Let's move on and discuss the actual operation processes of Bitcoin.
How Does Bitcoin Operate?
One more thing to discuss before actually going to the Bitcoin price prediction is the way that Bitcoin operates. Every single Bitcoin transaction takes place on the Bitcoin blockchain. A blockchain is a piece of technology that protects Bitcoin and its users by keeping them safe from hackers.
It is powered by a network of computers, which are often called "nodes". These nodes work together to verify every Bitcoin transaction that takes place.
In simple terms, when someone sends a Bitcoin to another person, one node on the blockchain network will verify the transaction using a mathematical equation. The transaction is then placed on the blockchain network.
The "nodes" that help operate the blockchain network are rewarded for their contribution. When a node verifies transactions, they receive Bitcoin for their efforts. This is a process that is called "mining".
Bitcoin is decentralized: nodes all over the world operate the network. The network is not controlled by the main server or a group of main servers. This is good for the security of Bitcoin, as it makes it much harder for hackers to get access to the network.
Why Does Bitcoin's Price Fluctuate?
Note: to fluctuate means to change with no fixed pattern.
"Why is Bitcoin rising?" and "is Bitcoin going to crash?" are questions we hear a lot. To make or understand a Bitcoin price prediction, you must first know how Bitcoin fluctuates.
Just like most currencies, the price of Bitcoin changes every day. The only difference is that the price of Bitcoin changes on a much greater scale than local currencies.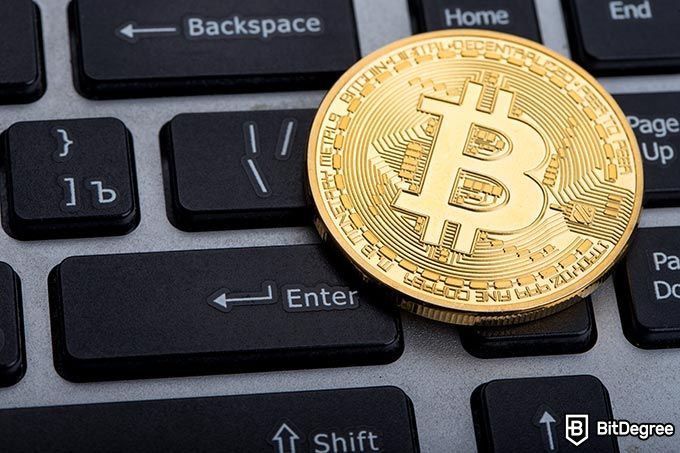 Bitcoin's value is based on how valuable the market (the people buying and selling Bitcoin) thinks it is. Think about some of the physical things you can currently invest in, such as gold. The price of gold depends on its supply and demand. For example, when a new goldmine is discovered, the price drops. This is because more gold becomes available, and so, it is no longer as rare. So, the rarer Bitcoin is, the higher Bitcoin predictions are.
The example of gold is similar to how Bitcoin price predictions change. However, the price of Bitcoin usually changes because of the news that is published about it. Here's how it works:
When there is bad news published about Bitcoin, there are a lot more people selling Bitcoin than buying it. These people sell their Bitcoin for lower prices than the current value, so that they can sell it quickly. This causes the price to drop.
When there is good news about Bitcoin, there are more people buying Bitcoin than there are people selling it. These people buy Bitcoin for higher prices than its current value, so that they can buy it quickly. This causes the projections of Bitcoin to rise.
Naturally, as you can imagine, things are much more complicated than that - still, it should serve as a decent general waypoint.
The Supply and Demand of Bitcoin
When Bitcoin was created by Satoshi Nakamoto, he set a limit for how many Bitcoins can be made — 21 million. This means that, for as long as Bitcoin exists, there can only ever be 21 million — no more. So, if the popularity of Bitcoin increases, so will the Bitcoin price predictions.
Bitcoin History
The price of Bitcoin is up one day, down the next day… it has a history of being difficult to predict in the short term.
Yet, a lot of investors like this. With prices that fluctuate (go up and down) regularly, investors can often buy Bitcoin at a low price, and then sell it at a much higher one.
There are other investors, though, who buy Bitcoin to hold it for the long term — this is how a lot of people got rich! Some investors bought Bitcoin over 5 years ago for super low prices (under $100) and then held it until the end of 2017, when it was worth more than $18,000!
The 2017 Bitcoin Rush
Up until 2021, Bitcoin's value had reached its highest point in January 2017 when it hit $19,498.63. At this point, Bitcoin was one of the most talked about things in the media. Everyone you knew — mothers, grandparents, school teachers, and doctors — were all asking, "how high will Bitcoin go?". "Bitcoin price" and "Bitcoin price predictions" were two of the biggest trends on Twitter!
This media attention, or "hype", caused Bitcoin's price to increase more than it ever had before. It went way, way up. It was crazy! News reporters and financial analysts all made their Bitcoin predictions — which made the public interested. More and more people were trying to buy Bitcoin, and so, the price increased.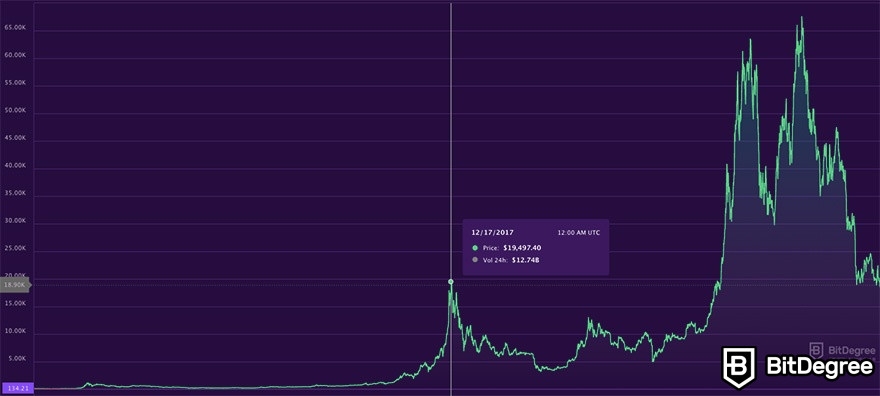 Soon after that, Bitcoin Bitcoin's price crashed.
Quick note: 'ATH' means All-Time High. It is the highest the price has ever been.
The question "when will Bitcoin crash?" had finally been answered. When Bitcoin price prediction started to become smaller and smaller, millions of people were selling their Bitcoin, and the price fell to under $10,000.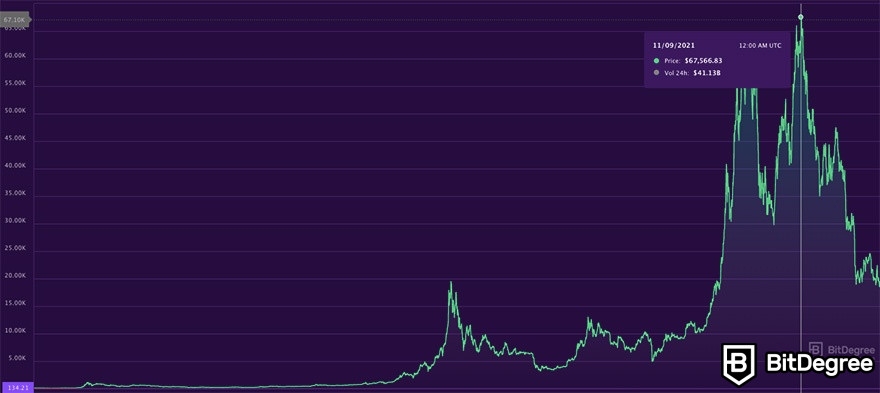 That's a significant crash!
It took some time, however, Bitcoin managed to get back up again, and in November 2021, its price increased significantly, and reached its all-time high of $68,789.63.
Other Bitcoin Crashes
Bitcoin's price has crashed many times over the years:
In 2011, the price crashed 93% in five months;
From November 2014 to January 2015, Bitcoin's value was halved, much like its crash in December 2017.
Another time that Bitcoin crashed was when investors became worried about new laws and regulations. There was news that South Korea and China might ban cryptocurrency exchanges. As you can imagine, this made a lot of investors scared, and so, they sold their Bitcoin.
Note: While this is slowly changing, there still aren't a lot of laws in place for cryptocurrency, and a lot of crypto transactions are anonymous. While some investors like this, it is seen as a problem by most governments.
Bitcoin Price Prediction: The Future of Bitcoin
We all wonder where Bitcoin is going to be 1 year, 2 years, 5 years or even 10 years from now. It's tough to predict, but everyone loves to do it.

Did you know?
Want to get smarter & wealthier with crypto?
Subscribe - We publish new crypto explainer videos every week!
Candlesticks, Trendlines & Patterns Easily Explained (Animated Examples)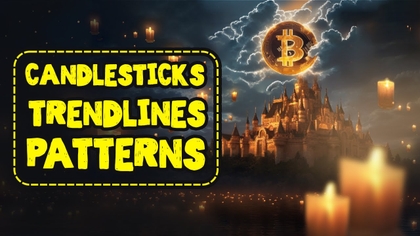 Will Bitcoin Crash Again?
If more countries create regulations / laws for cryptocurrency, more bad news will be published. This means we may see Bitcoin crashing again. Countries such as South Korea, Japan, China, France, and the United States all want to create new regulations.
Even though they want to create new regulations, we must remember that:
This could take a long time.

It might not affect the price of Bitcoin.
Until then, the most popular Bitcoin projection is that it will continue to rise.
What are the Bitcoin Projections for 2023?
This is the kind of question that starts arguments at dinner parties. Will Bitcoin rise this year? Will it fall next year? Who knows? What is the Bitcoin price prediction? Even though Bitcoin and its technology are very useful and are changing the world, anybody that claims to 'know' whether the price of Bitcoin will rise or fall is a liar. Sorry, but that's the truth.
I strongly believe that blockchain technology and cryptocurrencies are the future. This is why I believe the price of Bitcoin will increase this year even more. This is what I believe, but I can never know. All I can do is guess and make Bitcoin predictions. You can look at the charts, you can look at the news, but you can never 'know' for sure.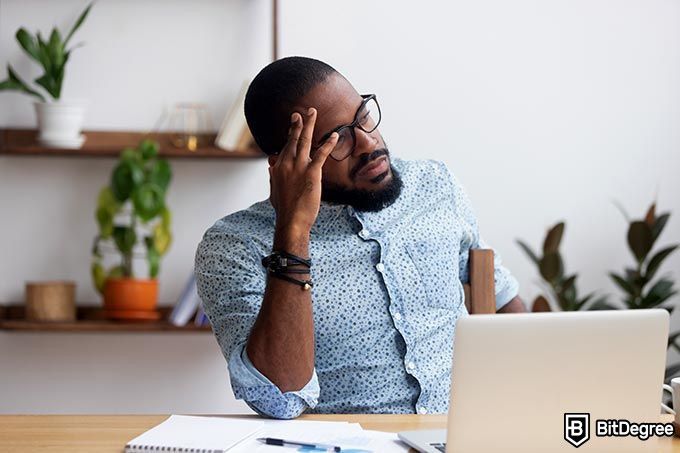 While talking about Bitcoin price predictions, there are people that say Bitcoin is a 'bubble', like the 'dot-com bubble' that happened when internet companies' stocks started increasing in price back in the late 1990s. They said that Bitcoin will 'burst' in 2023, meaning, they think it will crash.
During the dot-com bubble, the stocks got to really high prices. But when the bubble 'burst', the stocks went straight back down to low prices. The people who bought the stocks when they were at high prices, lost most of their money. This is why it is important not to invest more money than you can afford to lose.
There are also people — like John McAfee (the founder of McAfee Security) — who predict that the Bitcoin price will keep increasing. In fact, John McAfee predicted that Bitcoin will multiply by 10 (increase by 1,000%) in 2023! He also said it'll be $1,000,000 by 2023. Sadly, this didn't happen; however, at the beginning of 2021, Bitcoin's price increased significantly, and eventually reached its all-time high. At the moment, Bitcoin's future looks bright, however, no one knows what it will bring.
Bitcoin Predictions from Experts
Now, let's check out what some cryptocurrency experts have to say about this matter.
Bitcoin Price Prediction: The Future Of Bitcoin
The Saxo Bank thinks Bitcoin will increase a lot this year. Not quite as much as John McAfee does, but still a lot. Saxo's Bitcoin prediction 2023: they say the Bitcoin price will rise above $60,000 in 2023! This isn't all they say, though. They also say the Bitcoin price will then crash and lose more than 98% of its value! That's quite a rollercoaster.
Two Saxo Bank analysts said, "Bitcoin will continue to rise – and rise high – during most of 2023, but Russia and China will together engineer a crash." They think it'll crash because of new cryptocurrency regulations / laws from governments.
Blockchain Capital Partner, Spencer Bogart's Bitcoin Price Prediction — How High Will Bitcoin Go?
Other analysts have made Bitcoin price projections in 2023 that say it will increase to more than $50,000. Blockchain Capital partner, Spencer Bogart's predictions on Bitcoin is exactly that. This prediction seems to be one of the most realistic ones because Bitcoin's price already managed to reach almost $42,000 in January of 2023.
He said the increase would be due to big investments being made by large companies and investment banks. Mr. Bogart believes banks have seen how much money people are making with Bitcoin, and do not want to miss out.

Pros
A very well-known crypto exchange platform
More than 500 different cryptos available
Two-factor authentication
Main Features
Over than 100 different cryptocurrencies available
Strong security
Small withdrawal fees

Pros
Secure and reliable
Low fees
A good amount of fiat currencies accepted
Main Features
Reputable exchange
Multiple fiat currencies are accepted
Relatively low trading fees

Pros
Anonymous trading
Secure
Supports a variety of cryptocurrencies
Main Features
Easy to use
Low fees
Good security
Founder of Wawllet, Mihail Lala's — What's the Bitcoin Projections in 2023?
It's clear that a lot of experts think Bitcoin will do great things this year, but what about the longer term?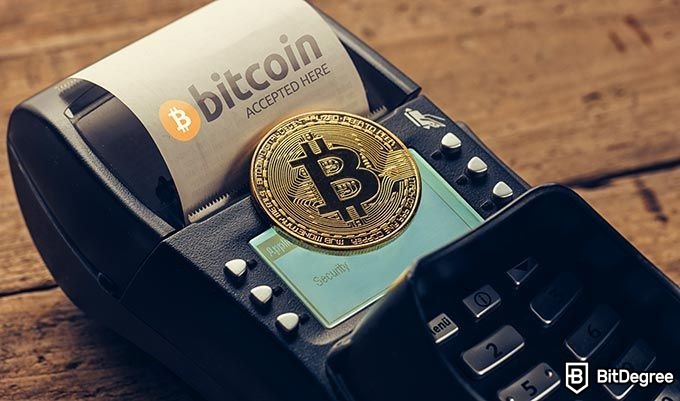 Mihail Lala (the founder and CEO of Wawllet) has a Bitcoin prediction in 2023. His Bitcoin projection is that Bitcoin will get to over $100,000 by 2023. Again, that's less than John McAfee's $1 million predictions, but it's still huge!
We should not ask ourselves, "is Bitcoin going to crash?", but "when will Bitcoin crash?". This is because, when it does crash, we can buy Bitcoin for a much lower price!
Conclusion
It's clear: if done correctly, buying and selling Bitcoin can mean big profits. It's made a lot of money for people in the past and still does today. It is also clear, though, that you can lose a lot of money, too.
You should now have a greater understanding of how and why the Bitcoin price changes (supply and demand, regulations, news, etc.), which means you know how people make their Bitcoin predictions. In addition to thinking about these things (supply and demand, regulations, news, etc.), they also think about the technology of Bitcoin (the Bitcoin blockchain), and its progress.
Now that you've read about the predictions of Bitcoin experts, and are ready to purchase or sell some BTC, do you have a Bitcoin price prediction of your own? Let us know!
Important note!
Before investing in Bitcoin (or any other cryptocurrency), you should do further research and always speak to a financial advisor. Never invest more than you can afford to lose. Bitcoin is still young, and the price is always changing, so things that nobody can predict do sometimes happen.
*Note: this article is a personal opinion. Before making any investment decisions, you should consult with a professional.
About Article's Experts & Analysts