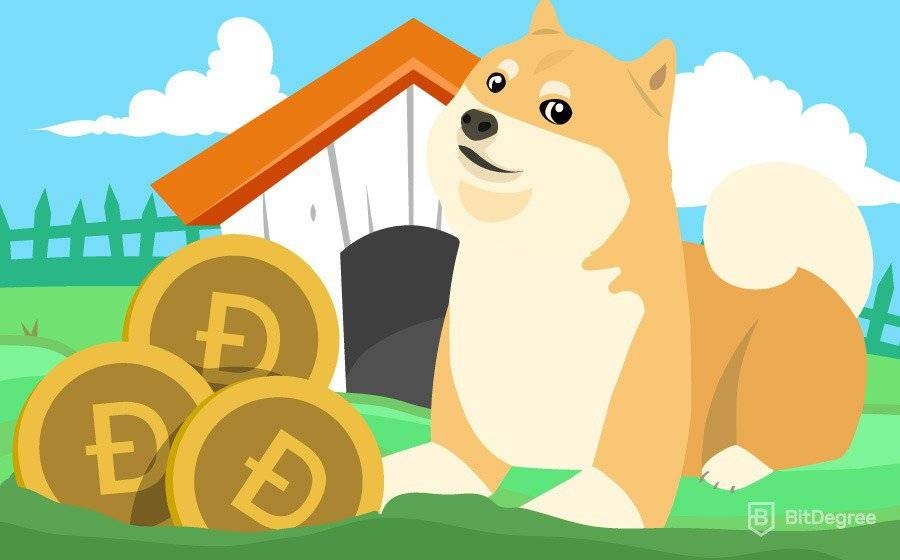 Let's take a lucky guess that you're here today because you've heard a lot about cryptocurrencies and you want to get involved, right? If you're a community person, Dogecoin mining might be the perfect start for you, whether it be from the hardware side of things, or even some reliable mining service providers.
Bitcoin was the first in 2009, and now there are thousands of cryptocurrencies. These new coins (that operate on their own native blockchain) are called altcoins or alternative coins. One popular altcoin is Dogecoin. It can be bought, sold and traded, just like Bitcoin. It can also be mined!
So, what is Dogecoin mining?
By the time you've finished reading this guide, you'll know all about how to mine Dogecoin and what it is. You'll know what hardware and what software you need to get started. You'll also know whether or not Dogecoin mining is for you!
While Dogecoin mining is exciting and all that, you should know that DOGE price increased by more than 1000% in a few days, so you should also consider it as a future opportunity coin!
Note: Always keep DOGE and other cryptocurrencies in secure wallets (such as Ledger Nano X and Trezor Model T). Also, if you decide to buy DOGE instantly, choose a reliable exchange, such as Binance, Coinbase, or KuCoin.
BINANCE
KUCOIN

Whether or not the cryptocurrency exchange has integrated tools to help you analyze your performance.

Whether or not the cryptocurrency exchange has a functioning mobile app.

Level of security & safety offered by a certain cryptocurrency exchange.

Whether or not the cryptocurrency exchange allows you to directly copy the positions taken by another trader and connect a part of your portfolio with theirs.

What kind of unique additional features are offered by a certain cryptocurrency exchange.

A Comprehensive User Center that Displays All The Information You Need in One Place
Beginner Platform & Advanced Users Platform

Whether or not the cryptocurrency exchange allows their users to remain anonymous.

Visit site
Read review
Visit site
Read review
Table: Some general features of the Binance and KuCoin crypto exchange platforms
So, where would you like to start? The beginning? Great choice. Let's have a quick look at how Dogecoin got started.

Did you know?
Want to get smarter & wealthier with crypto?
Subscribe - We publish new crypto explainer videos every week!
ICO vs IDO vs IEO: Which One's the Best? (Easily Explained)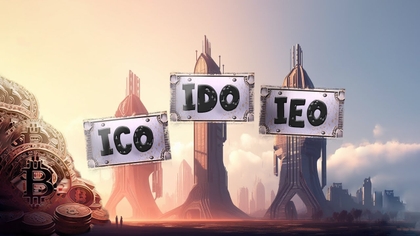 A (Very) Short History of Dogecoin
In 2013, an Australian named Jackson Palmer and an American named Billy Markus became friends. They became friends because they both liked cryptocurrencies. However, they also thought the whole thing was getting too serious so they decided to create their own.
Palmer and Markus wanted their coin to be more fun and more friendly than other crypto coins. They wanted people who wouldn't normally care about crypto to get involved.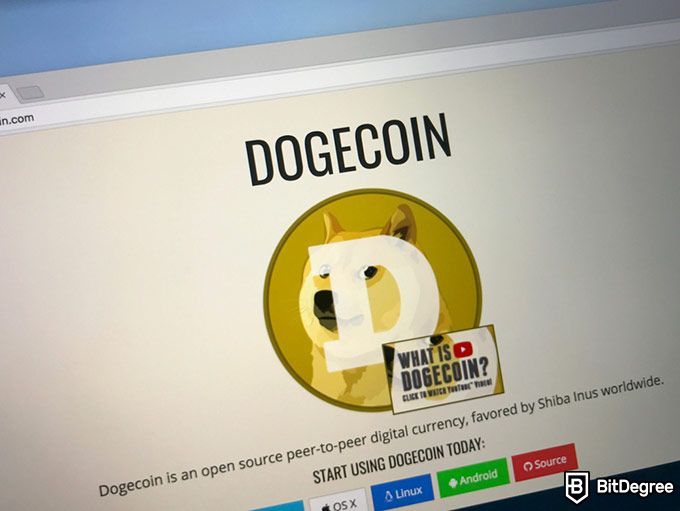 They decided to use a popular meme as their mascot — a Shiba Inu dog.
Dogecoin was launched on December 6th, 2013. Since then it has become popular because it's playful and good-natured. Just like its mascot!
Dogecoin has become well-known for its use in charitable acts and online tipping. In 2014, $50,000 worth of Dogecoin was donated to the Jamaican Bobsled Team so they could go to the Olympics. Dogecoin has also been used to build wells in Kenya. Isn't that awesome!
Users of social platforms - like Reddit - can use Dogecoin to tip or reward each other for posting good content.
Dogecoin has the 27th largest market cap of any cryptocurrency.
Note: A market cap (or market capitalization) is the total value of all coins on the market.
So, Dogecoin is a popular altcoin, known for being fun, friendly and kind. It's a coin with a dog on it! You love it already, don't you?
Next, I want to talk about how mining works...
Understanding Crypto Mining Bottom Line
To understand mining, you first need to understand how cryptocurrencies work. Cryptocurrencies are peer-to-peer digital currencies. This means that they allow money to be transferred from one person to another without using a bank.
Every cryptocurrency transaction is recorded on a huge digital database called a blockchain. The database is stored across thousands of computers called nodes. Nodes put together groups of new transactions and add them to the blockchain. These groups are called blocks.
Each block of transactions has to be checked by all the nodes on the network before being added to the blockchain. If nodes didn't check transactions, people could pretend that they have more money than they really do (I know I would!).
Confirming transactions (mining) requires a lot of computer power and electricity so it's quite expensive.
Blockchains don't have paid employees like banks, so they offer a reward to users who confirm transactions. The reward for confirming new transactions is new cryptocurrency. The process of being rewarded with new currency for confirming transactions is what we call "mining"!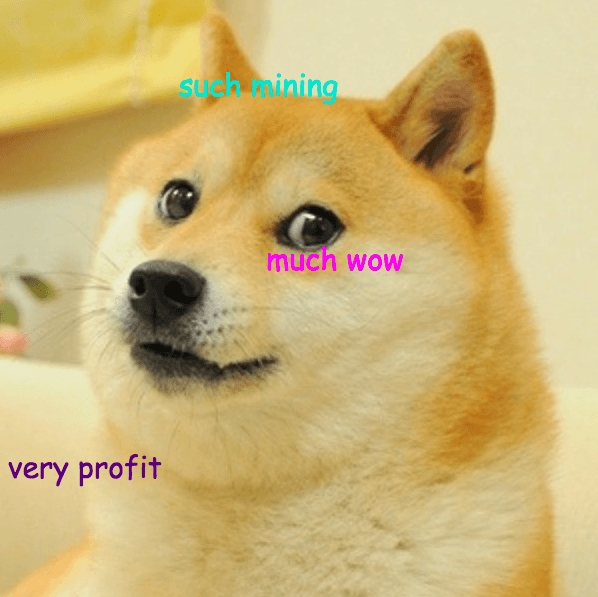 It is called mining because it's a bit like digging for gold or diamonds. Instead of digging with a shovel for gold, you're digging with your computer for crypto coins!
Note: For more information about blockchain tech, check out our Blockchain Explained guide.
Each cryptocurrency has its own blockchain. Different ways of mining new currency are used by different coins where different rewards are offered.
So, how do you mine Dogecoin? What's special about Dogecoin mining? Let's see...
What is Dogecoin Mining?
Dogecoin mining is the process of being rewarded with new Dogecoin for checking transactions on the Dogecoin blockchain. Simple, right? Well no, it's not quite that simple, nothing ever is!
Mining Dogecoin is like a lottery. To play the lottery you have to do some work. Well, actually your computer (or node) has to do some work! This work involves the confirming and checking of transactions which I talked about in the last section.
Purchasing Dogecoin takes much less effort, especially when using Binance or KuCoin. This is the time when Dogecoin reached its all-time high and keeps increasing in price significantly. So if you do it now, you might still get on that train! The price of Dogecoin increased by more than 300% percent in one day, as you can see in the chart below.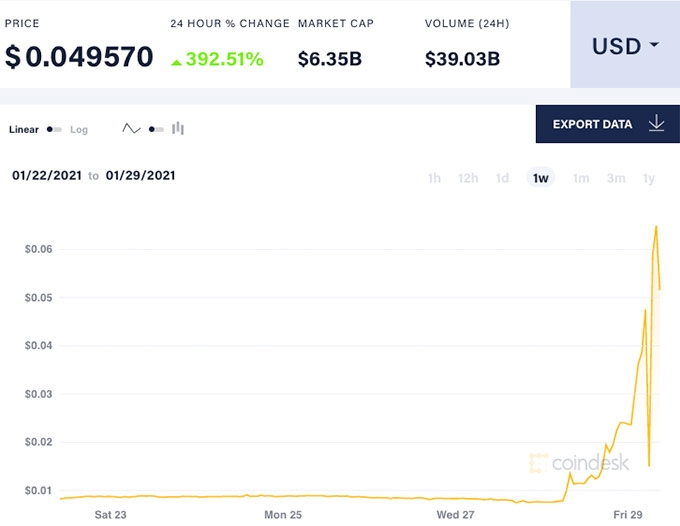 Lots of computers work on the same block of transactions at the same time but the only one can win the reward of new coins. The one that earns the new coins is the node that adds the new block of transactions to the old block of transactions. This is completed using complex mathematical equations.
The node that solves the mathematical problem first wins! It can then attach the newly confirmed block of transactions to the rest of the blockchain.
Most cryptocurrency mining happens this way. However, Dogecoin mining differs from other coins in several important areas. These areas are:
Algorithm: Each cryptocurrency has a set of rules for mining new currency. These rules are called a mining or hashing algorithm.

Block Time: This is the average length of time it takes for a new block of transactions to be checked and added to the blockchain.
Difficulty: This is a number that represents how hard it is to mine each new block of currency. You can use the difficulty number to work out how likely you are to win the mining lottery. Mining difficulty can go up or down depending on how many miners there are. The difficulty is also adjusted by the coin's protocol to make sure that the block time stays the same.
Reward: This is the amount of new currency that is awarded to the miner of each new block.
Now, let's compare how DogeCoin mining works compared to Litecoin and Bitcoin...
Mining Comparison
| | | | |
| --- | --- | --- | --- |
| | Litecoin | Bitcoin | Dogecoin |
| Algorithm | Scrypt | SHA-256 | Scrypt |
| Difficult | 6802626.0955 | 3511060552899.72 | 2798252.1991 |
| Block Time (In Minutes) | 2.5 | 10 | 1 |
| Reward (Per Block) | 25 | 12.5 | 10,000 |
| Reward (Per Block in USD) | 3,027.35 | 86,391.63 | 27.36 |
Source: www.coinwarz.com
Bitcoin uses SHA-256 to guide the mining of new currency and the other two use Scrypt. This is an important difference because Scrypt mining needs a lot less power and is a lot quicker than SHA-256. This makes mining easier for miners with less powerful computers. Fans of Litecoin and Dogecoin think that they are fairer than Bitcoin because more people can mine them.
Note: In 2014, Litecoin and Dogecoin merged mining. This means they made it possible to mine both coins in the same process. Dogecoin mining is now linked with Litecoin mining. It's like two different football teams playing home games in the same stadium!
Mining Dogecoin is a lot faster than mining Litecoin or Bitcoin. The block reward is much higher too!
Don't get too excited though (sorry!). Dogecoin is still worth a lot less than Bitcoin and Litecoin. A reward of ten thousand Dogecoin is worth less than thirty US Dollars. A reward of 12.5 Bitcoin is currently worth 86,391.63 US Dollars!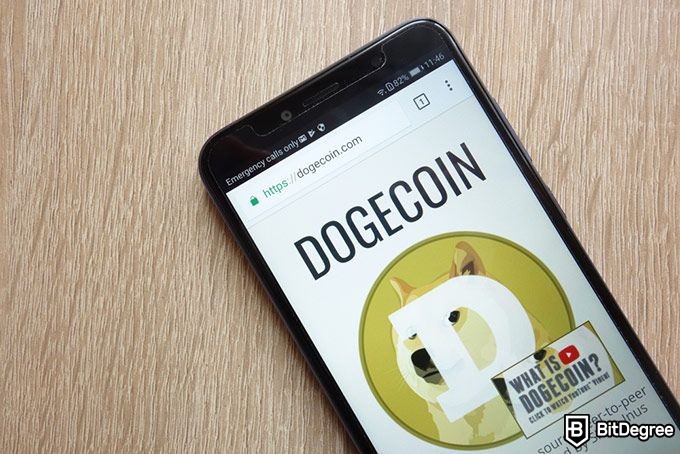 Note: The numbers might be slightly different by the time you're reading this guide.
However, it's not as bad as it sounds. Dogecoin mining difficulty is more than one million times less than Bitcoin mining difficulty. This means you are much more likely to win the block reward when you mine Dogecoin.
Now I've told you about what Dogecoin mining is and how it works, would you like to give it a try?
Let's see what you need to do to become a Dogecoin miner...
How to Mine Dogecoin
There are two ways to mine Dogecoin, solo (by yourself) or in a Dogecoin mining pool.
Note: A Dogecoin pool is a group of users who share their computing power to increase the odds of winning the race to confirm transactions. When one of the nodes in a pool confirms a transaction, it divides the reward between the users of the pool equally.
Dogecoin Mining: Solo vs Pool
When you mine as a part of a Dogecoin pool, you have to pay fees. Also, when the pool mines a block you will only receive a small portion of the total reward. However, pools mine blocks much more often than solo miners. So, your chance of earning a reward (even though it is shared) is increased. This can provide you with a steady new supply of Dogecoin.
If you choose to mine solo then you risk waiting a long time to confirm a transaction because there is a lot of competition. It could be weeks or even months before you mine your first block! However, when you do win, the whole reward will be yours. You won't have to share it or pay any fees.
As a beginner, I would recommend joining a Dogecoin pool. This way you won't have to wait as long to mine your first block of new currency. You'll also feel like you're part of the community and that's what Dogecoin is all about!
What You Need To Start Mining Dogecoin
Before you start Dogecoin mining, you'll need a few basics. They are:
A PC with either Windows, OS X or Linux operating system.
An internet connection.
A Shiba Inu puppy (just kidding!).
You'll also need somewhere to keep the Dogecoin you mine. It's not recommended to choose online wallets, pick software or hardware wallets instead. They include Ledger Nano X, Trezor Model T and Binance. The latter option is a software wallet, whereas the first two are hardware wallets.
Note: A wallet is like an email account. It has a public address for sending/receiving Dogecoin and a private key to access them. Your private keys are like your email's password. Private keys are very important and need to be kept completely secure.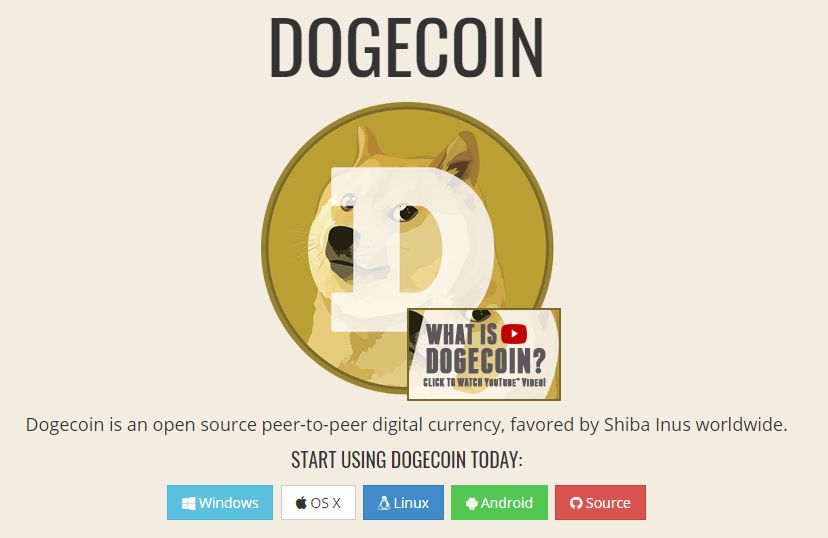 There are two different types; a light wallet and a full wallet. To mine Dogecoin, you'll need the full wallet. It's called Dogecoin Core.
Now that you've got a wallet, you need some software and hardware.
Dogecoin Mining Hardware
You can mine Dogecoin with:
Your PC's CPU: The CPU in your PC is probably powerful enough to mine Dogecoin. However, it is not recommended. Mining can cause less powerful computers to overheat which causes damage.
A GPU: GPUs (or graphics cards) are used to improve computer graphics but they can also be used to mine Dogecoin. There are plenty of GPUs to choose from but here are a few to get you started:
A Scrypt ASIC Miner: This is a piece of hardware designed to do one job only. Scrypt ASIC miners are programmed to mine scrypt-based currencies like Litecoin and Dogecoin. ASIC miners are very powerful. They are also very expensive, very loud and can get very hot! Here's a few for you to check out, and you can find parts for them on platforms such as Parallel Miner:

Did you know?
Want to get smarter & wealthier with crypto?
Subscribe - We publish new crypto explainer videos every week!
What are dApps in Crypto? (Explained with Animations)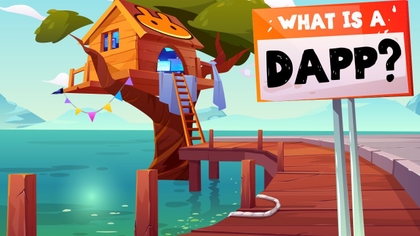 Dogecoin Mining Software
Whether you're mining with an ASIC, a GPU or a CPU, you'll need some software to go with it. You should try to use the software that works best with the hardware you're using. Here's a short list of the best free software for each choice of mining hardware;
CPU: If you just want to give mining a quick try, using your computer's CPU will work fine. The only software I would recommend for mining using a CPU only is CPU miner which you can download for free here.
GPU: If you mine with a GPU there are more software options. Here are a few to check out;
Scrypt ASIC miner:

MultiMiner- Great for mining scrypt based currencies like Litecoin and Dogecoin. It can also be used to mine SHA-256 currencies like Bitcoin.
CGminer and EasyMiner can also be used with ASIC miners.
Recommendations
You're a beginner, so keep it simple! When you first start mining Dogecoin I would recommend using a GPU like the Radeon RX 580 with EasyMiner software. Then I would recommend joining a Dogecoin mining pool. The best pools to join are multi-currency pools like Multipool or AikaPool.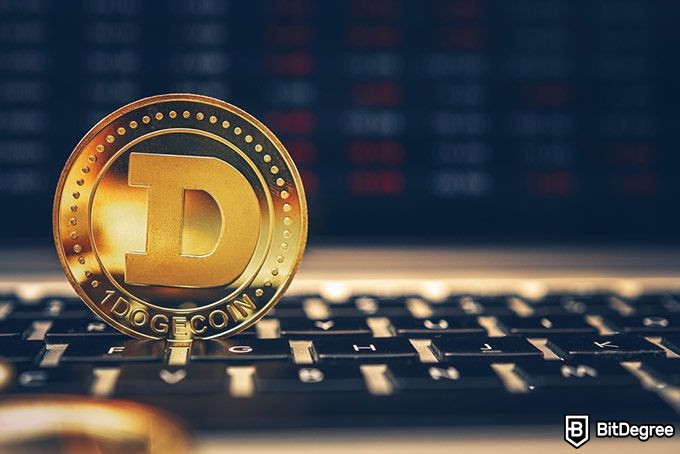 If you want to mine Dogecoin but don't want to invest in all the tech, there is one other option…

Pros
A very well-known crypto exchange platform
More than 500 different cryptos available
Two-factor authentication
Main Features
Over than 100 different cryptocurrencies available
Strong security
Small withdrawal fees

Pros
Secure and reliable
Low fees
A good amount of fiat currencies accepted
Main Features
Reputable exchange
Multiple fiat currencies are accepted
Relatively low trading fees

Pros
Anonymous trading
Secure
Supports a variety of cryptocurrencies
Main Features
Easy to use
Low fees
Good security
Dogecoin Cloud Mining
Cloud mining is mining without mining! Put simply, you rent computer power from a huge data center for a monthly or yearly fee. The Dogecoin is mined at the center and then your share is sent to you.
All you need to cloud mine Dogecoin is a Dogecoin wallet. Then choose a cloud mining pool to join. Eobot, Nice Hash and Genesis Mining all offer Scrypt-based cloud mining for a monthly fee.
There are pros and cons to Dogecoin cloud mining.
The Pros
It's cheaper than setting up your own mining operation. There's also no hot, noisy hardware lying around the house!
As a beginner, there isn't a lot of technical stuff to think about.
You get a steady supply of new currency every month.
The Cons
Cloud mining pools don't share much information about themselves and how they work. It can be hard to work out if a cloud mining contract is a good value for money.
You are only renting computer power. If the price of Dogecoin goes down, you will still have to pay the same amount for something that is worthless.
Dogecoin pools have fixed contracts. The world of crypto can change very quickly. You could be stuck with an unprofitable contract for two years!
It's no fun letting someone else do the mining for you!
Now you know about all the different ways to mine Dogecoin we can ask the big question, can you make tons of money mining Dogecoin?
So, Is Dogecoin Mining Profitable?
The short answer is, not really. Dogecoin mining is not going to make you a crypto billionaire overnight. One Dogecoin is worth about 0.05 US Dollars.
If you choose to mine Dogecoin solo, it will be difficult to make a profit. You will probably spend more money on electricity and hardware than you will make from Dogecoin mining. Even if you choose a Dogecoin pool or a cloud pool your profits will be small.
If you're looking for a faster and easier way to earn money, you should think about Dogecoin as a future opportunity coin. This cryptocurrency increased by more than 300% in one day!

However, if you think I am telling you to not mine Dogecoin, then you're WRONG! Of course, I think you should mine Dogecoin, however, there are simply better ways to make money with DOGE. One of the best options is to start trading. If you decide to do that it's recommended to choose reliable crypto exchanges, such as Binance.
BINANCE

Main score based on expert evaluations & real user reviews.

For which purpose or what kind of people is the crypto exchange most useful.

Buying, trading, and holding a wide variety of cryptocurrencies

The countries in which the cryptocurrency exchange is available for operation.

Turkey, Russia, Argentina, Vietnam, Ukraine, + 40 more,

Most popular hand-picked deals & coupons.

All Binance Coupons

Final crypto exchange evaluation conclusion based on research, expert opinions & user feedback.

One of the leading crypto exchange platforms in the industry.
Visit site
Read review
Table: The Binance cryptocurrency exchange
Make sure not to keep your cryptocurrencies in an online wallet, choose secure wallets instead. Such options include Ledger Nano X and Trezor Model T.
But why? Seriously…
Well, you should mine Dogecoin because it's fun and you want to be a part of the Dogecoin family. Cryptocurrency is going to change the world and you want to be part of that change, right? Mining Dogecoin is a great way to get involved.
Dogecoin is the coin that puts a smile on people's faces. By mining Dogecoin you'll be supporting all the good work its community does. You'll learn about mining from the friendliest gang in crypto. And who knows? In a few years, the Dogecoin you mine now could be worth thousands or even millions! In 2010, Bitcoin was worthless. Think about that!
Only you can choose whether to mine Dogecoin or not. You now know everything you need to know to make your choice - software to use, the pros and cons, where to get mining equipment, and so on. The future is here. So, what are you going to do?
About Article's Experts & Analysts