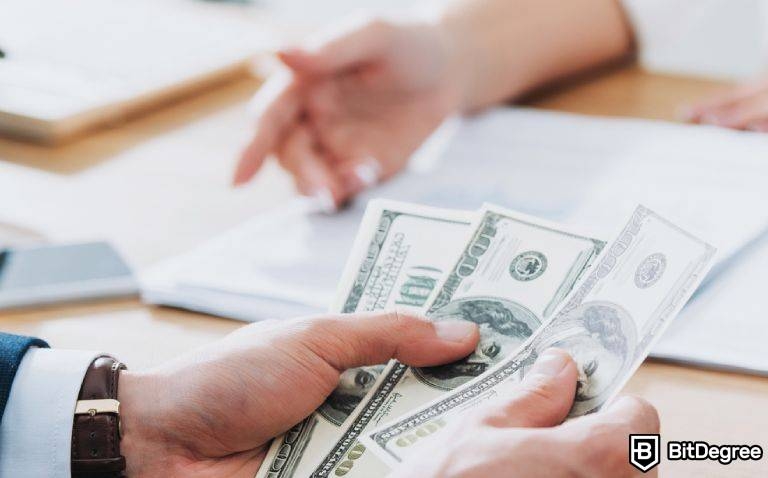 Cryptocurrency trading is a very expansive topic - there are multiple ways of how one may approach it, all of which will give you a different perspective on how this process works. That being said, there are some notable crypto trading strategies that can be applied no matter your specific situation, and that should at least be understood by everyone looking to start trading crypto.
If you find yourself among the group of individuals who are interested in this topic, you aren't an exception, either! The best crypto trading strategies can not only help you improve your trading habits, but also serve as a great waypoint of what other traders do, too!
This is true no matter if you're just starting out, or are already a successful trader, employing some sort of a strategy of your own. Note that, while we'll be focusing on crypto strategies, I'll also tell you about some top-rated platforms that you could use to employ your newly-acquired knowledge on, too!

Did you know?
Want to get smarter & wealthier with crypto?
Subscribe - We publish new crypto explainer videos every week!
What is a Crypto Wallet? (Explained With Animation)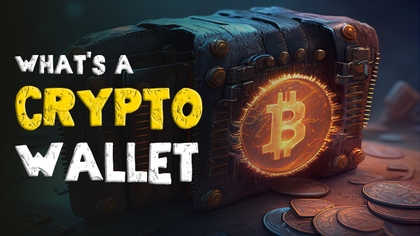 What are Crypto Trading Strategies?
Now, then, first things first - before we move on to talking about specific crypto trading strategies, we should first establish what this term means, in the first place.
Latest Deal Active Right Now:
REDEEM $600 PRIZE
Binance Cyber Monday
Attention new Binance users: this Cyber Monday, you can score up to $600 in rewards by completing special tasks. Activate this amazing Binance Cyber Monday deal using the code – 49316610!
Expiration date : 09/12/2023
6,127 People Used
Only 16 Left
You might say - that's pretty self-explanatory! And while that might be true in most cases, allow me to give you an example of why this is something worth establishing, either way.
Imagine that you've decided to start investing in cryptocurrencies. Without doing any research on the best crypto strategies, you come up with a plan to buy Bitcoin every last Saturday of any given month. When the price is lower, you'll buy more, and when it's higher, you'll skip out, and won't buy that month, at all.
So… Is this a crypto trading strategy? Well, yes, it is - one that you've come up with. However, what constitutes a "lower" price - what if you buy one month, and BTC crashes the next? Also, why would you make the purchases on Saturdays - perhaps there's another day when the market tends to be more favorable?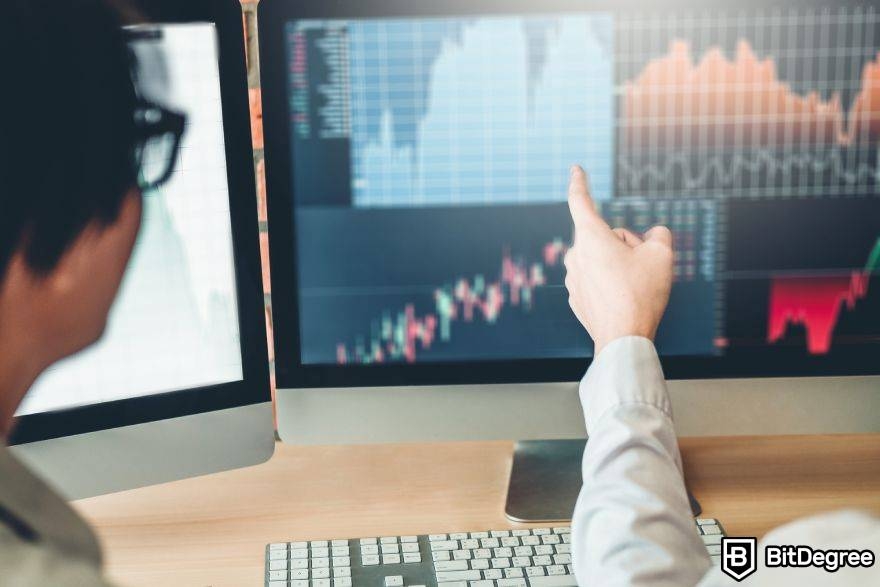 My point here is that, while everyone might have a strategy of their own, that doesn't mean that these strategies are going to be successful. Thus, in this specific article, we're going to take a look at some of the most common and widely-recognized strategies - ones that have some sort of backing and logic behind them.
This leads us to the actual definition of crypto day trading strategies - these are simply specific methods (patterns) of trading and investing in select cryptocurrencies, established throughout time by multiple different traders, and in different situations & circumstances.
In other words, while you might have some strategies of your own, in most cases, if you're just starting out, it's a good idea to stick with the major crypto trading strategies.
The Top 5 Cryptocurrency Trading Strategies, and How to Use Them
Now, in order to keep things simple and to the point, we'll talk about each of the best crypto trading strategies separately. I'll also give you a few examples to illustrate how these strategies work, in the real world.
DCA (Dollar-Cost Averaging)
As far as the most popular crypto trading strategies are concerned, Benjamin Graham's coined Dollar-Cost Averaging (DCA) is probably the most well-known strategy, employed by a huge variety of different traders (not only those interested in crypto). Whether you're new to investing, or are already a crypto veteran, DCA is something that you can utilize, nonetheless - be it manually, or automated.
While the fancy name might sound intimidating, this strategy is actually really straightforward, and a sort of a twist on the example I gave earlier in the article. If you decide to DCA a specific cryptocurrency, it simply means that you dedicate a specific (often small) amount of money to buy some of that asset, at very specific points in time, no matter how the market performs.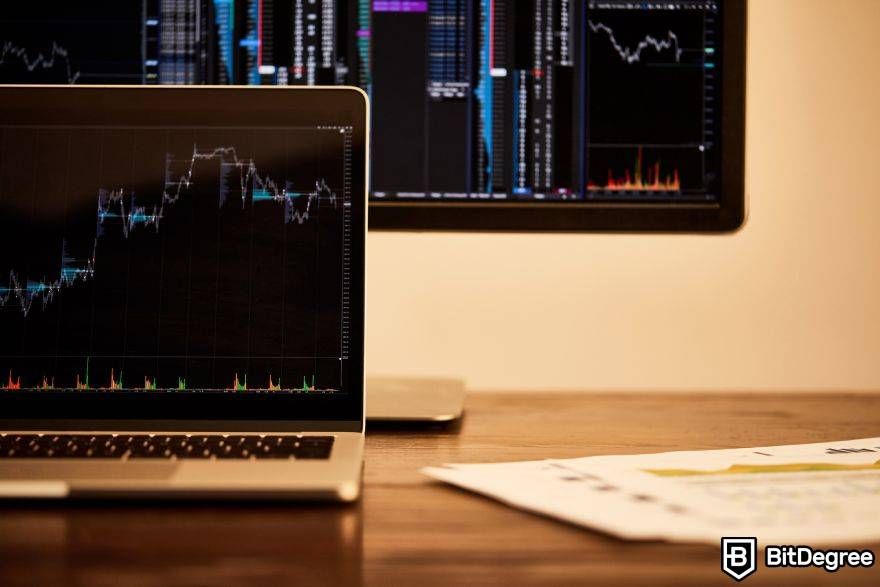 While there are many twists on how people utilize DCA, the "traditional" method includes setting a timeframe and an amount of money, before doing anything else. So, let's say that you decide to invest every week, with a total capital of $200 per month. You've done your research, and have come to the conclusion that you want to accumulate BTC.
Now, for this crypto day trading strategy to work, you'll need to pick a specific day of the week - say, Friday. Since you have $200 to invest, per month, and one month has four weeks, that means that you'll be investing $50 every Friday.
The above-mentioned point is very important, because it's at the core of DCA, as one of the most important cryptocurrency trading strategies. You must purchase $50 worth of Bitcoin, every Friday, no matter how much the market situation changes during the week.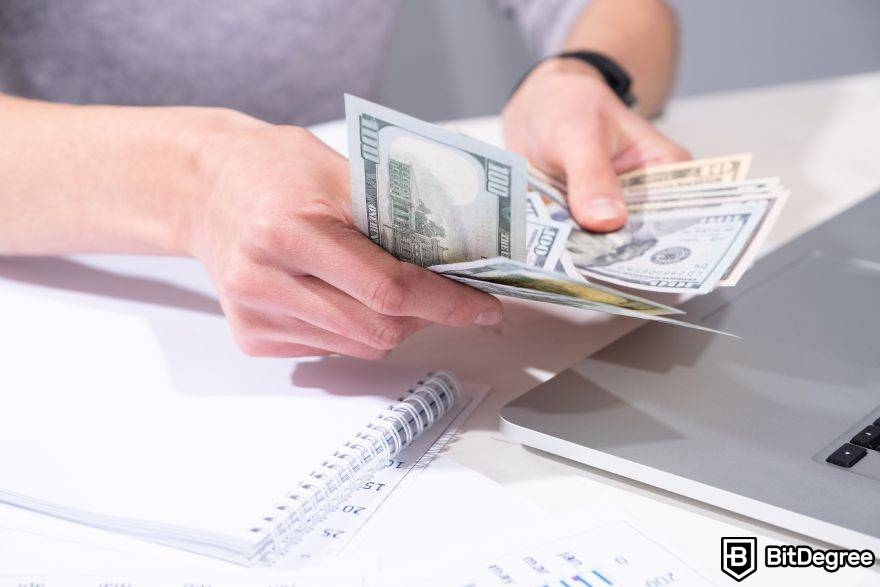 DCA is a long-term strategy. It's used to limit risk exposure and minimize market volatility. The philosophy behind it is simple - if you believe that the asset that you're accumulating will grow in price, in the long run, short-term price swings are irrelevant. So, while it would make sense for you to purchase more BTC when it costs $16,000, and not buy at all when it reaches $50,000, this wouldn't be a DCA method of investing - instead, you'd simply be gambling your money, hoping that you've "bought at the right time".
With the cryptocurrency market being as volatile as it is, however, Dollar-Cost Averaging provides some sort of peace of mind, for anyone who doesn't want to become an active day trader, and track the market's every move. Instead, you'd bet on the long term - if the asset would eventually grow in price, granted the average price that you've bought it during the year (or two, or more!), you would still make a profit!
DCA is honestly among the most beginner-friendly crypto trading strategies out there - it doesn't really require a lot of time or effort to maintain, assuming that you've already done your homework, and believe in the project that you're investing in.
HODL
HODLing crypto isn't necessarily a crypto day trading strategy; however, it's also a very popular method of how individuals invest in crypto, so it definitely does need to be covered when talking about these things.
First, though, let's break the term down.
The most common explanation that you'll find online, for what "HODL" means, is "Hold On For Dear Life". It's a kind of call to action - an encouragement for cryptocurrency owners to hold their assets, and not sell them when the market is in chaos.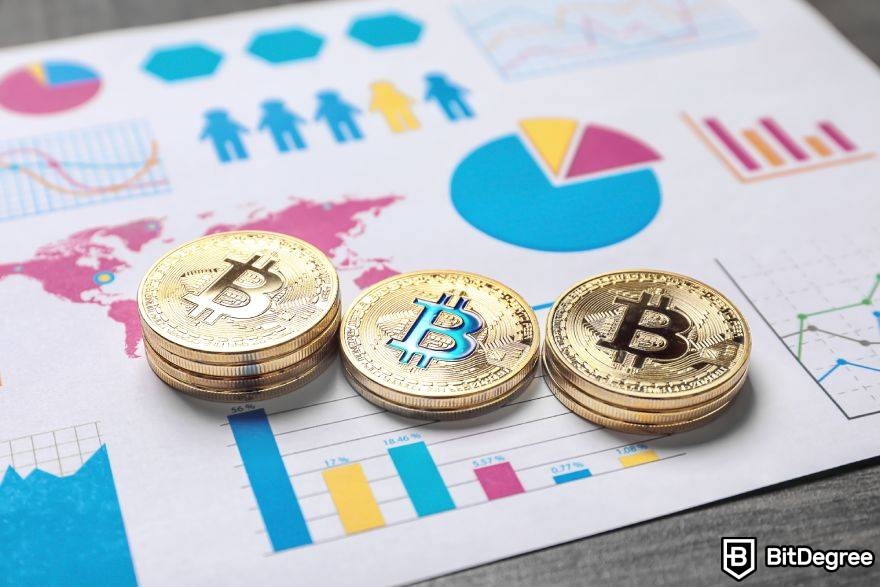 That being said, the funny thing about this phrase is that it's actually a misspelling of "hold" - one that was made by a random user on a Bitcoin forum, all the way back in 2013. It stuck, and today, is one of the most common crypto-specific terms!
So, then - how does "HODLing" crypto work, and how can you use it as one of the cryptocurrency day trading rules?
Well, as I've mentioned earlier, whenever you HODL crypto, it simply means that you don't sell your assets, no matter what happens. This is a little bit similar to DCA, except that you don't really buy any additional crypto - instead, you hold existing assets, with the hope that their price will rise in the future.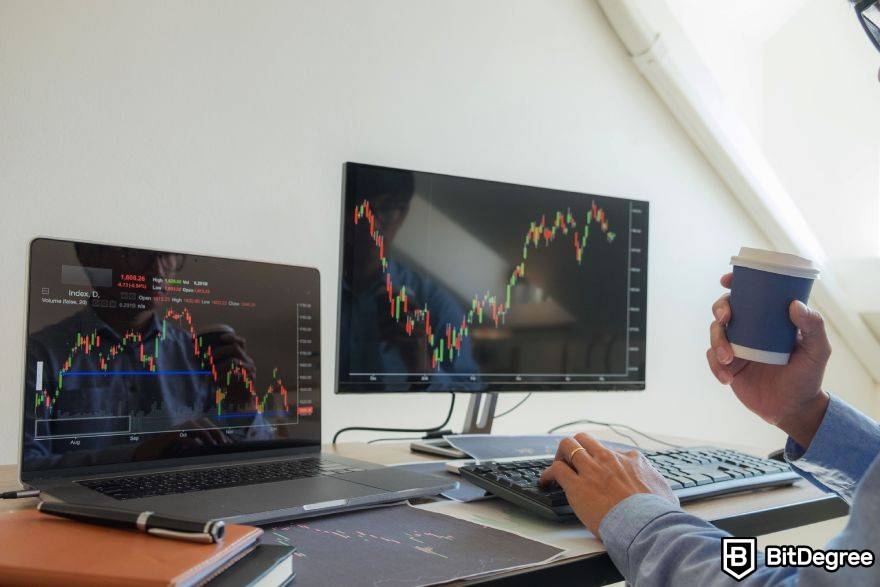 While HODLing might seem simple (I mean, you literally don't need to do anything!), oftentimes, it's a bit more complicated than it looks. This is especially true during a bear market - a period of time when the entirety of the market is red, and all prices are crashing.
When there's a lot of volatility, and your holdings tumble down in price, there's always a lot of pressure to sell, and mitigate your losses (especially if you bought in when the price was high). If you choose to HODL, you're essentially betting on the price making a recovery, sometime in the future.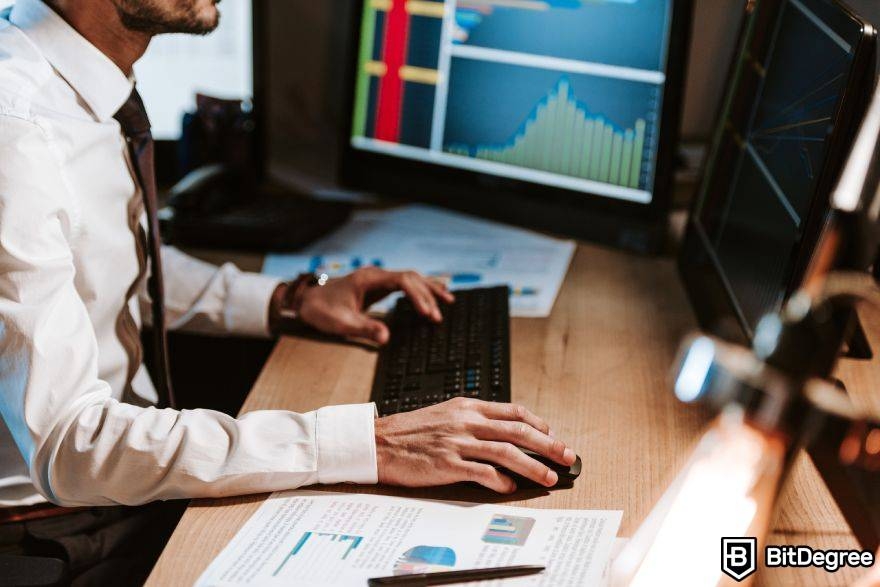 Another point that makes HODLing one of the more intricate crypto trading strategies is the fact that you really need to know when to HODL, and when to sell. No two assets hold value the same - while some coins & tokens might make a full recovery during the next bull run, others are likely to lose their value, completely, and never recover.
So, in essence, HODLing might not be as simple as it seems, at first glance! However, if you're confident that your asset will perform well, and haven't over-invested, you can simply forget about the market, and check on it in a year or so - in a situation like this, HODLing can bring some significant gains!
Arbitrage
Arbitrage is actually one of the more difficult crypto trading strategies, at least when you compare it to DCAing or HODLing. This is mostly due to the fact that, unlike with those two aforementioned strategies, arbitrage is actually a very proactive crypto day trading strategy.
What does that mean? Well, with arbitrage trading, you'll need to get yourself very involved with the industry, and spend A LOT of time on the market. I'm getting ahead of myself, though.
Arbitrage trading is when you purchase a crypto coin or token on one exchange, only to sell it on another, where the price is more favorable. Indeed - due to factors such as trade volume and liquidity, the price for the same asset will differ, on different exchanges (these are often referred to as "different markets").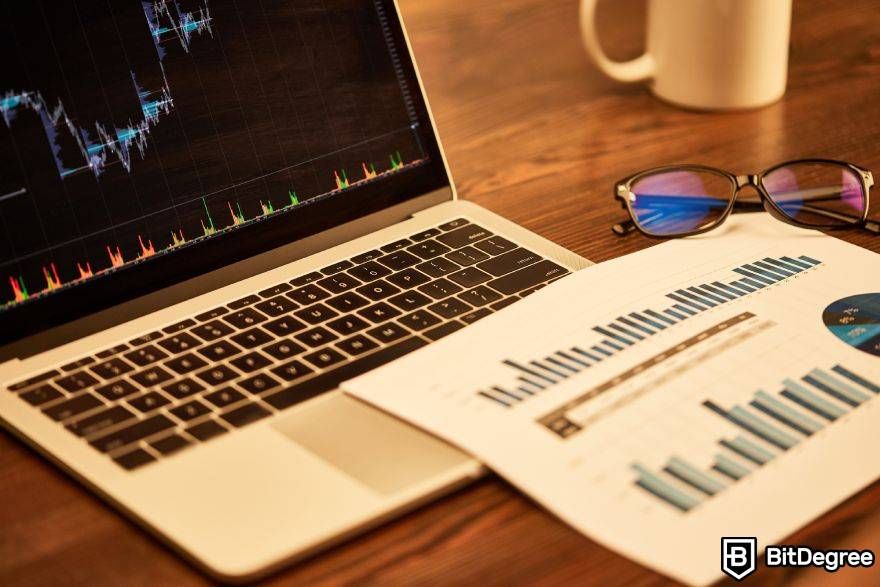 That mentioned difference in price is essentially your profit, discounting a few other factors that will impact it (more on that in a second). If you time the market right, arbitrage trading can be really profitable!
At the same time, you can probably now see why I said that it's one of the more complex crypto daily trading strategies. In order to spot these differences in prices, on different exchanges, you'll need to spend a huge amount of time in the market, constantly checking and re-checking the differences.
On top of that, you do also need to have a huge amount of general knowledge in regards to crypto trading, and the industry in general. To be a successful arbitrage trader, you'd have to be able to react very fast to any and all news that might affect the market, as well as be able to predict the potential effects of that news on the prices of your asset, on different exchanges.
It really is a lot to wrap your head around, I'll admit! This is part of the reason why arbitrage is usually favored more among expert traders, and people who have already tried out a few crypto trading strategies before.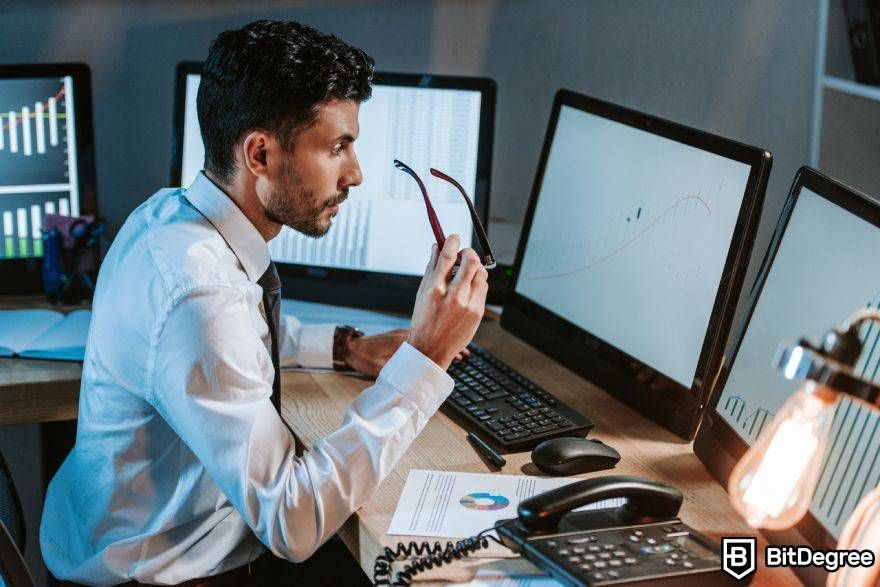 Now, I also told you that there are some factors that will affect your potential profits - that's true. Let me illustrate it with an example.
Say, you've noticed that, on Binance, the buying price of BTC is $20,000, while the selling price on KuCoin is $20,500. At first glance, this seems like a really simple way to make $500, right?
Well, your whole arbitrage process would look a little something like this:
Deposit funds to your Binance account;
Buy BTC on Binance;
Transfer the BTC to KuCoin;
Sell it on KuCoin;
Withdraw your profit to your bank account.
All of these steps - yes, all 5 of them! - have fees associated with them. Meaning, every single action that you take, from the above-given list, you will need to be paying some sort of a fee to the underlying company, or the BTC network. This will undoubtedly shrink your potential profits quite a bit!
Speed is another factor, as well. If you want arbitrage to be one of the successful crypto trading strategies that you employ, you will need to act fast, or other people will steal the opportunity from you. Granted that performing transactions fast requires a lot of practice and know-how, once again, it all boils down to how well you know what you're doing, as well as your prior experiences!

Did you know?
Want to get smarter & wealthier with crypto?
Subscribe - We publish new crypto explainer videos every week!
Is Cryptocurrency a Good Investment? (5 PROS & CONS!)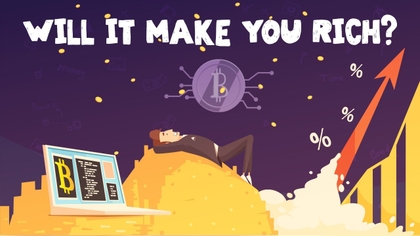 Day Trading
Yup, that's right - one of the most popular crypto trading strategies is day trading, in itself.
Chances are that it's also a strategy that you'll hear about first, when you're just getting into crypto. Many cryptocurrency investors exclusively identify themselves as "day traders" - it really is that popular!
As the term might imply, day trading is the process of buying and selling cryptocurrencies on the same day. So, in other words, you open a trade, with the intention of closing it on that same day. This, in turn, means that it's not a long-term process - instead, you're actively flipping assets, often multiple times per day, with the hope of capitalizing on the volatility of the market.
While it might be self-explanatory, crypto trading strategies such as day trading require you to be very active, when it comes to researching and understanding the market. With day trading, specifically, you will essentially be spending every free minute of your day doing just that, and searching for trading opportunities.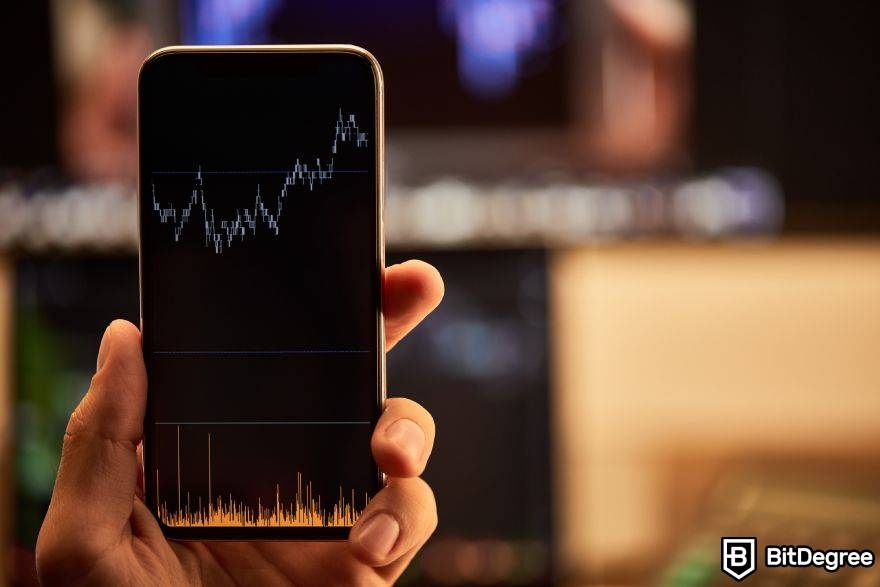 For some, this is actually their full-time job. By popular opinion, it kind of needs to be, granted the complexity and intricacies involved with the process!
You can essentially view crypto daily trading strategy as a "high risk, high reward" type of a deal. Most day traders end their careers pretty fast, with less money than they started with. On the flip side, if you're a professional trader, and are able to make a few good calls, day trading can also be extremely rewarding, too!
That last sentence is actually where it's at, as well. In order to be successful with day trading, in the longer term, you need to master the market to a professional level. This includes both the technical chart information (day traders make their trades based on technical analysis), as well as how the industry works, as a whole.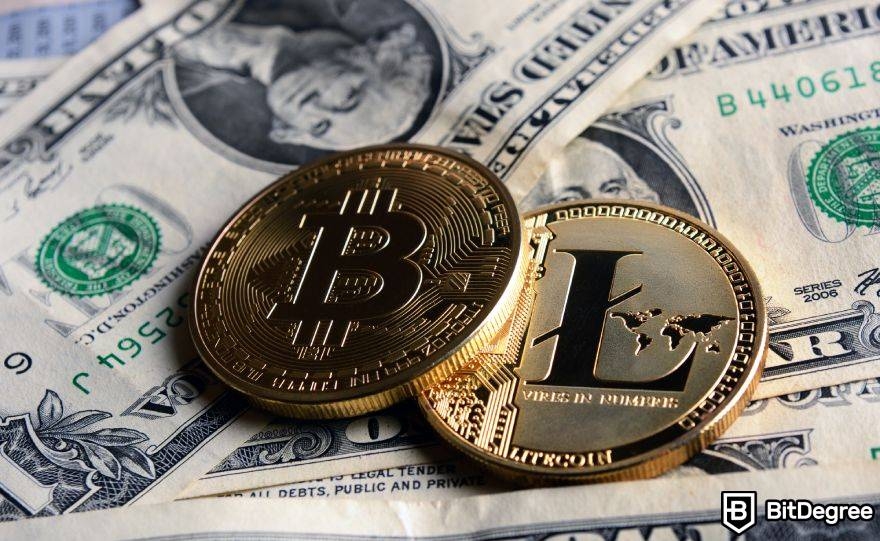 Lastly, notice that I'm using the term "traders" here. While these two terms are often used interchangeably, "trader" and "investor" are not the same thing. Traders are active with their portfolios, and often take on a lot more risk for a bigger (faster) reward.
Investors, on the other hand, would usually have the luxury to take their time, analyze all of the criteria, and after they make an investment, sit back and wait. It's a long-term game, and a more passive one, at that.
If you're just starting out with crypto trading strategies, or are an investor, day trading likely isn't something that's going to suit your wants and needs. Instead, you're better off sticking to investment-driven strategies, such as DCAing or HODLing your assets.

Pros
A very well-known crypto exchange platform
More than 500 different cryptos available
Two-factor authentication
Main Features
Over than 100 different cryptocurrencies available
Strong security
Small withdrawal fees

Pros
Secure and reliable
Low fees
A good amount of fiat currencies accepted
Main Features
Reputable exchange
Multiple fiat currencies are accepted
Relatively low trading fees

Pros
Anonymous trading
Secure
Supports a variety of cryptocurrencies
Main Features
Easy to use
Low fees
Good security
Scalping
If you've read the entire article up to this point, and have decided that crypto trading strategies such as day trading aren't really for you, and you're more of a DCA person, chances are that scalping won't really float your boat, either.
Scalping is an interesting concept, since it's actually often considered to be one of the crypto day trading strategies, instead of being a standalone strategy in itself. That being said, it's still a popular enough concept to be talked about, nonetheless.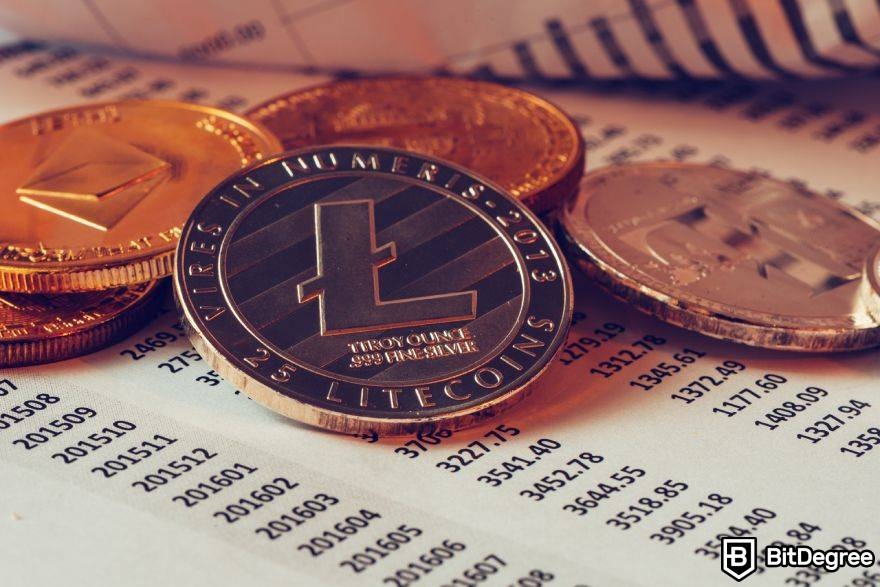 Essentially, scalping happens when you enter a margin trading position in accordance with the market trend, at that point in time. In most cases, this position lasts only a few seconds (it could, however, be longer - up to a few minutes, if the market is less volatile), and then it is closed. The aim of scalpers is to make the most amount of profit during that very short period of time, or if a loss happens, to lose as little money as possible.
That's why the positions are so short, too - scalpers tend to open up multiple positions, one after another, in order to maximize their earnings potential. The market trend comment I made earlier is key here - scalping takes place along the trend, with the assumption that it will remain the same throughout the duration of the trade. In short, scalpers aim to capitalize on the volatility of the market - the more volatile it is, the more opportunities are there to make profits.
With crypto being arguably the most volatile financial market out there, you can probably see the appeal.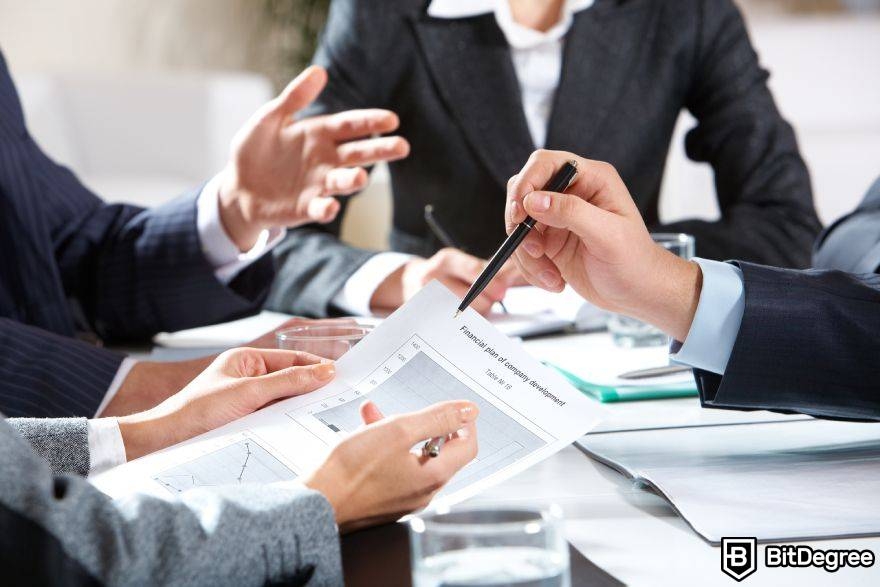 Now, if you feel confused, allow me to give you an example. Imagine that BTC currently costs $10,000, but there's a positive price movement observable. If you're a scalper, you'll likely open a long-margin position - in other words, you'll bet that the price of BTC will go up, in the next few seconds or so.
If it does, and your trade closes successfully, you receive profits, and then aim to open another position instantly. If not, and the price starts going down, you'll want to exit the position as soon as possible, and then open short-margin positions - or, make a bet that the price of BTC will keep going down.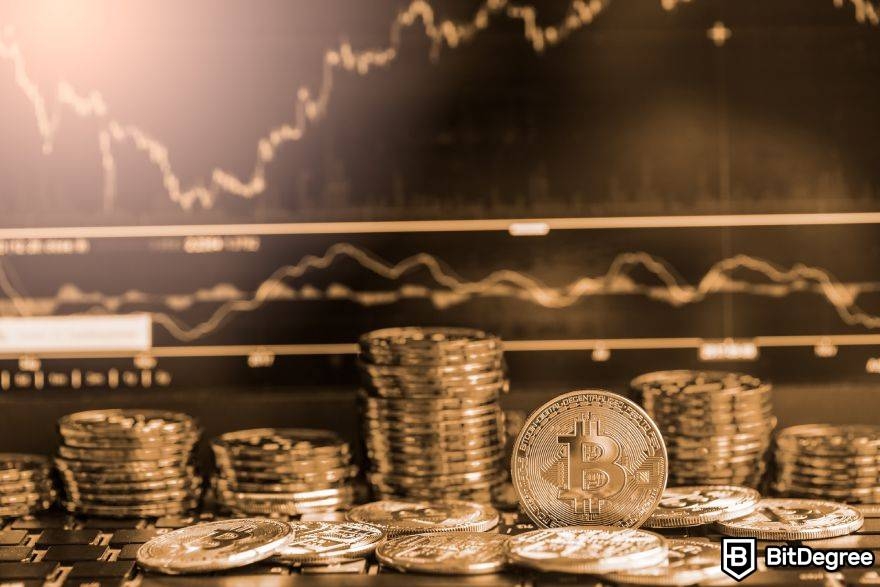 As you can see, out of all the crypto trading strategies that we've talked about, this is surely among the most complicated ones! The "bets" that scalpers make aren't random guesses, either - instead, they are based on short-term technical analysis, as well as general market news. All scalping trades will be opened and closed on the same trading day, too.
So, to sum up, scalping can be one of the more profitable crypto trading strategies, if you're already a professional trader and know what you're doing. At the same time, however, it usually requires some truly in-depth knowledge of the industry, as well as a significant amount of initial capital to get started. Since you'll be dealing with margin trades, the risks get amplified even further (so do the potential rewards, though).
You've Picked a Strategy… Now What?
Now that you have a better idea of some of the more popular crypto day trading strategies, and have perhaps even chosen a favorite or two, the next logical question is simple - how can you employ them, for your own trading & investing purposes?
Well, truth be told, there are many different paths that you could take. Two of the most obvious ones, however, have to do with CEXs and DEXs, or centralized and decentralized exchanges.
Both types of exchanges have their own pros and cons, and they will both also be useful in different situations. While there really is no limit on how many different exchanges you might use, simultaneously (same as with different cryptocurrency trading strategies), if you're a beginner, I would highly advise you to stick with one or two centralized exchange platforms.
BINANCE
KRAKEN

Main score based on expert evaluations & real user reviews.

For which purpose or what kind of people is the crypto exchange most useful.

Buying, trading, and holding a wide variety of cryptocurrencies
Best for Beginners

The countries in which the cryptocurrency exchange is available for operation.

Turkey, Russia, Argentina, Vietnam, Ukraine, + 40 more,
United States, Germany, United Kingdom, France, Canada, + 190 more,

Most popular hand-picked deals & coupons.

All Binance Coupons
All Kraken Coupons

Final crypto exchange evaluation conclusion based on research, expert opinions & user feedback.

One of the leading crypto exchange platforms in the industry.
One of the best crypto exchanges.
Visit site
Read review
Visit site
Read review
Table: Some general information about the Binance and Kraken cryptocurrency exchange platforms
CEXs are usually far simpler to use, and if you're looking to invest (rather than trade) employing the DCA or HODL strategies, a proper centralized exchange will provide you with all of the user-friendliness that you'd need, in order to do so fast and easy.
That being said… Which exchange should you pick?
Well, while there are many viable options (you can find all of them on our list of the best exchanges), the ones that will offer the most beginner-friendliness, as well as feature variety, are going to be Binance, Kraken, and KuCoin.
All three of these exchanges are different from one another, but they are still all top-tier, when it comes to all of the main features that you'd expect. You should have no trouble employing any one (or more!) of the earlier-discussed crypto trading strategies on them!
Conclusions
That wraps up my guide on the most popular and well-known crypto trading strategies out there. Naturally, as you might expect there are countless other methods of trading and investing that you can employ, and a huge array of additional strategies to explore. That said, in this article, we've covered the most notable ones.
What it all boils down to is figuring out whether you want to become an active day trader, and make crypto trading your full-time hobby (or even job!), or if you'd like to go the semi-passive investment route. Depending on your choice, you'll be able to filter out the strategies that work best for your situation, and start a successful journey into the world of crypto earning!
Do keep in mind that, whether you're just starting out or are already an advanced trader or investor, it's important that you pick the right exchange platforms for all of your crypto strategy needs. While Binance, Kraken and KuCoin are some of the top-rated platforms out there, you can also check alternative options, on our dedicated list of the best crypto exchanges.
Thanks so much for reading, and best of luck with your crypto trading and investing adventures to come!
About Article's Experts & Analysts