Imagine that there's a big occasion ahead – you need a present for a birthday, a wedding, or a Christmas party, but you're not sure what to get. Luckily, there's always a safe bet for a last-minute gift bag – and one that could put your crypto assets to good use. Did you know that you can buy gift cards with crypto?
Well, you can! And that's our subject today. As crypto becomes more mainstream, so do the opportunities to spend it. We'll cover the know-how of buying gift cards with crypto – how widely available your options might be, what to keep in mind when making purchases, and how and where to redeem them.
We'll also twist things around a bit – if you're on the receiving end of the present, you might be interested in ways to buy crypto with gift cards. To make things convenient, we'll be looking at a pretty likely example – how to buy Bitcoin with gift cards that you've acquired.
We'll follow the steps that you'll need to take on Binance and other platforms offering gift card services. You'll also learn a bit about crypto storage and what your main options might be – as well as how to make them part of a fancy gift bag.
Lastly, we'll be brainstorming some ideas for how to use gifted crypto assets. If you've never held crypto funds before and need some pointers, you might find our suggestions helpful in getting started with your journey.
We have lots to cover today. So, if you're interested in how a small gift purchase can help you become a card-carrying crypto trader, read along!

Did you know?
Want to get smarter & wealthier with crypto?
Subscribe - We publish new crypto explainer videos every week!
What is a Cryptocurrency: For Beginners (Animated Explainer)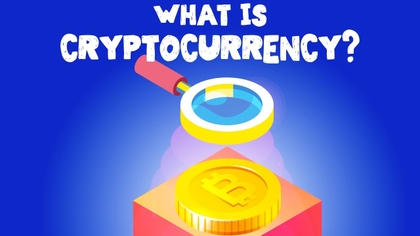 Why You Should Buy Gift Cards with Crypto
Before we get into the process of how to buy gift cards with crypto, let's first talk about why it's worth picking this payment method. After all, isn't it more convenient to just use a payment method that's been around for ages?
Latest Deal Active Right Now:
REDEEM $600 PRIZE
Binance Cyber Monday
Attention new Binance users: this Cyber Monday, you can score up to $600 in rewards by completing special tasks. Activate this amazing Binance Cyber Monday deal using the code – 49316610!
Expiration date : 05/12/2023
6,127 People Used
Only 16 Left
Well, for starters, it's an easy and effective way to put your assets to good use. While holding your funds and watching them grow over time is a common crypto investment strategy, putting it to active use can actually help it become more mainstream faster.
Most cryptocurrencies are, first and foremost, utility assets – and purchases are one of the key financial uses for them. So, by buying gift cards with crypto, you're helping make cryptocurrencies a more standard payment method. And if such sales go up, it's likely that more and more places will start accepting crypto.
You probably know by now that crypto assets are considered volatile. This means that their price changes rapidly – sometimes even multiple times an hour. So, if you keep a keen eye on the charts and watch as the price ebbs and flows, you can learn to pinpoint the perfect money to buy gift cards with crypto at a rate that helps you save more.
There's another aspect we can't overlook – anonymity. Imagine that you're sharing your bank details with your spouse or kids. You probably don't want them to figure out what's in the box under the Christmas tree.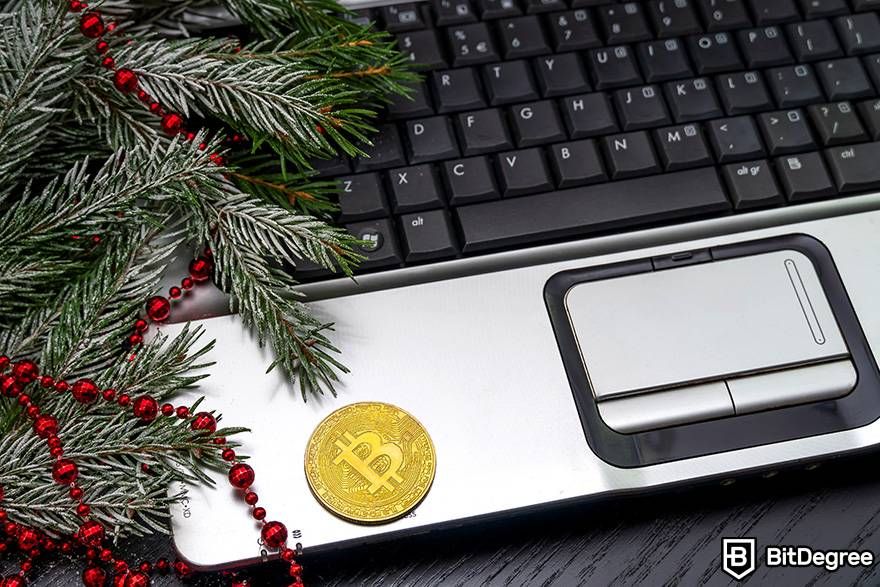 Well, with crypto, you can keep your secret purchases secret. The only identifying factor during a transaction is your wallet address – and if no one knows your number, you're safe. Even if you have to share your wallet, the true origin of the gift will remain known only by you.
Have you ever had issues redeeming your gift cards or had hackers try to lure you into a scam? Well, crypto purchases are known for a little something called "immutability". Once your purchase is registered on-chain, it's there forever. So, you have solid proof of purchase, making it more difficult to encounter phishing or scams.
But why gift cards specifically? There are a few reasons that make them a good crypto purchase option. For starters, gift cards are increasingly available online. You don't need to stand in the gift aisle of your supermarket and browse through the different $10 or $20 vouchers.
Instead, you can just buy a digital gift card. Not only is it more resource-efficient, some platforms even allow you to select a custom amount, so you can spend exactly as much as you're comfortable with – or what your designated gift price range demands.
Buying gift cards with crypto is not as complicated as it might appear at first glance. In fact, it's not that different from how you'd buy one regularly – though you will need some extra tools that you wouldn't use with your credit card, like special crypto storage tools.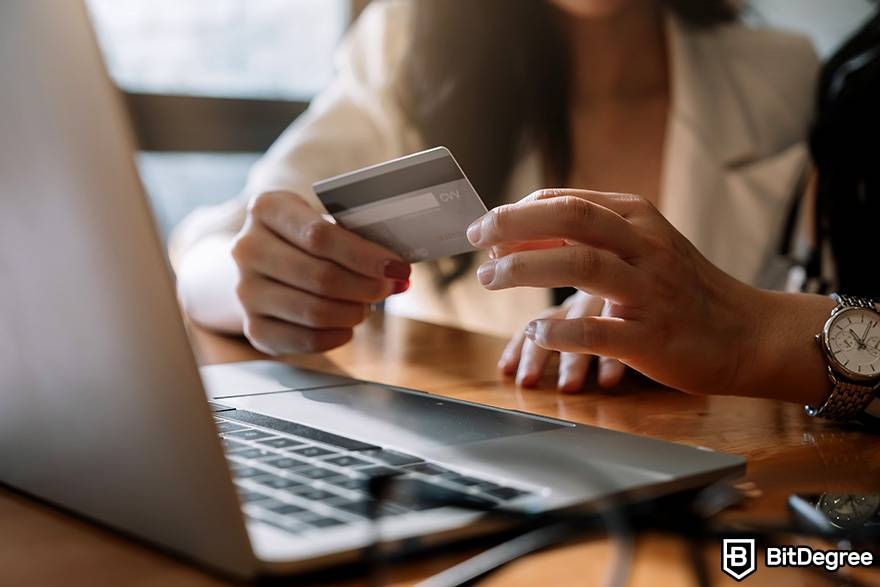 There's really a broad selection of options that you can choose from. Whether you're looking for something for gamers, cooks, or shopaholics, the choices are nearly endless.
Nearly.
There are quite literally thousands of cryptocurrencies floating around the digital space. Naturally, not all of them are supported equally by all e-commerce platforms. After all, you can't always find all fiat currency payment options supported on every single shopping portal.
So, Bitcoin (BTC) or Ethereum (ETH) are most likely to be your safe bet. You can exchange them using other crypto assets or buy them using a credit card. In fact, we've got you covered here. We have guides for purchasing both BTC and ETH with credit cards – and we'll cover how to buy crypto with gift cards shortly, so keep reading along.
Some platforms offer crypto-supportive gift cards as part of their services, while others are dedicated to making this option as accessible to customers all over the globe as possible. We'll be seeing a few different examples, including some of the best-known names in their respective spaces, like Binance, Gemini, and CoinGate.
So, just to run through, here are the key reasons why buying gift cards with crypto is worth it:
It makes for a lucrative and novel present;
It can be cost-efficient;
It's fully anonymous and secure;
It's digital and convenient.
So, without further ado, let's take a look at how purchasing a gift card works.
Buying the Binance Gift Card
As I mentioned, one thing for you to keep in mind before we get started is that not all services support crypto payments yet. However, once you've settled that, the remaining steps are easy to follow. To make things simpler, we'll be using Binance as our first gift card purchase example.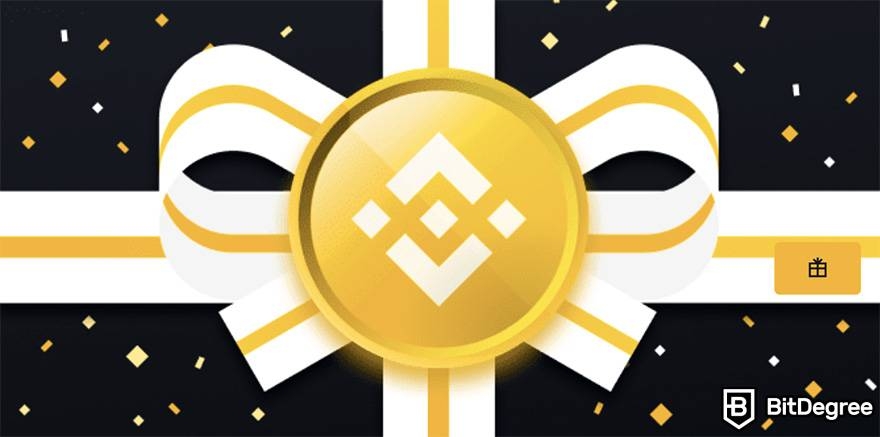 Binance is one of the biggest centralized cryptocurrency exchanges in the world. With crypto and fiat support, it offers an extensive financial ecosystem. You can learn more about its trading services here. However, our focus, for now, is on how to buy gift cards with crypto on Binance.
The Binance Gift Card is exactly what it says on the tin. Using the funds on your Binance account, you can select which cryptocurrencies you wish to purchase. You can then choose your preferred currency, the amount you want to put on the card, and how many cards you wish to purchase.
And here's the exciting part – Binance offers more than 30 thematic templates for the cards. So, whether it's Christmas, a birthday, or any other special occasion, you can find the most suitable design for you. Fun fact: since the gift cards are fully digital, you can even find some animated layouts!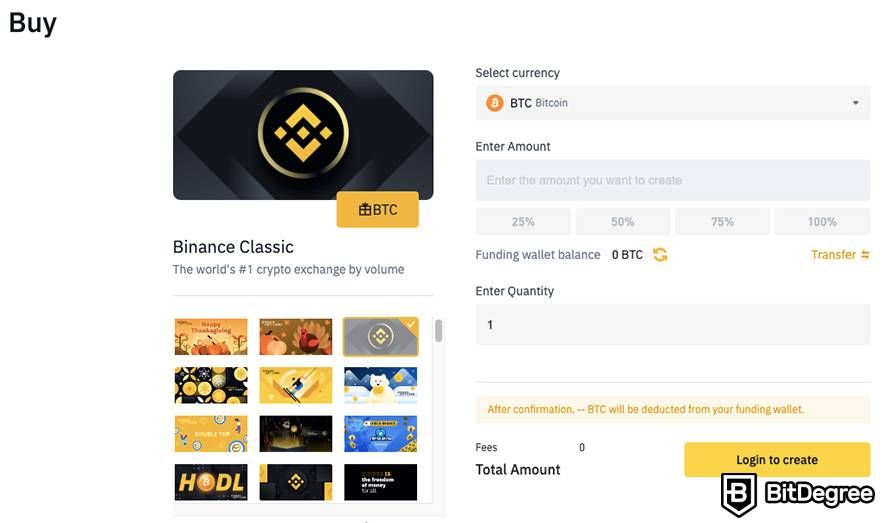 So, let's make our way through the steps of acquiring a Binance gift card.
Step 1. Make a Binance account – that's pretty self-explanatory. While you don't need to be a Binance user to receive the card, the Binance wallet is required to buy gift cards with crypto, as that is where the funds will be coming from.
Step 2. Load up your account. Make sure that you have a sufficient amount of crypto in your wallet for the purchase.
Step 3. Create your Gift Card. Select the design and the amount you wish to put into the card.
Step 4. Verify your purchase.
Step 5. Ta-da! You're all done!
See? All it took was five simple steps. Now, you can go ahead and buy gift cards with crypto on the Binance exchange without any trouble. All that's left for you to do is set up your gift bag – but I'll leave you to it.
Buying the Gemini Gift Card
Another popular name in the crypto exchange space is Gemini. It's also among the biggest American centralized exchanges and was founded by the Winklevoss twins (often referred to as the Winklevii). You can learn more about the Gemini exchange itself here.
The Gemini Gift Card is a year-round gift for crypto enthusiasts and newcomers alike. It supports Bitcoin as the main investment currency and allows gifts worth up to 0.01 BTC. While the exact amount may vary based on the exchange rate, the gift price limit is approximately $500.
You should also keep in mind that at the time of writing, buying gift cards with crypto on Gemini is only available to customers based in Singapore and Hong Kong. So, double-check the terms and services before you get started.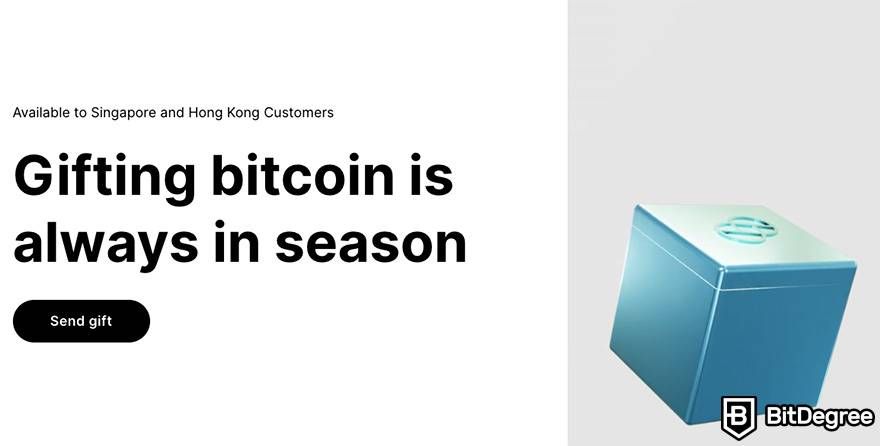 Your recipient doesn't require a Gemini account to receive the gift code, although they'll need the platform's native wallet to redeem the funds. You'll also need to have the required Bitcoin balance on your Gemini wallet to get started.
As for the process of buying gift cards with crypto, it's as easy as it can get:
Step 1. Log into your Gemini account.
Step 2. Select the amount of Bitcoin you want to add to the gift card.
Step 3. Add the recipient's contact information and press "send".
And… That's it! Congratulations, you've created your very first Gemini gift card! And there's no need to worry – along with the gift card, the lucky person will also receive instructions on how to redeem and use their Bitcoin funds.
Buying CoinGate Gift Cards
However, exchanges aren't the only options for buying gift cards. After all, at first glance, the utility of exchange-based cards is more niche compared to more specific brand gift cards. It's more of a repackaging of crypto. And if the recipient isn't too interested in opening a new exchange account, it might not see as much use as it should.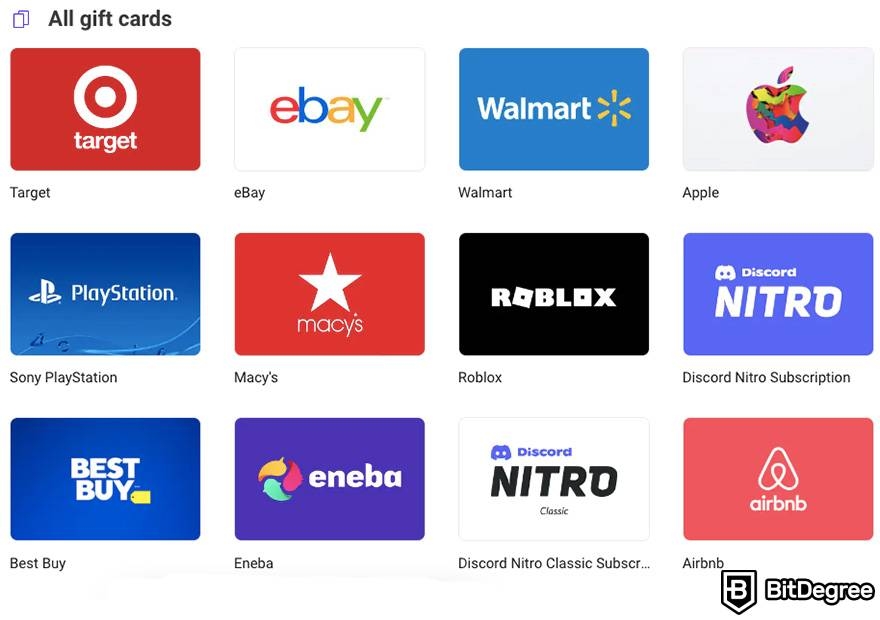 So, we need to look for alternatives for more practical presents. Some sites directly support crypto purchases for gift cards. Places like Gamestop, Overstock, and AT&T offer crypto payments for purchases – including gifts and vouchers. But if you're sending a digital gift to a friend across the world, geoblocking can be a nuisance.
Not to mention the abundance of choice! Staring at a list of websites that all offer you ways to buy gift cards with crypto can lead to analysis paralysis. You're probably going to want something that's easy to navigate – and helps you save money in the meantime.
Here's where CoinGate comes in. It's a one-stop shop for all your gift card needs. The CoinGate catalog offers you over 2,000 options, including Xbox, Amazon, and Walmart. With more than 10 payment options, region-free payments, and instant delivery, it makes for a convenient place to buy gift cards with crypto.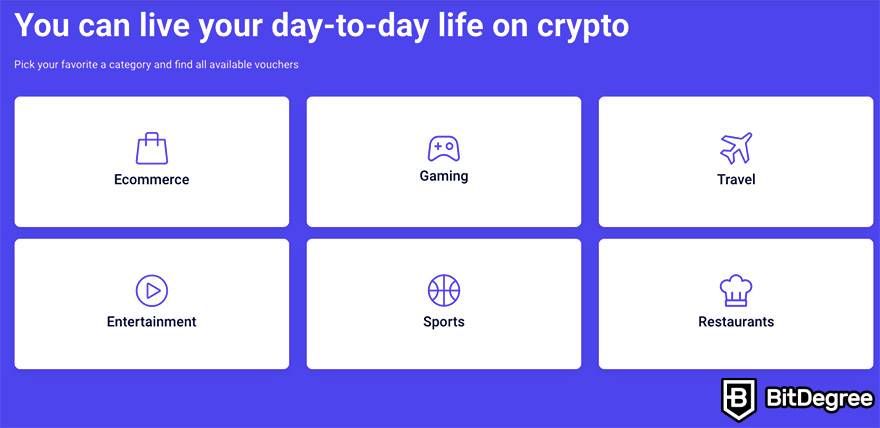 When you open the CoinGate gift card catalog, you are greeted with multiple categories, helping you narrow down your choices. Once you've picked out what you're getting, simply select the region where the card will be used and input the value.
Once that's done, proceed to the checkout, select the "Send as gift" option, and you're all set!
Oh, and have I mentioned yet that you can buy subscription services without pesky geoblocking alerts? Even if Disney+ or Tidal is unavailable where you live, you won't have trouble gifting access to these services to a friend who's in a supported region.
Buying Crypto with Gift Cards: What Are the Benefits?
Let's take a look at the other side of the (bit)coin now. Perhaps you've received a gift card, and your friend is telling you all about the benefits of crypto. Or, maybe you're the giver that wants to explain to the recipient how to buy crypto with gift cards that they're now in possession of. Let's help you with these steps.
First, let's see the benefits of earning Bitcoin by redeeming gift cards – by looking at how this particular gift is beneficial.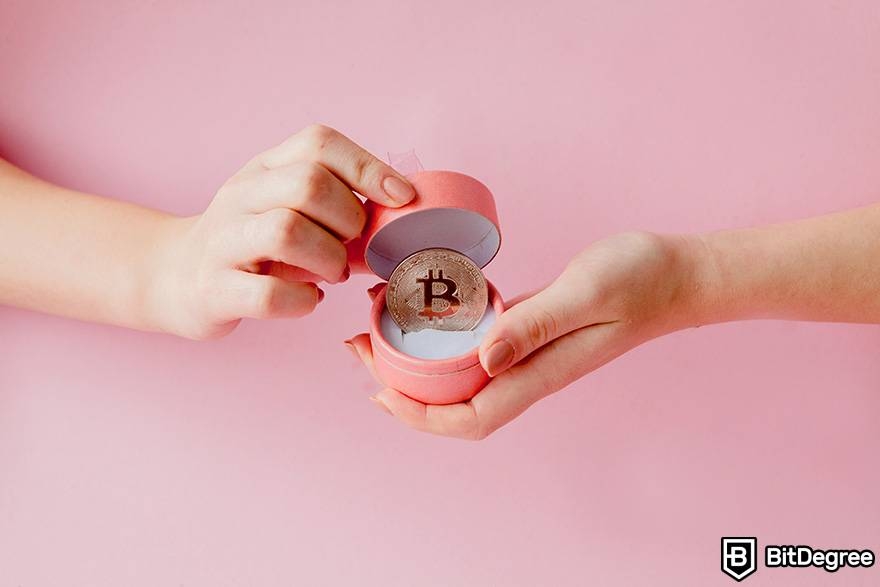 For one, gift cards for crypto can be an excellent idea for someone who's interested in the industry but hasn't found a way in yet. After all, with a deluge of news, updates, and terms, it's a tough maze to navigate at first. So, if you want to help a friend along the way, getting them a gift card for crypto could be a good starting point.
By getting a gift card, you can also bypass some of the costly extra steps that entering the crypto market entails, like conversion and network fees. Of course, this might vary from service to service. However, the Binance gift card that we've discussed, for example, doesn't incur extra charges upon redeeming it.
It's also a great option since it's all digital. You don't need to drive to a Bitcoin store a hundred miles away. All you need is a wallet and a stable internet connection. And yes, if your biggest question is, "can you buy Bitcoin with gift cards", I can assure you that the answer is definitely!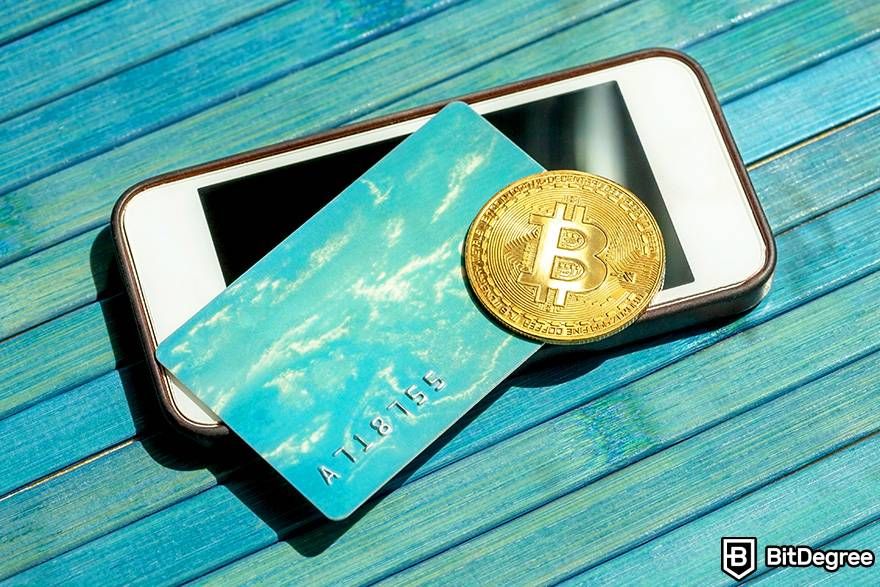 This type of product is still considered a novelty item. Even among industry experts and enthusiasts, there isn't that much buzz around how to buy crypto with gift cards! By utilizing this strategy, you'd be one step ahead with your fiat-to-crypto purchasing skills.
So, let's not be afraid to state the obvious – it's a pretty standout gift concept. After all, how many people do you know in your circle who can say they bought Bitcoin with gift cards? It can even be seen as a collector's item – especially if you're receiving an asset with a very limited supply or even using the funds to get your hands on an NFT.
Of course, there are some things to keep in mind first before you buy crypto with gift cards. First and foremost – storage. You'll need a designated wallet to safekeep your newly acquired assets.
You have a few options to choose from here. A simple solution is setting up a hot wallet. You can download software or make an account online, so all you need to access your funds at any time is an internet connection. However, it's not the most secure option out there, as hot wallets can sometimes be hacked.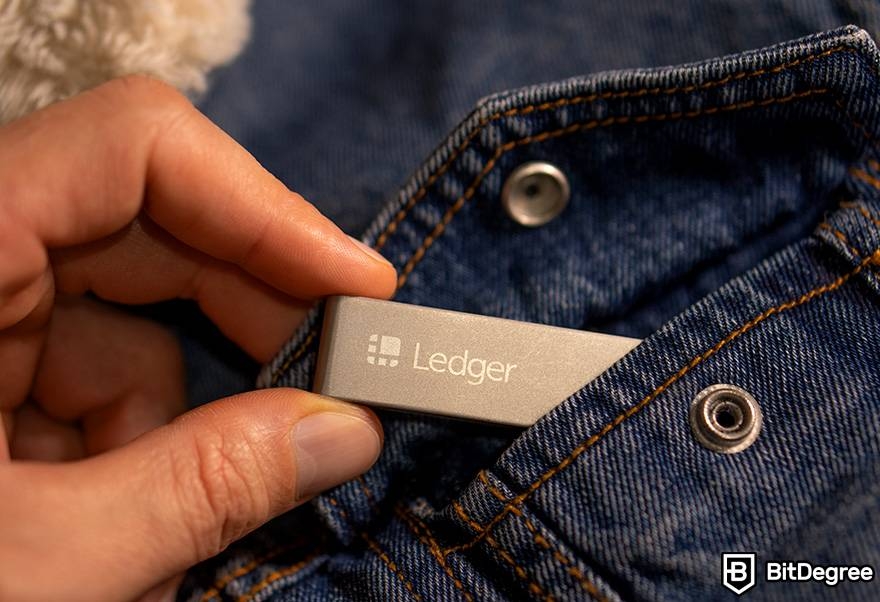 Instead, you might be interested in a cold wallet. These are physical devices, similar to USB sticks, that keep your crypto safe and are nearly impossible to crack. In fact, you can even make a small gift bag out of it – get a Ledger wallet and add the gift card for the crypto purchase next to it, and turn it into an investor's starter kit.
Now that we've gotten some of the technicalities settled, let's jump into the practical side of things. We'll be looking at two of the examples we explored before, so you'll know what to do if you're on either end of the gift-giving rituals. After all, who says that you can't get yourself a crypto gift card as a treat?

Did you know?
Want to get smarter & wealthier with crypto?
Subscribe - We publish new crypto explainer videos every week!
How to Pick the Right NFTs? (Animated DOs & DON'Ts)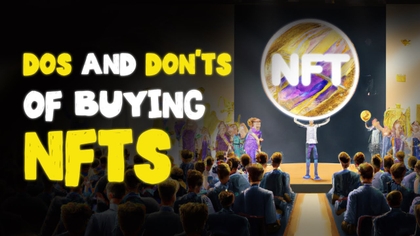 Buying Bitcoin with Gift Cards
So, you're already familiar with the concept of gift cards and how they work. Now let's see how the redeeming process works with a selected asset. Keep in mind that some platforms might not have vast ranges of assets to pick from. However, you're practically guaranteed to come across one – Bitcoin.
While there are plenty of assets to choose from, Bitcoin is the biggest and most recognizable of the bunch. For a good reason – the development of Bitcoin essentially kickstarted the entire crypto industry.
So, you could say that BTC is the natural cornerstone for your brand-new crypto portfolio. With this in mind, let's try our hand at buying Bitcoin with gift cards. For this, we'll be using the Binance and Gemini gift cards again – this time, we'll see how to redeem them.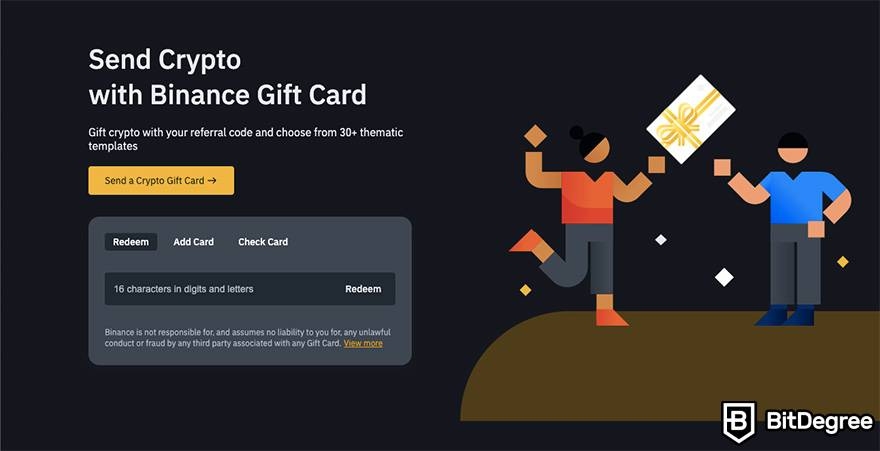 You're already familiar with the process of buying gift cards with crypto on Binance. Once your card is generated, it comes with a unique code – that's what you need to input to redeem the assets.
The process is quite simple, although you need to set up a Binance account first, as your Bitcoin will be going to the platform's digital wallet first. After that, all you need to do is go to the Gift Cards section and redeem it using the unique code provided on the card.
Once you've followed through with these easy steps, the funds will become available instantly. As for what to do next? Well, we'll get there shortly.
The best part is that you don't need to fret about your gift card expiring. Binance gift cards do not come with an expiration date attached, meaning that you can redeem them whenever convenient.
However, keep in mind that it's a one-use product. The cards are not reloadable and can only be redeemed in full. So, make sure you have secure storage at the ready once you've redeemed the code.

When it comes to Gemini, the situation is pretty similar. Once you've received the gift card, you need to redeem it within a certain period of time. This requires a Gemini account, as your Bitcoin will drop directly into your personal wallet.
There are no additional fees when buying or redeeming the Gemini gift card. While you can only redeem Bitcoin initially, once you have your Gemini account set up, you'll be able to convert it to your preferred digital asset.
Keep the platform limits in mind when buying crypto with gift cards on Gemini. One gift card can grant you up to 0.01 BTC, so if you're interested in a bigger purchase, you'll need to stock up.

Pros
A very well-known crypto exchange platform
More than 500 different cryptos available
Two-factor authentication
Main Features
Over than 100 different cryptocurrencies available
Strong security
Small withdrawal fees

Pros
Secure and reliable
Low fees
A good amount of fiat currencies accepted
Main Features
Reputable exchange
Multiple fiat currencies are accepted
Relatively low trading fees

Pros
Anonymous trading
Secure
Supports a variety of cryptocurrencies
Main Features
Easy to use
Low fees
Good security
Where to Use Gifted Funds?
So, can you buy Bitcoin with gift cards? Absolutely – and now you've got your crypto portfolio started. But what can you do once you have these funds sitting in your wallet? A whole bunch of things!
We won't be digging too deep into this – in fact, we have a whole article to guide you through what you can buy with Bitcoin. Nevertheless, let's see what some of the suggestions are.
The first – and perhaps most likely – answer that crypto pros would give you is invest, invest, invest. As its price fluctuates frequently, you can come across opportunities to multiply your funds. Binance is a great platform to get started. You can learn more about buying on Binance here.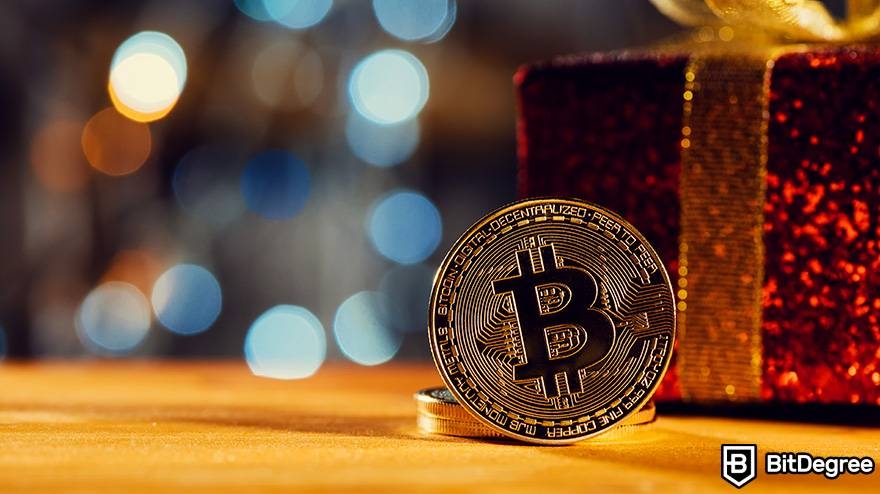 Another interesting way to spend your tokens is digital collectibles. Of course, I'm talking about NFTs – non-fungible tokens. These are one-of-a-kind crypto assets that cannot be duplicated. And if you find their concept confusing, don't worry – we have a simple-to-understand guide on what NFTs are and how you can buy them.
We touched on this while discussing the CoinGate gift card catalog, but let's reiterate – crypto payments are becoming increasingly more available for a broad range of goods and services. Subscriptions for streaming and web security services, Amazon and Apple stores, microtransactions in video games – we simply can't cover it all.
Speaking of gift cards – you can actually go full circle. Now that you've gotten a taste of what this process is like, why not get your friends in on it? With Bitcoin funds at your disposal, you can buy gift cards with crypto in return – and you can always go back to the upper sections of this article if you need a refresher.
Conclusions
By now, you know all the essentials of how to buy gift cards with crypto – from their advantages to the whole purchasing process. Gift cards make for a great universal gift, so knowing the step-by-step process can be a lifesaver if you're short on time and don't want to buy meaningless knick-knacks.
Gift card purchases with crypto ensure that your presents remain secure and secret, and are a fast and convenient way to save up. There are thousands of gift cards to choose from, but don't let analysis paralysis lock you up – simply follow our tips, and the selection won't be as overwhelming as it may seem at first glance.
Then, we covered the process of buying crypto with gift cards and why such cards make for an impressive present. The uniqueness alone is a strong selling point – not to mention it being a simpler way to help someone take their first steps in the world of digital assets. We also discussed what restrictions there might be and what to keep in mind before you start.
Finally, we answered a very practical question – can you buy Bitcoin with gift cards? Not only is it possible, it's also very simple to do. We covered the way the process works on Binance and Gemini, and even looked at what your next steps are as a brand-new owner of crypto assets.
And don't forget to look into crypto storage tools – you'll sleep better at night knowing they're stored securely in a place only you can access. So, if you want to learn more, check out the Ledger cold wallet range.
Good luck with finding your perfect gift – or putting the ones you've received to good use!
About Article's Experts & Analysts