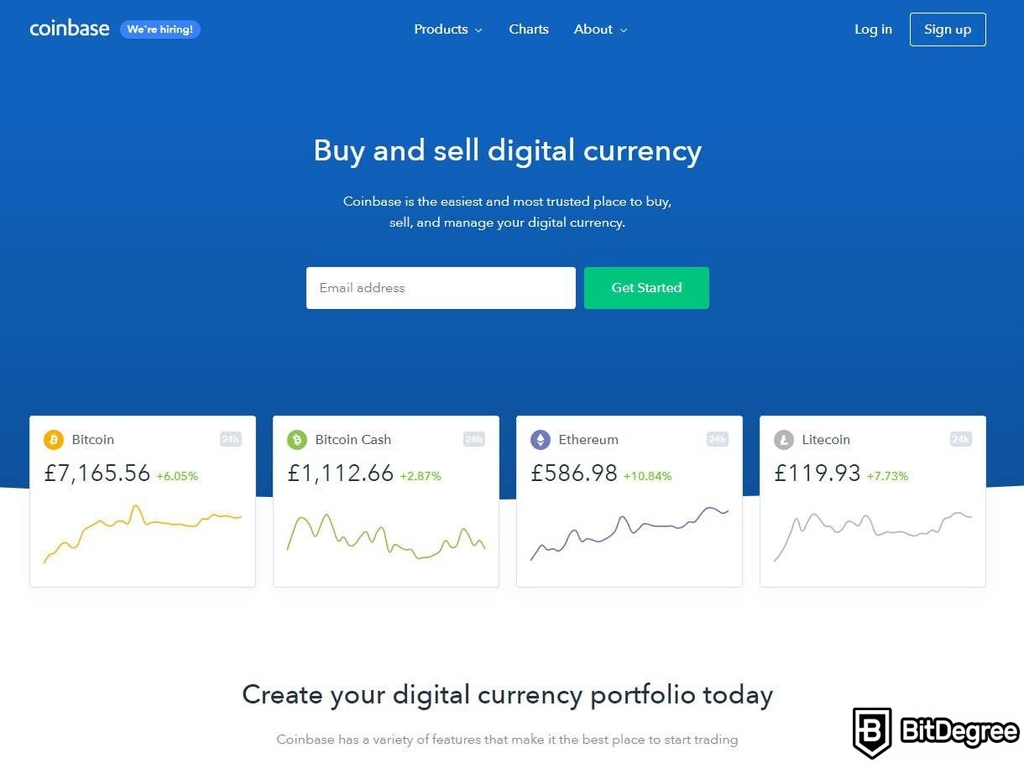 If you've been hearing all about this cryptocurrency craze and want to get involved, you're not alone! Every day, more people are deciding to give digital currencies a try, for a lot of different reasons. Some like the political aspects (being your own bank, free from government control), others like how easy it is to make payments online using cryptocurrencies.
Either way, before you start your digital currency journey, you're going to have to actually buy some Bitcoin or Ethereum!
There are loads of different ways to get digital currency these days. The number of different options can make it difficult to decide which service to use. Of course, you want to know that your money is safe. That's why, in this Gemini VS Coinbase comparison, we'll go over two very popular exchanges.
Also, as a beginner in crypto, you'll want a service that's easy to use. Finally, you'll need to use a service that's available in your country. All these points and more will determine where you actually buy your first crypto coins from.
I've prepared this Coinbase VS Gemini guide to give you an honest comparison between two of the largest and most-trusted exchanges in the cryptocurrency industry. After reading it, you should know if a bit about both exchanges' past, the different features they offer, the fees they charge, the different digital assets you can buy from each, the security features of Gemini and Coinbase, and the volume of digital currencies each exchange trades.
Hopefully, by the end of it, you'll know if Gemini is better than Coinbase for your own crypto needs.
There's a lot to get through to give you a full understanding of each exchange platform. So, let's not waste any time and get right down to it!

Did you know?
Want to get smarter & wealthier with crypto?
Subscribe - We publish new crypto explainer videos every week!
What is Chainlink? LINK Explained Simply (ANIMATED)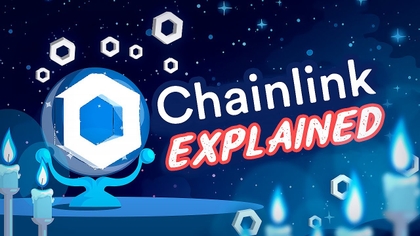 Coinbase VS Gemini: What is Coinbase?
Let's start this Gemini VS Coinbase review from Coinbase. Coinbase is probably the best known digital currency exchange in the world. It was founded in 2011 by Brian Armstrong and Fred Ehrsam. It currently has its headquarters in San Francisco, California.
Latest Deal Active Right Now:
CLAIM $600 BONUS
Exclusive $600 Binance Offer
Expiration date : 01/10/2023
0 People Used
Coinbase has various options to buy and sell different digital assets quickly and easily. It favors a no-nonsense approach to get people used to trading, buying and selling cryptocurrencies. There aren't many sites like Coinbase. Most are more advanced exchange platforms. This gives Coinbase a unique position on the market.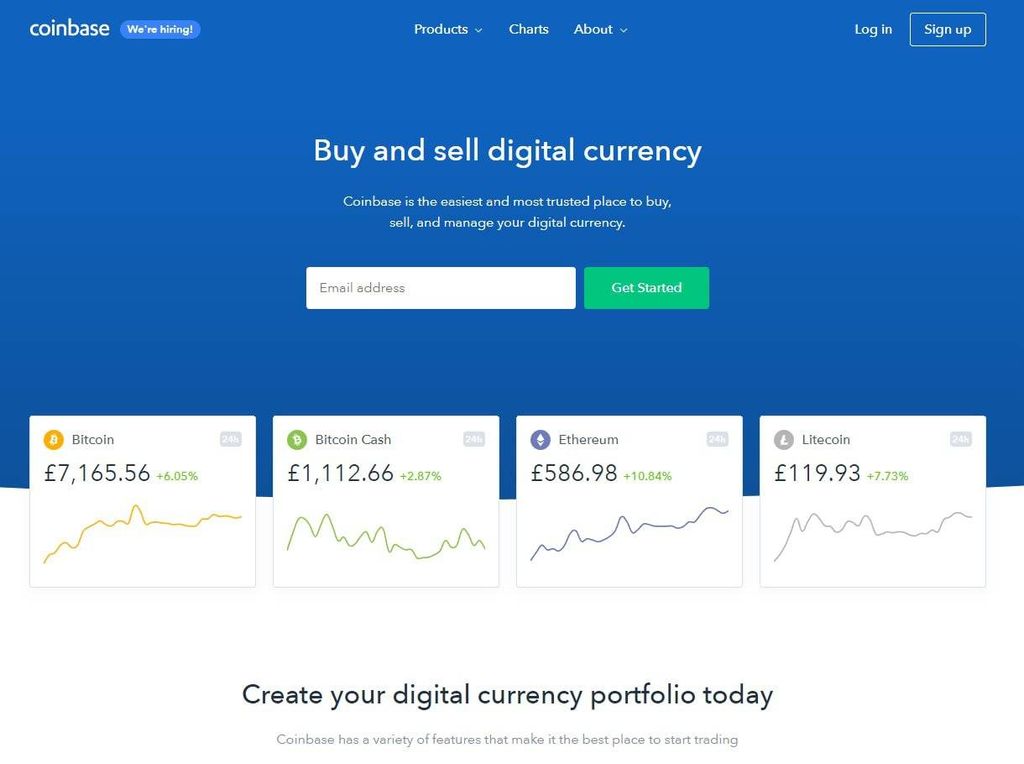 There is a more advanced platform associated with Coinbase. This is known as the GDAX Exchange and it's more like Gemini and other exchanges. GDAX offers more sophisticated buying and selling options. These include "limit orders", "market orders", and the ability to set your price for an order and leave it for a period to see if it gets filled. This makes GDAX more suitable for traders or more advanced users.
The absence of these advanced options on Coinbase means that it's well-suited for beginner users. Once you've got familiar with buying a cryptocurrency on Coinbase, it's easy to set up a GDAX account if you want to start trading more regularly. You just need to verify your identity with the company. Right - let's move on to discussing what is Gemini for this Gemini VS Coinbase comparison. Also, full information about Coinbase can be found here.
Gemini VS Coinbase: What is Gemini?
Gemini is another well-respected cryptocurrency exchange. It's the brainchild of two of the earliest investors in Bitcoin – the Winklevoss twins. If you don't know who Cameron and Tyler are, they shot fame in 2004 over a legal dispute with Mark Zuckerberg - the creator of Facebook.
Gemini was founded quite a bit later than Coinbase - in 2015. The name is a reference to the sign of the zodiac that depicts a pair of twins. Clever, huh?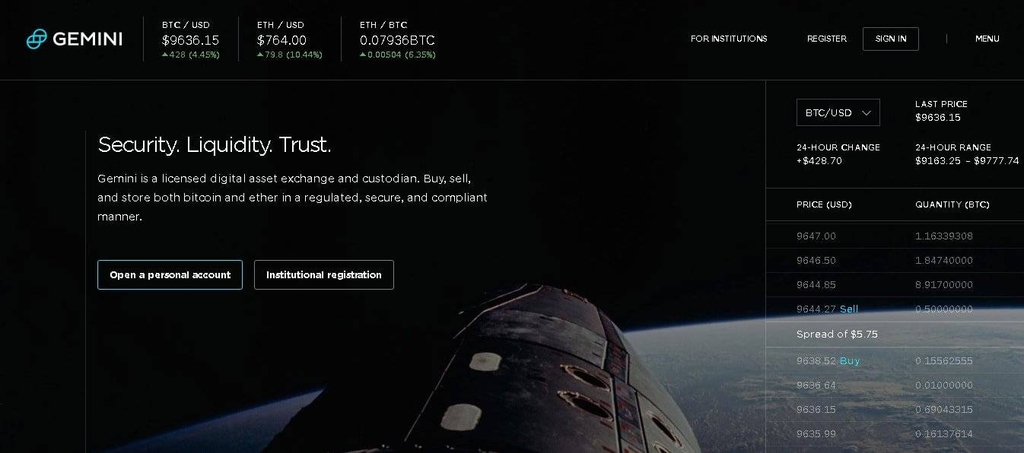 The Gemini exchange platform is based in New York. It has quickly become one of the most respected exchanges in the cryptocurrency space. It's a favorite amongst more institutional and high-volume investors and traders thanks to its strict compliance with existing regulations. It also offers users a lot of extra security features that are lacking with many other, less-known exchanges.
Like Coinbase, Gemini offers users an "off and on-ramp" to cryptocurrency. This makes it a direct competitor of the likes of CEX.io, Bitstamp, and Kraken. Customers at Gemini can buy and sell digital assets using fiat currency. This differs from exchanges such as Bittrex and Kucoin that only allow deposits in cryptocurrency before trades are possible.
Now that we've learned about the two exchanges time to find what's the better alternative for Gemini VS Coinbase. You can read more about Gemini here.
Is Gemini the Best Alternative to Coinbase?
Introductions out of the way, let's get on with the real matter at hand — the Gemini VS Coinbase comparison.
Features of Each Exchange
Many of the features of Coinbase are like those found at Gemini. However, there are a few differences between the platforms that need pointing out:
Features at Both Exchanges:
Fiat and cryptocurrency deposits.
Bitcoin and Ether buying and selling options.
It can withdraw in both fiat currency and cryptocurrency.
Money and cryptocurrency stored offline to protect from hacking.
Good customer support.
Bank and wire deposit options.
Highly respected staples of the cryptocurrency industry.
Features of Coinbase Only:
Simplified instant buys options.
Bitcoin Cash and Litecoin available.
Credit card deposits.
Available in: Singapore, Australia, Austria, Belgium, Croatia, Cyprus, Czech Republic, Denmark, Finland, Greece, Hungary, Ireland, Italy, Jersey, Latvia, Liechtenstein, Malta, Monaco, Netherlands, Norway, Poland, Portugal, San Marino, Slovakia, Slovenia, Spain, Sweden, Switzerland, UK, Canada, and the United States.
Features of Gemini Only:
Advanced trading options – different kinds of buy and sell orders.
Accepts deposits made using ACH (automated clearing house) in the US.
Available in: the US, Canada, Hong Kong, Puerto Rico, South Korea, and the UK.
Which is More User-Friendly?
In terms of their user-friendly features, Coinbase certainly has the edge in the Coinbase VS Gemini comparison. They offer an immediate option to buy and sell cryptocurrency. It literally takes a few minutes to signup, upload money to the site, and make your first cryptocurrency purchase!
At both Gemini and Coinbase, you will need to verify your identity to buy cryptocurrencies. This is a legal requirement. Users are required to submit various documents, along with photographs of themselves. They also must register a phone number and a payment method. It's very straightforward but does take a day or two to fully verify.
Although the registration process at Coinbase and Gemini is much alike, Coinbase is far easier to use for a beginner. It's more like using an online store than it is a currency exchange. You won't see potentially-confusing terms like "limit buy", "market sell", or "stop-limit" at Coinbase. You just log in and buy or sell what you want, for the prices quoted.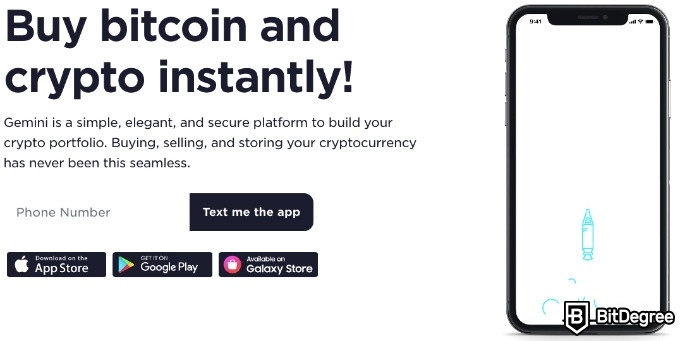 Gemini is much more involved than Coinbase. It's a proper cryptocurrency exchange that offers all the features an advanced user would expect. So, for advanced users, when it comes to Gemini VS Coinbase, the choice might be obvious. Buy or sell orders can be set at any price and with different terms attached to them.
All of this said, if you're wanting to become a regular trader and are starting to use the more advanced buy and sell orders, Gemini is perfectly user-friendly. It offers a clean, clutter-free interface and all the options are clearly set out. However, for absolute beginners, Coinbase can't really be beaten for ease of use.
Gemini VS Coinbase: Which Offers Better Security?
Both Coinbase and Gemini have various additional security measures in place to protect users' money and cryptocurrencies. Firstly, they both segregate their customers' money from the money that the respective companies need to use to operate.
Both Coinbase and Gemini also enforce two-factor authentication. This considerably decreases the likelihood of an account being phished or hacked. Two-factor authentication, in this case, requires users to use something they know (password) and something they have (mobile phone) to enter their account. A message with a code is sent to your mobile phone when trying to log in. This code is required to proceed.
Both exchanges feature a variety of other security features. Here's a full and detailed Gemini VS Coinbase feature breakdown:
Coinbase Security Features:
Sensitive data is stored on hardware that is entirely disconnected from the internet.
Data is split between encrypted USB drives and paper backups that are located in different geographical areas around the world.
All website information runs over encrypted SSL – HTTPS.
Wallets and private keys use AES-256 encryption to protect them.
Gemini Security Features:
The few digital assets that are stored online in a "hot wallet" are secured using Amazon Web Services. AWS is known for its high level of security controls.
Only high-level employees can access coins stored on hot wallets.
Multi-factor authentication (a more advanced version of two-factor authentication) is required to access the hot wallet.
Hot and cold wallet keys are secured on hardware that has passed a high level of security checks.
Two levels of cold storage further increase security at Gemini.
To prevent supply-chain issues, the hardware involved with security comes from different manufacturers.
Accessing cold storage requires simultaneous actions of more than one employee.
Full reserve exchange. Customers' money is kept separate from that of the company and is always in an FDIC insured bank.
All sensitive information on accounts is encrypted.
Website data is transmitted over encrypted Transport Layer Security connections such as HTTPS.
Even if you don't quite understand all these security precautions, you can see that both exchanges take their security measures very seriously. However, the steps Gemini takes to secure funds are a little bit more extreme. This is probably why the Gemini exchange was picked to settle the Chicago Board Options Exchange Bitcoin futures when they launched in December 2017.

Since it offers users such high-security precautions, Gemini is probably the best alternative to Coinbase for those who need to store large volumes of cryptocurrency on an exchange to trade professionally.
That said, it's important to realize that sites like Coinbase, Gemini, and any exchange for that matter are not suitable for long-term storage.
Gemini VS Coinbase: Which Exchange Offers Which Deposit Methods?
Coinbase and Gemini offer users different ways to fund their accounts. Coinbase's are more extensive, though.
At Coinbase, customers can buy their cryptocurrency using a credit or debit card, or a bank transfer.
At Gemini, they are only able to buy their digital assets using a bank transfer. Clearly, in Gemini VS Coinbase, Coinbase has the edge when it comes to depositing methods.
You can also deposit using any cryptocurrency supported at either exchange.
Withdrawals are possible using all the same methods as deposits at both exchanges.
Gemini VS Coinbase: What About Fees?
Another area that Gemini really outperforms Coinbase is in terms of fees. They're a little more complicated than how the fees are worked out at Coinbase. For this reason, I'll explain Coinbase fees first.
Coinbase Fees
Coinbase charges a flat fee for all transactions under $200. The precise amount is disclosed when you make a transaction. Alternatively, Coinbase will charge a percentage of the transaction. Whichever is larger is the amount actually paid.
For credit or debit card purchases, Coinbase charges 3.99%, and for all other buying and selling, they charge 1.49%. Bank transfers are free to deposit with but cost $0.15 to withdraw.
Certain countries will have a restriction on which deposit and buy options they can use. Australia, Canada, and Singapore will only be able to use credit or debit card purchases for example.

Pros
A very well-known crypto exchange platform
More than 500 different cryptos available
Two-factor authentication
Main Features
Over than 100 different cryptocurrencies available
Strong security
Small withdrawal fees

Pros
Secure and reliable
Low fees
A good amount of fiat currencies accepted
Main Features
Reputable exchange
Multiple fiat currencies are accepted
Relatively low trading fees

Pros
Anonymous trading
Secure
Supports a variety of cryptocurrencies
Main Features
Easy to use
Low fees
Good security
Gemini Fees
Gemini doesn't charge any fees to deposit. Some fees may be incurred depending on the method and the bank you're sending money from, though.
The fees Gemini charges for making exchanges depends on how many trades the user has made recently. There are six tiers representing different amounts of Bitcoin or Ether bought or sold. These range from light traders to those exchanging massive volumes of cryptocurrencies. Every day at midnight UTC, the fees are worked out again for each trading pair.
Rather than try and explain this, I'll refer you to the table below: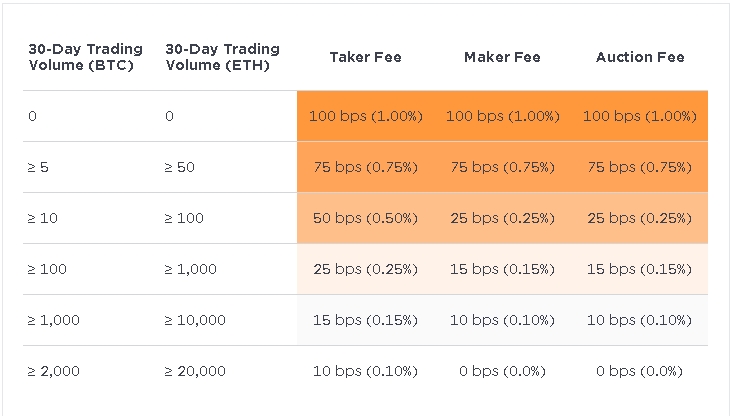 Note: Customers placing an order that adds liquidity to the marketplace are known are "makers". Meanwhile, those customers who take liquidity are known as "takers".
Since Gemini offers users such low fees, it makes the exchange a much better Coinbase alternative for those users who are trading huge volumes of cryptocurrencies. Professional traders would find sites like Coinbase eat into their profits far too much!
Gemini VS Coinbase: Customer Support
Many cryptocurrency exchanges struggle when it comes to customer support. However, both Coinbase and Gemini actually perform quite well in this department. Both services have an extensive list of articles that answer many customer questions.
If users get really stuck or have a complaint, they can contact both companies via an email form on the sites themselves. The response times for these services seem to range around a couple of hours, and up to 24 hours.
When it comes to picking an outright winner for customer support in our Coinbase VS Gemini debate, neither company can be named the champion!
Gemini VS Coinbase: Coin Availability
The coins available at Coinbase and Gemini are slightly different. Neither platform offers a large selection of altcoins, but Coinbase definitely wins out over Gemini in the coin availability category.
Coins users can buy at Coinbase: Bitcoin, Ethereum, Litecoin, and Bitcoin Cash.
Coins users can buy at Gemini: Bitcoin and Ethereum.
Gemini VS Coinbase: Which Exchange has a Higher Trading Volume?
Coinbase trades considerably more Bitcoin than Gemini. This is likely because, in Gemini VS Coinbase, most users make their first few buys using Coinbase thanks to its user-friendly options. Those who go into trading will spread out amongst a huge number of different exchanges depending on their own, personal preferences.

In the last six months from the time of writing (May 2018), Coinbase has traded 5.15 million BTC. This gives it a market share that is second only to Bitfinex. Coinbase's total market share currently sits at 15.3% according to data.bitcoinity.org.
Meanwhile, over the same period, Gemini has only traded 1.54 million BTC. This gives it a market share of 4.57%.
Conclusion
So, that's it! That's our Gemini VS Coinbase guide. Hopefully, now you'll have a better idea which of the two platforms would suit you better!
You should now know a lot more about these two popular exchanges. I've covered all aspects of both platforms: security, fees, volume, coin availability, which countries can use each of them, and customer support. This should give you a clear idea of which one to choose if you were stuck!
For brand new users who have never traded any kind of asset before, Coinbase is probably more-recommended. It has a very user-friendly interface and even if the fees are a bit more, the convenience is worth it. Meanwhile, Gemini certainly makes a great Coinbase alternative for those who are getting more serious about trading digital assets, rather than just investing.
Now that I've finished explaining these two popular platforms, what do you think? Is Gemini better than Coinbase?
About Article's Experts & Analysts