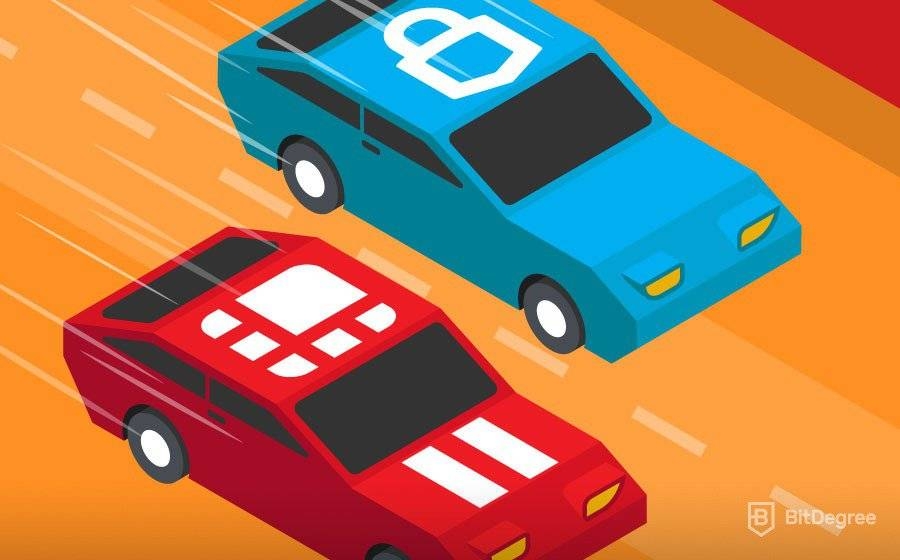 Update 2023: The Ledger Nano S wallet has been discontinued, and replaced by a new-and-improved version called the Nano S Plus.
If you are just starting out, then buying and managing cryptocurrencies can be a really tough task. One of the biggest challenges comes after you buy cryptocurrency — how do you keep it safe? That's actually something we'll explore in this Trezor VS Ledger comparison.
When I hear stories about investors whose cryptocurrencies have been stolen, I start looking for ways to keep them safe.
This guide will introduce you to one of the best ways to keep your investment safe — the Trezor and Ledger Nano S hardware wallets. It will give you all the information that you need to know before buying one of them, so that you can make an educated decision.
LEDGER
TREZOR

Main score based on expert evaluations & real user reviews.

Whether the crypto wallet is hardware, software, desktop or paper type.

Hardware
Hardware

For which purpose or for what kind of people is the cryptocurrency wallet best for.

Best for Safely Storing, Sending, and Receiving Different Cryptocurrencies
Best for Storing, Sending and Receiving a Wide Range of Cryptocurrencies

Most popular hand-picked deals & coupons.

See All Coupons of Best Wallets
See All Coupons of Best Wallets

Final crypto wallet evaluation conclusion based on research, expert opinions & user feedback.

One of the safest hardware wallets on the market.
A leading hardware cryptocurrency wallet.
Visit site
Read review
See TOP10 Brands
Read review
Table: The main features of the Ledger Nano S and the Trezor One
We will compare the two brands, their features, supported coins, costs, security, and other pros and cons.
By the end of this guide, you will have a clear understanding of the differences between the Trezor wallet and Ledger wallet. This will allow you to be able to decide which wallet is more suitable for you! It's always best to do your research before buying anything, right?
So, before getting into Trezor VS Ledger Nano S debate, let's check out the basics of a hardware wallet.

Did you know?
Want to get smarter & wealthier with crypto?
Subscribe - We publish new crypto explainer videos every week!
How to Get Free Crypto? (Explained with Animations)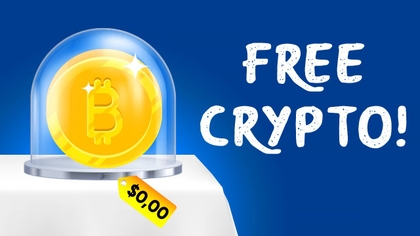 Trezor VS Ledger: What are Trezor and Ledger?
Both the Trezor and Ledger Nano S are hardware wallets. A hardware wallet is a physical device which is used to store cryptocurrency. They are USB-like devices that store your private key securely — they are much safer than web wallets and software wallets.
Note: An example of a web wallet would be the wallets that you use to store your crypto on websites like Binance and KuCoin. An example of a software wallet would be the wallets you download, like Exodus and Jaxx.
Why do I say 'securely'? This is because the hardware wallets are not connected to the internet, unless they are plugged into your PC. As you may know, the internet is the biggest source of all viruses and hacking.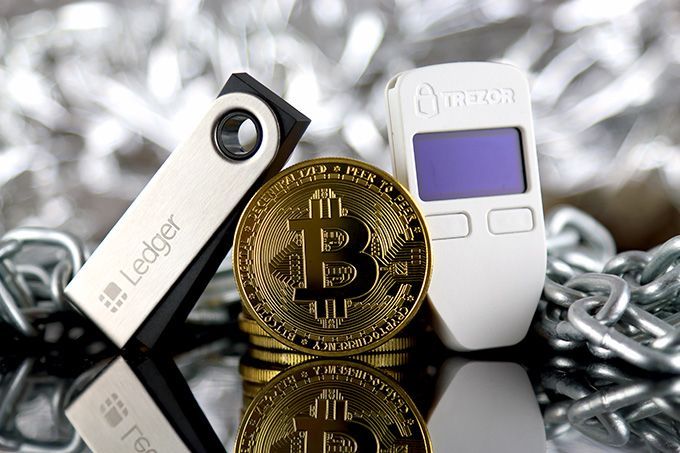 You may argue 'why not just store the private key in an actual USB drive and keep that USB in a safe place?'. Well, let me explain.
A USB drive will simply store your private key, but you will still need to attach it to a computer when you want to make a transaction. The transaction will then happen through a Bitcoin software wallet. This process makes your private key accessible to hackers.
Now, let's see what happens when you send a transaction using a hardware wallet instead...
Hardware Wallets – Transaction Security
You can think of a hardware wallet as a mini-computer. Firstly, it will securely store the private key. What happens when you need to send a transaction?
Well, you still need to plug it into your computer and connect to the internet. The hardware wallet even needs to use a website or piece of software to send the transaction. However, the transaction is signed inside the hardware wallet, so your private key stays safe and is never transferred to your computer or the website/software that it uses.
In fact, you can't even see your private key on the hardware wallet itself!
Cons of a Hardware Wallet
You must be thinking 'if hardware wallets are so perfect, why isn't everyone using them?'. The main reason is the price.
While most wallets (web wallets, software wallets, and paper wallets) are free, hardware wallets come with a price. They will cost you anywhere in the range of $50 to $150.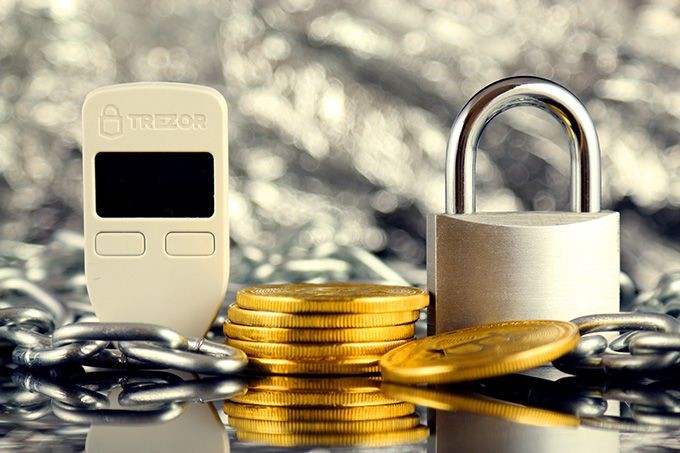 Also, the idea of ordering a hardware wallet and setting it up can seem like a rather long process, whereas most web and software wallets can be set up within 2-15 minutes.
Despite the cost and time, though, hardware wallets are the best option if you want to make sure your cryptocurrencies are as safe as possible. I would always recommend using a hardware wallet if you are storing an amount you cannot afford to lose.
Trezor and Ledger Nano S are the most popular of the bunch, so let's compare them!
Where, When and Why They Were Created
Since we are going to trust these hardware wallets with our cryptocurrencies, it would be a good idea to look at their background a little bit. This will give us more confidence to place our trust in them.
Trezor Wallet
Trezor, launched in the summer of 2014, was the world's first Bitcoin hardware wallet. The Trezor wallet is a product created by a Czech-Republic-based company — SatoshiLabs. Marek Palatinus — who is the founder of SatoshiLabs and creator of Trezor — also founded Slushpool.
Note: Slushpool is a mining pool that is very well known in the crypto world!
Trezor started with the intention of fighting hackers, viruses, and third-party fraud. The idea was simple — keep everything that is valuable OFFLINE and under your control.
The Trezor wallet has built a great reputation since it launched and has continued to improve. More and more features have been added over time, as well as support for new coins. This helps it to meet the growing demand for crypto!
Trezor wallet's reputation is helped by the fact they have a great team behind the project. I recommend you go to their website to learn more about them.
Ledger Wallet
The Ledger wallet is a product of a French company (which is also called Ledger). Ledger was started in 2014 by eight experts with backgrounds in embedded security, cryptocurrencies and entrepreneurship.
From the very beginning, they were very clear about one thing — they wanted to create secure solutions for blockchain applications. They now have over 80 employees in Paris, Vierzon, and San Francisco.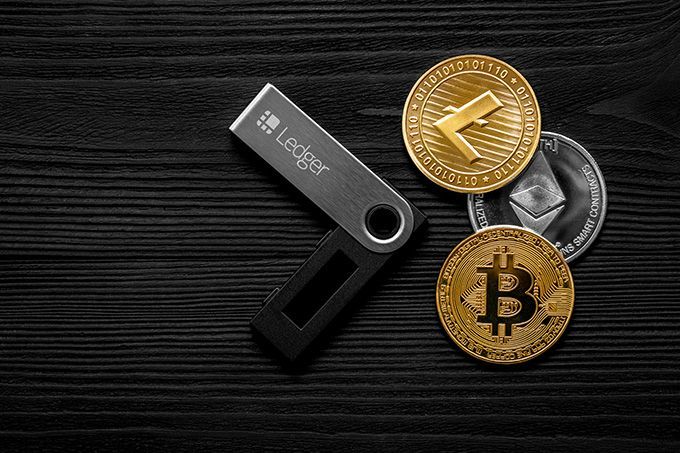 The first hardware wallet was launched by Ledger in December 2014. It has since been improved on, and the latest version is called the Ledger Nano X. The Nano S, though, has been very successful, with over 1,000,000 units sold!
Ledger is one of the leading companies when it comes to secure technology for cryptocurrencies. They have the right mix of team, passion and vision, which makes it a very trustworthy brand.
So, we can see that the Trezor and Ledger Nano S wallets have both built a good reputation and that their teams are doing a great job with the improvements that they make. With this in mind, let's get to the interesting part — comparing their features!
Trezor VS Ledger: Comparing Their Features
In this important section of the Trezor VS Ledger comparison, we will look at their features. This will help you decide which wallet is the best choice for you.

Did you know?
Want to get smarter & wealthier with crypto?
Subscribe - We publish new crypto explainer videos every week!
Crypto Day Trading VS Swapping: What's More Rewarding? (Animated)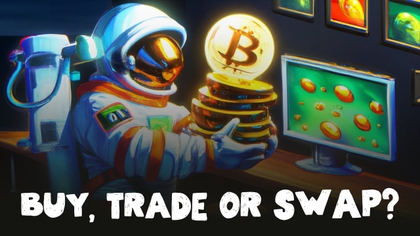 Currency Support
Let's start with a major difference in the Trezor VS Ledger debate. If you buy a coin but then find out that it is not supported by your wallet, wouldn't you be disappointed?
LEDGER
TREZOR

Amount of cyprotcurrencies that are supported in a certain cryptocurrency wallet.

5500+
See Full List
1400+
See Full List

Amount of tokens that are supported in a certain cryptocurrency wallet.

1500+
See Full List
1000+
See Full List

Whether or not the crypto wallet supports the Ethereum token.

Whether or not the cryptocurrency wallet is compatible with other wallets & which.

MyEther, MetaMask + 48 more
Electrum, Exodus, MetaMask + 12 more

Whether or not the crypto wallet supports the original BTC addresses that start with "1".

Whether or not the crypto wallet supports newer BTC addresses that came to be due to a soft fork. These addresses start with "3".

Whether or not the crypto wallet supports these specific types of BTC SegWit addresses. These wallet addresses start with "bc1".

Visit site
Read review
See TOP10 Brands
Read review
Table: The supported coins of the Ledger Nano S and the Trezor One
So, before you decide whether you want to choose the Trezor VS Ledger Nano S, let's look at which coins are supported by them.
Trezor Supported Coins
At present, Trezor wallet supports the following cryptocurrencies:
Bitcoin
Litecoin
DASH
Zcash
Bitcoin Cash
Bitcoin Gold
Ethereum
Ethereum Classic
ERC-20 Tokens (tokens on the Ethereum blockchain)
Expanse
UBIQ
NEM
Namecoin
Dogecoin
Testnet Bitcoin
Please note that Trezor does not provide full software support for all these coins. For example, you have to use MyEtherWallet or a similar application to store Ethereum in and ERC-20 tokens in Trezor. You can find further details for Trezor supported coins here.
Ledger Nano S Supported Coins
The Ledger Nano S currently supports the following coins:
Bitcoin
Bitcoin Cash
Ethereum
Ethereum Classic
Bitcoin Gold
Litecoin
Dogecoin
Zcash
Ripple
Dash
Stratis
Komodo
Ark
Expanse
Ubiq
Unlike Trezor, the Ledger Nano S provides full support for most of the coins, including Ethereum. This means you won't have to use MyEtherWallet for Ethereum and ERC-20 tokens, for example.
Ledger Nano S VS Trezor: Supported Coins
Looking at the above lists, we can see that the Ledger Nano S currently supports more coins than Trezor does. The most popular cryptocurrency that Trezor does not support but the Ledger Nano S does, is Ripple!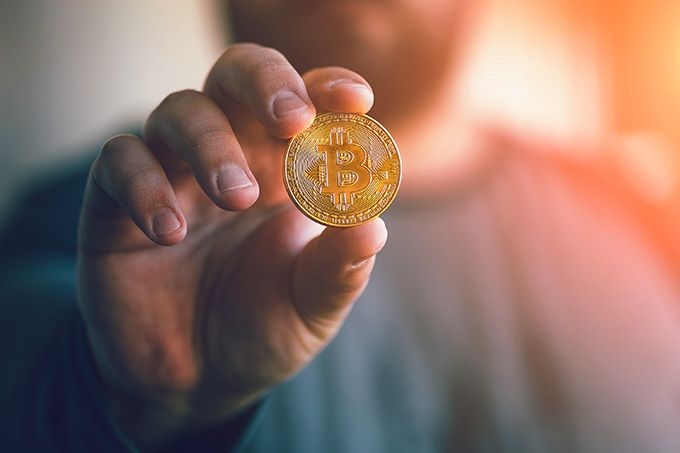 I hope that Trezor will update their wallet to support Ripple, but for now, you'll have to use the Ledger Nano S if you want to store Ripple.
Cost of the Wallets
Here, you can see the difference in price between Trezor VS Ledger Nano S.
Trezor Wallet Cost:
The Trezor price on the official store is around $70.
Ledger Nano S Wallet Cost:
Its price on the official store of Ledger is around $70.
Trezor VS Ledger Nano S: Cost
As you can see, the costs are literally practically the same. That's why other factors (like coins support, security and usability) are the most important; and should be the things that help you make your decision.
Display Screen
The Trezor wallet and Ledger wallet both have display screens! Pretty cool, eh?
At first, Trezor was the only wallet with a screen — the earlier versions of Ledger wallets did not have one. Because it is an important security feature, it was introduced by Ledger in the Ledger Nano S.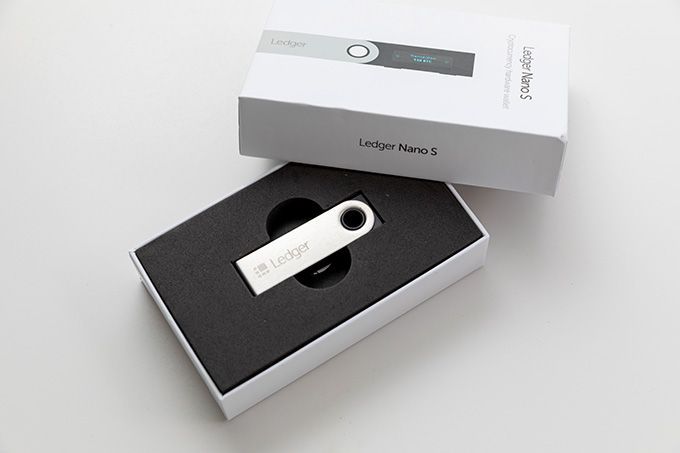 A display screen is an important security feature because:
It is used to display the recovery phrase or recovery seed for your private key. If you don't know what recovery phrases and seeds are, don't worry — I'll explain them in the next section.
The display screen lets you make sure that you are sending the right amount of coins to the right address.
I prefer the display screen on Trezor wallets, because it is a bigger screen than the one on the Ledger Nano S. This makes it a lot easier and more convenient to view!
Set-Up & Usability
The Trezor wallet and Ledger wallet both work with Windows, Linux and Mac OS. They both need to be connected to a computer via a micro USB cable.
The set-up process for both wallets is quite easy and similar. They both involve two main steps — setting a PIN code and writing down a backup of your recovery seed.
Note: You will need your recovery seed if you ever lose your private key. Think of this as your 'security question', like the ones you set when you create a Facebook or Google account. It is a series of 24 random word that is generated by the wallet.
Similarly, the interface is also well-designed and easy-to-use in both the Trezor wallet and Ledger Nano S. Let's compare what the interfaces look like: Trezor VS Ledger!
Trezor: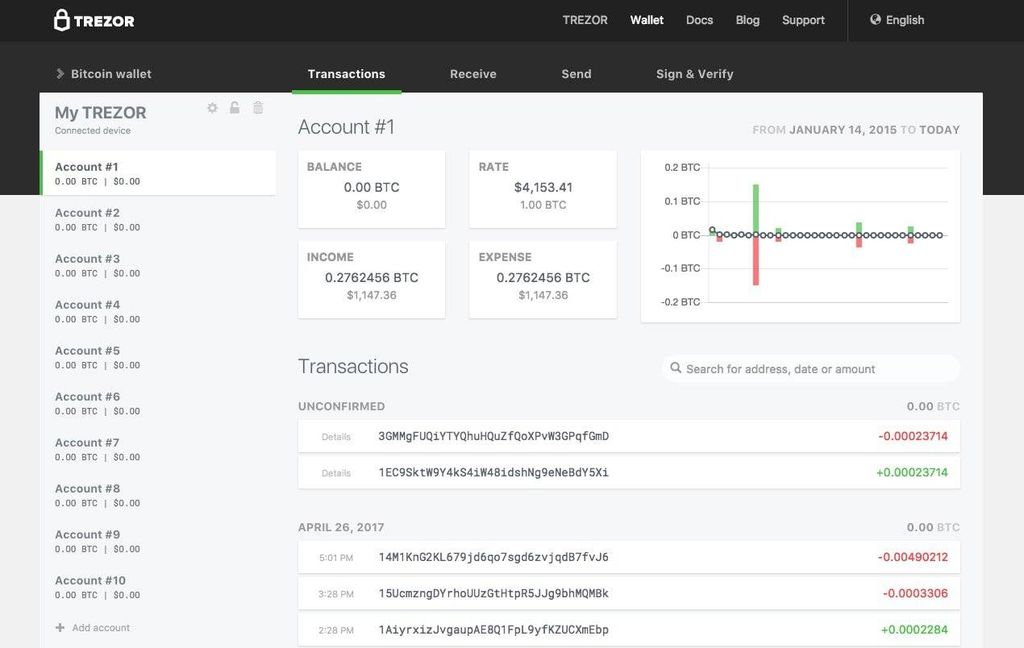 Ledger: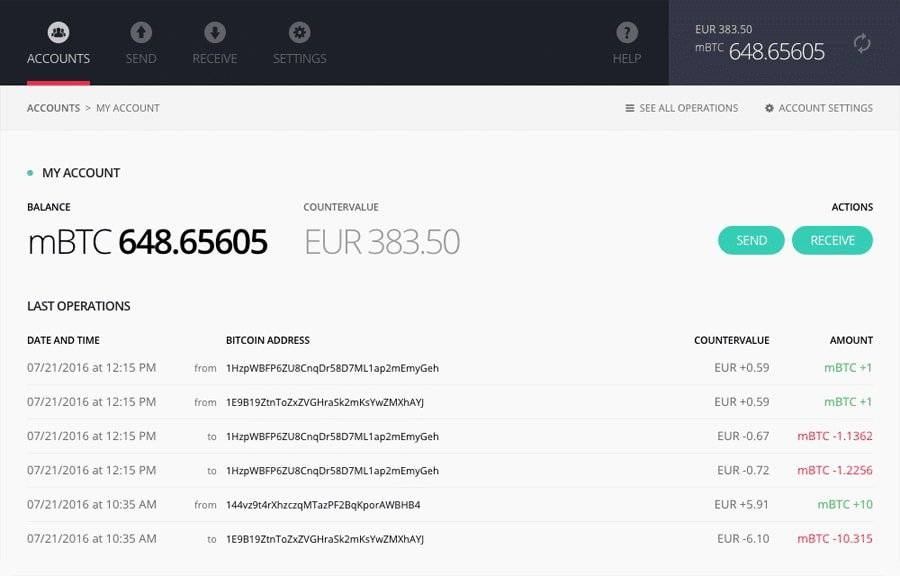 You should know that Trezor also has an Android app. This means that you can actually use Trezor with your phone, eliminating the need for a computer! Ledger also has a way to let you use your Android phone instead of computer, but it is not as simple as downloading an app from the Play Store.
LEDGER
TREZOR

Windows Software
MacOS Software
Linux App

Windows Software
MacOS Sotfware
Android App
iOs App
Web Browser


What kind of actions you can carry out via certain cryptocurrency wallet

Store
Send
Receive

Store
Send
Receive
Trade


Whether or not the users can control the transaction fees according to their personal needs.

What kind of additional features does each cyrpto wallet offer.

N/A

N/A


Is the crypto wallet open source or closed source.

Open-Source
Open-Source

How helpful and responsive is each cryptocurrency wallet's customer support.

Visit site
Read review
See TOP10 Brands
Read review
Table: The software features of the Ledger Nano S and the Trezor One
You can also sync your Trezor data with Dropbox! In general, it seems Trezor's software is a little more advanced than Ledger's software. Maybe this will change, though — who knows?
Physical Appearance and Durability
Trezor wallet is made from plastic, while the Ledger wallet comes with a stainless-steel body. This gives the Ledger Nano S a more stylish look, but that's not what's important. The important part is the fact that the stainless steel also makes the Ledger Nano S more protected from damage!
While both the wallets are quite strong, we can see that the Ledger Nano S has an advantage because of its stainless-steel body.
Both devices come with two buttons that are used to manage their software. It is important to note here that Trezor's buttons are easier to use. This is because they have a good amount of space between them.
The two buttons on the Ledger wallet are quite different from Trezor's buttons — they are very close to each other, increasing the risk of pressing both at once.
You can check out the look of Trezor VS Ledger in the images below.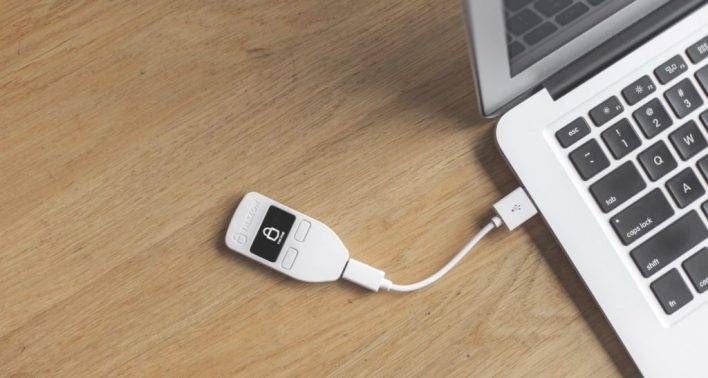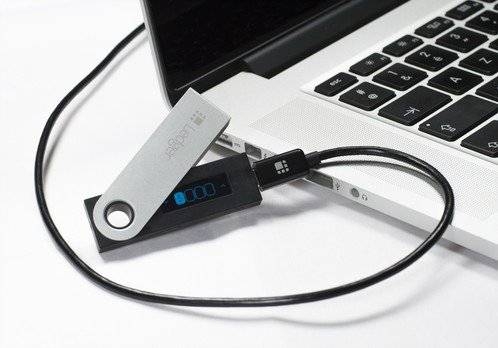 Size
Trezor is bigger than the Ledger Nano S.
Trezor wallet dimensions: 59 mm x 30 mm x 6 mm
Ledger wallet dimensions: 98 mm x 18 mm x 9 mm
While this does not have any impact on the performance of the wallets, it may be easier to carry the Ledger wallet with you because of its smaller size.
App Compatibility
In addition to using their own interface, both the wallets can be used with many independent wallet apps. The following table shows app compatibility for Trezor VS Ledger with some popular wallets.
| | | |
| --- | --- | --- |
| App | Trezor | Ledger Nano S |
| Electrum | Yes | Yes |
| MyEtherWallet | Yes | Yes |
| Mycelium | Yes | Yes |
| Copay | Yes | Yes |
| GreenBits | Yes | Yes |
| MultiBit HD | Yes | No |
| MyTrezor | Yes | No |
| Ledger Chrome | No | Yes |
As far as app compatibility is concerned, there is not much difference — both the wallets are compatible with almost all the popular apps.
Now that I have reviewed most of the major factors related to these two hardware wallets, there is just one important thing left to compare!
Trezor VS Ledger: How Secure Are They?
In terms of security, both Trezor and Ledger are almost as strong as each other. The most important security feature of both the wallets is that they both generate your private key offline, using their screens.
Also, both Trezor and Ledger provide a recovery seed and ask you to set up a PIN to access them. If your wallet is lost, stolen or damaged, then your private key will be lost. This is what the recovery seed and PIN are for.
You use your recovery seed to get your coins back, and your PIN prevents anyone else from accessing your wallet — if it is lost or stolen, no one else can get into your hardware wallet without your PIN!
Note: Recovery seed is referred to as the recovery phrase in the Ledger wallet, but it is the same thing.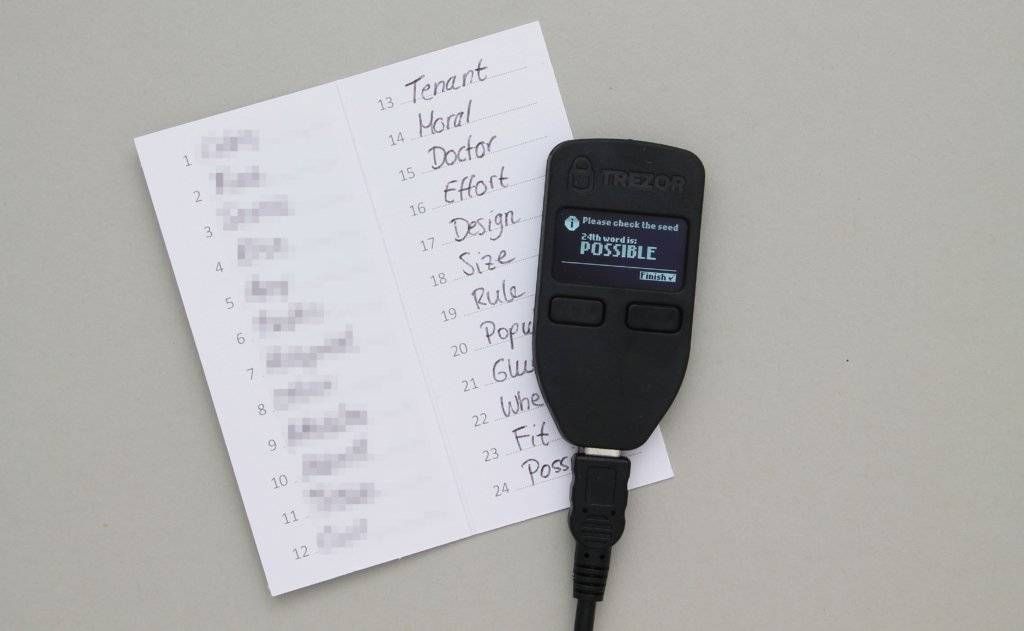 Other than the PIN and recovery seed, both the wallets also provide a 'passphrase' as a third layer of security. A passphrase can be thought of as the 25th word of your recovery seed.
You are given an option to set the passphrase after you set up the PIN. It can be a word or a set of letters. Really, you should remember the passphrase instead of writing it down — that way, there is zero chance of it being found by someone else. If you are worried about not remembering it though, just store it in the safest place possible.
Remember, if you forget or lose your passphrase, you cannot get your coins back if your wallet breaks, gets lost or gets stolen!
So, most of the important security features are the same for both Trezor and Ledger. Now, let's talk about the physical aspects of security in Trezor vs Ledger.

Pros
A very well-known crypto exchange platform
More than 500 different cryptos available
Two-factor authentication
Main Features
Over than 100 different cryptocurrencies available
Strong security
Small withdrawal fees

Pros
Secure and reliable
Low fees
A good amount of fiat currencies accepted
Main Features
Reputable exchange
Multiple fiat currencies are accepted
Relatively low trading fees

Pros
Anonymous trading
Secure
Supports a variety of cryptocurrencies
Main Features
Easy to use
Low fees
Good security
Physical Security
The Ledger Nano S stores your private key on very secure chips. These chips are like the ones you see on the latest credit cards or SIM cards. These chips have the highest level of certification! It ensures your private key is cryptographically secure.
While Trezor does not say a lot about its chips, it mentions that there is no battery, Wi-Fi, Bluetooth, fingerprint reader, or Near-Field Communication (NFC) on the device. Trezor believes that by limiting the number of ways to communicate, the security of the device is better.
Although both the Trezor wallet and Ledger wallet come with impressive security features, there are more things you can do to help avoid risks. I have listed a few below:
Never enter your recovery seed on any computer or smartphone;
Keep your recovery seed in a place where it is safe from fire, water and sunlight;
Never take picture of your recovery seed;
Never use a wallet that someone else has set up;
Conclusions
So, you made it to the end of the Trezor VS Ledger comparison! This means that you now know the differences between two of the best hardware wallets available in the market.
You have seen the list of supported coins by Trezor and Ledger wallets. While both support many coins, you need to see which one supports the coin that you own. The cost of Trezor and Ledger wallets is also very similar.
You also know how the two wallets compare in terms of physical appearance, display, size, ease of setup, ease of use, app compatibility, and security features. There are a few differences here and there, but they are not big enough to change your decision.
LEDGER
TREZOR

The main advantages of a certain cryptocurrency wallet.

Super secure
Protection against physical damage
Supports more than 1500 coins and tokens

Top-notch security
A very well-known crypto wallet
Holds a huge number of cryptocurrencies
Constant firmware updates

The main disadvantages of a certain cryptocurrency wallet.

Score that represents the ratio of the quality & advantages you get for a certain price.

Visit site
Read review
See TOP10 Brands
Read review
Table: The pros and cons of the Ledger Nano S and the Trezor One
So, the one that is best for you completely depends on what you want it for and which coins you want to store on it. One thing is clear though: hardware wallets are much safer than web wallets and software wallets.
With your new understanding of the Trezor wallet and Ledger Nano S, what do you think about them? Which do you prefer? Are you going to get either of them? Let us know!
About Article's Experts & Analysts