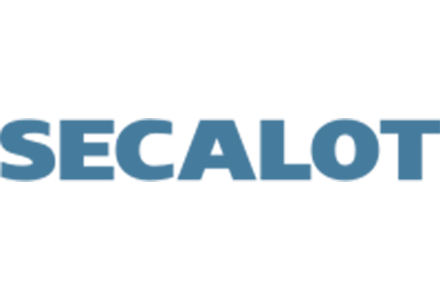 Finding a reliable cryptocurrency wallet should be the primary concern of any and all crypto enthusiasts. User Secalot reviews will tell you that it's the core thing that keeps your cryptos safe, after all! However, the wallet industry can be big and confusing - the latter part applies to hardware wallets, too.
Granted that that's the case, I'll try to help you out by talking about one of the more-peculiar hardware crypto wallets on the current market - Secalot. If you have not heard about it up until this point, it's not too big of a wonder - the wallet is rather niche, and isn't all that well known.
All of that, however, doesn't mean that the Secalot isn't worth checking out! As you will see in just a moment, the product does actually possess some interesting and unique features that make it stand out from the hardware wallet crowd. Whether or not it's the right wallet for you, though, is something that you alone will have to decide!
If you'd like to store your crypto assets worry-free, though, you should choose one of the wallets offered by Ledger or Trezor, instead.
Pros
Relatively simple to set up
U2F functionality
Strong security
Open-source
Very affordable
Cons
Supports only BTC, ETH, and XRP
No strong presence on the market
Secalot Review: PROS
To start things off on a positive note, we'll begin by taking a look at some of the most-positive features that you can expect to receive whilst using Secalot as your go-to cryptocurrency wallet.
Cold Wallet Levels of Security
If you've spent any time in the crypto world, you're probably aware of the fact that there are quite a few different crypto wallets on the market for you to pick from. User Secalot reviews often mention these different types, too, especially when discussing what is a Secalot hardware key.
You see, the three most commonly-used wallets are exchanges, software, and hardware devices. They are all very different from one another, but they do also bring certain specific benefits to the table.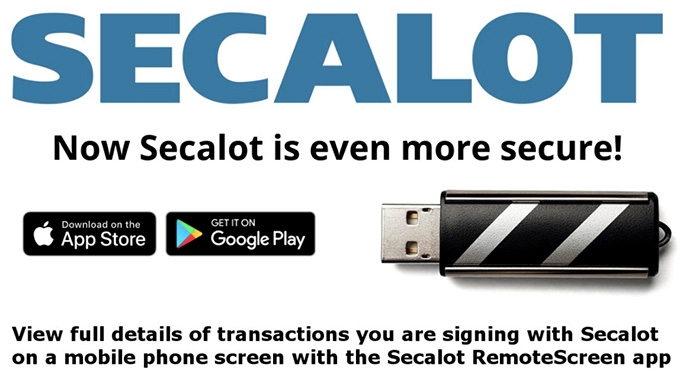 Exchange-based wallets are probably the most popular option for when you're just starting out. They are rather self-explanatory, too - these wallets are based on exchanges which you'd use to buy your crypto from!
Exchange wallets can be very convenient, but they are also the least-safe option of the lot. As opposed to that, software wallets allow you to move your cryptocurrencies quickly and in a still somewhat-convenient manner, but are considered to be a much safer alternative!
Finally, there are hardware wallets - these are the ones that user Secalot wallet reviews talk about the most, too.
As the name likely implies, a hardware wallet (also known simply as a cold storage device) is a crypto storage place that's based on a particular device. Secalot is a good example of such a product.
Table: Some general information about the Ledger Nano X and Trezor Model T cold wallets
Hardware wallets are the safest possible option for storing cryptocurrency, and are usually used by individuals who are planning to hodl their coins long-term. With that said, though, does Secalot live up to the security standards of a cold wallet? In other words - is Secalot safe to keep your coins in?
Well, yes - as a standalone option, the Secalot Dongle (as in, the wallet in question) is a safe crypto storage alternative.
The wallet protects your cryptocurrencies with a custom PIN code. This is the most common measure used by cold wallets in order to keep your coins safe.
On top of that, Secalot is also open-source, too - that's a rare feature for a hardware cryptocurrency wallet! Being open-source means that anyone can look at the code behind the wallet, and adjust and tweak any bugs or issues that they might find. This makes it a very community-oriented wallet, which is actually a good thing, safety-wise.

The last part is also true for anyone who might not be very trusting of Secalot safety, and would like to dive in and check everything out for themselves - nice!
Lastly, it's worth pointing out that Secalot simply being a hardware wallet adds an extra layer of security to everything, too! Potential hackers and crypto thieves are not going to have any access to your coins, since they are going to be kept offline, within the wallet in question.
All things considered, user Secalot reviews are pretty satisfied with the security features that this product provides.
Acts as a Universal Second Factor (U2F)
Admittedly, this has become somewhat of a common thing for hardware crypto wallets in the past few years or so.
U2F stands for "universal second factor". It's a type of security measure that adds an extra layer of assurance whenever you're logging into somewhere that you'd need to confirm your identity in, not unlike two-factor authentication (2FA).
However, U2F is considered to be the more-advanced version of 2FA. This is simply because of the fact that 2FA can still be overtaken, and isn't necessarily the most secure type of authentication. As opposed to that, U2F usually requires you to possess a specific device that you'd use to confirm your identity, which makes things much safer.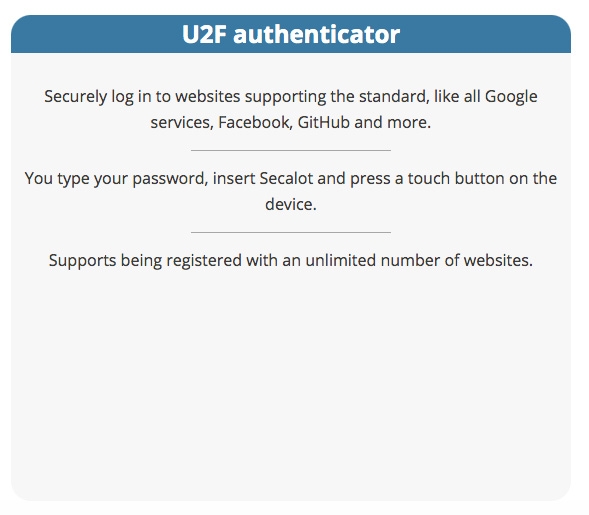 Multiple user Secalot reviews do actually talk about his feature of the wallet - it's a great argument for anyone wondering is Secalot safe, too! The Dongle acts as a U2F device, in that it can approve your login attempts at a wide array of websites, such as Google, Facebook, and so on.
Seeing a cryptocurrency wallet add security not only to your crypto storage wants and needs, but also to your everyday life is pretty reassuring. Definitely an awesome feature of the wallet!
A Very Inconspicuous Wallet
Subtlety is something that is extremely underrated when talking about hardware cryptocurrency wallets. It should actually often be among the very first things discussed!
What do I mean by that, exactly? Well, simple - your crypto hardware wallets should be as less eye-catching as possible.
Now, look - I get it. Everyone wants their wallets to look modern and futuristic, and there's nothing inherently wrong with that. If you own cryptocurrency, you're probably a pretty futuristic-minded person yourself - using some cool and unique-looking device can be very tempting!

However, I urge you to consider the safety aspect of this, and not from the wallet's side of things, either - rather, from that of you getting physically robbed, and your wallet cleaned out afterwards.
Why do I bring such things up? Well, think about it - imagine yourself using the wallet out in public, for some reason. If someone sees you pressing buttons on some odd-looking device, it immediately attracts attention. Now, what if that somebody is crypto-savvy, and figures out just what it is that you're doing?
In most cases, it's not going to result in anything but curiosity. However, all it takes is one bad actor, and all of your crypto savings might be gone, then and there.
On the other hand, if your wallet is discrete, you might actually be able to use it in a public space, and get away with it, too! Granted that you have many people questioning what is a Secalot hardware key, you probably know where I'm going with this.

If you buy Secalot wallet, you'll basically be purchasing yourself one of the least-eye-catching hardware cryptocurrency wallets on the entire market. The wallet is absolutely identical to a USB flash drive - there are almost no physical features that would give its true purposes away, especially not if you were to only glance at it.
Yet again - subtlety is a very underappreciated feature when choosing a hardware wallet for yourself, and that shouldn't be so. In the case of this Secalot wallet review, though, the product has got you covered, big time!
Not Too Difficult to Set Up
Crypto wallet setup processes can be tedious - if you've used any type of a wallet except for an exchange-based one before, you're probably well-aware of this, too.
This does especially apply to cold wallets, however. While the industry-leading products have streamlined the initial setup processes to be as smooth and quick as possible, that's not something that can be said about many of the less-known products.
Where does Secalot land in all of this? Well, to be completely fair, the wallet isn't the simplest option as far as setup is concerned - but it's not too difficult, either.
The thing that makes Secalot more difficult to set up in comparison to some other cryptocurrency wallets is the fact that Bitcoin, Ethereum, and Ripple's XRP need to have different hot wallets connected to the device, in order to be set up properly.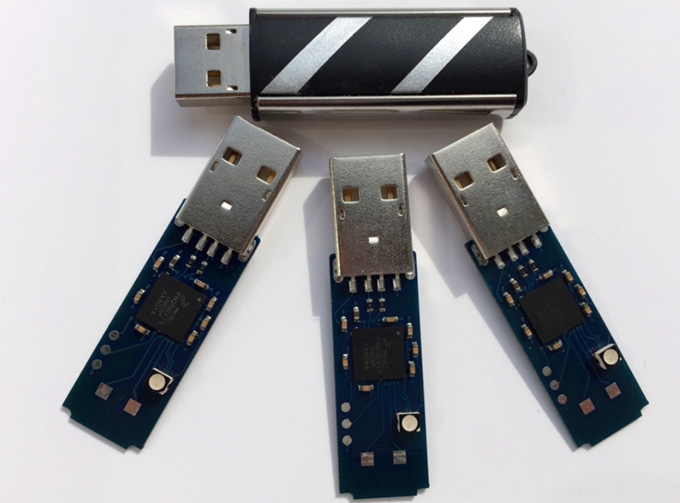 To be more specific, if you'd want to store Bitcoin on the Secalot Dongle, you would have to connect a modified version of the Electrum wallet, and if it's Ethereum that you're interested in, then you'd need to connect MyEtherWallet.
The whole process may sound a bit confusing, but it's really not. In order to understand it better, if you have any prior experience with hardware crypto wallets, you can think of this to be the same idea as when you'd connect your Ledger to a Yoroi wallet for ADA, or something similar.
So - in short, when compared to some other hardware wallet setup processes out there, Secalot is quite simple to navigate, and start using properly!
A Great Wallet for Crypto Beginners?
Evidently, this is more of a speculatory, rhetorical question that I've seen some user Secalot reviews express, but it's still worth mentioning here, nonetheless.
The world of crypto can be a difficult one to navigate through. If you're a complete beginner and are just starting out with getting familiar with all of the jargon and the different cryptocurrencies, in general, it's rather easy to get lost - I get that!

The interesting thing here is that some user Secalot reviews found online seem to be quite thankful for the simplicity aspect of the wallet. Once people figure out what is a Secalot hardware key, many of them get interested immediately!
Once you break it all down, though, the reasons for this become more self-evident.
For starters, the Secalot Dongle is very affordable - we'll get o the pricing part soon enough, but suffice to say that it's one of the most-affordable hardware crypto wallets on the market.
It's also very simple to use, in a general sense - Secalot only supports Bitcoin, Ethereum, and Ripple, which limits the things that you'd need to study and learn in order to use the device proficiently.
If you'd like to possess a wallet that supports many more crypto assets, though, you should turn your head towards either the Ledger Nano X, or the Trezor Model T.
The fact that Secalot can be used for additional purposes (i.e. U2F) is a huge factor, too. It means that you will be purchasing a multi-use product, which is always much appreciated, and especially so when it comes to security!
All of these (and many more) little things combined, you have yourself a very entry-level, beginner-friendly cryptocurrency hardware wallet.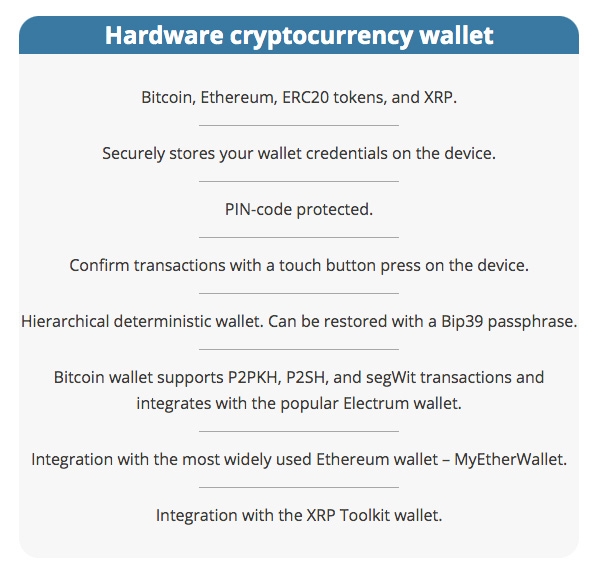 People often like to speculate on "how much crypto you should possess in order for it to be worth purchasing a hardware wallet". While these speculations are worth close to nothing, they do reveal one, simple thing - hardware crypto storage doesn't come cheap, and you have to be quite savvy within the field in order to use some of them to the fullest extent.
Thankfully, there are, for a fact, newbie-friendly options out there - the Secalot Dongle is a good example of one such option.
Latest Binance Coupon Found:
CLAIM $600 BONUS
Exclusive $600 Binance Offer
Don't miss this limited-time deal that's only available for our readers. Follow the Binance referral code link & receive up to $600 in rewards and bonuses!!
Expiration date: 03/02/2023
7,847 People Used
Only 49 Left
Secalot Review: CONS
Having discussed all of the main benefits that you can expect to receive if you decide to buy Secalot wallet, there are still certain aspects of the product left to look into, nonetheless. Some of these aspects aren't all that positive, though - there are user Secalot reviews that aren't very excited with the product, at least not as those mentioned above.
So, without further ado, let's check these complaints out, and try to understand whether they are noteworthy, in the grand scheme of things, or if it's not really a big deal, and won't make too much of a difference for you.
Support Only Three Cryptocurrencies
For advanced crypto hodlers, this is probably going to be the biggest gripe that they have with the wallet in question.
Cryptocurrencies have become rather popular - that's obvious by taking a look at the mass adoption that's currently happening all around the world (well, in most places, at least). With this surge in popularity, people are naturally becoming more interested in different cryptos, and not only Bitcoin.
That's awesome! However, it does also mean that there's an increased demand for cryptocurrency wallets that support multiple different coins, too.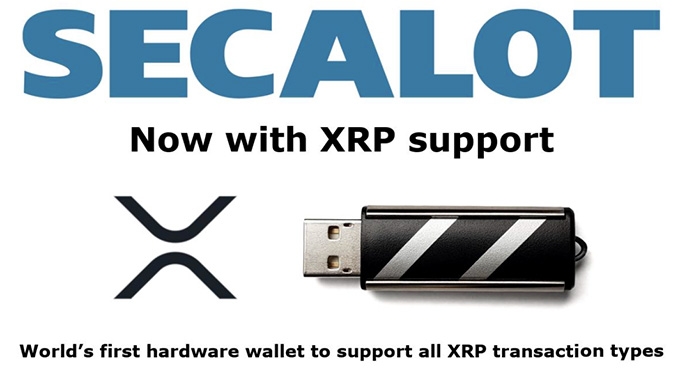 Most of the current hardware wallet leaders do, for a fact, support a pretty wide variety of coins and tokens. Others allow you to store a smaller variety of coins, but still support all of the main ones.
User Secalot reviews will tell you that this is not the case with the Secalot Dongle, though. As disappointing as it may be, this particular wallet does only support three crypto coins mentioned earlier - Bitcoin, Ethereum, and Ripple.
Now, sure - these are the three cryptocurrency industry giants, and are among the most popular coins that people purchase, hold, and trade. However, as established already, this is only partially the case - as time goes on, there's an increasing demand for more cryptocurrency support, on the wallet's side of things.
Two different things stand out here, however.
For starters, each and every single cryptocurrency in existence has some sort of a wallet that you can keep it in. Many of these cryptos aren't supported by any hardware devices, either way (especially when it comes to the more-niche coins out there). Ultimately, this leads individuals to use alternative wallets, in addition to their cold storage device.
This does appear to be the case with Secalot reviews, too! Meaning, while you can store the three main coins - BTC, ETH, and XRP - on your Secalot Dongle wallet, you would simply then use the services of hot wallets (exchanges, software, browser extensions, etc.) to mitigate this issue, and keep all of your crypto assets safe and sound.
Table: The supported cryptocurrencies of the Ledger Nano S and Trezor One
On top of that, as popular as cryptocurrencies are becoming, it's worth emphasizing that the vast majority of people, to this day, are only interested in holding or flipping BTC - this is especially-so-true with newcomers to the scene. Yet again, this is something that is evident by reading through user Secalot reviews, too.
In a situation like this, if you were to buy Secalot wallet, you'd be set - if there's no particular interest in an alternative coin on your end of things, the wallet in question will do just fine.
A Lack of an Established Reputation
While this is, admittedly, a bit of a subjective point to cover, it's also something that I've noticed expressed by other user Secalot reviews found online, too. On top of that, it does actually affect people's interest in the wallet in question.
As mentioned in the introductory part of this article, there's a pretty good chance that, if you're not a crypto veteran, you won't be all that familiar with Secalot. The wallet isn't all that well-known in the industry, and it does, admittedly, take some digging to find out about it.
As a first point, this means that there's not a huge chance industry newcomers are going to randomly notice it while reading about crypto or browsing sites such as Reddit. That being said, this stems from another, bigger issue - a lack of an established reputation.
What are your first thoughts when you hear the terms "Ledger" and "Trezor"? If you think "the hardware wallet industry leaders", you're completely right - this is actually the thought that most people have when they think about these wallets.
Indeed, some products have established themselves as the leaders in the field, and not only because they've been around for a while. More than anything else, they've proved to the crypto community that they are not only reliable and trustworthy (with a few minor hiccups, perhaps), but are also constantly being updated to keep up with the trends of security, new coins, modern interfaces, and so on.
All of this does not apply to Secalot, it would seem. The company has little information about the product on their website, which in of itself looks a bit dated and lackluster.

On top of that, there aren't many real firmware updates to the product, at least as far as one could tell from other user Secalot reviews! Sure, the wallet is open-source, which is part of its appeal - however, many individuals aren't even going to be reaching the point where they would look into this as a major benefit.
All in all, the Secalot Dongle doesn't really have an established reputation in the realm of crypto wallets. This, for a fact, can sway people away towards some of the more well-known options.

Did you know?
Price
With most of the major pros and cons mentioned among user Secalot reviews discussed and settled, let's turn towards the pricing section of the article. I've already hinted earlier on that Secalot is a rather affordable cryptocurrency wallet, especially when compared to some of its competitors - just how affordable are we talking about, though?
Well, purchasing the product from the company's official website, it will cost you €50. This, in turn, makes it one of the most-affordable hardware crypto wallets on the entire market!
Note that you should always buy Secalot from the official website mentioned above. This is true with all hardware wallets, but it especially applies to the Dongle.
Table: The pricing options of the Ledger Nano X and the Trezor Model T
Why is that the case? Well, buying a hardware wallet via a third-party could lead to security concerns - you won't really be able to know if the product was tampered with, and if you'll risk losing all of your coins by using it.
Some brands have insurances in place - for example, things such as special seals that let you know whether the product is legit or not. This, however, is not the case with the Dongle - this particular wallet comes packed in a plastic bag, with no manuals, no accessories, and - evidently - no safety seals of approval.
Not the best-case scenario, but shouldn't be an issue if you purchase the product via the official website!
Summary
By now, we've discussed all of the major points related to the Secalot Dongle. At this point in the Secalot wallet review, you should have a pretty good idea of what to expect from the product in question! However, how does it compare to other wallets of its kind, and is it even worth checking out, in the first place?
Well, the only two wallets that it would be fair to compare the Dongle with are the flagship products from Ledger and Trezor. While both companies have new and more-advanced wallets (the Ledger Nano X and the Trezor Model T), when it comes to the pricing range, it makes more sense to look into the former.
Table: Some general information about the Ledger Nano S
In regards to Secalot and Ledger, unfortunately, you will always make the better choice by picking the latter. Ledger isn't an industry leader for nothing, and has practically everything over the Dongle - it's simple to use, looks inconspicuous, supports a huge array of coins, has constant firmware updates, a beautiful UI, and so on.
The best part? The Ledger Nano S is priced very similarly to the Secalot Dongle.
As far as Trezor goes, the situation is also similar. Trezor is better than the Secalot Dongle in almost all of the aforementioned regards. However, if you were to buy Secalot wallet, it would come out to be much more affordable than the Trezor One. Also, it possesses a more discrete design than Trezor - just some points to keep in mind!
Table: Some general information about the Treozor One
Now, then - what's my verdict concerning this Secalot wallet review? Is the product even worth checking out, in the first place?
I think so, yes - however, it might be more suitable for certain types of crypto enthusiasts over others.
If you're a newcomer to the industry, and are still just experimenting with how everything works, the Secalot Dongle might be the perfect choice for you. This wallet will allow you to store the three main coins within itself. On top of that, while it will be really simple to use and manage, there will still be a minor challenge setting up and connecting it to Electrum, MyEtherWallet, or the wallet for Ripple, which is a good thing, assuming that you want to learn!
The wallet does come with a very affordable price tag, too - great!
If, however, you're already an experienced cryptocurrency trader or hodler who's got a very diverse portfolio, there are, admittedly, better options around. While Secalot may still be a very interesting pick, the specifications of the wallet will simply come out to be lackluster for most advanced users.

Pros
A very well-known crypto exchange platform
More than 500 different cryptos available
Two-factor authentication
Main Features
Over than 100 different cryptocurrencies available
Strong security
Small withdrawal fees

Pros
Secure and reliable
Low fees
A good amount of fiat currencies accepted
Main Features
Reputable exchange
Multiple fiat currencies are accepted
Relatively low trading fees

Pros
Very low trading fees
Exceptional functionality
Mobile trading app
Main Features
Very competitive trading fees
An intuitive mobile app
Up to 100x leverage available
Advanced trading feature
Conclusions
Having reached the very end of our Secalot review, I'd like to thank you for reading and sticking to the very end!
As you might have gathered by now, the Secalot Dongle is one of the more-unique hardware cryptocurrency wallets on the market. It's a rather polarizing product - some people will love it, while others might find it to be short of the features that they desire.
If you belong to the latter group of individuals, you should take a look at Ledger or Trezor, instead. Both companies offer some of the best hardware wallet products on the market - you're bound to find one that'll suit your wants and needs!
Whatever the case might be for you personally, I do hope that this review was helpful in allowing you to decide if this product is right for you or not! Remember to always check out some other lists of the best cryptocurrency wallets out there, whether it be hardware-exclusive, or else.
Good luck, and until next time!
The content published on this website is not aimed to give any kind of financial, investment, trading, or any other form of advice. BitDegree.org does not endorse or suggest you to buy, sell or hold any kind of cryptocurrency. Before making financial investment decisions, do consult your financial advisor.
Leave your honest Secalot review
Leave your genuine opinion & help thousands of people to choose the best crypto exchange. All reviews, either positive or negative, are accepted as long as they're honest. We do not publish biased reviews or spam. So if you want to share your experience, opinion or give advice - the scene is yours!