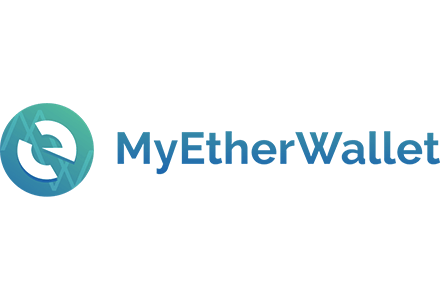 Cryptocurrency wallets are among the most important tools when you're looking to get into the industry, and start trading crypto. Not all wallets are the same, though, and while some are more general, others are actually quite crypto coin-specific. Today, we'll talk about user MyEtherWallet reviews - this wallet falls into the latter group.
Truth be told, though, the first thing that we should probably figure out is that the MyEtherWallet isn't an actual wallet, though - we'll get to that.
If you're interested in things like "is MyEtherWallet safe?" and the MyEtherWallet supported coins, stay tuned - we're going to cover all of that in the chapters ahead. If you'd like to check out some of the more popular crypto wallet alternatives, though, you should look into hardware devices - specifically, the Ledger Nano X and the Trezor Model T are the two leaders in this space.
TL;DR: MyEtherWallet is an interface that allows you to store your Ethereum and Ethereum-related coins and tokens within. While it's a software, the coins are actually kept on your personal computer, and not online. It's completely free to use, and is quite easy to figure out.
Pros
A top-rated "in-between" interfaces
No fees
Open-source
Software-type wallet interface
Supports all ERC-20 tokens
Cons
Not a real cryptocurrency wallet
Does not support non-Ethereum altcoins
No direct connection with a crypto exchange
MyEtherWallet Review: PROS
Now, as with any other cryptocurrency wallet that we take a look at, this particular MyEtherWallet review will focus on the main pros and cons of the wallet in question.
Before we get into the positive aspects of the tool, though, let's first get something clear straight from the get-go - as noted in the introductory part of the article, MEW isn't an actual cryptocurrency wallet - it's an "in-between" interface.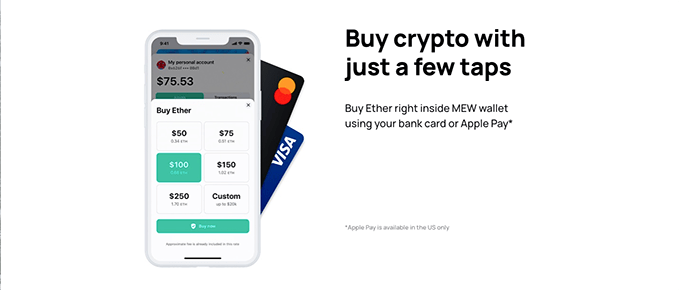 What's the difference, you may ask? Well, we'll get to that soon enough - in short, though, the interface acts as a medium between an exchange and, say, a hardware wallet.
So, let's not stray from the topic at hand and discuss the main benefits of the MEW wallet.
Easy to Use, Helpful Information Available
When picking out the best cryptocurrency wallet for yourself, you'd probably want it to be at least somewhat easy to use - this is true both in this MyEtherWallet review, and with any other cryptocurrency wallet out there.
Why is ease of use so important? Well, for starters, chances are that you're going to use the tool quite often. This is especially true if you're an active crypto trader who constantly interacts with the market, and Ether is your main currency to trade with.
You see, if you're going to use something quite often, you'd probably want it to be easy and self-explanatory to use, right? Well, while that is actually the case with most of the top-tier crypto wallets out there, some are... Less-than-desirable in this regard.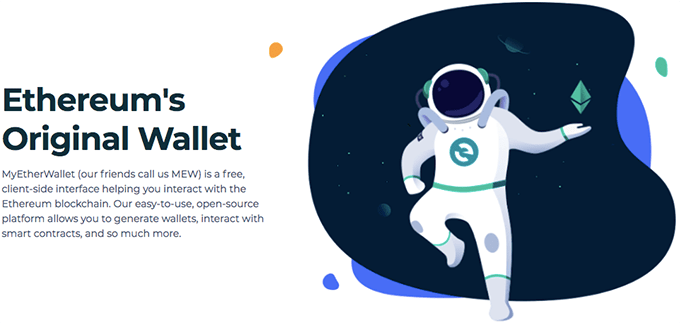 It's not really an issue that you'd have to worry about when it comes to the MEW wallet, though. Multiple user MyEtherWallet reviews claim that the tool in question is actually very simple to use! It's an online-based software, and while that might seem intimidating at first (since most wallets tend to come in mobile app form), it's actually pretty straightforward!
On top of that, there are also different video tutorials available for the user to check out, if there's something confusing, that is. Definitely a great option in this regard!
Supports Ethereum and All of its Tokens
As the name likely implies, the MEW wallet is dedicated to Ethereum. This, however, does mean that it also supports Ethereum-related currencies, too - namely, Ethereum Classic and ERC-20 tokens.
This is actually a pretty big deal, in its own right. You probably don't need any user MyEtherWallet reviews to tell you that Ethereum is the second-most-popular cryptocurrency on the current market, right after Bitcoin. Naturally, a huge number of people use and trade it every single day.

The token part is quite significant, too. As you may or may not know, the Ethereum blockchain is a piece of some rather advanced technology - due to the nature of smart contracts, there are many technological innovations out there that utilize Ethereum's blockchain, and build their 'inventions' on it.
Naturally, as a result, this means that there are many different ERC-20 tokens "floating around". The fact that all of them can be stored in the MEW wallet is definitely some great news for anyone and everyone who's utilizing this technology!
Latest Ledger Wallet Coupon Found:
SAVE 10%
On Best-Value Ledger Bundle
Purchase the Ledger Nano S Family pack & save 10%. Get a huge Ledger discount on top-tier security!
Expiration date: 28/03/2023
1,278 People Used
Only 72 Left
MyEtherWallet Review: CONS
Now that we've mentioned a couple of the key benefits that most user MyEtherWallet reviews talk about, it's worth emphasizing that there are some less-than-ideal features of this product to be aware of, too.
Among them, the fact that it's not an actual wallet should be noted at the top. While it's not really a "con" per se (since it's a fundamental feature of the software in question), it's still something that you should keep in mind when looking for a crypto wallet.
To put it shortly, MyEtherWallet should be used when you want to store your ETH (or any other ETH-based currency) for a short period of time, before transferring it to a hardware wallet. If that's not an issue for you - great!
Does Not Support Altcoins
If you've never heard of the term, an "altcoin" is any cryptocurrency coin that's not Bitcoin.
Or at least that used to be the case, for the longest time. As of late, though, people appear to refer to altcoins as any crypto coins that are not Bitcoin, Ethereum, or Ripple (Litecoin is also often thrown into this mix, too).
Whatever the case might be, the sentiment stands the same - MEW does not support any altcoins. In fact, it doesn't even support Bitcoin - while the name is probably a dead giveaway, MyEtherWallet only supports Ethereum, and all of its associated coins and tokens.
To put it simply, frankly, MEW is a dedicated-currency wallet.

Reading through the user MyEtherWallet reviews, it does not appear to be THAT big of an issue, for most. That, however, is mostly because users of this wallet knew what they're getting into straight from the get-go - most of the people who use MEW do so because they only own Ether, or only plan to use Ether.
Naturally, however, no matter how you look at it, the fact that this particular crypto coin wallet in question only supports a very limited number of currencies surely isn't ideal. It makes it a pretty niche tool to use, even though we're talking about the second-most-popular cryptocurrency in the world.
Some Safety Concerns
I stress this in most articles that I write, and I'll say it here, once again - the aspect of 'security' should be at the top of your priority list when it comes to picking out the best cryptocurrency wallet.
Reading through some user MyEtherWallet reviews, though, it would seem that this particular wallet does have some concerns in this regard.
Now, don't panic - this does not mean that MEW should be immediately discarded as an unsafe option. Compared to some other wallets out there, the security issues of MEW are actually quite manageable.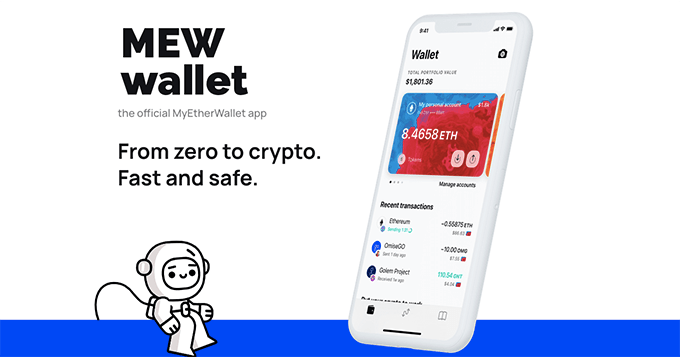 You see, some users report that there have been attacks and attempts to steal their information and Ether while they were using MEW. While this is quite serious stuff, it should be noted that it's actually the area where the aforementioned feature of MEW not being an actual wallet comes into play, too.
Allow me to explain.
Crypto wallets are supposed to be the safest tools of their kind, simply because they are the place where you keep all of your cryptocurrencies. That's why people turn to hardware devices, such as those from Ledger and Trezor. All of that is obvious, right?
As much as user MyEtherWallet reviews would talk about the wallet-like features of MEW, and while that term is also in the tool's name, it's still not an actual wallet. Instead, you'd use MEW as a "middleman" while transferring your ETH, ETC, or ETH tokens to a cold storage wallet.
In very simple and somewhat-accurate terms, MEW should be used as a temporary, one-off wallet. As you can probably imagine, a tool like this isn't going to possess the same amount of security as, say, a full-fledged wallet.
So, do the security concerns make MEW an unviable choice in regards to it being temporary storage for Ether? No, not really - at least not as of writing this MyEtherWallet review.

You see, the security complaints are quite far in between, and the ones that do exist aren't necessarily completely damning. In many cases, the issues appear to be avoidable as long as the user puts in the effort to remain discreet when and how they're transferring their crypto funds.
All of that said, though, it's still something worth keeping in mind!

Did you know?
MyEtherWallet Compared to Hardware Wallets (Offline Storage)
Hardware wallets use devices (like a USB) to store your private key. You can keep the device wherever you want, just make sure it's kept secure. You can connect a hardware wallet to the internet to make a transaction and then take them offline again.
Two of the most popular hardware wallets are — Ledger Nano X and TREZOR.
LEDGER
TREZOR

Super secure
Protection against physical damage
Supports more than 1500 coins and tokens

Top-notch security
A very well-known crypto wallet
Holds a huge number of cryptocurrencies
Constant firmware updates

Pricey
Has been subject to unauthorised access before

Visit site
Read review
Visit site
Read review
Table: The Trezor Model T and the Ledger Nano X
Truth be told, MyEtherWallet works well with both of these hardware wallets. I recommend that you use MyEtherWallet along with either one of those.
That's something that is mentioned by user MyEtherWallet reviews, too - MEW, in general, interacts with many hardware wallets quite well. This is good, since it doesn't only incentivize the user to start using cold storage (the single most secure form of storing your crypto), but also grants are a decent choice pool, too.
Pricing and Accessibility
Pricing-wise, it's worth mentioning that MyEtherWallet is completely free to register to and use. Upon making a payment to someone, though, you'll be charged with a small fee.
The actual fees differ depending on a few key factors, but, judging from multiple user MyEtherWallet reviews, it's not something that you should be worried about - the fees are very small, no matter the case.
MEW is a software, and is available to be used via the browser or, as of recently, an app, too. It would seem that most users have no significant, noteworthy qualms in regards to the usability aspect of the wallet.
MyEtherWallet Set Up - 5 steps
Let's look at the steps you need to follow to set up your wallet on MyEtherWallet.com.
STEP 1
Go to https://www.myetherwallet.com and make sure that the site you are on is real. This is important to check, as there have been incidents where hackers have created similar looking websites to steal user's private keys.
Make sure to bookmark the website once you're sure that it's the real deal. This will ensure that you don't open the wrong MEW site in the future. To do this, you must click the star in your website address bar.

STEP 2
You will see the option to 'Create New Wallet' on the home page of the MEW wallet. Or, you can click the menu option "New Wallet" to get to this page.
Once you are on this page, all you need to do is enter a password that you can remember. Then simply click on the "Create New Wallet" button.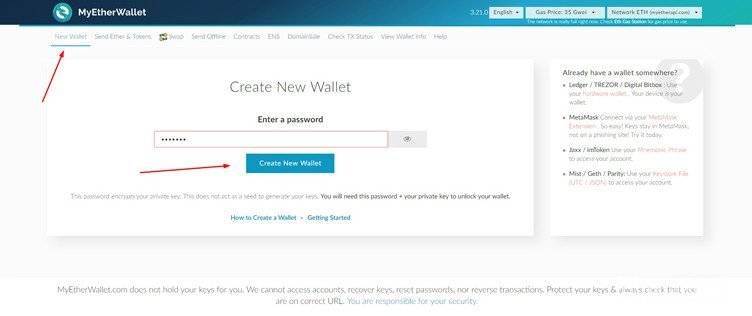 STEP 3
Once you have clicked the "Create New Wallet" button, MyEtherWallet.com will generate a password-protected private key — also called a "KeyStore" file in UTC/JSON format.
You can use the KeyStore file to access your wallet, so it is extremely important to keep it safe. Store it in a location on your computer where you will remember.
Download the KeyStore file by clicking on the "Download KeyStore File (UTC / JSON)" button as shown below. After downloading, click the button "I understand. Continue.".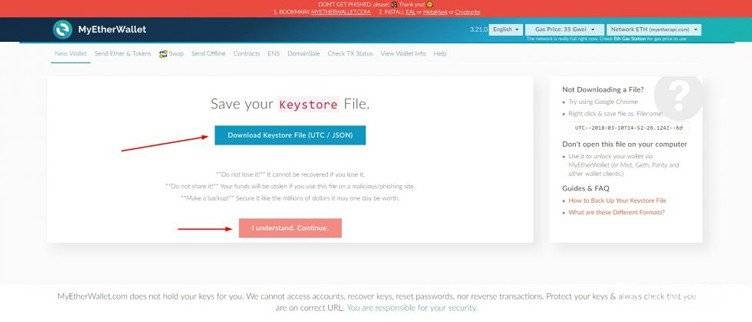 STEP 4
Once you have done that, you are given the private key to your new MEW on the next screen. This private key can be also be used to access your wallet.
For this reason, you need to keep it extra safe. Remember, anyone with your private key can unlock your wallet and steal your coins.
I recommend that you print your private key onto a piece of paper. This contains the details of your private key as well as a barcode that can be used to access your MEW wallet.
After you have safely stored your private key, you can check your wallet's public address by clicking on the button "Save Your Address'.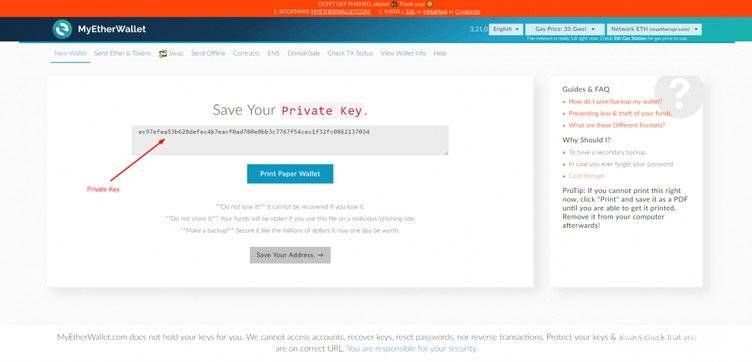 STEP 5
Finally, after you click the "Save Your Address" button, you can view your public wallet address. You will then be asked: "How would you like to access your wallet?"
As you can see from the image below, MyEtherWallet.com provides you with several ways to access your wallet. You'd do well to pick one that suits your preferences best.
In this example, we will access the wallet using the Keystore file.
After selecting the option 'Keystore / JSON File' you will then be asked to "Select wallet file…". When you click the 'Select wallet file…' button, a window will open that allows you to select the KeyStore file from the location on your computer where you saved it.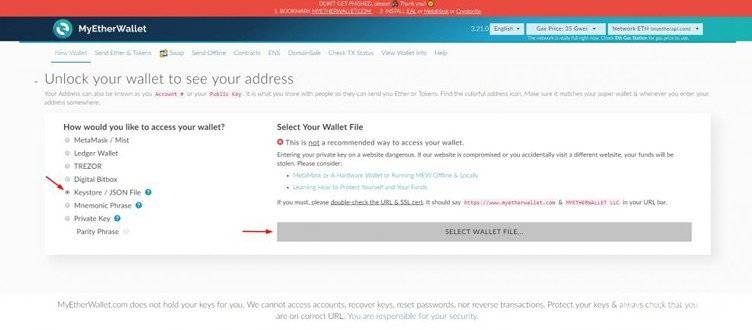 Since the KeyStore file is nothing but a password protected the private key, you will be asked the same password that you used in Step 2 to unlock the KeyStore file. See the image below.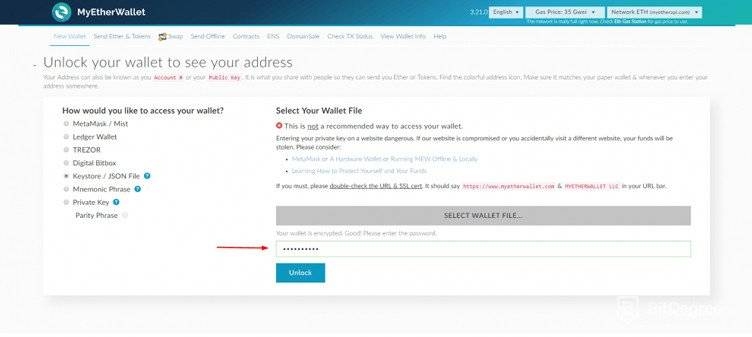 After following all the steps above, you will be granted access to your wallet.
And that's how easy it is to set up your own MEW wallet!

Pros
Can be managed from mobile device
Very secure
Supports more than 1500 cryptocurrencies

Pros
Top-tier security
DeFi app support
Store over 5500 assets, install up to 100 apps simultaneously
Conclusions
And there you have it, a full MyEtherWallet review. Now you can see why MyEtherWallet is one of the most popular Ethereum wallets available. It is super-easy to use and lets you store Ethereum, Ethereum Classic, as well as ERC-20 tokens which is important for ICO investing.
You should have a clear understanding of the pros and cons of MyEtherWallet when compared to other wallets. Also, to be able to decide which wallet you should use.
If you decide to use MEW, then you can quickly create your own MEW wallet using the step-by-step process in this guide.
Table: MyEtherWalet and the Ledger Nano X
No matter which wallet you use, you must always keep your private key safe. If your private key gets stolen or lost, you risk losing all your crypto!
So, is MyEtherWallet safe? This and other wallets are as safe as you want them to be. MEW offers good security, and while there have been some slight issues in this regard in the past, it would seem that, as of late, there are no significant concerns. Remember - at the end of the day, the safety of your private key is your responsibility.
With that being said, I think MyEtherWallet is one of the better Ethereum wallets available. If you'd like to use some even safer options, you really can't go wrong with a hardware wallet - if you're interested, check out Ledger and Trezor!
The content published on this website is not aimed to give any kind of financial, investment, trading, or any other form of advice. BitDegree.org does not endorse or suggest you to buy, sell or hold any kind of cryptocurrency. Before making financial investment decisions, do consult your financial advisor.
Leave your honest MyEtherWallet review
Leave your genuine opinion & help thousands of people to choose the best crypto wallet. All reviews, either positive or negative, are accepted as long as they're honest. We do not publish biased reviews or spam. So if you want to share your experience, opinion or give advice - the scene is yours!