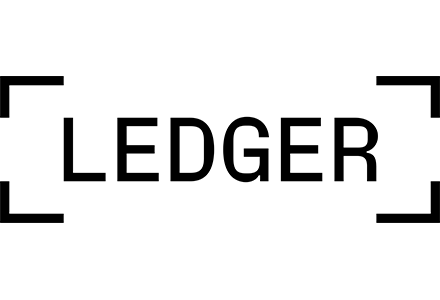 IMPORTANT UPDATE: Ledger has DISCONTINUED the Nano S model, and replaced it with the new-and-improved Ledger Nano S Plus. While the old wallet is no longer available to be purchased, you can read our Nano S Plus review here.
You've probably heard about all the different types of crypto wallets, however, such a variety of options makes it difficult to choose the most reliable one. Today, we'll take a look at Ledger Nano S and find out how secure it is.
Ledger Nano S is one of the most popular and recommended crypto wallets in the market. However, it's important to mention that you will actually need to buy the Ledger wallet in order to store your bitcoins.
In this review, I will introduce you to the Ledger wallet and explain how it works. I will also go through its advantages and disadvantages as well as a full review of its security features. Finally, I will show you how to set it up as well as receive and send coins.
Let's begin by finding out what the Ledger wallet is!
Pros
Super secure
Protection against physical damage
Supports more than 1500 coins and tokens
What is the Ledger Wallet?
The Ledger Nano S also referred to as the Ledger wallet, is a hardware cryptocurrency wallet that allows you to safely store your cryptocurrencies. Not only that, but it allows you to send and receive lots of different cryptocurrencies too.
The company behind Ledger are a French start-up who released their first wallet in 2014. Since then, they have become a market leader in the hardware wallet industry. In fact, the Ledger wallet is so successful that it has sold over 1 million devices!
So, What is a Ledger Hardware Wallet?
Before I explain how a hardware wallet works, it's a good idea to understand how a software wallet works.
The majority of people store their cryptocurrencies in a software wallet, which can be downloaded on to a desktop/laptop or mobile device. These have lots of advantages, such as being really convenient to send coins to another person, as well as being free.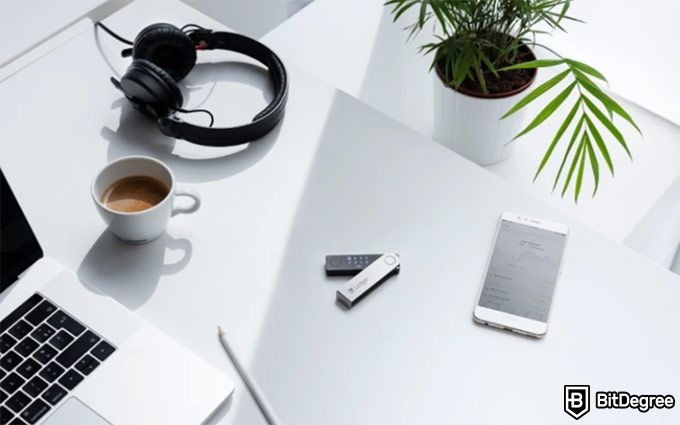 However, they are sometimes vulnerable to being hacked. This is because a hacker is able to install malware on the device and infect a user's computer with a key logger, which allows them to steal your wallet's private keys and the cryptocurrencies stored within them.
This is how hardware wallets like the Nano Ledger S are different. Instead of your private keys and cryptocurrencies being held on a software platform, they are held on a physical hardware device! This also means that your coins are always held offline, making it virtually impossible for anyone to access them remotely.
LEDGER NANO X
LEDGER

Main score based on expert evaluations & real user reviews.

Whether the crypto wallet is hardware, software, desktop or paper type.

Hardware
Hardware

For which purpose or for what kind of people is the cryptocurrency wallet best for.

Best for Safely Storing, Sending, and Receiving Different Cryptocurrencies
Best for Safely Storing, Sending, and Receiving Different Cryptocurrencies

Most popular hand-picked deals & coupons.

All Ledger Nano X Coupons
See All Coupons of Best Wallets

Final crypto wallet evaluation conclusion based on research, expert opinions & user feedback.

One of the best hardware cryptocurrency wallets ever made.
One of the safest hardware wallets on the market.
Visit site
Read review
Visit site
Read review
Table: Main information about the Ledger Nano X and the Nano S
If a hacker wanted to steal the cryptocurrencies that were held in your Ledger wallet, they would need to not only steal the device, but they would also need your secret pin. The security features are even greater than this, but I'll talk about that in more detail later on!
So, now that you know what the wallet does, let's find out what cryptocurrencies the Ledger Nano S supports!
Ledger Nano S Supported Coins
As you probably know, there are now more than 1,500 different cryptocurrencies available to buy and sell, with more and more being added every day. Unfortunately, there is no wallet in the world can that store all of them, and some wallets can only store one specific coin.
Fortunately, though, the Ledger wallet is a multi-currency wallet, which means that is able to store lots of different coins.
Ledger wallet can support 26 coins and more than 1500 tokens. This includes the obvious coins such as Bitcoin, Ethereum, Ripple, Litecoin and Bitcoin Cash, as well as less popular coins such as Ubiq, Hcash, and Stratis! You can also link your Ledger Nano S to wallets such as MEW and NEON, so you can store all Ethereum and NEO tokens on your Ledger too.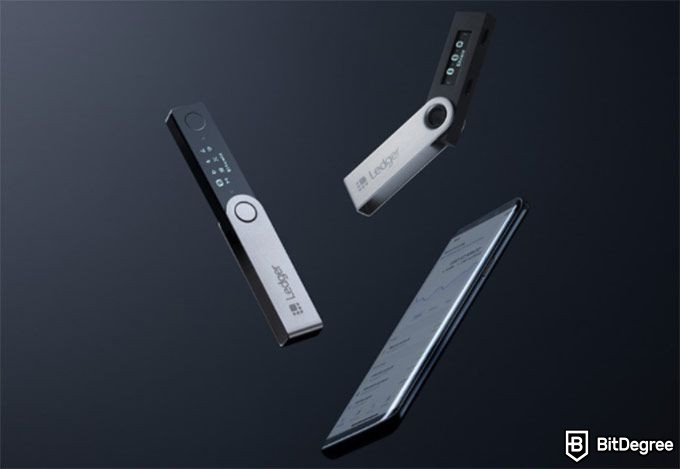 The team at Ledger Nano S are constantly working on adding to their list of supported cryptocurrencies, and IOTA is one of the next big coins expected to be included!
So, now that you know what the Ledger Nano S supported coins are, the next part of this guide will cover the advantages of the Ledger wallet.

Did you know?
Advantages of the Ledger Nano S
As you have probably figured out, the main advantage of buying the Ledger wallet is that it is the most secure way to store your coins! In fact, owning a hardware wallet is as close to store your cryptocurrencies in a real-world safe! But why?
Well, as I mentioned earlier, software wallets can be hacked if a device is infected with malware, virus or a key logger. What the hackers attempt to do is steal your private keys, which would then give them full access to your wallet.
With the Ledger Nano S, your private keys are stored within the actual device. Furthermore, as the wallet is always offline (unless when sending funds – more on this later), nobody can attempt to access them through an internet connection.
When you receive your device, you will be required to choose a pin number, which has to be a minimum of 4 digits. Only you should know this PIN number, and you will have to enter it manually on to the device every time you want to use it.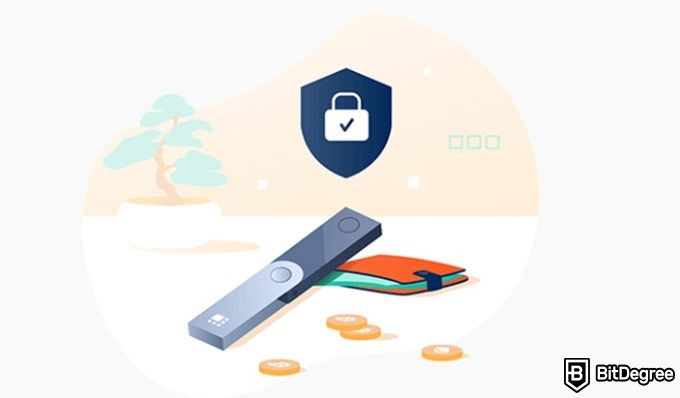 There is an extra layer of security too which protects you if you ever forget it. After confirming your pin number, you will then be given a 24-word recovery phrase. Again, this is shown on the Ledger screen, so nobody other than you will have access to it. In the case that you forget your pin, you can simply enter the recovery phrase on to the device, then create a new pin.
The developers also release regular firmware updates. So, to ensure your hardware device remains secure, you must perform regular updates.
Another security feature is the Ledger's protection against physical damage. The Ledger Nano S has been built using highly durable materials, including a cover that is made from stainless steel. This ensures that if you made the mistake of dropping it, it would be very difficult for the device to become damaged.
There is no such thing as a perfect product though, right? So, even Ledger's security is one of the best in the industry, there are some disadvantages to consider too. I will discuss them below.
Disadvantages of the Ledger Nano S
Firstly, unlike software wallets, the Nano Ledger S is not free. If you purchase the wallet directly from the Ledger wallet website, it will cost you €59. Although you might be able to get it cheaper from another retailer (such as Amazon), I wouldn't recommend you do so.
This is because you can't guarantee that the seller has not installed a virus within the hardware device, which could then give them access to your wallet. Always buy directly from the official manufacturer, which you can do here!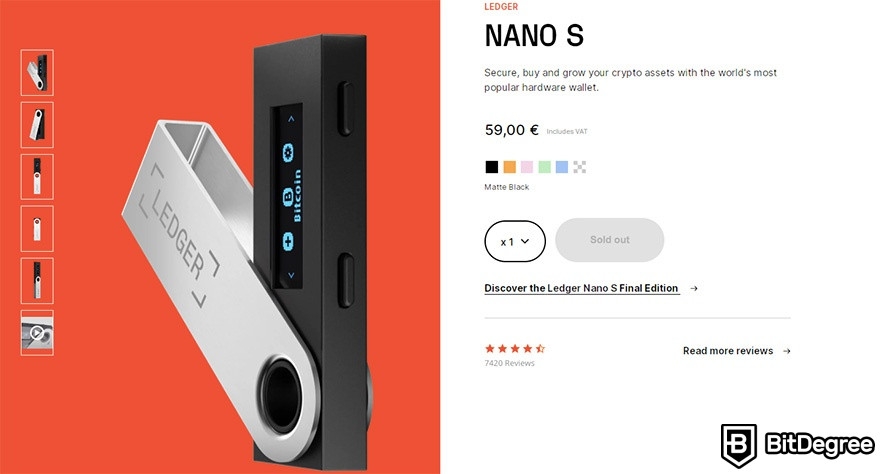 Another disadvantage is its inconvenience. When it comes to sending coins to somebody else, you will need to plug your Nano Ledger S into your desktop device. In doing so, you will then need to enter your pin number. This is much less convenient than using a software wallet, as it takes more time and effort to transfer funds.
You also need to consider that the Ledger wallet is less user-friendly than some of the software wallets available. It is really important that you read the instruction manual before you set it up.
So, now that you know the advantages and disadvantages of Ledger Nano S, I am now going to answer the question of whether it's really impossible to hack!
Is The Ledger Wallet Resistant to Hacking?
Let's find out what would happen if a hacker managed to physically steal your Ledger wallet.
Firstly, to gain access to your funds, the hacker would need your personal pin, which only you have. They would be given three attempts at entering the correct pin number, and if they enter the pin incorrect three times, the Ledger will go into a timed lockout. This is an excellent security feature as it gives you time to regain access to your Ledger wallet by entering your backup passphrase.
However, there is an interesting story that was released by a journalist at Wired.com in late 2017, who explained how he lost both his pin number, as well as his recovery phrase. The journalist had more than $30,000 worth of cryptocurrencies held within his Nano Ledger S and had no way of accessing the funds.
LEDGER
TREZOR

Overall level of security & safety of your assests offered by a certain crypto wallet.

Whether the crypto wallet requires two-factor authentication as an extra layer of security when completing an action.

Whether the crypto wallet requires multiple keys to authorize a transaction as an extra layer of security.

Whether the crypto wallet requires a Pin code as an extra layer of security when completing an action.

The general anonimity level of your data.

What kind of methods of recovering your cryptocurrency assets in case you lose your wallet or forget your primary password does the wallet offer.

24-word Recovery Phrase (via subscription)
24-word Backup Phrase

Who owns your private keys.

You
You

The level of control you have on the crypto wallet.

Visit site
Read review
See TOP10 Brands
Read review
Table: The security features of the Ledger Nano S and the Trezor One
The journalist managed to find a programming genius who found a vulnerability in the latest version of the Ledger wallet, which allowed him to override a recent security update. After following the instructions provided by the programmer, the Journalist was somehow able to regain access to his wallet.
Although the Ledger Nano S team claims that this security flaw has since been fixed, it does show that nothing is ever 100% secure. Even the most secure vaults in the world have been hacked before, so just remember that although a hardware wallet makes it almost impossible for someone to steal your funds, nothing is ever certain.
In reality, if you were in the same position as the journalist, there is no way that you will ever be able to recover your funds. Ledger Nano S never has any access to your private keys, so it is your responsibility to keep them safe.
What Comes In The Ledger Wallet Package
Wondering what's included when you make the Ledger wallet purchase? Well, here's a list of things you will find in the box:
Ledger Nano S
Instruction Card
Key Chain
Lanyard
Recovery Card
USB Cable
Although I mentioned it earlier, I just want to remind you to never buy the Ledger wallet from anywhere else other than the official website.
How to Set Up The Ledger Wallet
If you have read this Ledger wallet guide so far, you should now have a good idea of what the wallet does, how it is different from a software wallet, and its advantages and disadvantages. I have also explored the security of the wallet too.
So, if you have decided to buy one (or you already have one), I am now going to show you how to set it up!
1. First, you will need to insert the Ledger Nano S into your device's USB port.
2. You should now see "Configure as new device" on the screen of your Ledger wallet. By pressing the button on the right, you are selecting "Yes".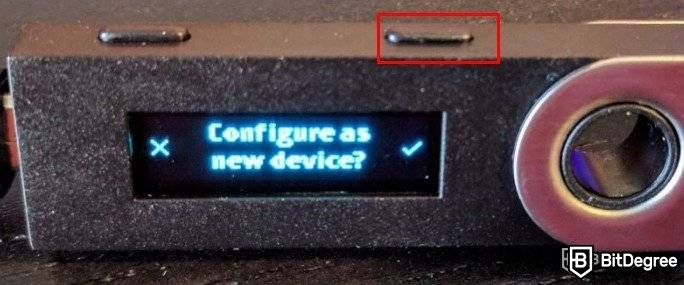 3. This will now install the required drivers on your device.
4. You will now be asked to choose a PIN number. To begin the process, press both the left and right buttons at the same time.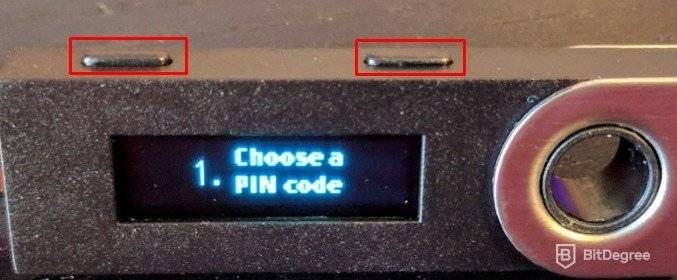 5. You can choose any PIN number combination, as long as it is between 4 and 8 digits. However, it can't be easy to guess combinations like "1,2,3,4" or "9,9,9,9". Also, you will need to enter this PIN number every time you want to use the Ledger wallet, so don't forget it!
6. Once you have entered the PIN number and are happy with it, you will be asked to enter it again. This is to make sure you haven't made a mistake.
7. As soon as you have confirmed your PIN number, the Ledger wallet will then tell you to write down your backup recovery phrase.


8. It is very important that you write down the 24-word recovery phrase and then keep it somewhere safe. This could be the last thing that stands between you losing your funds. Remember, if you forget your PIN number or you have your device stolen, your passphrase will give you access to your coins.
9. Each of the 24 words will be shown on the screen individually. Afterward, the device will then test you by asking you to re-enter some of the words.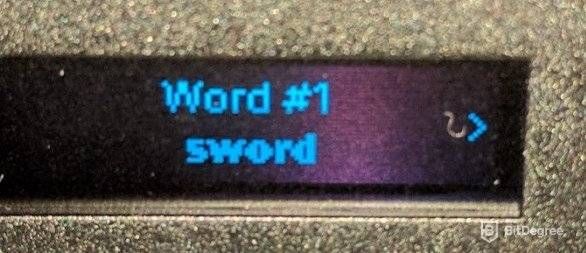 10. Once you have completed the password recovery set up, your Ledger wallet will now be ready to use!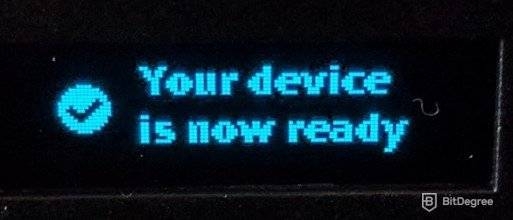 So, now that you have set up your Ledger Nano S, let's find out how you can send coins to it!
How to Receive Funds
Let me show you how to send funds using Ledger.
1. Before you get started, you will first need to download the Ledger Manager. You can do so here.
2. Click on Available in Chrome, followed by download. Then follow the installation instructions.
3. Once you have installed the Ledger Manager, you then need to download the wallet app.
4. Whichever option you went for, download the app on to your device and install it.
5. Once you launch the Bitcoin (or your cryptocurrency of choice) app that you just installed, you will be asked to insert your Ledger wallet into your machine and enter your PIN number.
6. You will then be asked whether you want a Legacy wallet or a Segwit wallet. The most user-friendly option is Segwit.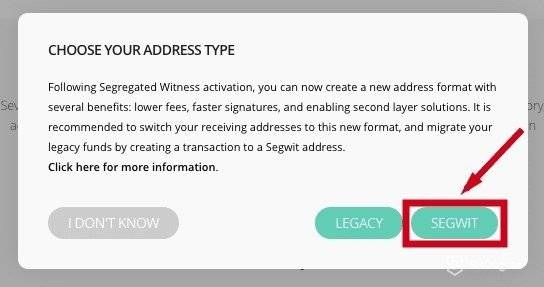 7. Next, click Receive, which you will find at the top of the application.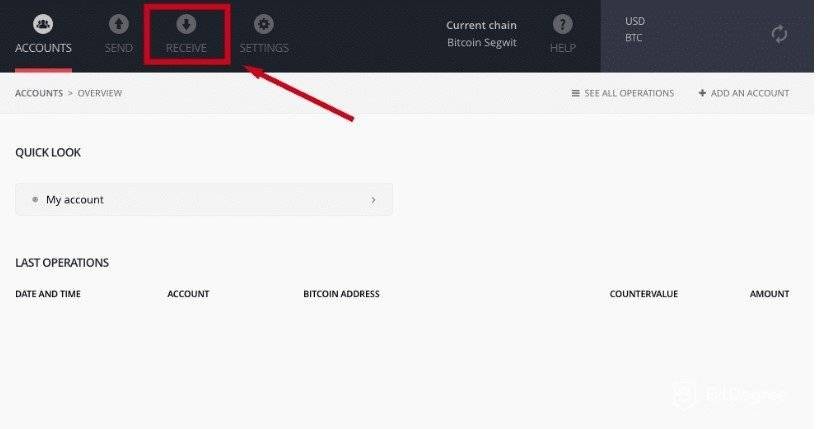 8. Now click Display Address on Device.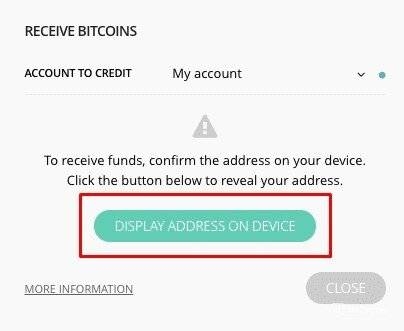 9. Your unique Bitcoin Ledger wallet address will now be displayed. You can simply copy it, head over to the wallet that is currently storing your coins and then transfer them across! Warning: Only send Bitcoin to this address.


That's it! Your Ledger wallet should receive the coins within a few minutes! Now, let's look at how to send coins from your Ledger to another wallet!
Latest Coinbase Coupon Found:
CLAIM YOUR $200 BONUS
Coinbase Cyber Monday
Cyber Monday Madness at Coinbase! Get your first crypto and earn up to $200 in rewards. Hurry up before this Coinbase Cyber Monday deal ends.
Expiration date : 01/12/2023
3,784 People Used
Only 16 Left
How to Send Funds
I am now going to show you how to send Bitcoin from your Ledger wallet. This process is the same for all coins, however, just make sure you have installed the correct app for the coin you want to send or receive, which you can find in the section above. I will continue to use Bitcoin for this example.
1. Go back to your Bitcoin wallet application. If you have disconnected your Ledger wallet, you will need to re-insert it and enter your PIN number again.
2. This time, click on Send at the top of the screen.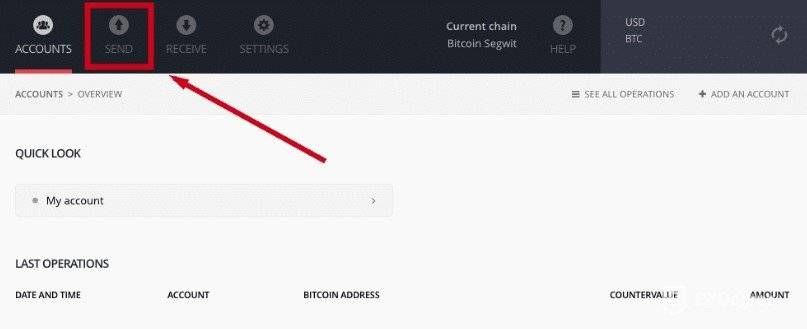 3. All you need to do now is enter the wallet address you want to send the funds to, as well as the amount. You also have the option of selecting the transaction fee. Bear in mind that the lower the transaction fee, the slower the transaction will take.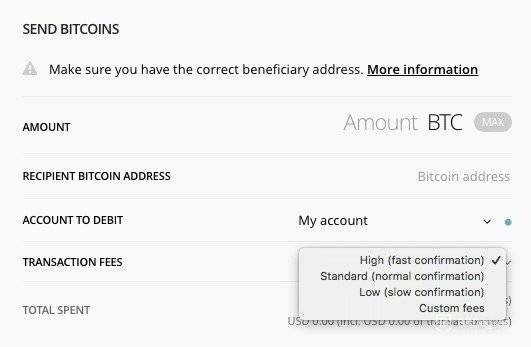 4. Finally, to complete your transaction click on the green Send button!
That's it! You now know how to send cryptocurrencies using the Ledger Nano S!
Here is The Best Ledger Nano X Offer I Found:
SAVE 10%
Ledger Cyber Monday
Ledger Cyber Monday sale is bringing you the best deals - follow the coupon link & get 10% off Ledger Nano X when buying the Family Pack X!
Expiration date : 03/12/2023
7,469 People Used
Only 21 Left
Conclusion
I hope you have found this Ledger wallet review enjoyable and educational. I have provided you with all the information that I believe is important before you decide to invest in one.
If you managed to read this guide from start to finish, you should now have a really good understanding of what the Ledger wallet does, as well as all of its advantages and disadvantages.
Overall, Ledger Nano S is one of the most reliable and secure crypto wallets. It has an extra layer of security, meaning that you will not only need to choose a pin code but also a 24-word recovery phrase. What is more, since it's made of durable materials, you shouldn't be worried about physical damage.
If you still have some concerns or questions regarding the Ledger wallet, please feel free to let ask!
The content published on this website is not aimed to give any kind of financial, investment, trading, or any other form of advice. BitDegree.org does not endorse or suggest you to buy, sell or hold any kind of cryptocurrency. Before making financial investment decisions, do consult your financial advisor.
About Article's Experts & Analysts