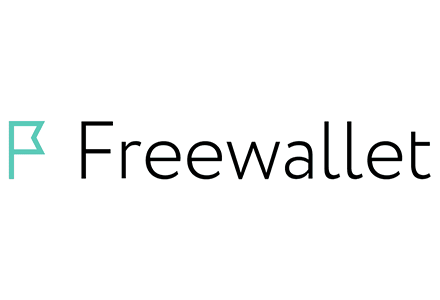 Finding a viable cryptocurrency wallet for yourself these days can be a bit of a hassle. Oftentimes, the choices are endless - picking the wrong one could mean the end of your crypto funds, and that's not something you'd probably want happening. Well, if you were to take a look at some of the user Freewallet reviews, you might find that this particular wallet could suit your wants and needs.
Admittedly, that's not really something that you can find out until you actually use the wallet yourself, right? Well, to an extent - while trying it out yourself might give you a better idea about the core features of the platform, you probably won't really know is Freewallet safe until something bad happens.
Unless, of course, you refer to some user Freewallet reviews for feedback - that's exactly what you'll find in the guide below! Do keep in mind, though, that if you're looking for a truly reliable crypto wallet, you should look into hardware devices, such as the Ledger Nano X and Trezor Model T.
TL;DR: Freewallet is surely one of the more interesting wallets on the market. It's a mobile app- and desktop-based wallet, although it could be used as online storage too. It has Changelly integrated into it for easy exchanges, and supports over 100 cryptocurrencies and tokens. Still, some users appear to be unsure about the wallet's security side of things.
Pros
Supports over 100 cryptocurrencies
Decent security measures (2FA, custom PIN codes)
Allows fiat-crypto trading
Intuitive, simple to use
Cons
Questionable customer support
A custodian wallet - security concerns
Freewallet Review: PROS
For those who have never heard about the brand before, let me say - you have chosen the right time to start investigating user Freewallet reviews. The reason for that is simple - some time ago, looking up "Freewallet" in the Play Store would bring up quite a few different results - one of the more negative aspects claimed in user reviews, too!
As of writing this Freewallet review, though, there's is only one version that pops up on the mobile screen - well, at least that's the case when I looked up the product in question. That said, visiting the Play Store on desktop, you'd still be able to see all of the different wallets from the brand in question.
You see, the brand itself - Freewallet - had created standalone wallets for some of the different coins that it supports. Meaning, you would have to download a separate app for every crypto coin in your possession - not ideal!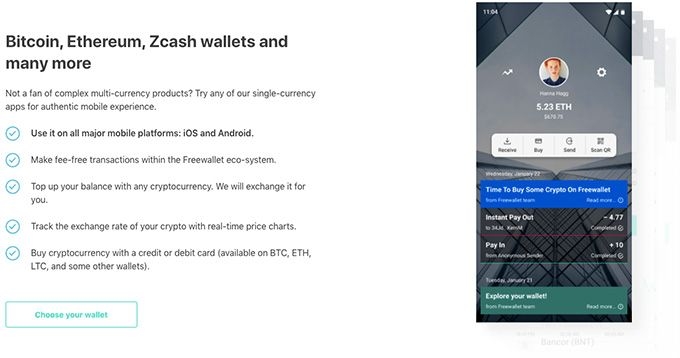 At a certain point in time, the Estonia-born company decided that this isn't really the optimal way of going about it, and created the actual, full-fledged and self-titled cryptocurrency storage place - the Freewallet.
One of the bigger ideas and goals behind the product was directed towards the mobile-based cryptocurrency wallet market - the company aimed to create a simple-to-use, interactive and viable mobile wallet. As of now, it's also available in an online version, too!
I'm getting ahead of myself, though - let's start things off fro the beginning, and take a look at the user Freewallet reviews that mention the actual coins that the wallet supports.
Supports Over 100 Different Cryptocurrencies
One of the biggest questions that potential users have when looking at some crypto wallets has to do with the number of cryptocurrencies that the wallets support. Reading through user Freewallet reviews, this is something that's quite obvious, too.
Now, if this is your first ever crypto wallet that you're looking to use, or if you're completely new to the topic of crypto, in general, you might be wondering - why on Earth would someone care about the number of coins a wallet supports? Don't you just have a single cryptocurrency and that's it?
BINANCE
FREEWALLET

Amount of cyprotcurrencies that are supported in a certain cryptocurrency wallet.

200+
See Full List
100
See Full List

Amount of tokens that are supported in a certain cryptocurrency wallet.

1500+
See Full List
1000+
See Full List

Whether or not the crypto wallet supports the Ethereum token.

Whether or not the cryptocurrency wallet is compatible with other wallets & which.

Trust Wallet
N/A

Whether or not the crypto wallet supports the original BTC addresses that start with "1".

Whether or not the crypto wallet supports newer BTC addresses that came to be due to a soft fork. These addresses start with "3".

Whether or not the crypto wallet supports these specific types of BTC SegWit addresses. These wallet addresses start with "bc1".

Visit site
Read review
See TOP10 Brands
Read review
Table: The supported coins of the Binance wallet and Freewallet
Well, no - oftentimes, that's not really the case.
You see, with time, the number of cryptocurrencies that are out there increases quite dramatically. Meaning, every single day, there might be a new crypto coin popping up around the corner. Naturally, each and every single one of these coins could mean new investment opportunities.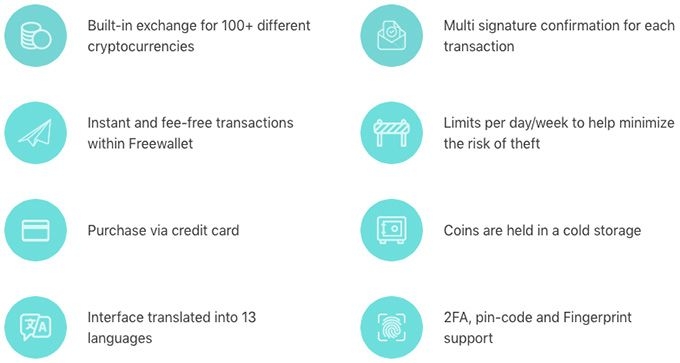 In many cases, they do - that's why, these days, people tend to hold significant amounts of different crypto coins at the same time. It would make sense that they'd want to keep all of them in a single wallet, too (albeit that's not always a good idea).
This is where the user Freewallet reviews come in. If you glanced over some older reviews, you'd notice that, some time ago, there were only a few coins that Freewallet supported, and you had to download a different version of the wallet app to store each of the coins in.
As you can imagine, that's quite a hassle.
Now, things are much more optimized - you can store up to 100 different cryptocurrencies and ERC-20 tokens within a single Freewallet app. That's quite the improvement!
As you can imagine, this is great news for multiple currencies HODLers - most of the positive Freewallet reviews will further prove this point, too.
Latest Deal Active Right Now:
$300 + 40 DOGE BONUS
Huobi Black Friday Limited-Time Period
Huobi Black Friday & Cyber Monday 2023 period offers great bonus for new users - sign up & earn up to $300 + 40 DOGE bonus!
Expiration date : 14/12/2023
3,817 People Used
Only 31 Left
Built-In Exchange Features (Changelly)
If there's one thing that we, as humans, value highly in regards to apps and computer programs, it has to be convenience.
Well, at least that's one way of putting it - in other words, people like it when they can perform multiple actions on a single application, without the need of going to some other place on the internet (or installing some additional software) to do so.
When it comes to Freewallet reviews and cryptocurrencies, in general, one of the biggest of such conveniences would have to be the ability to purchase crypto coins straight from within the wallet that you keep them in.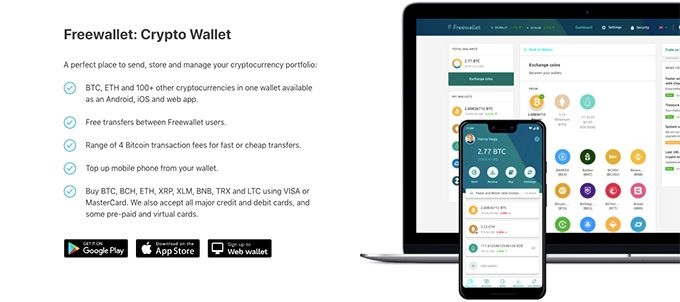 Surely, the Freewallet does have such functionality, as well.
You'll find that, within the Freewallet, there's an integrated exchange that allows you to purchase and trade cryptocurrencies at will. The exchange in question is Changelly - one of the more popular and trusted crypto exchanges in the industry!
While this is, admittedly, nothing all that new when it comes to crypto wallets (most of the higher-end wallets have integrated exchanges nowadays), it's still awesome to know that such a possibility exists with Freewallet. On top of that, the fact that the brand utilizes the services of a trustworthy exchange is even better!
Decent Security Features
As you might expect, security is the most crucial feature when it comes to a cryptocurrency wallet - whether you'd be reading Freewallet reviews or any others, you can be sure that the aspect of security is going to be crucial when it comes storing your crypto funds in a wallet.
For those who are wondering is Freewallet safe, do keep in mind that there are some aspects of this product that make it a bit of a risky choice - we'll get to that in due time, though. First, let's mention some measures that Freewallet has in place and that are there to guarantee the well-being of your coins.
Freewallet appears to keep all of your crypto coins in a cold storage location - that's good. The term "cold storage" basically refers to a place that isn't connected to the internet - on the flipside, online and software- / app-based wallets are called "hot wallets".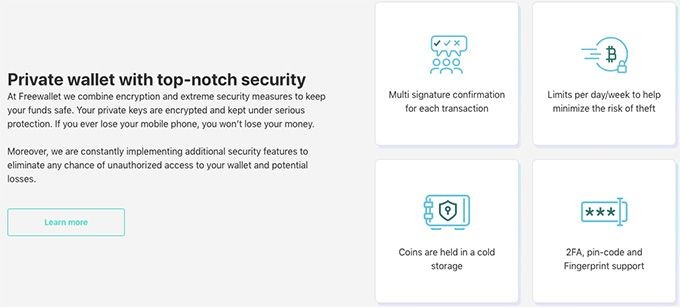 But wait… Freewallet is an app-based wallet, right? Doesn't that make it a 'hot storage' option?
Yes, it does.
So… How are the coins kept in cold storage, then?
Simple - while all of your currency is kept in cold storage locations, the Freewallet simply showcases the balance that you have within the app. In other words, user Freewallet reviews will tell you that, while your coins are kept safe, the app simply showcases the balance within the wallet.
Freewallet also utilizes two-factor authentication - this is great news. While it's something that should be considered "normal" when it comes to any sort of crypto storage location, unfortunately, it's still not the case - there are plenty of wallets out there that do no use 2FA.
Frankly, though, if you're wondering is Freewallet safe, you can rest assured - while the wallet has no known history of being "hacked", it also utilizes 2FA, which ensures its security even further.
Latest Ledger Nano X Coupon Found:
GET MORE, SAVE 10%
Ledger Holiday Sale
Holidays are all about sharing! Get top-tier security for you & your loved ones with this 10% Ledger Holiday discount on family packs.
Expiration date : 14/12/2023
3,947 People Used
Only 53 Left
Freewallet Review: CONS
Now that we've discussed some of the most prominent features (and benefits) of the Freewallet, and looked over some of the user Freewallet reviews, let's also discuss some of the less-positive aspects of the wallet in question.
A 'Hot Wallet', Custodial Wallet - Your Private Keys Don't Belong to You
The main concern voiced in most of the Freewallet reviews has to do with the security side of things. Namely, the fact that Freewallet is a custodial service provider.
In the realm of cryptocurrency, the term "custodial" is actually seen in a quite negative light. The reason for that is quite simple, too - if a wallet is "custodial", it simply means that all of the private keys found within do not belong to you - instead, they are kept by the company behind the wallet.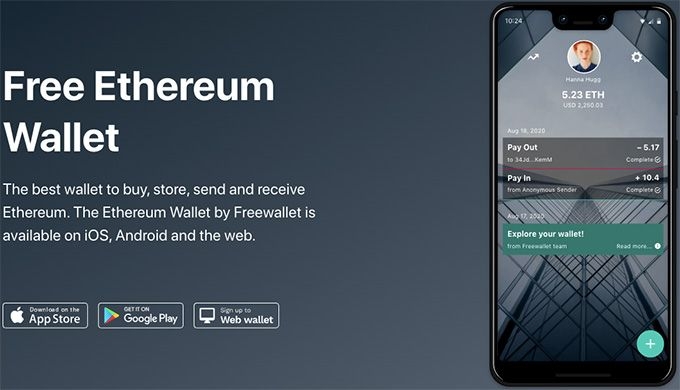 Let me put it this way - your crypto savings are at the mercy of the wallet providers, and you have to trust that they are going to act with integrity and honor.
Not very reassuring, right? Well, now you can see where the issue stems from.
It is true that, reading through user Freewallet reviews, you'll find that there aren't really any complaints in regards to "something actually happening" with someone's crypto assets. Still, any and all crypto enthusiasts will tell you that this is still something you should be wary about - custodial wallets should be examined through and through.
LEDGER NANO X
TREZOR MODEL T

Overall level of security & safety of your assests offered by a certain crypto wallet.

Whether the crypto wallet requires two-factor authentication as an extra layer of security when completing an action.

Whether the crypto wallet requires multiple keys to authorize a transaction as an extra layer of security.

Whether the crypto wallet requires a Pin code as an extra layer of security when completing an action.

The general anonimity level of your data.

What kind of methods of recovering your cryptocurrency assets in case you lose your wallet or forget your primary password does the wallet offer.

24-word Recovery Phrase or Nano S Plus
12-24 letter and number code

Who owns your private keys.

You
You

The level of control you have on the crypto wallet.

Visit site
Read review
See TOP10 Brands
Read review
Table: The security features of the Ledger Nano X and the Trezor Model T
If you'd like to choose a more-reliable option (in a general sense), you should take a look at wallet offers from Ledger and Trezor. Being hardware wallet brands, these companies are considered to be among the top crypto storage providers in the industry.
Questionable Customer Support
Now, this is actually a pretty interesting point when it comes to the more negative user Freewallet reviews.
Freewallet's customer support is active - there's no denying that. You'll see their agents replying to seemingly every single piece of criticism or even some of the more general comments on the internet. Being active, though, doesn't always mean that you're being useful.
You see, there are quite a few user complaints that talk about the customer support being rude, or even condescending, at times. Even in the public spaces online (i.e. Trustpilot), you may be able to encounter some user-customer support interactions that are… Well, less than pleasant.

Customer support, in general, is a pretty contentious topic when it comes to cryptocurrency wallets. There seem to be but a few wallets that actually do have all-around decent customer support - others either don't have it at all, or, well… Have lacking support capabilities.
Either way, it's worth stating that, when it comes to actual technical issues or specific questions that users might have when it comes to the wallet in question (i.e. is Freewallet safe, and what does it do to ensure the safety of your funds?), the customer support does, in fact, appear to be helpful.
Table: Company information of the Ledger Nano X and Freewallet
That's surely a good thing, mind you! No matter whether it be a positive or negative customer Freewallet review - if you run into a technical problem with your wallet, you should be able to receive the answers and help that you might need.

Did you know?
Price
Before we move on to the "how to" section of this Freewallet review, let's quickly talk about the pricing and Freewallet fees - as you'll soon see for yourself, it's not really a simple topic to unwrap.
As the name of the product might imply, the Freewallet is, in fact, free to download and use. You don't need to pay for keeping your crypto funds within the wallet - that's good!
The difficulties begin when you take a look at the fees that are charged upon making transactions from within the wallet.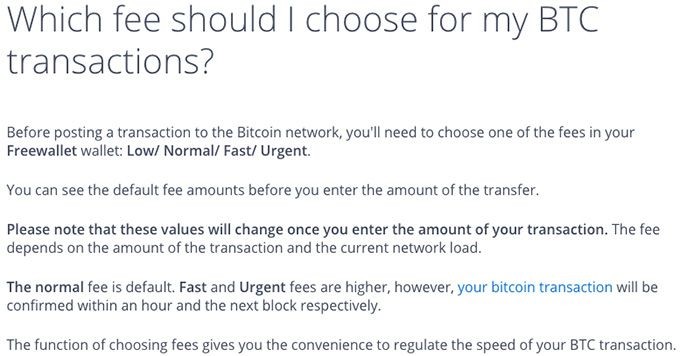 You see, as with any other wallet that has an exchange integrated into it, there are certain specific fees that apply when you make a transaction. These fees are not fixed, in the sense that they're going to be higher in accordance with the amount of cryptocurrency that it is you're spending.
According to some user Freewallet reviews, though, the issue here is that the company does actually charge some pretty high Freewallet fees for the transactions. The company itself states that their fee model is "competitive", and yet, this is still a point of debate among users.
How to Use the Freewallet?
We've covered the pros and cons of Freewallet, which means that you should have a pretty good idea about the intricacies surrounding the wallet, and the opinions that users hold in regards to its services and functionality.
Now, if you've read through the Freewallet review and decided that the wallet is worth giving a shot, you'd do well to figure out how to use it, before jumping head-first into the setup process.
How to Instal and Set Up the Freewallet?
For the sake of simplicity and clarity, I'll show you how to create the desktop version of the Freewallet. The same principles apply when creating a mobile-based wallet, too, so you should be able to follow along pretty easily!
Step 1: Visit Freewallet's official website, and navigate to create a new account.
Step 2: Enter your email address, and create a password. Do make sure that it's a fresh password that you haven't used anywhere else before!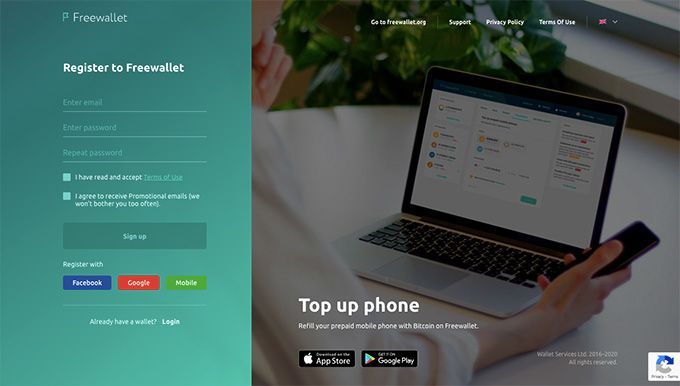 Step 3: You'll be given the chance to create a custom, 4-digit PIN code. This is an extra added layer of security.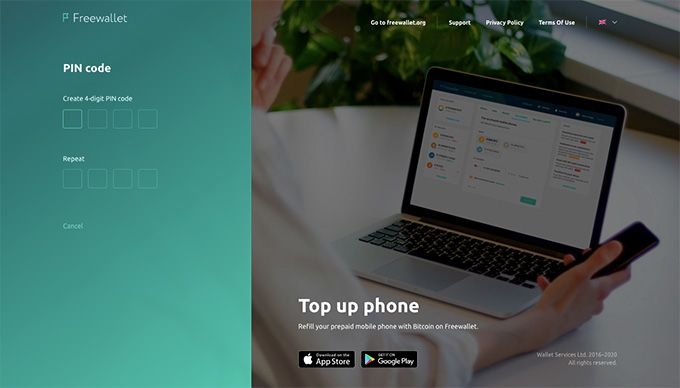 Step 4: That's it - you're on the homepage of Freewallet!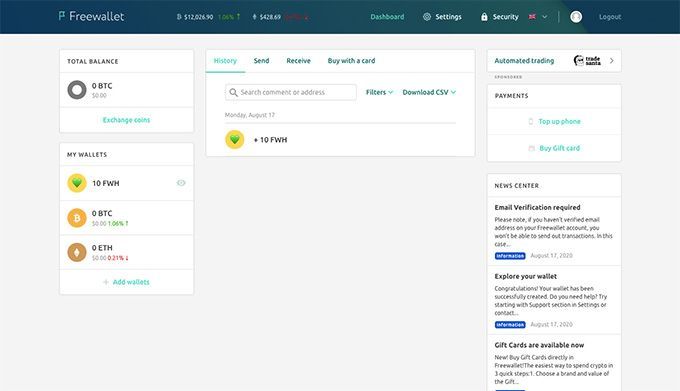 As you can see for yourself, the site creation process of Freewallet is very simple - all it takes is 4 small steps and you're set!
How to Transfer Crypto Coins to the Freewallet?
If you'd like to transfer your existing funds to the wallet in question, user Freewallet reviews will tell you that this process is quite self-explanatory, too. The steps to do so are, as follows:
Step 1: From the homepage of Freewallet, navigate to the "Receive" section.
Step 2: Choose the cryptocurrency that you'd like to receive. In my case, I'm picking Ethereum.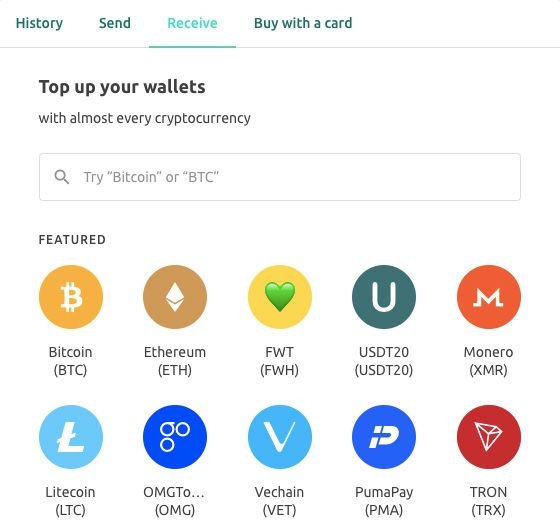 Step 3: Upon picking out a cryptocurrency that you'd like to receive, you'll be provided with a custom crypto wallet address, and be able to transfer your crypto funds to the wallet in question. You can also do so with a user ID, and can even transfer other Ethereum-related currencies (read: tokens), too!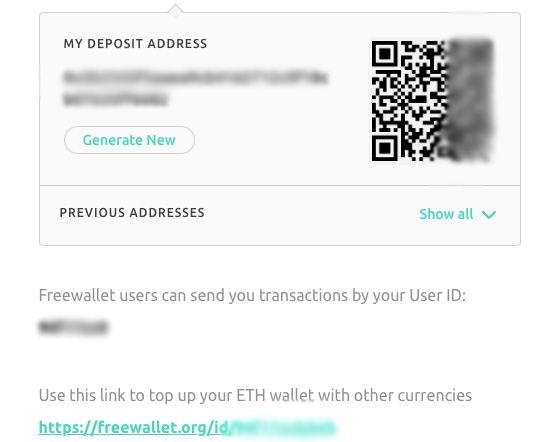 Yet again - simple and straightforward!
How to Buy Cryptocurrencies on the Freewallet?
Lastly, let's take a look at the cryptocurrency buying process on the Freewallet.
Step 1: From the front page of the wallet, navigate to the "Buy with Card" section.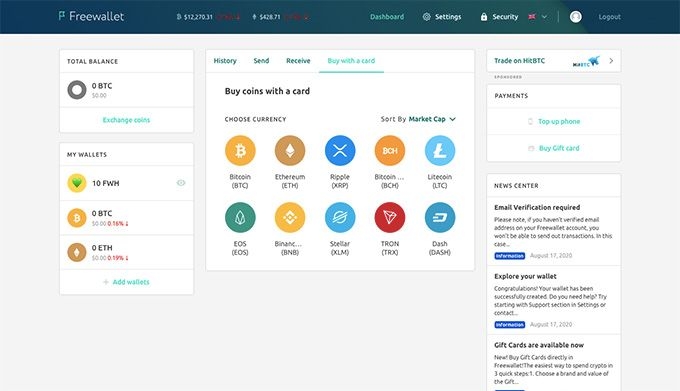 Step 2: Choose the crypto coin that you'd like to purchase. Yet again, I choose Ethereum for the sake of this example.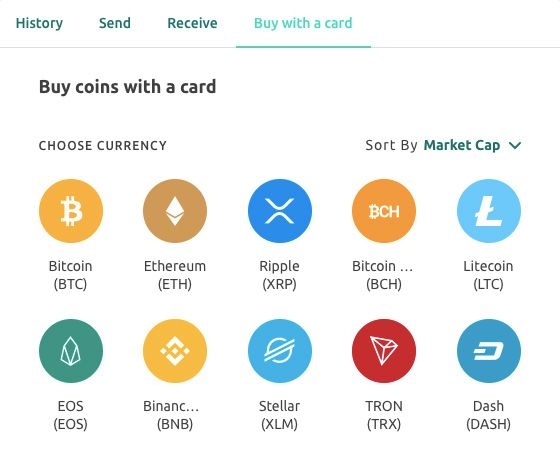 Step 3: Now, you can enter the amount of ETH or USD that you'd like to receive or spend, respectively. What's really convenient here is that you get the chance to see how much your transaction is going to cost, too!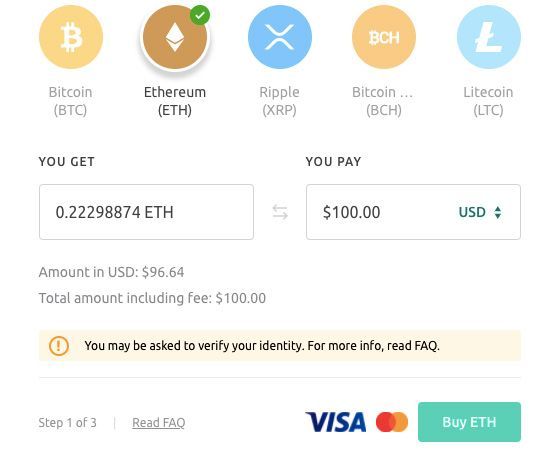 Step 4: Once that's done, you'll be redirected to a partner website to Freewallet - Simplex. Worry not, since it's a very trustworthy "middleman" between crypto exchange platforms and crypto receivers.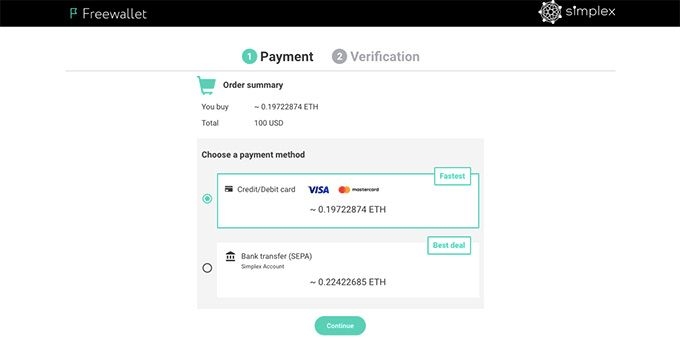 You'll probably have to verify your identity, but once that's done, your transaction will be complete. That's it - you now possess cryptocurrency!

Pros
Can be managed from mobile device
Very secure
Supports more than 5500 cryptocurrencies

Pros
Top-tier security
DeFi app support
Store over 5500 assets, install up to 100 apps simultaneously

Pros
Multiple cryptocurrency support
Very secure
SegWit and Bech32 address support
Conclusions
With all of that being said and out of the way, only one question remains - is Freewallet worth looking into, and trying out?
Well, while it's a tough call, I would say that yes - but there are better options out there.
You see, the product itself is great - simple to use, supports a whole bunch of currencies, and so on. Any user Freewallet review will be able to tell you the same (except, perhaps, for some above-average Freewallet fees).
Is Freewallet safe, though? Well, that's the question - while it employs some high-end security features, the fact that it's a custodial product might still throw some people off. For advanced security, you should be looking at wallet products from Ledger and Trezor.
The content published on this website is not aimed to give any kind of financial, investment, trading, or any other form of advice. BitDegree.org does not endorse or suggest you to buy, sell or hold any kind of cryptocurrency. Before making financial investment decisions, do consult your financial advisor.
About Article's Experts & Analysts