Ten to twenty years ago, when someone would use the term "wallet", you'd probably imagine a foldable, leather casing that houses money, ID cards, and similar stuff. But now the term has transcended its meaning into the digital world - the purpose of a "wallet" is still the same, yet now instead of paper money and coins, it houses digital currencies.
Today we'll try to find the best suitable housing conditions for one such currency - we'll try to find the best Dash wallet out there.
Seeing that there are a lot of different types of cryptocurrency storing wallets in the world, this might not be an easy task. Although, with a bit of luck (and by luck I mean hours and hours of technical and analytical analysis), I think that we might - at the very least - make a pretty accurate list.
For your comfort, I've compared the wallet in a pro and con type of analysis. I've covered their main features & drawbacks and presented the results. You simply need to read the guide and, based on what you've learned, pick your Dash coin wallet.
Dash Wallet Review: All About Dash
If you're reading this guide, chances are that you're probably quite familiar with Dash. To give you just a quick overview, Dash is a decentralized cryptocurrency that has forked from the Bitcoin branch (meaning that it's an 'altcoin'). Well, in case you want to get familiar with it better, go ahead and read this Dash cryptocurrency guide first.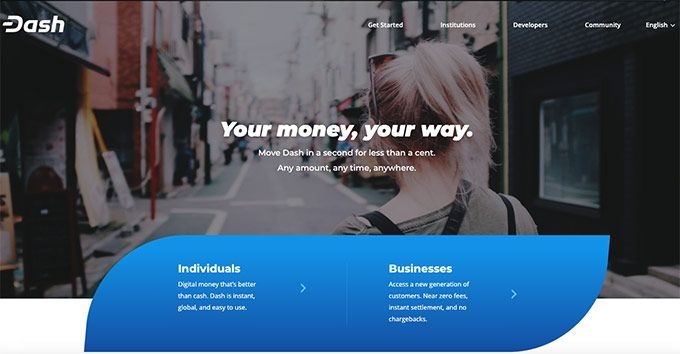 Fun fact: Did you know that Dash was originally launched as "Xcoin" back in January 2014?
As of the time of writing this, Dash currently holds the 15th place in the cryptocurrency market, with its cap being just under $975 million. The price is around $101 per unit. Judging by this information, I think we can safely say that Dash is a huge player in the cryptocurrency world, so finding a reputable and user-friendly Dash coin wallet should be a priority for anyone thinking about investing in this crypto.
Cryptocurrency Wallets
You probably have a pretty good idea of what a 'cryptocurrency wallet' actually is, but just to make sure we're both on the same page, I'd like to give you a quick rundown of all of the different types of wallets that there are.
In general, there are five different types of cryptocurrency-storing wallets: online, desktop, mobile, hardware and paper. Each of them serves the same purpose - to store the holder's digital (crypto) currency in a safe and encrypted, yet easily accessible by the holder manner.

A lot of people love paper wallets for their safety. They can be easily stored in the holder's pocket, yet a potential thief or scammer couldn't have access to them - the codes are safely printed (or written down) on a sheet of paper, always by the holder's side when they need them.
Other digital currency holding wallets also have their pros and cons, but it's not worth listing all of them here - after all, you came here to find out about the best Dash wallet.
Fun fact: Did you now that the word "Dash" is a mix of the words "digital" and "cash"?
Choosing a Dash Wallet
Now that we're both on the same page and have refreshed our information, we can jump right into the Dash wallet choosing guide. I'm going to tell you about some of the best Dash wallets for three of the main types of wallets mentioned before - desktop, hardware, and paper.
For transparency's sake, I'd like you to know that I've picked these digital currency storing wallets by how easy they are to use (UI), their backup and security features, private key control and a few other options.
The wallets below aren't listed in any particular order.
Desktop Dash Wallets
Let's Begin with the most user-friendly desktop wallets.
Jaxx
The Jaxx digital currency wallet is very well known in the crypto world. It is considered by many to be the best digital Dash coin wallet out there.
Jaxx offers its users a Portfolio module, up-to-par security, latest cryptocurrency news, and many more different features. You may use the online version of their wallet, but they also give you the option to download the wallet right to your desktop.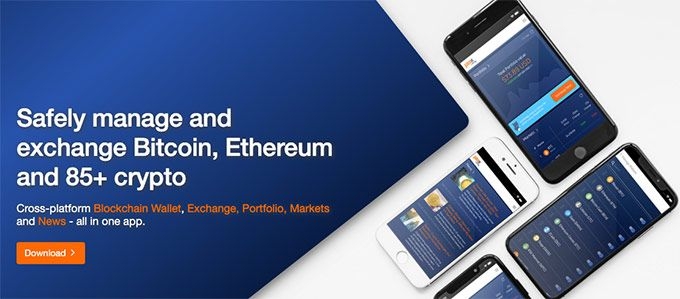 Jaxx is proud of the fact that they have millions of downloads worldwide, which sum up to a nice and proven track record. They also offer 24h global customer support, which is always cool to have when talking about crypto wallets.
Jaxx Pros:
One of the most well known and proven digital Dash wallets out there;
High level of privacy (i.e. scanned images are only stored in the device, not even saved online);
Supports more than 100 different currencies.
Jaxx Cons:
The Jaxx wallet has a vulnerable seed extraction;
They lack two-factor authentication.
Verdict: Despite its drawbacks, Jaxx is a great Dash wallet that supports many different features and has a proven reputation in the cryptocurrency world.
Exodus
Exodus is another well-known desktop Dash coin wallet. One of the main features that Exodus offers is its compatibility with a famous instant cryptocurrency exchange program called ShapeShift. Because of this, Exodus users can trade a large number of different cryptocurrencies without any notable time constraints.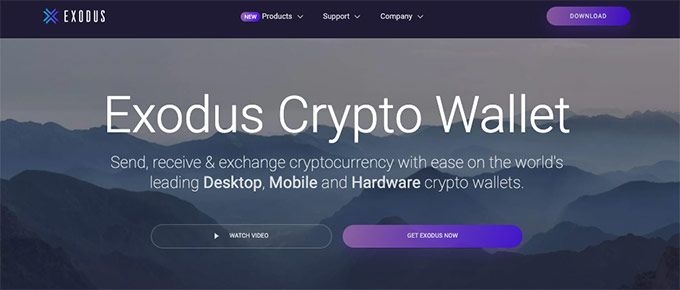 Another thing to keep in mind is that Exodus is a lite wallet. What this means is that you'll never have to download the entire blockchain into your computer - those of you with a slower internet connection will relate!
Exodus Pros:
Exodus offers a visually appealing, user-friendly interface;
It was specifically designed with cryptocurrency novices in mind, which makes it perfect for your first Dash wallet;
It offers a wide variety of cryptocurrencies to trade - there won't be any need to limit yourself!
Exodus Cons:
They are still a "fresh-out-of-the-oven" company, which means that many various doubts are floating around. This fact is further emphasized by them not being open-source;
Lack of a high level of protection;
Lack of two-factor authentication.
Verdict: Even though Exodus is still a somewhat new company, they are already quite well-known in the crypto trading community. If you're thinking about trusting your Dash with the Exodus Dash wallet, you should weigh out the pros and cons, respectively.
Dash Core Wallet
Yup, you've read it right. Dash has its wallet.
The "Dash Core Wallet", as the name implies, is a specifically designed Dash wallet. It allows a wide variety of features (masternode managing, PrivateSend, etc.) and is quite well optimized for desktop usage.

With the Dash coin wallet, you require no verification whilst accessing your funds other than a security key. You don't need any ID, photos or anything in between to access your Dash wallet funds.
Dash Core Wallet Pros:
It's *THE* Dash wallet;
It has a wide variety of accessible functions.
Dash Core Wallet Cons:
High requirements of space on your computer (the whole blockchain is downloaded).
EXODUS
JAXX

The main advantages of a certain cryptocurrency wallet.

Easy to use
Has customer support
Multiple cryptocurrency choices
A software-based wallet
Built-in exchange features

Supports 90+ different cryptocurrencies
Easy to use
Built-in exchange
Cross-platform pairing
Free to use

The main disadvantages of a certain cryptocurrency wallet.

Prone to security issues
The fees can reportedly be quite high

Score that represents the ratio of the quality & advantages you get for a certain price.

See TOP10 Brands
Read review
See TOP10 Brands
Read review
Table: The pros and cons of the Jaxx and Exodus wallets
Verdict: People have come to accept the Dash Core Wallet as THE Dash wallet, given its name and origins. If you have an above-average internet connection (or you're very patient and long downloading and syncing hours don't scare you), then Dash Core Wallet might be something you could try out.
Latest Ledger Nano X Coupon Found:
SAVE 10%
Ledger Cyber Monday
Ledger Cyber Monday sale is bringing you the best deals - follow the coupon link & get 10% off Ledger Nano X when buying the Family Pack X!
Expiration date : 06/12/2023
7,469 People Used
Only 21 Left
Hardware Dash Wallets
It's time to move to hardware Dash wallets. They're definitely the best choice if you want ultimate security.
Ledger Nano S
The Ledger Nano S is probably one of the most popular hardware digital currency wallets out there. This, in turn, means that - theoretically - it should be one of the best Dash wallets.
The Ledger Nano S secures your Dash with a private key AND a PIN code. Naturally, it supports all of the major cryptocurrencies out there - Dash is just one of them.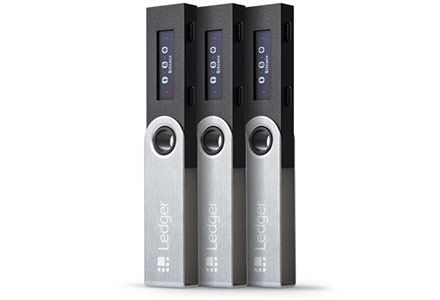 The best thing about the Ledger Nano S is that it has a backup. If anything goes not according to plan, you can rest assured that your Dash (or any other cryptocurrency) is safe and sound!
Ledger Nano S Pros:
Supports many different cryptocurrencies;
Durable and sturdy, not a nuisance to have around;
It has a backup for when things take an unexpected turn.
Ledger Nano S Cons:
Quite pricey. At the time of writing, the standard price for a Nano S is $99.99;
No mobile support.
Verdict: The Ledger Nano S is a great hardware tool and Dash wallet if you're not intimidated by the price tag and lack of certain device support. However, as of late, the Nano S has been discontinued, and replaced by the new-and-improved Nano S Plus.
Trezor
Trezor was the OG of hardware crypto wallets - it was the first digital currency hardware wallet ever created! Judging by that one fact alone, it has still to this day remained a very popular choice within the cryptocurrency community.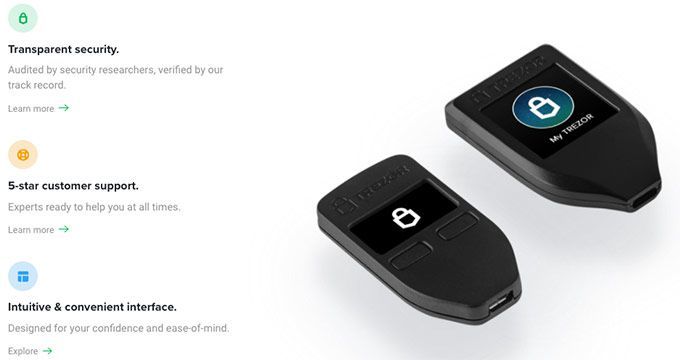 Trezor supports many different cryptocurrencies, Dash being one of them. It is small, compatible and easy to use, which equates to a great Dash wallet. The downside, however, is the same as with the Ledger Nano S - as of the time of writing this, Trezor costs $99.99.
Trezor Pros:
Small and compatible, easy to use;
Holds different cryptocurrencies.
Trezor Cons:
Costly;
Some features are currently missing (although there are plans to add them in the future).
Verdict: If the price tag doesn't sway you away, Trezor might be a great Dash wallet.
KeepKey
KeepKey probably isn't that well known, especially when you compare it to the Ledger or Trezor.
It is also quite costly - it's average price racks up to $99. This hardware digital currency wallet currently supports seven different cryptocurrencies - Dash, of course, being one of them. The only major difference from its competitors is that KeepKey is much bigger and has a significantly larger screen, which might be convenient for some users.
KeepKey Pros:
When compared to other devices, has a large screen;
It has nice security features.
KeepKey Cons:
Is a bit bulky when compared to other hardware digital currency devices;
Quite costly.
Verdict: When placed together with other hardware crypto storing devices, the KeepKey fails in comparison quite a bit. But if you fancy yourself a bigger screen and a bulkier device, then KeepKey is the way to go!
Paper Dash Wallets
Paper wallets are quite different from other types of cryptocurrency wallets. The main difference is that paper wallets are offline - a user would simply print the private and public keys on a sheet of paper and then carry it around.
LEDGER
TREZOR

Main score based on expert evaluations & real user reviews.

Whether the crypto wallet is hardware, software, desktop or paper type.

Hardware
Hardware

For which purpose or for what kind of people is the cryptocurrency wallet best for.

Best for Safely Storing, Sending, and Receiving Different Cryptocurrencies
Best for Storing, Sending and Receiving a Wide Range of Cryptocurrencies

Most popular hand-picked deals & coupons.

See All Coupons of Best Wallets
See All Coupons of Best Wallets

Final crypto wallet evaluation conclusion based on research, expert opinions & user feedback.

One of the safest hardware wallets on the market.
A leading hardware cryptocurrency wallet.
Visit site
Read review
See TOP10 Brands
Read review
Table: The main features of the Ledger Nano S and the Trezor One
People tend to regard paper wallets highly because of their added level of security. Your codes are not present on the World Wide Web. This means that any potential hacker, scammer or another type of a person with some sort of an ill intent won't be able to access your information - unless they're going to pull it out of your pocket!
Paper Dash Wallets' Pros:
Probably offer the highest amount of security;
Easy to carry around, super portable;
Very cost-efficient.
Paper Dash Wallets' Cons:
Not durable (not resistant to water, fire, etc.);
If someone finds out you're carrying it, you might become subject to pickpocketing.
Verdict: If you don't want to spend a lot of money on hardware digital currency storages, yet you don't trust online crypto wallets, the paper Dash wallet might be the best choice for you!

Did you know?
Conclusion
There are so many different types of Dash wallets available, that it's perfectly understandable if it's difficult to make your mind up on just a single one. When it comes to making a decision, online tutorials, guides, and reviews usually offer great advice.
Most commonly, the average person prefers the desktop or mobile versions of these wallets, for both their accessibility and availability.
People who might have security trust issues (or simply want to have their wallets always by their side in a designated device) might choose the hardware devices or the paper wallets. It's a case-by-case scenario - every person is different, however, I always recommended choosing hardware wallets, such as Ledger Nano S Plus and Trezor.
Whatever your choice might be, you should always consider security as the top priority of your Dash wallet preference. That should also be the case with any other crypto holding wallet! When you know that your funds are safe and sound, things like the visual appeal of a user interface, slow download speed or the aesthetic value of the device become secondary.
I hope you found this Dash wallet tutorial helpful, and I wish you the best of luck picking the right wallet for you!