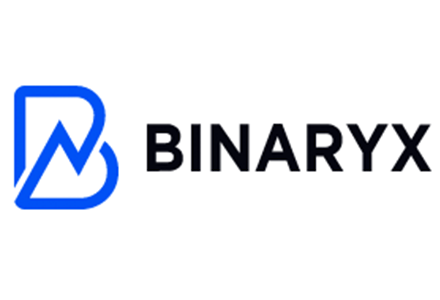 When you're looking to start trading crypto, you will quickly learn that there are multiple different ways of going about it. Specifically, the variety of choice in regards to different exchanges that are available to be used can be staggering. In this Binaryx review, we'll cover one of the newer exchanges that have hit the crypto space.
Evidently, Binaryx isn't necessarily "new", per se. The platform has been developed and launched in the middle of 2020, although its development began a year earlier. Owned by an Estonian-based company, Binaryx aims to become one of the bigger cryptocurrency trading hubs in the crypto world, offering its users a wide selection of different features.
Is Binaryx safe, however, and is it worth using, in the first place? That's exactly what we'll try to uncover in the Binaryx review ahead!
Pros
Simple to use
Top-tier security features
Mandatory KYC and AML compliance
Extensive feature list
Good customer support
Decent trading fees
Cons
Lack of crypto asset variety
No anonymous trading
Binaryx Review: PROS
To start things off on a positive note, let's first take a good look at the main benefits and features that are associated with the Binaryx exchange. To begin with, there's probably one big question that needs to be answered in this Binaryx review, as quickly as possible - is the exchange safe to use?
Industry-Standard Security Features
I probably don't even need to tell you this, but security is the one feature that you should be paying the most attention to, whenever you're trying to pick the best cryptocurrency exchange for yourself.
It makes perfect sense, too. No matter how flashy the feature list can get, the safety of your assets should be the top priority. If there are questionable decisions made on the exchange's side of things, in regards to its security features, you may end up risking losing all of your assets - not something anyone would want.
Thankfully, though, reading through user Binaryx reviews, it would seem that it's also not something that should happen with Binaryx, either. The exchange is said to employ all of the industry-standard security features in order to protect its users, and their funds.
First things first - the basics. Binaryx uses things such as two-factor authentication (will use, rather - this feature will come shortly) and IP whitelisting in order to ensure that unauthorized third parties aren't able to access your account. You may also choose to whitelist certain withdrawal addresses, too. This will act as a final safeguard - if your account DOES get compromised, at least the hackers won't be able to withdraw your funds to an address that hasn't been confirmed.
Following that, probably one of the best answers to the question "is Binaryx safe?" is the fact that the company stores their crypto assets in cold storage devices, while keeping fiat money in different banking institutions around the world. While it may be deemed as "industry-standard practice", this is actually a huge deal.
Cold wallets are devices that allow you to store cryptocurrencies offline. Meaning, there is no way that a hacker or potential thief could access your stored assets over the internet - the only way to, well… Steal them would be by stealing the actual physical device itself.

If you keep it safe and hidden away from prying eyes, chances are that your cryptos are safe and sound. This is exactly the case in this Binaryx review, too - yet again, the company utilizes cold storage devices.
On a final note, if you're still not sure is Binaryx safe, keep this in mind - the company is constantly being audited, both in regards to the cybersecurity aspect of its operations, as well as the employees working within. Binaryx takes security seriously - this is surely one of the biggest benefits, as far as this Binaryx review is concerned!
Latest Coinbase Coupon Found:
CLAIM YOUR $200 BONUS
Coinbase Cyber Monday
Cyber Monday Madness at Coinbase! Get your first crypto and earn up to $200 in rewards. Hurry up before this Coinbase Cyber Monday deal ends.
Expiration date : 08/12/2023
3,784 People Used
Only 16 Left
Supports Fiat-Crypto Purchases (Ease of Use)
As time goes on, cryptocurrency exchanges are starting to offer their users more and more advanced features and benefits. A few years ago, it wouldn't have been surprising to come across exchange platforms that do not support fiat-crypto purchases. Nowadays, though, the situation is quite different.
This Binaryx review is a perfect example of that.
On the exchange platform in question, you are able to trade cryptocurrencies for one another, and also purchase your desired cryptos for fiat money, as well. If you've never heard the term before, fiat money refers to the money that we use everyday - USD, EUR, GBP, and so on.
Is this a huge, groundbreaking deal? These days, no, it isn't. However, it translates to a different benefit, altogether - ease of use.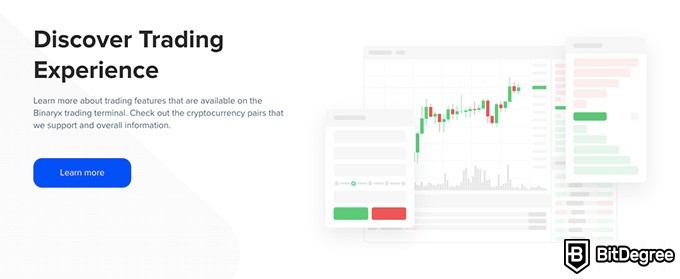 The fact that you are actually able to purchase cryptocurrencies with a credit or debit card (or bank transfer) on Binaryx adds to the simplicity aspect of the platform. User Binaryx reviews will tell you that the exchange isn't at all difficult to use, in general - it offers an easy-to-navigate-through interface, and all features are accessible and intuitive, even if you've never used a cryptocurrency exchange before.
On top of that, the ease of crypto acquisition means that you won't need to purchase or trade the coins (or tokens) somewhere else, then transfer them to Binaryx, and only then be able to trade them in the exchange in question. A convoluted process, indeed - also, not one that you'd need to worry about with Binaryx!
All things considered, the fact that the exchange in question is simple to use & beginner-friendly, and also offers fiat trading options is awesome. It guarantees convenience, as well as a reliable gateway to the world of crypto trading, for any beginner traders out there.
A Regulated Cryptocurrency Exchange (KYC)
While this is a point that can definitely be mentioned in the "security" section of this Binaryx review, it surely deserves a separate chapter, in of its own.
In the crypto world, there are few things that are as divisive as the topic of "KYC". The acronym stands for "Know Your Customer", and references a set of rules and regulations imposed by financial institutions on their platform users and customers.
Most modern-day cryptocurrency exchanges apply KYC verification checks to the individuals that want to use the services that the aforementioned exchanges provide. Here, Binaryx isn't an exception.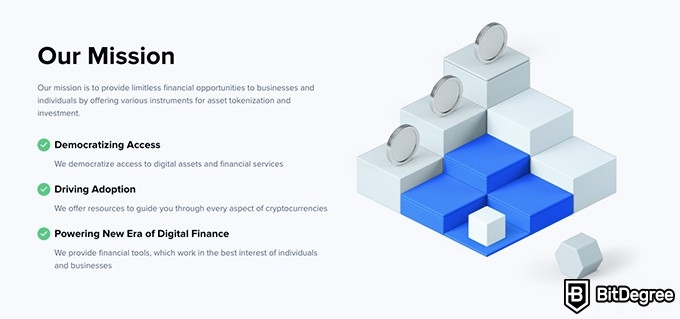 Why is the topic divisive, in the first place? It's pretty simple, really - there are people who believe that crypto needs to be regulated, and that exchange users need to be identified in order for cryptocurrencies to become truly mainstream. And then there are others who believe that this negates the core values of crypto - decentralization and anonymity.
While this is surely a never ending discussion, one thing's for sure - KYC surely does bring in security and reliability to the table.
Binaryx applies KYC checks to all of the users of the platform, if they would want to perform some sorts of transactions on it. This means that the exchange in question cooperates with all of the regulations imposed on it by relevant financial institution overseers - that's good.
On top of that, you can be sure that this definitely adds to the security side of things, too. If all of the users of the platform are identified before performing transactions, there's a lot less room for foul play - good!
Decent Trading Fees
Fees are yet another hot topic for anyone who's choosing and looking for the best cryptocurrency exchange for their own, personal needs. Binaryx fees are no exception in this regard, either.
Thankfully, though, I'm happy to state that, as far as this crypto exchange platform is concerned, the fees that you can expect to face are rather decent, by comparison.
Binaryx fees are fixed, at least as far as trading goes. This means that, no matter what type of crypto coins or tokens you may find yourself trading, you will always pay a set specific fee. Namely, 0,7% from each trade.

While there are exchanges out there that offer better fee models, there are plenty of platforms that have much higher fees, as well. In this regard, Binaryx sits somewhere around the middle, towards the lower end of the spectrum.
Deposit and withdrawal fees can vary, though. It all depends on the currencies that you want to deposit or withdraw, and a few other factors. However, as a general point, deposit fees shouldn't go above 5%, while withdrawal fees shouldn't breach the 2,5% mark.
All in all, the fee structure offered by the exchange in question is definitely worth considering! This is especially true when you take into account all of the aforementioned security features, and the reliability factor of Binaryx. Sure, you might opt to go for an exchange with even smaller commissions, but Binaryx fees also act as a trade-off for the reliability that the platform comes equipped with.
Want to Learn? Resources are Available!
Are you just getting into crypto? Perhaps you've never even traded a single cryptocurrency, and are searching for the best exchange platform to take the first step?
If that's the case, multiple user Binaryx reviews will tell you that this exchange platform might be the perfect place to do so. And no, I'm not talking about the Binaryx fees or the customer support services offered by the platform. Instead, I'm referencing the Binaryx Academy.

There are quite a few different crypto exchanges that don't only focus on providing their users with the best possible trading experiences, but do also put an emphasis on teaching about all-things-crypto. Binaryx is one of such exchanges - the Binaryx Academy is a large knowledge base that houses various informational material regarding cryptocurrencies, trading, exchange functionality, and much, much more.
You can learn in the form of lessons, and expand your knowledge in the field in a manner that's convenient for you. The awesome thing with this is that you can do it on the same platform on which you perform all of your trading needs, as well!
No matter how you'd look at it, the Binaryx Academy is a useful and noteworthy feature of the exchange. Surely a benefit that's worth checking out!
Multiple Features (Exchange, Academy, Wallet, etc.)
You've probably come here in search of a Binaryx review that would tell you about all of the pros and cons of using the Binaryx exchange. Well, one of the more-notable benefits of the platform is that it's NOT ONLY an exchange - instead, as you might have gathered already from the previous chapters, it offers a much wider range of services to its users.
Sure, you could just go ahead and view Binaryx as a standalone crypto exchange - that's up to you. However, there's currently also an academy full of various learning materials aimed to teach you about the topics of crypto and trading, as a whole.
Furthermore, the company even has a dedicated wallet service to offer to its clients, as well! Once you sign up to Binaryx, you are able to use the wallet as a place where you'd store your crypto assets, and also trade them, too.

If you still haven't got a wallet, and a hardware device simply isn't on your priority list at this point in time, this could be a wonderful alternative.
To add to all of that, Binaryx is hard at work at offering its users additional services, in the future. For example, at a certain point in time, you will be able to invest with Binaryx, as well - there's a dedicated investment section currently in the making!
With cryptocurrency exchanges around the world constantly expanding their business models, it can be difficult to keep up. Reading through various user Binaryx reviews, it's nice to know that the exchange in question aims to keep up with the industry standards!
Multiple Support Channels (WhatsApp, Viber, Email)
Customer support is a rather underrated topic, when discussing the best crypto exchanges in the industry.
There are multiple reasons for why that's the case, too. Most individuals don't really think about the importance of proper support until they run into some sort of an issue with their trading experience.
On the other hand, it's actually worth emphasizing that many exchanges don't really have customer support available, in general - and they probably never will. This is because a huge portion of exchange platforms that are currently active on the market are decentralized - meaning, they have no one governing institution.

Not the best news if you *do* actually run into an issue. At the same time, though, user Binaryx reviews will tell you that this isn't going to be an issue with the exchange in question.
Binaryx offers its customers a few different support options. Naturally, you have a huge information base, where you can go and search up any and all questions that you might have - chances are that, if your questions are of the more-generic kind, you'll find an answer there.
If, however, you notice that the knowledge hub is lackluster, you may contact Binaryx's support directly. This can be done via a few different channels.

Specifically, you can visit the Telegram group of the exchange, and ask your questions there. You may also use Viber or WhatsApp to call Binaryx support, or simply write a good, old-fashioned email to them. Response times will vary on a few different factors.
All in all, with multiple different methods of contacting support, and an extensive database full of information regarding the exchange in question, you shouldn't come across any unsolvable issues, whatsoever!
Latest Binance Coupon Found:
REDEEM $600 PRIZE
Binance Cyber Monday
Attention new Binance users: this Cyber Monday, you can score up to $600 in rewards by completing special tasks. Activate this amazing Binance Cyber Monday deal using the code – 49316610!
Expiration date : 05/12/2023
6,127 People Used
Only 16 Left
Binaryx Review: CONS
Now that we've covered all of the main benefits that you can expect to receive whilst using the Binaryx cryptocurrency exchange, there are still a couple of less-than-positive aspects to cover, before you can get a full picture of what to expect.
Evidently, most user Binaryx reviews found online are more than positive towards the exchange. Among the more-noticeable complaints, though, you'll find remarks regarding the supported coin list.
Small Number of Supported Assets
Yes, assets - meaning, this includes both coins, and also tokens, too.
As of writing this Binaryx review, there are well over 10,000 different cryptocurrencies and crypto tokens out there, on the market. That's a hefty number of assets to choose from!
If you're looking to trade anything else but the major ones, though, you're going to be a bit out of luck, Binaryx-wise. The exchange in question doesn't really support all that many cryptocurrencies.
Specifically, Binaryx allows its users to trade the following crypto assets:
A decent list of cryptos! All of the major coins and tokens are available on Binaryx, which is, naturally, a good thing. If you're not looking for anything else, then there's really no issue.
That being said, if you're an active trader who's interested in catching all of the latest trends and trying to capitalize on them, then you might be out of luck. You're not really going to find any of the rarer coins on Binaryx.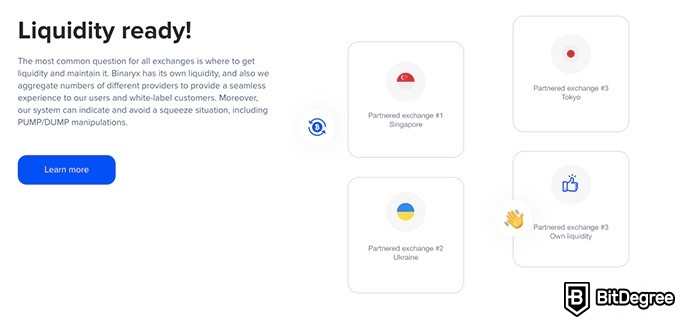 One thing that's worth mentioning in this Binaryx review is that the exchange is constantly adding in new cryptos, and new trading pairs, too. While you probably shouldn't expect to find new projects on the platform, that's still good news, nonetheless!
Not Ideal for Anyone Who's Looking for a Decentralized Exchange
While this is probably the most subjective point of them all, it's definitely notable, due to the divisive nature of the topic.
As discussed earlier on in the Binaryx review, if you plan to use the exchange for all of your crypto trading purposes, you are going to need to pass KYC verification checks. Meaning, you'll have to provide the company with your information, and confirm your identity with a valid ID card or passport.
For most, this might not be an issue. If you're a hardened fan of anonymity, however, it's obviously not ideal.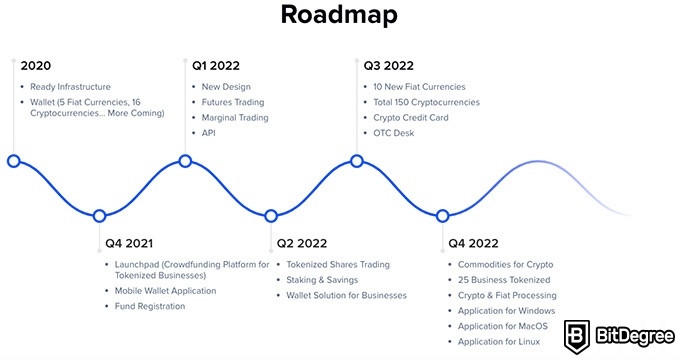 Figuring out is Binaryx safe, you'll learn that it isn't a decentralized exchange, nor an anonymity-driven one, at that. While the founder company of the platform is doxed, they do require identifying information from their customers, as well.
As we've established at the beginning of this Binaryx review, though, you do kind of trade the anonymity factor for increased security and reliability. If you're still adamant about keeping all of your crypto dealing completely anonymous, though, Binaryx won't really suit you - instead, you should turn to some decentralized and anonymity-focused exchange platforms.

Did you know?
How to Use Binaryx?
We've analyzed and discussed some of the most important features and benefits of Binaryx, as well as the biggest "issues'' that the exchange might have, from the perspective of the user. By now, you should have a pretty good idea of what to expect!
If you've read the Binaryx review up to this point, and have decided that you do actually want to try the platform out - that's awesome! Let's take a look at how to actually use it, though, so that you could have an easier time onboarding, and going straight to the trading activities that might be relevant to you.
How to Register on Binaryx?
First things first - the registration process.
Step 1: Go to the Binaryx official website.
Step 2: On the homepage, at the top-right corner of the screen, press the "Sign Up" button.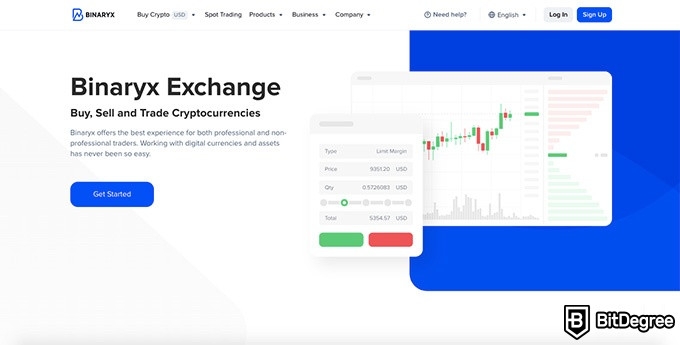 Step 3: You'll be prompted to create an account. The easiest way to do so is with an email address.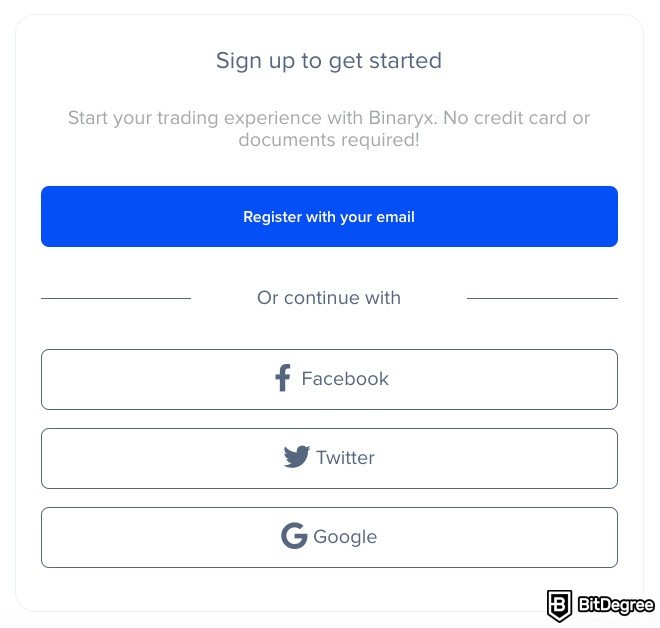 Step 4: Now, you need to enter your email address, check your country of residence, and create a password. You will also need to confirm that you agree to the terms and conditions of using the exchange.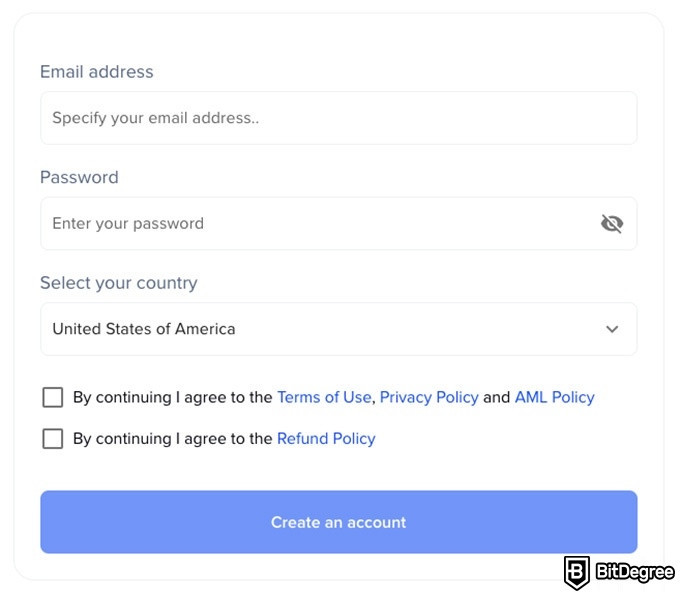 Step 5: Next up, you'll need to confirm your email address. Visit your inbox - you should have received an email with the code that you need to enter on Binaryx.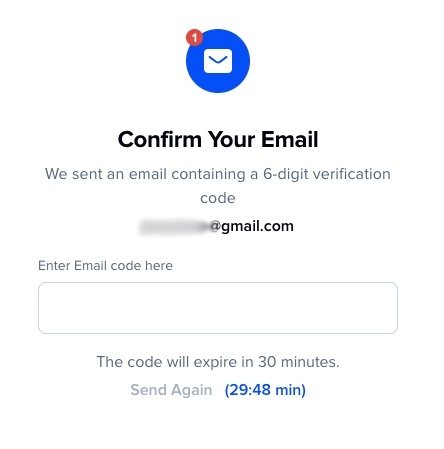 Step 6: Once you enter the code on the page, you will be redirected to your dashboard, and will be able to start exploring Binaryx!

Registering on the exchange is super-quick, and also very self-explanatory. You can find yourself on the main dashboard of your account in just a couple of minutes.
Once you do finally register, though, you'll probably want to start trading cryptos, or at least funding your account.
How to Trade Cryptocurrencies on Binaryx?
As you might have gathered from this Binaryx review, trading cryptos on the exchange requires you to pass KYC checks, first.
Step 1: From your dashboard, navigate to the top-left corner of the page, and hover over the "Buy Crypto" button.
Step 2: Here, you will be able to choose the fiat payment method that you'd like to use to purchase the desired cryptocurrencies, or buy a specific crypto. Let's go with the credit card method for now.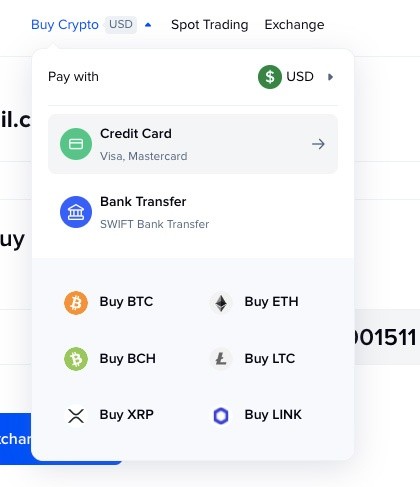 Step 3: Now, before you perform any sort of transaction, you will need to pass the KYC and AML checks. This is done in three steps - you add a billing address, submit a copy of your ID card or passport, and then take a selfie to prove that you are the same person that can be observed in the relevant document.

The entire procedure should take you but a couple of minutes to pass, if you have your document and webcam ready.
Step 4: Once your KYC verification is recorded and confirmed, and your account becomes a "verified partner", you are now able to purchase, sell, and trade cryptocurrencies on Binaryx. Simply continue with the process where you left off, add your card information, and choose the amount of money that you'd like to add to your account!
Alternatively, if you've chosen to purchase one of the specific cryptocurrencies, you'll simply need to check the amounts in order to verify how much of that crypto you'd like to receive. No matter how you'd look at it, though, multiple user Binaryx reviews will tell you that the process is very straightforward!

Pros
A very well-known crypto exchange platform
More than 500 different cryptos available
Two-factor authentication
Main Features
Over than 100 different cryptocurrencies available
Strong security
Small withdrawal fees

Pros
Secure and reliable
Low fees
A good amount of fiat currencies accepted
Main Features
Reputable exchange
Multiple fiat currencies are accepted
Relatively low trading fees

Pros
Anonymous trading
Secure
Supports a variety of cryptocurrencies
Main Features
Easy to use
Low fees
Good security
Conclusions
So, then - what's the conclusion here, and is Binaryx safe and worth using, in the first place?
Well, I'd have to agree with the majority of user Binaryx reviews found online - the exchange platform is definitely worth checking out!
Binaryx is a very well-rounded exchange - that's for sure. It offers users some advanced security features, and the fact that it keeps the majority of all crypto assets in cold storage devices is a huge green flag, if you will.
Binaryx fees are also rather decent, too. With a set trading fee of 0,7%, the exchange lies somewhere in the middle, as far as the best trading rates in the industry are concerned.
Great support, a variety of features (wallet, Binaryx Academy, investing, white label, API, etc.), simple and quick registration, and a smooth user interface are just a few features that are worth mentioning in regards to the exchange platform in question.
The only notable concerns that users have regarding Binaryx are the KYC processes that you have to pass in order to start trading on the exchange (there's nothing wrong with it, but this makes the platform unsuitable for anonymity-seeking individuals), and also the fact that there aren't really all that many crypto assets available to be traded.
All things considered, though, Binaryx is definitely worth checking out!
The content published on this website is not aimed to give any kind of financial, investment, trading, or any other form of advice. BitDegree.org does not endorse or suggest you to buy, sell or hold any kind of cryptocurrency. Before making financial investment decisions, do consult your financial advisor.
About Article's Experts & Analysts