NFT gaming is a huge industry already, and one that's growing more and more rapidly, every single day. Currently, it's one of the most exciting and imagination-provoking use cases for non-fungible token technology - combine that with play-to-earn mechanics, and you have yourself a really attractive industry! Today, we'll take a look at some of the best NFT games for you to check out this year!
I've compiled a list of top Play-to-Earn NFT games that are either currently available to be played, or that have release dates set in the near future. This way, if you're early, you might even be able to be one of the first people to access these games! It also adds some variety of choice, as well.
A point that I'd like to stress, before moving forward, is the fact that most of these games will require you to own or acquire some of their native tokens. If you find a game that suits your fancy, be sure to check out Binance or Coinbase - these exchanges often house some of the more popular game tokens on the market!
Our list of the best NFT games will look a little something like this:
How to Find the Best NFT Game for Yourself?
Before we get into the actual list of the best P2E NFT games, there's but a single question that needs to be contemplated - what should you look for when picking out an NFT game for yourself?
At first, the answer might appear to be very simple - if you're looking for a medieval battle simulator, chances are that you're not going to settle for a Sims-style RPG. This, however, is just the first step - there's a lot more involved in choosing the best NFT game to check out!
First of all, you need to ask yourself - are you looking for specific gameplay elements, or are you more interested in the P2E part of the experience? This is actually the core question to start off your search with, too - that's because Play-to-Earn NFT games offer individuals the unique opportunity to make some actual monetary gains, simply by playing the game!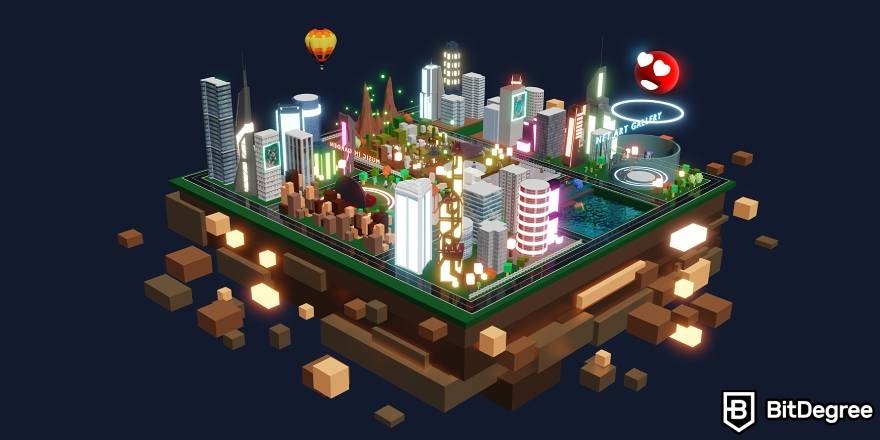 Each game will have its own rules and guidelines revolving around this topic, but if there's one thing that's certain, it's that the P2E mechanic will certainly attract people who aren't necessarily looking for awesome and awe-inspiring gameplay, but rather, a game that would make them the best APYs. Thus, this is a very important point to consider, moving forward in this best NFT game list!
Another factor to keep in mind is the community behind the game, and its active player base. These criteria are super-important simply due to the fact that they are what keep the game alive and running! Think of it this way - if you were to come across an awesome-looking NFT game, only to find out that there's basically no one playing it, chances are that you wouldn't really be eager to play yourself, either!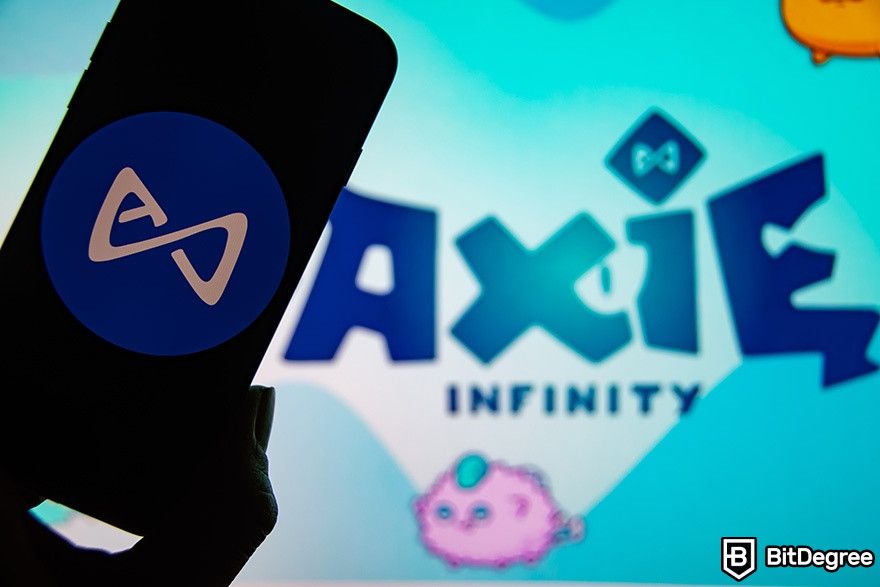 In addition to these huge factors, there are also smaller details to consider, as well. Is the game optimized and running well, or is it full of bugs? Is development active, or are the developers and the team behind the project MIA? What about the entire crypto part of the game - does everything look solid and proper, or are there any shady things that players should be aware of?
All in all, while it's true that the actual style of the game that you're looking for is an important factor, if you really want to find the best NFT games of the year, you'll need to focus on all of these aforementioned features, and a selection of other, smaller ones.
Ranks #1 out of 8 Crypto Games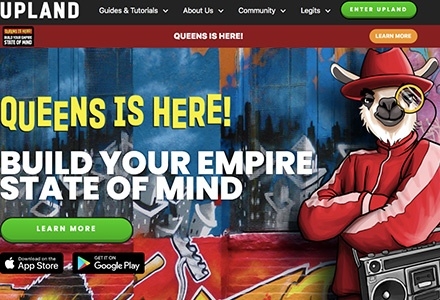 Things we liked:
+ Supported on multiple devices
+ P2E mechanics
+ Exclusive NFTs - available
+ Based on real-world properties
+ An active and passionate community
+ A native token (UPX)
Things we didn't like:
- UPX isn't a crypto token
- Steep learning curve
If you've spent some time researching the different best NFT games on the market, there's a pretty good chance that you've come across the name "Upland". Indeed - as far as NFT games go, this is probably one of the most famous and well-known titles, often dubbed as the "metaverse super app"!
All it takes is a single look online, and you'll quickly notice a huge range of different informational material surrounding this game - user reviews, tutorials, and even a dedicated "learn" platform aimed at teaching players the best approaches towards starting to play this game. All of this showcases two things - first of all, the game is very popular, and has a thriving community behind it. Secondly, if you'd like to try out Upland for yourself, chances are that you'll have a pretty easy time getting into it!
That's kind of the first interesting feature in regards to this game, though - the fact that Upland houses a variety of different mechanics and playstyles, and without the large number of guides, it wouldn't be so simple to get into.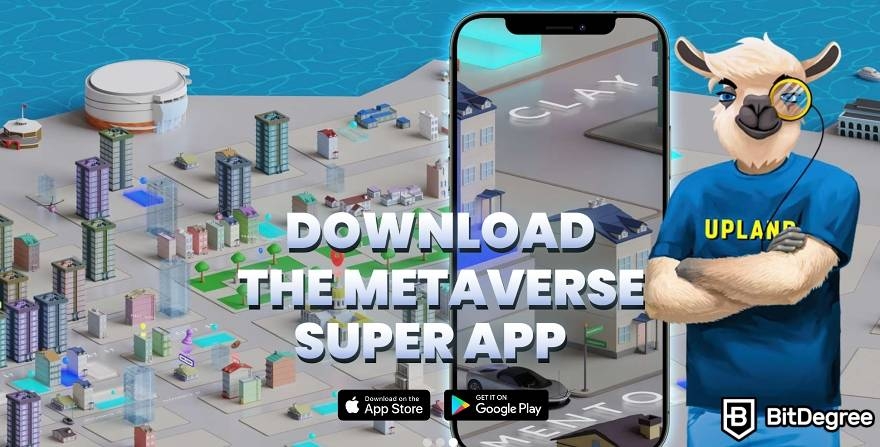 The whole game is centered around the idea of digital real estate. Specifically, you have the actual, real-world map (rather, a gamified version of it) of some famous city, such as New York. These cities house (no pun intended) the same buildings as in the real world, too - everything from residential areas, all the way to famous landmarks.
As a player, you are able to purchase said buildings - this is the beginning of your gaming experience with Upland. After you've acquired some digital real estate, you can then choose to do with it as you please - rent it out, sell it, participate in various missions, and so on. The goal - at least, gameplay-wise - is to accumulate and own as much real estate as possible.
Most of the best NFT games out there are going to have some sort of a native token associated with them - Upland is no exception. However, with this particular game, the situation is a bit unorthodox - its token (called UPX) isn't actually a crypto token, by definition. Instead, think of it as an in-game token that you can purchase with fiat money.
If that's the case, where is the NFT element in Upland, you may wonder? Well, while the game does house some unique mechanics in this regard, essentially, the real estate units are the actual non-fungible tokens.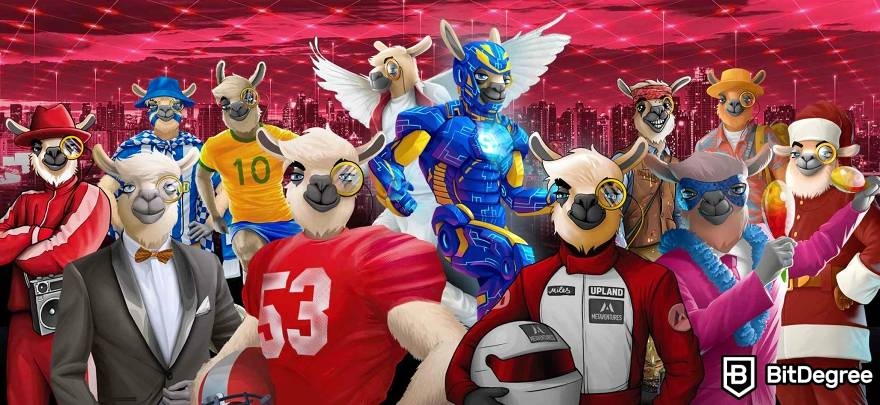 You see, Upland is built on the EOS blockchain - something that not many of the best NFT games can exclaim. This particular network does support NFTs, as well (naturally) - that being said, it's not necessarily the most popular option, as far as non-fungible tokens are concerned.
Upland knows this - back in 2021, they launched the so-called "NFT Portal". This portal essentially acts as a bridge between Upland's EOS-native tokens and other, more popular networks, such as Ethereum. So, holders of Upland NFTs are now able to trade, buy, and sell the game-specific tokens on popular marketplaces, such as OpenSea and Rarible.
All things considered, one thing's for sure - Upland is certainly one of the more intricate and interesting games on the current market! While it does come with a rather steep learning curve, this should not dissuade anyone who's interested in the game from trying it out - you will quickly learn that there are countless different tutorials and other information sources online, all just a search away.
This includes topics of setting the game up and acquiring your first real estate objects, as well as those that have to do with the passive income aspect of things, too.
Lastly, if you feel like you've found the best NFT game for yourself, and want to try Upland out, make sure to check out our dedicated review of the project!
Ranks #2 out of 8 Crypto Games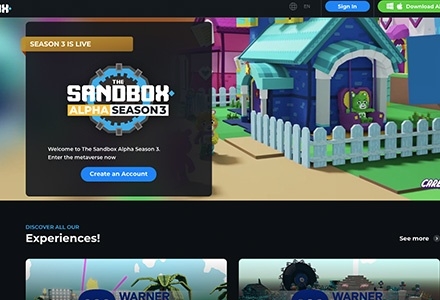 Things we liked:
+ One of the best-known NFT games
+ Create your own digital assets and games
+ Minecraft-like Voxel graphics
+ A huge community behind the project
Things we didn't like:
The Sandbox is probably one of the most well-known NFT projects, in general. While it's not exactly one of the "Play-to-Earn NFT games", per se, The Sandbox can still be classified as this type of a game, and thus, it surely deserves a spot on our list of the best NFT games.
So, what's the deal with this particular platform, then?
If you want to understand The Sandbox, and how it works, you can think of it as being very similar to Minecraft. This is true both in regards to its Voxel visuals, as well as the gameplay elements that the project utilizes, too.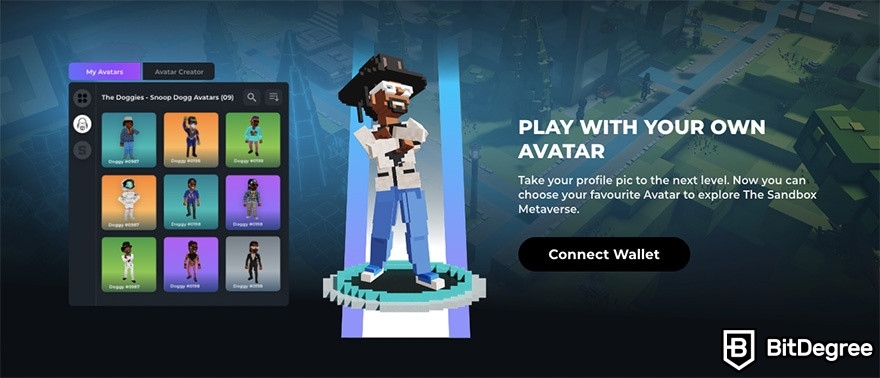 The core difference between this game and other projects mentioned on this list is that, with The Sandbox, you are able to create almost anything you can imagine, and then sell it to other players (or, naturally, keep it for yourself). This includes everything from one-off digital assets, all the way to actual games created with this particular platform. It sounds complex, but it really isn't all that difficult to get into!
Being one of the best metaverse games, The Sandbox has different tools that make the asset and game creation processes *that* much simpler and beginner-friendly. You can even import your actual Minecraft creations, as well - how cool is that?!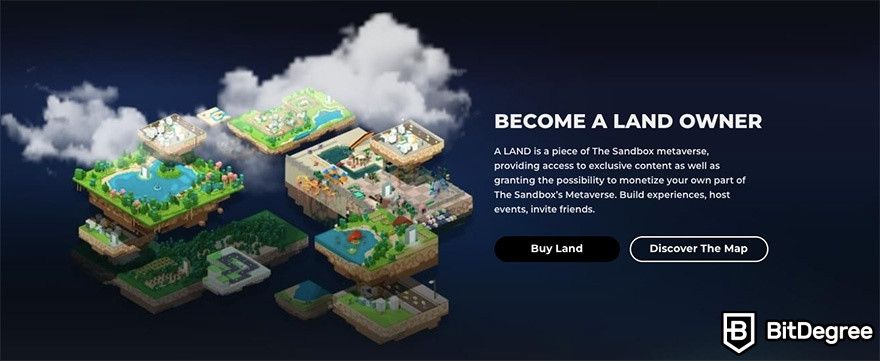 The only notable downsides associated with the Sandbox is the fact that the project is still currently in its Alpha stage (so there are a lot of changes happening, and the final finished product is yet to be released), and that the seemingly-steep learning curve often sways potential users away.
The latter, however, really is a non-issue, especially when you get to try out The Sandbox for yourself. If you're someone who's looking for the top Play-to-Earn NFT games, and are passionate about creating and building digital items and worlds yourself, this particular game should definitely be on your radar!
If you'd like to try out The Sandbox for yourself, you will need to acquire SAND tokens, at some point. The easiest way to do so is to navigate to Binance, and purchase SAND for USD.
Ranks #3 out of 8 Crypto Games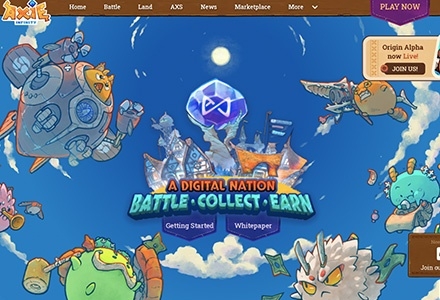 Things we liked:
+ Probably the best-known P2E NFT game
+ A huge variety of assets to explore and encounter
+ Some Axies could be worth a lot of crypto
+ An interactive, community-driven project
Things we didn't like:
- No passive earning option
- Must own at least 3 Axies in order to start playing
You could argue that Axie Infinity is probably the best-known NFT game, not only on this list, but in a very general sense, too. And, you might definitely be right - Axie Infinity is often credited for putting crypto NFT games on the map! Whenever this project exploded in popularity, many people started looking into P2E games, in general.
This is another important point, too - Axie Infinity was one of the very first major NFT games to employ Play-to-Earn mechanics. No matter how you look at it, one thing's for sure - for a time, Axie Infinity was *the* game to play!
With credentials like that, it's probably no wonder why this particular project deserves a spot on our list of the best NFT games. This isn't just an honorary mention, though!

Online, you'll find plenty of people asking and wondering - is Axie Infinity still worth playing? With the game experiencing such strong hype and support initially, many people fear that it has burned out, and that there's no one really playing it, these days. Well, I'm happy to say that this isn't the case!
Axie Infinity is still a very popular game, and is often named one of the best NFT games to earn money. You breed and grow different Axie creatures, adventure and battle with them, level-up their stats, and so on. If your goal is to make a passive income while playing the game, your focus will likely lie on the breeding part, since you can sell your new Axies on the game's marketplace.

Do keep in mind, though, that Axie Infinity is actually one of those rare NFT games that don't really allow you to earn a PASSIVE income. Instead, you will need to actually play the game, in order to utilize its full P2E mechanics and benefits. If you're interested and want to get started, make sure to get yourself some AXS tokens, and check out the game for yourself!
All of that being said, if you're looking for a staple NFT game, then Axie Infinity should definitely be considered among the best P2E NFT games, to this day!

Did you know?
Ranks #4 out of 8 Crypto Games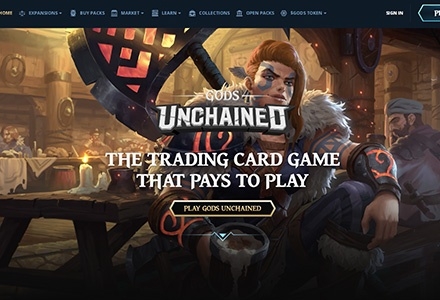 Things we liked:
+ NFT card game
+ Magic: The Gathering Arena-inspired
+ Heavily skill-based gameplay
+ Completely free to start playing
Things we didn't like:
- Takes some time to learn the rules
Gods Unchained is a bit of a unique project, as far as this list of the best NFT games is concerned. That's essentially due to the fact that it's a dedicated card game.
The developers of Gods Unchained are a company called Immutable X. While that might not really say much to your average NFT gaming enthusiast, the project itself is being led by none other than Chris Clay - a former designer and game director for the legendary card game series Magic: The Gathering Arena.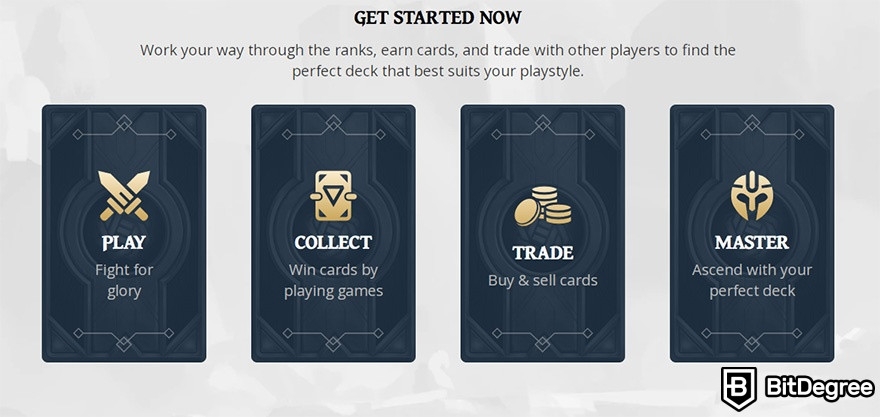 This is huge news! Magic: The Gathering is one of the biggest names in card gaming, in general, and is played by countless numbers of people, all around the world. There's no doubt that Clay has managed to bring in a lot of invaluable experience from his time with MtG into Gods Unchained.
This appears to be the case when reading through different player Gods Unchained reviews, as well. The game is well-designed, and offers a lot of competitive incentives to its players. While there's always an element of luck when playing card games, Gods Unchained aims to minimize this, and make everything dependable on the player's skill level.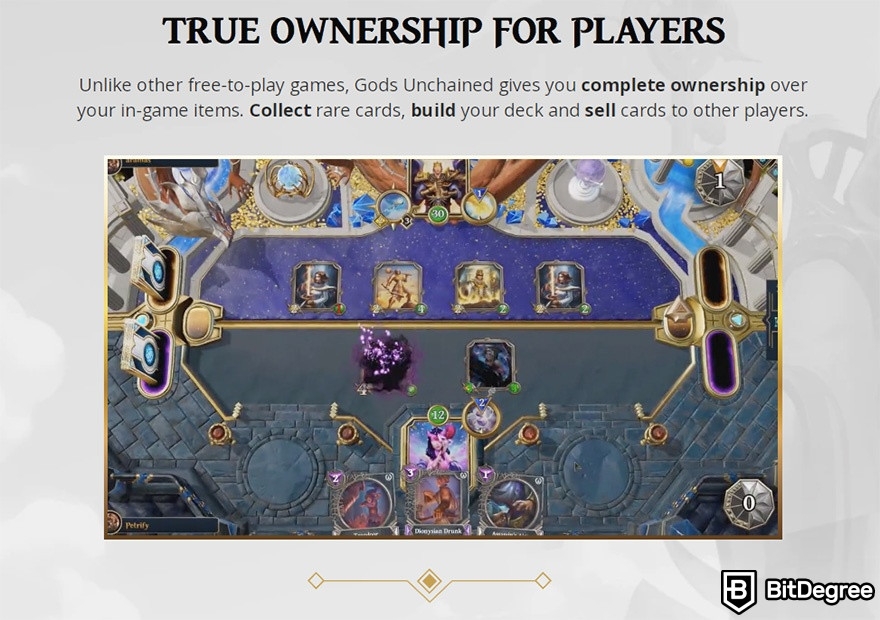 The game is completely free to play, which is yet another big factor to consider, for anyone who's looking for the top Play-to-Earn NFT games. Unlike with many other NFT games, you don't need to make any initial investments with Gods Unchained - this makes the game much more approachable to a wider audience of potential players.
That said, there is a native token associated with the project - GODS. If you'd like to acquire some GODS tokens, though, you would need to first get yourself some Ether from a traditional exchange, and then navigate to a DEX of your choice, and get GODS there.
A point that's worth considering and keeping in mind is that Gods Unchained might take some time to get into, gameplay-wise. The game isn't the simplest to start out with, even though it tries to be as beginner-friendly as possible. If you're a fan of Magic: The Gathering Arena, or have been playing similar card games for some time now, you really shouldn't face any issues with Gods Unchained, whatsoever.
Ranks #5 out of 8 Crypto Games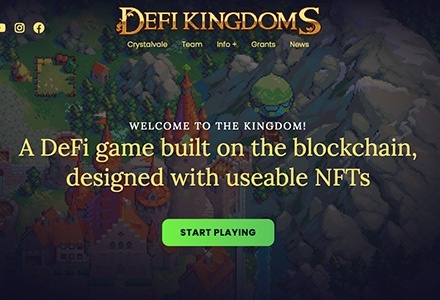 Things we liked:
+ A classic RPG aesthetic
+ Plenty of activities to participate in
+ No intruding emphasis on NFTs and crypto, in general
Things we didn't like:
- Pixel art style might not suit everyone
DeFi Kingdoms is a rather well-known name in the industry. The game has been around for a while now, and has managed to build a reputation of being one of the best NFT games for anyone who's looking for that classic RPG style of gaming.
Indeed - a single look at DeFi Kingdoms will reveal its 90s-inspired graphics and gameplay style. Truth be told, as you play the game, this style carries over to everything that you do - it's not just a gimmick to reel you into the game!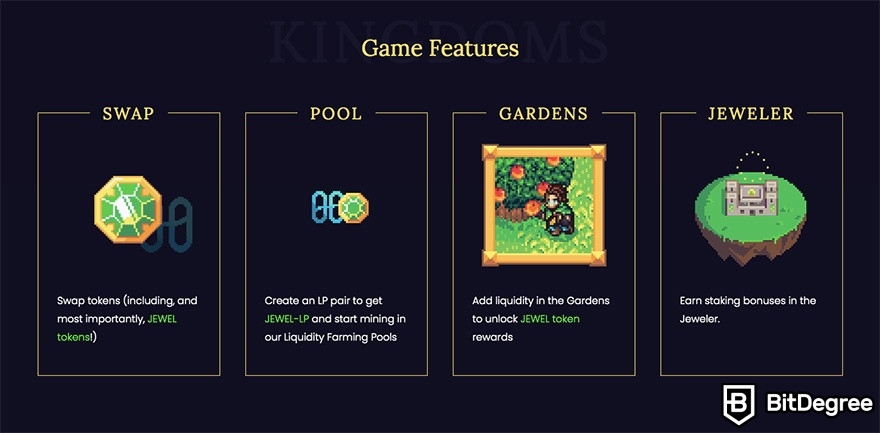 As you play through DeFi Kingdoms, you will have the chance to upgrade your characters with different power-ups and level-ups, earn XP, complete quests, and expand your lands. While these things are still unavailable, DeFi Kingdoms should soon add equipment and buildings to the game, allowing you to become even more immersed in this world.
The great thing about this particular NFT game is that it doesn't overbear you with the NFT and native token functionality. If you choose to ignore everything related to crypto, and just play DeFi Kingdoms as you would any other, traditional game, you could do that, without much effort! It's surely a cool factor to consider!

While DeFi Kingdoms is often mentioned as one of the best NFT games, before you jump in and start playing, there is one aspect to consider - the game isn't free to play. Meaning, you will need to have a MetaMask wallet, as well as some ONE token within it, in order to start interacting with the DeFi Kingdoms world. The token can only be acquired by visiting a DEX (such as Uniswap), and after you've already gotten some ETH to trade for it.
Granted that you're looking for Play-to-Earn NFT games, chances are that you already have a MetaMask setup, or at the very least, will be able to do it without any issues. Still, though, if games such as DeFi Kingdoms are your very first venture into the world of crypto, in general, things can seem a bit complicated - it's best to follow a step-by-step guide, in a situation like this!
Ranks #6 out of 8 Crypto Games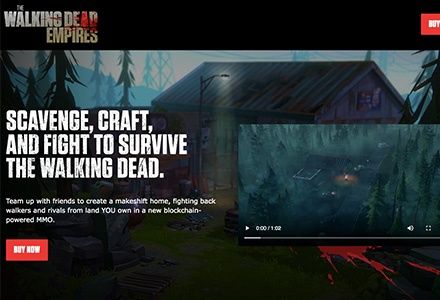 Things we liked:
+ Based on The Walking Dead TV series
+ Collect show heroes as NFTs
+ Purchasable digital land plots
+ Community-driven
Things we didn't like:
If you haven't been living under a rock for the past decade, there's a pretty good chance that you've heard the name "The Walking Dead" before. It's a TV series that has become a staple of television, and shares the spotlight together with other giants such as Game of Thrones and Breaking Bad.
Well, as far as the best NFT games are concerned, the series is about to receive a crypto game iteration, as well! It's called The Walking Dead: Empires.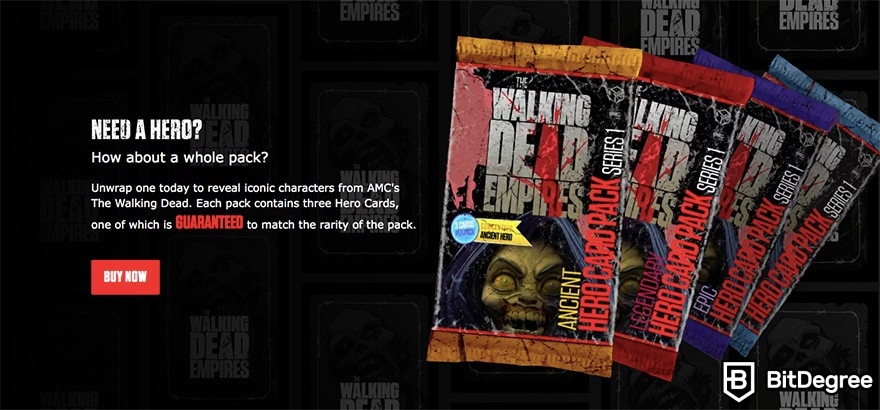 The game will be based on the same plot as the TV series - your objectives will include surviving zombie attacks, teaming up with other players, building bases, and so on. The game will have certain RPG elements, but will play like a survival-adventure type of a project.
As of writing this list of the top Play-to-Earn NFT games, The Walking Dead: Empires is still in development. While playtesting is set to take place shortly, the general public is yet to see what the game will truly look like, from the player's perspective.
That said, you can already purchase special "booster packs" that contain different heroes from the TV series. The heroes range in rarity, and there are thus different packs for you to purchase.

The same is true with land plots, as well. Once the game launches, players will be able to acquire different plots of land, where they would build their bases and battle enemies. If you want to be among the first to get to choose your preferred plot of land, there are special "Dead Claims" that you can purchase, right now, which would provide you with access to some of the most lucrative places.
All of that is cool, and there are many people who are very excited about this game, and its upcoming release. However, you should definitely keep in mind the fact that The Walking Dead: Empires is still unavailable - if you're looking for the best NFT game to start playing today, this won't be a great option for you.
Ranks #7 out of 8 Crypto Games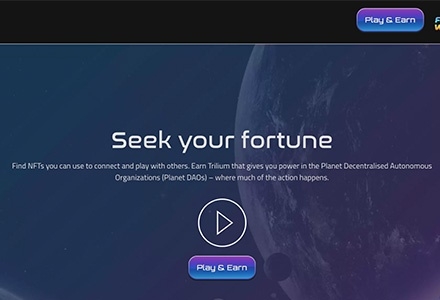 Things we liked:
+ SciFi-themed NFT game
+ Very community-driven
+ Work together with other players to find rare NFTs
+ DAO functionality
Things we didn't like:
- A complex NFT game with a steep learning curve
Alien Worlds is a popular NFT game that, same as a few other games on this list, has been around for some time now. As the name might imply, the game is based on a SciFi-type of a plot - your goals are to fight enemies, explore, and ultimately, find and utilize some special NFTs.
These NFTs are then used to connect with other players, upgrade your gear, and further your adventures. Interestingly enough, some of the core gameplay revolves around the Planet Decentralized Autonomous Organizations (Planet DAOs).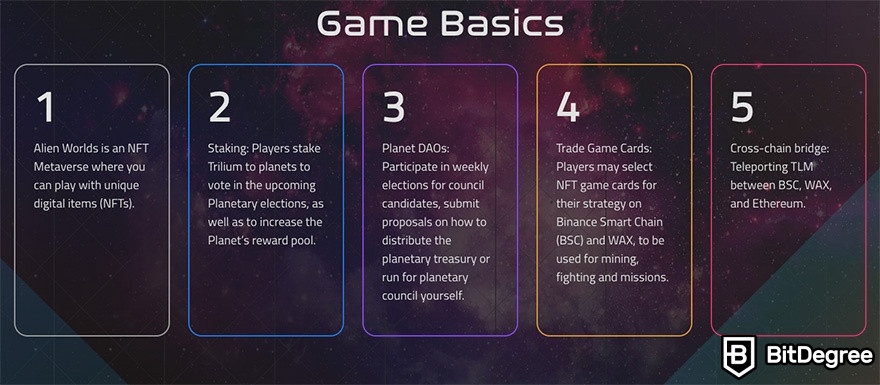 There are weekly voting sessions, different elections, cross-chain teleportations, and a huge variety of other activities associated with these Planet DAOs. The game really goes in deep into all-things-crypto, as far as DeFi technology is concerned.
Now, it's true that Alien Worlds has garnered a lot of attention and popularity - after all, it's a frequent name mentioned on multiple best NFT game lists! However, if there's one thing that you should be aware of before you decide to try this particular game out, it's the fact that it has a really steep learning curve.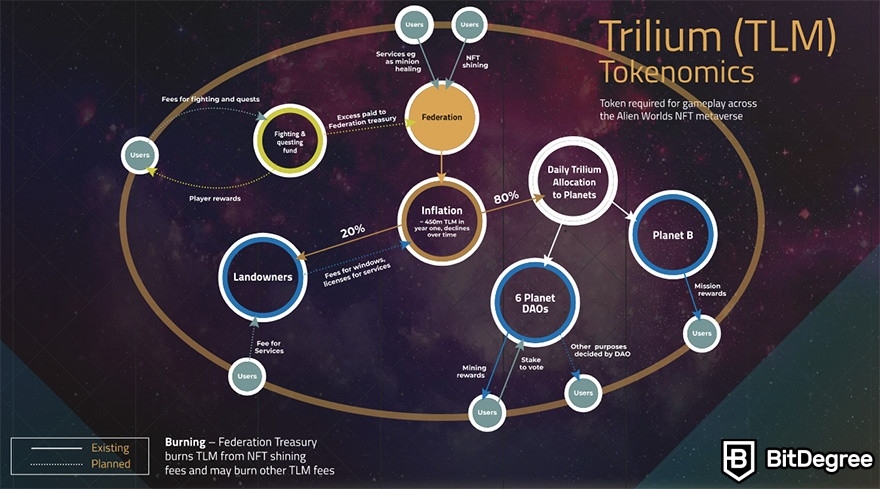 Alien Worlds doesn't really hold back - you're thrown into the world of crypto jargon from the very beginning. If you're crypto-savvy, this is a really cool way to check how the developers of the game intertwined its mechanics with specific crypto concepts.
If, however, you're a complete industry newbie, Alien Worlds can appear to be really complicated. There are thorough explanations available on the company's website, but the sheer variety of different features and activities that you can participate in on Alien Worlds is enough to become really confusing, upon an initial glance at the game!
If you'd like to buy some Alien Worlds tokens before your start playing, you can do so rather easily, with the help of Coinbase.
Ranks #8 out of 8 Crypto Games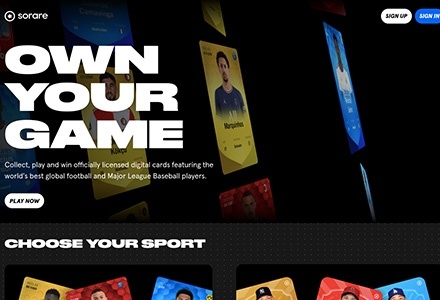 Things we liked:
+ An NFT game for football and baseball fans
+ Collect your favorite athlete NFT cards
+ Competitions and matches - available!
+ Different card rarities
Things we didn't like:
- Somewhat niche - for a specific group of NFT enthusiasts
Sorare is a classic collectible card game, but with a crypto technology-related twist. Allow me to explain.
As you start out with the game, you can choose the type of cards that you want to collect - either those of famous football players, or baseball players. All cards are segmented into four different rarities (these rarities do, naturally, impact the prices of the cards, as well), and there are new cards being added from time to time, as well.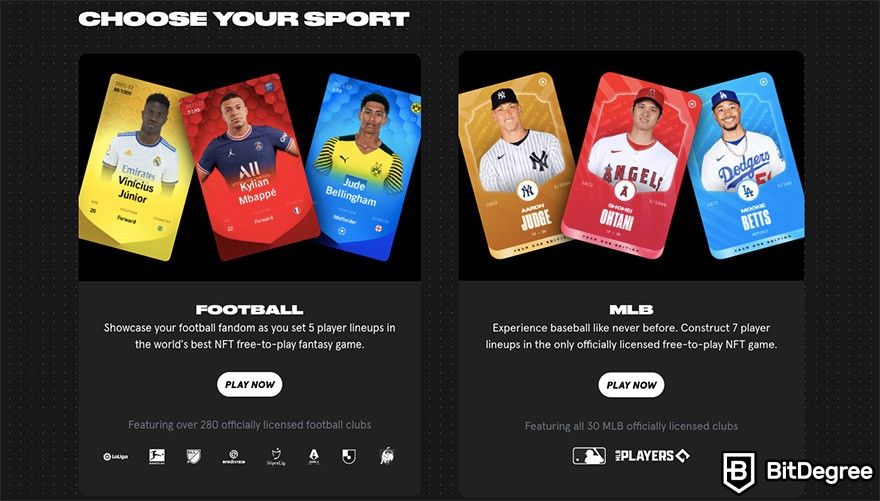 Where does the crypto technology part come in, you may wonder? Well, the cards are all NFTs, that's one point. However, collecting is just part of the gameplay!
As your collection grows, you will be able to create teams, from your cards. Then, you'll have the opportunity to compete with other team managers!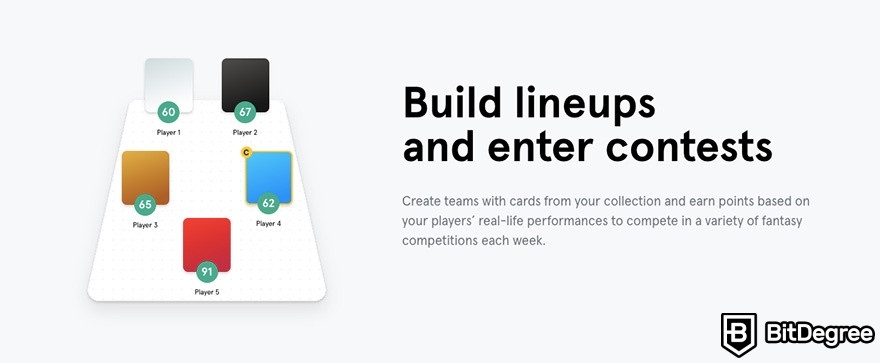 On top of that, there are also special contests available, as well. Here, you can create a lineup from your cards, and the performance of this team will depend on the performance of the athletes, in the real world. Remember - all cards are based on real-world football and baseball players!
Sorare is certainly an interesting twist on traditional card collecting! While the game will mostly cater to people with very specific interests (those being the aforementioned football and baseball), if you fall into this category of people, then Sorare might definitely be worth checking out, especially given that a lot of your gameplay will depend on your knowledge about these sports!
If you do decide to check Sorare out, you can find the collection over at Binance's NFT marketplace.
Conclusions
So, then - that wraps up our list of the best NFT games of the current year!
As you might have noticed throughout reading the list, the variety of NFT games is truly vast! What it means is that everyone should be able to find a game that would suit their own specific preferences. From classic RPGs to survival and even card games - you name it!
Naturally, one of the main attractions of these types of games is the P2E, or Play-to-Earn part. All of the games mentioned on this list have P2E mechanics, although they will differ quite significantly. I've mostly abstained from talking about potential profits and interest rates, since these are numbers that will vary drastically, depending on a variety of factors.
That being the case, no matter what game it is that you choose to go with, remember to check out Binance, Coinbase, and any other major crypto exchange that might house the native tokens of the game of your choice. You can be sure, though, that all of the games mentioned on this list will have a great balance between P2E mechanics & opportunities, as well as gameplay and general game design.
All in all, I do hope that this list of the top Play-to-Earn games was informative, and that you've managed to find a great game for yourself. Thanks for reading, and until next time!
The content published on this website is not aimed to give any kind of financial, investment, trading, or any other form of advice. BitDegree.org does not endorse or suggest you to buy, sell or hold any kind of cryptocurrency. Before making financial investment decisions, do consult your financial advisor.
Leave your honest Best NFT Games review
Leave your genuine opinion & help thousands of people to choose the best crypto exchange. All reviews, either positive or negative, are accepted as long as they're honest. We do not publish biased reviews or spam. So if you want to share your experience, opinion or give advice - the scene is yours!
---
TOP3 Most Popular Coupon Codes