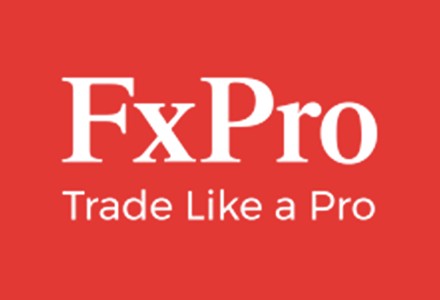 In your search for the best cryptocurrency exchange platform in the current industry, you might come across a few odd picks. Stumbling upon user FxPro reviews, you'll likely immediately learn that this is one of them.
The FxPro broker exchange is definitely not the first platform that would come to anyone's mind whilst thinking about trading or investing in cryptocurrencies. However, the site does offer such an opportunity to anyone who's interested… Kind of.
You see, trading cryptos on FxPro is going to be a bit different than doing so on another, more well-known exchange. Some people might like these differences, while others… Not so much.
Ambiguous? For sure! Don't worry, though - in this FxPro review, I'll tell you everything you need to know about the platform in order for you to decide whether it's the right choice for you, or if you're better off with some other exchange.
Hint: Platforms such as Binance and Coinbase are going to be better picks.
Pros
Decent fee model
Good for those who don't want to hold actual cryptocurrencies
Multiple additional features
Multiple additional assets
Cons
CFD trading - you don't actually get cryptocurrencies
May be too complex for beginner traders
FxPro Review: PROS
As usual, we're going to begin the FxPro review by discussing some of the benefits and general features that the FoxPro brokerage offers to its customers.
As mentioned in the introductory part of the article, however, whether you're looking for a FxPro calculator or information about FxPro USA, you'll quickly notice that this particular platform is rather unique, in regards to cryptocurrency trading.
Let's address this straight off the bat, and take a look at the available positive sides of the deal.
FxPro - Not an Actual Cryptocurrency Exchange
Yup, you've got it - FxPro isn't an actual crypto exchange. Instead, it's a stock and commodity brokerage.
Truth be told, it's definitely not the first platform that allows you to deal in cryptocurrencies (kind of - we'll get to that in a minute), but isn't primarily a cryptocurrency exchange. With time, more and more traditional brokerage sites open their doors to crypto assets.
It makes sense, too - taking a look at some Reddit boards or even GitHub comments, it's evident that the long-standing sentiment about the stock market being a stable option for investing is slowly shifting. Now, don't get me wrong - the majority of user FxPro reviews are still concentrated on the primary services of the platform, but things are becoming a bit more interesting by the day.

The COVID-19 pandemic is actually a huge catalyst in this regard. Due to some unfortunate circumstances related to the pandemic and worldwide lockdowns, the traditional stock market has found itself in some of the most volatile positions it has ever been.
Cryptocurrencies, however, are the opposite - being viewed as the most volatile speculative investment market ever, crypto assets have become a haven for investors during the pandemic.
Back to the point that I was initially trying to make, the FxPro brokerage surely isn't the only mainstream stock trading platform that suddenly started offering crypto trading options. Now, the interesting part.
User FxPro reviews will tell you that you can't actually trade cryptocurrencies on the exchange in question. Rather, you'll be able to trade CFDs - Contracts for Difference.
CFDs are some of the more-popular financial tools that relate to investments. When you participate in a CFD, you sign a contract with a seller (in most cases - the exchange or brokerage) and state that you will pay the difference in price of the underlying asset at some specific point in time.
In simpler terms, CFDs are a way to invest and speculate on an asset's price without actually buying the asset. Don't mix it up with derivative trading, though - Revolut offers its customers something a bit more similar to trading derivatives, crypto-wise.
Now, before you start looking for a FxPro demo, you can probably understand that the fact that you can't trade actual crypto assets, and only CFDs on the platform in question is a very polarizing thing. Since we're mainly talking about the benefits of the brokerage, let's discuss the positive aspects of this.

Some user FxPro reviews that talk about the crypto CFD feature of the site also mention the fact that it's going to be great for those who aren't actually interested in holding any crypto assets, and just want to try and make some money.
It makes sense, though! If you yourself aren't really interested in creating or buying a separate crypto wallet and learning the intricacies of cryptocurrency management, but would still like to try and capitalize on the market at your own leisure, FxPro might offer you a very viable solution.
Surely, the fact that the company in question is a very strong player in the traditional brokerage scene is definitely a help, too.
Latest Coinbase Coupon Found:
CLAIM YOUR $200 BONUS
Coinbase Cyber Monday
Cyber Monday Madness at Coinbase! Get your first crypto and earn up to $200 in rewards. Hurry up before this Coinbase Cyber Monday deal ends.
Expiration date : 08/12/2023
3,784 People Used
Only 16 Left
One of the More-Reliable and Secure Brokerage Sites on the Internet
In the world of investing and day trading, things such as asset security and platform reputation are key factors in helping users decide on a specific platform that they'd like to use - this is evident when reading through user FxPro reviews, too.
Both of these aspects are pretty straightforward, and kind of "feed off" of one another. Say, if an exchange or brokerage is secure, it's likely going to have a good reputation in that regard, too.
When it comes to security, specifically, there are many different layers involved. While you might not care about these things while trying out some FxPro demo, aspects such as account, withdrawal, asset, and trade security are going to be crucial points to look into whilst researching a potential trading site.
So, with that said, what's the reputation surrounding FxPro? And is it a secure site to use, in general?
Well, it is - and its reputation is very decent, too.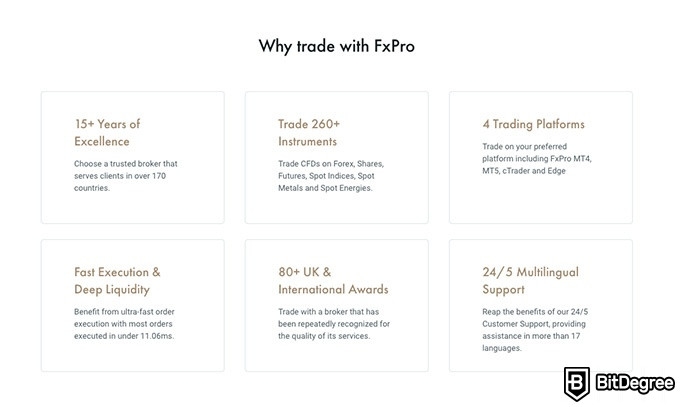 FxPro has been in business since 2006 - 3 whole years before the inception of Bitcoin. You could say that, at this point, it's a veteran among traditional brokerage sites - again, that's something that is evident whilst reading through user FxPro reviews, too.
From a security perspective, FxPro offers many different assurances to its customers. The platform is regulated by the Financial Conduct Authority, among other regulators - that's good! The FCA is considered to be very stern in its regulations, so you can be sure that there's no foul play involved.
There are also insurances in place, and even some exemptions for leverage trading, too (in some very specific circumstances, mind you).
Overall, if you were to pick FxPro as your trading platform of choice, you would probably be rather content with the security aspect of the brokerage.
Many Additional Features to be Explored
Additional features probably aren't the first thing that you'd think of when researching FxPro reviews, but, admittedly, the platform in question offers a good variety of them!
For starters, the earlier-mentioned leverage trading. On one hand, it's often deemed as a very dangerous activity that may cause you to lose all of your assets and financial instruments. However, on the other hand, if you're being careful and knowledgeable with your finances, leverage trading can be a huge help in growing your portfolio.
One of the main reasons why people flock to use the brokerage in question, however, would have to be the FxPro MT4 (MetaTrader) and cTrader. These are electronic trading platforms that have been optimized and developed for the best user experience possible - this is especially true with MetaTrader.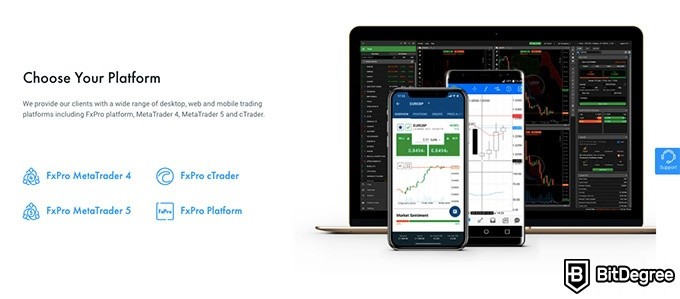 It's worth noting that the brokerage does also offer MT5 - the industry's latest-and-greatest - however, FxPro MT4 remains the most popular option, to date. Users report the best experience with this version of the interface, and it still remains widely used and available on mobile devices, as well as desktop computers and the web itself!
The FxPro demo account is bound to be something that'll be appreciated by any new traders and investors. On this demo, you will be able to trade the assets that you'd like, and learn how to use the real interface, at the same time. If you're not sure where to start, multiple user FxPro reviews will point you this way!
Whether it be a FxPro calculator or some other feature, you can also be sure that you'll be able to find a wide range of learning material on the exchange's official website. It's a great chance to learn about CFDs and the process of trading, in general, so you should definitely take the chance to learn something new!
Also, it's worth mentioning that FxPro is an NDD - No Dealing Desk - brokerage. What this means is that the trading platform provides its users with completely unfiltered access to the market - great stuff!
Finally, while this might not be something that's going to be super-relevant to anyone who's just interested in trading crypto CFDs, there are many user FxPro reviews that talk about the other financial assets available on the platform - rather, other financial asset CFDs.

You'll be able to find anything from metals and energies, all the way to futures, forex, and - of course - crypto.
This is actually some really good news for those who plan to broaden their portfolios, with time. Sure, while it might be CFD trading, and you won't really be getting the actual underlying asset, it's still a great way to learn and study the topics and assets that you're interested in.
Low Commission Fees
Finally, one of the better aspects of the FxPro brokerage is the fee model that they employ.
Quite frankly, the fees are very straightforward - you will pay a $45 commission from every $1,000,000 worth of CFDs traded. Very simple, very straightforward!
The reason for that is simply because it's not a traditional crypto exchange - there are no blockchain fees, and you don't actually purchase the underlying asset. On top of that, there are also no deposit or withdrawal fees, either - unless you count the ones that are going to be charged by your bank.
Latest Binance Coupon Found:
REDEEM $600 PRIZE
Binance Cyber Monday
Attention new Binance users: this Cyber Monday, you can score up to $600 in rewards by completing special tasks. Activate this amazing Binance Cyber Monday deal using the code – 49316610!
Expiration date : 05/12/2023
6,127 People Used
Only 16 Left
FxPro Review: CONS
So, reading through user FxPro reviews, it's evident that the brokerage is definitely a unique pick, as far as cryptocurrency exchanges go.
However, as mentioned earlier in the review, the way that you are able to trade cryptocurrencies on this particular platform is very polarizing - as you can probably imagine, there's quite a bit of negativity aimed at it, too. Before we go any further, let's address the elephant in the room - then, you'll be able to decide if exchanges such as Binance or Coinbase are better choices.
You Don't Actually Receive any Cryptocurrencies
Obviously, without a doubt, this is going to be the main qualm that crypto enthusiasts have with the brokerage in question.
I've emphasized the fact that FxPro allows you to trade crypto CFD multiple times already. What this means, however, is that you do not get the chance to trade actual cryptocurrencies - you never receive any actual coins into your account, and instead, participate in the aforementioned contracts.
For anyone who's not only in it for a quick profit, this is likely going to be unacceptable.

First of all, without actually getting the coins, you have nothing to transfer out of the brokerage and into your wallet. No matter if you're using FxPro USA or any other version of the platform, holding some cryptocurrency of your own is always going to be one of the biggest parts of the entire appeal.
On top of that, there are also some more-serious reasons for holding your own cryptos, too, and it has to do with the saying "not your keys - not your coins".
Whenever you hold cryptocurrency in a high-end wallet (such as the Ledger Nano X), your private keys belong to you - in turn, this means that you are responsible for your own crypto assets, too.
In regards to the brokerage in question, this is not the case. Sure, there are no keys to be had, in the first place, but that's kind of the issue!

When participating in cryptocurrency CFD trading, you lose the chance to hodl your coins, and wait for extended periods of time for the price to maybe go up. Instead, you are bound to a contract, and whatever the outcome will be at that specific point in time, you will have to abide by it.
If it happens to be a loss, well - you'll lose out on your investment.
Whatever the case might be, reading through user FxPro reviews that relate to the crypto part of the platform, it's obvious - for any crypto enthusiast who's in it for the long-term, this is going to be far from a viable option.
May be Too Complex for Beginner Traders
Not too long ago, in the PRO part of the FxPro review, I've mentioned that the brokerage has a lot of learning material for any wannabe trader to take up and study. While that's definitely much appreciated, admittedly, it's probably going to be far from enough, in regards to actually learning how to trade CFDs effectively.
On that note, though, it would seem that FxPro doesn't really do a great job at clearing some of these things out, either. In the manner of most traditional stock brokerages and trading platforms, FxPro can be seen as confusing and difficult to use, especially for those who are completely new in the scene.

Naturally, this poses a question - why should you use FxPro for all of your crypto wants and needs, if there are much simpler platforms out there, and also ones that allow you to buy and sell actually crypto coins, in the first place?
Well, there is no concrete answer to this question. Frankly, it's all preference-based. As pointed out earlier, the brokerage does, in fact, replace modern crypto exchanges for those who don't want to hold their own coins - that's about it.

Did you know?
How to Use FxPro?
As a final note in this FxPro review, we should take a look at the actual usability aspects of the brokerage, and check to see how the platform feels to use, in general.
Naturally, we'll begin with the registration process, and move on from there. After all, whether you'd be looking for a FxPro calculator or some FxPro MT4 simulation, you'll still need to register on the site, at the end of the day!
How to Register on FxPro?
We'll take this one step at a time, so that you could follow along effortlessly.
Step 1: Go to the official FxPro website, and press the Register button at the top-right corner of the screen.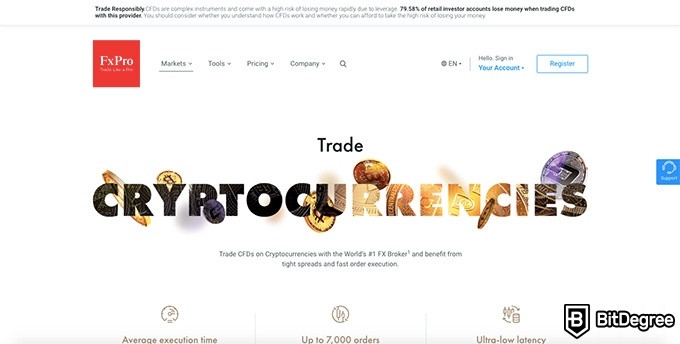 Step 2: You'll be redirected to a form that'll ask you for your name, email address, and to create a password.
Step 3: Now, you will be asked to provide some personal detail about yourself. This is somewhat standard KYC for brokerages like this. Expect to be asked for your phone number, residential address, employment status, annual income, expectations whilst trading CFDs, and so on.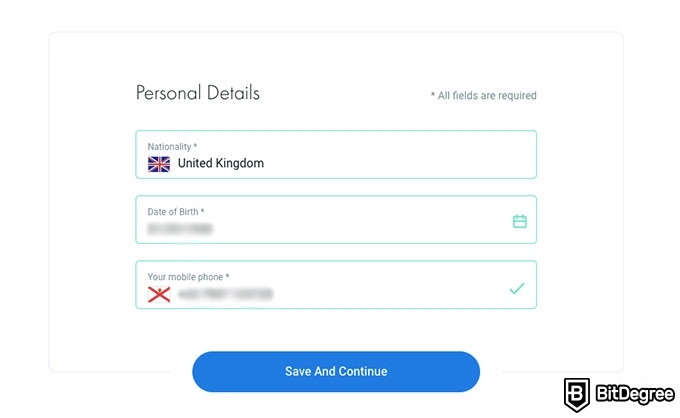 Step 4: Once you've filled in the required information, and have agreed with all of the terms and conditions - that's it, you're in!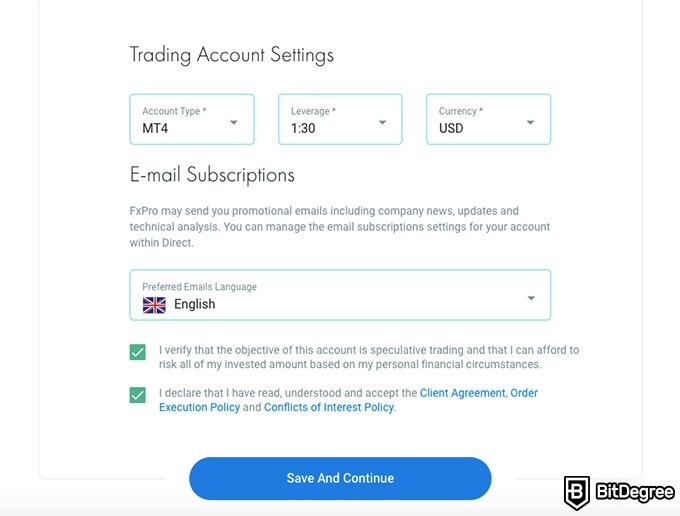 Now, naturally, in order to verify your account completely, you are going to need to do two additional things - submit some identity-verifying documents, and add funds to your digital wallet.
To be fair, while the registration process is a tad bit more tedious than with most other, high-end cryptocurrency exchanges out there, it's definitely not something that would completely put you off and make you not want to use the platform anymore.
Once you enter the main dashboard of your account, things are quite straightforward - you can check your wallet, your account settings, trading accounts, access the knowledge base, and so on.
The dashboard is, admittedly, the simplest part of the exchange - the confusing part may start when you access the trading screens, and start searching for crypto CFDs.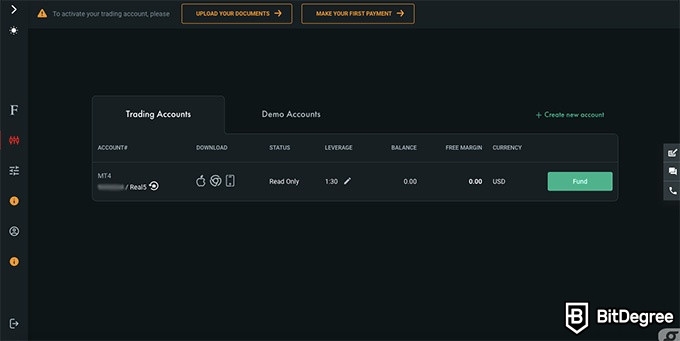 That being said, it's also worth mentioning that, as far as ID verification goes, this process should be seamless. Some platforms do have a reputation of verifying your identity in a couple of days or so - if you want to start trading ASAP, that's not exactly ideal.
With FxPro, though, this procedure should take no more than a few minutes. User FxPro reviews seem to agree with that - if everything is OK with the documents that you've submitted, the verification process is going to be quick, and you'll be able to utilize the full services of the platform right after.

Pros
A very well-known crypto exchange platform
More than 500 different cryptos available
Two-factor authentication
Main Features
Over than 100 different cryptocurrencies available
Strong security
Small withdrawal fees

Pros
Secure and reliable
Low fees
A good amount of fiat currencies accepted
Main Features
Reputable exchange
Multiple fiat currencies are accepted
Relatively low trading fees

Pros
Anonymous trading
Secure
Supports a variety of cryptocurrencies
Main Features
Easy to use
Low fees
Good security
Conclusions
As I've mentioned at the very beginning of this FxPro review, the cryptocurrency market is growing rapidly - so does the interest that the general population of people have in it, too. To add to that, though, it's also worth mentioning that many "traditional", stock-oriented investors have turned their eyes towards the cryptocurrency market, as well.
As you can probably imagine yourself, hence the sudden traditional stock and CFD day trading platform adoption of cryptocurrencies, as potential assets to trade with.
With all of that being said and out of the way, is FxPro worth using? Is it a viable option for anyone who's interested in trading cryptos, and is a FxPro demo account even worth creating, in the first place?
In short, I would not advise you to use FxPro - unless you fall into a very specific category of wannabe-investors.
Now, don't get me wrong - FxPro is definitely a good CFD trading platform - one of the best around, actually! Alas, the keyword here is "CFD" - you can't trade actual cryptocurrencies on this platform, which is a natural deterrent for the vast majority of wannabe crypto traders around the world.
If you're only interested in making money with the help of the crypto market, though, sure - FxPro might be a viable option. The brokerage is very secure, and complies with all of the official regulations out there. No matter if you'd like to use FxPro USA, EU, or any other version of the platform, things should be in order.
If, however, you're looking for a legitimate cryptocurrency exchange that would allow you to purchase and trade your own coins, you'll have to look elsewhere. Namely, you can check out our list of the best exchanges on the current market - who knows, maybe you'll find a great option for yourself there, such as Coinbase or Binance?
The content published on this website is not aimed to give any kind of financial, investment, trading, or any other form of advice. BitDegree.org does not endorse or suggest you to buy, sell or hold any kind of cryptocurrency. Before making financial investment decisions, do consult your financial advisor.
About Article's Experts & Analysts