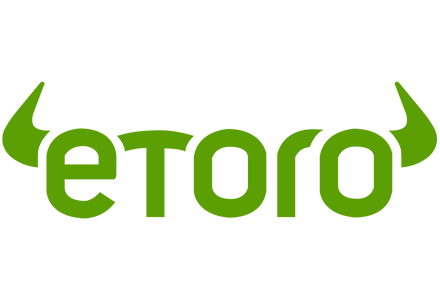 If you were looking for a broker that would allow you to trade cryptocurrencies, you would probably come across eToro sooner or later. That's why today I would like to present to you a comprehensive eToro review, in which we'll cover all of the main aspects of this brokerage company.
In this guide, I'll tell you all about eToro and it's business model - we'll talk about what is eToro in general, cover the company's origins and goals, see if we can figure out if eToro USA is a thing, and so on.
Even though eToro does deal in cryptocurrencies, we'll have to shortly cover different aspects of its business as well - only by doing so we shall be able to create a full picture of the company in question.
Pros
Copy trading service available
A variety of cryptocurrencies to choose from
Beginner-friendly
Cons
Withdrawals can be slow
Slow verification process
Understanding eToro
So, let's start this eToro review from the top. What is eToro?
eToro is an Israel-based brokerage company that deals with various financial investments. Back in 2013, the company introduced an option to trade stock CFDs.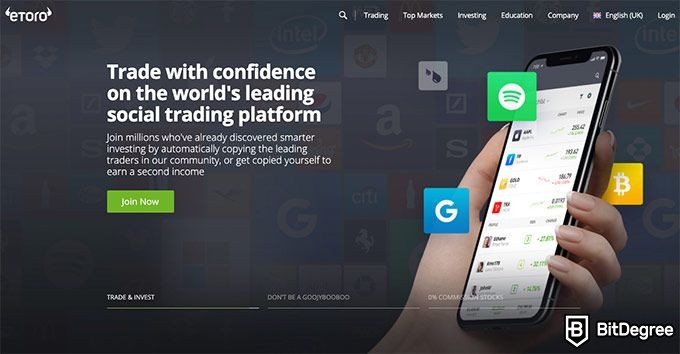 A CFD (Contract For Difference) is a trading method used between a buyer and a seller. This type of method allows speculations - the general rule of CFD is that the seller will pay the buyer an amount that will be the difference between the current price of the object and the price that it will be at during the establishment of the agreement (contract).
With almost 5 million investors worldwide, eToro has managed to establish and solidify itself as a reputable brokerage company for quite some time now. It was founded back in 2006 by three guys, of which two were brothers. Between its inception and the current date, the company managed to raise more than $160 million from investors from all around the world.
One of the main Kickstarter for the company's business growth is considered to be their decision to add a trade copying feature on their platform.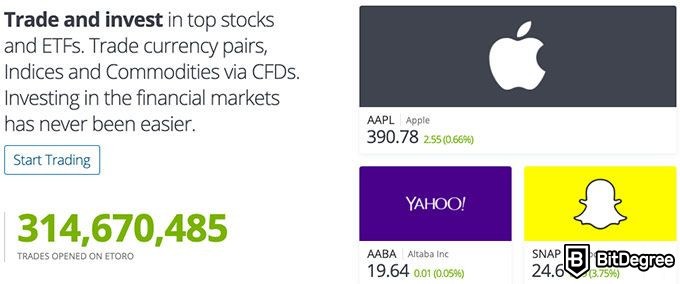 This feature is very popular because it eliminates the need to do extensive amounts of research and to consistently watch the market's movements - you would simply choose a popular and established investor that you liked and then just pick the option to completely copy a trade that they make.
Latest eToro Coupon Found:
Get $10 Bonus
Limited-time eToro Coupon
Take advantage of this eToro coupon. Deposit $100 - get a $10 Bonus, trade $100 - get a $10 Bonus! Act now while this eToro deal is still valid. The Bonus is only available for US users.
Expiration date : 08/12/2023
657 People Used
Only 92 Left
eToro Cryptocurrencies
Let's be honest - you came to this eToro review for cryptos, haven't ya?
There are quite a few eToro reviews on the internet, but a lot of them seem to rush through the "cryptocurrency" part of the company.
eToro is famous for being one of the first brokerage sites that would offer its users the ability to trade cryptocurrencies. While CFD trading is also available on the website, real crypto assets are accessible to US customers.
This is considered to be a very interesting business move because of just how volatile cryptocurrencies are. Their prices have a reputation of being almost unpredictable - this makes CFD-based crypto trading very beneficial for the client, but the company that offers this service (in this case - eToro) has to have a very solid business plan to be able to profit from it.
By the looks of things, though, it seems that eToro has managed to succeed - compared to any other broker, they offer users the widest variety of cryptocurrency trading options available (both long-term and short-term).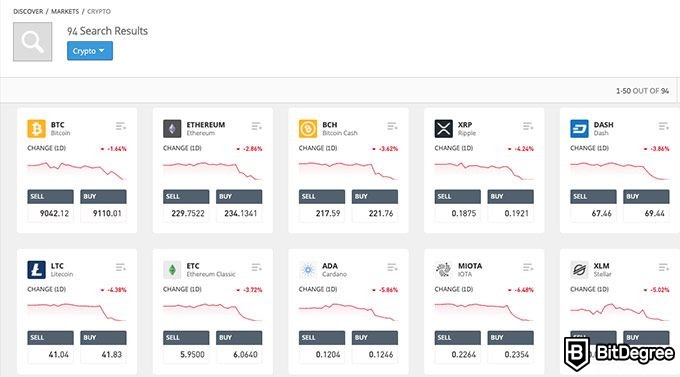 As I've mentioned earlier, this is mostly credited to their choice of introducing the "copy trading" feature. There are a lot of investors that have been analyzing cryptocurrencies (especially the more popular ones like Bitcoin or Ethereum) ever since their inception. These investors usually believe in the crypto coin's growth and are searching for the most favorable time frames to invest.
Given the fact that cryptocurrencies have experienced huge growth in popularity over the past several years, more and more people are looking for ways to invest in them. There are different methods you could use, but most of them require that you'd put in a lot of hours of research into the topic. A lot of people can't afford this, whether it be because they simply lack the time or because it's way too broad of a topic.
This is why leaving the investment decision to a person that has years and years of experience in the field is such a great option. This is especially true when you can also pick the expert that you want (based on their performance). The investors also know that they'll receive a bonus for the correct decisions that they make, which in turn motivates them to invest carefully and wisely, maximizing potential earnings.

Did you know?
Why eToro?
So now that you know about the company's origins and its cryptocurrency scene… Why should you choose to use it? Well, continue reading this eToro review and let's find out!
On their official site, eToro lists several different reasons for why you should trust them and start trading on their platform as soon as possible.

The very first thing that the company guarantees is security. Any good eToro review will tell you that when it comes to brokerage, security should be one of the top priorities.
They also promise a wide variety of cryptocurrencies to choose from. This is true - as I've mentioned earlier, eToro has the most cryptocurrencies available for trading out of any other brokerage firm out there.
All of the other perks that eToro offers lead to a fluid user interface experience, good transaction rates with no hidden fees and a generally well-crafted site.
Up to this point in this eToro review, you have been able to see eToro's benefits and the company's strong sides. Let's take a look at some of the most common complaints that the company receives.
eToro Review
If you checked out other eToro reviews or cryptocurrency-related forums on the internet, you'd see that the general population's opinion on eToro is quite positive.
The factors that probably attribute the most to eToro being positively viewed are their reputation building skills. The company has managed to establish itself as a reputable and trustworthy broker over the years of its existence.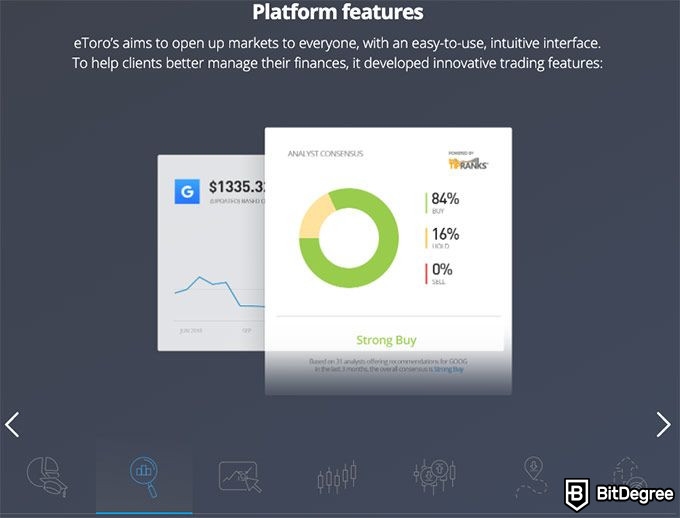 One of the main complaints that people seem to have when it comes to eToro, though, is that the customer support department could use some improvement. There seems to be a lot of issues regarding the support itself, response timers and helpfulness, etc.
Another big thing that is often mentioned in regards to eToro not being up-to-par is that the platform itself often tends to freeze, seemingly without any concrete reason. This might simply be because of technical difficulties or server maintenance, but it still lends itself to be a nuisance to a lot of people.
The next step that we'll cover in this eToro review will be the USA platform.
eToro USA
eToro has its main establishment located in Israel, and there are two more facilities in Cyprus and the UK. The company serves both the UK and European customers (although some features differ in prices and conditions), but what about eToro USA?
Recently, eToro has released a new, BETA version of a US-based marketplace. If you live in the US, you still can't place any funds and start trading that way (although the company does promise that this feature will be available soon). What you can do, however, is register as an official eToro user and receive $100 thousand in virtual credits.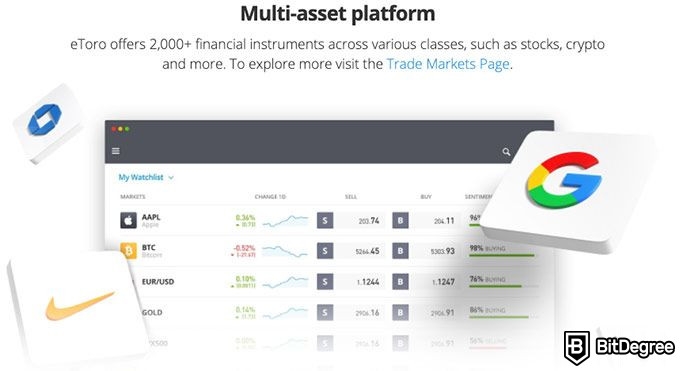 The company lets you play around with these credits and try your luck in the marketplace so that you would already be familiar with how things work when the real US-based marketplace is released. This is smart business and strategic move - eToro can pull in potential customers without yet having an actual service to offer. It is promised to arrive soon, though, so stay on the lookout - eToro USA is coming.
Summary
So far in this eToro review, we've covered the history of the company, what it does, how it deals with cryptocurrencies and some of its pros and cons. If you've made it this far, I think a summary of what we've covered would be both useful and beneficial.
eToro aims to be the leading company in brokerage, including cryptocurrency brokerage. Having been started back in 2006, the company has a lot of experience in the field of financial investments.
Out of all of the brokers that are currently offering to trade cryptocurrencies, eToro has the widest assortment. This is partly because they were very quick to jump into cryptos when these currencies first started to emerge. Another big reason is that the company seems to believe in cryptocurrencies and the blockchain technology in general, both from technological AND financial standpoints.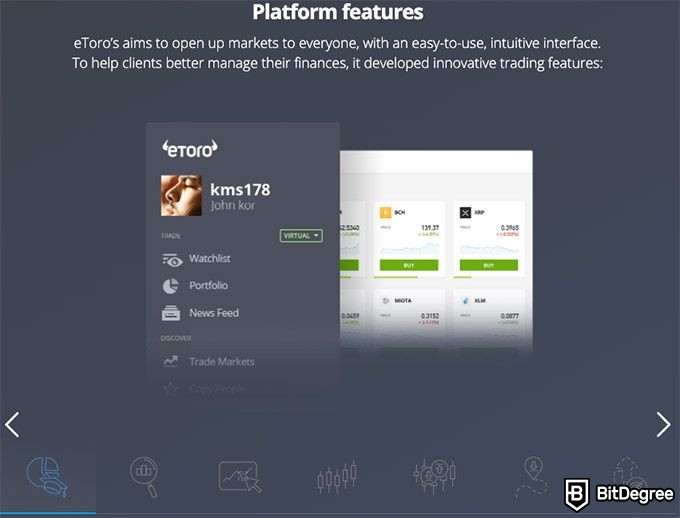 One of the most beneficial business decisions that eToro has made was to implement the trade copying feature into its platform. It will bridge the gap between beginner investors who don't want or have the time to do their research and veterans that have been in the game ever since the inception of Bitcoin.
There are certain specific areas in which the company still has some work to do (platform optimization, customer support), but its overall reputation and years of active experience have been a staple of the company's positive outlook.
Even though they don't currently offer their services to US-based potential customers, eToro has released a BETA version of their USA platform and is actively working to bring the actual finished product to their live servers.
Pros and Cons
It wouldn't be an eToro review if it didn't have a checklist, so let's quickly sum eToro's pros and cons up.
eToro PROS
eToro CONS

An established reputation within the industry;
A wide variety of cryptocurrencies to choose from;
Trade copying to be integrated.

Somewhat high fees;
Poor customer support;
Platform seldom tends to crash.
All in all, it is evident that most of the eToro reviews have been correct - the company is well-established and has many years of experience to back it up. Even though certain aspects still need tweaking, it is considered by many to be a great platform for both cryptocurrency and another stock trading.
Here is The Best Binance Offer I Found:
REDEEM $600 PRIZE
Binance Cyber Monday
Attention new Binance users: this Cyber Monday, you can score up to $600 in rewards by completing special tasks. Activate this amazing Binance Cyber Monday deal using the code – 49316610!
Expiration date : 09/12/2023
6,127 People Used
Only 16 Left
Conclusion
Every day the market sees new, up-and-coming startups that are determined to change the pace of the game and set their own rules. eToro was exactly one of those startups - needles to say, it succeeded in more than one department.
If you're keen on trying out your luck with cryptocurrency trading, start slow and don't invest more than you're willing to lose. The crypto and the stock trading world can be a very unpredictable place - always do proper research and know what you're getting yourself into.
If you're already an investor and have been doing it for a long time, eToro might be the perfect place to boost your earnings. With the new "copy trading" system in place, you could potentially earn much more revenue without actually having to do anything but registering yourself and your portfolio to the site.
Projects like Follow Coin have also tried following the same "copy-trading" path, but have been much less successful. There are many reasons why that could be, but it ultimately all falls to a lack of experience and professionals in the field (Follow Coin, as a project, was established only in late 2017).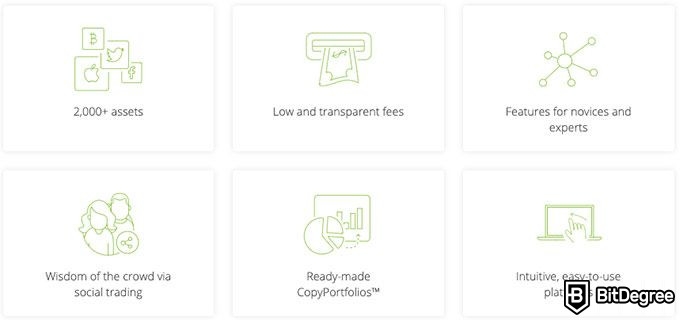 If you're a US-based citizen, you should try out eToro's digital market. It's completely free and offers a great opportunity to find out how everything (options, settings, different interfaces, etc.) works before the company launches the live version.
You can also start looking at different cryptocurrency experts from all around - perhaps some of them will have already been registered to the site, and you'll be familiar with their portfolios and track records and will be able to choose more wisely when it's time.
However, since eToro offers pretty high fees and doesn't have very reliable customer support, you might want to try other highly recommended crypto exchange platforms, such as Coinbase, Binance and Kraken.
All in all, I hope this eToro review was useful for you in finding out what is eToro. If you do decide to try the site out yourself, I wish you the best of luck with all of the tradings to come!
eToro is a multi-asset platform that offers both investing in stocks and crypto assets, as well as trading CFDs.
Please note that CFDs are complex instruments and come with a high risk of losing money rapidly due to leverage. 77% of retail investor accounts lose money when trading CFDs with this provider. You should consider whether you understand how CFDs work, and whether you can afford to take the high risk of losing your money.
Past performance is not an indication of future results. The presented trading history is less than 5 complete years and may not suffice as basis for investment decisions.
Copy Trading does not amount to investment advice. The value of your investments may go up or down. Your capital is at risk.
Crypto asset investing is highly volatile and unregulated in some EU countries. No consumer protection. Tax on profits may apply.
eToro USA LLC does not offer CFDs and makes no representation, and assumes no liability as to the accuracy or completeness of the content of this publication, which has been prepared by our partner utilizing publicly available non-entity-specific information about eToro.
The content published on this website is not aimed to give any kind of financial, investment, trading, or any other form of advice. BitDegree.org does not endorse or suggest you to buy, sell or hold any kind of cryptocurrency. Before making financial investment decisions, do consult your financial advisor.
About Article's Experts & Analysts