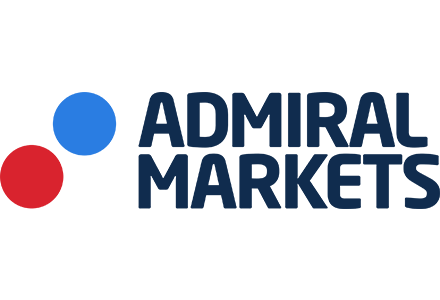 I probably don't really need to tell you this, but cryptocurrencies are a really hot topic nowadays. It seems that everyone and their neighbors are looking to trade crypto - in order to do so, though, you're going to need to find a proper platform. In this Admiral Markets review, we'll talk about a seemingly unlikely contender.
If you've spent any time in the world of finance, you've probably heard of Admiral Markets USA, UK, EU, or any other branch of this particular broker. It's super-popular, and not only in Europe!
Traditionally, though, Admiral Markets is viewed as a forex broker, and isn't usually the first option you'd think about when contemplating trading cryptos. That's what this Admiral Markets review is here for, though - I'll help you weigh all of the pros and cons of the platform in question, and decide whether or not it's the right choice for you!
Pros
A very well-established brokerage
Huge variety of asset CFDs and derivatives to trade
Comparatively low fees
Cons
Not suitable for beginner traders
CFD crypto trading - you do not receive the actual cryptocurrency
Potentially not available for US traders
Admiral Markets Review: PROS
Now, to start things off, we need to get something out of the way first, before moving on to the actual pro and con list - we need to establish what is Admiral Markets.
So, obviously, it's not your traditional cryptocurrency broker - a single look online, at some user Admiral Markets reviews will reveal that rather quickly. Notably, as of writing this article, there aren't even all that many Admiral Markets reviews out there - at least as far as cryptocurrency trading goes!
The Admiral Markets reviews that DO exist talk about the company being a CFD and Forex brokerage. In other words, people who like to trade foreign currencies would use Admiral markets webtrader and other tools to do so.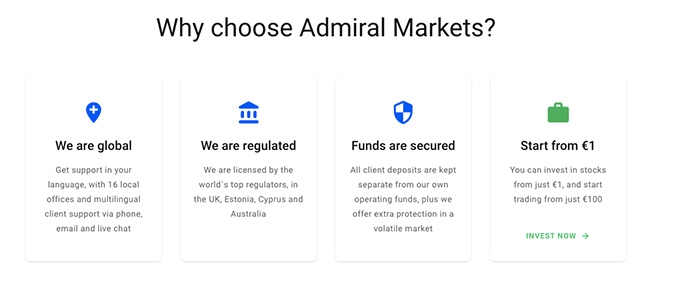 In other words, it's a platform aimed at traditional investors. In most cases, such platforms aren't going to be all that attractive (or even useful) for crypto enthusiasts.
Admiral Markets, however, might be a bit different. This is because the platform actually allows you to trade digital currencies, too - well, kind of. While we'll get to the nitty-gritty details in due time, the general idea stands - if you're trying to figure out what is Admiral Markets, or even is Admiral Markets a good broker, one of the first things that you should know is that it supports crypto, in a way.
Right, then - with that out of the way, let us move on to discussing the benefits of the brokerage in question.
High-End Trading Platform
A trading platform is basically the dashboard that you're going to use to trade your assets - in this case, cryptocurrencies.
Over the years, there have been quite a few different trading platforms that have been offered to day traders all around the world. Each iteration of these platforms would bring new and improved features and functionality to the space.
Admiral Markets customer reviews will tell you that, as far as the Admiral Markets webtrader goes, you'll be able to use two versions of the platform in question - MT4 and MT5.
For some context, MT4 is still considered to be the "industry standard". If you've seen some videos of people trading Forex or cryptocurrencies, or have come across example images on the web, chances are that you've seen the MT4 trading dashboard.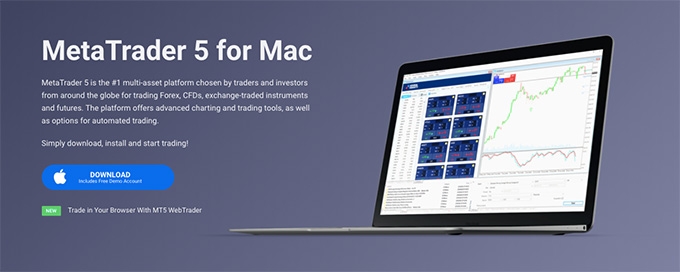 There is also the MT5 version of the webtrader, though. This is the newest, most-modern version of a trading platform that you can use - it offers far advanced functionality and features, and allows you to access and analyze some advanced graphs and charts.
Naturally, as some user Admiral Markets reviews will tell you, the trading dashboard is an extremely important part of any proper exchange or brokerage - Admiral Markets USA is no exception.
Well, the good news here is that the broker in question does offer its customers the ability to utilize both the MT4, and the MT5 trading platforms. This is amazing news for any active trader out there!
The option to use either one of these two trading platforms means that you'll be able to "stay ahead of the game", and will also have access to all of the necessary information (such as different types of graphs, candlestick analyses, etc.) that you might require to perform optimal and, more importantly, beneficial trades. Good stuff!
Latest Binance Coupon Found:
$600 WELCOME BONUS
Binance Black Friday Deal
If you're new to Binance, great news - this Binance Black Friday period, you can earn up to $600 in rewards. Sign up, use the code 49316610, and start earning now!
Expiration date : 01/12/2023
2,817 People Used
Only 46 Left
A Perfect Brokerage for Day Traders
In the world of crypto, there are basically two types of people - HODLers, and day traders. Multiple Admiral Markets customer reviews will tell you that the broker in question is going to be directed at the latter.
Before we explore what that actually means, it'd probably be a good idea to establish the differences between the two, right?
A cryptocurrency HODLer is a person who holds cryptocurrencies for the long-term. These people usually don't participate in any trading activities, and instead "stack up" their cryptos in a wallet, assuming that the value of their portfolio is going to grow over time.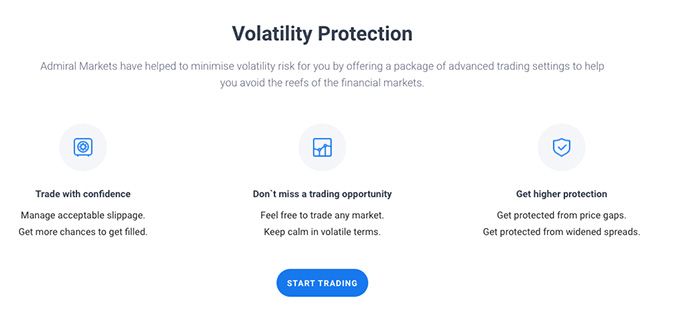 Frankly, the only type of "trading" that crypto hodlers partake in is dollar-cost averaging at some set times during the month, so that they would slowly accumulate as much crypto as they can.
Fun fact: HODL is actually a term that simply means "hold". However, it's sort of a tongue-in-cheek way of saying it in the crypto space. Presumably, the term was accidentally invented very early on after the launch of Bitcoin, by one forum member being intoxicated and making a typo in his post. The term just stuck, from there on out!
Day traders are, as you can probably guess, the opposite of hodlers - this is, once again, evident from reading user Admiral Markets reviews, too.
A day trader is someone who partakes in trading activities on a constant, daily basis, and tries to make a profit while buying low and selling high. This type of trading is very nuanced, and there are a lot of potential risks involved (it's probably the riskiest form of trading out there, to be fair), and it requires you to be very knowledgeable with both crypto, and also trading, in general.

Now, where am I going with this? Well, as mentioned above, anyone wondering is Admiral Markets a good broker should note that it's actually a perfect platform for day traders!
AM has all of the features that day traders may require - the whole entire service that the platform provides is literally aimed at active traders and investors!
This is, for a fact, sad news for anyone who was considering using Admiral Markets USA, UK, or any other branch of the broker for their hodling needs. Although, to be fair, there's a much more important reason why you wouldn't want to use AM in this regard - but we'll discuss that when the time comes.
Accepts Wire Transfers and Credit / Debit Cards
One of the more-prominent challenges that cryptocurrency enthusiasts face when they're looking for the best cryptocurrency exchange out there has to do with fiat money deposits and withdrawals.
As strange as it may sound, even today, when the crypto market is booming, there are still many exchange platforms that do not allow you to make a deposit (let alone a withdrawal) with your fiat money. They may accept crypto payments, or some other kind of deposit, but have no options for credit / debit cards or bank transfers.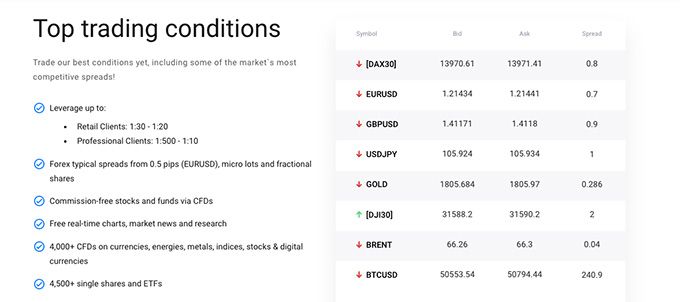 Now, admittedly, it's often a case of individuals not wanting to pass KYC verifications, and seeking to find an exchange platform that would allow them to trade cryptos completely anonymously. While this is a whole different story of its own, we won't get into it at this point in time - suffice to say that, for the average trading and hodling enthusiast, regulated exchanges will do just fine.
Withdrawals are really where it's at, though. Finding a reliable cryptocurrency exchange platform that would allow you to withdraw fiat money straight into your bank account, debit card, or even PayPal may often appear to be impossible!
The good news concerning this Admiral Markets review, though, is the fact that you can both deposit and withdraw fiat currencies to and from the platform in a very simple, straightforward manner.
Deposit-wise, you have three options - wire transfers, credit / debit card payments, or payments made via SWIFT. Withdrawals are a bit less generous - only two options, excluding credit and debit cards.

That being said, it's surely awesome to know that you won't need to struggle by finding an alternative way of depositing and withdrawing your funds to and from the broker.
On top of that, when considering is Admiral Markets a good broker, you need to take into account the fact that, while deposits are completely free to make, AM will grant you 2 free withdrawals per month - after that, you will be charged some fees.
A Reliable Broker with Years of Built-Up Reputation
Reputation is honestly something that gets majorly undervalued in the world of alternative asset trading. This is especially true with cryptocurrencies - while people always mention things such as security or fee models, the reputation that the broker (exchange) has built up through the years is just as important!
Reading through customer Admiral Markets reviews, it's evident that the platform has been around for some time now. Well, "some time", as in more than 19 years - Admiral Markets was established in 2001, and belongs to a corporate entity all the way in Estonia.
Over the years, AM has slowly, but surely built up a reputation of being a trustworthy Forex and other asset broker. As you can probably imagine, that's not a simple thing to do!

In addition to building a trustworthy image for itself, some user Admiral Markets reviews also mention the fact that the broker is also slowly adding in new assets for customers to trade and exchange. This is where the cryptocurrency part comes in, too - cryptos are just one of the few asset groups that AM has been branching out towards.
So, in short, if you're looking for reliability, and are serious about finding a long-term broker, then you can be sure that many of the user Admiral Markets reviews are going to point you towards AM.
CFD Cryptocurrency Trading (The Good Part)
Strap in, since this is going to be a wild ride - get ready for some financial lingo, and possibly a lot of potential contemplating on whether Admiral Markets is right for you.
Earlier on in the Admiral Markets review, I mentioned that AM is a bit of a unique case as far as cryptocurrencies go. Well, it surely is - sometimes, this uniqueness is just what you might need, while at other times, it's going to push you away from the platform completely. For the sake of staying concise, let's discuss the good part, first.
With Admiral Markets, you CANNOT trade and exchange ACTUAL cryptocurrencies - instead, you are going to participate in what is known as "CFD trading".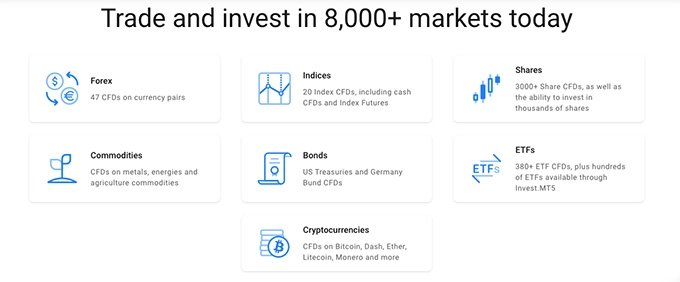 CFDs are Contracts for Difference. They are a special kind of financial instrument that many traders around the world use in their day trading activities.
With a CFD, you don't actually buy the underlying asset - by extent of that, you don't buy the cryptocurrency, either. Instead, you 'bet' on the price of the asset - say, you partake in a CFD that notes that the price of BTC is going to be higher, at a set point in time.
As you can probably imagine, this is a VERY controversial way of trading cryptocurrencies. However, as said earlier, let's first focus on the positive side of things, shall we?
As some user Admiral Markets reviews might tell you, CFD trading is going to be perfect for those who aren't really keen on owning or managing their cryptos, and instead, just want to make a profit with the market.
In other words, if you have no special interest in blockchain technology, and are only curious about cryptocurrencies concerning their financial potential, then CFDs might be the way to go.
With a CFD, you are only going to need to worry about your Admiral Markets account. As opposed to that, if you were to own actual cryptocurrency, you would then have to start thinking about the best wallet to keep it in, different levels of security, and so on.

It's completely understandable that many people aren't going to be keen on getting into the details of owning crypto, especially when there's such a huge load of newcomers hitting the scene these days. Or, perhaps, you come from traditional stock investments, and CFD / derivative trading is much more approachable to you?
Whatever the case might be, the point remains the same - if you want to use the Admiral Markets webtrader for trading cryptocurrency CFDs, and are not really in the mood of researching crypto from a deeper perspective, the platform in question should suit you just fine!
Latest Binance Coupon Found:
$600 WELCOME BONUS
Binance Black Friday Deal
If you're new to Binance, great news - this Binance Black Friday period, you can earn up to $600 in rewards. Sign up, use the code 49316610, and start earning now!
Expiration date : 01/12/2023
2,817 People Used
Only 46 Left
Admiral Markets Review: CONS
Right, then - we've covered some of the more-prominent benefits that you can expect to receive whilst using AM. Note, though, that we've only concentrated on features that would relate to the crypto side of the platform - while there's a seemingly-endless list of features related to general Forex trading, that's not what we're interested in.
To continue on with our Admiral Markets review, though, let's see what are the less-positive things that people have to say about the brokerage in question.
CFD Cryptocurrency Trading (The Bad Part)
I mean, this probably doesn't come as a surprise, now does it?
Earlier on, we've discussed the benefits that you would receive if you chose to trade CFDs, and not actual cryptocurrencies - the only way to go about it with the Admiral Markets webtrader.
However, to be completely frank with you, it's not an ideal way for the vast majority of crypto enthusiasts.
The whole point of cryptocurrencies, in general, is for you to have the assets at your own disposal. In other words, to ACTUALLY OWN cryptos. With CFDs, this is quite the other way around.
COINBASE

Main score based on expert evaluations & real user reviews.

For which purpose or what kind of people is the crypto exchange most useful.

Buying, selling, and managing cryptocurrencies

The countries in which the cryptocurrency exchange is available for operation.

United States, United Kingdom, Germany, Canada, France, + 100 more,

Most popular hand-picked deals & coupons.

All Coinbase Coupons

Final crypto exchange evaluation conclusion based on research, expert opinions & user feedback.

A reliable, well-known and respected cryptocurrency exchange platform.
Visit site
Read review
Table: Main features of Coinbase, an alternative option to Admiral Markets
Funnily enough, it's not even close to derivative trading, where you would own a contract for the underlying asset. Instead, with CFDs, you are simply betting on the price - that's it.
It's an obviously-controversial topic in the crypto world. Most people are surely going to turn towards the traditional way of trading cryptos - a way that's not available with AM. It's part of the reason why you would struggle to find a whole bunch of crypto enthusiast Admiral Markets reviews online, too!
A Platform Catered Towards Forex Trading (+ Small Crypto Selection)
Probably one of the biggest issues with Admiral Markets (at least as far as crypto trading goes) is the fact that it's not exactly catered around people who want to trade cryptocurrencies.
This makes perfect sense, when you think about it. For the longest period of time, Admiral Markets had only concentrated on providing its clients with the ability to trade Forex and other types of assets, cryptocurrencies excluded. It doesn't help that cryptos are a truly unique asset class that requires their its functionality, either!
Even when you log into the AM platform for the very first time, you will likely notice that cryptocurrencies are nowhere to be seen - the entirety of attention is paid to some of the more-traditional assets, which does make sense, from AM's side of things.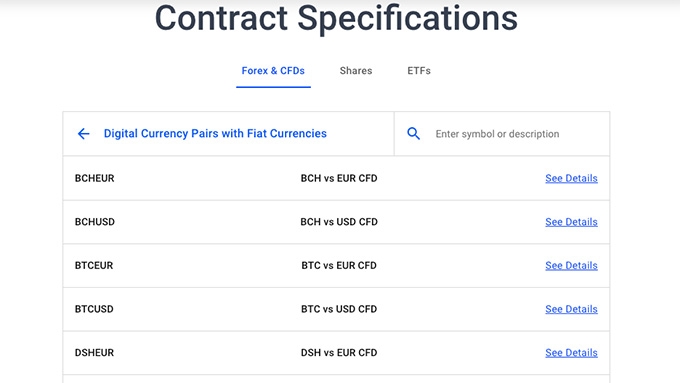 Furthermore, when reading through various user Admiral Markets reviews, you might find that, on the platform, there is little mention of the term "crypto" - instead, these assets are referred to as "digital currencies".
This brings me to another point - Admiral Markets supports very few cryptos for you to trade CFDs with.
If you'd like to trade crypto CFDs in pairs with fiat currencies, you would have around 11 crypto coins available for you to check and try out. Sure, these coins include giants such as Bitcoin and Ethereum, but other than that, the selection is, admittedly, very limited.
This might not be that big of an issue in regards to individuals who want to focus on one or two coins. If, however, you'd like to play around with different cryptos, then 11 options are definitely too few.
Not Available for US Residents... Or is it?
Did you notice how, throughout this Admiral Markets review, I kept on mentioning Admiral Markets US? That's because the platform has garnered a lot of attention in the country! There are many people wondering if they can trade cryptocurrencies (or, rather - crypto CFDs) on AM if they are based in the States.
And, well, the answer to that appears to be very confusing.
As interesting as it is, Admiral Markets' customer support has informed me that there is no chance of trading cryptocurrency CFDs from within the US. This is because of some regulatory issues that the platform has with the financial overseers within the country.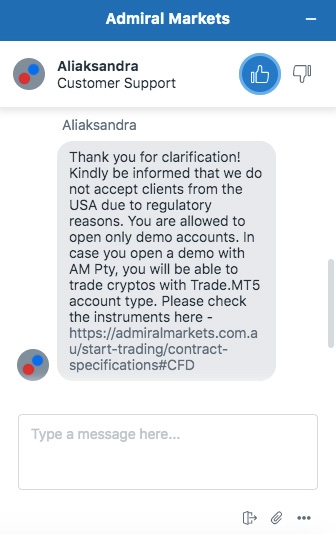 Now, as you can probably agree, if true, this is pretty disappointing. The US is a huge market for crypto trading, especially during times of such increase in popularity!
At the same time, though, there are actually many exchanges out there that do not allow US-based residents to trade actual cryptocurrencies on their platforms. Oftentimes, it has to do with the SEC.
On the flip side, though, when you go and visit the Admiral Markets' official website, there's information available about trading crypto CFDs right there, on-site. The inconsistencies of information are extremely confusing, and can surely dissuade wannabe-investors from even trying Admiral Markets out!
Not for Beginner Traders
One sentiment that you'll likely find expressed pretty often among different user Admiral Markets reviews is the fact that this particular brokerage isn't going to be suitable for beginner traders. Crypto enthusiasts are no exception.
I can actually confirm this first-hand, too. Upon the initial registration process on the platform (that we'll take a look at in a minute), everything seems manageable. However, as soon as you set your account up, and get into one of the trading rooms, it starts becoming really confusing, really fast.
To be completely frank with you, there are definitely easier-to-use exchanges out there. Truthfully, any one of the top-rated cryptocurrency exchange platforms is going to be much, much easier to use and navigate than Admiral Markets!
The interface is definitely not catered around beginner traders - just something that you should keep in mind!

Did you know?
How to Use Admiral Markets?
To finish off our Admiral Markets review, we'll take a look at some usability aspects of the brokerage in question.
Note, though, that I wont be going too in-depth in regards to the actual trading processes, or account funding options. That's because, as established earlier, Admiral Markets isn't really a crypto-centered platform.
We will, however, cover all of the main points, and also talk about how you should start your journey with AM, if you so wish to.
How to Register on Admiral Markets?
First things first - the registration process.
Step 1: Go to the Admiral Markets official website.
Step 2: Once here, you will see the big green "Start Trading" button at the top-right corner of the screen. That's your destination.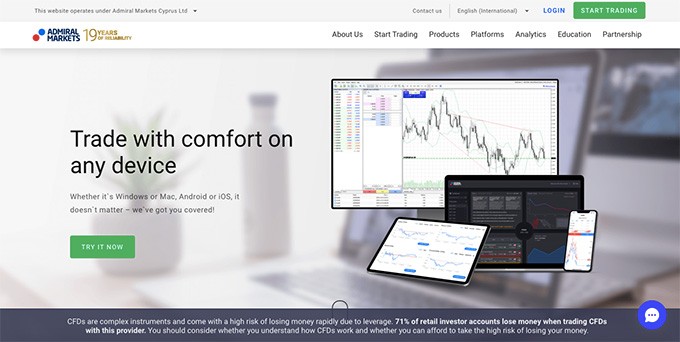 Step 3: Now, you will need to fill out some basic information about yourself, as you would with any other brokerage platform out there. The information includes things such as your full name, phone number, email address, and country of residence.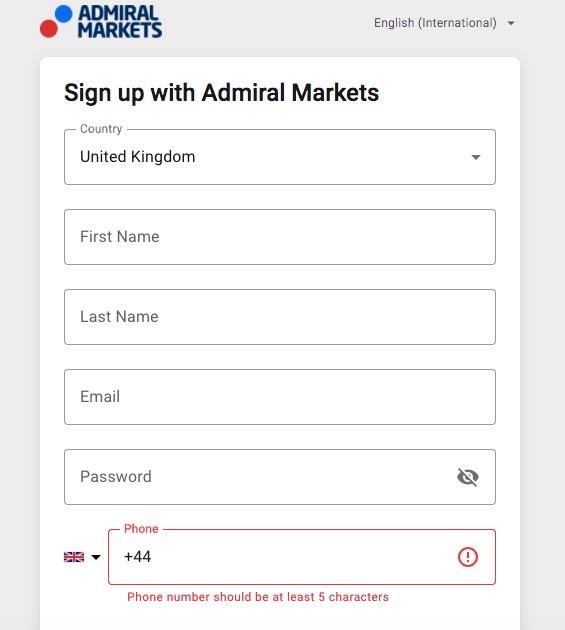 Step 4: Then, you will be sent an email in order to verify your account's creation. Go to your email, and click the link you'll find there.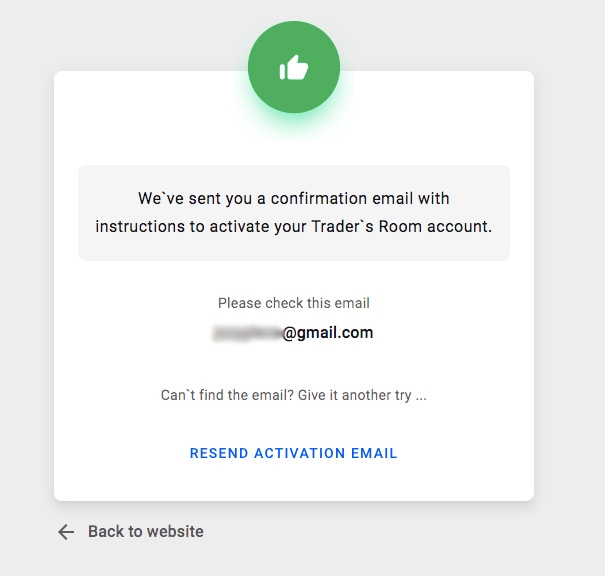 Step 5: You will be redirected to your dashboard, and asked to perform all of the rest of the account verification and activation processes. These include verifying your identity and address, accepting account setup legalities, depositing funds, and so on.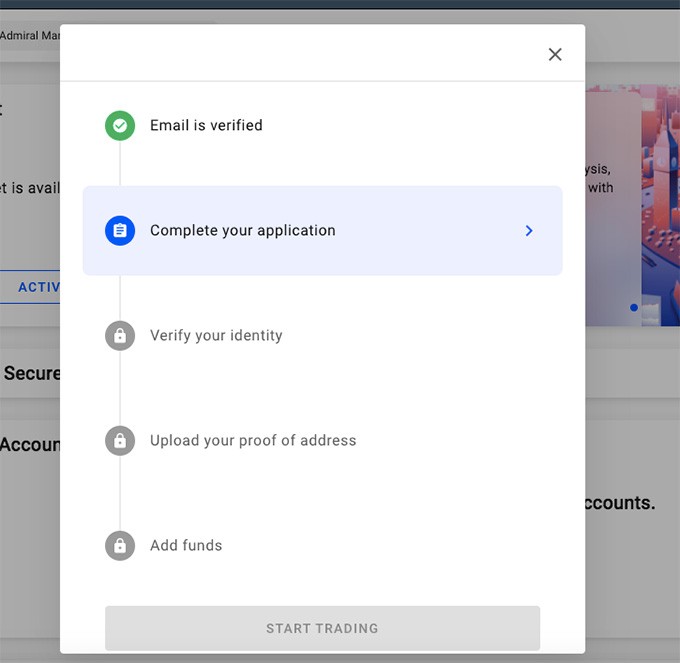 You can, admittedly, choose to perform all of these tasks at a later time, and start trading with a demo account.
If you do decide to set your account up at the start, you will be able to trade actual currencies and other assets in a short period of time. In order to start off, you'll need to choose between the M4 and M5 Admiral Markets webtrader platforms, set your leverage, and tweak some other, minor options.
Once that's done, you'll receive login information for your trading dashboard, and will be able to start!
While the registration process is quick and simple, that's where the simplicity truly does end. As pointed out earlier on in this Admiral Markets review, the site is aimed at experienced traders - if you have no prior experience in the field of trading stocks or some other types of assets, you might start feeling quite lost, pretty fast.

Pros
A very well-known crypto exchange platform
More than 500 different cryptos available
Two-factor authentication
Main Features
Over than 100 different cryptocurrencies available
Strong security
Small withdrawal fees

Pros
Secure and reliable
Low fees
A good amount of fiat currencies accepted
Main Features
Reputable exchange
Multiple fiat currencies are accepted
Relatively low trading fees

Pros
Anonymous trading
Secure
Supports a variety of cryptocurrencies
Main Features
Easy to use
Low fees
Good security
Conclusions
That concludes our Admiral Markets review! If you've read it from start to finish, you should now be aware of both the pros and the cons of the platform in question, at least as far as cryptocurrencies are concerned.
If you're wondering whether or not I would personally recommend Admiral Markets, I have to say - sadly, no, I would not. Rather, let me rephrase that - I would definitely not recommend it for beginner traders who are looking to trade cryptocurrencies.
You see, don't get me wrong - Admiral Markets is an established broker, with a great reputation all around the world (where it is available, of course). The platform offers many high-end features, and will surely suit any of the more traditional-minded traders and investors.
BINANCE
COINBASE

Whether or not the cryptocurrency exchange has integrated tools to help you analyze your performance.

Whether or not the cryptocurrency exchange has a functioning mobile app.

Level of security & safety offered by a certain cryptocurrency exchange.

Whether or not the cryptocurrency exchange allows you to directly copy the positions taken by another trader and connect a part of your portfolio with theirs.

What kind of unique additional features are offered by a certain cryptocurrency exchange.

A Comprehensive User Center that Displays All The Information You Need in One Place
A Built-in Wallet

Whether or not the cryptocurrency exchange allows their users to remain anonymous.

Visit site
Read review
Visit site
Read review
Table: Coinbase and Binance, two great alternatives to Admiral Markets
When it comes to cryptocurrencies, though… There are simply way too many issues to overcome, and too many compromises to make in order to state that AM is going to be "great for crypto trading".
Lack of crypto coins, CFD trading instead of actual asset acquisition, extremely steep trading learning curve, unavailability for US-based investors… Surely, if you're very passionate about Admiral Markets, and would like to trade other assets in addition to cryptos, most of these hurdles can be overcome. However, if that's not the case, trust me - there are much, much better options available.
Having said that, thank you for reading my Admiral Markets review. I hope it was useful to you, and wish you good luck with all of your crypto-related ventures to come!
The content published on this website is not aimed to give any kind of financial, investment, trading, or any other form of advice. BitDegree.org does not endorse or suggest you to buy, sell or hold any kind of cryptocurrency. Before making financial investment decisions, do consult your financial advisor.
About Article's Experts & Analysts