Use BitDegree Tokens to Get Discounts
If you think the BDG crypto token is the only one you can use when buying courses from the BitDegree marketplace… Think again!
If you pay for your courses using a credit card or PayPal account, you can exchange some (or all) of your platform-stored tokens for a discount. Once you get to the checkout page, you will the Additional Discount column on the right:

By expanding the field that says Use BDG tokens, you will see how many tokens you currently have (you can also see it in your user dashboard) and specify how many you want to use for this particular purchase. Every token you use will lower the price by $0.01: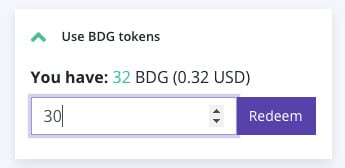 Using your hard-earned tokens, you may get up to 50% off the regular price of the course! And if you hover on the little question mark next to the words Additional Discount, you can also see a short explanation of how the available discount is calculated according to the amount of tokens you have collected.
Vote for Community Courses
If you can't find a course you want on the BitDegree platform (highly unlikely with this vast of a selection – but things happen!), you can also use platform-stored tokens to vote in the Community Courses section: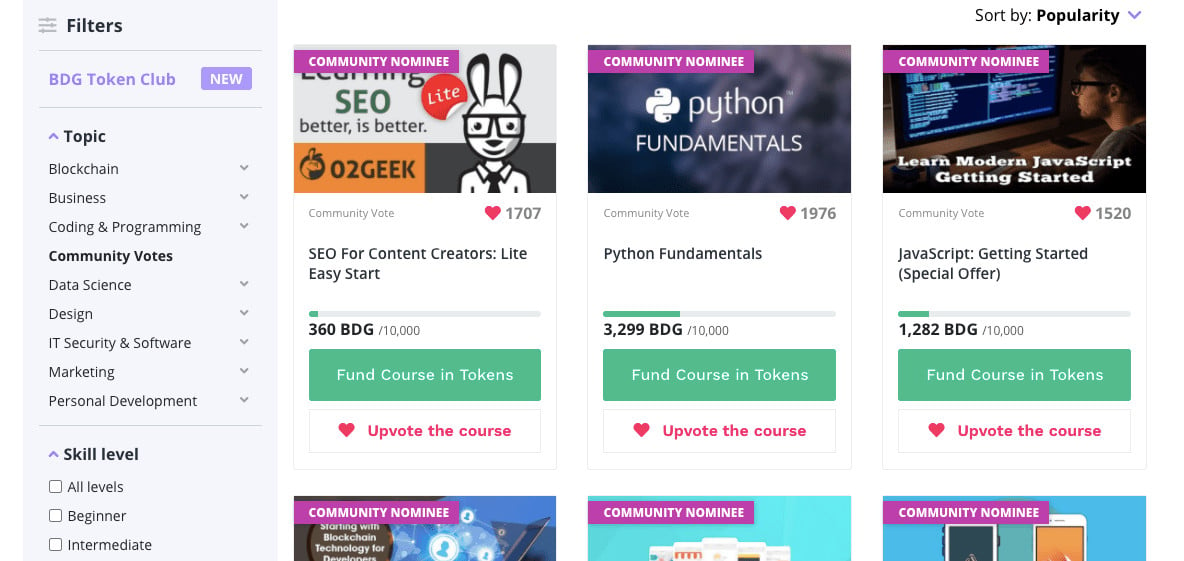 Think of your support as a little incentive to the course initiator to start making the course faster. The more people want to see a particular course on the platform and vote for it, the higher the chance it will appear on the Marketplace!
In the future, we're also planning to allow tipping your favorite instructors once you complete a course you really enjoyed – stay tuned for the updates!
Convert Your Savings
If you are a master of finishing online courses, chances are you have a lot of BitDegree tokens in your pocket already. Did you reach 50,000? Congrats! That means your platform-stored BitDegree tokens can now be converted to the blockchain one and sent to your crypto wallet.
You can request this by sending a message to [email protected] – our team will take care of the rest!
It's Up to You How to Use the BitDegree Tokens!
As you can see, there are multiple choices for what you can do once you receive BitDegree tokens. You can choose to invest in your education, encourage others to start creating new courses, or convert them to cryptocurrency and spend it however you want.
It's really up to you – nevertheless, if you have any doubts, our recommendation is always to learn as much as you can: it will surely open even more doors and attract new opportunities for you!