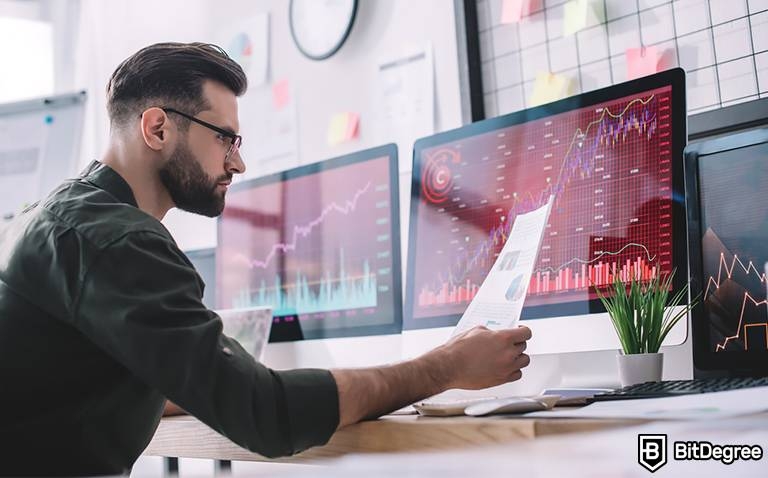 The world is becoming highly data-driven due to the rapid increase in digitalization in various facets of our lives. Many companies can benefit from this because the more data they can access and analyze, the better business strategies they can create. However, to take advantage of vast amounts of data, companies must have data literate teams - but what is data literacy?
You'll find a broader data literacy definition below, but, for now, know that it is a data comprehension skill that is useful not only for businesses, but also for individual growth overall. Especially due to the fact that new data-driven technologies emerge on a regular basis.
So, since the demand for data literate people will only keep increasing, renowned educational platforms like DataCamp, Udacity, or Udemy seek to provide individuals and businesses with all the necessary tools for learning data literacy skills, including courses, tutorials, and workspaces for developing data literacy training programs.
That being said, in this article, you're going to find out what data literacy is, why is data literacy important, where to find or create the most efficient data literacy training programs, and much more.
What is Data Literacy?
If you want a short answer to the question "What is data literacy?" - it is the ability to make informed judgments based on data. Though, to be literate in data goes beyond being able to read and write it, as it also includes the ability to analyze, interpret, communicate, and reason with data.
Latest DataCamp Coupon Found:
CLAIM 50% OFF
DataCamp Cyber Monday Deal
DataCamp Cyber Monday special is here! Enjoy a massive 50% off on DataCamp plans. Subscribe now and redefine your data and Al skill set for the better!
Expiration date : 08/12/2023
5,324 People Used
Only 36 Left
In essence, a data literate person is able to distinguish different types of data, knows what are the common data sources, what kind of data analysis techniques there are, what is data hygiene, how to use various tools and techniques to deal with data, and, of course, how to utilize data to their own (or their business's) advantage.
Now, although data literacy is typically thought of as an individual skill, it is also an organizational skill. Why? Because the more value from data a company is able to get, the better business outcomes it will have. And, let's be honest, working in a highly skilled team is way more effective than working alone. This is the reason why data literacy training programs are receiving more and more attention.
If you want to go beyond the theoretical data literacy definition, I suggest checking out DataCamp's "The State of Data Literacy in 2023" report. It is based on a survey where over 550 UK- and US-based business leaders elaborated on their approach to data literacy upskilling.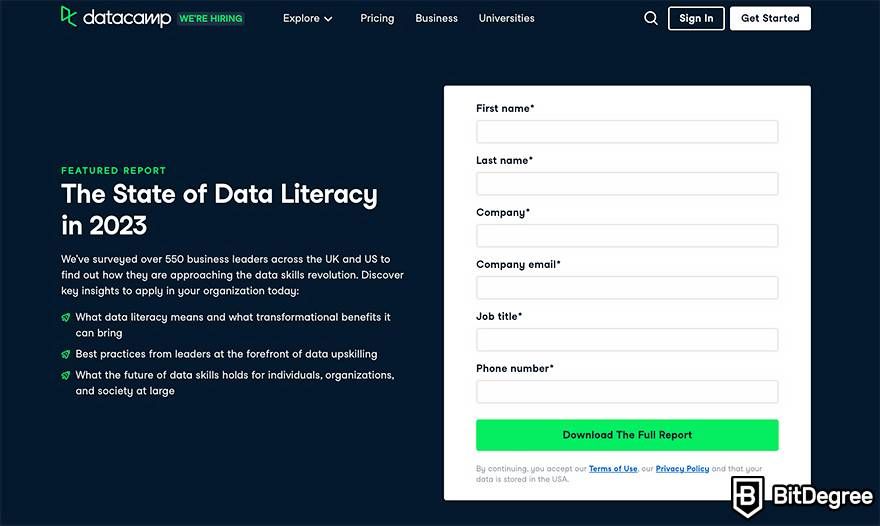 Thus, you'll not only find out more about the whole imperative of data literacy, but also what are the best practices for improving data skills (and which data skills are the most crucial), how data literacy impacts innovation and return on investment (ROI), what the future holds, and much more (all of that based on real-life experience).
Don't worry, though, this is not your usual thousand-page boring report. On the contrary, it features many visualizations, images, and interesting facts that make the report easy to read. Besides, it's free! The only thing you need to do is provide your information (like name and surname, email address, phone number, etc.) and download it.
Additionally, note that you can find the most recent information and recommendations on how to acquire the abilities necessary to flourish in the data and AI era during DataCamp's Data & AI Literacy Month, taking place in September 2023.
Now, I just mentioned that the report highlights which data skills are the most crucial, which might leave you a bit confused as I said that data literacy is a skill in itself. Well, that's right. It can, however, also be divided into a variety of "sub-skills". What are the key ones, then?
Key Data Literacy Skills
For one, keep in mind that there are non-technical data literacy skills that are actually more like "universal" skills every educated person should have. This includes critical thinking, research skills, communication skills, and the ability to keep up with the latest trends. All these skills act as a strong foundation for building technical data literacy skills.
Speaking of those, the following are the main ones:
Data Analysis. It's pretty self-explanatory, but, essentially, this skill refers to the ability to read and interpret data based on various frameworks, models, algorithms, and so on. Data analysis can be distinguished further into different types, including descriptive, diagnostic, predictive, and prescriptive analysis.
Data Visualization. This skill refers to the ability to turn data into images, charts, graphs, and any other visual representations. It's especially important for presenting that data to others in a simple and understandable manner.
Data Storytelling. Speaking of data presentation, this is exactly what this skill refers to - being able to present data to various kinds of audiences. Thus, data storytelling goes hand in hand with data visualization.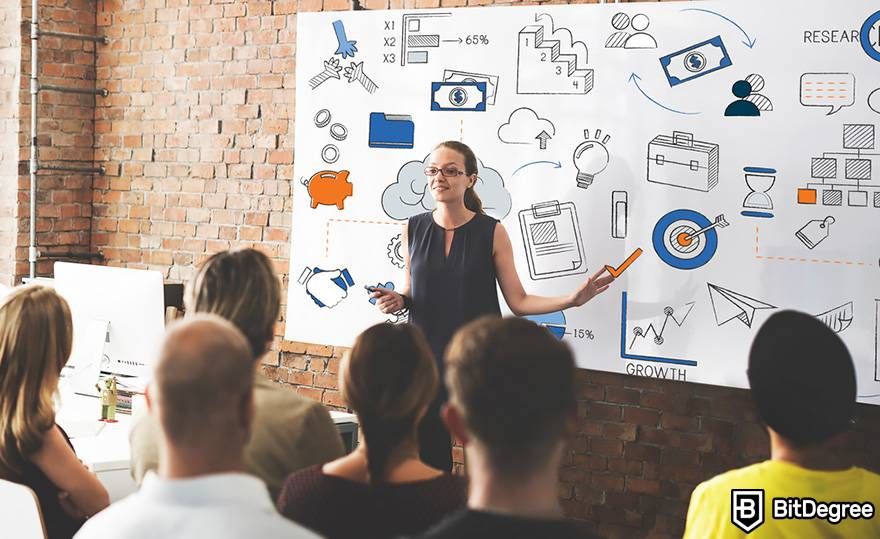 Data Wrangling. This skill is also known as data cleaning or data munging. It refers to the ability to turn raw data into a reader-friendly format. What does it mean? Well, let's say you have an Excel spreadsheet with unstructured data that has errors and gaps. If you have the data wrangling skill, you'll fix all the errors and structure data so it would be easier to read and use for others (that's why it's also called data cleaning).
Programming skills. While this is a skill that could be pretty difficult to master, it's crucial when it comes to automating your data analysis. For example, if you want to develop a data analysis program or create a complex dashboard for dealing with data, you'll need to use such programming languages as SQL, R, or Python.
While these are not the only data literacy sub-skills, they are, indeed, the key ones. Which one is the most important, though? Well, according to the aforementioned DataCamp report, the most important data skill is data-driven decision-making, which is kind of a combination of data analysis and critical thinking skills.
So, now that you have a pretty good understanding of what data literacy is, it's time to talk about its importance.
Why is Data Literacy Important?
You might be wondering, "Why is it important to know what is data literacy and how to improve this skill?" Well, according to DataCamp's report, 1 out of 5 most needed skills in workplaces (since around 2018) is data literacy. At the same time, though, more than half of the leaders that participated in the survey said there is a data literacy skill gap in their organizations.
The fact that big data, artificial intelligence, and machine learning have lately experienced a number of technological developments is one of the primary reasons why data literacy has become such a crucial ability to possess.
For example, let's take the groundbreaking ChatGPT technology, which is an AI-driven natural language processing tool. It can be beneficial for various types of tasks - from getting fast and structured answers to various questions to creating complex code structures. However, to use the technology, you have to be tech-savvy.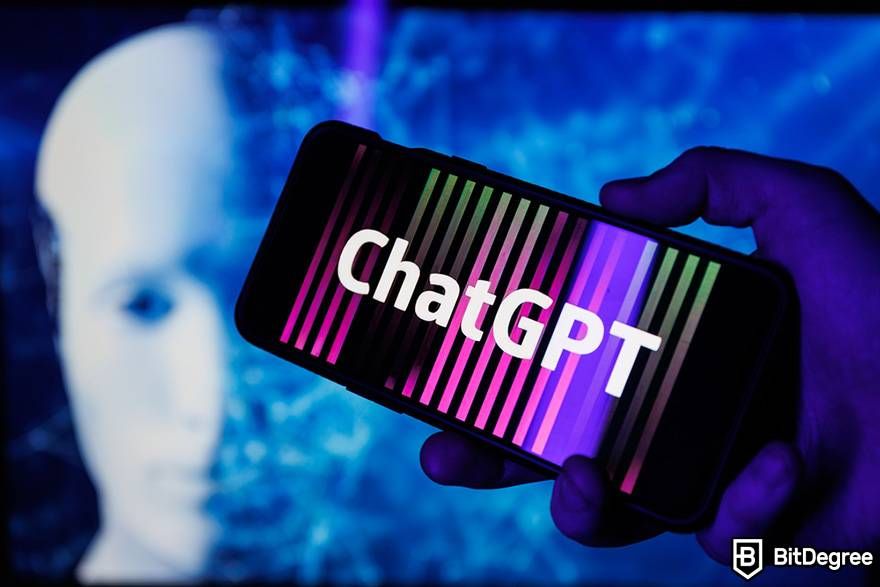 Another thing that DataCamp's report revealed, which also doubles as a reason why this skill is important, is that data literate employees tend to outperform those who are not. Why is the case, though?
You see, those who are data literate can come up with useful business insights by asking the right questions, collecting the right data, and connecting the right data points. In addition to that, they usually know how to store and use data in an ethical and legal manner.
Besides the aforementioned reasons, data literacy is a very useful skill to have overall. Not only for business's sake, but also for the sake of you as an individual. After all, if you are data literate, you also have great critical thinking, research, and communication skills, which could help you make better decisions in every aspect of your life.
In light of the fact that you already understand what data literacy is and why it is important, let's talk about how to help your team, your employees, or even yourself, to develop data literacy skills.
Data Literacy Training Programs: How to Make Your Team Data Literate?
What is data literacy? A skill. What is the best way to improve skills? Through skill-specific courses. What is the most efficient way to make your team data literate? Through data literacy training programs.
However, it might not be that easy to create effective data literacy training programs yourself. This is where platforms like DataCamp, Udacity, or Udemy come in, providing you with tools for either using already existing data literacy programs or creating your own.
DataCamp for Business
By far, one of the best platforms (if not the best) for upskilling your team is DataCamp for Business. It is an environment that you can use to provide your whole team (no matter if it consists of 2 people or 10,000) with AI and data literacy training programs. You can even customize your experience based on different industries, including finance, healthcare, consulting, government, and technology.
So, how does it work? Well, on one hand, you can choose from various pre-made data literacy programs that are customized for specific careers, such as data analyst, data scientist, data engineer, and so on. Besides, these programs are made for various skill levels.
On the other hand, if you want to further tailor your experience, you can design your own Data Academy based on the precise needs of your company. You may create custom learning paths for various job types and skill levels, ranging from data consumers to data experts.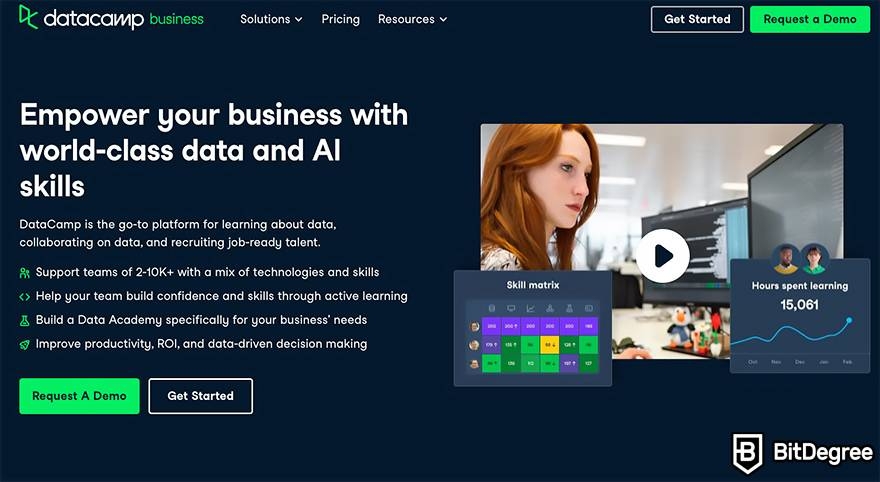 However, DataCamp for Business offers you more than just courses, including practice exercises and skill assessments. And do you know what the best aspect of these exercises is? No additional software is required; all the programs required for these activities are built-in.
Additionally, note that you can integrate DataCamp for Business with various learning management systems and your SSO provider to make the whole learning and management process even more convenient.
What about pricing? Well, if you have a team of up to 100 people, you can choose the Teams plan, which costs $25/month per user. However, if you have a bigger team, you can choose the Enterprise plan (for pricing, you have to contact DataCamp's sales department). Also, if you're not sure whether this is a solution for you, there is a demo version.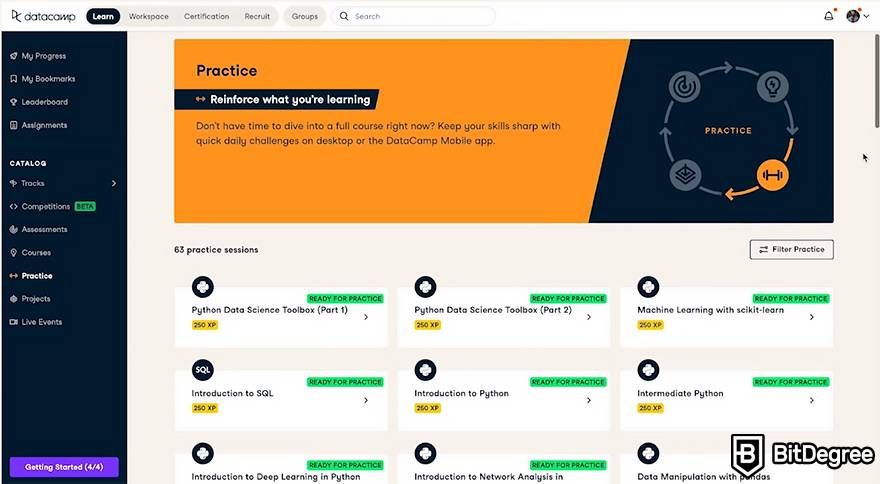 Overall, DataCamp for Business surely is a great choice for those searching for effective and efficient data literacy training programs.
However, if by any chance you're reading this article because you're interested in improving your own data literacy skills (not the skills of your team), I suggest checking out the Introduction to Data Literacy course. It teaches you about data literacy basics, how to read data, how to analyze it, and how to communicate the insights you gained.
Or, you could also check out the Understanding Data Visualization course. It will teach you about the value of visualization, core data visualization concepts, how to interpret data plots, what impact color and shape have on data visualization, and how to avoid data plot problems.
Udacity for Enterprise
Another great option you have for making your team data literate is Udacity's Enterprise platform. It features the Talent Transformation Suite and the Digital Competency Platform that has various "schools," one of which is the School of Data Science. It offers 17 Nanodegree programs, 37 courses, and 55 unique projects.
What are Nanodegree programs? Put simply, these are computer-science-focused certified online education programs. These programs are developed together with data science leaders like IBM Watson or Insight, and they usually last 3-4 months.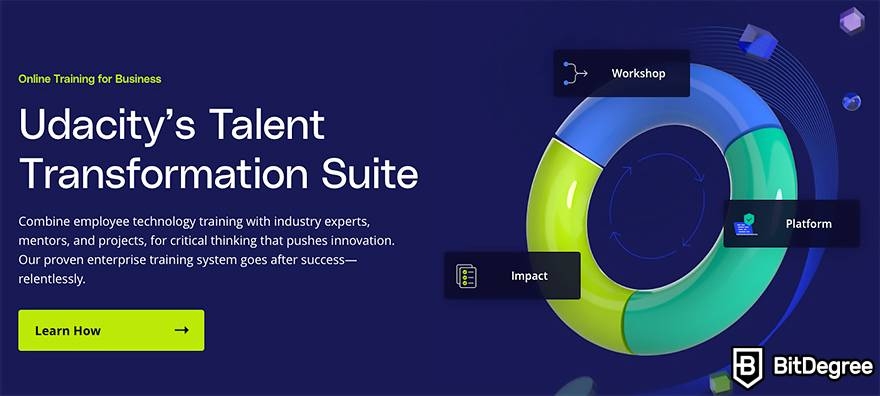 Now, talking about the Talent Transformation Suite, it allows you to first asses what kind of skill gaps your company has and then customize the learning experience based on these gaps and your business's goals. And, of course, this suite allows you to monitor and manage the learning paths your team goes through.
Talking about the Digital Competency Platform, it allows you to access various learning programs, including (but not limited to) the Data Science program.
Besides, if you want to hire new employees to fill the skill gaps your company has, Udacity can also help you with that through the Train-to-Hire program. How does it work? You first have to pick a competency program, which is suitable for you. Then, Udacity will promote the program, search for people to enroll in it, train them, and help you hire them.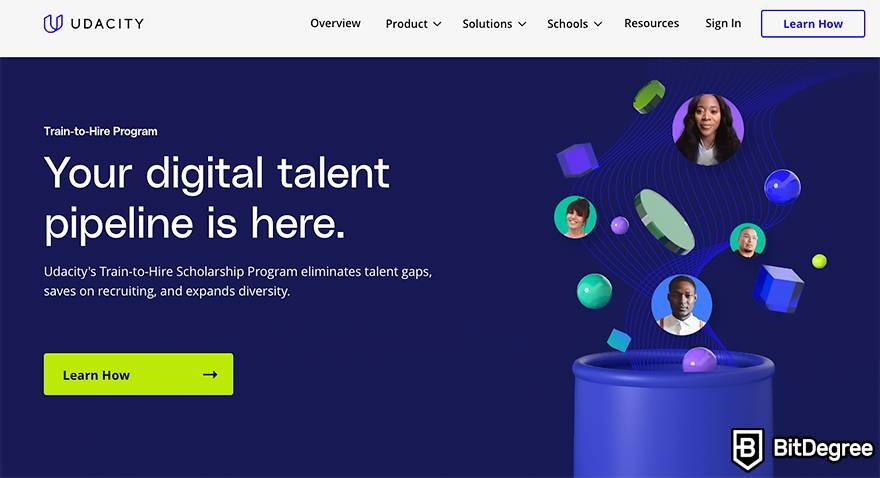 Considering the pricing, there is no one-fits-all pricing plan for Udacity's Enterprise solution. Thus, you have to contact Udacity to request a quote based on your needs. Otherwise, each course or program has its own price, which is usually around $399 per month.
All in all, Udacity's Enterprise solution is definitely worth considering when searching for the best data literacy training programs for your business.
Though, if you're searching for a data literacy program for yourself, you should check out the Become a Data Architect course. Once you finish this 4-month course, you'll know all about data architecture foundations, how to design data systems, what are big data systems, and how to design data governance.

Pros
Easy to use with a learn-by-doing approach
Offers quality content
Gamified in-browser coding experience
Main Features
Free certificates of completion
Focused on data science skills
Flexible learning timetable

Pros
High-quality courses
Nanodegree programs
Student Career services
Main Features
Nanodegree programs
Suitable for enterprises
Paid certificates of completion

Pros
A huge variety of courses
Easy-to-navigate interface
Over 600 free courses
Main Features
A huge variety of courses
30-day refund policy
Free certificates of completion
Udemy Business
Now, Udemy, which is one of the leading learning platforms, also offers a solution for businesses called Udemy Business. It provides companies with the possibility to customize their team learning experience with access to over 22,000 courses on various topics, including wellness, leadership, and, of course, data literacy.
The platform provides businesses with on-demand learning as it allows them to develop custom learning paths, and access curated course collections, as well as custom course creation. So, you will definitely be able to customize your data literacy training programs based on your company's needs.
What is also great about Udemy Business, is that it provides users with an immersive learning experience. Therefore, apart from learning videos, your team will also be able to put their newly learned knowledge into practice through workshops, assessments, and various labs.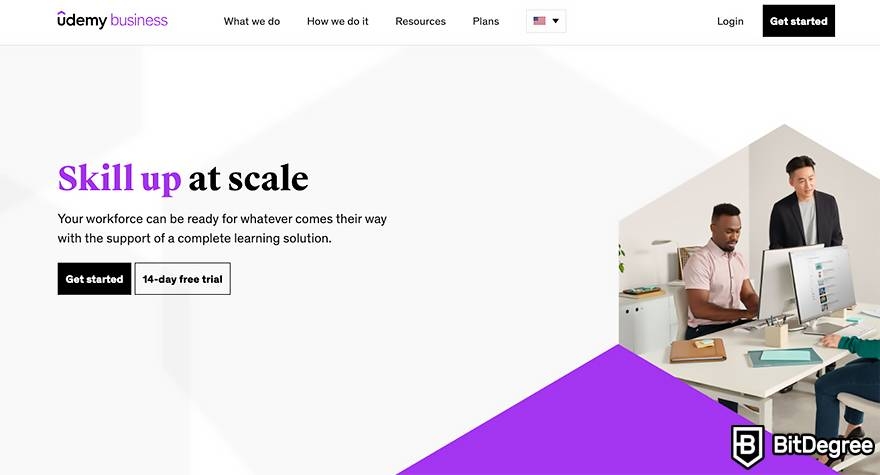 In addition to that, Udemy also provides users with a cohort learning experience through group-based leadership development programs. These programs include discussion forums, asynchronous learning, and live interactive sessions.
Besides, to ensure that your employees are staying on track, you'll get a comprehensive insight into their learning experience and progress from Udemy. So, if there are any problems, you can determine them based on the learning trends of your team, and then tailor their learning paths to solve these problems.
Now, speaking of pricing, if your team is no bigger than 20 people, you can choose the Team plan, which costs $360/year per user. It even has a 14-day free trial, if you want to try it out first. Do note, though, that this plan has its limitations course- and feature-wise.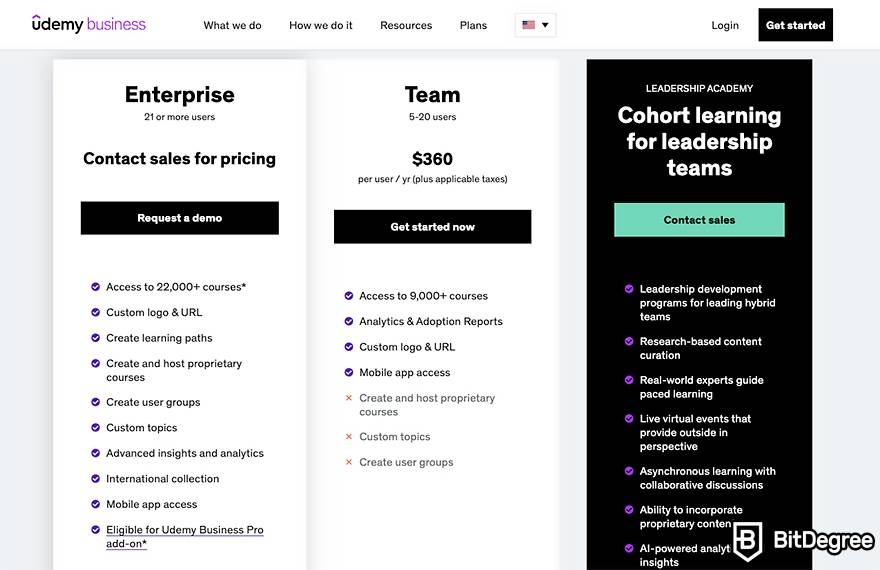 If your team is bigger than 20 people, however, there is the Enterprise plan. It offers all the useful features for managing the learning experience of a large team. As for the pricing, you have to contact the Udemy team to settle on a price plan suitable for your needs. Also, there is a demo version of the Enterprise plan.
So, as you can see, Udemy Business surely is a great option when it comes to upskilling your employees.
For those who are searching for a data literacy course for themselves, I suggest checking out The Data Literacy Course: Learn How to Work With Data. It's especially useful if you are a business analyst. The course teaches how to master the language of data, as well as how to use that data to improve your decisions and advance your career.
Challenges of Upskilling Data Literacy
So, you know what is data literacy, why is it important for your business, and where to find the best data literacy training programs. It seems like you're just a step away from making your whole team data literate. That's right.
However, you should keep in mind that nothing is ever that easy, and you might face some challenges. Though, if you know what kind of dragons you'll have to slay along the way, it will be much easier to deal with them.
The first challenge you might face is resistance from your team. Learning about new technologies might seem too difficult or frightening for some, which means that you'll have to find ways to convince them why it is so important to learn data literacy skills (DataCamp's report could turn out to be very useful in this situation).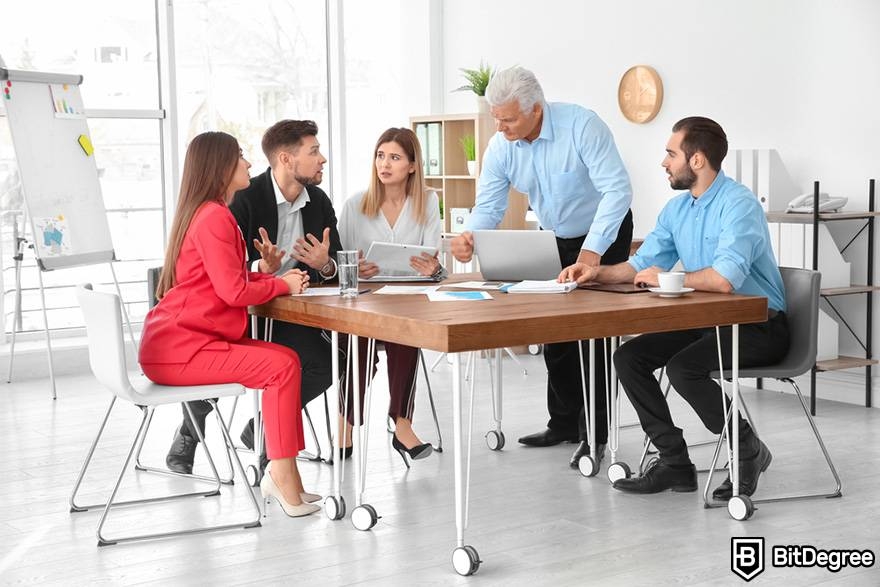 Also, you'll have to reassure them that they'll have a hassle-free learning experience. If you choose one of the aforementioned learning platforms to help you with that, I'm sure it will be pretty easy.
Another challenge you might face is a skill gap. You see, some members of your team might already have certain data literacy skills, while others might have minimal to no knowledge about dealing with data. This is why solutions like DataCamp for Business provide you with the ability to create custom learning paths for different skill levels.
Now, one more thing you should avoid if you wish to have a united data literate team is data silos. "What are those?" you might ask. Let's say you have a finance team and a marketing team. Both teams have their own data systems that only they can access - these systems would be considered data silos.
Why are they bad, though? On one hand, there's nothing wrong with having separate systems to avoid confusion. Nevertheless, if you want to have a strong data literate team that can work in tandem no matter what kind of data is in question, you should definitely avoid data silos.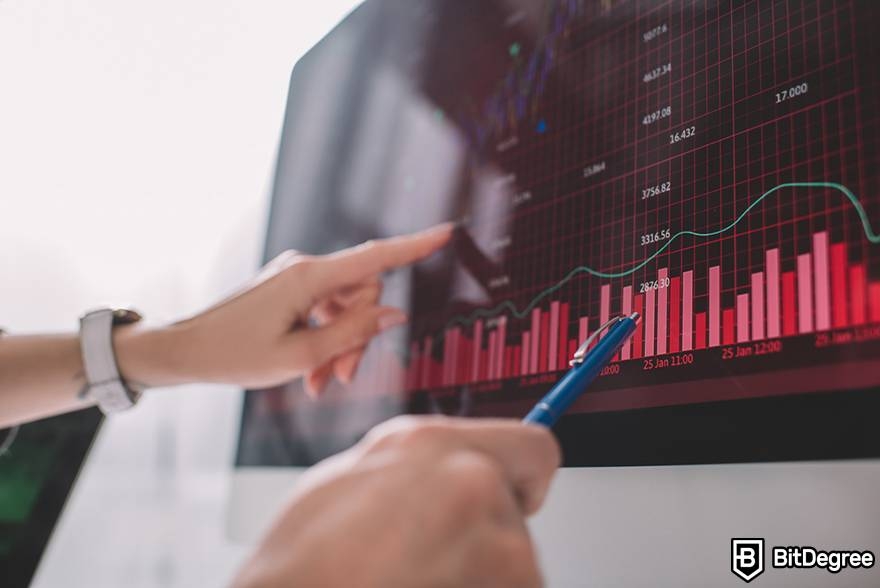 The last thing I want to address is not necessarily a challenge when it comes to upskilling your team's data literacy skills, but more like a tip you should keep in mind. The more data your company deals with, the better your data governance has to be.
Put simply, data governance is like a rulebook that ensures your company's data is accurate and secure. It outlines the way data should be formally managed in your organization to ensure quality, security, and privacy. So, if you want to make your team data literate, you have to make sure your data governance is efficient and that everyone knows how to follow it.
That's pretty much it when it comes to challenges you might face when trying to create a strong data-fluent team. To sum up, you might get some resistance from your team members, or you might also find some skill gaps in your team, which could make the upskilling process harder. However, with the help of the best learning platforms like DataCamp, Udacity, or Udemy, you can easily deal with those challenges.
Conclusions
By now, you should definitely know the answers to such questions as "What is data literacy?" "Why is data literacy important?" and "Where to find the best data literacy training programs?" Nevertheless, let me break it down for you once more.
Data literacy is the ability to read, write, manage, analyze, interpret, and present data, as well as make informed decisions based on it. However, to use it to one's advantage in an efficient way, data literate individuals should also know how to work with various tools and techniques.
When it comes to the importance of data literacy, there are three main points. Firstly, it's an important skill because we live in a world that becomes more and more digitalized. Secondly, data literate employees tend to be more valuable than those who are not. Lastly, data literacy is an interesting and useful skill to have overall.
Now, what about data literacy training programs? If you want to have an efficient and effective learning and management process, your best bet is to use platforms like DataCamp for Business, Udacity for Enterprise, or Udemy for Business. They will provide you with all the tools you need to make your team data literate.
Leave your honest feedback
Leave your genuine opinion & help thousands of people to choose the best online learning platform. All feedback, either positive or negative, are accepted as long as they're honest. We do not publish biased feedback or spam. So if you want to share your experience, opinion or give advice - the scene is yours!