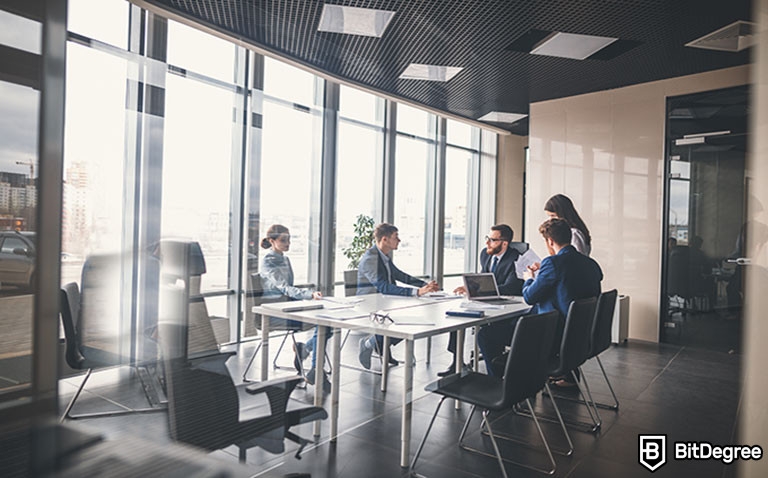 In 2018, there were already more than 30.2 million businesses in the United States alone[1]. Yeah, I know. The competition is real. Winging it is not enough anymore. You have to know what you're doing. If you don't know, the best thing to do is not to get scared, but to learn! You can reinvent your future with the best online business courses and gain job-specific skills fast.
Whether you're an aspiring or existing entrepreneur, student, or employee, building business skills will increase your chances of success. Critical thinking, problem-solving, effective decision-making, and good time management are what make successful businesses stand out among millions across the globe.
In this article, you'll find various free online business courses on top e-learning platforms as well as paid options, including professional certificates.
By the time you're done reading, you'll know what courses you can take to develop skills in social media marketing, business management, time and project management, negotiating, predictive analytics and even starting your own business!
Best Online Business Courses in 2023
I've researched countless online business courses on popular e-learning platforms including edX, Coursera, and Udacity. I picked the ones that cover a variety of skills, including general business management courses. Then, I looked at their ratings and user reviews.
Latest DataCamp Coupon Found:
CLAIM 50% OFF
DataCamp Cyber Monday Deal
DataCamp Cyber Monday special is here! Enjoy a massive 50% off on DataCamp plans. Subscribe now and redefine your data and Al skill set for the better!
Expiration date : 04/12/2023
5,324 People Used
Only 36 Left
So put your worries aside - all the courses you'll find here are highly ranked. The courses are provided to you by well-known universities and taught by experts in their field. Click here if you want to find out more and see the full ranking of these and other popular e-learning platforms.
We, humans, like to weigh our alternatives before making an important decision. I get that. Plus, it's hard to make a decision when there are so many courses on the internet.
This is precisely why I want to give you as much information as possible on the different options.
I highly recommend reading my extensive reviews of each platform by clicking on the links below:
They go into more detail about the specific characteristics of each platform as well as users' opinions. Check them out!

Pros
Easy to use with a learn-by-doing approach
Offers quality content
Gamified in-browser coding experience
Main Features
Free certificates of completion
Focused on data science skills
Flexible learning timetable

Pros
High-quality courses
Nanodegree programs
Student Career services
Main Features
Nanodegree programs
Suitable for enterprises
Paid certificates of completion

Pros
A huge variety of courses
Easy-to-navigate interface
Over 600 free courses
Main Features
A huge variety of courses
30-day refund policy
Free certificates of completion
Why Choose Online Business Courses?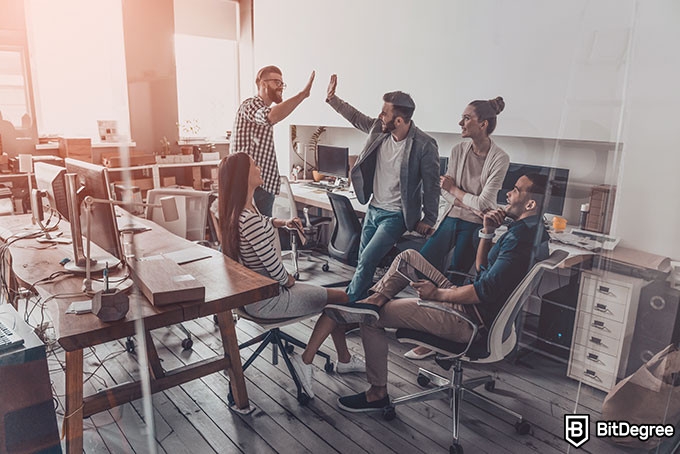 Many students often have doubts about whether taking an online course is worth it, and let me tell you:
Absolutely!
Now let me explain why.
As you're probably already aware, we live in a very fast-paced environment where everything is constantly changing and evolving. Consumers' tastes and trends in society too. Therefore, businesses must constantly monitor their strategies and operations to adapt.
As a result, skills that are required also change, therefore what you learned even 2 years ago, today can be already outdated. Having a degree doesn't cut it, the needs keep changing and in the 3-4 years that it takes to complete a degree, the need for new skills evolves.
So what can you do to keep up with the market?
Well, taking online business courses is actually a genius way to do that. Here are the benefits of taking an online course instead of getting a whole new degree at a university:
#1 They take less time to complete.
#2 You can choose specific skills to master.
#3 They are a lot less pricey. In fact, some of them are free!
#4 You can work and study at the same time.
#5 Advance your career just as well.
#6 It's an opportunity to apply what you learn in real-time and get closer to achieving your goals faster.
In 2023, the sooner you learn something, the more chances you have to succeed.
Alrighty! Now that you're familiar with the platforms and know the benefits of taking online business courses - let's move on, shall we?
Top 7 Online Business Courses and Specializations
As I mentioned, most of the courses on this list can be accessed for free. You'll only have to pay if you decide to receive a certificate or complete a whole program.
Need a motivation kick? Check out our coupons for online courses by clicking here and save up to 100% on selected courses!
Sounds too good to be true? See for yourself!
All right, it's about time we get down to real business, don't you think?

Platform: Udacity
Offered by: Google
Duration: 〜 3 weeks
Price: FREE
Certificate: No
Level: Intermediate
Where to apply? Here
Looking for free online business courses? You're in luck. This short course is free and it's packed with valuable material for aspiring entrepreneurs that you simply can't ignore.
Silicon Valley's experts themselves (Matt Kaufman, Gigi Levy-Weiss, and others) will prepare you for turning your vision into a fully-fledged business by defining your goals and needs, building your team, and getting capital for your venture.
After completing this course, you'll be able to create your own unique pitch deck to gain customers or secure investment. Let's face it, what good is a business without them?
The course is divided into 5 main lessons. Each of them focuses on one big subject. All of the lessons include video materials, quizzes, and exercises for you to practice.
Topics covered:
Set Your Goals
Define the Skills You Need
Build Your Team
Get Capital for Your Business
Create Your Pitch Deck
If I had a business idea but didn't know where to start, I'd choose this course without a doubt. I mean, in the world where (almost) nothing is free, learning from business experts for free sounds like one hell of a deal.

Platform: edX
Offered by: Rochester Institute of Technology
Duration: 〜 8 months (suggested 8-12 hours/week)
Price: $1,212 (full program)
Certificate: Yes
Level: Graduate/advanced
Where to apply? Here
Anderson Economic Group analysis[2] revealed that through 2027, the project management-oriented labor force is expected to grow by 33%! This means that by 2027, employers will need about 88 million individuals like you in project management-oriented roles. Are you ready to join an industry that is adding 1.5 million jobs globally each year?
This graduate-level program will teach you to navigate the social and cultural aspects, legal and regulatory practices, technology, and infrastructure that influence projects' success in the global market. After completing this online business program, you'll face the challenges of global project management head-on.
It includes 3 online business courses and a final exam which you'll have to take to earn the Project Management MicroMasters credential.
Here are all the courses within the MicroMasters program:
This course focuses on all the main phases of the project management life cycle: initiation, execution, planning, and closing the project. You'll learn how to evaluate risk, quality, scope, cost, time, resources, and communications as well as understand how real-life businesses use earned value analysis and project reporting to keep projects under control.
What's a project without successful implementation? Here you'll dive deeper into project management, and look at real-life case studies to understand how to utilize leadership skills effectively and how to align the project with corporate culture. You'll learn about Six Sigma as a set of techniques and tools that can be used to carry out projects successfully.
Working across borders is an inseparable part of many businesses today, which is why professionals with international project management skills are a highly valued asset for any organization.
International projects come with a unique set of challenges, such as language barriers, communication, time zones, and cultural dimensions. If not managed properly, they can damage the success of international projects.
This online business course will teach you how to understand different cultures' effect on work culture and a project itself, and how to maintain good communication when working on a global level.
Time to put your skills to practice! This will be an evaluation of the competencies and performance tasks, which define a successful project manager.
All of these are free online business courses, if you take them individually, without a certificate. However, you'll have to complete all the courses within this program to take the MicroMasters Exam.
Whichever option you choose really all depends on whether you require a professional certificate and credentials or not.
This program is a little bit pricey, but you can always use the coupon below to save a ton of money!
Edx Deal Active Right Now:
GET 10% OFF
Exclusive edX Cyber Monday Offer
Seize the opportunity with this Cyber Monday offer from edX! Enjoy a 10% discount when buying select programs in bundles. Gain knowledge from top experts at a lower cost!
Expiration date : 04/12/2023
4,325 People Used
Only 23 Left
Take the courses individually
By all means! If you want to take one or two courses individually, you can. You won't be able to take the exam, however, you'll still be able to learn from the materials provided in that course.
If you do need a certificate, you can purchase that specific course, which comes with full access to all the materials and quizzes, instructor feedback plus a certificate.
Also, you can "audit" individual courses for free, which means you can access most of the materials, but will not get a certificate.
I highly recommend completing the full program if you're serious about landing a high-paying managerial job or even managing your own business! You'll gain the knowledge that is job-specific a lot faster than you would in the classroom, so you'll save time and money, and will be able to apply newly learned skills sooner.
Besides, you'll benefit from the feedback that you can get on your work because you'll know exactly what areas you need to improve in.

Platform: Udacity
Offered by: Udacity's School of Business
Duration: 〜 3 months (recommended 10 hours/week)
Price: $200
Certificate: Yes
Level: Intermediate
Where to apply? Here
Gartner states that by 2023, 90% of corporate strategies will explicitly mention information as a critical enterprise asset and analytics as an essential competency, and about 30% of customer interactions will be influenced by data analysis, including real-time location, preferences, and behaviors.
It seems that Business Intelligence Analyst may just be the best future career option, given the fast-growing demand for a very specific set of skills. These skills are exactly what this course provided by Udacity's School of Business offers.
To gain the most out of course, it's recommended to have an understanding of algebra and descriptive statistics and have experience working with data in Excel.
If you are interested in this career path but are completely new to the world of data, consider joining the Business Analytics Program first, which is a beginner-level course that teaches the foundations of data analysis for business.
This course covers:
Problem Solving with Advanced Analytics
Data Wrangling
Classification Models
A/B Testing
Time Series Forecasting
Segmentation and Clustering
If you want to acquire these job-specific skills and gain expertise to become a business analyst - this program is for you. When you complete it, you'll be equipped with the main skills that are in high demand right now.
Nanodegree Pricing
[featured-coupon review_id="12"]
Pricing is slightly different when it comes to Nanodegrees on Udacity. Unlike the other Udacity course on this list, Nanodegree is not free. In fact, it costs around $200 per month (3 months access) and slightly more if you choose the pay-as-you-go option.
It is a bit pricey, however, this course comes with real-life projects from experts, technical mentor support as well as career services on demand.
Having said that, there are some coupon deals available right now, which give you up to 50% OFF selected courses. To find the best coupons click here.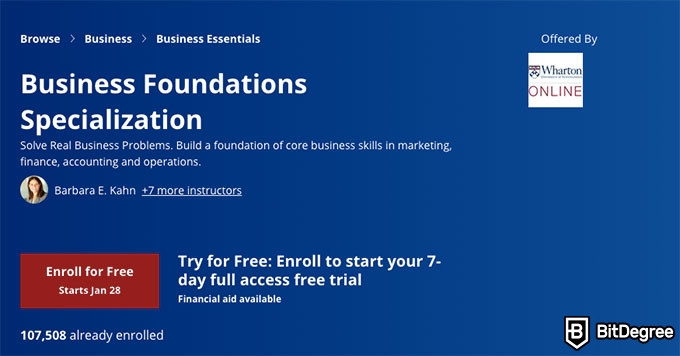 Platform: Coursera
Offered by: University of Pennsylvania, Wharton School
Duration: 〜 7 months (studying time: 2 hours/week)
Price: Free (to enroll)
Certificate: Yes (paid)
Level: Beginner
Where to apply? Here
Are you new to the world of business? Want to get in there and start making things happen but don't know where to begin? Take the first step with Business Foundations Specialization, provided to you by Wharton School, ranked as a #1 in business!
It's designed for students who have no prior knowledge, so don't worry if you have never studied it before. This specialization is made up of 5 different courses that teach you the basics of various fields in business, including marketing, financial accounting, HR, finance, and operations management.
After completing it, you'll have a solid foundation on which to build your career of choice. Apart from being familiar with various parts of any business, you'll gain an understanding of key business terms and learn how to use that language to communicate effectively.
These are the courses within the specialization:
This is where you'll learn everything about branding, customer centricity, and successful marketing strategies. Find out how to gain and maintain loyal customers, and how to remain competitive at times when it's becoming increasingly challenging.
This course will teach you how to analyze three main financial statements that are essential to every single business's success: the income statement, balance sheet, and cash flow statement. After that, you'll be able to use those to make informed decisions.
No business can maintain itself without the right people. This course is all about the most valuable asset - human capital. You'll explore topics such as motivation and reward, systems of work, good and timely management decisions, and designing the Organization's architecture.
As great as an idea of a business can be, it won't work if you don't have the skills necessary to manage the financial part of it. This course covers subjects like time value of money, interest rates, discounted cash flow analysis, and return on investment.
In this course, you'll gain an understanding of business processes, both in services and manufacturing by analyzing various operations and looking at the main factors involved: quality and productivity.
The final and most exciting part of the specialization. After completing all 5 courses, you'll get to apply what you've learned to a situation, where you'll be presented with some real-life business challenges.
Is it free?
[featured-coupon review_id="4"]
Here's how it works: you can access the specialization and all the materials for free for 7 days here.
After that, you'll have to purchase the course. The good thing about courses on Coursera is that you can always cancel the course within those 7 days, so there's no reason to skip it!
If you want full access to the course, here's a coupon that will give you up to 100% OFF and more sweet deals.
Another way to access the courses for free is to "audit" them individually. This gives you access to a lot of the material, however, you can't do quizzes and graded assignments.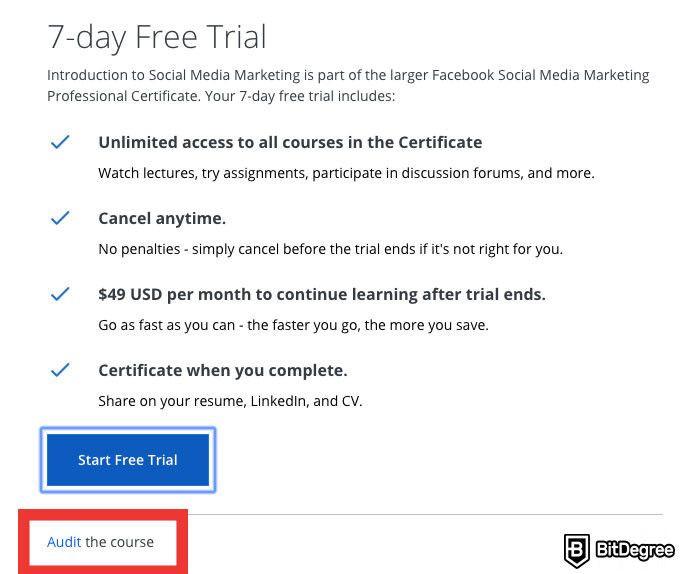 Can I take Single Courses?
Sure thing! If you don't want to take all the courses within the specialization, you can simply click on the name of the course above the description.
What are you waiting for?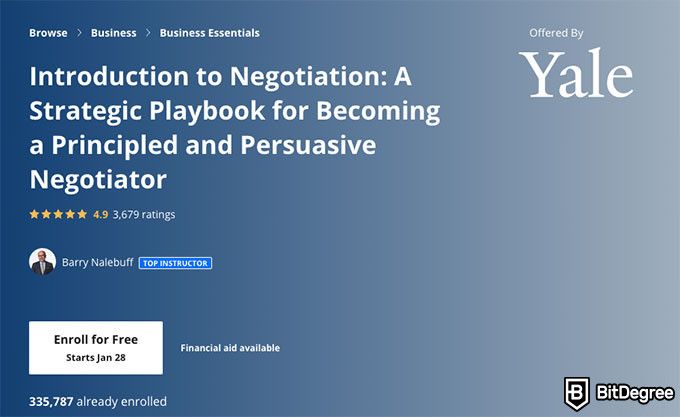 Platform: Coursera
Offered by: Yale University
Duration: 〜 31 hours to complete
Price: FREE
Certificate: Yes (paid)
Level: Mixed
Where to apply? Here
Being a good negotiator is a terrific skill to have for a businessperson. The role of good negotiation skills for the success of businesses is often underestimated.[3]
In fact, investing in such skills can really help you thrive. With that in mind, I'd really recommend taking this course if you want to gain that competitive edge.
This online business course will provide you a framework that you'll be able to use not only in business but in everyday life. Through breaking down various real-life examples and case studies you'll learn to make logical and persuasive arguments, to understand interests and motives, and better predict the behavior of your competitors.
The most exciting thing about this course? Experts like Linda Babcock, Herb Cohen, and John McCall MacBain will share their secrets with you about how to be a successful negotiator.
Topics covered:
The Pie Theory
Negotiation Caselets
Zincit Case
Outpsider Case
Insights by Negotiation Experts (Linda Babcock, Herb Cohen, and John McCall MacBain)
All the teaching material in this course comes with subtitles in Arabic, French, Portuguese (European), Chinese (Simplified), Italian, Vietnamese, Korean, German, Russian, Turkish, English, Spanish.
Is it free?
Yes! So, if you're looking for free online business courses - you found it. This course is a free online course, you'll only have to pay if you decide to purchase a verified certificate. Although given that it's provided by Yale University, I'd say go for it!
[featured-coupon review_id="4"]
Here's an incentive: click here to access some of the best deals available and get up to 100% OFF today!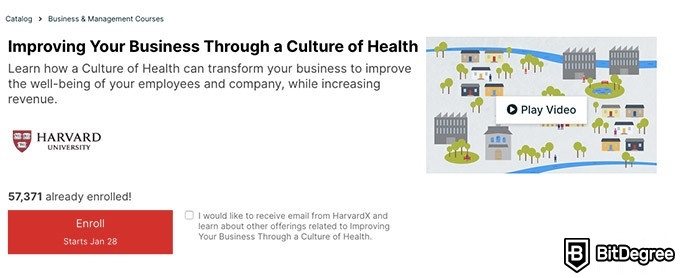 Platform: edX
Offered by: Harvard University
Duration: 〜 9 weeks (suggested 1-3 hours/week)
Price: Free
Certificate: Yes (paid)
Level: Beginner
Where to apply? Here
Guess what? More free online business courses coming your way! I present to you a unique edX course named Runner Up for Best Online Program of 2018 by ProEd - Improving Your Buss through a Culture of Health.
Most people think about financial health as a top priority in business. However, physical health of human capital is just as important for a successful business in the long-term.
Edx Deal Active Right Now:
GET 10% OFF
Exclusive edX Cyber Monday Offer
Seize the opportunity with this Cyber Monday offer from edX! Enjoy a 10% discount when buying select programs in bundles. Gain knowledge from top experts at a lower cost!
Expiration date : 04/12/2023
4,325 People Used
Only 23 Left
It increases employee retention and motivation, improves reputation, leads to better decision making, attracts top talent, reduces costs, and provides a huge competitive advantage.
In fact, a 2010 study published by the US journal Health Affairs revealed that for every dollar spent on wellness programs, medical costs reduced by about $3.27 and absenteeism (link) costs fell by about $2.73.[5]
It's no myth: happy employees, happy customers, happy business!
This course will teach you how to use Culture of Health to build a strong and healthy organizational structure for long-term success.
Topics covered:
How to implement a Culture of Health in your business to gain a competitive advantage
How to reduce costs, increase revenues, and enhance your business's reputation using a Culture of Health
Real-world examples of successful Culture of Health implementation to use in your own enterprise
Around 57,270 forward-thinking students have already enrolled in this 100% online business course!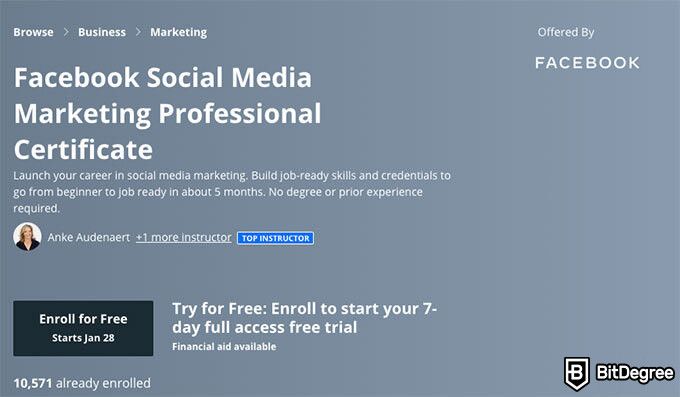 Platform: Coursera
Offered by: Facebook
Duration: 〜 7 months (suggested 2 hours/week)
Price: Free (to audit individual courses)
Certificate: Yes (paid)
Level: Beginner
Where to apply? Here
Social media is an inseparable part of marketing in the 21st century (surprise, surprise!). To put things into perspective here's a fun fact: around half the world's population (over 3.5 billion people) are on some type of social media[4]. Crazy, right? The numbers are still growing.
Needless to say, building an effective social marketing strategy can be a game-changer for your business. It grows brand awareness and loyalty, increases customer engagement, traffic, and generates leads and higher sales.
This program, taught by the Facebook experts themselves, will teach you the art of social media marketing through 6 different courses, which I'll list below.
When you complete the course successfully, you'll receive both the Coursera and the Facebook Digital Marketing Associate Certification to prove your skills.
Courses within the program:
Here you'll learn the basics of social media marketing, including history, different channels, and how to choose the right one for your target audience.
This part of the program will teach you how to create effective content to strengthen your brand by finding a unique voice, following the right processes, and evaluating the performance in order to optimize it.
This course specifically focuses on paid advertising and everything that comes with it, including privacy policy. You'll learn to build creative and effective Facebook and Instagram ads, including copy and visuals.
Facebook Ads Manager tool is the center of this course. You'll learn to build an ad campaign, determine the budget, select your audience, organize schedules, evaluate results, and build your own ad campaign from start to end.
By successfully completing this course, you'll receive the Facebook Digital Marketing Associate Certification (if you purchase the course).
As the name suggests, this is where you'll analyze various marketing campaigns and learn to measure their effectiveness using split tests and ROI evaluations. Once you know what makes a successful ad, you'll be able to optimize your campaigns.
Time to put your newly learned skills to practice! This is the final part of the program, where you'll present your own marketing campaign, communicate the results and suggest recommendations for optimizing it.
Teaching material in this program comes with subtitles in English, Arabic, French, Portuguese (European), Chinese (Simplified), Italian, Vietnamese, Korean, German, Russian, Turkish, Spanish.
For a professional certificate, you'll also need to take the Facebook Digital Marketing Associate Certification Exam.
Excited to receive the Digital Marketing Associate Certification from Facebook?
Is it Free?
You can't access the full program for free, however, individual courses can be audited as free online business courses. Simply click here and choose the course that interests you and enroll. For free access, you have to "audit" the course, as shown in the image below: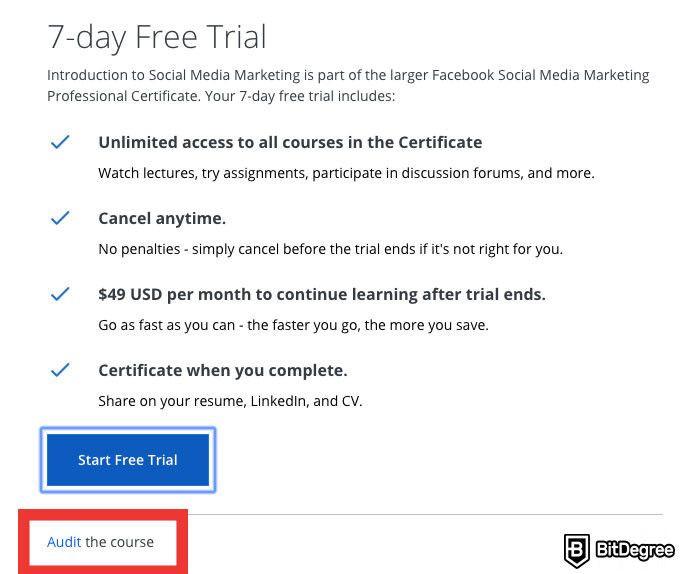 Alternatively, click here to find the best deals for Coursera courses and get up to 100% OFF.
This will allow you to access the courses fully but at a lower price, meaning you'll be able to do all the quizzes and get feedback on your assignments.
Conclusions
There's a lot of information to take in, so let's sum it up.
These are some of the best online business courses I talked about:
All of these courses are provided by top e-learning platforms such as Udacity, edX and Coursera, and each course is taught by experts in their field, including professors from Harvard University, and companies like Facebook and Google.
We looked at courses that focus on distinct skills that are job-specific. So what course or program you choose will depend largely on what skill you want to develop.
Many courses are suitable for newbies, but not all of them. For example, the Predictive Analytics Course and Project Management MicroMasters Program require previous knowledge in related fields, therefore beginners would find them really challenging.
These courses are great if you already have a degree but want to make a change in your career or simply want to develop these specific skills that will make you more marketable in the field.
All the other courses can be taken by beginners too, depending on what your goals are. For example, the specialization on Coursera is aimed specifically at students who are just starting their journey in the business world. All 5 online business management courses cover the fundamentals of management in detail.
You can get a certificate after completing most of the courses, however not all of them. Get Your Startup Started Course is a free course that does not provide a certificate. As for others, you will have to purchase them. Remember, you can get up to 100% OFF with the coupons that you'll find here.
Courses that form part of Coursera specialization, Project Management MicroMasters Program, and Facebook Social Media Marketing Professional Certificate can be taken individually.
Among a myriad of choices, there's definitely something for you. All you need to do now is enroll and start studying!
As I said earlier, the market is changing. It's growing. It's evolving.
It's about time to take your skills to the next level!
Whatever course you choose, you'll know more than you did before and you'll be one step closer to your goal!
Scientific References
1. U.S. Small Business Administration Office of Advocacy: Small Business Profiles 2018
2. Project Management Institute: Project Management Job Growth and Talent Gap 2017-2027
3. Harvard Law School: The Importance of Negotiation in Business and Your Career
4. Digital 2020: July Global Statshot
5. Baicker, Katherine, et al. "Workplace Wellness Programs Can Generate Savings." Health Affairs.
Leave your honest feedback
Leave your genuine opinion & help thousands of people to choose the best online learning platform. All feedback, either positive or negative, are accepted as long as they're honest. We do not publish biased feedback or spam. So if you want to share your experience, opinion or give advice - the scene is yours!