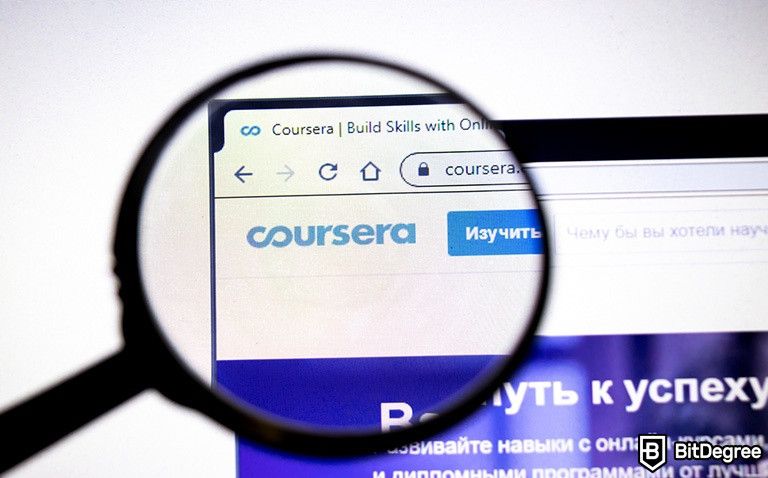 Lately, online learning has been hyped up in the education sphere. More and more people are discovering online learning every day and most of them end up being satisfied with the courses, especially if they choose reputable course providers such as Coursera.
Not only do people search for Coursera free courses, but many realize the importance of investing in your education and decide to use paid courses.
Both of these have their own advantages but I recommend paying for a course. Do you want to know why? If so, then keep on reading!
Are Coursera Courses Free or Not?
There's a lot of confusion whether the courses are Coursera free courses, are they semi-free or are they actually paid? Let's lift the fog and figure it all out!
Latest DataCamp Coupon Found:
CLAIM 50% OFF
DataCamp Cyber Monday Deal
DataCamp Cyber Monday special is here! Enjoy a massive 50% off on DataCamp plans. Subscribe now and redefine your data and Al skill set for the better!
Expiration date : 10/12/2023
5,324 People Used
Only 36 Left
Coursera offers paid specializations that may cost you some money, but most of the Coursera's courses are still freely accessible. However, it's often the case that if you want to access graded practice tasks and get a certification you will need to pay money.
Having read this you must be thinking, is it really worth paying for a course if you can access it for free. The answer is yes.
Coursera's courses are relatively affordable, compared to other e-learning platforms and they're definitely of high quality. The extra materials provided in the paid courses will help you grasp the information better.
Another huge advantage of paying for a course is getting a certificate. Coursera's certificates are valued around the world and it will definitely make you more employable. Consider investing in the course if you're looking for a job or a career advancement.
So, Coursera free courses exist but I definitely recommend investing some money in your education and your future by paying for the extras that are provided.
Now that I've answered the question that causes the most confusion it's time to get to the part where I present the best Coursera free courses with the option to pay for the extras.
Best Coursera Free Courses
Here you'll find what you've been looking for - the best Coursera free courses.
I love lists. So, let's make one. Below I'll present what are considered to be the best free Coursera courses, keep in mind that it's not presented in any specific order, all of these courses are among the top-rated ones.
Let's talk about every single one more in-depth!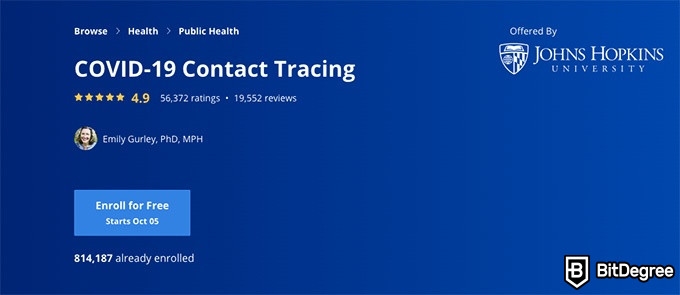 Covid-19 has altered the lives of almost everyone. Students had to learn from home, office workers also had their office location changed to their homes. Travelling has become extremely restricted and going to the supermarket has become the only reason to get out of home.
This situation has created the need for professions that weren't as popular before. Therefore, this innovative course provides what is needed for dealing with the current situation.
It promises skills such as ethics, active listening, public health, contact tracing, and epidemiology. All these skills are invaluable when dealing with a pandemic.
The best part - you can get it all for free! So, definitely consider enrolling in this one of Coursera free courses.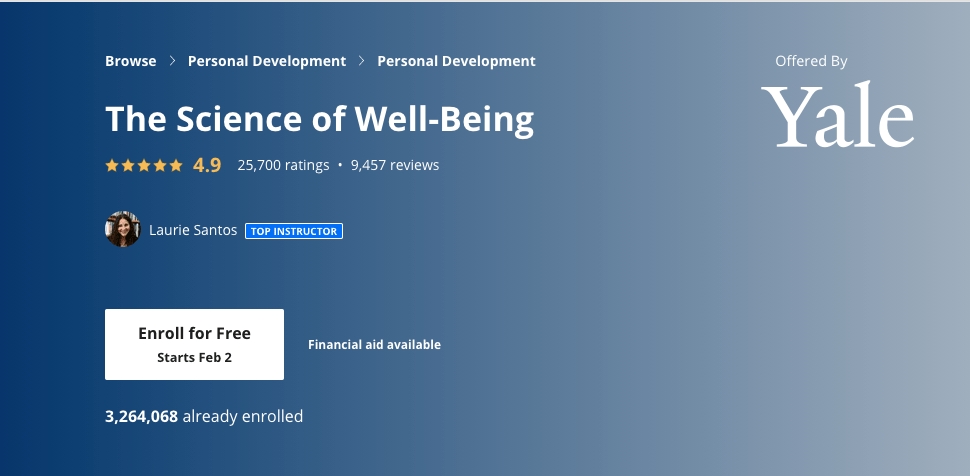 In the modern culture or "busyness" where everyone's favorite topic is to complain about their hectic schedules people tend to forget to take good care of their mental and physical well-being. That's when courses like this come in handy.
You might think you've heard it all before: enough sleep, enough water, nutritious food, some workout, and you're set. However, trust me, there still is a lot to learn about the topic. Or even get a reminder to be more mindful about it.
The skills you'll learn include practicing gratitude, meditation, savoring, and mindfulness. So, I definitely recommend investing some of your time in your own well-being and enrolling in this one of the Coursera free courses. You'll thank yourself later.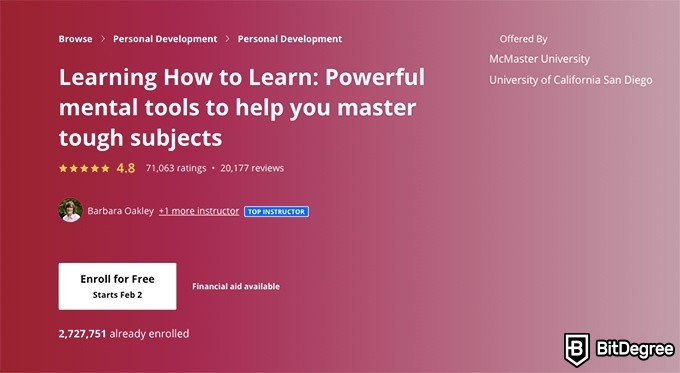 The king of all skills - learning how to learn. However, it's often forgotten that you may need some practice to learn effectively. In school, most people didn't care much about how they learned, we were just made to cram all the info into our heads with no regard of actually understanding what it is.
Most people live with the techniques of learning that are not the most suitable for them, nor are they effective. In order to maximize your efficiency in all the spheres of your life, you have to learn how to learn. That's why this course exists.
The course will provide you with knowledge in test preparation, Pomodoro technique, meta-learning, and other great techniques and skills to take your learning to the next level. If you're going to take multiple best free courses on Coursera, I recommend starting with this one.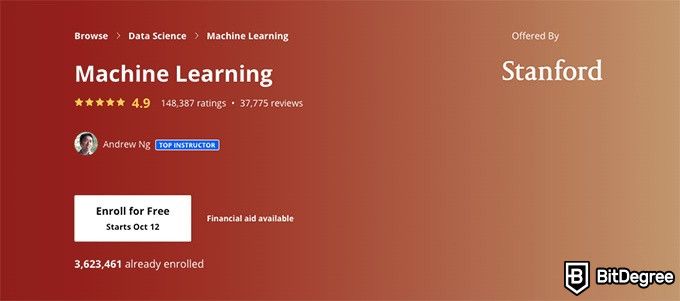 If you still haven't familiarized yourself with machine learning it's about time to do it. Machine learning is a science to get computers to act without being programmed to do it. There are a lot of inventions that are based on machine learning. These include self-driving cars, speech recognition, and many many more.
Also, while programming is the current vastly needed skill, it seems that the future is very bright for machine learning. If you're creative enough, you could think of various fields in which machine learning could come in handy. You might end up being one of the future's most driven scientists.
If you're convinced to take this course you should definitely look more closely into it. However, the main points of the course are that it will teach you logistic regression, artificial neural networks, machine learning algorithms, and machine learning in general. If you're into that, don't hesitate to try out this one of Coursera free courses.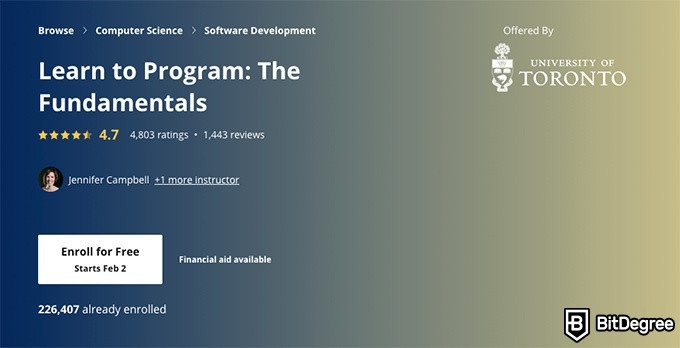 All you see here is the result of programming. Most people nowadays probably can't imagine their jobs, having entertainment, tracking their productivity, learning and so many more things without the products of programming. It's all around us.
Simply for this reason the demand for people who have programming skills is skyrocketing. It is known that programmers can earn way more than the average wage if they're advanced in their field and also, they usually have the possibility to work remotely, which is one of the many very attractive features of the job.
However, while the job seems to be a dream job for many, it's not that easy to achieve. To become a programmer you need to put in countless hours into perfecting your programming skills.
Learning even one programming language can take months of hard work, and usually, in order to work on different projects, you'll need more than one programming language.
Coursera Deal Active Right Now:
100% FREE
Selected Coursera Courses
Take advantage of 100% free online Degrees and Certificates on Coursera & master your skills. Follow this Coursera coupon link to access the courses.
Expiration date : 10/12/2023
2,871 People Used
Only 29 Left
Nevertheless, you need to start somewhere. And this programming fundamentals course is a great place to begin your journey. This course teaches Python programming language. It takes 25 hours but you shouldn't expect to become fluent in that time.
If you want to learn to program in Python, you'll have to put in some extra work, but learning the basics from this one of the Coursera free courses will definitely be beneficial.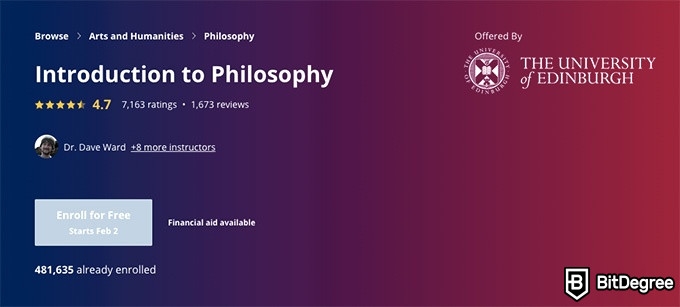 The mother of all sciences - philosophy. Philosophy studies are often considered to be an outsider in the job market. While you probably couldn't think of any profession apart from teaching that you could do with philosophy, but it definitely still is an important science.
As you can see for yourself, it's more of a self-improvement thing, rather than a course that would provide plenty of job opportunities. Knowing a little about philosophy can help you understand other topics way better than you did before. It provides invaluable insight into various spheres of life.
The course starts with an introduction to what philosophy is. So, if you're a beginner who knows nothing about philosophy, don't worry, it will all be covered. Other topics include epistemology, philosophy of science, philosophy of mind, political philosophy, moral philosophy, and metaphysics.
As you can see, it's a rather broad science and there's quite a lot to learn. If it sparked your interest, don't hesitate to take this one of Coursera free courses.

Pros
Easy to use with a learn-by-doing approach
Offers quality content
Gamified in-browser coding experience
Main Features
Free certificates of completion
Focused on data science skills
Flexible learning timetable

Pros
High-quality courses
Nanodegree programs
Student Career services
Main Features
Nanodegree programs
Suitable for enterprises
Paid certificates of completion

Pros
A huge variety of courses
Easy-to-navigate interface
Over 600 free courses
Main Features
A huge variety of courses
30-day refund policy
Free certificates of completion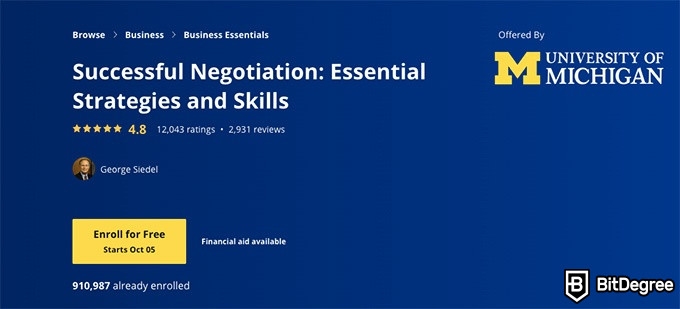 Negotiation is a vital skill in any relationship. When I say any relationship, I mean them all: It's in business, love life, friends, family, purchasing all kinds of things, renting a flat or getting a job.
Without negotiation, you would have to spend way more or earn way less money, also it would be harder to achieve happiness as you wouldn't reach the best compromise.
However, more specifically this course is oriented towards people who are looking to advance their careers by developing their negotiation skills.
Maybe you're trying to start a business but don't yet know how to get the best contracts, or maybe you're trying to get a promotion or a pay rise. Whatever the case is, this course has it covered.
If you take this course, you will learn to plan your negotiation strategy, use key tactics for success, create a contact, and perform and evaluate.
Why Should You Pay for a Course?
I know you came here for the sake of finding the Coursera free courses, but I think I might be able to persuade you to think twice about whether you should limit your investments in your future or not. After all, there's no better thing to invest in than your own education.
As you could probably guess, the best things aren't usually free. It's exactly the same when it comes to Coursera free courses. Sure, you can get a limited amount of information from the free courses but you won't get to experience the whole package.
If you pay for a course you will gain a lot more than if you didn't. First and foremost, what's worth mentioning is that you get a certificate. I assume that if you put this much time into learning, you'd like to get proof of your hard work. The best proof is the Coursera certificate.
You can add the certificate to your Linkedin profile, you can print it out to show your employer or you can hang it on the wall, look at it and be proud of your achievements. Trust me, getting a certificate will surely provide you with more job opportunities as well as a sense of satisfaction.
Furthermore, you get access to graded material. When learning, you might think you understood it all, but if you can't really test your knowledge, you won't be sure where you stand. That's when graded tasks come in handy.
So, definitely consider paying for the course instead of using Coursera free courses if you want to reap all the benefits.
Conclusion
Coursera free courses must sound like a really attractive deal to you. Surely, it's nice to get education for free. There are various courses available but the best Coursera free courses are considered to be:
However, if you're considering applying for a course, I'd suggest you invest in a paid course. This way you get all kinds of benefits you wouldn't get if you didn't pay. The benefits are definitely worth it, especially the paid certificate.
Whatever you decide, taking free or paid courses, you should head to Coursera and try out their courses!
Leave your honest feedback
Leave your genuine opinion & help thousands of people to choose the best online learning platform. All feedback, either positive or negative, are accepted as long as they're honest. We do not publish biased feedback or spam. So if you want to share your experience, opinion or give advice - the scene is yours!