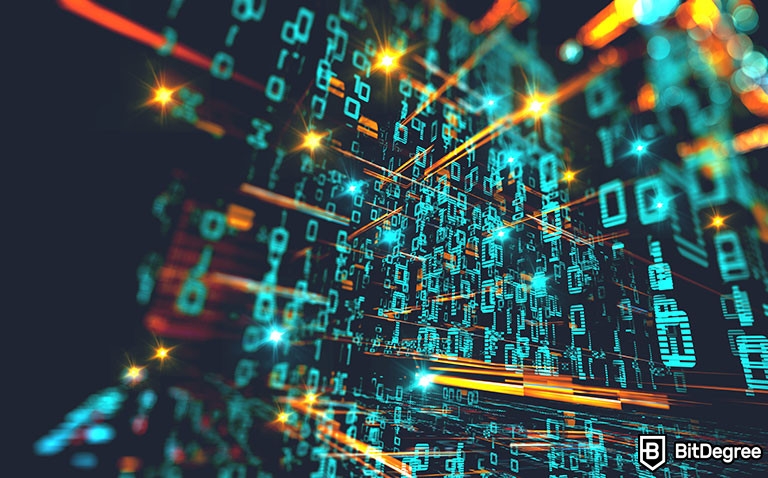 Looking to build data science skills in 2023? You definitely should, because now you have this new set of skills at your fingertips - did you know you can achieve a MIT Data Science Certificate online at an affordable price? Well, this is what I want to tell you all about.
Now it's easier than ever to gain these unique skills that are in high demand - all you need is a WiFi connection and a fair amount of motivation! Considering Data Scientist is the hot job of the 21st century[1], that motivation shouldn't be too hard to find! According to Harvard Business Review, data scientists today are "akin to Wall Street quants of the 1980s and 1990s."
Today we'll take a close look at the MicroMaster's Program in Statistics and Data Science by the Massachusetts Institute of Technology, the world's #1 University ninth year in a row. I'll tell you how you can achieve MIT Data Science certificate online by completing the program, explain the good and the not-so-good aspects of it, and how it can advance your career.
MIT Data Science Certificate: How Does It Work?
One way you can achieve MIT Data Science Certificate at an affordable price is to complete the MicroMasters Program in Statistics and Data Science on one of the best e-learning platforms - edX. You can read the full expert review of this platform here.
Latest Udacity Coupon Found:
SAVE 75%
Udacity Black Friday Offer
The best time to save on Udacity courses is now - follow this coupon to access 75% Udacity Black Friday discount on all courses & enjoy top-quality learning for less!
Expiration date : 07/02/2023
3,176 People Used
Only 97 Left
EdX is a collaboration between MIT and Harvard to make university-level education more affordable and accessible to students all around the world. The program we'll talk about today is not exactly the same as an official on-campus degree, however, they are very similar.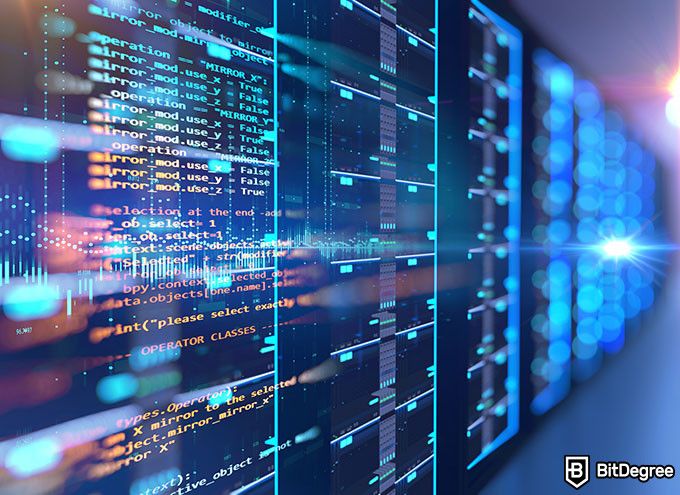 Just like those on-campus, MIT Data Science online courses are packed with high-quality curricula and material taught by MIT faculty at "a similar pace and level of rigor". The main difference is that you don't have to leave your home to attend a class, spend huge amounts of money (or take out a loan) or worry about going through a lengthy application process.
Plus, of course, you don't get the whole university experience, but you do get many other benefits - we'll talk about all this later on in the article.
So, How Do I Achieve It?
Honestly, it's pretty straight-forward: purchase the course, study, prove your newfound skills at the end, get a certificate (and go straight on a job hunt if you like).
To achieve the MIT Data Science Certificate, you have to complete the full MicroMasters Program in Statistics and Data Science. That means you have to successfully complete the required MIT Data Science online courses within the program. There are 4 courses within the program plus a capstone exam at the end.
Sometimes you can catch some good deals for courses and programs on edX, I recommend checking out this website to see what's available right now. If you're lucky, you may get full access for a much lower price.
MIT MicroMasters Program In Statistics and Data Science: In-Depth Description
In this section, I'll tell you all about the program: what it is, courses that are part of it, the price, how long it takes to complete, the requirements, and how you can make the most out of it.
First of all, what is a MicroMasters Program?
A MicroMasters Program on edX is a combination of graduate-level courses designed to provide students with in-depth knowledge about one particular subject and teach them job-specific skills in a relatively short amount of time and at a lower price than on-campus courses.
Because they're advanced courses, there are some prerequisites you should take into account before enrolling. The credentials you earn for completing this kind of program on edX can be added to a portion of a Master's degree if you get accepted.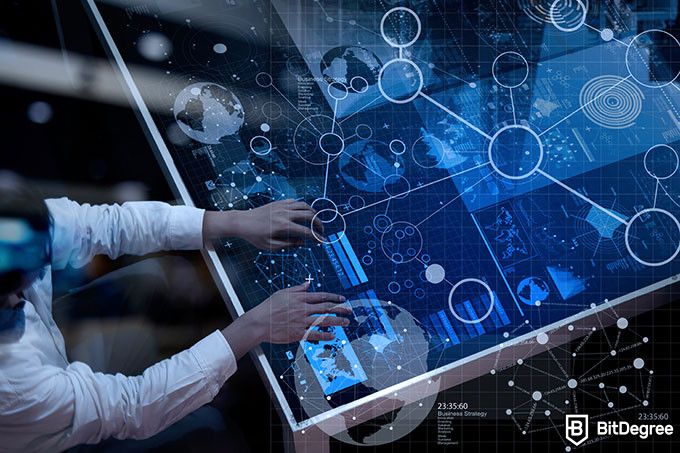 Online MicroMasters is a combined effort by MIT and Harvard to bridge the gap between education and the workplace. Although it's not an "official" Master's program, it's a valuable addition to your CV or an academic portfolio.
It doesn't guarantee you a job per se, but then what does? It's much more than a paper that matters. A MicroMaster's will equip you with in-demand skills which is what many innovative employers are looking for.
Let's take a look at the actual program that allows you to achieve MIT Data Science certificate online: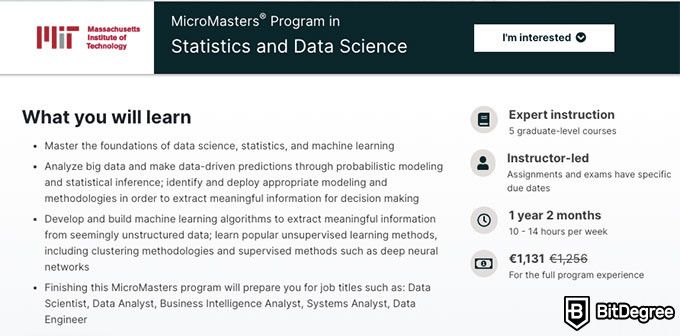 Platform: edX
Offered by: Massachusetts Institute of Technology
Duration: 〜 1 year 2 months (10-14 hours/week)
Price: $1500
Certificate: YES
Where to apply? Here
MicroMasters Program in Statistics and Data Science is a graduate-level program designed to prepare practitioners of data science valued by any work team.
Throughout the program, you'll build a solid foundation of knowledge in data science and statistics, complete various projects, and receive training that will prepare you for real-world challenges in the field.
It's made up of 4 courses that are instructor-led. This means that all the assignments and exams have specific due dates. This can be a real bonus if you ever have "I don't really feel like studying today" days. I know I do, that's why I don't mind deadlines too much.
Also, to earn MIT Data Science Certificate that comes with the program, you'll have to complete a capstone exam after finishing the first 3 courses. Throughout the MicroMaster's, you'll meet 15 great instructors from the Massachusetts Institute of Technology who have been teaching for some time.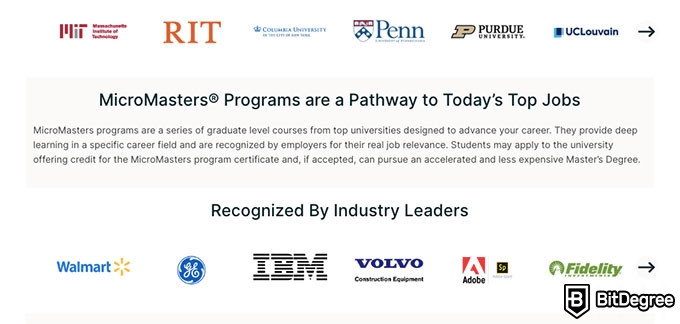 The whole program should take about 1 year and 2 months to complete, which may seem a bit long, but keep in mind that data science has a relatively steep learning curve, and it takes time to build expertise in this area.
Some suggest that this actually may be the reason why there's a shortage of data scientists. However, don't let it demotivate you! The good thing about it is that there's a higher chance of you landing a job once you have those skills.
What you'll learn throughout the program:
Master the foundations of data science, statistics, and machine learning
Analyze big data and make data-driven predictions through probabilistic modeling and statistical inference; identify and deploy appropriate modeling and methodologies in order to extract meaningful information for decision making
Develop and build machine learning algorithms to extract meaningful information from seemingly unstructured data; learn popular unsupervised learning methods, including clustering methodologies and supervised methods such as deep neural networks
After completing the program, you'll have the skills that are essential for the following occupations: Data Scientist, Data Analyst, Business Intelligence Analyst, Systems Analyst, Data Engineer.
One of the great things about MIT Data Science courses is that they're open to everyone - forget that time-consuming application process! If you want to enroll - there's nothing to stop you. All you need to do is click on the name of the program above and enroll.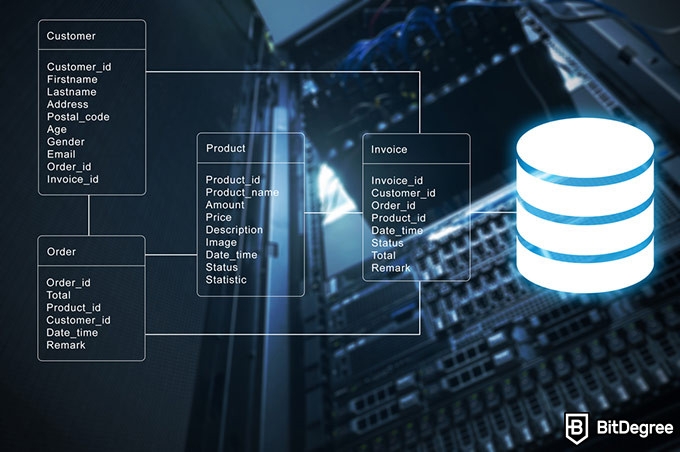 These are graduate-level courses, so be aware that you should have at least an intermediate level in data science before you enroll. This MIT Data Science certificate program is not for beginners. If you don't have any prior experience, you might want to check out some lower-level courses, like Introduction to Computational Thinking and Data Science Course , Data Science: Probability Course, and Statistical Thinking for Data Science and Analytics Course.
If you're unsure whether you'll be able to tackle the courses head-on, check individual course descriptions, where you'll find the topics that are covered in each one so you know what to expect, plus the prerequisites.
Enroll in the full program NOW
Individual Courses Within the Program
Before we go on to explore what each course is all about, there's something you should know. You can take single courses too! So, if you like the look of one or more courses but don't want to complete the whole MicroMasters - no problem!
Here's some more good news: you can still receive MIT Data Science certificates for each course you complete. It won't be the same MIT Data Science certificate you would receive for the MicroMasters, but it's still something to prove your skills and reward yourself with!
Oh, and one last thing - you can also take them for free. Yep, that's right. You can access most of the teaching material in single courses at no cost. In that case, you won't receive a certificate, but knowledge - yes.
All right, now let's move on! Below are the courses you'll find in this program.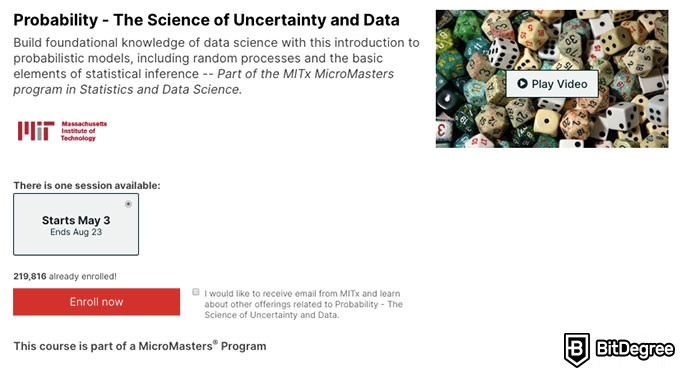 Time to complete: 16 weeks (10-14 hours/week)
Level: Advanced
This is the first course within the program that dives straight into the depths of data science: probabilistic modeling and the related field of statistical inference. If you think about it, we're constantly surrounded by some level of uncertainty and a lot of data.
In this course, you'll understand the main concepts in probability and how you can use probabilistic modeling and the related field of statistical inference to make scientifically-based predictions.
Topics covered:
Multiple discrete or continuous random variables, expectations, and conditional distributions
Laws of large numbers and their applications
The main tools of Bayesian inference methods
An introduction to random processes (Poisson processes and Markov chains)
If you're not sure whether you want to complete the full MicroMasters program, you can just choose this course and enroll for free. So you can get a taste of what it's all about before you make a purchase. If you decide you want to receive MIT data science certificate for this course, you can purchase it for $300 at any time.
Edx Deal Active Right Now:
Free Courses
At edX Website
Browse special selection of edX courses & enjoy learning new skills for free. Only pay a small fee later if you wish to receive a certificate of completion.
Expiration date : 07/02/2023
3,417 People Used
Only 33 Left
Prerequisites:
College-level calculus (single-variable & multivariable). Students should be confident in mathematical reasoning; familiarity with sequences, limits, infinite series, the chain rule, and ordinary or multiple integrals.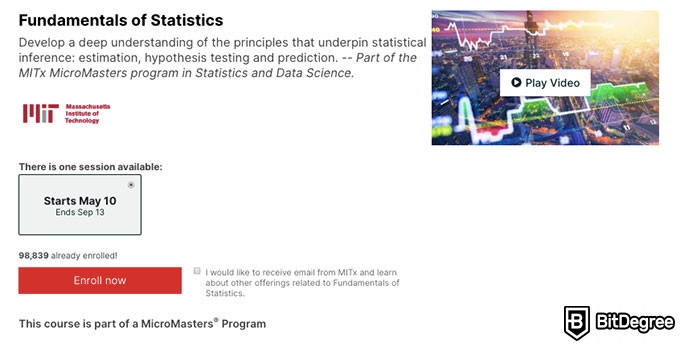 Time to complete: 18 weeks (10-14 hours/week)
Level: Advanced
Finding structure in data and making predictions are "the most important steps in Data Science." Statistics can be found everywhere: machine learning, data science, artificial intelligence - you name it.
This course will show you how you can turn raw data into insights to make better decisions, provide you with tools used to handle parametric models, and explore questions like how suitable is a given model for a particular dataset? How to select variables in linear regression? How to model nonlinear phenomena? How to visualize high-dimensional data?
What you'll learn:
Construct estimators using method of moments and maximum likelihood, and decide how to choose between them
Quantify uncertainty using confidence intervals and hypothesis testing
Choose between different models using goodness of fit test
Make prediction using linear, nonlinear and generalized linear models
Perform dimension reduction using principal component analysis (PCA)
Many students who have taken this course felt positive about the content and the way it is structured. Some describe it as a "demanding and rewarding course" and say they felt "in touch with the course team who poured their hearts into making it a great experience for every student."
Like with other courses, there are some prerequisites for this one. Some past students suggest it's one of the more challenging courses within the program, for which probability and solid math prerequisites are a must.
Prerequisites:
6.431x or equivalent probability theory course
College-level single and multivariable calculus
Vectors and matrices
It's highly recommended to expand your linear algebra skills before enrolling, which will allow you to grasp the advanced topics better and make the most out of what this course has to offer. It's not a requirement per se, but it will certainly increase your chances of success not only in this course but also in the field in general.

Time to complete: 15 weeks (10-14hours / week)
Level: Advanced
Machine learning is of real importance to data scientists. Why? Because it facilitates analyzing huge amounts of data in a very precise way, making "high-value predictions that can guide better decisions and smart actions in real-time without human intervention." It is used in many industries by well-known companies such as Netflix and Amazon for predicting customer behavior, compliance, risk, and improving products and content.
In this course, you'll understand the main principles in machine learning and use algorithms to turn data into effective automated predictions.
Topics covered:
Representation, over-fitting, regularization, generalization, VC dimension;
Clustering, classification, recommender problems, probabilistic modeling, reinforcement learning;
On-line algorithms, support vector machines, and neural networks/deep learning.
You'll be mainly working with Python, therefore Python skills are a must if you want to make the most out of this course.
If you need to improve on those Python skills, check out some lower-level courses on edX in Python programming, such as Learn Python Crash Course or Introduction to Python Programming Professional Certificate.
Remember, you can access many of the courses for free without a certificate, so it's a great chance to improve on those skills without spending tons of money on "official" courses.
Prerequisites:
6.00.1x or proficiency in Python programming
6.431x or equivalent probability theory course
College-level single and multivariable calculus
Vectors and matrices
The best thing about this course is that you get to complete a number of projects where you have to apply all the theoretical knowledge to real-world-like challenges. Practical activities are what really make the information stick and they also make learning a lot more dynamic and exciting!
Projects you'll complete in this course:
Automatic Review Analyzer
Digit Recognition with Neural Networks
Reinforcement Learning
Just like with other courses, you can take this one by itself, and receive a certificate once you've completed it.
Capstone Exam

After completing all of the 4 compulsory courses in the program, this capstone exam is your chance to really put your newfound skills in probability, data analysis, statistics, and machine learning to practice and receive that MIT Data Science Certificate you've worked so hard for. Upon successful completion, you gain the MicroMasters credentials that showcase your skills.
To receive this MIT Data Science Certificate and MicroMasters credentials, you must purchase the full program. If you complete individual courses, you'll receive certificates for each course you purchase.

Pros
Simplistic design (no unnecessary information)
High-quality courses (even the free ones)
Variety of features
Main Features
Nanodegree programs
Suitable for enterprises
Paid certificates of completion

Pros
Huge variety of courses
Easy to navigate
No technical issues
Main Features
Huge variety of courses
30-day refund policy
Free certificates of completion

Pros
Easy to use with a learn-by-doing approach
Offers quality content
Gamified in-browser coding experience
Main Features
Free certificates of completion
Focused on data science skills
Flexible learning timetable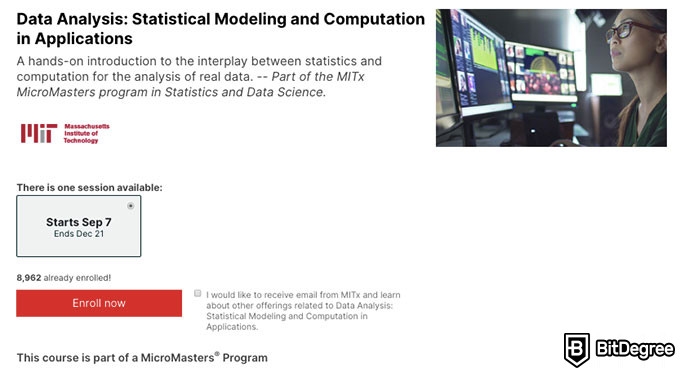 Time to complete: 15 weeks (10-14 hours/week)
Level: Advanced
To be a data scientist, you have to have multi-disciplinary skills such as mathematics, statistics, machine learning, problem-solving to programming, visualization, and communication.
In this course, you'll get to apply all of these diverse skills and domain knowledge to work with data and come up with data-driven solutions.
Topics covered:
Common statistical and computational tools (hypothesis testing, regression, and gradient descent methods)
Analysis of the four different domain areas
Epigenetic Codes and Data Visualization
Criminal Networks and Network Analysis
Prices, Economics and Time Series
Environmental Data and Spatial Statistics
The greatest thing is that in this MIT Data Science certificate course, you get to produce written reports and discuss various topics with peers.
Prerequisites:
Undergraduate Python programming
Undergraduate multi-variable calculus, and linear algebra
Undergraduate probability theory and statistics
Undergraduate machine learning
Similar to other MIT data science courses on edX, you can take this course by itself. Access most of the content for free or get full access with a certificate for $300.
Pursuing Data Science Certificate MIT Online: Pros and Cons
So far we looked at how you can achieve MIT Data Science certificate online through the MicroMasters Program in Statistics and Data Science on edX. I told you what you'll find in each course, the prerequisites, duration, and other things you need to know before enrolling.
Now, I know it's sometimes hard to make a decision before you know everything there is to know about the 'product' or in this case - the course you want to purchase.
Usually, the best way to decide whether something is right for you is to look at a simple pros and cons list. This way you know what are the good, and what are the not-so-good things about it so you can make the right decision!
So, to make it easier for you, below I'll tell you about the pros and cons of this MIT Data Science certificate program on edX. Here's a summary of what you'll find:
| | |
| --- | --- |
| PROS | CONS |
| Don't have to quit day job | |
| | |
| | Prone to technological issues |
| | Relatively long time to complete |
| | |
| | |
As you see, there are many good things about pursuing MIT Data Science certificate online. However, there are some things to be aware of too. Let's have a look at all of these in more detail.
Massachusetts Institute of Technology has an acceptance rate of 6.7% . It's a truly prestigious institution that many students dream about attending. However, as you can tell by the acceptance rate, not everyone can get in. Plus, now not everyone needs to.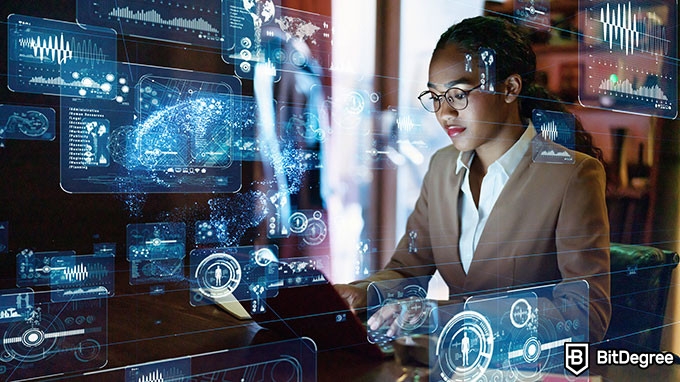 With this MIT Data Science certificate program, you get taught by the same instructors that work at MIT, but in a different format. So essentially you're still studying 'at the university', just not in an 'official' on-campus course.
Expanding on my previous point, because it's an online program, the fees are much lower than for on-campus courses. Plus, you can access much of the content for free. And if you want to purchase the full program at a lower price - you can always browse this website for the best deals available right now and save some of that money!
This is certainly something you simply won't be able to do at any on-campus program.
Don't have to quit day job
Because you don't really have to go anywhere, it saves a lot of time and it's a lot more flexible in that sense. So, it's much easier to combine study and work and you don't have to quit your job to be able to do it.
This is why many students turn to online courses and programs to help advance in their careers or gain some new skills while they're working.
You're not committed to one physical location throughout the whole program. So whether you decide to move somewhere else, travel, or simply visit your family in another city - it won't affect your studies. You can log in to the platform and get on with the courses from wherever, as long as you have a good wifi connection.
Unlike on-campus courses, this program doesn't have a lengthy application process you'll have to go through - no form filling, waiting, sitting in the unknown. If you decide you want to go for it, all you need to do is visit the website, create an account and enroll!
The Not-So-Good Things About it
All right, this one's unique, because some students may consider it as a perk, while others will prefer self-paced courses. So really, whether it's a pro or a con will depend on the type of learner you are.
If you're more of an independent learner type who likes to take things at their own pace (or if you're a little impatient), this may be something you won't find so attractive. However, having set deadlines can really be a huge advantage, especially with online courses, when that motivation to get up and turn on your laptop is hard to find.
Naturally, because you're not sat in a classroom surrounded by like-minded students who are also working hard, the main source of motivation you need to rely on has to come from within yourself. For some, this is a challenge.
However, it's a great way to grow and improve not only time-management skills but also perseverance which is a characteristic that will definitely benefit you in any other area in life.
Prone to technological issues
Because all the courses are 100% online, it's likely that at some point during the program, you may experience some disruptions due to poor connection or some other minor or a bigger issue. This can be a little distracting, however, you can minimize the risk of that happening by ensuring you have a strong internet connection and a working laptop that will serve you for the remainder of the course.
Relatively long time to complete
A year and two months may seem like a long time to complete an online program for some because it's longer than many other courses on the internet. However, keep in mind that this is a graduate-level program designed to prepare practitioners ready to face real-world challenges. It's an in-depth program so it takes time to build expertise in various topics.
MIT Data Science Certificate through MicroMasters Program: Should I Pursue It?
Yes, I highly recommend it! The demand for data science experts is growing[2]. It's basically an occupation that is relevant in any kind of industry and is crucial for any company that deals with data. Since this is the 21st century we're talking about, the amount of businesses involved with big data is certainly not going to decrease anytime soon.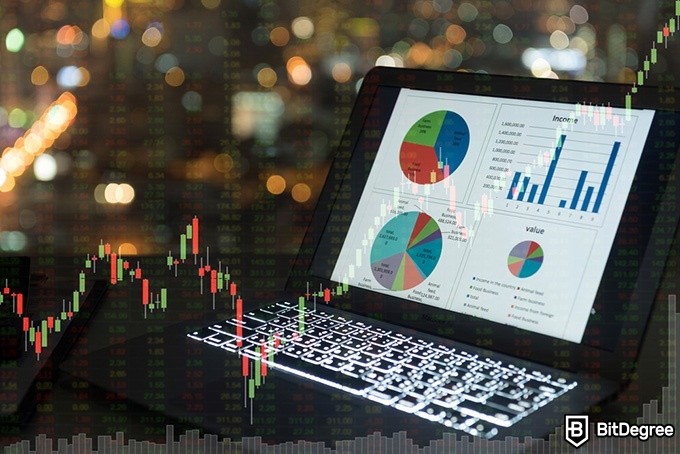 Achieving MIT Data Science certificate through the MicroMaster's program is a great way to gain in-depth knowledge and build multi-disciplinary skills needed to work in the data science field. MIT is considered the best university in the world, and this is your chance to learn from MIT instructors at a very affordable price.
Conclusions
So today we explored how you can achieve data science certificate mit through pursuing a MicroMaster's Program in Statistics and Data Science on edX.
It's a graduate-level program made up of 4 courses plus a capstone exam. You can enroll in the program here, or check out individual courses.
These are the courses within the program:
They're designed to prepare practitioners in data science who, once finished the program, are ready to step into the market and apply their skills to real-world challenges.
You can complete the full program and receive MIT Data Science certificate after completing the exam, or you can take single courses that are part of the program. You don't have to take all of the courses if you don't want to, although it's highly recommended. If you complete single courses, you'll also receive certificates for each course you complete.
Scientific References
1. Harvard Business Review, Data Scientist: The Sexiest Job of the 21st Century
2. The Business of Business, "Data Scientist" is the hottest profession of 2019 according to job-listing data
Leave your honest feedback
Leave your genuine opinion & help thousands of people to choose the best online learning platform. All feedback, either positive or negative, are accepted as long as they're honest. We do not publish biased feedback or spam. So if you want to share your experience, opinion or give advice - the scene is yours!