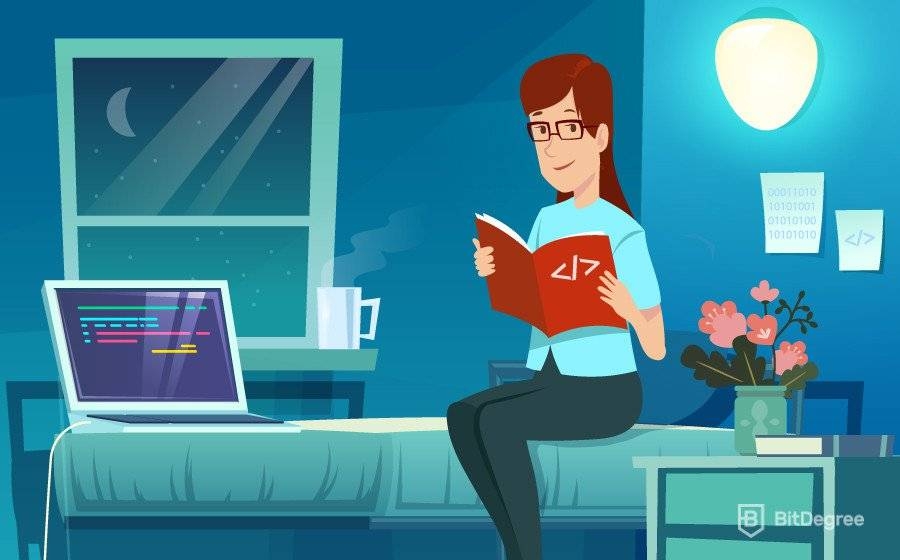 Computer coding is one of the most in-demand skills in the modern world. Coders and programmers are needed by pretty much every company which has an app, a website, or any hardware that is driven by a computer system. So, if you want to become one, you'll have to learn coding.
With the increase in the popularity of coding has come a huge rise in the number of people trying to learn how to code. Questions like "How to start coding" and "How to code for beginners" are becoming some of the top Google search queries, showing just how popular it is becoming.
However, even thinking about learning code can be difficult for complete beginners.
After all, where do you start?
Well, by the end of this article you will have a complete answer to this. To begin with, we have to ask a very important question - which a lot of people wouldn't be able to answer. What is coding?
What Is Coding?
Latest DataCamp Coupon Found:
EXCLUSIVE 50% OFF
On DataCamp Subscriptions
Follow the Datacamp promo code link & get an exclusive 50% OFF Datacamp subscriptions. Act now while the offer is still available!
Expiration date : 06/06/2023
2,765 People Used
Only 35 Left
Before you start your journey to learn coding, you have to understand exactly what coding is. Now, if you asked someone on the street this, you might receive some vague answers about making computers work and building games.
This isn't necessarily wrong, but it is a very simplistic view of what coding is. Coding is essential for modern life, as it forms the basis of everything from computers to cars to smartphones.
Without coding, most modern technology wouldn't exist as we know it, and the world would be a very different place.
Someone who learns to code in their spare time will probably end up using their newfound knowledge for any one of the following things:
These are just some of the basic jobs available to beginners who just started to learn coding. As you become more experienced you may find yourself doing more advanced things like engineering airplane autopilot systems, creating self-driving car computers, or even working with NASA - the potential is endless!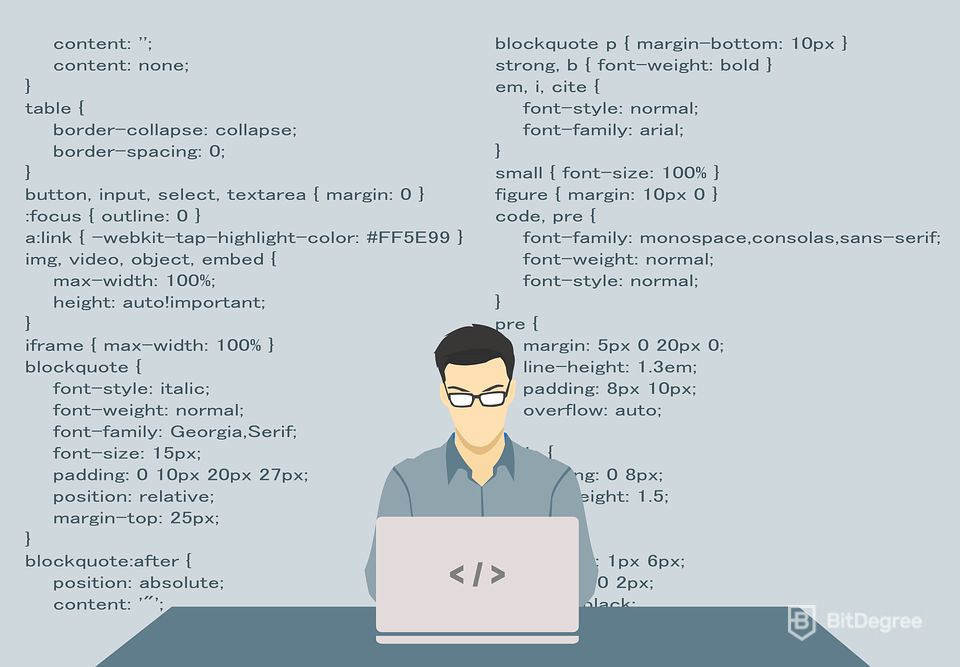 Why Should You Learn How To Code?
A lot of new programmers who are looking at coding for beginners end up doubting themselves and their ability to become a real coder. The hardest thing when you are trying to learn how to code is getting through the first few weeks.
At the start, you will find it hard to follow what you're doing, won't be able to write any programs, and you might even have trouble completing simple exercises or tutorials.
However, it is worth pushing through this initial doubt. Do some research and learn how to start coding. Follow expert advice, and look for courses that focus on how to code for beginners. Some of the big reasons why you should learn coding include:
You will be able to build your app or website. This has the potential to open up a world of online business opportunities.
You will suddenly be so much more employable. Even if the industry you work in doesn't require you to know anything about coding, you may find that once you have learned a new language, you are a lot more employable. This could lead to new job opportunities or promotions, fast-tracking your career.
You could start a new career. Coding is one of the most in-demand professions in the world. This means that there is a lot of work for good coders out there and that it is possible to earn very good money as a developer or programmer.
You will learn to learn. To learn coding you will need to learn attention to details, precision, and most importantly, commitment. If you can successfully learn a programming language, you will find it much easier to learn new skills in the future.
As you can see, there are a lot of reasons why you should learn how to code. Not only will you suddenly be more employable and have better job security, but you will also learn a new skill and have the ability to start your own online business if you ever want to.
What Are Some Popular Languages To Learn First?
There are hundreds of different programming languages out there. Many of these have very specific use cases and are quite difficult to learn, which means that they aren't suited to beginners who want to learn coding for the first time.
However, there are a few very popular languages that are easy to learn, widespread, and have a large number of use cases.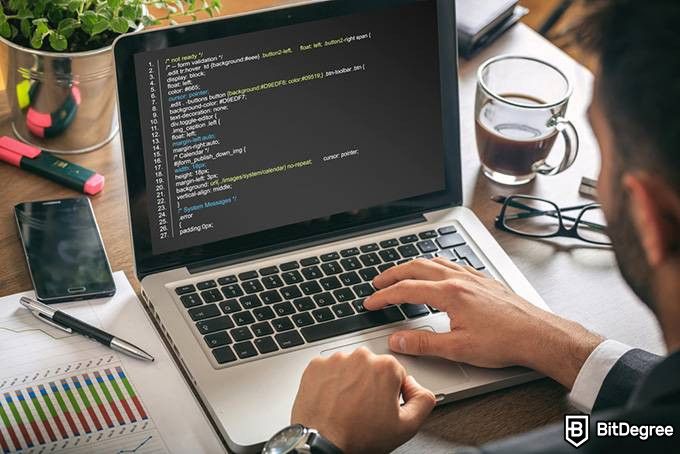 These languages generally have quite a simple syntax, large online communities, and they often read similar to English. In our opinion, some of the best programming languages to learn include:
JavaScript
JavaScript is arguably the most in-demand and widespread programming language out there. Although it isn't the easiest programming language, it's versatility and the demand for programmers fluent in it make it a great language for people looking how to learn coding easily.
Some of the main reasons why JavaScript has topped our list of the best languages to learn first include:
JavaScript is everywhere. It has traditionally been used for front end website development, but it has become more popular with back-end developers over the last few years.
Pretty much anyone with a website or an app will have at least some JavaScript code that needs maintaining or updating from time to time, so there will always be work for developers.
It has been growing crazy fast recently
As more and more people search for the answer to questions like "How to learn coding" and "How to code for beginners", the JavaScript community has grown rapidly.
As more people start to use the language, the amount of tools available for developers is increasing quickly as well, which means that there is plenty of different things you can use JavaScript for.
The demand for developers is huge
As we noted before, JavaScript is everywhere. Despite the surge in the number of people learning the language in recent times, the demand for experienced JavaScript programmers remains huge.
This means that there are plenty of jobs out there, giving you the flexibility to choose when and where you work.
It isn't too hard to learn:
Sure, it isn't the easiest language out there, but it's far from the hardest. Once you have got your head around the syntax and how programming works, you will learn coding in no time.
If you think that you may like to give it a go, head over to Udacity. Here you will find various JavaScript courses to choose from. If you are starting out, you can start with this one!
Python
Python is arguably the best language when it comes to coding for beginners. It is the most popular language taught in schools throughout the world, probably due to its versatility and simple nature.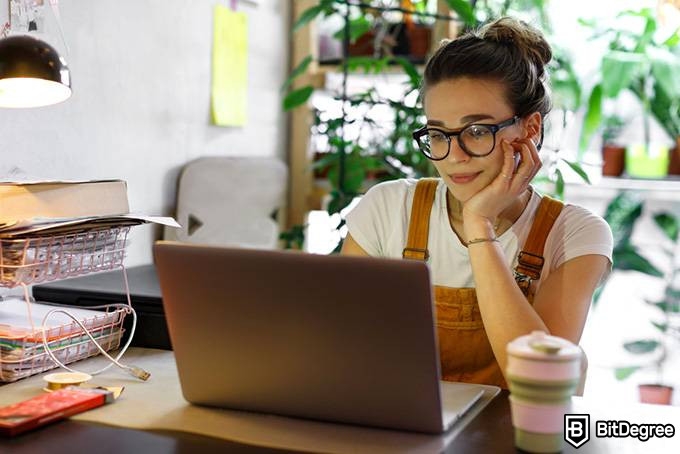 Python grew extremely quickly in 2017, putting it right up there alongside JavaScript in terms of popularity. This suggests that it will remain a relevant language - and therefore a good one to learn - for years to come.
Some of the things that make Python great for people who want to learn coding include:
It is quite simple and easy to follow, making it good for beginners with little to no coding knowledge.
It reads similar to English, which makes the syntax easy to learn and debug.
It is super versatile, allowing you to branch your knowledge into fields like web development, app construction, and even scientific data analysis.
Python is the preferred language for academics and other people working in the sciences. It is used to write basic data analysis or monitoring programs, which means that learning Python basics could be a great idea if you are a researcher.
It is also used widely in new fields like artificial intelligence and machine learning, two of the fastest-growing industries in the past year or two. If you are interested in new technology and the rise of AI, you need to learn coding, and Python is a great language to learn first.
If you're looking where to learn it, I'd suggest heading to edX. They offer a great introductory course to get you started on learning Python.
HTML
HTML is probably the easiest of the coding languages to learn, and it is a good option for people who have little technological background, but who still want to learn coding.
Although simple, HTML is widely used in content management and front-end web design. Along with CSS, it's essential for anyone who wants to get a job as a front-end developer, so why wouldn't you learn it first?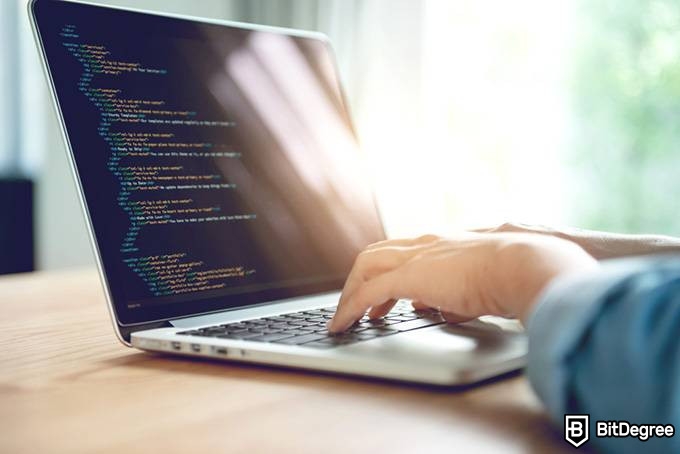 Even if you don't ever plan on getting into serious coding or programming, HTML can still be very useful. For example, if you have your website or blog that you regularly write code for, you might want to custom format your content.
This is usually quite difficult without at least some HTML knowledge, so you should try and learn it. Some of the other times when you might use HTML include:
If you need to customize an email template. HTML is used for most emails. Knowing at least basic HTML will let you custom format any email templates that you are using for your business.
To create internal links. An understanding of HTML code and how it works will let you create internal links within your content. This is especially useful when you're writing long-form pieces with a lot of sub-categories.
To personalize your content. Understanding HTML will let you change fonts, control where images are placed, and control font size when you publish new content.
As you can see, HTML is a great language for people who want to learn coding, but who perhaps lack a little confidence. If you're interested in learning HTML, check out this course!

Pros
Easy to use with a learn-by-doing approach
Offers quality content
Gamified in-browser coding experience
Main Features
Free certificates of completion
Focused on data science skills
Flexible learning timetable

Pros
Simplistic design (no unnecessary information)
High-quality courses (even the free ones)
Variety of features
Main Features
Nanodegree programs
Suitable for enterprises
Paid certificates of completion

Pros
Huge variety of courses
Easy to navigate
No technical issues
Main Features
Huge variety of courses
30-day refund policy
Free certificates of completion
Java
The last language on our list, Java, is another of the world's most popular programming languages. It is used for a whole range of different things, from back-end web development to software engineering, and is popular among people who want to learn coding for beginners.
Originally designed as a simpler alternative to C++, Java has taken off and has become extremely widespread in the computer and programming world. The majority of large companies use Java to build their desktop apps and website back-ends.
Java is cross-platform compatible through the Java Virtual Machine (JVM), which reads and executes Java code. The majority of Android apps are also created using Java.
As you can see, the use cases for Java are widespread. This strengthens its position as a great language to start with when you learn to code. It is a high-level language, which means that it has relatively simple syntax and conventions.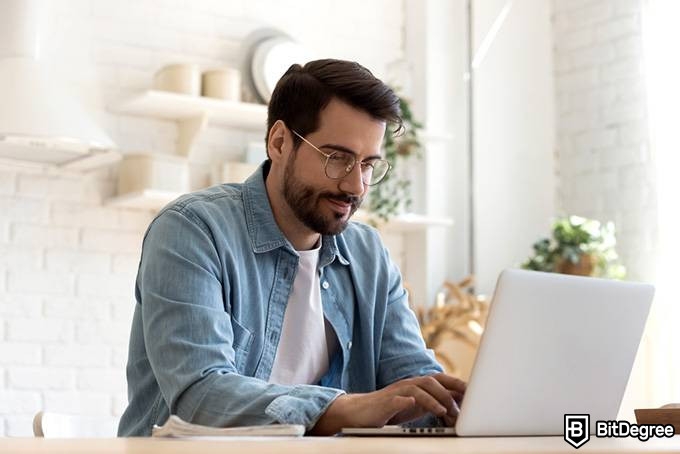 It is designed for beginners who haven't done a lot of programming, which means that it is robust and can sometimes execute code even when there are small errors.
The main downside of Java is that it takes a lot of code to create something worthwhile. This makes it less rewarding for people who are just starting on their coding journey. However, it is scalable, fast, and in demand.
What Steps Should I Take When Learning To Code?
Learning how to code can be difficult and confusing for a lot of people, especially if you don't have a lot of technological experience. There are a few things that you should do before you start your journey to star programmer to make the learning experience easier and more fulfilling, including:
Start By Working Out Why You Want To Code
If you don't already know why you want to start coding, now is the time to think about it. The reasons why you want to learn coding will largely dictate the languages you learn, how much time you devote to learning, and what sort of courses you take. Ask yourself the following:
What do you want to get out of coding?
Do you want to become a career coder?
How committed are you to learn a new coding language?
The answers to these questions should go a long way towards helping you get started on your coding journey.
Once You Know Why You Are Coding, Choose A Language
Again, you need to know why you want to learn coding before you can choose a language to learn. The right language for you and your needs will depend on exactly what you hope to get out of the learning experience.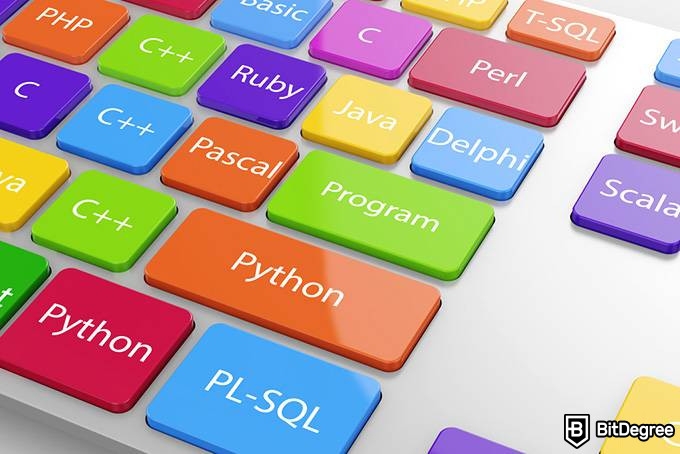 For example, if you want to become an iOS programmer, you should probably learn Swift. If you want to work in web development, one of the languages outlined above will be a good choice, while Solidity is a must if you want to become a blockchain engineer.
Start Simple & Don't Expect The World
Programming is just like any other skill. Don't expect to jump straight in and learn how to create your apps or websites in a couple of hours. Unfortunately, it takes longer than that to develop the skills needed to become even a half-decent programmer.
Once you have identified why you want to learn coding and what you hope to get out of it, choose your language, and start learning!
Resources to Learn Coding
Just because you sign up for an online course or tutorial, it doesn't mean that you can't use other resources to further your learning. There are thousands of different resources out there, in the form of websites, discussion forums, apps, and tutorials.
Some of the most popular resources for programming language learners include:
Simple programming apps. With the rise of programming, there is an increasing number of programming apps available to help you learn. While a lot of these are aimed at children, they can still be a very effective way for you to get a grasp on difficult concepts.
Online training websites. There are plenty of websites that offer online classes on coding. Some of the best are edX, Udacity, and Coursera.
Grab some books. Sure, you might think that we're in the digital age and that textbooks simply aren't necessary anymore, but the reality is that they are still extremely relevant.

If you are serious about how to learn coding, grab yourself a book or three which outline the basics of the language you are learning.
These are just a few of the alternative resources out there when it comes to learning how to code. A quick Google search will reveal a whole lot more. Make sure that you take advantage of these to get the most out of your programming course!
Time to Start Learning Code
It is becoming a very popular pass-time among young people are throughout the world to learn coding. While coding is increasing in popularity, a lot of people still find the first steps difficult, as learning a new language can be daunting, to begin with.
If you are having trouble deciding on a language to learn and get started, make sure that you read the entire article above. Start with a popular, simple language like Python, Java, JavaScript, or HTML, take your time, and remember - learning programming isn't something that you can do overnight.
It takes time, it takes effort, and most importantly, it takes a lot of commitment. If you've decided to start learning, find a reputable learning platform!
Leave your honest feedback
Leave your genuine opinion & help thousands of people to choose the best online learning platform. All feedback, either positive or negative, are accepted as long as they're honest. We do not publish biased feedback or spam. So if you want to share your experience, opinion or give advice - the scene is yours!